Those best chestnut recipes on the internet might confuse you since there are so many, and they all look delicious. Hence, this confusion makes you struggle to decide which ones to cook. However, I'm here for you with the most flavorful dishes.
Besides their flavor, these delicacies are also beautiful to look at and super easy to make. So, you can make them any time you want. Even a chestnut hater can love this ingredient after trying the below list.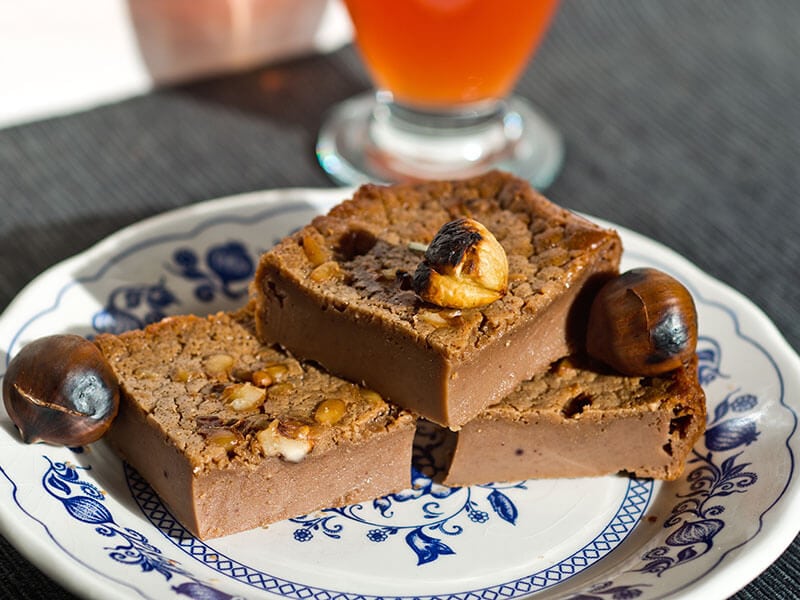 The Flavor Of Chestnut Will Gather Your Family Members Together
I'm sure these chestnut dishes below will meet the demands of everyone in your family, whether savory or sweet. So, don't hesitate, and let's start now!
Total time: 30 minutes
I'm sure you already know the traditional snack of every winter: roasted chestnuts. Making this delicacy in your backyard with your family is a perfect activity for next Christmas, right?
Fast and simple, this snack is a must-have during the holiday season. The golden-yellow nut within will quickly catch your eyes once you remove the dark, charred, and brownish shell. Don't rush to touch them because they are super hot.
I guarantee your guests will love the roasted nutty aroma because I do. You'll feel this smell warm your lungs when you breathe them in. Plus, you won't be able to get over the crunchiness of its texture because that's what makes your mouth keep eating non-stop.
Total time: 1 hour 10 minutes
Forget about the cheesecake factory. How about making a brand new version with iced chestnut ripple cheesecake? It is perfect for a winter day or a summer day.
You might taste a hint of chocolate biscuits' sweetness since it's the ingredient for this cheesecake's base. Plus, like those traditional cheesecakes, this one is also creamy and airy, thanks to the double cream and soft cheese. It is also sweet and tastes a little vanilla-like.
Furthermore, the element of rum and chestnut purée (in the drizzle) elevated this meal by imparting a caramelized sweetness with a nutty flavor. Therefore, get a glass of rum for yourself to complete this cheesecake's taste.
Total time: 45 minutes
This is a comfort soup for a cold autumn day! You can quickly whip up a hot and creamy soup that is both savory and nutty. Plus, you can smell a hint of garlic and cinnamon in it.
Besides, make sure you use vegan butter for this recipe, so it can remain vegan while still having a buttery taste. That also goes with the cream ingredient.
And don't think there is anything tedious! With some pomegranate seeds as a garnish, it will look much fancier than you thought. Besides, those seeds can enhance the soup's taste and texture. I even think it's better than the famous pumpkin soup.
Vegan chestnut soup with lentils is a healthy meal for everyone.
Total time: 30 minutes
Quick and easy, these boiled nuts look like their roasted version but taste totally different. Boiling ones may not give you an alluring scent like roasting, but the result is not less delicious.
When you open the boiled chestnut shell, what's inside will surprise you. They are softer and less nutty than roasted ones. However, their creamy texture makes them stand out in their way.
You'd choose this version over the roasted one if you prefer something more buttery, creamy, and herby yet less nutty. And I have some tips for you to eat boiled chestnuts more easily: Peel them when they're still warm or add 1-2 drops of olive oil while boiling them.
Total time: 55 minutes
You might desire a ham flavor then I guess this recipe will satisfy you. It first seems to have a lot of ingredients and sounds sophisticated. No sweat! I'm here to help you figure things out.
This souffle consists of bread sauce and chestnuts, with other ingredients like nutmeg, breadcrumbs, melted butter, and grated cheddar. So it must be buttery and nutty for most of the dish, except for the salty ham since it stands out from the whole.
And for those who don't know what souffle is, it's a delicate French dessert with a flaky exterior and creamy interior. Since it's airy inside, a crunchy and meaty mixture of ham and nuts really balances out the soufflé's taste and texture.
Total time: 2 hours
If you know how to make choux pastry, why not take another step and make these eclairs? In this recipe, the creamy filling is a paste of roasted chestnuts, milk, and Nutella. Sounds extra milky and sweet, doesn't it?
For your information, choux pastry is a common type of dough (like the one used for bread) that includes water, eggs, flour, and butter. And even though it uses eggs, the pastry dough doesn't taste eggy.
Have a bite and listen to the crisp sounds as you break the outer shell of the eclairs, then feel the creamy, sweet filling. You'll be surprised at how it harmonizes with the glossy chocolate ganache on top.
Total time: 45 minutes (excluding chilling time)
The next dish I want to share is these fried meatballs made from chicken and chestnuts. They will be a refreshing change in your diet since the two ingredients seem to get too familiar and a bit boring to eat.
These meatballs are crunchy, thanks to the texture of the nuts and chicken. After frying, they would smell smoky like any other fried chicken dish. Plus, when you sink your teeth into a meatball, you'll notice a savory taste with a hint of garlic and onion.
More specifically, you can already tell that those finely-chopped nuts mixed inside give the dish an extra crunchiness. Also, their nutty flavor is a great bonus for the whole package. Try to cook one for yourself and find out how it tastes.
Total time: 10 minutes
You need only 10 minutes for this dish! Stir-fried Brussels sprouts are crunchy yet tender and sweet enough for a great vegetable-based side dish. Besides, pancetta (or Italian sliced pork bacon) will add a meaty and salty taste as a highlight for this dish.
Until this, you might doubt my recipe since it has no chestnuts. Here you are, as they go with those mustard seeds to contribute a mild aromatic nutty taste to this simple side dish. Hence, they bring out a slight nuttiness to this sprout-based dish.
Nevertheless, I recommend you eat this side dish with roasted turkey or ham for the best flavor. This combination will be a nice choice for your Italian party at Christmas.
Total time: 1 hour 30 minutes
I confess that this is the most simple rice-based dish I've ever known. Because with only rice and chestnuts, you can have an adequate Japanese breakfast to start your day or a fine dinner to end a rough day.
Basically, you will have cooked rice flavored with chestnuts. The dish will give you a fluffy texture and a mild sweetness. With every bite of rice, your nose will spot the nutty scent.
To remove the outer shell more easily, soak the chestnuts in water overnight. Or, if you are in a rush, boil them in water for 20 minutes at low heat.
This Japanese rice is simple to make and so tasty.
Total time: 1 hour 20 minutes (excluding cooling time)
You don't need to be Italian to master this dish. Anyone can make this simple recipe come true. You'll see that each stuffing includes many ingredients wrapped in fatty pancetta like a sushi roll.
First, you'll spot the meaty scent of the crispy pancetta. Then you'll have spongy porcini mushrooms that taste woodsy with a mild nutty undertone. These two go perfectly well with the sweet yet licorice-like flavor of fennel seeds and the aromatic smell of onion.
However, you'd mostly feel the nuttiness of the crunchy stuffing that includes chestnuts, breadcrumbs, herbs, and nutmeg. And the chewy sausages that taste super meaty will make you keep craving this dish more.
Total time: About 55 minutes
Is this red chicken appealing to you? It certainly does for me. If you love chicken, don't miss this gorgeous dish using diced chicken!
All the ingredients in this dish are simple, but together they make a delicious combination. The red color of chicken that catches your eyes actually comes from the mix of soy sauces (dark and ordinary versions) and caramelized sugar.
That's why your chicken tastes super rich in flavor. Moreover, the chestnuts lend a nuttiness to the meal, along with the sweet, sour, and astringent Shaoxing wine. Together, they neutralize the smell and taste of chicken in this dish.
Total time: 10 minutes
I have another snack tip in case you're craving chestnuts. The recipe is as simple as it sounds, this snack only requires some melting and coating. And the outcome will be a sugar-sweet snack with a hint of butter.
The firm texture of nuts won't bother you since they are cooked carefully until tender. This dish is a salty and sugary snack because it can whet your appetite before a large dinner.
Furthermore, each serving contains only 126 calories, so you won't feel worried about your weight when eating them.
Everyone loves this sweet snack, even children.
Total time: 40 minutes
This one is among the most flavorful and creamiest soups I've ever tried. It can comfort your soul even on the worst day.
Blend caramelized sweet onions and nutty chestnuts, then add creamy milk for a smooth texture. All flavors harmonize well with each other in this hearty and nourishing soup. You'll also realize a hint of rosemary when eating it.
You can also eat the garnish husked nuts since they will bring a new crunchy texture to your meal. Make sure to saute them with butter in advance.
Total time: 35 minutes (excluding 30 minutes of roasting chestnuts)
Here comes an exclusive dish for vegetarian people, though meat lovers can still try: Wellington with mushrooms and chestnuts. This recipe is quick and easy to make, so don't worry.
Many people are familiar with the light sweet taste and flaky texture of the pastry crust. But the filling is the star of this Wellington.
After being fried with butter, thyme, and garlic, mushrooms will change in both texture and taste. You can tell their earthiness and meatiness, thanks to the added buttery taste and garlicky aroma.
Furthermore, nutty husked nuts and cream cheese bring a rich, sweet taste to the filling. Together, these flavors build up a unique savory taste.
Total time: 2 hours 15 minutes
Well, you're having trouble with what to cook on a Sunday evening for your family. I've got this idea for you: Greek stuffed chicken. But what's the stuffing inside? Let's find out!
Do you love eating rice, dried fruits, nuts, and minced beef flavored with Greek spices? If yes, this chicken is 100% for you.
The chicken will first catch your eye for its golden brown color and crispy skin before you take a bite and notice its savory and tender meat.
Then you will feel the crunchy yet not too hard stuffing inside. It tastes like beef fried rice, only a bit drier.
Total time: 1 hour 5 minutes
Well, the unique thing in this recipe is this strange combo – soy and sake. These two have a peculiar taste: The former is salty and has a hint of sweetness, while the latter is astringent and savory. This specialty will be a new change in your recipes list.
The combination of roasted chestnuts, brown sugar, soy sauce, and sake will make a perfect dinner for you. Soy sauce and sake add a new layer of flavor to the usual nuttiness. However, they are less crunchy because of the simmering process.
Try eating one of these edible seeds, and you'll realize how extraordinary the dish is. The umami and salty taste of soy sauce will wake your taste buds first, then next comes the nuttiness to satisfy your appetite.
Total time: 50 minutes
I must say this dish is the exact definition of brownies. It has everything that a brownie requires, from the pudding-like appearance to the fudgy taste. So why don't you have a bite to feel these brownies melt in your mouth?
The primary feature of a fudgy brownie is its chocolate flavor and the moist, gooey texture that reminds you of a truffle cake. Of course, because cocoa powder is one of the ingredients, this meal is a little bitter, but sweet and chocolaty are still the two central flavors.
Anyway, this dish doesn't bring back the crunchy texture since all you have is chestnut flour (or powder). However, you still can feel its nutty flavor in every bite of this brownie.
Last but not least, this recipe is gluten-free with no refined sugar. It seems just perfect for your health, especially for those gluten-intolerant people.
Chestnut chocolate brownies will satisfy all sweet tooths.
Total time: 1 hour 15 minutes
In this recipe, you'll find one of the most common ingredients of Chinese cuisine – Shaoxing wine. It's like wine but has a vinegary, spicy, and caramel-like taste that is different from other alcohols.
One tablespoon of that wine can elevate your chicken to a tastier, moister meal. Not to mention, the nutty chestnuts make it less heavy.
With soy sauce and oyster, this braised chicken is full of savory and ocean flavor. The fermented soya beans may scare you due to their slimy appearance. But you need them for the marinade sauce. Don't forget Malaysia leeks for a garlicky note.
Total time: 1 hour 10 minutes
This desert looks like a brown snowy mountain. Its appearance promises a cool and refreshing treat. If you enjoy the spongy texture of lady's fingers and the creamy, nutty flavor of chestnut purée, this is the recipe for you.
Of course, it still has roasted chestnuts' traditional smoky flavor and silky texture. Further, you'll love the gentle milky scent and the creamy texture of the lady finger's crust.
The highlight of this recipe is the slightly floral, creamy undertones of white chocolate custard. It doesn't taste sickly sweet like syrup but is still enough to level up the dish' quality.
Total time: 1 hour
What do I have here? A feast for vegetarians. Don't let the thick gray gravy fool you, it's not the meat kind you're thinking of. This is totally plant-based, non-dairy, and egg-free, so you can dig into this dish without worry.
Right, at first sight, you'll love these tartlets with hearty fillings of portobello mushrooms and chopped chestnuts. Have a full bite of everything to feel the crumbly, biscuit-like texture of the crust that tastes almost exactly like the famous croissant.
When you bite through the pastry crust, the umami, strongly meaty, and savory flavor of the portobello mushrooms will take over your mouth. Moreover, the nutty and mildly sweet taste enhances all of the previously described flavors.
Total time: 1 hour 25 minutes
This delicacy is for you if you want a new crunchy feeling. Furthermore, even the way to cook these toffee chestnuts is fascinating. You need to pour the dark-golden toffee liquid onto those peeled Chrismasty nuts, then leave them to cool.
Afterward, you'll have the final product. Now is the celebrating time for your appetite, have a mouthful of this confection to taste its unique sweetness. You'll notice a glimpse of caramelizing sugar, the buttery flavor as you chew the crunchy sweet.
Then comes the earthy, nutty flavor, and in the end, I guess that will somehow remind you of a warm, woody, vanilla scent.
This is such a wonderful snack for busy days.
Total time: 1 hour
This Karyoka, a famous Turkish dessert, might be a good choice for you. Chestnut is clearly one of the specialty's main ingredients. Turkish people tend to eat these sweets in winter and fall since it's suitable for the cold season.
The unique black chocolate coating tastes slightly bitter yet sweet, matching the nutty taste of ground pistachio nuts. Furthermore, when you take a full bite of this chocolate ball, you'll feel its silky texture melting in your mouth.
Bursa and the Black sea region of Turkey are the lands of chestnut, so local people usually eat Karyoka all year round. Moreover, you can find various shops selling this sweet treat in Turkey as holiday gifts.
Create Your Nutty Meals With These Amazing Recipes
Chestnut is an ingredient that works in both savory courses and sweets. This unique nut is versatile since you can eat and cook it in many different ways. So, you shouldn't hesitate to create your recipes.
If you don't regularly cook with this ingredient, don't be afraid to fail. Practice makes perfect! Every time you cook these nuts, have this article close at hand to save time in the kitchen and get mouthwatering results.
Share this recipe list with others and leave a comment below if you find it informative. By doing that, you give me more motivation to keep writing. Goodbye, see you sometimes!
Nutrition Facts
4 servings per container
---
Amount Per ServingCalories222
% Daily Value *
Total Fat 1.4g

3

%
Sodium 482mg

21

%
Potassium 549mg

16

%
Total Carbohydrate 50.1g

17

%
Protein 1.9g

4

%
---
* The % Daily Value tells you how much a nutrient in a serving of food contributes to a daily diet. 2,000 calories a day is used for general nutrition advice.