These best cherry tomato recipes are full of nutrients and delicious. The sourness and sweetness of cherry tomatoes will awaken your taste sense. These adorable tomatoes pair beautifully with any ingredient.
Keep scrolling down this post to find out the finest cherry tomato delicacies. With many options from salsa to salad or tart, the possibilities for cherry tomatoes are endless. If you serve these dishes to your family, they will be amazed by how tasty this fruit is.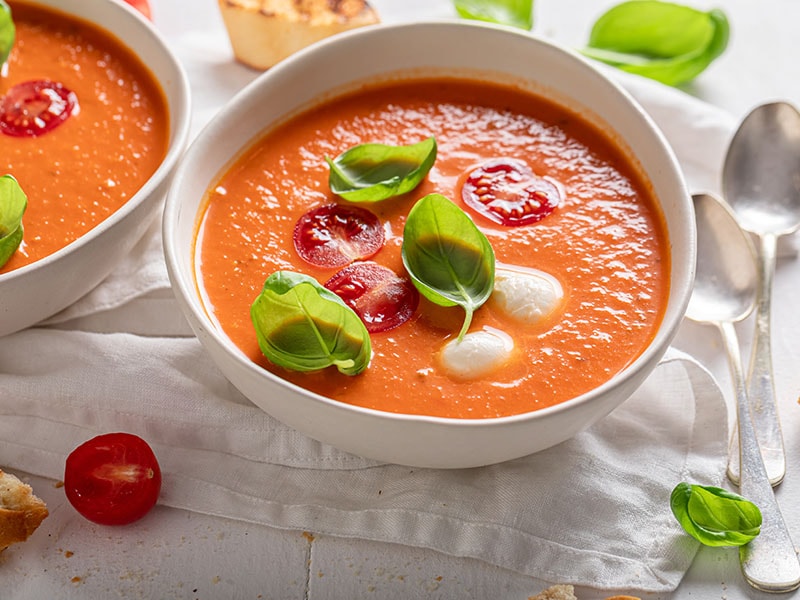 Discover Delectable Specialties You Can Prepare With Cherry Tomatoes
Without a doubt, cherry tomatoes are a favorite ingredient in many salad dishes. However, it is also suitable for many other types of treats. Let's delve into the 25 tasty specialties where cherry tomatoes take the spotlight.
Total time: 10 minutes
How can you forget the salsa sauce when mentioning foods made from cherry tomatoes? The iconic Mexican-rooted sauce is a favorite among people of all ages. When the summer comes, put your cherry tomatoes to good use with this simple salsa recipe.
Cherry tomatoes are an indispensable ingredient when preparing this salsa recipe. It is used to create a base for this sauce. This sauce has an amazing sourness thanks to the tomatoes, and the lime juice, a hint of sweet flavor from the onions, balances everything nicely.
I highly suggest you enjoy the sauce right away for the best flavor. This salsa can stay good in the refrigerator for up to three days. For the serving, you can never go wrong with its popular partner – tacos and chips are also a perfect choice.
You can prepare cherry tomato salsa at home with this informative tutorial.
Total time: 20 minutes
Lovely little cherry tomatoes meet the famous pasta in this 20-minute tomato pasta recipe. This pasta specialty has an appealing presentation with the yellow color of the pasta, combining the red of the tomato, dotted with the green and white of basil and cheese.
To recreate this recipe, you ought to make the sauce from cherry tomatoes and boil the pasta. To make the sauce, simply saute cherry tomatoes with garlic, and add chili flakes, salt, and pepper. Once the tomatoes start popping, squash them to squeeze out the juice.
The boiling pasta part is straightforward. It is an unwritten law to put salt in your water while boiling pasta. You must save a cup of pasta water. The pasta and sauce mixture may dry out when they come together, so a cup of that water will work wonders.
Total time: 3 hours 40 minutes (including 3 hours of roasting tomatoes)
This cherry tomato couscous salad has an Israeli cuisine twist to it. The recipe uses Israeli couscous, which is well-known as the Middle Eastern pasta. This salad is true summer sanity that you can put together effortlessly.
The Israeli couscous has the shape of pearls and gives this salad a chewy mouthfeel. Along with it are chickpeas; they are crispy and provide a large amount of protein to your body. This salad includes both fresh and roasted tomatoes for extra taste and texture.
This salad has a typical tangy dressing of olive oil and lemon juice. However, the smoked paprika is something unusual; it brings out the sweetness of the tomatoes. Not to mention the garlic and herbs that compliment the cherry tomatoes beautifully.
Total time: 1 hour 15 minutes
I bet that no one can resist the charm of this one-pan dish. Upon its look, you can say that this dish is a combination of many flavors and colors. Chicken, vegetables, and sauce are brought together in this savory and mouth-watering treat.
Because you cook everything in a pan, the essences of every ingredient mingle and result in such goodness. Before baking, you will tenderize and enhance the flavor of your chicken by marinating them in the mixture of mustard, lemon juice, and paprika.
If you want your baked cherry tomatoes to retain their juice and vibrant color, here is a small tip for you. While baking, only put the cherry tomatoes in when the chicken is half-baked. You can also replace chicken thighs with chicken breast for leaner protein.
One-Pan Paprika Chicken with Potatoes and Tomatoes will be a perfect dinner meal for you and your family.
Total time: 10 minutes
A light and healthy pasta salad is a perfect starter for every summer party. This juicy cherry tomato pasta salad carries the freshness of tomatoes and basil. This dish is beaming with Italian flavor.
Apart from the fresh ingredients mentioned, the simple seasoning of olive oil, garlic, salt, and pepper adds extraordinary flavors to the dish. All you have to do is toss everything with boiled pasta. Voila, a refreshing, healthy, and delicious pasta salad is ready.
For this recipe, I suggest using the durum wheat semolina pasta for the best mouthfeel as it is more resilient. However, short pasta like fusilli, conchiglie, farfalle, and penne will do just fine.
Total time: 35 minutes
This tomato bacon carbonara is a refreshing spin on the classic bacon Carbonara. In addition to the usual richness of Carbonara, this recipe has a special add-on of delightsome sauteed cherry tomatoes.
Carbonara is one the most simplistic pasta to pull off, so it is fine to be a little extra. The cherry tomatoes add a sweet-tart complement to the flavor palette of regular carbonara. You can also add other types of protein like chicken or shrimp for a more nutritious dish.
Egg yolks play a crucial role in giving richness and creaminess to the sauce. Many people are afraid that egg yolks would be undercooked since you add them in after you remove the pan from the heat. Don't worry; the heat from the pan and pasta water will take care of that.
Total time: 50 minutes
This chicken cherry tomato pasta will steal the spotlight at any cookout or family gathering. In this recipe, the perfectly grilled chicken comes together with roasted cherry tomatoes and pasta; you can also notice a note of herb lingering around.
The chicken is simple to prepare; all you need to do is apply some garlic powder on both sides. However, you need to pan-sear it for a few minutes before baking. Before baking, you must season the roasted tomatoes with herbs and olive oil.
For this recipe, you must choose a large enough tray for the tomatoes and the chicken to fit together in one layer. Otherwise, it will result in unevenly cooked chicken. The finished product will be succulent chicken and juicy tomatoes drenched in buttery flavor.
Total time: 15 minutes
This vibrant cucumber tomato salad is the ultimate side dish for veggie fans. Fresh cucumber, cherry tomatoes, red onions, and feta cheese come together beautifully in this recipe. Along with that is the extra freshness from the lemon dressing.
You can make this salad with ease. You must chop all the fresh ingredients before combining them in a bowl. Then, all you have to do is toss them with the lemon pepper olive oil dressing. As simple as that, and your salad is ready.
Take a mouthful of this salad and enjoy a fun experience of crunchiness from the cucumber and onions, plus the pops of cherry tomatoes in your mouth. You can serve this light salad as an appetizer or a small lunch. It also pairs nicely with the main dishes.
Cucumber tomato salad is so fresh and easy to make thanks to this guideline.
Total time: 10 minutes
You can take your regular veggie salad up a notch with this cucumber tomato avocado salad. You can make this super nutrient-dense salad with year-round veggies that are so easy to find and complete with some avocado dressing that will make it sing.
What makes this salad stand out is the mashed avocado. Many people may never think of mashed avocado in a salad but in this recipe, smashed avocado partners up with the oil-based dressing to deliver a tangy, healthy creaminess to every mouthful.
For the salad, fresh cucumbers and peppers contribute a crunchy feeling to the salad. Along with that is the popping mouthfeel from the cherry tomatoes. They blend perfectly to brighten up your day.
Total time: 1 hour
This bacon-stuffed cherry tomato dish is a great tomato dish to start your meal. This dish is similar to a regular bacon salad. However, it is presented as finger food and is stuffed in tomatoes this time.
This delicacy includes cherry tomatoes, minced green onion, mayonnaise, and crispy bacon. When baking the tomatoes, you must turn them upside down so the juice can drain. Then you may load them with a mixture of bacon, mayonnaise, and green onion.
Once you bite into the tomato, you can feel the flavors bursting. The creamy and fatty taste of the mayonnaise, the saltiness, and crunchiness of roasted bacon, plus the tanginess of tomatoes all come together to create an extraordinary culinary pleasure.
Total time: 15 minutes
Bruschetta is a well-known Italian specialty that consists of toasted bread, salt, and olive oil. For this cherry tomato variation, a mixture of tomato cubes will go on top of crostini – a toasted baguette slice. This dish is delightful with a note of sweet and sour taste.
There are two steps involved in the making of the crostini. First, you will need to toast the crostini. When you have seasoned the baguette slices with olive oil, salt, and peppers, they are ready for a quick baking trip.
To prepare the topping of cherry tomatoes. Toss these cuties with other ingredients but don't forget to add the ultimate balsamic vinegar. You should drain the tomato juice from the mixture to avoid soggy crostini.
Total time: 2 hours 20 minutes (including 1 hour 30 minutes of additional time)
This cherry tomato and cheese galette is a lovely representation of how beautiful galette is. The star of this delicacy is the tangy tomato and the rich goat cheese. Parmigiano-Reggiano, also known as Parmesan cheese, is gorgeously sprinkled over the top of it.
You must make the dough and then prepare the filling to assemble this recipe. Be mindful that the dough will need some time to chill, so you should prioritize making it first before moving on to the filling. It is a simple mixture of tomatoes, cheese, and some spices.
Baking time is the key to this delectable treat. The crust's bottom must achieve a brown color which signifies that the filling is not too soggy. The size of your galette will determine its time in the oven.
This cherry tomato and cheese galette brings out the best flavor of cherry tomatoes.
Total time: 20 minutes
This sauteed green beans with cherry tomatoes is a simple side dish that can increase the number of vegetables in your diet. This recipe can transform bland veggies into a savory specialty that makes your family fall in love.
The green beans meet cherry tomatoes in this recipe, with basic condiments accompanying them. In addition to them is the chopped fresh basil that adds a hint of freshness to the dish.
You will need to boil the green beans before stirring them with the tomatoes as these bad boys take longer to cook. To have that buttery flavor that nestles in the veggies, don't forget to use some butter as the fat for sauteing.
Total time: 45 minutes
If you are a creamy pasta lover, you cannot miss out on this cherry tomato pasta Alla Vodka. This spin takes the classic Italian specialty to the next level. The short-cut pasta combines beautifully with spicy, creamy cherry tomato Vodka sauce in this recipe.
The secret of this delicacy lies in the pasta sauce with a complex flavor. It is a mixture of pureed cherry tomatoes, garlic, and shallot with a lot of paprika for a strong kick of spiciness. Then, a touch of vodka will be a perfect finish.
The sauce is already thick and creamy; however, there is always room for cheese and butter. When the sauce is ready, you will add these game-changers and toss them with the pasta. The freshness of basil and tomato will keep buttery, cheesy pasta well-balanced.
Total time: 1 hour 25 minutes
These slices of cherry tomato basil tart resemble the familiar appearance of the all-time favorite – pizza, yet they are distinctive in flavor. The refreshing, delectable mixture of cherry tomatoes, basil, and garlic furnished the flaky, buttery pie crust.
You can use a premade crust in this recipe; however, you still need to assemble it on a pan. The topping consists of freshly chopped cherry tomatoes, fragrant sauteed garlic basil, and a lot of Parmesan cheese sprinkle. Then, it is ready for a quick trip in the oven.
This specialty is a potential showstopper at your family gathering or party. You can also serve it as a light brunch or lunch. Follow this recipe to utilize those lovely cherry tomatoes in your garden and create a delicious treat.
Total time: 3 hours 5 minutes (including an hour of cooling time)
Confit is a French culinary technique of slow cooking in grease, oil, or sugar syrup at low temperatures; it is also known as the preservation method. In this recipe, you will soak cherry tomatoes in olive oil with other herbs and seasonings.
After a few hours of simmering in the olive oil, tomatoes will extract their juice into the oil. The flavor of tomatoes enhances while their textures tenderize. To make a delicious confit, you should choose plump tomatoes at their peak season as they have balanced sweetness.
Cherry tọmato confit is the almighty side dish. It pairs perfectly with pasta to make a complete meal, or you can top it on any main dish like pork, chicken, and fish. The combination of confit oil with other ingredients will be a perfect base for the vinaigrette.
Prepare cherry tomato confit for a versatile side dish that can go well with many types of food.
Total time: 15 minutes
Try making this green bean salad with cherry tomato feta; its mouthfeel and flavors will surely blow you away. The crunchy green beans, plump cherry tomatoes, and rich feta cheese come together excellently thanks to the sour salad dressing.
Unlike other veggies in a salad, you need to boil green beans in advance. You can cook them to your liking. After that, you can combine the other ingredients to start tossing. Be careful not to mix the cheese with the salad as it will look messy; only garnished is advised.
I have a quick tip for you when preparing the dressing. Gather dressing ingredients in a jar and give it some good shakes; doing so will help the ingredients blend nicely and result in a sleek sauce.
Total time: 30 minutes
The next dish that I want to introduce has an Italian twist to it. Originating from Italy, polenta is boiled cornmeal that people usually serve as hot porridge. This vegan burst cherry tomato polenta makes every bite special with the savory cherry tomato topping.
To achieve smooth polenta, you will need to gradually add the corneal and give the mixture some strong whisks. The cashew cream gives a decadent richness to the polenta and softens its golden tint to a delicate, creamy yellow.
The burst cherry tomatoes are straightforward, with sauteed tomatoes seasoned with minced garlic and several types of dried herbs. Just take one bite and feel the creaminess of the polenta blend nicely with the refreshing burst cherry tomatoes.
Total time: 30 minutes
This roasted salmon overflows with tomato flavor and is super easy to make. This savory main dish will be the main star of any gathering or potluck. Salmon filet is coated in simple tomato paste and butter and roasted along with juicy cherry tomatoes in this recipe.
The butter comes easily with a mixture of unsalted butter, tomato paste, and a few seasonings. You need to spread this compound evenly on all sides of the fish filet. This mixture gives the filet a moderately scorched outer layer and a buttery, tangy taste.
The side ingredient of this dish is a combination of fresh cherry tomatoes and peppadews peppers. The peppadews fulfill the spicy taste that tomatoes are missing. These two contribute sour and spicy notes to the dish's sweet, buttery flavor palette.
Total time: 50 minutes
A warm bowl of comforting soup is one of the nicest soups for your summer meal. The sweetness and sourness of ripe tomatoes and the creaminess of coconut milk are all present in this dairy-free, vegetarian, and creamy roasted tomato soup.
What makes this delicacy distinctive is the natural sweetness of baked garlic, onion, and ripe tomatoes with a touch of olive oil and other seasonings. All together, they create a complex umami flavor.
Besides, the soup also inherits a creamy texture and complex flavors from vegetable broth, tomato paste, and coconut milk. A pinch of fresh basil for garnishing will complete this soup nicely. I suggest serving this soothing soup with bread on the side for dipping.
Try making the comforting roasted cherry tomato soup with this recipe.
Total time: About 50 minutes
This tomato and chicken in garlic butter sauce should be on the top of your recipe list to impress guests. The trio of tender chicken, juicy tomatoes, and basil is beaming with summer flavors. Moreover, the pasta will make this dish a hearty meal and keep you full.
You can prepare this delicacy without breaking a sweat as it doesn't require too many ingredients. You need to flatten the chicken before cooking so it will cook evenly and absorb the flavor better.
In the same pan you are using to saute the chicken, you will add cherry tomatoes, butter, garlic, and other ingredients. By doing that, you will yield juicy, tender chicken. It has butter, garlic flavor, and a slight touch of tomato tartness.
Total time: 35 minutes
This white bean and cherry tomato salad is an easy-to-make dish that will tantalize your taste bud. White beans, parsley, and luscious cherry tomatoes all come together delightfully in this salad. If you are into white beans, you should try this salad.
The rosemary dressing takes the spotlight of this dish. It is a combination of olive oil, anchovies, cheese, and lemon zest. But before making the dressing, you must boil olive oil with a sprig of rosemary and a few cloves of garlic to give it more layers of flavor.
You will notice a note of fishy flavor from the anchovies. It is well balanced by the sourness of the lemon zest and juice. The reserved olive oil also mellows down the robust taste of the fish. This salad can turn vegan if you remove the anchovies and parmesan cheese.
Total time: 35 minutes
If you give this pasta primavera a shot, you are guaranteed deliciousness. This pasta is a festival of freshness owing to the vibrant spring veggies. Pasta and many types of vegetables combine to create a healthy pasta salad masterpiece.
For this salad, you will need cherry tomatoes, zucchini, asparagus, carrots, and peas. Before assembling, you will sautee these healthful ingredients in olive oil. You shouldn't forget an extra add-on of Italian seasoning to provide them that Italian twist.
Primavera is Italian for "spring," so when you have a bite of this pasta, you'll experience an explosion of spring flavors. Additionally, the sourness of the lemon sauce will stimulate your palate and boost your mood.
Total time: 1 hour 10 minutes (including 1 hour of marinating time)
These marinated cherry tomatoes are the superb summer side dishes. You will pour olive oil, vinegar, and lemon juice over the ripe, luscious quartered cherry tomatoes. These tomatoes are a crowd-pleaser.
The ingredients required for this recipe are simple: sliced cherry tomatoes, vinegar, lemon juice, and spices. You will soon have a delicious chicken salad sandwich's worthy side after mixing these ingredients. These tomatoes will have a tangy kick from the lemon juice and the vinegar.
The marinade must have time to settle and permeate into the tomatoes. Therefore,1 to 2 hours at room temperature is the ideal time for them to be ready. You can serve them on avocado toast or combine them with crusty bread to create the bruschetta.
You can make the perfect marinated tomato by following this video's instructions.
Total time: 22 minutes
It couldn't be easier to make a refreshing side dish with this tomato and basil bake recipe. This delight is the combination of sweet and sour cherry tomatoes, fresh basil, and panko bread crumbs.
To make this dish, you need to broil the cherry tomatoes, garlic, and olive oil with just salt and pepper. If the tomatoes start to burst open and release their juices, they are ready for the panko and the butter.
To ensure that they combine brilliantly with the tomatoes, you must first mix them and then sprinkle them on top of the tomatoes for a fast broil. The basil will be the perfect topping for this dish. It is a refreshing, savory side with a crunchy mouthfeel and bursting with flavors.
It Is Hard To Find A Reason To Hate Cherry Tomato
Cherry tomato treats are delectable, healthy, simple to prepare, and amazingly flexible. Cherry tomatoes can handle everything from nutritious salad to delicious dinner pasta or refreshing side dishes.
There are just so many ways to put cherry tomatoes to good use. I hope the list of 25 cherry tomato recipes above will save you some time deciding which cherry tomato dish to make for your family.
Have you tried making any of these? Please hit the like button and share what you think about these recipes below. Don't hesitate to share this post on social media too. Your love and support are my motivation to come up with more content. Thanks, and enjoy your meal!
Nutrition Facts
4 servings per container
---
Amount Per ServingCalories250
% Daily Value *
Total Fat 19.4g

30

%
Cholesterol 50mg

17

%
Sodium 789mg

33

%
Potassium 401mg

12

%
Total Carbohydrate 11.2g

4

%

Dietary Fiber 2.1g

9

%
Sugars 7.2g

Protein 9.7g

20

%
---
* The % Daily Value tells you how much a nutrient in a serving of food contributes to a daily diet. 2,000 calories a day is used for general nutrition advice.