There are thousands of easy cherry desserts out there, and I know it might be a bit overwhelming to choose which one to start. Grab a cup of coffee and sit down with me. I will introduce to you some of my favorite ideas that I have tried and succeeded in making.
By checking this post, you will gain more than twenty-four simple ideas for your cherry desserts. Not only getting their names, but you will also go deeper into detailed information about cooking time and how-to-make instructions.
Many delicious desserts are waiting for you. Are you interested in getting them? I'm pretty sure you're ready to go. Then let's get to the list!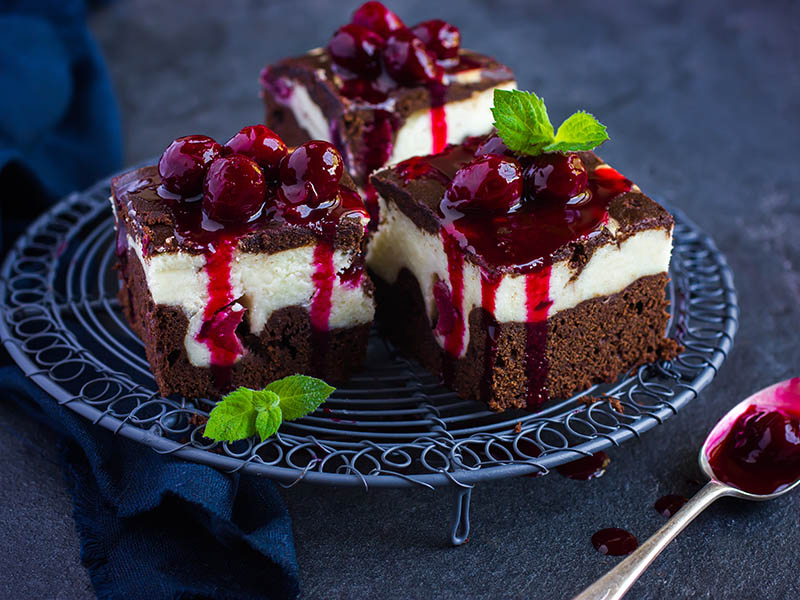 Diverse The List Of Cherry Desserts For Your Party
Are you tired of eating fresh cherry or cherry pie every time you have a family gathering? It won't be like that anymore. From now on, you will have a diverse list of sweets made with cherry for yourself. It is not only delicious but also easy to make. Just scroll down!
Total Time: 40 minutes
Besides apple pie, cherry crisp is one of the famous classic American desserts. However, compared to apple pie, cherry crisp is easier to make, even if your child can do it.
Simply stir all ingredients together (except the cherry ingredient), then spread the oat mixture over a layer of cherry filling, but remember not to mix these two. Then finish the dish by baking it in the oven until done.
To complete your tasty cherry dessert, scooping a spoon of vanilla ice cream will be the best pairing. Also, you can serve it with freshly whipped cream.
If you and your family cannot finish the baked cherry crisp, do not worry because you can keep it safe for four to five days by covering the pan tightly with plastic wrap. Or, store it for up to six months in the freezer by keeping it airtight in plastic wrap and foil, depending on your purposes.
Check out a detailed guide on making cherry crisp at home!
Total Time: 40 minutes
Cherry pie bars are the easier and quicker version of regular cherry pie. Although it is easy for quick make, cherry pie bars still retain the full flavor of cherry pie, along with an additional crunchy cookie-like texture, thanks to its topped crust.
When you take a bite into a cherry pie bar, you will first feel the sweetness of the topped glaze, then a crunchy texture of the crust. Till you bite into the middle, you can feel a slight chewiness of the cherry filling and a perfect blend of sweet and buttery flavor.
For storage, you can keep the covered bars in the pan and on the counter for up to four days. Overall, you can feel relaxed using your flavorful cherry pie bars as your light snack or desserts.
Total Time: 45 minutes
Cherry pineapple dump cake is an effortless dessert recipe to make. As its name suggests, you simply dump everything into a baking pan and leave the remaining work for the oven. Wait until the "ding" sound rings and your dump cake is ready!
Although it is said to dump all ingredients, you should still focus on spreading the mixture evenly in every corner of the baking pan with a spatula. This technique will make sure you have the best dump cake in town. Whichever bite will be full of flavors of cherry and pineapple.
With just five classic ingredients, your kids will love it as well. I am pretty sure! Because when they try this dump cake, your kids will feel the fair crunchiness of the cake mix blended with the pleasantly sweet and sour taste of pineapple and cherry, making them utter a word of love.
Cook Time: 27 minutes
Tasked with sweets for a BBQ meal, but you run out of idea? Stay calm because you have a super simple recipe that doesn't require oven expertise, a cherry delight. The dessert has a sweet-tart taste of cherry with the crunchy and creamy texture of crackers and cream cheese.
To make cherry delight, prepare the cream in advance because you need to refrigerate it for at least four hours until the perfect consistency. In particular, your cream will consist of well-mixed cream cheese and sour cream with the addition of vanilla and sugar.
After cooling your cream, you simply start by preheating the oven to 350 degrees F and mixing the cracker crumbs, melted butter, and granulated sugar. Then press the mixture into the baking pan and bake in the oven for 12 to 14 minutes until golden brown.
Until the cream has enough texture and the cake has just cooled, you just need to spread the cream evenly on the cake and pour the cherry filling on top. Well done! Now you can go and feed the crowd.
No oven to bake cherry delight? No problem!
Total Time: 29 minutes
Making a dessert is as easy as a piece of cake with only four ingredients. That's right; you didn't get it wrong! Cherry pie bites contain only four ingredients every supermarket will have, including cherry pie filling, crescent roll dough, powdered sugar, and milk.
Preparation starts by spreading the dough over muffin tins or oven-proof containers and scooping a few tablespoons of cherry filling into the center of the dough. Then fold the dough to cover the filling and bake for 13 or 14 minutes.
Meanwhile, you can prepare the glaze by whisking the powdered sugar and milk. Wait until the cherry bites are done, cover with the sweet glaze, and enjoy! If you do not like milk, a sprinkle of powdered sugar or cinnamon will also give the same result.
Total Time: 15 minutes
Are you looking for a no-fuss sweet without using an oven? If yes, this no-bake cherry cheesecake should be your next favorite. This recipe requires simple ingredients, and anybody can do it. So, this cherry cheesecake will be a great idea for a get-together party for your kids.
There will be three main steps to making this cherry cheesecake. First, you will make the cake base by mixing butter cracker crumbs and sugar. Next is the cream part with a combination of cream cheese, condensed milk, sugar, and lemon juice.
In the final step, pour the cream mixture into the cooled cake base and then top it with cherry pie filling. The result is a three-layer dessert, a sweet and sour cherry on top, a creamy cheese layer in the middle, and a final crunchy layer of crumbs.
Cook Time: 5 minutes
Cherry fluff salad will be a perfect after-meal dish, thanks to its fragrant and tasty flavor. Plus, this recipe is child's play, which only asks for five ingredients and five minutes to cook. All you have to do is stir everything well and refrigerate the mixture. How easy it is!
If you want to create your unique cherry fluff recipe, please feel satisfied to add some. Indeed, there are some variations of cherry fluff salad. Some will add coconut, some will add nuts, or some will eliminate the condensed milk from the recipe. It all depends on personal taste.
For your information, you can treat cherry fluff salad as a side of many main dishes. Usually, it pairs with BBQ grilled dishes or your holiday turkey and ham. Yummy!
Effortless recipe for cherry fluff salad that will satisfy your sweet tooth.
Total Time: 40 minutes
For coffee addicts, this cherry coffee cake recipe is for you. It does not feature the coffee taste (because there is no coffee in this cake), but its wonderful flavor can be a perfect companion to your coffee.
Back to the recipe, with only three ingredients for the cake, there is no challenge to complete the whole dish. Or, if you love the creamy donut-like topping, you can continue to follow the instructions a little more to get the topping of cream cheese icing.
In order to make the cake, you put almond and cherry pie filling into the dough and bake it for thirty to thirty-five minutes until deep golden brown. Then you can happily serve the cherry coffee cake with a cup of coffee.
After combining flavors, this cake will have the sweet and sour taste of cherry with a hint of cinnamon flavor. Besides, if you top cream cheese icing, it will have a little more cheesy sweetness right from the first bite.
Total Time: 50 minutes
As its name suggests, cherry pudding cake has a tender texture with a moist cherry filling on the surface. Therefore, unlike other cakes, you better use a spoon to eat this dish instead of cutting pieces to serve.
Just a spoon of heaping scoop from top to bottom; you can feel all the goodness of the pudding cake, from the creaminess of the cake layer to the sweet and sour taste of the cherry filling layer. And they can melt all at once after putting it in your mouth.
For those who like to add topping, a whipped cream or ice cream will be a good choice. You can add as much or as little as you like because it won't change the dish's overall flavor too much.
Cook Time: 60 minutes
Have a basket of fresh cherries in the kitchen but are tired of eating them alone? Try this recipe; you will be surprised by how delicious it is. The fatty crunchiness of almonds and the sweet taste of fresh cherries make this dish special.
Besides, the crispy pastry outside will also contribute interest to your eating experience. As the French word "galette" in the name refers, this dish is truly a flat round cake.
So, to serve it properly, you can loosen the galette from a baking sheet with a spatula, then slide it onto the plate and serve.
Total Time: 70 minutes
If you are a fan of rolls, especially for breakfast, you better try on cherry cinnamon rolls. This trouble-free homemade recipe of cherry cinnamon rolls will help you find a solution for every breakfast.
Specifically, you will simply make your dough at home by blending yeast with warm milk and butter mixture along with additional eggs, sugar, and cinnamon. After the dough is complete, fill it with canned cherry filling and bake. Then you will have untroublesome homemade rolls for breakfast.
However, you should be aware of the baking time since many factors impact it, namely your roll size, pan type, or the tightness of your roll. Typically, their baking time will be forty-five minutes but to be sure, you should check it after twenty-five minutes. Fully cooked browned rolls will be your goal.
Total Time: 17 minutes
Cherry turnovers will be a nice welcome treat to your new neighbor. This dessert is easy to pick yet make, thanks to the canned food. And it's also what makes up this super quick breakfast. Just use crescent roll dough and put in the cherry filling, then bake. All done!
If you want to store your leftover turnovers, put them in an airtight container and keep them at room temperature. They will be fine for up to two days.
When needing to serve a dish, you can reheat them at 572 degrees F (300 degrees C) for about 15 minutes or until warm depending on the size of your turnovers.
A super simple way to make cherry turnover at home!
Total Time: 30 minutes
If you are looking for an easy French dessert recipe, you are in the right place. With just 30 minutes from preparation to making, you will have an insanely delicious dish of cherry clafoutis, a juicy baked dessert hailing from the Limousin region of France.
Typically, this dessert contains fruit in a thick and flan-like batter. In particular, black cherries are a classic ingredient of fruit traditionally used in the recipe, but it is fine to change into other fruits such as berries.
You can serve cherry clafoutis with powdered sugar or cream to add sweetness. But if you love a little bit of mild taste, eating this dessert alone is tasty enough. By a bite, you will find it sweet, tart, and tangy at the same time with a moderate firmness of cake.
Notably, this chosen recipe is suitable for vegetarian diets since it is both gluten-free and dairy-free. So, my vegetarian mate, please feel comfortable making this dish!
Cook Time: 35 minutes
If the cherries you bought are too sour, do not hesitate but thrive them into making yogurt. Not only does cherry yogurt burst with flavor, but it is also healthy and easy to make. All you need to do is prepare and blend all ingredients, and then you have loads of ice cream saving for hot days.
The small tip to eating cherry frozen yogurt is to let it out for ten minutes before serving. Such an amount of time will help your yogurt get to enough temperature to enjoy the full flavor without freezing your mouth.
Besides, you can make your yogurt in advance since it can last for a couple of weeks in the freezer. However, it will turn icier over time. Therefore, you will want to serve it as quickly as possible.
But really, you don't have to worry too much. With its tasty flavor, I am sure your children will finish it in no more than a week.
Total Time: 33 minutes
As its name suggests, cherry snowball cookies have a snowball-like appearance. They are round in shape with confectioners' sugar covered outside. Besides, the dish texture is also soft and tender, just like snow.
When you cut the snowball cookie in half, you will see a beautiful red color of cherries, highlighting the whole white dish. In particular, it is even more magical when you try a piece of cherry snowball cookie.
The first taste when the piece touches your mouth is the buttery flavor of the cake. Into the cake center, you will enjoy a sweet and sour taste of cherries with a little bit of acrid from the fresh fruit.
And of course, Christmas is the best occasion to make this dish for your family. So, you better have a plan to invite everyone in your family to make cherry snowball cookies in the upcoming winter.
Total Time: 50 minutes
Not chewing gum, cherry chews are a traditional treat during the Christmas holiday. This dessert is well known for its chewy texture and beautiful pinky frost outside, making it the cutie to present on the table on Christmas night.
One more reason for its popularity is the pleasant taste that kids and adults alike will love. The sweet and tangy flavor of cherries and coconut with a subtle almond taste is something you should look forward to when eating cherry chews.
Thumb up to this easy recipe of cherry chews!
Total Time: 40 minutes
Chimichangas refers to a famous dish belonging to Tex-Mex cuisine. Usually, the filling of chimichangas is meat and vegetables. Thus, people serve them as a main course. However, you can utilize the outer shell and change chimichangas into delicate desserts.
The cherry cheesecake chimichangas are not too complicated to make. You just need to mix cream cheese with sugar and vanilla, spread it onto the tortilla with some cherry pie filling and roll it like a burrito. After that, fry these rolls for two to three minutes.
Until these chimichangas are golden brown on the outside, roll them in the cinnamon-sugar mix, and then your dish is ready for serving.
Although it is better to serve cherry cheesecake chimichangas fresh, you can store them in the refrigerator with an airtight wrap. They are well reheated in the oven but will lose their initial crunchy texture.
Total Time: 45 minutes
Do you want to make a nice treat for everybody on special occasions? It is not a big deal if you have a delightsome recipe for chocolate cherry trifle. This classic dessert, also known as black forest trifle, will surprise the crowd with just some simple steps.
In particular, this dish includes several layers, namely tender chocolate cake, fatty pudding, creamy whipped cream, and sweet cherries. You just follow instructions to make each layer and put them all in a glass or container. Then you will have a yummy dessert with beautiful layers.
You can use Devils Food Cake or any chocolate cake ingredient to prepare this treat. Its light and spongy texture will be perfect for your chocolate pudding. Besides, you should leave no gap between layers for the best appearance.
Total Time: 70 minutes
Cherry cheesecake dip is ideal for dessert buffets or simply a school snack. This great dip only requires six easy-picked ingredients, including cream cheese, butter, heavy cream, powdered sugar, cherry pie filling, flavorings, and dippers.
And if you have no oven, this recipe will be a fit. All you have to do is beat everything together until a creamy and foamy texture appears. Then add to top your cherry pie filling and enjoy it with your favorite dippers. Certainly sure that the dessert will satisfy your sweet tooth!
Regarding the dippers, there are some well-paired suggestions for you. You can grab vanilla wafers or Graham crackers if you like a milder sweet. But if you seek a flavor add-in, Oreo or Pretzel crisps will be perfect.
Total Time: 40 minutes
If you need some top-notch dessert to bring to the potluck, cherry Garcia sheet cake should be your pick. This dessert is everyone's favorite and definitely will be your crowd-pleaser. But, who knows this delicious dessert begins from a boxed cake mix? Easy pick for you, my friend!
Just follow the cooking guide to bake a cake and make the frosting. Then you will have a beautiful sheet cake serving the crowd. For doneness check, there are some tricks you can apply to your dessert dish.
The most classic way is to poke a toothpick or wooden skewer into the cake center. If the tool comes out clean, your cake should be ready. Besides, you can also check if the sides of your cake begin to pull away from the pan. If they do, you can serve your cake.
And the last way is to poke yours gently on the cake. If it is hollow, you should bake your cake again.
Total Time: Around 65 minutes
Cherry cheesecake swirl brownie will be a perfect sweet treat on Valentine's day or when you want to send love to someone. They will love your fluffy brownie with creamy cheesecake and sweet-tart cherries. And then they might fall in love with you.
Indeed, they can see the love in you through this delicious cake. The brownie has rich chocolate fudge with a fatty and juicy texture of cheesecake and cherries. When your beloved eats your brownie, they will feel the creamy and sweet taste of a brownie filled with love.
So, you have to put all your heart into this recipe. Simply make the brownie, cheesecake, and cherries, then assemble them in order in the baking tray as directed and bake them. Bang! Now it is your turn to impress your beloved one.
Figure out how to make the best cherry brownies in town!
Total Time: 30 minutes
Your afternoon tea will not be complete if you miss the cherry scones. This dessert is easy to make with only 30 minutes but will do magic for your tea meeting. These scones are fluffy and light with loads of sweet and sour cherry flavor. It sounds so good, doesn't it?
To make a cherry scone, you only mix all the ingredients with the right amount and at the right time. Then everything will be in shape. The most important thing is that you should focus on the quality of ingredients and their temperature. These notices will make your dessert taste the best.
Total Time: 23 minutes
Cherry Danish is a buttery and flaky crust with fatty cream cheese and sweet cherry pie filling. Since this dessert is a people pleaser and easy to make, you can bake and enjoy it anytime in the day.
After well preparing the ingredients, it will take you only 13 minutes to finish the dish. Simply scoop a small amount of cream cheese mixture and cherry pie filling into the center of the crescent dough, then put these Danish into the air fryer basket.
After that, bake until the edges are golden brown and let them cool down on a cooling rack before serving with glaze. That's how to make an ideal cherry Danish with cream cheese. So easy, right?
To treat this dessert for breakfast, you can serve it with a pumpkin spice latte or whipped hot chocolate. These pairings will fulfill your family morning.
Cook Time: 45 minutes
Cherry Amaretto fudge will kick off other boring chocolate bars with the added cherry flavor. Indeed, the recipe is super simple. Just blend the melted butter, chocolate, and milk and add some reduced amaretto and dried cherries. Then sprinkle a few flaked almonds on top, and done.
However, there are some notes you have to notice. First, do not be obsessed with stirring for the ingredients to blend. Instead, the more you stir, the more separate the ingredients. So, just cook them on low heat and stir once in a while to avoid burning.
Besides, there will be a time the mixture has a lumpy and messy look, and you think things go wrong. It is not! Stay relaxed and give it a little more time to be in shape. Then your patience will be rewarded.
Total Time: 60 minutes
Inspired by pie, cherry vanilla ricotta crostata will give you the crispiness of the outer layer with the creamy vanilla ricotta and the sweet and sour topping of fresh cherries. This combined flavor is what you would die for!
There are only three main steps to making this incredible dessert, including the crust, the filling, and assembling the tart. While making the crust can be somewhat complicated with measuring ingredients, filling one will be easier.
But rest assured, just follow the recipe; you will make this dessert in no time. For more flavor, you can dust it with raw sugar on top of it before baking if desired.
Total Time: 35 minutes
Maraschino cherry shortbread cookies are a superb dessert for Thanksgiving. This delicious cookie is colorful and flavorful in the true sense of Christmas, thanks to chocolate chips and cherries.
When eating these cookies, you will feel the soft cake and some chewiness of the cherries. Then comes the dominant taste of sweet and buttery with a hint of bitter flavor of chocolate chips. All harmonized in your mouth gives the feeling that the festive season is about to come.
In common, to make cookies, you will put all the ingredients in a bowl and mix it well, then roll the dough into a log, refrigerate, cut it into pieces and bake them. But if you like to be creative, you can also use various cookie cutters to shape cookies. There will be a lot of fun!
Welcome party with this insanely simple maraschino cherry shortbread cookie recipe!
These Cherry Desserts Will End Your Party In The Best Way
Seeking a list of easy cherry desserts for your upcoming family gathering? You have already achieved that goal through this article. Now let's get to work on them!
When you've finished making any desserts, let me know if they worked and tasted good in the comments. I would be happy to hear about your experience.
Also, if you find the article interesting, do not forget to support me by giving a like and share button. Your support will be the motivation for me to create more articles like this. Thanks and bon appétit!