If you are looking for some fancy dishes, then the best chanterelle recipes will meet all your needs. This is one of the rarest and most luscious mushrooms.
Since the 1500s, chanterelle mushrooms have been present in aristocratic dinners. To this day, fortunately, you can enjoy many delicious chanterelle dishes as they become more popular.
In the list below, I would like to share with you a collection of the best premium chanterelle recipes you can try at home. They do not require too much in terms of techniques and kitchen tools but offer the most worth-trying flavors.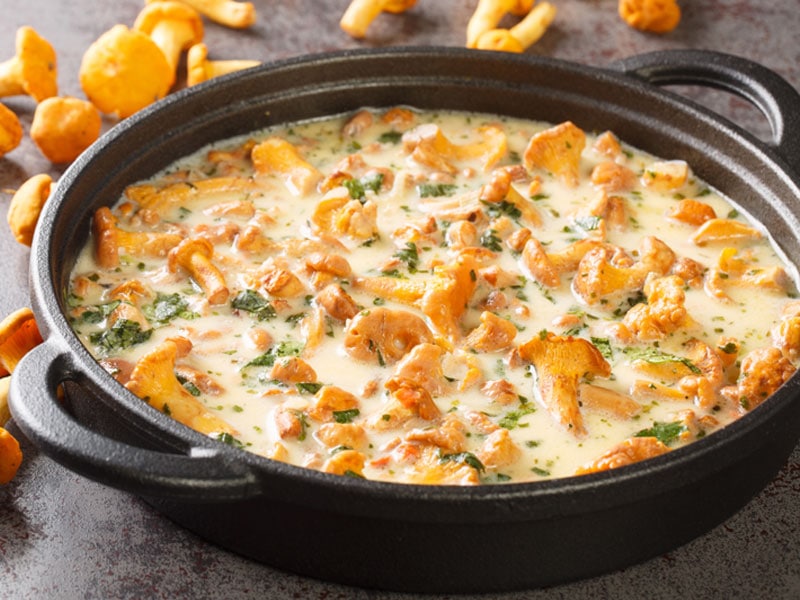 Marvelous Choices For Chanterelle Dishes
The recipes containing chanterelle mushrooms below certainly won't disappoint anyone. I have carefully curated them to ensure they are simple and easy to make.
Total time: 30 minutes
For an entry, I would like to introduce you to a classic alpine dish – wild chanterelle mushroom goulash. This is a special meal that stimulates your taste buds.
First, to make this recipe, you must prepare the soybean chunks. Simply mix and soak the soybean with soy sauce, agave syrup, lime juice, and stock powder.
Then add the mushrooms and wait until the liquid has dried up. You should continue to cook chanterelles for another 5 minutes over high heat with herbs and marjoram.
If these mushrooms shrink and all the liquid almost evaporates, include smoked paprika and tomato puree to brighten up the dish.
After about 5 minutes of high-pressure cooking or simmering, you have tender potato pieces and chunks of soybeans soaked in sauce. This dish will have the ideal ending when you serve it with bread or dumplings.
Total time: 25 minutes
Autumn is the ideal season for wild mushrooms. Therefore, this is also the time when chanterelle is harvested the most. Don't miss this wild chanterelle mushroom soup recipe if you love its taste.
This dish is full of flavor and warming, perfect for chilly days. It is not only easy to cook but also vegan. You can taste coconut milk's creamy profile and sage's aroma in the first bite.
For more fragrance, saute minced garlic until they are transparent before adding chanterelle mushrooms. To make wild chanterelle mushroom soup more attractive when serving, keep about 1 cup of the chanterelle and crispy sage mix to garnish this dish.
Total time: 40 minutes
The next recipe is another sauce you can experiment with at home to pair with steak. Chanterelle mushroom cream sauce is rich in heavy cream with the earthy notes of mushrooms.
It couldn't be more appropriate for garden barbecues. Parsley and horseradish are the highlights of the sauce this time.
Make the sauce a little thick enough to top your succulent steak. However, it is better to use low heat to warm the chanterelles when reheating. If not, you will break the sauce by overheating.
How could you pass up this wonderfully rich chanterelle mushroom sauce when paired with steak?
Total time: 50 minutes (resting time 1 hour)
The next recipe you should try at home is chanterelle ravioli with sage and rosemary oil. This dish is delicious and attractive, thanks to the scent of sage and rosemary oil enveloping it.
The filling includes onions, olive oil, chanterelles, garlic, and oregano. All are cooked until they reach a moist but not overly watery mixture. Moreover, the fried chanterelle mushrooms add depth, making this dish sure to occupy an important place in your heart.
The combination of sage and rosemary oil with this succulent mushroom is never outdated. If you're worried about stuffing pasta and shaping the ravioli, don't worry, as this recipe shows you step-by-step instructions.
Make sure there are no holes when pressing around the edges of the pasta with a fork. Thus an excellent ravioli is going to be born.
Total time: 30 minutes
If you are both a fan of pizza and chanterelle mushrooms, you should materialize this dish right in your kitchen.
This fresh mushroom completes the pizza because of its fruity flavor, apricot-like taste, and mildly spicy aftertaste. Surely, it adds a certain uniqueness to this pizza.
In addition, you can combine two creamy flavors by sprinkling the cheddar cheese over alfredo sauce to satisfy all your taste buds.
This recipe couldn't be simpler, requiring only crunchy bacon, creamy sauce, and fresh herbs on the pizza crust. I guarantee the bacon chanterelle mushroom pizza is worth sharing with the family for dinner.
Total time: 40 minutes
The impressive appearance of risotto often fools people that it is difficult to cook. Better yet, the chanterelle mushroom risotto recipe includes easy-to-find arborio rice, chanterelle, and a little white wine.
Moreover, it also does not require any advanced techniques at all. Surprise all your family members or friends with this hearty dish. I have the answer if you wonder why you should utilize arborio rice in this recipe.
It is full of starch, making this risotto a thicker and creamier texture. There are no dairy products in the recipe, but the chanterelle mushroom's shiny coating of spices will captivate anyone at first sight.
After adding lime juice, cooked mushrooms, and parmesan on top, you should serve this rice dish as soon as possible to enjoy the best-textured version. Next, the taste of dry white wine is unique in its many different layers, from grassy, floral, herbaceous, and fruity hints.
Bring a taste of Italian cuisine to your kitchen with this hearty chanterelle mushroom risotto.
Total time: 21 minutes
This easy chanterelle mushroom crostini is complete with a honey coating. A slice of crusty bread topped with creamy ricotta cheese and chanterelle mushrooms is precisely what this flavorful recipe needs.
Ricotta toast lovers simply cannot miss this recipe. Alternatively, you may opt for a scrumptious creation with goat cheese, as it has a neutral, buttery, earthy, and sour taste. The toast delivers countless flavors in one bite but takes just over 20 minutes to cook.
Simply stir-fry chanterelle mushrooms with some black pepper, salt, and thyme in a frying pan. Then, you have a wonderful topping for this chanterelle mushroom crostini dish.
Total time: 45 minutes
Pasta with chanterelle mushrooms and speck has a strong traditional vibe of the mountainous Trentino- Alto Adige region. This recipe has almost all the signature flavors of chanterelle mushrooms, speck, and tagliatelle – a pasta made from flour and eggs.
Tagliatelle is a kind of pasta with rich rye and delicate spinach flavors. In addition, the dish has depth thanks to a speck – a pork fat that resembles the combination of ham and bacon from South Tyrol.
Many complain that chanterelles are too expensive; however, I find them worth it. This is a wild mushroom, difficult to grow, and of course, has a distinctive taste.
It's an easy dish to make, but if you don't have the ingredients on hand, try substituting them according to your savor. Fresh chanterelles or champignons are also suitable for this dish. About the speck, you can replace it with pancetta.
Total time: 1 hour and 5 minutes
Next, let me introduce you to a combo of chanterelle mushrooms and potatoes with the easiest ingredients to find. Besides the two main components mentioned above, you just need to add some extra, like honey, butter, sage leaves, thyme, olive oil, and onion.
Almost every mushroom has a distinctive umami flavor that keeps you looking for recipes to get creative with them. Furthermore, chanterelles are nutritious and very low in calories.
In addition to being high in vitamin D, they also contain many kinds of vitamin B and other minerals.
This recipe is suitable for you to add to your menu. The overall golden brown color from potato wedges, mushrooms, and caramelized onions make you want to try this dish as soon as it's cooked.
Try creating dishes with potatoes and chanterelle mushrooms with this cooking guide.
Total time: 8 minutes
A hearty and warm American-style dish is everything this miso recipe has to offer. It sounds strange, but this is the perfect combination of salty and sweet that everyone wants to try once.
Simply combine all the ingredients like apples, plant-based sausages, onions, and fresh chanterelle mushrooms. Drizzle the mixture in maple miso sauce, and you've got a vegan chanterelle recipe.
It is a healthy and balanced meal that you should consider. For breakfast or brunch, you just have to toast the slice of sourdough until golden brown, and your dish is ready. Moreover, you should serve it with pancakes, cookies, or a bowl of oats.
Total time: 30 minutes
When autumn comes, it is also the time to signal you with warm chanterelle recipes. From the name, autumn mushroom pasta brings out the taste of fall. It is suitable for a romantic dinner with your date or a warm gathering party with your friends.
This recipe is earthy as it includes fresh mushrooms, pine nuts, and Parmigiano-Reggiano PDO cheese. You can easily find chanterelles at this time of year, so make the most of it in this recipe.
Once the butter is melted, simply add the mushrooms and saute for 3-5 minutes until it becomes brown. After that, top the pasta with cooked chanterelles, black pepper, and red pepper. For the best version of this recipe, never forget to enjoy it with Italian red wine.
Autumn is the best season to enjoy this chanterelle pasta.
Total time: 20 minutes
Can you believe that with just a few ingredients and 20 minutes, you can have beautiful butter-fried chanterelles with parsley that goes well for busy days?
First, you need to saute the shallot until it becomes fragrant and transparent. Follow it up with chanterelle mushrooms and keep stirring for five minutes.
At this point, the mushrooms turn brown-yellow and secrete a liquid with a strong umami flavor. Butter and parsley fill your kitchen with the aroma of this dish.
Furthermore, crisp and light brown toast is ideal to accompany butter-fried chanterelles and parsley. It is a versatile recipe that you can use for breakfast or lunch.
Total time: 35 minutes
If you're used to the signature yellow color of chanterelles, try substituting the beautiful red variety in this recipe. Buckwheat, sole, red chanterelles, and carrot ribbons will become a stir-fry you always want to recreate.
Don't worry about the taste of the cinnabar red chanterelle, as it is similar to the classic chanterelle. You can feel the floral and fruity flavors when pan-frying it. But note that its red tint just stands up well to a six-minute saute.
One trick you may not know is not using the carrot core because it is quite hard and cooks longer than the surrounding meat.
Alternatively, you can replace the buckwheat flour with all-purpose flour, fish dredge, or cornmeal. However, the grainy flavor of the dish dropped more or less.
Total time: 30 minutes
Have you tried combining chanterelle mushrooms and maple syrup to make a candy-like dish? If not, update your menu collection with this recipe. This is, of course, a sweet vegan appetizer.
Chanterelle has a chewy texture like meat that is quite pleasant to enjoy. Sweet, pure maple syrup with a dash of sautéed shallots spice up this candied maple chanterelles dish.
Let's touch up its savor with a spicy kick from the sriracha sauce and the sharp tanginess of Dijon mustard. In about 10 minutes of cooking, the sauce consistency thickens, becomes glazed, and has an intense taste.
You can feel all the sweetness of chanterelle mushrooms through this candy recipe.
Total time: 2 hours 15 minutes
As already mentioned, chanterelle is a pretty rare kind of mushroom. It can be hard to find these mushrooms fresh in stores. However, many think the dried version of the mushrooms is also worth trying.
Fricassee of chanterelles is a sauce recipe that goes well with many dishes. For that, there's nothing better than having some chewy pasta ready to go with it.
Spice up the chicken by cooking it over low heat with a mixture of red wine, broth, garlic, parsley root, and leeks until the sauce thickens. The trick is to use parsley root, which plays an important role in making the luscious smell.
This recipe is flavorful and has a thick consistency from egg yolks and crème fraîche. The dish is complete when you add a little salt and black pepper and garnish it with the remaining parsley.
Let's make this mouthwatering chanterelle fricassee pasta to warm your belly.
Total time: 5 hours 30 minutes (active time: 55 minutes)
It is understandable when chanterelle mushrooms appear in various extravagant ice cream desserts for your to try. With its versatile flavor, this mushroom goes well with both savory and dessert dishes.
Although it takes more than five hours to make this dish, don't worry because most of the time, you are waiting for the ice cream to freeze.
It is better to use the blended mixture of milk, heavy cream, vanilla seeds, and chanterelle mushrooms for a smoother texture through a mesh sieve. The finished ice cream is porous and has more depth.
Served with chanterelle ice cream are famous madeleines of French origin. They have not only a lovely shell shape and unique light-brown color but also a soft and buttery taste.
With their unique shape and flavor, Chanterelle mushrooms appear in many delicious recipes that everyone should try. Any other food cannot replace this mushroom's brilliance in appearance and rare fruity taste.
It looks great with soups, pasta, sauces, rice, and many more ingredients. You certainly do not want to skip this superfood with many nutrients in your meals.
Let the exquisite dishes from the chanterelle mushroom recipes above banquet everyone in your family at gatherings. Thanks for taking the time to review this list. I hope you have a flavorsome chanterelle dish for dinner tonight!