As a fan of juicy drinks, I always miss the best cantaloupe recipes when the burning summer is near. This orange and refreshing fruit brings a super juicy, tender, and sweet taste, making it a perfect ingredient for any summer beverages and desserts.
In addition, cantaloupe is rich in water, minerals, and many beneficial nutrients. It can easily quench your thirst while giving you an instant energy boost. For those who have tried a cantaloupe dish before, I won't need to introduce much about this gorgeous fruit.
So, here are some easy and delicious cantaloupe recipes that can satisfy your thirst on hot days. I will show you the reasons why these dishes are a must-try.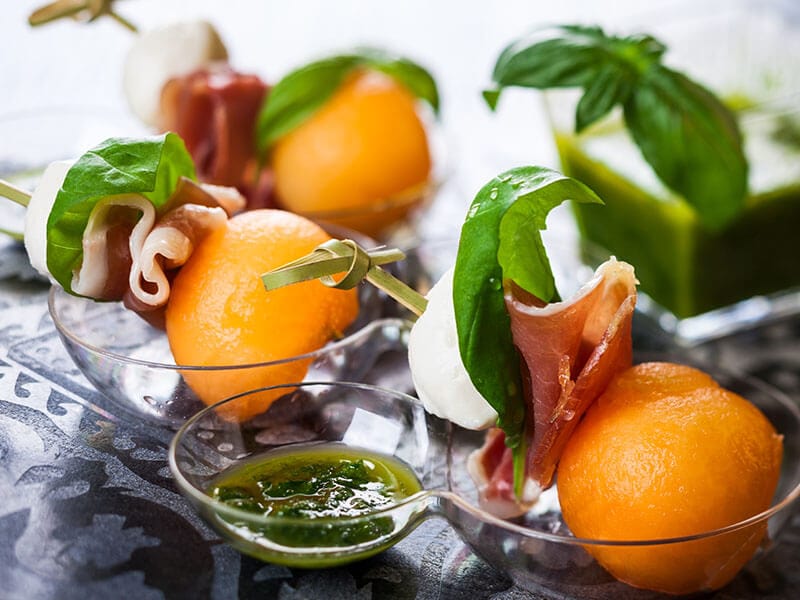 Get A Refreshing And Healthy Meal With These 20+ Best Cantaloupe Recipes
Personally, I think the cantaloupe delivers the best flavor and texture when eaten fresh. You can use it for making a variety of food, from breakfast, side dishes, and snacks to desserts.
However, the quality of the fruit directly affects the tastiness of the dishes. Therefore, ensure that you choose the ripe and heavy cantaloupe with a firm texture and a beautiful golden beige color.
Also, don't forget to wash the fruit's skin thoroughly to remove dirt and contaminants. Now let's jump into the recipes.
Total time: 10 minutes
These prosciutto and melon skewers never get obsolete thanks to their classic combination of sweet and saltiness. With raw Italian pork and tender cantaloupe melon, this recipe looks more gorgeous than any five-star restaurant's dish.
Making this prosciutto and melon skewer is more than easy. You just need to pick the highest-quality ingredients and assemble them on the skewer. To achieve the most authentic taste, you should use prosciutto crudo (dry-cured Italian prosciutto) for this recipe.
Cut the meat into as thin slices as possible so its flavor could well balance with the cantaloupe melon. It also makes each skewer look more tasty and classy. If you can't find cantaloupe, the other types of melon are applicable, though they won't give the best flavor.
Try out the delicious prosciutto and melon skewers with this simple guide!
Total time: 20 minutes
I always love salad because it's the best way to enjoy fresh, raw, and healthy ingredients simultaneously. This no-cooked cantaloupe salad mixed with corn, zucchini, and lemony pesto is an excellent example.
This dish looks fairly simple with the mild green and bright base of zucchini, basil leaves, and fresh corn. But the thing that attracts me the most is the little beautiful cantaloupe balls spread on top of the veggies.
Toss the ingredients with lemony pesto dressing, and you get a perfect blend of sourness and fresh flavors. This salad is a healthy, mood-boosting dessert that you can enjoy at any time of the day.
Total time: 30 minutes (Plus 1 hour of chilling time)
I had been desperately looking for an easy and classy beverage for the summer parties until this ginger cantaloupe sangria showed up. In less than half an hour, you can make a delicious alcoholic drink that will impress all your friends and guests.
The ginger cantaloupe sangria is a cool, refreshing, and healthy beverage with a beautiful bubbly and vibrating texture. It doesn't have an overwhelming taste, just a mild and delicious fruity flavor from cantaloupe, ginger, white wine, and lime.
This recipe uses white wine because it brings a sharper flavor than the other alcoholic drinks. Its floral aroma and citrus taste is an excellent complement to the cantaloupe's sweetness. You can add a little mint sprig to make this drink even more refreshing.
Total time: 10 minutes
I have never seen such a soup with a smooth and creamy texture like this recipe. The beautiful and vibrant yellow of cantaloup mixed with fresh blueberry and basil gives this dish an exotic appearance.
Each silky spoon of this gazpacho will melt softly in your mouth, giving a satisfying burst of fresh and natural cantaloupe sweetness. With a little juice and salt for seasoning, this recipe features a balanced richness of taste.
Though the recipe uses blueberry and basil, you can add your favorite toppings like seeds, basil oil, radish, or avocado. This dish will instantly light up your mood with its heart-warming look and filling flavor.
It only takes seconds to prepare this cantaloupe gazpacho with blueberry and basil. Let this guide show you!
Total time: 10 minutes
Here comes another simple but not less delicious cantaloupe salad to diversify your diet. This salad is loaded with cantaloupe, onion, walnut salad, and the exotic orange vinaigrette dressing.
The crunchiness from toasted walnut is a great accompaniment to the soft and tender cantaloupe flesh. This recipe also adds some arugula to create a peppery undertone. It's an excellent addition to any salad and veggie dish.
However, the soul of this recipe lies in its orange vinaigrette dressing. It's a mix of fresh orange juice, lemon juice, raspberry vinegar, oil, and black pepper. There's no word that can describe the citrusy and tasty flavor of this sauce.
Total time: 30 minutes
This is a simple canape dish loaded with prosciutto, ricotta, and basil leaves. It's served with a delicious melon jam made of Cantaloupe melon and lemon juice, giving a pleasant and classy culinary experience.
The melon jam is an indispensable component of this recipe. It gives a filling cantaloupe's sweetness and an acidity undertone from lemon juice, which adds more depth to the savory taste of prosciutto ham.
The jam spread on the prosciutto bruschetta should have a vibrant reddish color to drive your appetite. You can add a little ginger and heat up the jam to mix up its flavor.
Total time: 5 minutes
I thought that this cantaloupe smoothie was some kind of milkshake due to its airy white texture. But believe me, milk is nothing to compare with this super delicious and healthy smoothie.
This recipe uses no sweetener at all to keep it low-carb and healthy. The natural sweetness from cantaloupe, Greek yogurt, honey, and banana is sufficient to indulge your sweet tooth. This beverage is ideal for people following a healthy diet with its abundant vitamins and fiber.
To make this smoothie, just throw all the ingredients into the blender and mix until they're fully combined. Then, pour into a glass and serve while the drink is still fresh and creamy. You can replace honey with coconut sugar and agave nectar for the vegan version of this dish.
Here is a chill and relaxing instruction for making the cantaloupe smoothie!
Total time: 1 hour and 5 minutes
Cantaloupe is a great ingredient for various drinks, desserts, and salads, but can you use it for making bread? Actually, cantaloupe bread is among the healthiest and tastiest sweet bread recipes you'll ever try, and I will demonstrate that point.
With the fresh and ripe cantaloupe lemon as the ingredient, this quick bread delivers a satisfying sweetness and incredibly tender texture. It's also loaded with salt, sugar, vanilla extract, and cinnamon to intensify the flavor.
You can insert a skewer into the bread centers to check after baking. If the skewer comes out clean, the bread is well done. Also, don't overmix the bread batter, or it won't rise properly.
Total time: 5 minutes
Unarguably, this is the easiest homemade cantaloupe recipe that even kids can follow. It's basically a fruit smoothie assembled on the cantaloupe boat with raspberries, blackberries, granola, and honey.
To make this dish as enjoyable as it can, you must select a ripe and fresh cantaloupe. Choose the fruit with a soft blossom end and some netting near the stem. Also, a high-quality cantaloupe should have mild creamy or slightly green skin.
Making this yogurt and fruit cantaloupe boat is just a piece of cake. First, clean the cantaloupe thoroughly, then slice it in half and discard the seeds. Now spread yogurt on the cavity and put in the fruits. Finally, drizzle a little honey on top to serve.
Total time: 1 hour and 20 minutes
Jam is obviously sweet, but people following a low-carb diet can still enjoy it with this low-sugar cantaloupe jam recipe. Its super tasty and sweet flavor makes this jam a great addition to any dishes and treats.
You can reduce the amount of sugar added since cantaloup is already sweet. However, I recommend you follow the 1:2 ratio when mixing sugar with cantaloupe to achieve a perfect flavor. For example, use 2 pounds of cantaloupe for every 1 pound of sugar.
Remember to remove the seeds and peel the cantaloupe skin if you use fresh fruits. Also, cantaloupe contains much less acid than other fruits. Therefore you need to add a generous amount of lemon juice to achieve the proper jam consistency and shelf life.
This is the only instruction you need for making the low-sugar cantaloupe jam.
Total time: 30 minutes
If you can't stand the scorching hot summer days like me, this cantaloupe melon and kiwi agua fresca is a must-try. It's a cool, healthy, and super delicious drink that will quench your thirst at the first sip.
This Agua Fresca delivers a juicy and light texture since cantaloupe is very high in water content. It will keep your body hydrated all day and remove all the toxins. It's hard to demand a more tasty and healthy drink like this.
I almost forgot the kiwi fruit. It brings a tangy and sweet taste that makes the Agua Fresca even yummier. Top the drink with some extra kiwi fruit slices, and your drink will become more classy than ever. Don't forget to add some ice before serving!
Total time: 15 minutes
Imagine a pizza filled with grilled cantaloupe, sliced prosciutto, and burrata. It's the ultimate vegan pizza version that you have been looking for. The hearty veggie toppings mixed with creamy balsamic glaze and honey create a simple and delicate summer dish.
This recipe uses the instant pizza dough from the store to save time, but you can feel free to use your homemade batter. You'll brush a little olive oil on the pizza sides to give it a crispier texture after grilling.
Some added red pepper flakes for the topping are optional, but they will give the pizza a slightly sharp scent. A little tangy and sweet balsamic glaze also adds more flavor to the pizza slices.
Total time: 10 minutes (Plus 5 hours of freezing time)
Have you tried freezing the cantaloupe puree? It gives a refreshing and cool texture that tastes even better than ice cream. This four-ingredient cantaloupe sorbet is a sweet gift for ice cream lovers with a delicious taste, easy preparation, and no gluten involved.
Every sorbet requires some sugar to sweeten up the fruit and give it a more creamy texture. This recipe doesn't use refined sugar but a little raw honey for the flavoring. The natural sweetness of honey just combines so well with the juicy cantaloupe taste.
This sorbet also features a mildly sour undertone from a fresh lemon. Ensure that you pick the ripe cantaloupe to give the sorbet that vibrant orange texture. If the fruit is not ripe enough and the sorbet tastes dull, add more honey to make it more delicious.
It's nearly effortless to prepare this cantaloupe sorbet thanks to this helpful guide!
Total time: 5 minutes
Here is your long-awaited cantaloupe smoothie mixed with ginger and lime. I have tried virtually every fruit smoothie in the world, from strawberries and bananas to lemon. Still, there's hardly any fruit that can match cantaloupe.
This fruit gives an oddly addictive sweetness and juicy texture that you cannot help but fall in love with. From the beautiful orange color to the perfect balance of sweet and sour flavor, it's a perfect thirst-quenching beverage for hot summer mornings.
The fabulous peppery aroma of ginger is another plus point of this recipe. If the consistency is too thick, you can add more water to blend the smoothie easier. Also, use more water if you use frozen cantaloupe.
Total time: 7 minutes
How about another fresh and delicious beverage for the summer months? This healthy and tasty cantaloupe ginger cocktail makes a gorgeous alcoholic drink for any dining table and party with its gorgeous appearance.
This recipe uses fresh ginger for the spicy undertone and aromatic scent. The sweetness of cantaloupe and honey brings a satisfying flavor without any refined sugar needed.
You can substitute honey with maple syrup in any quantity to indulge your sweet tooth. Serve the cocktail in a tall glass, and you get a classy and beautiful beverage. Don't forget to fill with ice cubes, extra cantaloupe balls, and mint garnishing.
Total time: 20 minutes
Shrimp is a perfect component to mix in fruit salads since it doesn't give a too strong fishy smell. Its mildly salty and sweet flavor combined with the pleasingly firm texture will take this cantaloupe salad to another level.
Though the pre-cooked shrimps are applicable, they don't bring as chewy and delicious taste as fresh ones. You don't necessarily have to use big shrimps. The small ones still bring a juicy and sweet texture.
The sweet shrimp and cantaloupe are lightly seasoned with salt, pepper, and a creamy glazing layer of mayo, vinegar, and buttermilk. You can mix the ingredients to prepare this salad ahead and glaze the dressing before serving.
Total time: 10 minutes
All it takes for this Prosciutto-wrapped cantaloupe is three ingredients and 10 minutes with no cooking required. It's an amazingly tasty summer treat with the combination of salty prosciutto ham and sweet cantaloupe melon.
Cantaloupe and prosciutto have always been a mouth-watering culinary duo with their perfect mix of salty and sweet flavors. The balsamic glaze also adds a tangy and sweet undertone to the filling recipe.
For those who cannot find balsamic glaze, you can prepare a homemade version by simmering old balsamic vinegar. After the texture gives a proper thickness, you have a balsamic glaze ready for your cantaloupe.
You can keep it for a few weeks by refrigerating it in an airtight container.
Learn to make the prosciutto-wrapped cantaloupe with this fun instruction!
Total time: 15 minutes
The cantaloupe cucumber salsa is super crispy, flavorful, and refreshing. The tastes come together with cantaloupe, tomatoes, cucumber, olive oil, and cilantro. With the classic addition of salt and pepper duo, it's a must-try side dish in summer.
Cantaloupe is a great ingredient for salsa since it remains sturdy for longer than the other fruits. It's a tasty mix of spicy, tangy, and sweet flavors from fruits, veggies, and cilantro. You can serve this dish as a snack or enjoy it with chips or grilled meats.
Your children can help with making this cantaloupe cucumber salsa. All you have to do is combine the ingredients in a large bowl and chill the mixture in the fridge to serve. If necessary, adjust the amount of salt and seasoning to achieve your favorite saltiness.
Total time: 20 minutes
I'm glad to bring you a simple and delicious salad of cantaloupe mixed with feta cheese, lime juice, and fresh mint. It's an elegant summer dish for any special occasion and party that takes only 20 minutes to prepare.
It's hard to find a more flavorful salad than this recipe. You can find the sweetness of cantaloupe melon, the savory taste of feta cheese, and sour lemon juice in it. The added mint leaves also give a mild sweet taste and a subtle cooling effect on the tongue.
As a healthy and gluten-free salad, it can combine well with any savory and meaty dishes. If you are allergic to dairy, consider using vegan alternatives for feta cheese. This recipe also works well with honeydew or watermelon in case you don't have cantaloupe.
Total time: 5 minutes
The juicy and vitamin-rich orange juice mixed with sweet and tangy cantaloupe lemon makes an exotic smoothie duo for the summer. This orange cantaloupe smoothie is loaded with natural sweetness and nutrition that will instantly refresh your mood.
To achieve a perfect balance between sweetness and tangy orange flavor, you should use really ripe and sweet cantaloupe. You can freely customize this drink by adding your favorite ingredients, like nut butter, fruits, lemon juice, or even protein powder, for extra nutrition.
This recipe uses no sugar, just a little yogurt to enhance its creaminess and filling taste. Its delicious taste comes from the natural sweetness of cantaloupe and ripe frozen banana. So if you're looking for a low-carb and healthy drink, you've found the right one.
Total time: 15-20 mins (Plus 4-6 hours of freeze time)
You may hesitate to feed your kids store-bought sugary creams and snacks, but this no-cook and simple cantaloupe ice cream is a much healthier way to indulge your kids. Its creamy texture and delicious mix of fruits and heavy whipping cream will melt your heart.
This recipe uses salt, vanilla extract, and sweetened condensed milk to enhance the flavors, but the real star is the frozen cantaloupe. It not only brings a filling natural sweetness but also gives the ice cream a beautiful yellow texture.
Before blending cantaloupe for the ice cream batter, you should freeze and cut it into small chunks for easier mixing. Lemon juice also makes the ice cream more delightful and refreshing, but consider removing it if you don't like the sour flavor.
Total time: 10 minutes
I preferred eating fresh fruits rather than grilling them, but this grilled cantaloupe recipe changed my mind. The beautiful yellow flesh of grilled cantaloupe mixed with sweet honey and spicy smoked paprika creates a fabulous BBQ dessert.
This dish tastes super sweet and gooey with a spicy kick from smoked paprika. To achieve the best texture when grilling, ensure that you use the freshest and most tender cantaloupe. Choose ripe fruits that give a powerfully sweet and musky fragrance.
Since the cantaloupe flesh softens when cooked, you should grill it in large slices. Also, avoid grilling the fruit with direct contact with the fire to prevent its sugar content from charring. You can pair this treat with some grilled meat and seasoned vegetables to enjoy.
No one can resist this sweet and spicy grilled cantaloupe! This video will show you how to make it.
These Cantaloupe Recipes Are A Perfect Midsummer Treat
No treat can match these best cantaloupe recipes for the hot summer months. They possess a refreshing and light texture loaded with super sweet and juicy flavors. So whether you pack it in cocktails, desserts, or salads, the dish is always fresh and satisfying.
In addition, cantaloupe is high in water, which accounts for 90% of its content. Therefore these recipes are a great way to maintain a steady water intake and prevent dehydration on scorching hot days.
So, what's the need for sugary and refined treats while you can make a simple and delicious cantaloup recipe at home? Just put down the phone and jump into the kitchen. You won't ever regret making these recommended cantaloupe dishes.
It's my happiness to share with you great recipes and helpful information. Before you leave, I would be so grateful if you could share this post and give it a thumb up. Have a nice day!