Having several cannellini bean recipes on hand is a good idea to supply hearty dishes to your family. These white beans are not only high in fibers and protein, but they are also a perfect ingredient for any recipe calling for creaminess.
Plus, you will be surprised by their adaptability. You can use cannellini beans in salad recipes or soups. They always soak up the flavors of whichever aromatics you give them and achieve the best taste. There is no reason not to learn about them, so stay tuned and keep reading for more!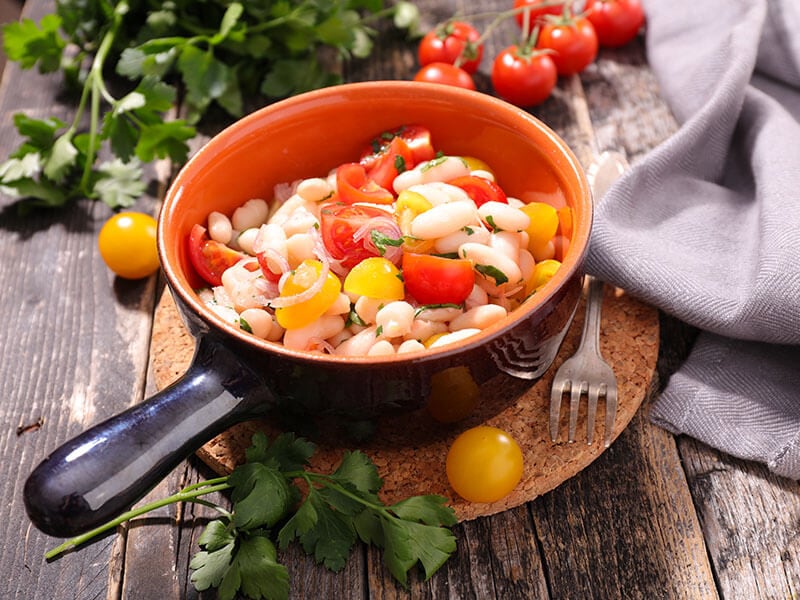 The Best Cannellini Bean Dishes For Everyday Protein Supplement
Cannellini beans are always on the top of my shopping list. Having these bean cans in the pantry saves my time and effort on cooking while ensuring my family gains enough protein for days. So how can I resist their charm?
If you are with me, this helpful post is for you. Trust me, I've tried all and gained encouraging success. There is no way you can go wrong with them. So spend some time reading this post and gain more knowledge!
Total Time: 30 minutes
Nothing is better than a warm side dish on cold winter days. And that is what this Pasta e Fagioli offers. With a combination of cannellini beans, diced tomatoes, and carrots, this hearty soup is nutritious for a quick meal.
You saute onion and carrots with olive oil for aroma. The tomatoes, beans, oregano, and rosemary provide the soup with a tomatoey and herbal sweetness. After minutes of simmering, your soup will get thick and have loads of flavor in each spoonful.
For a complete meal, cook the pasta separately in another pan and add soup only when it's time to eat to prevent the pasta from going soggy. The last step is to top your soup with grated Parmesan and enjoy.
Check out this easy Pasta e Fagioli recipe to feed your family!
Total Time: 55 minutes
There is a long list of ingredients to make this hearty dish, but you should not let it intimidate you. This creamy white bean recipe with kale is extremely quick to make. It takes you only minutes to prepare creamy beans while having your wild rice cooked.
The preparation begins with sauteing onion, garlic, and thyme leaves. The combination of the first two ingredients works nicely with creamy sauce, while fresh thyme adds a subtly woody and peppery taste.
Then you stir all ingredients (except kale) into the pan. When the sauce coats every bean, add kale and simmer the mixture to finish. The low heat brings more flavors to your saucy cream without overcooking kale.
Serve your creamy white beans over cooked wild rice. The earthiness of rice and aromatic sauce make a fancy lunch or dinner. But if you feel overwhelmed with its flavor, add brown rice to balance your taste.
Total Time: 10 minutes
Do you search for an untroublesome starter to treat your guests? A can of cannellini beans will satisfy you. You can simply turn it into a toothsome dip with just a lemon squeeze, ricotta, and fresh parsley – simple yet tasty!
The combination of cannellini and lemon juice is creamy and tangy. Ricotta and olive oil make your dip a hit with super cheesy and oily flavors.
To serve at a party, you plate out a bowl of lemon cannellini beans with pita, veggies, or crackers on the side. That way, your guests can treat themselves to as many toppings as they want.
Total Time: 55 minutes
As the title says, this evening meal comes from a mix of cannellini beans, mushrooms, spinach, and pesto. Not only do these ingredients add texture to the dish, but they also give a kick of flavor.
Saute the mushrooms with onions and garlic to evoke a tempting fragrance. Thanks to the wine, broth, pesto, and beans, your delicacy boasts many flavors at once: fruity, umami, herby, and nutty. Finish with a sprinkle of cheese, and your dinner is ready to go.
Although the recipe calls for Parmigiano-Reggiano cheese, you can swap it for Grana Padano cheese. Still, you should use freshly grated cheese to gain a better taste.
Total Time: 1 hour
These braised cannellini beans will be a crowd-pleasing dish with chorizo for your meal tonight. It contains fat and crispy chorizo, tender cannellini beans, and tons of seasonings to intensify your dish flavor.
Although the final result looks like a mess, you should not give up on it. Trust me! You will become addicted to every layer of flavors lately. These include smoky nuttiness, a sweet aftertaste, and spicy undertones.
However, most canned cannellini beans are salted already. Thus, you should drain and rinse them to eliminate the excess salt. That way, you can control the flavor of your whole dish easier.
Total Time: 20 minutes
This quick and easy white bean tuna salad is a light and perfect summer lunch to enjoy with your family. You will find it delicious and healthful with an excellent source of protein from cannellini beans and tuna.
All you have to do is let the tuna-bean mixture swim in a sour and spicy dressing. Then perfect the salad plate with a squeeze of lemon juice and serve. The bright tartness of lemon juice in harmony with herbaceous parsley makes this dish unique.
Another noticeable thing is the fascinating eating experience provided by this tasty dish. You can explore many textures at once: firm tuna, fluffy cannellini beans, and slightly crispy arugula. They all come together and create a wonderful symphony of flavors!
Let's make white bean tuna salad with a shorter ingredient list!
Total Time: 55 minutes
Do you want some recipes to get rid of the old pork in your fridge? No biggie! This delicious soup recipe is a way to utilize it. With the addition of cannellini beans and crushed tomatoes, your leftover transforms into a simple yet cozy soup to fill your stomach.
To make this delicacy, you saute all the vegetables with a pinch of salt to taste. Then test the carrot to check its doneness. When the vegetables are tender, put in the rest of the ingredients, close the lid, and simmer everything.
After 30 minutes, add in smoked pork and continue to cook. When the lid opens, your soup will reveal an inviting aroma and vibrant red appearance, which will whet your appetite through your nose and eyes.
Sprinkle minced parsley and pair with crusty bread to gain a warm soup. A sourdough or rustic bread loaf should be perfect choices.
Total Time: 30 minutes
Most people turn to pasta when they want a quick bite at night! That's why I bring you this effortless yet nutritious pasta recipe. It contains carbs from pasta, fibers from kale, and protein from cannellini beans and chicken sausage. These nutrients are enough for a satisfying meal!
To recreate this one-skillet pasta, sauteing vegetables is the first step. But before that, you need some preparation: cooking pasta and browning sausage. The prep time is worth spending since it rewards you with a flavorsome dish with chicken sausage and pasta.
You only need to dump all ingredients in the skillet with chicken broth and grated cheese. Once it is heated, season salt and pepper to taste, and serve your dish immediately alongside extra grated Parmesan. Feel free to add more broth if your pasta is dry.
Total Time: 40 minutes
Pumpkin can make you feel warm on cold days, but with extra chili and white bean? Honestly speaking, this soup will be your new weakness. It is not only creamy, cozy, and comforting to eat but also adaptable to make.
You can make this delicacy on a stovetop, slow cooker, or instant pot. Anyway, I promise it can't be any easier. You only need to chop veggies and saute them with ground meat and spices before adding the rest and start cooking. That's it!
Your final result is an ultra-creamy soup full of nutty flavor. The spicy undertone accentuates the flavors of smoked paprika and thyme, perfect for a cozy treat at any family gathering.
For a vegetarian version, you can omit the meat from the recipe. The cannellini beans themselves provide enough protein needed in a meal.
Total Time: 17 minutes
Arugula, cannellini beans, barley, and almonds create this filling salad. And needless to say, this unique combination will blow your mind with a strange yet delicious flavor. You better get ready for it!
The best part of the dish is the arugula sauce. It combines whole almonds, arugula, grated cheese, and lemon juice. The pureed sauce gives you a beautiful green paste full of peppery, fruity, and nutty flavors.
On the other hand, the cooked barley and white beans add some crumbly texture to your dish. With fresh arugula, grated Parmesan, and chopped almonds, the salad presents a perfectly divine side for any meal of yours.
Total Time: 50 minutes
Here is another recipe for vegetarians! Having no meat in the fridge is no problem since you have these cannellini beans. These white bean meatballs can meet your daily protein needs. And, of course, they are tasty enough for your fancy meal!
To make the "meat," red pepper is added to white beans for an authentic-looking appearance. Then you put breadcrumbs and eggs into the "meat" to reshape a meatball. Meanwhile, the herbs and spices help enhance the flavors of your bites before baking.
With a golden brown coating and soft texture, no one will realize these are meatballs made from beans. Plus a simmer in marinara sauce, your delicacies are ready to serve over spaghetti.
Let's do this 100% vegan meatballs from cannellini beans and impress everyone!
Total Time: 5 minutes
Making this white bean salad only requires several pantry ingredients, one bowl, and one small spatula. So trust me when I say you do not have to be a professional cook to handle this recipe. Everything is a breeze in this case!
You only need to toss all the ingredients in a bowl and stir with a spatula. The red wine vinegar and fresh herbs will give your cannellini beans a prominent flavor: tangy and herby taste with a fruity undertone.
Serve your simple salad alongside a fancy steak or grilled burger. Alternatively, you can treat it as a topping and scoop it over grilled chicken breasts or pork chops. Whatever you pair your salad with, it will balance out these heavy dishes on the strength of its bright and fresh flavor.
Total Time: 2 hours
Smooth and creamy, this white bean puree is a must-have vegan side course for any holiday. Thanks to the crispy sauteed mushrooms and parsley, your puree is a pack of herby and garlicky flavors.
You cook beans from scratch and flavor them with garlic, bay leaf, and lemon juice. In the meantime, you saute mushrooms with fresh garlic, olive oil, salt, and pepper. Once everything is perfect, spoon white bean puree into the bowl and top mushrooms to serve.
A plus of this puree is its unchanged texture. When reheated for later serving, it remains creamy instead of drying out like mashed potatoes.
Total Time: 30 minutes
Tuscan farmers' breakfast is an easy dish made of cannellini beans, tomatoes, and aromatics. While cannellini gives you a nutty flavor and some texture, tomatoes and aromatics perform a rich, saucy base for all.
And how breakfast is breakfast without eggs? Crack some on top and season with a spoonful of zesty gremolata (Italian parsley condiment). Then you can call everyone in to relish this out-of-this-world breakfast dish.
The impressive thing about this delicacy is its versatility. You can make it a meatier version by adding Italian sausage, bacon, or pancetta. Otherwise, serve it with more veggies or tofu for a vegan dish.
Total Time: 30 minutes
This roast fish recipe is a convenient yet yummy dinner for busy Monday nights. You only need to assemble the ingredients on the baking dish with olive oil and let the oven do its job. Within 15 minutes, you will have a flavorful dish on the table without breaking a sweat.
On top of the delicacy, you find mild and sweet halibut filets with a flakey texture. However, the real spotlight lies in the white bean layer, which presents a complex flavor.
Lemon and white wine vinegar give a pleasant tanginess, while oregano adds a bright and herby flavor. And a finishing touch of chile heat will make your taste buds sing with joy.
Total Time: 10 minutes
Drained cannellini beans, cherry tomatoes, black olive, and fresh parsley make this healthy salad for a quick and filling meal. Together they soak in the homemade dressing, creating an explosion of flavors and textures.
The cannellini beans are the highlight of this side dish. They are rich in antioxidants and fibers, plus plenty of vegetarian proteins. But to get the best out of this salad, you should avoid those mushy canned beans.
Aside from cannellini, homemade dressing is the soul of the whole dish. The tasty olive oil, sweet buttery garlic, and aromatic tartness of lemon juice create a bold flavor to your salad.
Though extra virgin olive oil is the best choice, other options are acceptable. Freely swap it for your favorite ones, such as canola, avocado, and walnut oils.
Let's add some more ingredients and turn your cannellini bean salad into a Turkish-style dish!
Total Time: 45 minutes
Usually, a casserole is not preferable to other fancy dishes, but not this one. Italian sausage, cannellini beans, tomatoes, and spinach make this casserole special enough to appear at your upcoming party.
The heat brings all-natural flavors to the dish: salty sausage, sweet tomatoes, greeny spinach, and nutty cannellini beans. With aromatics and a pinch of salt and pepper, your casserole will be perfectly delicious.
The final step is to sprinkle some bread crumbs on top and bake. Once done, your delicacy will have a beautiful look on the outside and be extremely tasty on the inside.
Total Time: 30 minutes
If you need a fancy dish to attract kids, try these zoodles. They are fun to make and, most importantly, super quick and straightforward for an amateur like me.
To prepare, cook pasta until al dente, drain, and add to the zoodle bowl. The heat of cooked pasta will cook your zoodles. Meanwhile, saute pepper flakes and garlic for aroma. Then toss in all the ingredients and heat through.
Your healthful pasta will be ready with soft zoodles and warm beans. Ensure not to overcook zoodles if you do not want a mushy dinner. Finish with a garnish of basil or parsley and serve. Some grated Parmesan on top should be great.
Total Time: 45 minutes
Do not let heavy cream stop you from enjoying the cozy bisque! In this recipe, you make excellent use of cannellini beans to replace that unhealthy ingredient. They create not only a creamy texture but also a rich source of protein and fibers.
Also, the crunchy white beans on top are fascinating. With paprika and rosemary, they add insanely aromatic goodness to the soup.
If you have leftover seasoned cannellini beans, pair them later with a vegan grilled cheese sandwich for a quick meal. Alternatively, you can serve them with any favorite salad to add some protein to the table.
Cannellini Bean Is A Perfect Soul For Your Daily Meals
I do not mean to brag, but cannellini beans are a perfect food to consume daily. As you have read, these magical white beans provide creamy goodness to every dish. Plus, their high nutrient content ensures a reliable supply of protein for any diet, especially for vegans.
So try these recipes and leave a review to let me know how they turn out. I would love to hear how you whip up your meal with cannellini beans.
And one last thing, as always, is to hit that like button and share my article. Your love is the motivation for the growth of my blog. Thank you, and take care!
Nutrition Facts
4 servings per container
---
Amount Per ServingCalories246
% Daily Value *
Total Fat 5.5g

9

%
Cholesterol 16mg

6

%
Sodium 1306mg

55

%
Potassium 122mg

4

%
Total Carbohydrate 42.4g

15

%

Dietary Fiber 11.6g

47

%
Sugars 10.3g

Protein 10.6g

22

%
---
* The % Daily Value tells you how much a nutrient in a serving of food contributes to a daily diet. 2,000 calories a day is used for general nutrition advice.