Do not go anywhere to find the best canned salmon recipes because all you need for a perfect meal is here. With some awesome cooking ideas including this convenient component, I guarantee they won't let you down.
Though fresh salmon is always a fantastic choice, the canned version is not inferior. In fact, it is a good source of omega-3 fats, protein, and calcium, especially bone-in canned salmon. Besides, it is inexpensive and convenient to prepare a quick meal.
So, are you ready to check out the best-canned salmon recipes? Let's dive into them now.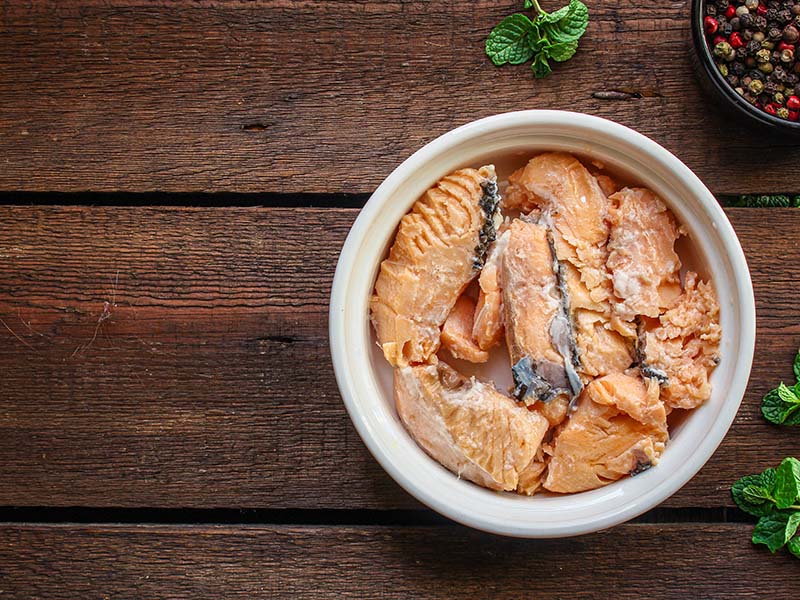 Give Yourself A Treat With Canned Salmon Dishes
You need to notice some things about canned salmon. Alaskan red sockeye and pink salmon are wild-caught, while most canned Atlantic salmon is farm-raised. Wild-caught salmon is normally safer than farmed salmon in terms of mercury and pesticide level.
Cost-wise, canned pink salmon is generally less expensive than red sockeye salmon. Though salmon with skin and bones are richer in nutrients, they are cheaper than skinless and boneless salmon.
Overall, canned salmon is an excellent ingredient for cooking a health-conscious and fast meal. Here are some suggestions to turn your fish ingredients into mouth-watering dishes.
Total time: 5 minutes
The first canned salmon recipe I want to introduce to you is a super simple and quick one. Salmon salad is one of the greatest treats made from canned salmon. You just need 5 minutes to have a delicious bowl of salad.
Dill (either fresh or dried), minced shallot, liquid smoke, and more ingredients make this salad taste fresh and flavorful. You can serve it on its own, or you can combine it with a sandwich or cracker.
The leftover salad can last in the fridge for up to 3 days as long as you keep it in an airtight container. However, you should not freeze it because this process might compromise your dish's deliciousness.
You are going to love this colorful and flavorful canned salmon salad.
Total time: 10 minutes prep + chilling time (up to 24 hours)
This is a combination of crunchy crackers and smooth salmon spread. Let's imagine dipping every piece of cracker into the spread and having a bite. Isn't it perfect for an appetizer? This is an ideal option when you have a can of salmon.
If you have guests coming to your house, this would be an effortless dish to satisfy them. It takes only 10 minutes to prepare and mix everything up. Then you need to let it chill for a while. The chilling time is up to you, but make sure it does not last for more than 24 hours.
Total time: 70 minutes
Salmon souffle is the next incredible canned salmon recipe I want to introduce. The soft, fragrant, and beautiful souffle will not let you down.
This recipe requires flaked canned salmon, and you need to crush the salmon bones (if any). Crushed salmon bones will provide a good amount of calcium for your body. However, if you feel unsure, you can leave out some large bones.
To make the souffle rise perfectly in the oven, it is crucial to pay attention to the egg white beating process. Make sure it becomes stiff, but do not overbeat. As soon as you do it right, you will have a fluffy and satisfying canned salmon souffle.
Total time: less than 30 minutes
This list cannot be complete without healthy salmon pasta. Though fresh salmon is a common ingredient of this dish, canned salmon is also a great option that shortens the cooking time yet keeps the nutrition.
This recipe is versatile as you can use any kind of pasta for this creamy dish. For salmon, it's best to use a pink salmon version. The most crucial part of this pasta is its dairy-free sauce, making it healthier for your diet.
Almond milk, almond flour, garlic powder, and more basic ingredients create a tasty and creamy sauce. And it is so easy to make that you cannot miss this recipe.
You do not want to miss this mouth-watering pasta.
Total time: 15 minutes
The next recipe you must try is the salmon salad sandwich. It is a cost-efficient and quick dish to make. Drain and flake canned pink salmon, then mix it with finely chopped celery, green onion, lemon juice, dill, and other components.
Spread the salad mixture on bread slices, and add lettuce and tomato. For the bread, choose your favorite. For example, thick focaccia bread is good for this sandwich idea.
You will have a delicious meal with simple steps that only take 15 minutes. For more information, one serving of this salmon salad sandwich provides you with 420 calories, 23g of carbohydrate, and 20g of protein.
Total time: 15 minutes
Here is another recipe made with canned salmon, but this one is a combination of kale and this wholesome component. There are also sunflower seeds, avocado, and shaved parmesan cheese. All of them create a healthy, gluten-free, and nutrient-rich treat.
A key factor in making this salad taste good is the dressing. To make a perfect dressing, you need a pasteurized egg yolk, lemon juice, dijon mustard, and some more. Mix everything and blend them for around 15 minutes.
Besides its health benefits, this dish is loaded with flavors. It is so creamy and garlicky with a mild tangy note that you cannot refuse this salad.
Total time: 20 minutes
I cannot stop thinking about the crispy but tender patties when mentioning the most outstanding culinary ideas with a can of salmon. Every bite is satisfying with the harmony of texture and flavor. Canned wild-caught pink salmon is perfect for these patties.
The cooking process is not complicated. You only need to mix everything well and fry until the outer is crispy while maintaining the tenderness inside. Salmon Patties are a good idea for an appetizer, or you can combine them with a sandwich, burger, and salad.
You can refrigerate the salmon patties in an airtight container for 5-6 days. If frozen, it can last longer, but reheating thawed patties will lose their crispy outer. If possible, please enjoy them as soon as you can.
These salmon patties look so good and do not require much effort to make.
Total time: 5 minutes
The next suggestion for you is salmon wraps. This is a healthy and spicy option to go. Yet, if you are not a fan of spicy food, you can reduce the heat by adding fewer or no chipotle peppers.
The dish includes tortilla wrappers and fillings inside. You will need canned salmon (or leftover cooked ones), chipotle peppers, bell peppers, and veggies as the main ingredients for the fillings.
This is an easy recipe you should add to your everyday meals. The salmon wraps can make your lunchbox more lively and special. Each wrap offers you 308 calories, 28g protein, and 31g carbs.
Total time: 10 minutes
As mentioned above, canned salmon is packed with protein, protein, and omega-3 fats, while the sweet potato is rich in fiber and antioxidants. So the combination of sweet potato and canned salmon is a nutritious choice. It could be a great option for family meals.
The kids also love these delicious small sweet potato salmon cakes. But remember to drain the salmon and mash up any bones well. Avocado crema is also a key factor in this recipe. It adds creamy and tangy flavor and texture to the dish.
With cooked sweet potatoes, it only takes you 10 minutes to prepare the cakes. Another advantage of this recipe is that you can batch cook and store them to eat later. Properly refrigerated cakes will last for 3 to 4 days, while frozen ones are best to enjoy within 3 months.
Total time: 30 minutes
Salmon burgers are another ideal way to use this nutritious ingredient. For preparing this meal, the two main processes in this recipe are making the dill sauce and the burger patties. The dill, Greek yogurt, grated garlic, and lemon juice create a creamy white sauce.
Canned salmon bones are rich in calcium and easy to crush, so you do not need to take them out, except for the big ones. Thanks to the appearance of dill, red pepper, lemon zest, cayenne pepper, and other items, burger patties are packed with flavors.
Do not miss egg and oat flour because they make ingredients stick so that the patties won't break when cooked on the pan. In short, these burgers are a great choice for easy weekday menus.
I cannot wait to make these delicious canned salmon burgers.
Total time: 65 minutes
If you are fond of the classic quiche Lorraine, why don't you try this version with canned salmon? I am sure this wonderful quiche will not disappoint you.
It takes longer to cook this dish compared to other recipes on this list, but most of the time, you only need to wait for the oven to do its job. So paying attention to the baking time and heating level is essential because you do not want it to be overcooked.
Keep in mind that this recipe requires some salmon liquid for the quiche. Thus, do not discard all of the liquid. Two more essential ingredients are eggs and butter to make your food richer in flavor.
Total time: 5 minutes
If you are looking for a quick yet hearty option with rice, a spicy canned salmon rice bowl is a great choice. It takes only 5 minutes to complete your yummy meal if you have already cooked brown rice. So it would be a perfect idea to use up the leftovers.
Indeed, this salmon rice dish will make your mouth water. You will love the savory, crunchy, and spicy flavors of salmon, cucumber, and sriracha sauce. This is a super convenient and quick dish for lunch, not to mention its low cost and nutritious benefits.
Total time: 40 minutes
The canned salmon soup recipe is so affordable and simple to cook that you must give it a try. You can use either a stove or instant pot for cooking the dish. There are a few differences between the ways you perform, so remember to check the instructions carefully.
This dish requires a few common ingredients, such as potatoes, onions, and carrots. For the salmon, all parts like skin or bones are usable, so do not discard them.
The recipe also calls for chicken or vegetable broth, but water is acceptable if you do not have any in hand. If you prefer a thicker version, feel free to add more salmon and potatoes.
How about a bowl of hot salmon soup with low carb? You should not miss this tutorial.
Total time: 50 minutes
The original canned salmon impossible pie recipe requires skinless and boneless salmon. However, if you prefer budget-friendly salmon with bone and skin, you can go for it. Just don't forget to crush all of the bones and remove the dark-hued skin.
This recipe does not contain mayonnaise, but sour cream, milk, and egg can provide you with the same moisture that mayo can offer. Moreover, you need store-bought Bisquick for this dish, but if you do not, you can replace it with the homemade version.
After taking it out of the oven, you'd better let it rest for a few minutes. Garnish with parsley or dill, and you have a mouth-watering pie. You can serve it with green salad, beans, or asparagus.
Total time: 15 minutes
The final delicious dish on today's list is salmon-stuffed avocados. I have to admit that this is a fun way to enjoy salmon with avocado. Fruit and fish, what a nice combo!
It is an effortless dish because you do not need to cook it. All you have to do is mix all of the ingredients, like salmon, Greek yogurt, diced celery, and more. Add avocado flesh into the mixture, and fill all of them back into each avocado half.
The outcome looks so eye-pleasing and delicious. You definitely should make this dish for a lovely meal with your family.
It's Time To Turn Canned Salmon Into Impressive Dishes
Indeed, these best canned salmon recipes are not only health-conscious treats but also super tasty. So do not hesitate to try those suggested recipes at home. I am sure you won't regret trying them.
Which one sounds more appealing to you? I cannot wait to read your comment about the outcome you made. If you like this post, please spend a moment sharing it. I highly appreciate your support. Thank you, and see you soon!