Bring tropical flavors to your plate by making the best canned pineapple recipes! Nobody can dispute how delicious this fruit is, particularly when the pineapple-based treats make their mouths water.
Because of the balance between its sweet and tangy flavors, pineapples go well with many different foods. So it can be found in many different dishes for appetizers, main courses, and desserts. Consult my article right now if you need help with what to do with your pineapple cans.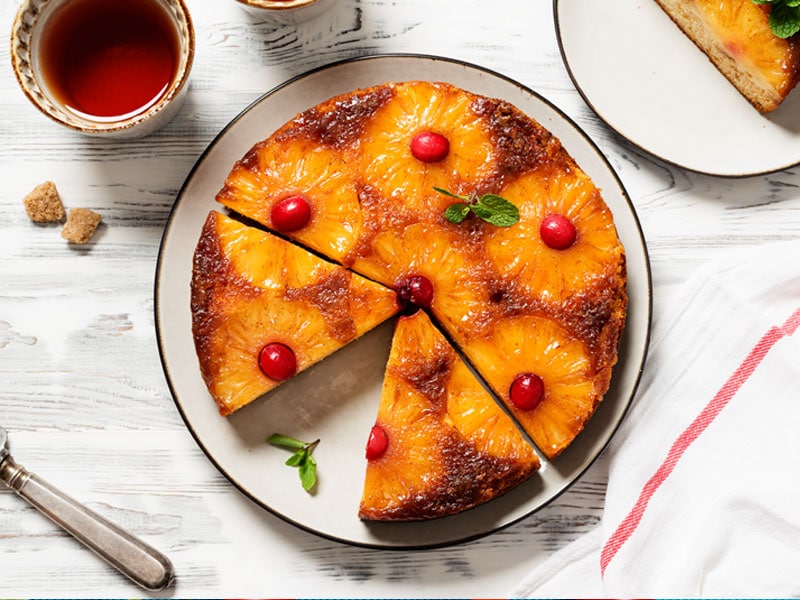 Crave-Worthy Recipes With Canned Pineapple
Are you tired of having extra pineapple cans that you can't seem to finish off? Don't worry; the recipes below will help you out of this problem. The wonderful flavor of pineapples mixed with a variety of ingredients will surprise you.
Total Time: 2 hours 5 minutes (including 2 hours of freezing time)
Although it takes time to freeze the ice pops, this homemade chunky pineapple ice pop recipe is significantly easy to make. Pineapples have such an enjoyable and summery flavor. The sweetness of canned pineapple is enough to satisfy your snack cravings.
This popsicle recipe needs both canned pineapples and fresh juice. The pieces of crushed pineapple will get mixed with the refreshing juice to help you cool down in the summer heat. It is extremely delectable to enjoy while chewing some juicy chunks of pineapple.
Total Time: 13 minutes
Despite requiring few ingredients and minimal effort to cook, this irresistible air fryer dessert and snack is a suitable accompaniment to many meals. You can serve them with whipped cream, honey, ice cream, and even chili powder.
In addition to the softer and more fragrant flesh of cooked pineapples, the characteristic sweet and caramel-like flavor of brown sugar gives each pineapple slice an iridescent and attractive golden brown color.
This budget-friendly treat can be made ahead of time. Moreover, it also stays fresh for up to 2 days to complete any holiday menu.
Total Time: 5 minutes
If you like a cool and refreshing dish with a creamy, sweet, and somewhat tangy flavor, you will love this recipe. Raita is a sauce or side dish originating from India. Its ingredients include dahi, spices, herbs, and sometimes fruits.
Dahi, or whisked curds, plays an important role in this recipe. It is a form of curd that is whipped until completely smooth.
Also, to perfectly reproduce the taste of raita, a little cumin seed salt should be added to the ingredients. Cumin has a nutty, warm, and slightly sweet taste that creates a nice sensation in your mouth.
The richness of the dahi and the savory taste of the salt are perfect to elevate the sweetness and mild acidity of the pineapples. To fully experience the original flavor, you can serve raita with paratha (wholewheat flatbread) or subzi (stir-fried vegetables).
Total Time: 6 hours 10 minutes (including 6 hours of chilling time)
You can try something new, like pouring lime Jello or any other favorite flavor into cans of pineapple for a jiggly, fruity dessert. All you need to do is mix the Jello into a can of pineapple and maybe garnish it with slices of oranges or cherries.
The light yellow pineapple pieces will be submerged in the colorful jello varieties, creating a beautiful potluck appetizer. The pineapple Jello is good on its own, though you can pair it with cheese.
The vintage recipe for Jello with pineapple slices in a can is a fun and mouth-watering experiment.
Total Time: 1 hour 40 minutes
Let's make your old-fashioned holiday ham more attractive with pineapples and cherries. It is sure to stand out in the center of the holiday table with its eye-catching look.
You can use whole cloves and toothpicks to stick golden pineapple slices and ruby red cherries to the cooked ham. The contrast of colors is quite lovely. But don't forget the juice for the can: mix it with mustard and brown sugar to create the glaze.
It gives this dish a sweet, spicy, and tangy taste. The baked ham is too suitable to surprise your guests, from the look to the taste, compared to a typical one.
Total Time: 35 minutes
This classic pineapple crisp recipe makes use of canned pineapples and pantry staples. With a sweet and buttery topping, the juicy pineapple chunks are so delicious that you can't stop devouring them.
Light brown sugar is perfect for sweetening the oats. For the butter coating, it is better to use unsalted butter to get the classic flavor. To complete all the flavors, the warm taste and characteristic aroma of cinnamon powder are the best additions.
I'm sure people of all ages will fall in love with this recipe when you serve it with vanilla ice cream or whipped cream. It is still tasty after being stored for two days at room temperature or up to four days in the refrigerator.
Total Time: 1 hour 5 minutes
Similar to its name, this do-nothing dessert is quick and requires only a few steps, like dumping and baking. However, a cherry pineapple dump cake is perfect for satisfying any crowd. It boasts a well-balanced mix of sweetness and sourness from the fruity filling.
The buttery, golden, and lightly crunchy crust has a festive flavor when you enjoy it. You can melt, grate, or lay out the slices of butter over the dry cake mix. It helps spread the butter out more evenly. Sprinkle some pecans or macadamia crumbles if you prefer a crunchier dish.
Total Time: 1 hour 50 minutes
The topsy-turvy cake is a special variation of pineapple upside-down cake suitable for a chilly fall day. The topping is buttery, slightly tart, and nutty when sprinkled with chopped pecans and spices.
To bring out the best flavor of the cake, bake the butternut squash for about 6 minutes or until it becomes fork-tender and mildly sweet.
By then, all the flavors of spices, squash, and pineapple will have perfectly blended together, creating a warm and tasty treat. It pairs well with whipped cream or frozen vanilla yogurt.
Total Time: 40 minutes
The pineapple tidbits give this dessert a tropical flair that will leave you with a powerful mouth feel. Normally, you only need three main ingredients to make the cake batter. However, why not try doubling the deliciousness with the cream cheese icing?
The abundance of pineapple flavor is the highlight of this creamy and buttery dish. It is teeming with tropical goodness in every bite. When your taste buds are dulled by run-of-the-mill desserts, awaken them with these bites.
Total Time: 50 minutes
Pineapple, cheddar cheese, and buttered crackers may sound like an odd combination, but don't underestimate it. Pineapple casserole is a well-loved dish in the South with its characteristic sweet and savory taste.
The golden brown cracker crumbs layer is what attracts you first. Then, the melted cheese on the inside will hold you back and tempt you into making this casserole again and again.
The use of both sharp and white cheddar gives the recipe more balance, as the sharp variety is quite strong and pungent. This recipe works well with canned pineapples. They have a consistent sweetness and a softer texture that saves cooking time.
Let's bring a Southern-baked sweet pineapple casserole recipe to your dinner table!
Total Time: 10 minutes
You can make this dessert-worthy ice cream with either canned or fresh pineapples. It is a simple recipe that appeals to kids, enticing them to help you prepare it. Say goodbye to the days of paying for store-bought, sugar-packed ice cream!
The sweetness of this dessert comes entirely from fruity ingredients: bananas, pineapples, and coconut milk. However, you also have to freeze the last one to get as much of its creaminess as possible.
Finally, just put everything in the blender and run the machine until the mixture becomes smooth and creamy. This recipe is toothsome on its own. Yet, the toasted coconut or hot fudge topping makes it even better.
Total Time: 5 minutes
If you are too busy, you can try this effortless pineapple dessert recipe. It includes easy-to-find ingredients and the most effortless recipes, as you would expect. All you need to do is mix crushed and chopped pineapple with juice, then add condensed milk and cool whip.
This mixture should be chilled in the refrigerator for at least two hours to create a smooth flavor. I guarantee that diners at parties, picnics, or potlucks will applaud you for serving this luscious and creamy dessert.
Total Time: 30 minutes
The vegan pineapple cobbler is loaded with a tropical vibe that will be a welcoming addition to any party or family meal. Thanks to having pineapples as the main ingredient, this delectable summer recipe is available year-round.
This cobbler is suitable for both children and adults due to its sweet, fruity, and creamy taste. To heighten that wonderful flavor profile, you should replace dairy products with coconut milk. Enjoying this treat with whipped coconut cream is also a good idea.
Total Time: 55 minutes
If you love pineapples, the pineapple tart will knock your socks off. In case you are afraid crushed pineapple will mess up your kitchen, substitute with the frozen type. Both of them can create a flavorful and addictive custard filling.
To create a stunning appearance, garnish the buttery tart shell with a glossy meringue topping. The tart will be dotted with elegant shapes like blooming white flowers. You can refrigerate it and sprinkle some mint leaves for more flavors.
Total Time: 5 minutes
This simple and flavorsome pineapple pie can satisfy any sweet craving. Your friends and guests will beg you for the recipe behind this golden pie crust and white cool whip combo.
The latter ingredient is a mixture of pineapples, vanilla pudding mix, and sour cream. Spoon it over a graham cracker crust, then chill everything until it reaches your desired texture. If you prefer a lighter version, use a low-fat graham cracker, sugar-free vanilla pudding mix, and light sour cream.
Total Time: 1 hour 5 minutes
Even if you are not a big bread lover, you should probably give this recipe a try. This pineapple bread recipe requires only 5 minutes of preparation to create a nutritious grab-and-go breakfast.
The self-rising flour is the heart of this recipe, while cubed or crushed pineapples are its soul. They create a new taste for this familiar recipe.
Here is a useful tip: do not add water because the juice from the can is good enough. Also, These fragrant and fluffy bread slices will boast a better savor when slathered in butter.
Take a moment to watch this video; I'm sure you can make this delicious pineapple bread.
Total Time: 10 minutes
The traditional mithai will become one of your all-time favorite Indian desserts! It is usually made with fresh milk and sugar and enhanced by expensive spices and nuts.
People make a traditional paneer base by warming milk with lemon juice. But this recipe is different because of a fruity twist from canned pineapple.
The dairy flavor is balanced out with an exciting tartness that will appeal to all palates. This mithai is best enjoyed when fully chilled. Serve this sweet dessert with some fruits or chopped mixed nuts.
Total Time: 55 minutes
This sweet pineapple delight is ridiculously easy to make and also tastes insanely good. It has a toffee-like flavor with a tart, creamy pineapple coating.
When you take the first bite, you immediately feel the crunch of the buttery graham cracker layer as well as the tender flesh of the pineapples. This treat will be more pleasant to look at if you serve it in a parfait dish.
Total Time: 1 hour (excluding resting time)
This French-style dish is wonderful, especially when paired with a cup of coffee to start your day. Fritter is a deep-fried food consisting of vegetables, fruit, or seafood covered with flour. These crunchy pineapple rings can be used as a tasty snack anytime.
The crispy mix of sweet and juicy slices of pineapple and shredded coconut can seduce anyone into taking a bite. You should use a neutral-tasting oil with a high smoke point to deep-fry the fritters. In my opinion, budget-friendly vegetable oil is the best choice.
Total Time: 5 minutes
Once you bite into this savory pineapple salad, you get a mix of tangy, sweet, and salty flavors that make you want more. This refreshing dish is healthy and suitable for people on the paleo diet.
You should better use Persian cucumber. It has a mild, sweet taste and a super crunchy texture that adds a satisfying twist to the salad.
This recipe can act as a flavorful appetizer or serve with grilled chicken and seafood for the main course. Alternatively, mix all ingredients except mint leaves and store in the refrigerator. You will have a cool and toothsome salad to make your next breakfast more interesting.
Total Time: 5 minutes
If you're in love with a Disney Dole Whip, this super simple recipe will help you recreate it at home. No more trips to a Disneyland park just to enjoy this dessert!
This copycat Dole Whip is a simple sweet treat made with three ingredients: vanilla ice cream, frozen pineapples, and pineapple juice. In ice cream form, this dish itself is great, yet you can still upgrade it with some twists.
Turn it into a float by adding some pineapple juice and a vibrant red cherry on top, like a root beer float. Moreover, another grown-up version worth trying is the boozy Dole Whip. It can be made by adding 1 ounce of rum; you will instantly get a sweet and creamy cocktail.
Total Time: 55 minutes (plus 8 hours of drying time)
The candied pineapple fruits are excellent on their own. However, they are also an appreciable ingredient in many recipes. This dessert enhances the flavors of the sauce, vinaigrette, or chutney with its sugary and fruity touch.
Alternatively, it can accompany a variety of savory dishes such as pork, lamb, or seafood. While that sounds strange, the rich and meaty deliciousness of these delicacies is quite agreeable with the chewy and pineapple-flavored rings.
The recipe for candied pineapple allows you to use many colors to make the dish more eye-catching.
Total Time: 50 minutes
Many people consider zucchini and pineapples to be an unlikely combination. Yet they will forget about their opinion when taking a bite of this incredible dessert with zucchini. Prepare to let its amazingly luscious and definitely crave-worthy taste show you the power of creativity!
The overall texture is super moist with a sweet pineapple butter glaze. Beneath it is the cooked zucchini with some herbal fragrance and sweetness tinged with a touch of bitterness. It makes the pineapples taste sweeter and accentuates the cinnamon flavor.
Total Time: 30 minutes
Pineapple chicken would be a great way to end a delectable meal with family on every occasion. This recipe is easy to make with just one pan, which you use to cook a sticky, sweet-tangy sauce to bind all the ingredients together.
This nutritious recipe consists of a chicken marinade and the natural sweetness of veggies. When making the pineapple marinade, add a tablespoon of tamari sauce to enhance the slight saltiness and give it more nuance.
The colorful mix of vegetables is gluten-free and can encourage your children to eat more greens. To match the theme of convenience, you can prepare this finger-licking recipe from canned chicken instead of chicken breasts. The change won't affect its deliciousness at all.
Total Time: 10 minutes
You can soothe yourself with a pineapple vodka cocktail after a long, hard day. With just a few ingredients and 10 short minutes, a cocktail is ready with a beautiful appearance that will impress anyone.
While vodka tastes like water with a burning and mildly bitter flavor, the sweet syrup of canned pineapples will add more depth to the cocktail, giving rise to a wonderful mix of flavors that stimulate your palate.
Total Time: 4 hours 25 minutes
This recipe revolves around fragrant pulled pork with caramelized onions and pillowy buns. You can prepare the pork in advance and comfortably treat your guests when they arrive. The pulled pork is full of salty, sweet, and spicy flavors mixed with the aroma and slightly sour taste of crushed pineapples.
All produce an explosion of flavor when you take a bite. I recommend using canned pineapples to enhance the taste and texture of the pork. The enzymes in them will break down the protein molecules and soften the meat.
Total Time: 1 hour 15 minutes
This retro recipe brings back memories of grandma's desserts. It's a vegan-friendly version of the well-known pineapple upside-down cake. You will love this dessert for its sweet, soft, and buttery taste.
In addition, the charming caramelized pineapple slices and cherries are quite appealing at first glance. Right from the first spoon, you can feel all the sponginess and moistness inside the cake.
This cake can be kept for up to 5 days in the refrigerator. You can even cut it into slices and freeze them for up to 3 months.
This classic American upside-down cake with pineapples may become a staple in your cake menu.
Total Time: 15 minutes
Regular salsa is made from tomatoes, fresh green peppers, spices, and lime juice. However, you can add a kick to this dip with the tropical taste of pineapples (both fresh and canned varieties are acceptable).
The juicy pineapple salsa is a loveable opening dish to any BBQ course for its sweet, slightly spicy, and acidic taste. Many people like to enjoy it in late spring or summer when pineapples are at their sweetest.
If you don't like cilantro, leave it out. However, its fresh, citrusy, and fragrant taste is very pleasant to experience. The salsa can be refrigerated for three days.
Total Time: 35 minutes
Teriyaki is the quintessential sauce for grilled dishes in Japan. This thick condiment has a sweet, tangy, and subtly salty taste.
You can imagine how it goes well with tender and juicy chicken meatballs. The natural sweetness of stir-fried pineapples and bell peppers upgrades the fresh Asian flavor of this recipe even further.
Teriyaki pineapple chicken meatballs can provide you with a flavor-packed and protein-rich meal. Don't forget to coat the meatballs with panko, Japanese breadcrumbs, before deep-frying them for the ultimate crunchy texture.
Total Time: 25 minutes
It never goes wrong to combine pineapples, bacon, and lots of cheese on one pizza. This perfect Luau-appropriate finger food brings out the signature flavors of Hawaiian cuisine with a balance of sourness and sweetness from tomato sauce and pineapples.
You can combine both Canadian and regular bacon. The Canadian variety is leaner and more like a round ham than a long strip of bacon. Also, The complex sweetness of balsamic vinegar makes it a great topping choice for the pizza, supposing that you mix it with some arugula.
Luscious Meals Start With Canned Pineapple
Able to please all age groups, pineapples are an excellent ingredient for a wide range of dishes. The canned variety may be used in both sweet and savory recipes. It is good at enhancing the flavors of other ingredients.
You will experience many layers of enjoyable flavors with the recipes featuring pineapple. To discover them all, save this post to your device. Your friends should also know about them, so please share this post as well. If you have any more fantastic ideas for how to cook canned pineapple, please leave them in the comments section, too!