Do you search for the best canned peach recipes because you have bought many from the last sale? Or do you love peaches, but there is a lack of fresh ripe peaches in your area? You can find all your desired answers if you decide to stop by my post.
You will discover the 18 best recipes with canned peaches in this article. In addition to the names, you'll get a description of the taste, color, and preparation. More than that are some helpful notes and tips to help you finish the dish at its best.
So, is this post interesting enough for you? Keep reading and wiping down for more!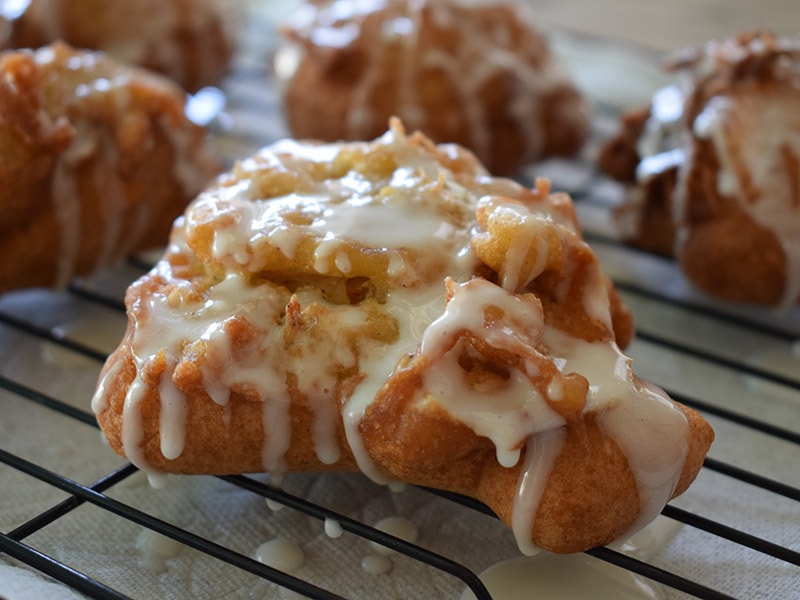 Several Leading Canned Peach Recipes For Homemade Cook
You are a peach lover, but there are no ripe peaches in your neighborhood. No problem! Because canned peaches exist, you can enjoy your lovely peach flavor with numerous recipes. Below are some best recipes for canned peach for your homemade cook.
Total Time: 45 minutes
Peach cobbler is a messy version of peach pie and a softer version of peach crisp. In particular, peach cobbler contains fruit filling, and the dough blends well without clearly distinguishing layers. That creates a uniquely chewy, tender, and crispy texture.
For proper serving, peach cobbler goes well with a topping of whipping cream, powdered sugar, and ice cream. When you scoop a heaping spoon of served cobbler, you will feel the crunchy yet tender texture in accompaniment to sweet and creamy flavor. Heavenly yummy!
Besides, you can rest assured that this recipe stores well. If there are leftovers, just store the dish covered in the refrigerator. They will last for up to one week. Then when served, you can simply place them in the microwave for reheating.
Check out this old-fashioned recipe of peach cobbler with brown sugar and oatmeal crumble!
Total Time: 20 minutes
As you can guess from its name, overnight peach cobbler oatmeal is an overnight dish of oatmeal having a taste just like peach cobbler. The delicacy is an incredible breakfast food for your busy mornings.
Besides the namesake ingredients, this delight contains yogurt, cinnamon, spices, and nuts. All you have to do is stir all ingredients in the jar and let the fridge work your breakfast. Your breakfast is still getting ready while you're sleeping. How convenient is it!
Besides, you can also make it in advance. The peach cobbler oatmeal will keep the chill for up to four days in the refrigerator. Therefore, you only need to be busy for one night making breakfast to have the remaining ones with your family.
Total Time: 35 minutes
Peach muffins are a perfect snack or dessert for your sweet tooth. The dessert is moist and tender with a flavorful taste. Specifically, each bite will bring your loads of juicy peach bits and cinnamon flavor.
Indeed, you will not have to worry if you do not have any ripe peach because you can enjoy this delicious taste all year round, thanks to the canned peach. Just scoop canned peach mixture into muffin tins and bake. Then you will have a batch of delicious cakes right away.
However, the difference in each oven calibration, kitchen temperature, or muffin tin can affect the accuracy of the baking time as directed. Therefore, to be sure, you should check the cake often and bake it for a few more minutes if needed.
Total Time: 2 hours 15 minutes (Baking time: 1 hour to 1 hour 15 minutes)
Peach crumble pie is a trouble-free recipe inspired by peach pie and cobbler with a crunchy outer shell and juicy yet sweet filling inside. Like peach pie, this delicacy is full of fruity flavor with hints of vanilla and cinnamon aroma.
In particular, this dish has a similar direction to regular pie, but there is a difference in the top layer. Specifically, instead of adding a dough layer on top, you will replace it with a pre-prepared crumble to create a crispy and rough texture, just like a peach cobbler.
Noticeably, you must use the technique called docking when making pie. In other words, it means poking into the bottom of the pie crust with a fork. This technique will help steam escape from the crust when baking, helping avoid puffing.
Total Time: 30 minutes
Peach fritters are an insanely delicious treat for breakfast with a unique peach glaze on top. When you eat them, you will experience the creamy and peach flavors with a bit of vanilla sweetness on the outside, plus the crispiness, upgrading the dish to a new level.
Like regular fritter making, you just mix everything well and fry each batch of batter until golden brown. But remember to check the heat of the oil if you do not want them to burn. Specifically, the standard temperature should be 375 degrees Fahrenheit.
In addition, you can replace the glaze layer according to your preference. Simply enjoy the traditional glaze by popping out peach juice. Also, you can make simple glazes that do not require cooking, like cinnamon sugar glaze or powdered sugar.
Or, eating it plain is also an ideal option. These layers of glaze only add a bit of rich flavor since the peach fritters on their own are already delectable.
Total Time: 1 hour
Hailing from the German settlement in the 1870s, Kuchen is a toothsome peach dessert now found in every state in the United States. This type of dessert looks like a pie, but the texture is moist and soft like a cake.
To make Kuchen, you must get through two stages: baking a cake and making custard cream. Once done, pour the cream mixture on top of the cake and continuously bake. Until the top is puffed and the edges have a golden color, your peach Kuchen is on set.
When serving a piece of peach Kuchen, the first thing that impresses you is the beautiful appearance, with a golden brown and crispy outer layer accompanied by a smooth and flaky inner one. Each full scoop of the cake layers will bring the peach and creamy flavor with a vanilla aftertaste.
Do you know how to bake homemade peach Kuchen? Here is the guide!
Total Time: 28 minutes
Peach and cream cookies are a perfect canned peach recipe for the potluck. In particular, these cookies consist of a Graham cracker base with peaches and cream topping. While the cookie base is slightly crunchy, the peach cream is pleasantly tangy, making you desire another bite.
If you do not have a suitable tart pan, you can still recreate the shape. Simply scoop out the cookie dough and roll it through the cracker mixture, then flatten the cookie until its thickness is about half an inch, and all is ready for baking.
With the help of the fridge, your peach and cream will be stored for up to four days. Indeed, keeping them frosty will let peach and cream flavor each other and become tastier the next day.
Total Time: 40 minutes
Peach crisp is a yummy and fun-to-eat dish that has earned its name by its texture. Typically, a peach crisp is made of baked fruit in the bottom with a crisp and crunchy top, which creates a funny "crack" sound when eating.
However, mastering the crisp layer is not as easy as it seems. Thus, you may want to follow some tips. First, do not overwork the topping, or it will become a paste instead of a crunchy crumble.
If you want your topping to be firmer and crunchier, you should refrigerate it in the fridge for half an hour, or you can make it a day ahead before assembling it to the top of the cake.
In addition, you should wait for the crisp to cool before covering it with plastic wrap if storing the leftovers. This careful action will prevent your peach crisp from being soggy due to the warm temperature and remaining moist combined.
Total Time: 40 minutes
Peaches and cream poke cake is a light and fluffy dessert that will sweeten all your summer days. With just a piece of cake, you will feel the peachy, creamy, and sweet flavor exploding all over your mouth, creating a lovely experience.
So, why do people name it a poke cake? That's because it does have poked holes. Typically, to complete the cake, people bake white cake mix and poke holes with the bottom of a wooden spoon, then spread peach puree evenly on the surface and into every hole.
For cake bakers, these poked holes will increase the contact surface with fruit puree and let your cake infuse the fruit flavor better. Also, they will help make your cake insanely moist and tender, thanks to the liquidity of puree.
Figure out how to make cream poke cake with a can of peach!
Cook Time: 8 hours
Everyone was addicted to those roll-ups when they were kids, and so was I. Do you agree with me? So, an effortless fruit snack recipe with just two handy ingredients will bring all the memories back.
These sweet and chewy rolls are perfect for your kids to grab as snacks during school break. They will be nostalgic and fun to eat. To make peach roll-ups, you just blend all the ingredients, and spread the peach mix on parchment paper, then dehydrate it.
Next, you will cut it into even strips and roll them up just like their name. After that, you can serve or preserve them in an airtight container. They can stay edible for five days at room temperature and one month in the freezer. Remember to keep them in dry conditions for the best storage.
Total Time: 1 hour
Peach streusel cake is a superb dessert to serve in the summertime. The cake has a moist and tender cake baked in accompaniment with canned peach slices layer and crunchy streusel topping. All create a beautiful layered cake and also a mouthwatering taste.
Notably, this recipe also comes with a quark, a famous cheese in German baking books. The quark will make your cake lighter and fluffier in addition to its traditionally subtle and pleasant sweetness.
But if you do not have a quark or find it nowhere, you can substitute it with your homemade one by mixing Greek yogurt and sour cream. Of course, the homemade one cannot describe quark correctly, but it will still taste good with your cake.
Total Time: 15 minutes
Peach sweet tea is a refreshing and blessed drink to serve on hot summer days. It tastes sweet with the pleasant bitterness and tanginess of tea. So if you are a tea addict, this type of tea will be your next favorite.
Making peach tea is as simple as how you would make regular tea but with the extra step of handling canned peach and sugar. To make peach syrup for tea, just add a can of peach, sugar, and water into a saucepan.
Then stir the mixture well and let it simmer until the sugar has dissolved completely. After that, cool it at room temperature and pour the peach syrup into the tea before serving. Your family will have enjoyable tea to sip through hot days.
Total Time: 10 minutes
A pancake topped with a great complement will be the best dish for your breakfast. So if you seek an untroublesome topping recipe, peach topping is the one you need by using canned peaches.
To have an instant peach topping, simply stir all ingredients well under heat until you get the thick sauce. Then you can serve warm peach topping onto your pancakes with additional butter and syrup if desired.
The peach topping will be sweet like honey but with a fresh and fruity flavor, satisfying your kids at the first bite. So give it a try in your next pancake serving!
Let's dive into an easy peach syrup recipe from fresh, frozen, or canned peaches for your breakfast pancakes!
Total Time: 1 hour 20 minutes
For new bakers, peach cobbler bread is a great beginning to start your baking. It is one of the easiest recipes since you don't have to work with yeast. All you need is some simple ingredients, and you are ready to go for two loaves of fantastic bread.
To make cobbler bread, you just dump all things together and blend until well mixed. Then pour the mixture into two loaf pans and bake, and your baked goods are ready for serving. Also, you can sprinkle some glaze as a garnish or for more taste if desired.
Two essential must-notice tips are draining canned peaches and cutting them into chunks. While the former will help prevent your loaf from sogginess after baking, the latter will cause your fruit to blend well with the batter, making the bread taste best.
Total Time: 30 minutes
If you want a quick dinner for your family, you should grab some peach cans and make this Thai dish. Just imagine the vibrant orange color of peach harmonized with bright red bell pepper and green cilantro; I am sure your family will love it at first sight.
Not only about its appearance, but it will also please your diners with incredible taste. Like other flavorful Thai foods, this main course tastes diversely with sweet and spicy flavors. In addition, the peach and pepper also add a unique tanginess to your dish, making it hard to forget.
Total Time: 15 minutes
Peach salsa is a delightful dip or topping that is available all the time, thanks to its accessible ingredients. In particular, in this dish, canned peaches are greater than fresh ones because of their sweet and tender consistency.
For proper serving, you can pair peach salsa with tortilla chips as a dip or treat as a topping for grilled fish and chicken. In addition, having a combination of peach salsa and a big quesadilla is an excellent eating practice.
Total Time: 15 minutes
If you are a fan of jello-based confections, you should try millionaire peach salad, a toothsome and amazingly easy-to-make dish. Specifically, they are an ideal complement for your gatherings or potluck to balance those heavy foods.
In particular, this light salad is full of fruity flavor with a pleasant sweetness cut by tangy cheese. The addition of cream cheese has upgraded this dish from the usual sweet treat to an addictive one.
Besides, millionaire peach salad has a distinct texture with creamy cheese, fluffy marshmallows, plus juicy peach bits, and crunchy pecans. Everything ensures your crowd will fall in love with it in no time.
Total Time: 4 hours 10 minutes (Freeze time: 4 hours)
Nothing is better than popsicles if you find something to serve on hot days. This recipe of peachy creamsicle popsicles will not let you down. They are the best frozen and sweet treat for your family, especially your kids in the summer.
These peach popsicles require minimal effort and ingredients. TIn particular, they contain only canned peach, coconut milk, and maple syrup. Just blend everything until well mixed, pour it into a popsicle mold, and put them into the freezer.
Until solid, your popsicles are ready to pop out of the mold. The remarkable thing about making this homemade recipe is that you can control the sugar content and ingredients of your popsicles. That way, you will ensure your family's health and tighten your budget a little more as well.
Discover an effortless recipe for your toothsome peachy creamsicle popsicles!
Save Your Cooking Time With Best Canned Peach Recipes
Not only will these best canned peach recipes contribute to your dish consistency, but they also will help save your cooking time. There is no need to take much time and effort to prepare the fragrant stone fruit.
So, what do you think of my recipe collection? Are there any other recipes that I miss in this post? Please comment down below to let me know. I would love to hear from you!
Also, you can show some of your love by hitting the like button and sharing the collection widely with your friend. That will help me a lot. Thank you, and wishing you the best experience with canned peaches!