Looking for the best canned corn recipes? You have come to the right place. This ingredient is people's favorite due to its convenience. And cooking with it is a hassle-free task. I guarantee many of you (as beginners) can prepare many hearty meals made with these yellow grains.
Once you have read this post, you will have more than two dozen canned corn dishes, from the main dish to the appetizer or snack, to add to the recipe list. Not only will you know the cooking instructions, but you will also attain some great tips to level up your canned food.
So are you excited to start cooking with me? If your head nods, let's go deeper into the list below!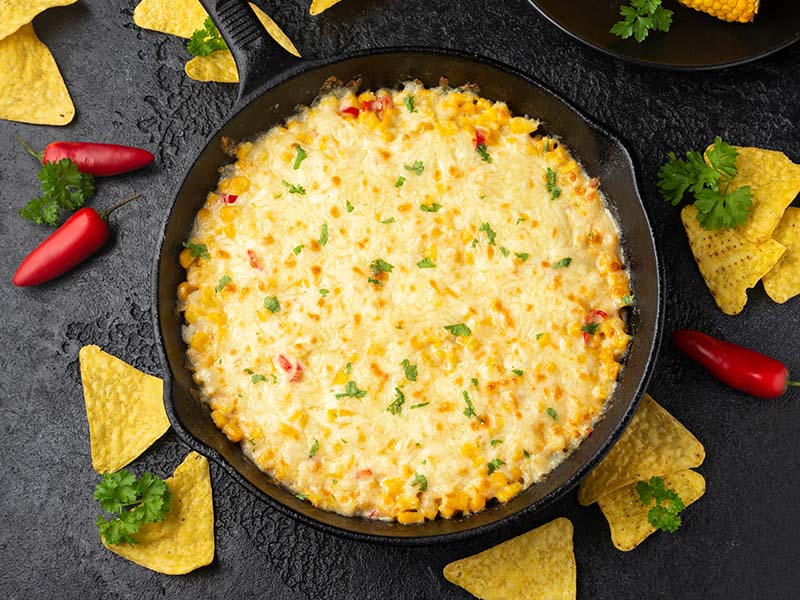 You see canned corn on the shelves at a discount but do not dare to buy it. Is it because you do not know what to do with it? Or they might not taste as good as fresh ones? Do not let fear overwhelm you since you have got my help!
Many delicious dishes all start from a can of yellow corn. Scroll down to read more!
Total Time: 55 minutes
Corn casserole is a hybrid version of cornbread and corn pudding. Typically, it has a creamy and tender texture in the center with slightly chewy and crispy edges on the outside. And because of its tenderness, people usually serve corn casserole with a spoon instead of slices.
When scooping a heaping spoon into your mouth, you will find the corny sweet, and savory flavor of corn and cream. All are fluffy and melt right in your mouth at once, creating a fascinating impression.
With its delicate, you can serve corn casserole almost any time of year. While it appears as a side dish to your grilled pork chops in the summer, it pairs well with roast turkey in the fall. Plus, present at the Christmas dinner as a perfect accompaniment with brown sugar glazed ham.
Check out how to make the best corn casserole at home!
Total Time: 45 minutes
Honey jalapeno cornbread is a Southern flair pastry dish with the spicy taste of jalapeno pepper followed by the sweetness of honey and corn. Along with being moist and tender in texture, this type of bread is perfect for pairing with hot, spicy, and heavy dishes like tangy BBQ chicken.
Not to mention, the delicacy is super easy to make. With only dumping, mixing, and baking, your cornbread is ready to serve out. Plus, there is a small tip to know if your bread is well cooked. That is to look for a crack on top and firmness in the middle.
Once it has these signs, take it out of the oven, slice it into pieces and serve with butter and honey drizzle. Those ingredients will contribute to the glossy and charming look of your bread. And that is when your cake quickly disappears like the wind from the plate.
Total Time: 15 minutes
Skillet corn with bacon is a big bang snack for your kids whenever you feel lazy. With only four ingredients and one skillet needed, completing this delicate plate is a breeze.
In particular, this recipe does not require any cream. Instead, it contains corn kernels, butter, onions, and bacon which are just sweet, fatty, and tangy. Thus, after one bite, you will feel an entirely corny flavor without worrying about the after-eat heaviness.
Sounds so rich and delicious, right? But it is more delicious if you pay attention to corn quality. You should not overcook the corn kernels if you do not want them to be soggy. Just fry until brighter yellow and a few minutes more to gain the perfectly crunchy dish.
Total Time: 30 minutes
Creamed corn is the best side dish to serve on your Thanksgiving table. Specifically, it's an ideal accompaniment for leveling up your steak, thanks to a buttery and creamy taste. In addition to the taste, this delight will surely be your next favorite with a trouble-free making process.
To make creamed corn, simply dump all the ingredients in the saucepan. Until well combined, have the mixture seasoned with thyme, salt, and pepper. Then have some cheese sprinkled on the surface and bake until bubbly. After that, bring it out, garnish some fresh parsley and enjoy.
Total Time: 30 minutes
Loaded corn fritters are delightsome and flexible dishes as you can treat them as sides, appetizers, or even snacks. No matter how you treat them, they are everyone's favorite, thanks to the crispy and flavorful they bring to the table.
Besides eating plain, serving these patties with your favorite dipping sauce helps add more flavors. Some popular suggestions are sour cream, mayo dip, or coriander mint chutney. These dips will liven up your dish and stimulate your taste buds.
Most notably, you can eat corn fritters both ways, either freshly warm or cold. But the best taste is fresh out of the air fryer. In case of storing for later, feel free to freeze them in a container. They are up to two to three months still. However, the initial crispiness will not remain the same.
Total Time: 30 minutes
Chinese corn chicken soup is a popularly hearty meal in Asia with a combination of chicken, corn, and eggs led by flavorful spices of ginger, sesame oil, and scallions. The delicacy will surprise you with its glue-like texture and bold Asian flavor.
And the secret to getting the unique texture is cornstarch, which usually mixes with water for thickening purposes. Besides, the eggs become fibers and blend with the cornstarch mixture after cooking. In general, it is like an egg drop soup with extra meat and corn.
This recipe can be quicker to proceed since the shredded cooked chicken breast is acceptable for the dish. Also, altering the chicken with ground pork or turkey is a good option. They may add other twists to your dish. If desired, add chili oil for some spicy notes.
Let's discover how to cook corn chicken soup in Chinese style!
Total Time: 40 minutes
Shrimp and corn chowder is a hot and creamy soup to bring to the table, especially on winter days. Because of the heavy cream addition, the chowder will surprise you with its rich flavor and thick texture instead of the light and thin characteristics you find in other soups.
Not only does the cream contribute to an excellent texture, but it also adds more creamy flavor to your soup, bringing pleasure when eating. Besides, you can find the smokey flavor of sauteed shrimp and bacon in the bowl with a sweet note of corn. All in one yummy bowl!
Besides, the paprika is the big game-changer to your chowder. If you love the smokiness, add more and vice versa. But indeed, more is better since the smoky flavor is how this corn dish should be.
Total Time: 30 minutes
Corn nuggets are an insanely tasty finger food for get-together occasions. They feature a crispy and golden texture outside in partnership with numerous sweet corn inside. Then a corny creaminess followed when popping one. All fused is so delicious and fun to eat!
To handle these nuggets, you have to prepare the mix of corn kernels and creamed corn, scoop the mixture into many bites, and set them in the refrigerator. After that, you should make the batter by stirring the remaining ingredients together (except oil).
For the cooking part, heat your pot under medium-high heat with the vegetable oil and dip each frozen corn bite into the batter before frying them until golden brown. A litter tip is you should place a paper towel on the plate to eliminate the oily grease in these nuggets after deep frying.
Total Time: 20 minutes
Cowboy caviar is a mouthwatering dish treated as a potluck's scrumptious side or as an appetizer to any course. No matter how you see it, cowboy caviar is always a great treat since each bite is full of sweet and refreshing tastes.
Also, if you chew slowly in your mouth, you will discover the sweet-and-sour taste of this treat, thanks to the white vinegar and lime supported with the sweetness of sugar.
For that outstanding flavor, it goes well with plain tortilla chips in the role of dip. Or, pair it with BBQ dishes to let its sweet and sour taste reduce the greasy feeling of grilled meat.
Best of all, you can make cowboy caviar ahead for one night. Just dump all things together and stir well. Then place it in the refrigerator to store. When needed, thaw it for one hour or lightly reheat the salad to loosen the liquid and for better taste.
Want to home-make cowboy caviar salsa? Here are the instructions!
Total Time: 20 minutes
Roasted corn and cucumber salsa is an out-of-this-world treat to complete the game days. It takes you minutes to handle this colorful dish. Then you can grab any tortilla chips, burritos, or tacos and pair them with salsa to fill your stomach quickly yet still appetizingly.
Indeed, most of the cooking time will be for preparing veggies. After that, you only need to whisk all the chopped veggies with prepared dressing sauce, then serve immediately. Or keep it in the fridge for late uses. But keep in mind that your salsa can be soggy after 24 hours.
Total Time: 30 minutes
Mexican street corn salad is a perfect choice to get through those hot days. The delicacy highlights a colorful bowl accompanied by a sweet and cheesy flavor with a spicy hint of jalapeno, a famous pepper in Mexican cuisine.
The noteworthy feature of this salad is the crisp sweetness of corn cut through the creamy texture of the whole salad, creating a unique experience instead of a fully fat treat. So, for the best result, you should try to buy the crisp and sweet version of canned corn.
Like other Mexican salads, it is advisable to serve this street delicacy with burritos or tacos. Or, you can also set out the corn salad with grilled meat like chicken or beef. These combined surely increase the tasty dishes for the family night.
Total Time: 10 minutes
Masala corn is a well-known dish in India that you can find at every stall along roads or in any eatery all over the country. With such proof, you know how delicious it is. The delight is sweet, buttery, and flavorful, seasoned with chili, chaat masala (Indian spice mix), salt, and pepper.
Just with the flavor of chaat masala, this food is already bold Indian. Typically, this Indian spice mix contains up to 8 ingredients, but the most prominent are amchoor (dried mango powder), asafoetida, ginger, and cumin. What a top-notch spice mix it is, right?
With the variety of spices, this dish is not fussy to make. All you need to do is rinse the corn kernels and coat them with melted butter in the pan. Then transfer the buttery corn kernels into a mixing bowl and blend well with spices. Until well absorbed, your masala corn is ready to go.
Total Time: 40 minutes
Mexican zucchini burrito boats are a healthier version of burrito ones with the presence of green zucchini. While the filling remains the same taste, zucchini bursts a flavor of grassy sweetness into the boats. All things invent the food of savory, fatty, and greeny.
You should eat zucchini with its skin on though people often prefer to peel it off. That's because its skin has a rich source of fiber and antioxidants called carotenoids, which help enhance your immunity and digestion.
If you are afraid of skin bitterness, you should attempt to buy zucchinis in small to medium sizes. These greens lack harshness and have thinner skin than large ones.
In addition, you can make zucchini boats ahead and save them for later in the fridge. They will retain well for three to four days. If desired, you can always reheat them in the microwave or oven. Although they may be a bit soggy, the taste is still enjoyable.
Total Time: 45 minutes
Instead of plain rice, now your family can have a bowl of delicate rice with corn add-in known as Arroz Con Maiz, a notable dish throughout Latin America. Besides the original version, the plate has many complex variations, mainly in Dominica, Puerto Rico, and Cuba.
But, in this recipe, you will cook the most basic of rice for budget-friendly purposes. Specifically, it only requires six accessible ingredients and two pieces of equipment to make, which most things are available in the house.
Simply start cooking the rice in a large pot with salt, oil, and water. Until the rice is about to dry, add corn and stir well before continuously cooking. Then fluff once again and cover for five minutes more. After that, sprinkle chopped scallions and serve warm.
However, you should add an additional 20 minutes of cooking rice if you use wild or brown rice to ensure the all-cooked condition. Besides, the appearance of carrots or peas in the rice bowl will surely make the dish look more colorful and nutritious.
Making dish rice with corn without kitchen tools!? Check it out!
Total Time: 45 minutes
Tuna and corn frittatas are an ideal snack box filler for your kids when going on a picnic. These frittatas are egg-based Italian food filled with veggies and cheese. That creates a custard form, either fluffy or springy.
As for the taste, there is no word to describe it correctly because its taste is excellent. Just bite into the loaf of this relish; you will be immediately satisfied with cheesy, mild, and sweet flavors. Indeed, it is full of flavors in each bite you take.
Plus, corn frittata is a versatile dish. So if you have any creative ideas for this recipe, feel free to do so. Some changes in herbs and veggies are a safe and great idea. Or, you can also swap tuna with salmon for an additional strong flavor. All changes should be good to try!
Total Time: 25 minutes
Inspired by cornbread, cranberry corn muffins have the same moist and tender texture but with a perfect bite size. Thus, this muffin is ultimate to treat individuals for any special occasion, markedly Christmas. There is no sweat during the party or even in the making.
All the cooking required is mixing, folding, and baking. Then you have beautiful muffins to plate out in just minutes. Specifically, this relish presents a fluffy cornbread muffin stuffed with corn kernels and fresh cranberries.
When tasting the muffin, you come up with the corny sweetness of the cake fused with natural sweet corn and savor cranberries. All conceive a wholly sweet treat for your Thanksgiving day, and your kids will fall in love with these sweeties in a flash.
Total Time: 25 minutes
Mexican corn dip is an effortless version of cheesy dipping sauce for your guests. This delight has tons of cream, cheese, hot sauce, and corn kernels. Thus, the flavors are diverse between fatty, spicy, and sweet, added with a salty hint when served with chips.
Plus, Mexican corn dip is a wise choice if you are in a rush or just too lazy to please others on game days. You just need to prepare the necessary ingredients, dump them in the baking dish, and cook until bubbly. Then garnish some herbs, hot sauce, and cheese if desired.
And now you have a tasty appetizer (or snack) to enjoy with family (or guests). The making is just a breeze, isn't it? So if anyone asks for a game treat next time, let's do this one!
Let's figure out this addictive Mexican corn dip recipe!
Total Time: 10 minutes
Vegan Santa Fe salad is truly one of a kind salad bowl for Mexican food lovers. This delicacy represents all bold Mexican flavors with loads of black beans, corn kernels, and tomatoes mixed in the tangy lime chipotle vinaigrette.
Perhaps there are no words to describe how tasty it is. Not only is it rich and savory, but it is also sweet and creamy. All at once, explode in your mouth, thanks to the quality of veggies and dressing.
During the making, you should ensure that you drain canned beans and corn well to prevent the impact on the flavor and texture of the finished dish. Also, just slice avocado when serving. That postponement will help keep its pretty green color till the end.
Total Time: 1 hour
Corn pudding is a family-favorite side in America, especially for a presentable staple alongside tacos. It has a custard-like texture with a sweet, buttery, savory, and hint of salty flavor. The compound is so good that it almost disappears every time you serve one batch out of the oven.
Although it looks wobbly, the form should remain the same if you scoop one onto the plate. That is a plus if you want to serve individually. Besides, this recipe demands no Jiffy muffin mix, so your gluten-free friends should feel happy to join.
One of the best things about this recipe is the customizable cooking temperature. However, make sure to bake it in a shorter time if the temperature is hotter than 400 degrees F and vice versa.
In general, you and your family can enjoy the food in warm or cold bites. Both ways taste great, so just experience and pick the one you love.
Total Time: 1 hour 10 minutes
Corn souffle is a supreme combination of cornbread and corn pudding. While its form is similar to cornbread, the custard-like texture is almost tender as corn pudding. Inside, there are countless bits of corn, which enhances your cake texture with crispiness.
To get the dish, you have to go through two main steps. First, combine everything into a bowl and stir in corn and chives. Then place the mixture in the prepared baking pan, and bake covered for forty-five minutes, and uncovered for ten minutes more.
After done, let the souffle cool slightly and serve it with a spoon. When scooping, you will feel like eating the scrambled egg, but with more sweetness and creaminess, which is super pleasant to enjoy.
Total Time: 20 minutes
Corn pancake is a perfect dish for a quick breakfast or brunch. It is mildly sweet and creamy with a buttery afternote. Especially inside, it has a custard-like and light texture, creating a melt-in-mouth sensation as soon as you bite it.
Like other pancakes, you make this delicacy by simply mixing the wet and dry ingredients. Then fry in the melted butter for extra taste and a beautiful golden appearance.
For the correct flipping time, you must look for two signs. While your pancake edges should be a bit dried, the bottom should have a nice golden brown. After flipping, look for the same color on the other side, then your breakfast is on set.
Then immediately serve it plain or add some toppings to upgrade the delicacy. It is not necessary to decorate the pancake with berries or whipped cream. Instead, you can sprinkle a little salt or honey on top. They will work for equal deliciousness.
Total Time: 1 hour 15 minutes (including 10 minutes of cooling time)
If you are into Mexican food, there is no way you drop out of sweet corn tomalito. It is the scoop of heaven to pair with your favorite Mexican meal. Indeed, eating a spoonful of corn tomalito is like eating mashed potatoes, but with a sweet and authentic corn flavor.
Although it takes time to cook, this delight is handy to make. Just place every single ingredient in the bowl and stir to combine. Then pour the batter into the baking pan and bake covered for about one hour.
Once baked, the final result is a vibrant yellow cake. You should use a dough scoop or ice cream scoop for easy serving.
Besides, if you want to achieve a smooth texture, you can use a food processor to beat the corn. But it is better to leave chunky to feel a little bit of corn as well as make a difference with mashed potatoes.
Let's grab a can of corn and make this sweet corn tomalito!
Total Time: 60 minutes
Corn atole is a classic beverage widely-served warm in Central America. Primarily in Guatemala, at 3 p.m everyday, people enjoy a cup of corn atole along with tostadas or tamales on hand at nearby bars. It is like a habit or even a custom to do in the country.
Although the cooking time is lengthy, the drink-making is untroublesome. All you need to do is blend the corn kernels with water and press pulp to release liquid. Then stir it with other ingredients until you get the corn milk mixture.
After turning off the heat, remove the cinnamon sticks, pour the liquid into mugs, and garnish some corn kernels. When served hot, your beverage will taste sweet and aromatic, accompanied by cinnamon tanginess.
Total Time: 45 minutes
Originated in the United States, Sloppy Joe is a well-liked sandwich comprising ground beef seasoned with onion, tomato sauce, and other seasonings. But in this recipe, I will make a tater tot version, which are more suitable as sharing foods for gatherings.
Once finished, this hearty will have a crispy texture on top, followed by a cheesy and creamy texture on the bottom. Then you take the dip tater tot with the Sloppy Joe and put it in your mouth. The tangy and meaty flavors sublimate along with the crunchy texture of the tot.
If you need a side to pair with this decadent, salad with honey mustard dressing or baked asparagus should be the ideal plate. In addition, you can also food it out with mac and cheese or Italian pasta salad. Anything should fit with this delicate dish.
Total Time: 30 minutes
Creamed corn biscuit cups are a fun treat for your kids on holiday with just a bite-size. They can play while using their fingers to pop one in their mouth. Besides, making these cups is convenient and quick, thanks to the biscuit dough availability.
Just slice the dough into small pieces, flatten them out in the muffin tins, and pour the cream mixture to fill these cups. Then bake them and enjoy the fresh baked goods. Importantly, you need to put your heart into the cream mixture.
Specifically, it combines roux (melted butter and flour), cream cheese, corn, and milk. Until it reaches a nice white thickness, there is more than halfway to the finished cups. But remember not to fill higher than the cups if you do not want the cream to overflow.
Total Time: 1 hour
Trinidad corn pie is a comforting side dish as part of a sumptuous feast thanks to its familiar taste. In particular, the pie comprises cornmeal, whole kernel corn, bell peppers, onions, and cheese. Together they establish a creamy and gooey texture.
Indeed, this decadent involves tons of flavors: the buttery tanginess of sauteed onions, scallions, and bell peppers; the creaminess of buttermilk and cheese partners with sweet corn. Every single bake generates this out-of-this-world delicacy.
Total Time: 15 minutes
Korean corn cheese is a favorite side dish in any Korean BBQ restaurant. The way to make this delight is simple, but the result will make your jaw drop with a cheesy and bright yellow appearance.
Especially its greatness is more impressive when using the fork to pull up the cheese layer. The gooey texture mixed with plenty of corn kernels creates a glossy and tasty look to pair with chicken wings or grilled meat.
For canned corn variation, you should drain the corn kernels carefully for the best result. Also, if you want to have a mildly sweet plate, omit the granulated sugar since the canned corn may be pre-seasoned.
Let's make Korean corn cheese right in your kitchen with a Korean chef!
Now You Can Enjoy The Canned Corn Foods With Ease
Now, no one can stop you from conquering canned corn dishes. I am sure you can make a big party with just these yellow cans. Then why hesitate any longer without grabbing some home and doing it right away!
I am so excited that I cannot wait until you come back. So when you have free time, please share with me what you are cooking in the comment box below. Besides, if you want to support me, please like and share this post. These actions will let everyone know my sharing is helpful.
Also, your support motivates me to write more articles in the future. Thus, spend a little time clicking on it. Thank you, and enjoy your meal!