Canned biscuit recipes are increasingly becoming a strong trend. Understanding your needs and desires, I created this article to provide you with delicious options for utilizing the canned biscuit in the kitchen.
You will no longer be stressed and anxious when asked to prepare delicious biscuits for the party because you have this article. Please read the article carefully and ensure you understand what I offer.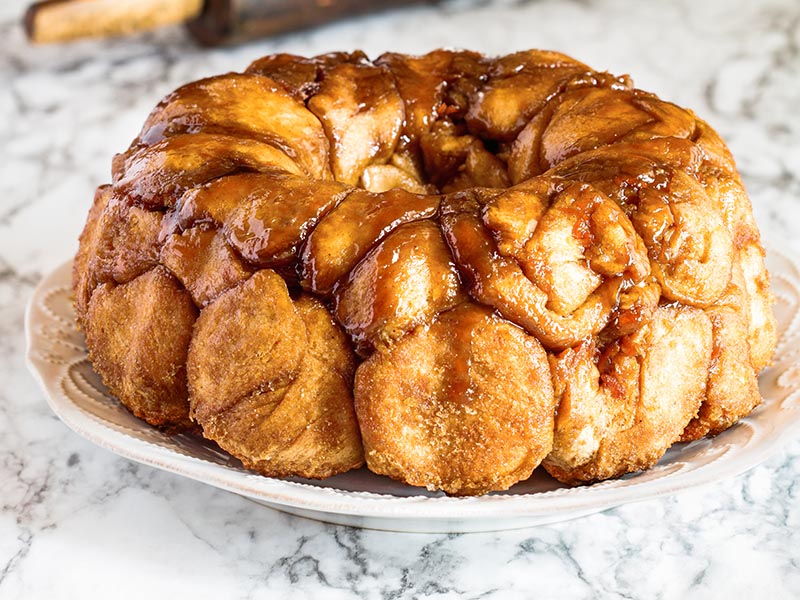 Step Into The Paradise Of Yummy Canned Biscuit Recipes
This section is a rich source of the most popular canned biscuit recipes. Apart from the list of options, it also gives you other valuable information. Let's explore immediately.
Total time: About 30 minutes
You may regret not saving this turkey cheeseburger biscuit cup recipe in your cookbook. This fantastic food will help your party become more sublime with the softness of baked biscuits and the rich filling taste.
The moist and yummy filling is the perfect blend of cooked turkey, Worcestershire sauce, mustard, pasta sauce, and onions. When you bite this food, the smooth and savory filling will dissolve with the delicate and spongy biscuit in your mouth.
For serving, you will have a great and nutritious meal by combining this tasty food with salad or veggies. The fresh flavor of these sides will create a flavor balance with the deep taste of the savory biscuits.
Get into the kitchen to prepare cheeseburger biscuit cups for your loved ones.
Total time: Around 13 minutes
With an air fryer, you can bring premade biscuit dough-based donuts to entertain your friends on special occasions. In particular, you can enjoy memorable moments in the kitchen with your kids since they can help you with simple stages.
Creating a mix of cinnamon and sugar in a bag or putting biscuits into an air fryer are things that you can ask for help from children. In case you want to use this food for the gluten-free dishes menu, you can use the gluten-free dough.
The dough is formed into box-shaped blocks. And they will have a beautiful yellow-brown hue after the baking process. To create highlights for the biscuit pieces, you can cover them with a layer of cinnamon sugar.
Total time: About 19 minutes
Are you seeking a yummy and simple recipe for dinner or lunch? A stuffed biscuit is my top suggestion. The yellow and tender biscuit is stuffed with cheese and meaty ham inside. I love to consume it with over-easy or scrambled eggs when it is time for the first meal of the day.
Instead of sticking with ham and cheese filling forever, you can change your taste with other combos. It is acceptable to use white cheddar cheese and turkey. In addition, mixing pepper jack and roasted chicken are another option you should consider.
If you are a beef lover, you can also fill the biscuit with sharp cheddar and roast beef. To enhance the dish's quality, you should enjoy this mouthwatering food with a blend of mayonnaise and whole-grain mustard.
Total time: About 45 minutes
This amazing recipe is a harmonious resonance between monkey bread and apple pie. Its flavor usually reminds me of the classic caramel apple. Furthermore, you'll be left speechless when you enjoy the buttery biscuit with gooey icing and caramel sauce on top.
It looks like a work of art with its characteristic yellow-brown hue mixed with red and white patches of icing and sauce. You might want to jump in and eat the biscuits as soon as you see them.
You can add a bit of salt to the sauce to create a salty-sweet combo that can charm any picky guest. This beautiful recipe is a brunch treat or dessert worth trying.
Find the instructions to make excellent apple pie biscuit bites.
Total time: About 22 minutes
You can think of the cabbage with a striking golden brown shade when you come across the air fryer biscuit bombs. If you have a great passion for protein and cheesy flavor, the filling of the bomb will make you crazy immediately.
So, what's inside it? The flavor of bacon, eggs, and shredded cheddar cheese are extraordinary things you can find inside this soft and fluffy biscuit. The food will be more fragrant and attractive with the addition of butter and the spiciness of black pepper.
If you would like to reduce cooking time, precook the scrambled eggs and bacon in the microwave. Do not forget to add turkey, bacon, ham, or sausage to bring a new breeze to the food. Besides, many air fryer models have different settings, so the cooking time may vary.
Total time: Around 4 minutes
Indeed, this dish is created for breakfast since you only need 4 minutes to complete it. This fantastic recipe contains canned biscuits, powdered sugar, and cooking oil. It is effortless as you just need to fry the biscuit dough in hot oil and serve with powdered sugar on top.
If you crave sweetness, you can drizzle a little honey on the biscuits before enjoying them. In addition, using cinnamon sugar or colored sugar are also great options for making this recipe better. You can use many types of oil to fry them, like peanut, canola, or vegetable oil.
Learn how to cook beignets with canned biscuits effectively.
Total time: About 20 minutes
Biscuit breadsticks are a great snack. There's nothing better than enjoying these chewy and crispy sticks with marinara sauce, cheese dip, or salad dressing. In addition, you can enjoy them as an appetizer or mix them with a fresh salad.
In particular, you can create different shapes from biscuit dough. Turn them into excellent appetizers for Halloween parties with snake-shaped breadsticks. Or, you can make a heart shape for Valentine's Day.
You should not wait too long to enjoy breadsticks as they will not stay crispy forever. If you would like to use them later, please put them in a sealed plastic bag for storage.
Total time: About 15 minutes
You can experience many different sensations when enjoying canned biscuit donuts since they give you a crunchy exterior plus the softness and fluffiness of the inside. Not only that, the aromatic and sweet glaze and icing will make you remember this recipe forever.
These donuts are unique in the shape of bracelets. To fry biscuit donuts effectively, apply vegetable, canola, or corn oil. Typically, I fry the donuts at a temperature of 350 degrees F to 375 degrees F to get the best results.
For preservation, it is possible to store the donuts in an airtight container. But do not forget to wait for the donuts to cool completely before storing them. This recipe's list of glaze and topping is diverse, with maple, chocolate icing, or shredded coconut.
Total time: Around 30 minutes
It is difficult to escape the fascination of the savory and sweet honey ham biscuits. It is created with canned biscuits, Swiss cheese, sliced ham, along with honey butter on the surface. This food has a harmonious appearance with yellow-brown and white shades.
I often fill my hungry stomach with fabulous honey ham biscuits at breakfast. It works well with marshmallow fruit salad or fresh fruit. You can also enjoy it with mimosas at brunch. If you keep leftover biscuits in the fridge, eating them in 3 to 4 days is best.
Total time: About 40 minutes
The perfect crispness and beautiful golden color of the cheesy chicken taco pockets are a quick way to comfort your little ones when they cry or throw a tantrum. It is also a popular dish and much loved by those not so little, like teenagers and kids.
The pocket structure has 3 parts, including soft biscuit dough, creamy filling, and a crunchy coat. The outermost layer with a yellow color that you can easily see comes from crushed tortilla chips.
This recipe is ideal for any taco night. You should dip it with salsa or queso. If you like spicy or savory foods, feel free to add some jalapenos or refried beans to the recipe.
Total time: About 28 minutes
There are many ways to utilize biscuits in your fridge to make yummy treats. Egg and sausage biscuit cups are an ideal example. The perfect combination of eggs, sausage, biscuits, and cheese will make a great dish to start the day.
Thanks to its typical and eye-catching golden brown color, you can realize this recipe. The biscuit dough gives the perfect fluffy texture to these cups. Also, you can use your favorite cheese, meats, and spices to make a delectable dish that suits your taste.
It is time to make egg and sausage biscuits to consume right now.
Total time: About 55 minutes
The shape of sloppy joe hand pie is pretty similar to dumplings. The rich and yummy filling with ground beef, veggies, and spices is wrapped in a soft, dark yellow biscuit layer. Indeed, this is a fabulous combination.
To make this appealing filling for this dish, you must cook ground beef, veggies, tomato paste, broth, and seasonings in a skillet. After putting the filling inside the biscuits, you'll bake them for about 18 to 23 minutes and enjoy the yummy results with ketchup.
Total time: About 40 minutes
When it comes to delectable biscuit-based recipes, mini shepherd's pie is an indispensable name. Its shape is like cut cups in gold and white. Besides biscuits, this food also contains ground beef filling and creamy mashed potatoes on top.
I find it difficult to forget the appealing flavor of this food after the first try. I simply can't have enough of the tender biscuit, savory filling, and moist potatoes. And neither can you, I'm certain.
Preparing this fantastic recipe is the perfect way to take advantage of leftover mashed potatoes in your house. You can have an incredible snack with a few simple steps.
Total time: About 20 minutes
With only 5 essential ingredients, you'll own a delicious dish to entertain your mouth. The must-haves for this recipe include Italian seasoning, mozzarella cheese, pepperoni, canned biscuit, and pizza sauce.
Almost all the ingredients are inexpensive. Therefore, this recipe helps save both money and time. Plus, the simple process means you can have fun moments with your kids by allowing them to help you whip up these pizzas.
Try other toppings like green onion, mushrooms, pineapple, or ham. While I occasionally come across this dish with salad or fruits at restaurants, people often eat it as a snack.
Total time: About 35 minutes
Buffalo chicken biscuit bomb is my favorite treat to kick off the gathering. It will captivate you with the crunchy outside and fluffy interior. Moreover, the moist and melted texture of chicken dip and cheese inside can make you love it.
To make this superb food, you must flatten the biscuit dough and put the chicken dip, celery, and cheese in the center of the biscuit round. Make the ball by pinching the sides of the biscuit over the filling.
After about 15 minutes of baking in the oven, you'll have beautiful food with great color. Usually, people will consume it warm with ranch dipping sauce for better taste.
Total time: About 25 minutes
If you ask me for a great recipe containing canned biscuits, garlic parmesan knots are among my most frequent answers. You can get the crisp bread by mixing biscuits, grated parmesan cheese, butter, and seasonings together.
Diners will be impressed with the characteristic shape of this delicacy. In addition, the distinctive golden shade makes these knots stand out on the table. Of course, the alluring aroma of garlic can awaken your sense of smell immediately.
It is not complicated to make garlic knots with canned biscuits.
Total time: Around 30 minutes
You are a tough person if you are not addicted to the appealing sweetness of cinnamon fruit biscuits. The yellow-brown biscuits look attractive in the typical round shapes. The secret of this fantastic dessert is fruit preserves, and you can choose any kind of preserve you like.
Plus, it is a sin if I don't mention the role of cinnamon in this recipe. This element's earthy and warm hint leaves an unforgettable impression in the guests' minds.
Before serving this excellent biscuit, you must wait about 15 minutes to cool the fruit preserves. Nutritionwise, this fantastic sweet treat is plenty of calories, sodium, and protein.
Total time: About 45 minutes
I often make butter, garlicky, and cheesy pull-apart garlic bread to accompany the main courses. The caramelized exterior will catch your eyes in no time. Then, you'll be immersed in this beautiful bread's cheesy and fluffy inside.
Cheese plays an essential role in the success of this bread. You can choose the cheese according to your preference, but I recommend using grated cheddar, pizza, or parmesan cheese for this fantastic bread.
An important step that you should not skip is to chill the dough. Using room temperature biscuits may adversely affect the consistency and quality of the bread. Moreover, powdered garlic is the best option for this recipe, but you can also use a super minced fresh one.
Total time: About 25 minutes
It is best to refresh your palate after each meal with crispy and cheesy sausage biscuit bites. This dish is full of cheesy taste with pungent and earthy cheddar cheese. Plus, you can fall in love with this recipe's slightly savory touch of sausage.
Start with making balls from a mixture of cheese and uncooked sausage. After placing the biscuits in the mini-cupcake pans, put the balls in cups and bake them in the oven until the biscuits are brown.
Save the directions to make sausage biscuit bites right now.
Total time: About 45 minutes
The breakfast menu will be more diverse with monkey bread. Did you find something funny in its unique name? Its name is derived from the way to eat this bread: you have to pick a piece of bread at a time to enjoy it.
When you put this bread in your mouth, you will feel cinnamon's warm and earthy flavor. Also, a slight sweetness can please you from the first bite. And of course, it is not complicated to finish this yummy bread at home with simple preparations.
You can enjoy this bread when its outer layer is perfectly crispy. Alternatively, you can poke a skewer into the bread to check if it is done. A clean skewer shows that you can consume this bread.
Total time: About 1 hour 20 minutes
The easiest way to bring the artichoke flavor to the bread is to make spinach artichoke dip pull-apart bread. This tender and tasty recipe is perfect for eating as a yummy appetizer or accompaniment at dinner.
As a side dish, this food can fully play its value when enjoyed with chicken. It's easy to fall in love with the yellow color of this excellent bread. Not only that, the cheesy and creamy consistency makes you want to eat this bread again and again.
Total time: About 42 minutes
I love combining ground beef and potatoes inside biscuits to make a delicious treat for gatherings. The tasty and tender pies also make it easy to enjoy leftover meat without plates or forks.
You can quickly feel the savory and spicy flavor of salt and smoked paprika. In addition to pepper jack cheese, you can give the food a cheesy touch with mozzarella, cheddar, or Colby jack cheese.
You can use frozen biscuits for this recipe, but don't forget to defrost them before cooking. For a shortcut, I recommend thawing frozen potatoes in the microwave to add to the recipe.
Total time: 4 hours 45 minutes
Cooking dishes with a slow cooker has become familiar in modern life. This device makes creating creamy, soft, and yummy foods easier. And you can have a culinary masterpiece after mixing cream soups, canned biscuits, and chicken breasts in the slow cooker.
The dish's flavor becomes more prominent with the spicy touch of ground pepper and thyme. Aside from chicken breasts, this recipe is still delectable with alternatives like rotisserie chicken or leftover turkey.
If you plan to put frozen chicken in the crockpot, you should immediately clear this thought from your brain since it is not safe to consume. Use fresh or thawed chicken only. But you can freeze the soup and use it for about 3 months.
Total time: About 35 minutes
Standing in front of a chicken biscuit pot pie is an extreme test of your endurance because this food's golden shade and intense attraction can make your mouth water continuously. The surface of this food might make you think of golden sands.
Nevertheless, you'll feel comfortable enjoying this food because of the softness of the chicken and the creamy, cheesy taste of the chicken soup, veggies, and thyme. Also, the delicate flavor of frozen veggies will give you a fantastic mouthfeel.
Besides the cast-iron skillet, you can cook this delicacy in stainless steel. This way can save you more cleaning time. Furthermore, suppose you have turkey leftovers, you can use them instead of chicken for a new experience.
Follow the recipe carefully to get a delectable chicken biscuit pot pie.
Total time: Around 55 minutes
Are you wondering how to use leftover fried chicken after the party effectively? If yes, making fried chicken biscuit sandwiches is a suitable suggestion you should refer to. It is a well-combined mix of fluffy buttermilk biscuit and crunchy fried chicken.
In particular, this delicious dish will not be most effective without rich gravy. Alternatively, you can replace gravy with honey. This is the wise option for those who like breakfast sandwiches with both savory and sweet touches.
Total time: Around 10 minutes
I often prepare mini biscuit pizza to treat kids on weekends. This food has the spicy, salty, and tangy flavor of pepperoni and sausage. Occasionally, you can come across the meaty and pungent hint of mushrooms and onions in this recipe (optional choices).
After baking, the canned biscuit will get the characteristic golden brown color and tender texture. You can enjoy this delicious dish at dinner or lunch with other great recipes. Not only that, but it is also an excellent snack for a mid-day meal.
Total time: About 45 minutes
Bubble up is a modernized casserole. This bake is a mix of biscuit dough, saucy concoction, and other ingredients. When baked in the oven, the sauce and the dough bubbles up to create a soft and creamy dish.
The rich and meaty sauce includes black beans, ground beef, and enchilada sauce. The cheese layer brings a rich and buttery flavor to the recipe. I love to serve it with green onions or sour cream on top. And remember to wait about 5 minutes for the bake to cool before serving.
Total time: About 35 minutes
Many kids often ask their parents to prepare egg biscuits bake for brunch. The combination of soft biscuits and fluffy and creamy eggs can bring a pleasant feeling to your meal.
Besides 2-star ingredients, you can increase the protein content of this recipe by adding cooked bacon or sausage to the dish. You cannot miss the cheesy and earthy touch of cheddar cheese in this delicious treat.
You can choose your favorite vegetables to bring freshness to this food. In this recipe, I often select bell peppers to bring out a bit of spiciness to stimulate the taste buds.
You can make egg and bacon biscuit bake simply with the tutorials.
Total time: About 22 minutes
This sweet treat is the best option to give your mouth a fresh feeling after each meal. I love to enjoy it with a cup of tea or coffee in the morning. Its warmth and sweet taste are the highlights you can easily find in this dessert.
This food is full of blueberry flavor and the creamy taste of cheese. The white cheese and blue shade of blueberry look prominent on these fluffy and golden biscuit pizzas. Also, you can add a bit of butter on top to bring a sweet taste.
Total time: About 30 minutes
You can have a quick and easy breakfast with monkey bread muffins. This delicious food requires simple ingredients like canned biscuits, sugar, butter, and cinnamon. Let's mix them to get a sweet treat right now!
You'll be addicted to the tenderness of these muffins. Even better, the layer of sugar and cinnamon on the surface of the bread brings a warm touch to diners. Also, this layer gives the bread an eye-catching sepia color.
Total time: About 15 minutes
I believe maple bars will become your favorite dessert recipe in the future. Thanks to the air fryer, making this sweet treat becomes simpler and faster. It is a suitable option for fall gatherings.
These fluffy and sweet donuts are covered with a layer of maple glaze which makes the dessert sweeter and better. Also, the attractive golden hue can grab your attention immediately. For serving, this unique treat and milk fusion is the best combo to start a new day.
Total time: About 50 minutes
Monkey bread is a famous dessert recipe with many different variations. And adding fresh or canned blueberries to the inside of the bread is a great way to bring a new experience to diners after every meal.
The blueberries look great inside golden-brown bread. They will add sweetness and fruity taste to this fantastic bread. I also love the characteristic citrus flavor of lemon juice when tasting this bread.
You can prepare the biscuit and sugar mix ahead of time and store the blend in the refrigerator. When the party begins, make some delicious toppings and gather everything to create a perfect loaf of monkey bread.
Total time: About 30 minutes
Waffles are a well-known dessert around the world. Its widespread popularity is due to its simplicity in preparation and appealing taste. The recipe I want to recommend is a reward for those who love waffles and pizza.
It has the characteristic shape and appearance of classic waffles. To make this delicious treat for parties, let's put mozzarella cheese and pepperoni slices inside the biscuits and cook until golden-brown color. Enjoy the waffles by dipping them into some savory pizza sauce.
Explore the best ways to create excellent pizza waffles.
Total time: About 35 minutes
Imagine that you plan to hold a party on the weekend and need a dish that satisfies your requirements of deliciousness, simplicity, and low price. I recommend you put your trust in turkey biscuit stew. Your guests will be amazed at your cooking skills when eating this dish.
You'll be mesmerized by the creamy and hearty taste of this stew. The delicate pieces of turkey and veggies will melt in your mouth quickly. This food becomes irresistible when you add the soft, flaky biscuit on top of the stew.
Total time: About 24 minutes
You can feel the harmony of savory and sweet tastes when enjoying yummy BBQ ground beef biscuit cups. The outer biscuit layer will achieve a dominant golden brown color after baking while still preserving the flavorful BBQ ground beef blend inside.
In particular, the dish's secret lies in the smooth and creamy cheese on top. It's a pity you cannot enjoy this wonderful dish with a favorite salad at the weekend party or brunch. One advantage of this dish is that you can make the filling beforehand to save time.
In case you cannot buy ground beef, you can use ground chicken or turkey in your home. You can omit the sugar when using sweet BBQ sauce in this recipe. However, a tangy BBQ sauce needs this ingredient to balance the taste.
Total time: About 20 minutes
I am a huge fan of cranberry, so this recipe is always my top priority at holiday parties. For unique cranberry flavor, you can use homemade cranberry sauce or canned one, depending on your preference.
In terms of appearance, the dip is quite fetching with its distinctive and beautiful light yellow color. A little rosemary and melted cheese will make its aroma stand out.
Furthermore, you will love the tenderness and smoothness of cheddar cheese in this recipe. You better serve this mouthwatering food hot with a bit of honey on top as a delectable dessert after each gathering.
Total time: About 50 minutes
You might regret it if you don't make a taco bubble pizza to treat yourself on the weekend. It's a specialty t of tomato soup, canned biscuits, and taco seasoning. Sometimes, you can add your favorite toppings to vary the taste.
Furthermore, this incredible food contains a lot of protein with the appearance of ground beef. One point that makes me enamored of this beautiful food is the creamy and cheesy touch of melted cheese.
Give These Canned Biscuit Recipes A Shot!
You can face some problems while making these recipes, so feel free to leave your troubles in the comments section. I'll try my best to reply to you as soon as possible. Plus, let's introduce this post to your relatives when they ask you about the biscuit recipes.
Biscuit is a versatile ingredient since you can make many delicious foods. They can be side dishes, main dishes, desserts, or snacks. Hope to see your successful foods from you. Good luck!