Fabulous yet easy canape recipes are the perfect way to kick off any party. The delicious party nibbles with inventive fillings and elegant presentation show that the host has gone the extra mile to entertain guests.
Yet, party-pleasing canapes are super easy to whip up with familiar ingredients, even when you only have a few moments before the feast. I bet these nibbles are more than enough for you to not fuss about what to entertain your guests for quite a while!
Most are all-rounded appetizers to serve individual guests! They are so simple that you can make them without instruction but fancy enough to please the eyes. Most importantly, they are perfect in texture and flavor to keep the crowd happy before the main course is served!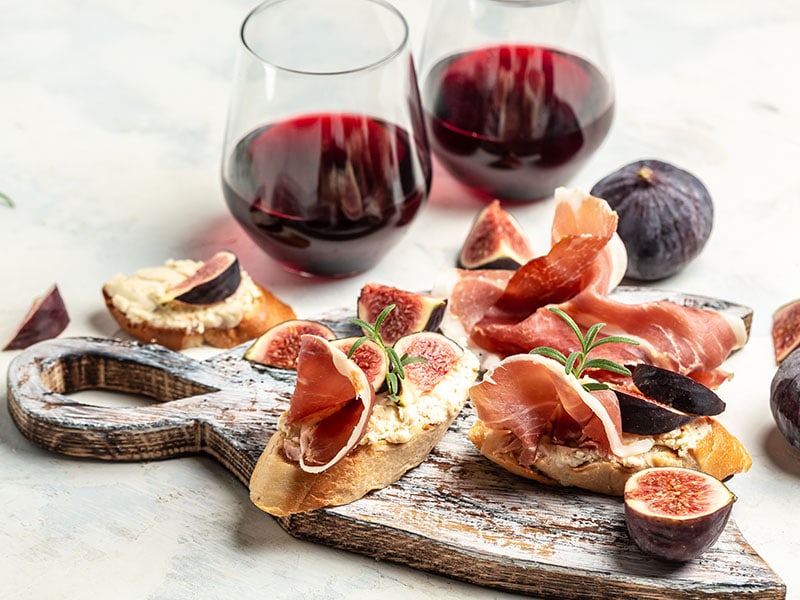 24 Easy Canape Recipes To Start Any Party
Canapes are a well-loved appetizer from France consisting of two main parts: a slice of bread, cracker, or puff pastry as a base and sweet or savory food for the topping. They are normally held in the fingers and eaten in one bite.
Light and tempting, these canapes are no-fuss to prepare but still sophisticated enough to have everyone thinking you spent a while whipping up. So check them out!
Total time: 15 minutes + cooling time
With these delightful blue cheese stuffed dates, your guests will find it hard to keep themselves from returning for more. They are probably among the least-demanding canape recipes and the richest in flavor.
These nibbles are basically a blob of creamy and salty blue cheese nestled into Medjool dates. The chewy texture of these dried fruits goes pretty well with the creaminess of the cheese.
Topping these stuffed dates with roasted pecans also adds more crunch to the dish. The last element, maple syrup, is added at the final step to turn these stuffed fruits into the ultimate sweet and sticky treat.
Total time: 15 minutes
Since there's no cooking involved, these canapes are more like an assembly job, which comes together within just 15 minutes. This is also a refreshing, low-carb twist to the classic appetizer with seafood, where cucumber slices replace pieces of bread or toast.
The soft salmon and crunchy cucumber provide a nice contrast of texture that draws party-goers right with the first bite.
The creamy cheese, bright dill, and spicy onions make the whole thing taste much better. Assemble these beauties, and you'll soon watch them disappear from the appetizer table.
Total time: 25 minutes + 1 hour of chilling time
Smoked tuna and seasoned cream cheese are always a winning combination. When layered between a crunchy almond cracker and a crisp cucumber slice, it makes for an irresistibly delicious bite.
You'll need to mix smoked tuna and cream cheese at least a few hours in advance. Then, cover it up and let chill for at least 1 hour to allow the smoke flavor to fully develop.
Total time: 10 minutes
10 minutes and 6 simple ingredients are all it takes for an hors d'oeuvre full of fruit flavor that draws the crowd. You can enjoy a bit of everything with these nibbles: Crispiness from pancetta, natural sweetness from ripe pear and honey, and creaminess from goat cheese.
Here's the cooking tip: Baked pancetta slices will keep crisping up as it cools down. Thus, you may want to remove them when they're slightly undercooked for the best texture. In addition, it only takes 2 minutes to saute pear slices to perfection.
Total time: 25 minutes
This one is a super-easy and flavorful canape for your next soiree. The fresh shrimp is stirred with a mixture of spices (cumin, pepper, and paprika) for the best flavors and then placed on top of creamy avocado and crostini.
Like most appetizer recipes with shrimp, these canapes come together in a snap (within only 25 minutes). You'll only need 2 minutes to cook each side of the shrimp perfectly.
Letting the seafood hang out any longer than this will create an unappetizing, tougher texture. Plus, this canape is best when served immediately when the shrimp is still warm and tasty.
Tasty and lavish at the same time, this garlic shrimp crostini with avocado will keep all the party-goers happy!
Total time: 10 minutes
Use your favorite Caprese salad to kick off your party with these cute starters with phyllo cups. The assembly is quite foolproof and only takes 10 minutes.
All you have to do is to portion the tomatoes, mozzarella cheese, and fresh basil into the phyllo cups and top them with a drizzle of balsamic glaze before watching your guests devour every last bit of these cups.
These canapes are an ideal dish to cook with cherry tomatoes in summer when this fresh vegetable is at its peak. For fresh Mozzarella cheese, I always prefer the mini-sized mozzarella pearls. So I can add them to the phyllo shells without cutting them smaller.
Total time: 45 minutes
These canapes are bound to please beef lovers. Transform your leftover roast beef or beef tenderloin into a crowd-pleasing appetizer by stacking it on crostini alongside Swiss cheese, caramelized onions, and a drizzle of horseradish aioli.
The aioli adds a zesty kick of flavor to the beef. Caramelized onions also add a burst of flavor when piled on the beef.
Store-bought horseradish aioli offers a shortcut here. Yet, this ingredient might not be available all year round, so feel free to substitute it with your homemade version when necessary.
Total time: 5 minutes
These speedy canapes are the ultimate quick fix for busy parties. You can keep the hungry crowd happy with just 5 minutes and a few simple ingredients at hand.
Sun-dried tomatoes steal all the spotlight here. Meanwhile, the subtly sweet and creamy ricotta helps the veggie's salty, deep flavors really shine on these crostinis.
For this recipe, go for sun-dried tomatoes with a lot of oil. The oil helps bind the garlic, basil, and tomatoes together in the blender for better consistency.
Your guest will happily munch over these crostini with a glass of wine. Yet, you can always jazz things up and serve them with cold beer instead.
Total time: 20 minutes
Goat cheese is not everyone's favorite, yet, once you get hooked by the flavors, it's hard to substitute it with something else. If you're a goat cheese fan, you're in for the ultimate treat!
There are only a few elements in these tartlets, but they manage to create a wow factor in every bite. The recipe uses a variety of fresh herbs, including rosemary, thyme, and basil.
They go a long way to complement the tangy and earthy flavors of goat cheese in these cute tartlets. Spoon this goat cheese mixture into the phyllo cell cups, and top off with a drizzle of honey for a delightful appetizer you can't resist.
Total time: 30 minutes
Try this classic retro canape for your next festive get-together. Deviled eggs, also known as Russian eggs, are essentially halves of hard-boiled eggs topped with a paste.
For this easy take on deviled eggs, the paste is made of cooked egg yolks, mustard, mayo, pickle relish, and more for an amazing flavor.
Deviled eggs are an ideal make-ahead appetizer. The boiled eggs and the paste can last up to 2 days when refrigerated. So, you can add it to your appetizer tray for fuss-free hosting later.
Here are the deviled eggs hack: To make the hard-boiled eggs easier to peel, soak them in a cold water bath for 5 minutes before peeling.
These deviled eggs are so devilishly delicious that everyone can't stop at just one serving!
Total time: 15 minutes
Whip up these healthy canapes to accommodate all your guests. Also, this flavorful starter is completely gluten-free since it uses apple slices instead of bread or crackers. In addition, each serving contains only 72 calories, making it so much friendlier to everyone's waistline.
The simplified apple-based entree combined with naturally sweet honey creates a combination that pairs pretty well with the toasted hazelnuts.
The cheese spread takes a bit of time as you'll need to blend all the ingredients to get a smooth, creamy paste. Yet, it will give extra flavor to these canapes. It's a mixture of cream cheese and feta cheese, sweetened by a bit of honey and brightened up by lemon juice.
Total time: 10 minutes
A toasted baguette topped with anchovy butter, radish slices, and chives is an easy appetizer for spring parties. The purplish-red color of the root vegetable will draw the crowd in no time.
Anchovy fillets, butter, and chives come together for an umami-rich spread. And they complement the flavors of watermelon radish slices pretty well. However, if you find the flavors of anchovy filets are too overwhelming, simply substitute them with capers.
Total time: 30 minutes
Go gluten-free by swapping out the bread for slices of baked sweet potatoes. These sweet rounds are topped with a simple avocado mash and cherry tomato slice for a perfect bite.
While sweet potatoes are already amazing on their own, coating them with spices and the olive oil will further play up their flavors as they bake.
Meanwhile, a fresh squeeze of lime juice brightens the avocado mash and keeps it from browning. These vegan canapes are so good that even the carnivores will love to savor them too.
Total time: 17 minutes
These bites are super tasty and elegant and will always leave your guests asking for more. All you need is to spread the cheese on the baguette slices and then top them with apple slices, pomegranate seeds, walnuts, and honey.
And voila, you'll get an umami appetizer with apples that is ready to serve. Sprinkle some red chili pepper flakes for an extra spicy kick if you like. If you want to make these canapes ahead, toast the bread one day earlier. Once ready to serve, you can assemble other ingredients in a snap.
Total time: 10 minutes
For crostini's toppings, you can't go wrong with this classic duo: fig and prosciutto. These ingredients offer sweet, salty, and smoky flavors, all in one bite. With other ingredients on top, like honey, balsamic vinegar, and microgreens, these nibbles are a true appetizer for summer.
This recipe uses roasted rustic baguette as a base, but feel free to go for your favorite bread. If you're prepping a large batch (I guess you're), use an oven broiler to save even more time for baking the bread.
This fig and prosciutto crostini, which uses fresh figs instead of preserves, is equally amazing in taste and texture.
Total time: 25 minutes
Salty pancetta, sweet peach, and creamy ricotta come together for a gorgeous summer treat.
In my book, peach and pancetta are a match made in heaven. They make a frequent appearance in my dinner salad or homemade pizza. Yet, it's quite a pleasant surprise when they team up on these crostinis.
For this recipe, you'll want pancetta to crisp up a bit, as the saltiness and crunch go better with the peaches. These pretty canapes have ricotta that is nicely sweetened by the honey. A sprinkle of basil on top gives these nibbles a finishing touch and adds flavors.
Feel free to replace basil with any herb you prefer, yet, I wouldn't recommend sage and rosemary as they can overwhelm the flavors of these canapes.
Total time: 30 minutes
These fresh-tasting bites are a perfect way to welcome the summer. Surprise your guests by bringing these vibrant watermelon treats out to start your parties. Or, you can serve them as a snack out by the pool.
The sweet and tangy balsamic vinegar helps highlight the flavors of the watermelon and cucumbers. Make sure to choose high-density vinegar, so it has a syrup-like consistency.
With these canapes, you'll have fun carving the watermelon pieces (to pour in the balsamic vinegar). However, don't stress out too much for this part, as the cheese and cucumber will easily mask even an imperfect hole up on top.
Make sure you don't dig too deep, or the vinegar will quickly seep into the bottom and spill onto the serving plate.
Total time: 8 minutes
It's hard to believe that you can put this fancy look together in only 8 minutes. Plus, these canapes taste just as amazing as they look. You couldn't stop asking for more!
These little cute bite sizes are sweet, tangy, salty, and hearty all at the same time. So, each bite will take your taste buds on an exciting ride of flavors.
If you can't find spreadable blue cheese in the store, it's fine to combine ½ blue cheese with ½ cream cheese at room temperature.
Dried apricot blue cheese canapes with walnuts will make hosting less hassle!
Total time: 25 minutes
Only 6 ingredients come together for a show-stopping brie cheese dish with sweet and savory flavor. The flaky phyllo shells will hold the melting Brie cheese and sweet, tangy cranberry sauce. Bake this mix until the cheese melts before topping it with cranberry and rosemary.
Rest assured, the cranberry sauce is foolproof to make, and either fresh or frozen berries will work wonders here. You'll only have to stir the cranberries, sugar, water, and rosemary well together at medium heat until the fruits pop.
Here's the tip you'll need: Because Brie will melt down significantly when baked, you should fill the cup with the cheese as much as possible!
Total time: 30 minutes
These bites have crisp crackers as a base, topped with layers of goat cheese, chia seeds, and tender quailed eggs.
For a quick and reliable goat cheese dish, you may whip the cheese with heavy cream so it becomes more airy and spreadable on the crackers. Goat cheese is already salty, yet you can always add a pinch of salt if you like.
If you want to avoid the last-minute hassle, peel the eggs and roast the chia seeds 1 day ahead. So, right before the party starts, simply assemble these canapes to serve your guests.
Start by rolling the whole eggs in the chia seed, then cut them in half and place them on the crackers. Finally, top off with some sage leaves and lemon peel strips for a decadent touch.
Total time: 15 minutes
If you're a big fan of mushrooms like me, you definitely love these delightful bites. Toasty baguette slices are topped with mushroom garlic spread for a delicious appetizer.
The spread takes center stage on these crostinis and is super easy to whip up. Start with sauteing the white mushrooms until all the liquid evaporates.
Then, mix the mixture with garlic, pepper, and mayonnaise, and you already have a savory spread for the crostinis. If you're not ready to serve, simply keep the spread in the fridge.
Total time: 45 minutes
This recipe is perfect when you want a dish that is both tasty and visually appealing (and without any of the fuss!). Roasting grapes with honey and thyme helps enhance their natural sweetness and gives them a nice caramelized flavor.
They are then topped over the spread of creamy, salty goat cheese and a slice of baguette for the ultimate treat. All of the flavors combine pretty well together in each bite.
The little tip for this canape is to use roasted garlic to mix in the cheese. Roasting transforms the pungent flavor of raw garlic into something milder and sweeter.
Even better, you can reserve a special portion for your vegan guests. Sub in maple syrup for honey and vegan cheese for goat cheese!
Why not add this tasty whipped goat cheese crostini with roasted grapes to your entertaining essentials?
Total time: 35 minutes
These guacamole shrimp bites are always a huge hit at any party! They are crunchy, salty, creamy, and savory all at the same time.
The fresh shrimps are nicely flavored with garlic, olive oil, and cajun seasoning to perfectly match the creamy guacamole. Wonton wraps provide a crunchy bite, whereas cilantro adds extra flavor and color.
To keep this appetizer as quick and easy as possible, you can choose store-bought guacamole. Here's a little guacamole secret: Add a squeeze of fresh lime juice to amp up the guacamole flavor!
Total time: 10 minutes
Sometimes the best things in life are the simplest, and this salami and dill Havarti crostini is a perfect example!
All you need to do is cut Ciabatta bread into thin slices and then top them with curled pieces of salami and Havarti cheese. Next, run the crostini under the broiler for 5 minutes until the cheese is melted. Some chopped fresh dill on top would make for a lovely garnish.
Havarti cheese is infused with dill flavors that complement the salami pretty well. However, if you don't have Havarti cheese, just go for any hard cheese you like.
You Don't Need A Lot Of Time And Effort For These Canapes!
Are you searching for no-fail appetizers? The classics such as deviled eggs or smoked salmon and cucumber canapes would be well-received by the crowd. Some recipes on the list only call for a few ingredients, such as 3-ingredient cranberry brie bites, making the prepping even simpler.
Others might take an extra one or two ingredients (and perhaps a few minutes), yet as long as you're willing to invest, they will keep everyone coming back for more! So, the choice is yours!
Have you tried any of these canapes? Please let me know how they turned out for you. I love to hear your recreations of these cute little nibbles. Leave a comment and share this article if you love this post. Thanks for reading!
Nutrition Facts
12 servings per container
---
Amount Per ServingCalories24
% Daily Value *
Total Fat 1.6g

3

%
Cholesterol 6mg

2

%
Sodium 156mg

7

%
Potassium 46mg

2

%
Total Carbohydrate 0.8g

1

%

Dietary Fiber 0.1g

1

%
Sugars 0.2g

Protein 1.7g

4

%
---
* The % Daily Value tells you how much a nutrient in a serving of food contributes to a daily diet. 2,000 calories a day is used for general nutrition advice.