There's nothing quite like enjoying easy camping recipes when you are one with nature. The sun shining, the leaves rustling, the birds chirping, and the brook babbling, all the things you love about nature will be elevated with companies and a few simple dishes.
The beauty of these camp-friendly meals is you can make them while taking in all the sights, sounds, and sensations of the landscape. There are not many complex cooking steps or requirements for fancy cooking utensils. You just sit there, relax, and cook at your own pace.
Wait no more and scroll down to find what you come here looking for: the best and most straightforward camping recipes anyone can make instantly. Whether it's breakfast, snack, dinner, or appetizer, there's something for everyone.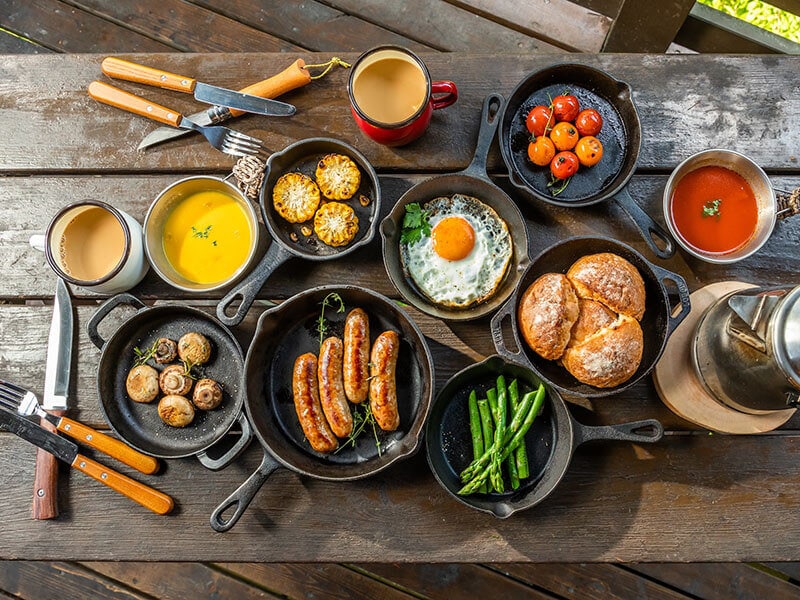 The Easiest Camping Recipes Can Be A Hit In Outdoor Settings
You may buy some pre-made or packaged foods beforehand and bring them with you. Or even purchase some edible products at the campground's stores, but the food selection is likely to be limited. Besides, cooking with your own hands is always a highlight of any camping trip.
Total time: 5 minutes
Sandwiches are the prime lunch candidate for any outdoor trip. These campwiches are great for packing a light lunch for everyone without any complicated steps. You can make them ahead of time and bring them along in a cooler.
The ingredients list is short and simple: packaged sweet rolls, deli turkey, deli ham, and cheddar cheese. Just like any sandwich, you assemble the items by stacking them on top of one another. Then you wrap the campwiches in plastic wrap and store them in a fridge.
Total time: 25 minutes
You can wake up and enjoy the Mexican-inspired Chilaquiles the next morning of your trip. The meal makes for a simple yet delicious Mexican breakfast to chew on while reflecting on everything in your life under the baking sun and refreshing air.
This dish calls for pre-made hot sauce, but you can make one from scratch. To do so, combine tomato sauce, chopped Jalapeno, and oregano. It's also possible to make the tortillas ahead of time if you find frying them at the camp stove is a hassle.
This recipe requires a nonstick or cast iron skillet, but a Dutch oven also works. After making the dish, there are many topping options to choose from: cilantro, avocado, diced red onion, grated cheese, or fresh lime slices.
You can recreate the traditional Chilaquiles in the great outdoors.
Total time: 30 minutes
Now I introduce you to an iconic Australian delicacy: damper. The food has been satisfying Aussie campers' hunger for a long time. The modern-day version of the damper requires just 3 simple ingredients, which may have already been available in your pantry.
Traditionally, people cook this no yeast bread on the coals of an open fire. To cook the bread on a campfire, cover it with hot coals and bake for about 25 minutes or until you see golden color. You can also bake the damper with an oven.
You can serve the light and airy damper with a mouth-watering flavor warm or at room temperature. For an even better experience, eat the bread with butter, golden syrup, jams, or preserves.
Total time: 30 minutes
Did anyone expect that you can turn mac and cheese into campfire food? Yes, it's feasible and straightforward to boot. Now you can take the cheesy, creamy, and hearty mac and cheese with you and enjoy it post-hike.
The recipe has all the usual suspects: elbow macaroni, alfredo sauce, cheese (lots of them), and milk. If you want a richer result, feel free to swap the milk out for half and half. The cooking steps include: preparing the noodles, combining the items, and cooking them.
Sounds familiar, right? The only difference with this recipe is cooking the dish on a campfire. After assembling, you can consume the mac and cheese as-is. But if you want the cheesy goodness, cooking the dish is the way to go.
Total time: About 10 minutes
Let me ask you, do you want something crunchy, sweet, and creamy, all in one place? Campfire banana boat s'mores are what you are looking for. They are a delicious twist on everyone's favorite camping dessert.
This dessert will be a hit with both the kids and adults. It consists of roasted bananas filled with s'mores fixings: marshmallows, dark chocolate, caramel chips, and crumbles of graham crackers.
Within a snap, you can enjoy these heavenly banana boats. Just scoop out the flesh, put in the fillings, and grill them directly on a campfire grill. Alternatively, you can grill them wrapped in tin foil for a less smoky flavor, but the cooking time will be longer by a few minutes.
Let's start making the delicious dessert banana boat s'mores the next time you go on a camping trip.
Total time: 2 hours 55 minutes
Soup and stew are among the most popular campfire foods because of their simplicity and convenience. There's hardly anything easier than tossing all the ingredients into a cauldron or a large pot and cooking them over a period.
The cooking time may be long (2 hours+), but it's all worth it in the end. Besides, you can spend this time talking or playing with your friends while occasionally adding, simmering, and stirring the items. Plus, this simple campfire stew can feed a whole crowd.
A steaming hot bowl of savory meat and potatoes will capture anyone's heart. The recipe calls for a combination of beef and pork for the meat component, but you can use game meat. It's also possible to omit beer from the dish as it's not strictly required.
Total time: 40 minutes (Excluding chicken marinating time)
It's a guarantee that grilled foods will be a hit at every camp. I believe this honey mustard grilled chicken kabobs recipe is no exception. Who can't say no to the perfectly roasted chicken and veggie skewers with sweet-savory flavor?
There's one thing you need to look out for: the chicken may be cooked sooner than the veggies. So, you should roast them separately to avoid overcooking the former while the latter is still not done.
You should marinate the chicken ahead at home because this takes 1 hour or overnight ideally. For convenience, marinate and store them in a bag that you can bring along to the camping destination.
Total time: 50 minutes
Potatoes! They are versatile vegetables that everyone knows and loves. The starchy and sweet mild potatoes combined with rosemary, onions, parmesan, and seasonings make for a succulent and toothsome meal.
What's more, many outdoor cooking options exist: in the ashes or on a grill. The meal prep and cooking are simple: rinse and chop the potatoes, combine them with the required ingredients, wrap them in aluminum foil, and bake for about 30-40 minutes.
Total time: 20 minutes
You can load up and cook nachos in a camp kitchen. And the result you get is a delicious one at that. Besides the camp stove, all you need is a pan and a lid. This easy and simple recipe can be made with a Dutch oven, too.
Making the nachos is a breeze. Just layer the required ingredients onto a frying pan (a baking tray also works), cover, and cook the whole thing on medium-low heat. Then load the finished product with toppings.
As for the toppings, that's the fun part. You opt for the simple route and go with cheese. But why stop there? You could put many things on top of nachos: steak, chicken, veggies, sour cream, Jalapeno peppers, etc.
Explore the best way to make fully loaded camping nachos without much effort with this cooking guide.
Total time: 35 minutes
Here's another traditional Aussie camping recipe. The dumplings are sweet with moisture from the syrup. They are good for eating on their own, but if you want to pair them with some dishes, opt for anything that is less sweet, like fruits or ice cream.
This comfort food is even better on chilly nights or rainy days. Moreover, the recipe is easy to make and budget-friendly as it requires only basic ingredients: butter, milk, water, egg, etc. Therefore, golden syrup dumplings are the perfect last-minute food.
Total time: 50 minutes
There are many sweet morning recipes you can whip up on the campground, but nothing hits quite like the classic French toast. The buttery bread with a soft texture and a hint of strawberries will satisfy any camper's belly.
Here's a tip for choosing the best bread for the job: opt for whole loaf bread instead of pre-sliced ones. When you slice the bread, make sure to cut it thick. This is to ensure the bread won't cook through too soon, and you will end up with a rubbery mess.
It's recommended to pour the egg-milk mixture carefully. Don't rush it, or the bread won't soak it up nicely and evenly. When cooking the foil-wrapped French toasts, remember not to place them over the hottest part of a campfire.
Total time: 1 hour 40 minutes
It seems like you can cook almost anything over a campfire, even pizza. As long as you have a BBQ, grilled pizza is not out of reach. Even better, you can prepare the crusts beforehand for ease of convenience.
There are 3 components: the dough, the sauce, and the toppings, all of which can be made ahead of time. You cook the pizza on the grill, then put on the flavorful and tangy sauce. Lastly, put in toppings of your choice and enjoy.
Total time: 12 minutes
With a pie iron and a few other tools, you can whip up crusty toasted bread slices with gooey fillings. Making and cleaning up is a breeze when all you require are just 5 ingredients. I can't stress how easy this recipe is, even the kids can make it themselves (under adults' observation).
The dish is highly customizable. For instance, you can make it with any cheese of your choice. It's a neat idea to replace one breakfast patty or slices of cooked bacon. Adding some more diced onions or peppers is a good choice, too.
Although the recipe is a pie iron one, you can also fix these pies by campfire, stove, or grill. Regardless of the cooking method, the delicious sausage and egg hobo pies will be ready on your plates within less than 15 minutes.
Be one with the scenery and cook the mouth-watering pie iron hobo pies.
Total time: 10 minutes
Ramen recipes may not have the "wow" factor, but the simplicity and diversity make up for the lack of exciting or surprising elements. You know ramen is a solid choice to fall back on when you run out of camping food ideas.
Not many camping dishes are so toothsome, easy to make, and can fulfill the bellies of any traveler or camper like this one. And this campfire curry ramen even comes with a twist.
The beef-flavored instant ramen package is already flavorful, but it just becomes better with the addition of beef jerky, sliced onion, and curry powder. For an extra bust of tastes, you can add leafy greens, fish balls, or a beaten egg.
Total time: 15 minutes
The s'mores just become more exciting with the simple addition of milk chocolate bar and toasted coconut between graham crackers and marshmallows. With such a simple twist, s'mores are now a hundred times better, being chocolatey and gooey than ever.
The making is plain and simple. First, toast the coconut at home until it is golden (be careful, or it may burn), then let this item cool and transfer it to an airtight container. When at the camp, toast the marshmallows until it reaches a golden brown appearance.
Next, layer the items as follows: crackers, chocolate, coconut, and marshmallows. Lastly, top the whole thing off with another graham cracker, and you are golden! Easy as pie, right?
Total time: 30 minutes
Instead of serving with the usual side dishes for pierogies, this recipe will show you how to cook these little dumplings in a way that will make your camping mates' mouths water.
The beauty of foil packet recipes is how easy and budget-friendly they are. Whether you are an experienced camping cook or an amateur, making the sausage and pierogi foil packets is no hard work. Plus, there's not a lot of hassle about cleaning up.
The dish calls for chicken sausage, pierogies, red pepper, onion, and butter. It's a veggie feast with many colors and flavors, all in one foil package. Once done, just serve them on pie plates with forks. Be careful as they are hot.
Total time: 30 minutes
Who doesn't love a flavorful one-pot pasta recipe when on a campground? Your life will be easier when you only have to toss all the ingredients into a deep enough pot and cook for half an hour. A steaming hot dish that can be ready without much effort is always a privilege.
The hearty farfalle dish is fast to prepare and cook. This is because the recipe tells you to use pre-cooked meat. Plus, there's no need to drain the liquid, just cook the farfalle in chicken broth. Cajun chicken camping pasta is possible to make with a campfire or a stove.
Total time: 1 hour
Dutch oven cooking is so fun and versatile since you can feed a whole crowd with this large vessel. That's why there are a lot of great recipes that use a Dutch oven. It makes even more sense since you can make chili and cornbread in one pot instead of separately, saving the hassle.
The chili and cornbread duo taste amazing. Paring spicy chili with a light and fluffy cornbread topping in one place is a great cooking idea on the campsite. The sweetness of the latter plays very well with the rich flavor of the former.
Total time: About 30 minutes
Onions are known for their bold and strong taste, but they turn all flavorful with this recipe. The meal is pretty similar to sandwiches, with ground beef fillings jammed between onion layers. Everything is then roasted to perfection.
They are easier to make than they seem: cut the onions, stuff the meat mixture inside, wrap them in foil packets, and start grilling. It won't take longer than half an hour to cook these "bombs" over a campfire. Alternatively, it's possible to make these at home with an oven.
You hardly recognize the onion flavor with seasoned meatball mixture and slices of crispy white onions. To introduce BBQ flavor, mix some barbecue sauce into the meat mixture. These stuffed onion balls are truly the bomb!
Make your next outdoor outing explode with these extraordinary campfire onion bombs.
Total time: 15 minutes
When you talk about sandwiches to eat in the morning, you must mention these burgers. The only difference is that the former uses pre-cooked ingredients while the other requires cooking. Nonetheless, both are ideal for a camp breakfast due to how simple they are.
The grilled sausage burger is not only yummy but also substantial enough to last you a while before waiting to eat another meal. With a griddle or a skillet, anyone can whip up this burger to enjoy the flavor-packed combination without much hassle or clean-up.
Total time: 20 minutes
Speaking of hand-held food, you don't want to miss the walking taco recipe. While I have already covered a tacos breakfast, this is a simpler and portable version. I'm sure the kids will love it.
After a long day in the great outdoors, you would want a straightforward dinner recipe, this one won't disappoint. The only cooking involved is sauteing the ground meat and onion. Then you just take a bag of Fritos, crush them, and combine them with the meat mixture.
For the toppings, add any combination to your liking. This recipe calls for a mixture of black beans, lettuce, tomato, sour cream, shredded cheese, and salsa. It doesn't have to be a Fritos bag, other chips like Doritos work fine, too.
Total time: About 20 minutes
Here's another recipe where all you have to do is sit back and relax while the meal cooks itself. Heat the Dutch oven over a campfire or hot coals, put the required ingredients into the oven, then cover and occasionally check to see if the cobbler is golden brown yet.
Blackberry cobbler makes for a perfect dessert or breakfast on its own with the prominent ginger taste. If you can find it, eating this dish with ice cream is a heavenly experience. If not, it's fine; feel free to enjoy the cobbler warm or cool.
This terrific treat with blackberries is almost impossible to mess up with how easy everything is. If you want to change things up, use any two cans of pie filling of your choice. Instead of blackberries, you can try cherries or apples.
Grab all the necessary ingredients and make an easy blackberry campfire cobbler now.
Total time: 35 minutes
Everyone loves to have themselves some French fries, outdoor or not. I have good news, it's possible to whip up some fries and enjoy their crispness on a campground. With a campfire or a traditional grill, you can make these mouth-watering Jalapeno popper fries.
There are 3 main components: the creamy popper sauce, the fries, and the toppings. One important ingredient is chorizo, a spicy pork sausage blend, as it introduces the umami flavor of the whole dish.
To avoid a soggy experience, it's important to use foil packets and make a hole for the released steam. Here's one important note: you shouldn't add the creamy popper toppings if you want to reheat the fries for later use.
Total time: About 5 minutes
This is not a hot dog sandwiched in a bun as you know it. Rather, it's a hot dog wrapped in crescent rolls and put on a stick. The recipe is a neat meal to cook over the fire while engaging in conversation with people around you, similar to roasted marshmallows.
Furthermore, it doubles as a fun entertainment or activity for your kids. The hot dog on a stick is just that simple, even the little ones can handle it (except for the roasting part, which may require an adult's observation).
To summarize, you put the hot dog onto a skewer and wrap the crescent roll dough around it. Then you can either cook in tin foil or over a fire. After about 3-5 minutes, serve the cooked hot dog on a stick with your favorite sauce and enjoy.
Total time: 50 minutes
Are you craving more chicken as a main dish for your next camping adventure? This camping chicken foil recipe fits the bill. What's special about the meal is how most of the work can be done ahead at home, saving you all the fuss while camping.
The mild, stringy chicken meat pairs well with the sweet corn and potatoes. There are also the onions and spices, which add so much depth to the flavors. Although the recipe calls for chicken thighs, breast meat is also a good choice, especially chicken tenders.
You can prepare the meat and veggies hours or days ahead. Freezing them is another good option, but remember to put the packages in the cooler, or the leak will get everywhere. If you don't fancy frozen foods, then prepare everything just hours before the trip.
Total time: 25 minutes
Vegan folks, don't feel left out because I have just the dish for you. The vegan camping pancake mix can appeal to many people thanks to its fluffiness and gluten-free nature. Just take a blender and a skillet, and you are solid for the mix.
Here's another bonus: this pancake mix can last up to 2 weeks. However, the fluffiness may worsen as time passes. Considering its long shelf life, you can take the leftovers and eat them as breakfast at home.
Another beauty of this pancake mix is you can customize it to your heart's content. Feel free to add plant-based protein powder or some spices like cinnamon. For serving, eating pancakes alongside fresh fruit, maple syrup, and a cup of coffee is not a bad idea.
You can whip up a perfect camping pancake with a few simple camping cooking tools.
Total time: 1 hour 5 minutes
Quiche is a French tart consisting of egg, bacon, cheese, and a pie crust. You can make this rich, savory, and hearty offering at the campsite without much effort or elaborate cooking steps. It's suitable for a camp Dutch oven, RV oven, or solar oven.
The making and cooking are plain and simple. First, fry the bacon and saute the onions. Afterward, toss all of the ingredients into one bowl and beat well. For the next step, pour the mixture into the pie crust and start baking. Remember to turn the oven every 10 minutes.
Total time: 20 minutes
S'mores are a crowd-favorite camping dessert, but there are more recipes than just that. Pound cake and berry campfire skillet is something new you should consider making for the whole family for your next outing.
This treat checks many people's boxes: easy, fruity, sweet, delicious, and colorful. Looking at the appealing skillet of berries, pound cake, and candy bars, can't you tell me this display does not tempt you?
The taste is just as good as it looks: fresh and flavorful. The warm fruits combined with melted chocolate and caramel are just perfect goodness. Make it once, and your family and friends may request you to make this skillet on many future trips.
Total time: 25 minutes
Most hikers or campers are no stranger to beef jerky. There are many flavors and brands to choose from, so feel free to opt for any that floats your boat. The beef jerky has now become more conforming and warming when you turn it into a stew.
The cooking couldn't be easier, you just need to toss the jerky along with veggies, bullion cubes, and spices into the boiling water and simmer. If you want the final result to be more flavorful, add a splash of apple cider vinegar.
Total time: 30 minutes
For the foil-wrapped meal lovers out there, I give you another succulent recipe. What is Philly cheesesteak? It is a sandwich consisting of hot beef and melted cheese. You can trace its origin to a hot dog stand in South Philadelphia's Italian market in the 1930s.
As I said, you can easily enjoy the hearty and filling flavor, all the best the cheesesteak has to offer, on a camping trip. All required ingredients are widely available: ground beef, mushrooms, cheese, potatoes, and spices.
For the cooking, place all of the items according to your liking into a foil tin. Then wrap them nicely and tight. From here, you have two choices: baking in an oven at 400℉ for about 20-25 minutes or cooking over a fire (about 10 minutes into the cooking, remember to flip them).
Total time: 10 minutes
An Eclair is a French-inspired choux pastry filled with cream and topped with icing. This recipe is an outdoor, mini, and budget-friendly version of that. Despite being a simple recipe, the campfire Eclairs still retain a sweet taste, just like the real thing.
Popular Eclair often has a chocolate filling. For substitution and ease of convenience, it's possible to use chocolate frosting or Nutella, both of which are awesome choices. As for vanilla pudding, you need to pack it beforehand at home and keep it in a cooler.
Total time: 20 minutes
Eating breakfast while you are away from your home is just different. It's not the usual ritual to be ready and step foot outside. On a camping trip, breakfast is a chance to slowly take in the surroundings while chewing on the simple yet tasteful treats in your hand.
Tacos are ideal for that purpose as a healthy and protein-packed camp food. Furthermore, there are millions of ways to make tacos, so you won't get bored with this dish for several mornings.
For instance, you can use any veggies of your choice or even add more meat protein like ham. The toppings are where you can get creative the most. But if you want a simple and fool-proof route, just follow the instructions and use cilantro, salsa, avocado, and bacon bits.
Surprise everyone with healthy breakfast tacos at the campsite now.
Upstage Your Next Camping Trips With Easy Camping Recipes
If you have tried any of the covered recipes, then don't forget to tell me and others how it turned out in the comment section below. Everyone is urged to hear about your story and how they could learn from it. Don't be shy!
On that note, please spread the words, orally or digitally, so that more campers can discover these wonderful recipes for their next outing with close ones. Furthermore, they may improve upon the dishes and share them with you.
The easiest camping recipes are diverse and tasteful. There's more to it than just simple pre-made or packaged meals. Cooking in nature is a one-of-a-kind event, anyone should experience it at least once in their life.
Nutrition Facts
10 servings per container
---
Amount Per ServingCalories143
% Daily Value *
Total Fat 0.9g

2

%
Cholesterol 3mg

1

%
Sodium 249mg

11

%
Potassium 285mg

9

%
Total Carbohydrate 29.8g

10

%

Dietary Fiber 1.3g

6

%
Sugars 2.4g

Protein 4.6g

10

%
---
* The % Daily Value tells you how much a nutrient in a serving of food contributes to a daily diet. 2,000 calories a day is used for general nutrition advice.