Camping desserts are best suitable for hanging out with friends after lunch or dinner. On these cheerful occasions, they help you feel relaxed and pleasant when enjoying their fresh and delicate flavors.
You will have a wide range of food choices for your camping in this article. All of them give delectable tastes in your joyful moments. Now look at these incredible recipes and choose the best one for your trip.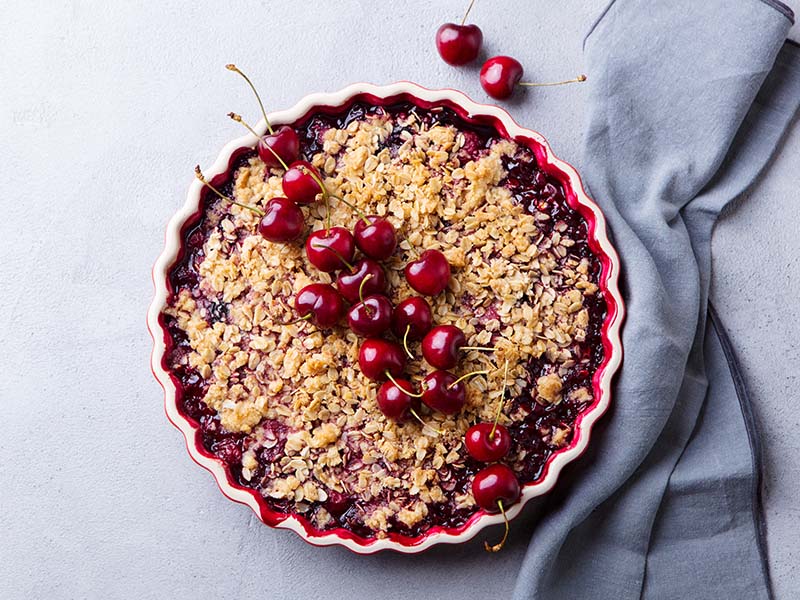 Enjoyable And Delicious Camping Desserts For Your Trip
Here are the 27 best dessert recipes that you can try for your camping trip. Each of them has its unique savors and cooking process.
Total time: 7 minutes.
This is a convenient choice for your camping dessert as it is quick to make and easy to clean. It's fun to grill these cones on the campfire and enjoy them with your buddies under the open sky.
This dish has three main ingredients: waffle cones, chocolate chips, and marshmallows (the famous S'more treat is a sensible choice). You can customize the dish by adding your favorite ingredients to the cooking.
You need to get the ingredients ready to fill in the cones, then wrap them in foil and set them about 4-6" above the fire to cook.
Total time: 15 minutes.
The shape of campfire banana boats will make you excited. This special form is also an element that makes this dessert wonderful, in addition to its fresh and yummy taste.
First, you cut the bananas lengthwise before stuffing the banana halves with chocolate, marshmallow, and your favorite topping. Next, you wrap them in a foil and put them on a campfire until the filling melts and gets infused with each other.
This dessert provides a good source of calories for your camping activities. You can also change the ingredients to your preferences.
You will know how to make delicious campfire banana boats after watching this guide.
Total time: 40 minutes.
Crisp is a dessert made by baking fresh fruit with a crunchy layer of flour, sugar, and brown sugar on top. Of the various kinds of crisp, the Apple one is easy to make and brings a delicious taste.
Firstly, mix apple slices with cinnamon. Meanwhile, create the toppings by combining sugar, oats, spices, flour, and softened butter into small beads. Next, bake everything in the oven until the beads get golden brown outside and the apples become tender.
This dessert should be served warm. You can have it together with whipped topping or ice cream.
Total time: 5 minutes.
This recipe requires strawberries, pound cakes, marshmallows, chocolate chips, and coconut oil. If you have enough of these ingredients, it will take only 5 minutes to make this dessert.
You whip up this dessert simply by making skewers with the first three ingredients. Next, grill the skewer until the marshmallow turns perfectly golden. While waiting, don't forget to microwave chocolate chips and coconut oil.
The final step is to drizzle chocolate and coconut oil liquid on top of the skewers. With a colorful texture, smoky aroma, and sweet flavor, the dish is great for your camping trip.
Total time: 20 minutes.
Pound cake and berry campfire skillet dessert is special in the savor: cooked fruits taste warm but still retain a fresh sweetness. This magic taste combined with the creamy and sweet flavor of caramel and chocolate creates a mouth-watering dessert.
Thanks to the wonderful taste, this dessert is best suitable for cold nights, when you gather with your friends around the campfire. It creates a cozy atmosphere suitable for a memorable trip.
You should prepare berries and pound cake separately. Combine berries with sugar before using a skillet for cooking pound cake with butter. Finally, sprinkle the berries and some chocolate candies on the pound cake.
Total time: 25 minutes.
Pineapple cake in a foil pack looks like a magical large gold ring with a round ruby stone inside. Its gloriousness will attract your appetite for the first time.
It boasts a delectable taste with aromatic, sweet, and fresh pineapple mingled with red cherries. This refreshing taste goes with the mild, chewy, and light taste of sponge cake, creating a perfect combination for your camping dessert.
To make this dish, you need to put a sponge cake in the center of a foil pack, then add a pineapple ring on top, followed by brown sugar, pineapple juice, and finally, a cherry above the ring. Cook it for about 10 minutes until the dish is ready.
This is how you can make easy and quick pineapple cake in a foil pack.
Total time: 20 minutes (plus 2 hours of cooling time).
Pretzels are a kind of baked bread with a knot shape. They have a special taste: salty and mild at the same time.
Cracker Jack and Pretzel treats are ideal desserts for your camping trip, as they serve a sweet, gooey, and peanutty savor. You should reserve them for special occasions with your beloved people.
Preparation for this dish is simple. Melt and stir butter until it grows brown and fragrant, then stir in with marshmallows, Cracker Jacks, pretzels, and peanuts. Don't forget to let those treats cool down before sinking your teeth into them.
Total time: 1 hour 20 minutes.
In making this dish, you do it in 4 separate stages: pre-baking the crust, preparing the filling, making the crumbles, and assembling the pie. The pre-baking of the crust is to make it robust before stuffing the berry filling.
This dessert has an alluring appearance with the crumbles in golden brown and the berries in crimson. It also brings a sweet, crispy taste that you won't skip any bites.
Since the berries are already sweet, you should decide whether to add more sugar or not. You can also use frozen berries instead of fresh berries.
Total time: 11 minutes.
A mountain pie is a pie made in a cast-iron cooker or skillet. This super quick cherry mountain pie can be cooked on a grill, campfire, or camp stove.
This dessert uses ready-made ingredients: canned cherry filling, cream cheese, pre-made pie crust, vanilla, or cream cheese flavored frosting. This helps the cooking process be short and comfortable.
Cherry mountain pie has a sweet and tasty flavor. Combined with its attractive appearance, this camping dessert is a great choice for your foray into nature.
Learn how to cook cherry mountain pie in 6 minutes with this video.
Total time: 1 hour.
Walnut is a rich source of nutrition that contains phosphorus, iron, vitamin B6, omega-3 fatty acids, etc. Its taste is a combination of earthiness and nuttiness. The fiber pigment in this nut also helps increase fullness and satisfaction.
Caramel-Chocolate-Walnut thumbprint cookies have a diverse flavor with many ingredients: baking powder, all-purpose flour, heavy cream, bourbon, walnuts, etc. They combine to create a dessert that is beautiful to look at and full of flavors.
Total time: 10 minutes.
S'more pudge pie is another super quick pie made in a pie iron. When you want to make a tasty dessert with your pie iron, turn to those crisp, finger-licking treats!
To make this dessert, you only need to place the bread in the pie iron, sprinkle graham cracker crumbs, chocolate chips, and marshmallows. Then place another slice of bread and close the iron.
After that, you bake the iron on fire. Cooking it on the wood of a campfire will enhance the taste.
Total time: 1 hour.
Cobbler is a kind of dessert that includes baked fruits covered by a thick layer of batter or biscuit. In this recipe, the fruit of choice is juicy peach.
The sweet and refreshing taste of peach, together with the soft and moist savor of the cake, creates an amazing taste for the dish.
With 6 ingredients, you can make a campfire whiskey peach cobbler in 6 simple steps. They consist of preparing peaches, mixing them in the pan with sugar, adding whiskey and vanilla, then pouring the cake mixture before cooking them on the fire.
Total time: 30 minutes.
Apple season starts from late July to November. If you go camping during this period, making apple French toast roll-up is an ideal dessert choice for you. It offers wonderful texture and taste.
In this dessert, people dip flattened bread slices coated with a cinnamon apple mixture in egg and milk and cook them. When they get golden brown, again roll them in a cinnamon-sugar mixture.
You can also enhance the flavors of these appetizing rolls by serving them with maple syrup. You will fall in love with them at the first bite!
Total time: 20 minutes.
A Dutch oven is a type of cooking pot with a thick wall and tight lid. It is best suitable for cooking this S'more cake on a hot grill in outdoor cooking as camping.
Dutch oven S'mores cake means comfort in preparation as all the ingredients are pre-made. It has an outstanding appearance with the golden-brown shade plus the nutty smell of baked marshmallows.
It is a great dessert for a cold night outside on your camping trip. You can gather around the campfire, wait for it to bake with your friends in a warm and cozy atmosphere.
Let this video help you imagine how to make Dutch oven S'more cake.
Total time: 45 minutes.
This dessert delight is insanely delicious with a perfect crispy and lightly sweet crust. It brings a wonderful taste with a layer-by-layer structure of date paste, pecans, peanut butter, coconut butter, etc.
They create a charming appearance with different golden brown colors of the ingredients coupled with the creamy white of shredded coconut. You will be attracted at first sight. This dish is also freezer-friendly. It can last for 1 month in the freezer.
Total time: 20 minutes.
S'more Puppy Chow is a no-bake dessert that is excellent for outdoor activities such as parties, BBQs, and especially campings. It originated in the Midwest and got its cute name as it looks like dog kibble.
This super easy and quick dessert has another name, Muddy Buddies. It is an interesting kind of snack coated with chocolate and sugar powder. When serving, you can either place them in a large bowl or divide into smaller cups.
You can modify the ingredients of this dish to your preference. Chips and crushed candy canes are possible variations that you can try.
The easiest steps to make S'more Puppy Chow.
Total time: 3 hours 10 minutes.
A Dutch oven is suitable for camping, as it helps cook many different desserts. Cinnamon nut pull-aparts are a good choice with this type of cooking pot.
The unique aromatic and golden brown mixture of this dessert brings a fantastic look. Furthermore, the sweet, soft, and greasy flavor of this dish will satisfy your taste buds within a few bites.
This wonderful dish offers you easy cooking methods and an appetizing taste. It is great to include them in your camping trip menu, as it brings you joy and satisfaction.
Total time: 1 hour 10 minutes.
Cherry chocolate monkey bread is an amazing combination of different flavors: aromatic cinnamon, sweet and fresh cherry, soft bread, and rich, earthy chocolate. You cannot skip this dessert on your camping trip.
Firstly, mix cinnamon and sugar in a bag and add cut biscuit pieces. Shake to coat the pieces. Next, put the biscuit pieces in a bowl before tossing them with cherry pie filling and melted chocolate chips.
Remember to reserve a third of the cherry filling for decorating. Then put the mixture in a pan and bake until the center is thoroughly done and the top gets golden brown. This dessert is served warm.
Total time: 15 minutes.
The glossy, smooth, and brown outer layer of these grilled bananas will make you mouth-watering! This flavorful dessert is simple to make with two easy steps.
These grilled bananas are made simply by grilling and coating them with a honey-rum mixture. It has a sweet, satisfying taste and an aromatic smell that is a terrific side for your camping trip.
Honey-rum grilled bananas pairs well with ice cream in serving. These two perfect partners go together to create a harmonious dish.
Total time: 1 hour 15 minutes.
Blueberry jam in these pies is an element bringing a fresh and interesting flavor to the desserts. Its taste is delightful, lightly sweet, and tart.
Making this dessert is divided into 3 stages: preparing blueberry jam, cake, and whipped pie filling. Two golden brown crispy pies on top and bottom, with a blueberry-white whipped cream filling in the center, make the dessert alluring and beautiful.
These pies work best to serve on the day they are made. If you prepare them some days in advance of your camping trip, you should store the components separately in the fridge to save their quality and flavors.
Total time: 20 minutes.
This is another dish that can be made at a campfire. It has a fun and tasty flavor that will make your night cheerful and unforgettable.
The ingredients are simple biscuit dough, pre-made vanilla pudding, chocolate frosting, and whipped cream. To make this dish, you need a roasting dowel as the main equipment to handle the pieces of biscuit dough.
There is no fixed amount of each ingredient, as this recipe can change depending on your preference. You can customize it to your favorite taste and enjoy it with your camping buddies.
Learning how to make campfire eclairs in this brief tutorial is so easy.
Total time: 25 minutes.
These adorable little tarts can be served both warm and cool. Combined with the sweet and soft tart, the filling with a rich and mellow taste will melt in your mouth. You will find it impossible to resist this amazing dessert, especially when staying under a starry sky.
To make the tarts, you should start with cooking crushed graham crackers with melted butter and add sugar in a muffin tin. Then you prepare the butter filling from eggs and flour and scoop it into each tart.
Finally, decorate the desserts with puffy marshmallow toppings.
Total time: 15 minutes.
These fast donuts require super easy ingredients! You only need biscuit dough to make these amazing donuts. You can have it baked on a campfire and gather around to wait until it is ready for you to enjoy.
Other ingredients are ground cinnamon, vegetable oil, and granulated sugar. You can make this dish simply by combining cinnamon and sugar and shaking them. Next, cut a hole in the dough slices to create the shape for the donut.
Then you fry the donuts and shake them in the cinnamon and sugar mixture until the donuts are coated, and get ready to enjoy this crispy, sweet and aromatic dessert.
Total time: 40 minutes.
These "bombs" will bring you a flavorful and bursting taste. They go off and give out a sweet, tender, and gooey savor that will astonish you at the first bite.
This super impressive dessert consists of biscuit dough, caramel candies, ground cinnamon, etc. You need to make the apple pie filling, then stretch the dough, place the filling, and top it with a caramel candy.
Then you roll the dough in a ball shape, sprinkle the ball with cinnamon, and bake it. These balls can be served right after the oven. You can keep them in an airtight container in the fridge for up to 4 days.
Total time: 25 minutes.
A bite of grilled peaches with honey yogurt will cheer you up. The sweet, light, and fresh taste of both peaches and the honey – yogurt mix is a perfect combination for your camping dessert.
The ingredients for this dessert are simple: ripe peaches, Greek yogurt, cinnamon, and honey. Grill the peaches and drizzle with the honeyed mixture.
When ready, this dessert has a golden yellow and iridescent appearance. It also gives an attractive delicate aroma of honey and peach.
Total time: 18 minutes.
For an outdoor occasion such as camping, fruit desserts are the easiest choices. It has a cool and alluring appearance with the fresh red, yellow, and green colors of different kinds of fruit.
Grilled fruit kabobs are appetizing with simple preparation. Their overall taste is a combination of sweet, sour, and fresh notes from juicy fruits. You can choose your favorite kinds of fruits for the ingredients to make it even more diverse.
Remember to soak the skewers in water before you put them through the fruits, as this helps prevent the skewers from burning.
Let this walkthrough show you an amazingly easy method to make grilled fruit kabobs.
Total time: 25 minutes.
This is a dessert made with nuts, dried cherries, and dark chocolate chips. It brings a colorful and attractive texture that you and your taste buds can't forget.
First, you combine pecans, almonds, coconut chips, or pepitas and stir them with maple syrup to coat. Next, bake the mixture and then add chocolate chips and cherries.
This dessert lasts for several days in the fridge. You need to put it in an airtight bag before refrigerating to save the best quality of this food.
Adding Fun To Your Camping With These Delicious Desserts
Camping is always a great choice to relax and have fun with your friends and family. And a good camping dessert will give you great joy to cheer you up with happy moments.
Above are several ideas for camping desserts that you can have a look at. Find the best one for yourself and your trip. I hope you have a great time with these wonderful desserts! Leave a comment here to let me know your great experiences!
And don't forget to share this post to spread out these wonderful pieces of camping dessert recipes to your friends and family!