Thank God that I found these terrific Campbell's soup recipes. They have opened the door to a hassle-free life where I can quickly knock up my dinner without having to sweat like a pig after hours of working.
And why Campbell's, you ask? The brand offers a wide selection of condensed soup, from the cream of mushroom, chicken to tomato – and they all taste wonderful. It was founded by Joseph Campbell, a fruit merchant, and Abraham Anderson, a commercial canner, in 1869.
Campbell's doesn't stop at just canned soup. They also produce other canned meals such as pasta, baked goods, snacks, and even refreshing beverages. With such selections, I'm positive that you will stock up some cans in your cupboard.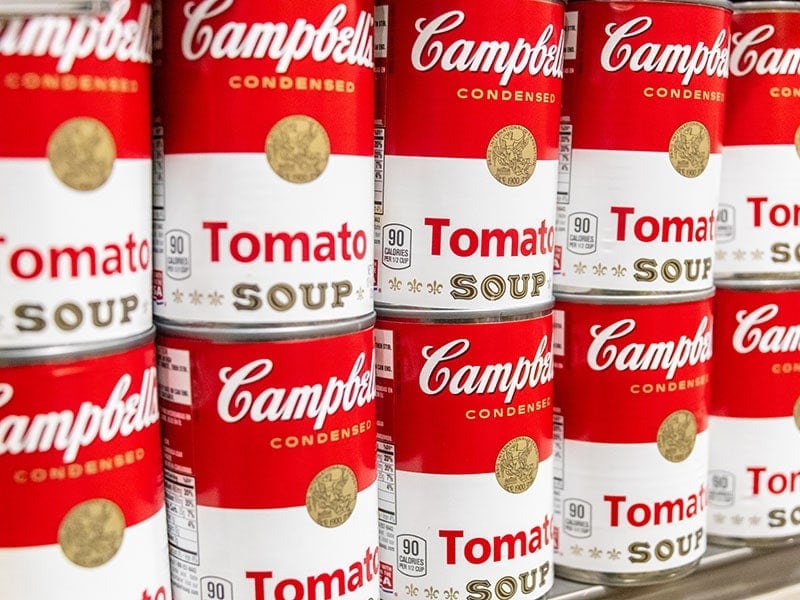 25 Top-Notch Recipes Made With Campbell's Soup
Here's a sneak-a-peek: with Campbell's soup, you can do more than just soup. You can whip up a cheesy casserole for your guests, some meatballs for your pasta dish, or even a dessert. If you are suspicious of my words, check out the list I have rounded up below.
Campbell's Chicken Soup Recipes
Chicken Enchiladas
Chicken Pot Pie
Fiesta Chicken Casserole
Chicken Divan
Crockpot Italian Chicken
White Chicken Chili
Campbell's Mushroom Soup Recipes
Turkey Casserole
Broccoli Cheese Casserole
Mushroom Rice
Tuna Noodle Casserole
Mushroom Beef Stroganoff
Turkey Tetrazzini
Bacon Hash Brown
Tater Tot Hotdish
Pork Chop Rice
Green Bean Casserole
Campbell's Tomato Soup Recipes
Beef Chili
Tomato Soup Cake
Tomato Tortellini Soup
Cabbage Rolls
Sloppy Joes
Porcupine Meatballs
Other Campbell's Soup Recipes
Shepherd's Pie
Bacon Potato Chowder
Loaded Nachos
No time for waiting. Grab the can opener, and let's get started!
Campbell's Chicken Soup Recipes With Tons Of Yums
Whenever I come across these Campbell's chicken soup cans in the supermarket, my hands immediately reach out and grab some home. It is fantastic on its own, but there are various ideas on transforming it into a scrumptious, filling meal.
Snuggling into a quilted blanket won't keep you warm, but these cheesy chicken enchiladas will do the job. The ooey-gooey dish is accentuated with snappy Picante Sauce and chili powder, ensuring that your hunger will be satiated until the very last spoonful.
The guide to the easiest chicken pot pie ever: open a can of Campbell's chicken soup. Double the portion in case your guests are coming over, and if they told you that they would be early, you would be glad to know this amazing pot pie takes only 40 minutes to finish.
You will want to have this chicken pot pie for every occasion. Watch this video to know more:
Are your Campbell's chicken soup cans all dusty? Here's what you can do with them. Assemble soup, salsa, sour cream, cheese, and chicken in a baking dish. Place the pie crust over the mixture and bake until it turns golden. Serve with any salad of your choice.
Originating at Chatham Hotel, New York, the casserole dish made with chicken and broccoli has gained massive attention from foodies worldwide. Indeed, the star of chicken divan is the creamy Mornay sauce, but a can of Campbell's chicken soup works wonders as well.
A lovely meal with your loved ones is incomplete without this heart-warming crockpot soup. All you have to do is sit back and let the dish cook in your crockpot on low for 4-6 hours. The succulent chicken and cream gravy are unparalleled. Get the pasta or rice ready to serve.
Chili is indeed a tasty treat on winter nights, but it usually takes you hours, and your cravings cannot stand that. Let me show you a shortcut: combine Campbell's cream of chicken soup with shredded chicken, salsa, pepper, and chili powder – less than an hour!
Campbell's Mushroom Soup Recipes You Cannot Resist
Campbell's mushroom soup remains one of the ten most favorite soups of the brand, and it's not difficult to understand why. The pantry staple consists of mushrooms, fresh cream, and garlic, lending impeccable flavors to anything it touches.
Chicken casserole sounds good, but it is nothing compared to this crowd-pleasing turkey casserole. It's an excellent way to repurpose your Thanksgiving leftovers, and here are two serving suggestions: with cranberry-walnut salad or poached pears and chocolate sauce.
Broccoli and cheese are destined to be with each other, and this hearty casserole is the perfect opportunity for them to meet up. Rest assured that your taste buds are hung up on the cheesy goodness, which is miles better when accompanied by grilled chicken or steak.
Your life has never been this easy. Whether you have this rice recipe as a side dish or light dinner, it'll certainly please your appetite. Sour cream provides a striking contrast to the mushroom soup, imparting a mellow richness to the rice and the sauteed chicken breasts.
This casserole gets its exquisite flavor from tuna, the saltwater fish high in protein and vitamins. It is paired with an armful of egg noodles and sweet peas, drenched in Campbell's mushroom soup, and finished with grated cheddar and crushed potato chips on top.
With perfectly tender chunks of beef sirloin, this dish is a surefire hit on every table. In this recipe, canned mushroom soup stands in for the creamy sauce, elevated with sour cream and a dash of paprika. You'll love how milk adds a depth of creaminess to the plate.
Consider this tetrazzini a nice delicacy using leftover spaghetti and casserole. The pasta bake dish is loaded with juicy turkey chunks, mushroom soup, and more fresh mushrooms. The cheese sauce is traditionally laced with wine or sherry, but I left it out in this recipe.
There are endless variations of hash brown, yet this one stands out for a reason. It's got Campbell's mushroom soup, shredded hash brown potatoes, broccoli florets, and crispy bacon bits. Everything comes together under the Panko mixture and is baked until golden.
Summer is the time for some crispy tater tots. The dish receives a creamy boost from Campbell's mushroom soup along with smoked bacon, potatoes, and other supporting characters. Sure enough, the decadent cheese layer will make everyone's mouth water.
With canned soup, everything is done in a flash and tastes like they have been prepared all day. And did you know that soup and rice is a match made in heaven? They seem to have an affinity for each other, and with flavorsome pork chops, the dish will win your heart.
Green bean is a nutritional powerhouse packed with vitamin K, and if you haven't been eating it much lately, this recipe comes just in time. Modify the recipe to your preferences: add some red pepper for color, almonds for crunch, or more cheddar because why not?
Recipes That Bring Campbell's Tomato Soup To Life
Honestly, Campbell's tomato soup is not my favorite, and sometimes it tastes like watered-down ketchup. However, it starts to grow on me a bit when I figure out that there are plenty of things I can make with it: chili, cake, and so on.
Are you looking for something on a spicier side? My version of beef chili is sure to fulfill your fantasies. Dump the ground beef, tomato soup, kidney beans, and chili powder into your crockpot and go. Come back later and enjoy the tantalizing smell permeating your kitchen.
This recipe turns your can of tomato soup into a cake – yes, no kidding! Delicious, fluffy, and ultra-moist, the one-of-a-kind dessert has been a smashing hit since it was published in the New York Times in 1949. Balance out the taste with vanilla cream cheese frosting.
Don't hesitate to make this retro tomato soup cake for dessert. Watch this video to know more:
Take your Italian cooking to another notch with this quick and straightforward tomato tortellini soup. While you are sauteing the onions, let the canned soup and other ingredients simmer in the rich chicken broth. Ladle out and garnish with parmesan and extra basil. Yummy!
These cabbage rolls know how to rock your dinner with their luscious flavors. Not only are they effortless to make, but they can also be prepped ahead of time. With ground chuck and pork making up the filling, blanketed in tomato soup, the results are extremely satisfying.
Whenever I'm in a dinner rut, I turn to Sloppy Joes, the Iowa staple invented by the homonymous chef. The trick here is to replace the tomato sauce with a can of Campbell's tomato soup, combined with a beef mixture, ketchup, and Worcestershire sauce.
Try Campbell's tomato soup in this Sloppy Joes, and you'll be surprised:
Don't be intimidated by these prickly meatballs – they take kindly to any accompaniments, from classic pasta to mashed potatoes and rice. Thanks to Campbell's tomato soup and a myriad of spices, these juicy little guys are going to be on my dinner rotation for a long time.
More Recipes Made With Other Campbell's Soup
Did you know that Campbell's has ten lines of soup with hundreds of flavors? The range is unbelievable! With the proper soup and the right amount of seasoning, you can quickly rustle up a speedy meal whenever the cold hits you out of the blue.
Shepherd's pie is a labor of love, but this recipe costs you only half an hour. What's the magic? It's Campbell's vegetable soup, which saves you plenty of time. Other hallmarks such as ground beef, potatoes, and corn are still there. Garnish with a pinch of paprika.
As winter arrives, all you need is a bowl of chowder by your side. Made with smoked bacon, Campbell's potato soup, more potatoes, and cheddar, every slurp you take is a step closer to heaven. Here's a tip to make it even better: add a splash of the stout like Murphy's or Guinness.
Warm your belly with this yummy bacon potato chowder. Watch this video to know more:
In the gloomiest days, nachos are here to stay no matter what. This party-ready snack is made with beef, onions, and Campbell's cheddar cheese soup and is spiced up with Pace Chunky Salsa. Pile up your favorite toppings, from tomatoes, jalapenos to sour cream.
The Campbell's Soup Sensation
If I were asked to use a word to describe these Campbell's soup recipes, that would be soup-er! They are a sheer delight that you will love to see on the table whenever you come home: sizzling hot, infused with lovely flavors, and ready for you to enjoy.
Given that, what are you waiting for? It's time to splurge your money on Campbell's – it's worth every penny! What are you planning to make first? Casserole, chili, or nachos? Share your results with other readers and me via the comment section below. Thank you.
Nutrition Facts
6 servings per container
---
Amount Per ServingCalories206
% Daily Value *
Total Fat 7.5g

12

%
Cholesterol 47mg

16

%
Sodium 620mg

26

%
Potassium 266mg

8

%
Total Carbohydrate 16.3g

6

%

Dietary Fiber 2.7g

11

%
Sugars 3.3g

Protein 17.5g

35

%
---
* The % Daily Value tells you how much a nutrient in a serving of food contributes to a daily diet. 2,000 calories a day is used for general nutrition advice.