Sometimes the cabbage side dishes bring a whole new layer to your course. The greens are always a good thing to put as sides to any main dishes. The cabbage, in particular, provides a good crunch to any meal.
What's more, it is budget-friendly and versatile. There are many ways to cook this green plant: steam, roast, sautee, etc. And cabbage is still a delicious veggie you want to eat alongside any food or on its own.
Eating cabbage is a good way to get that crunchiness and provide yourself with vitamins. So let's read more to learn the best way to sneak this extraordinary plant into our daily diet.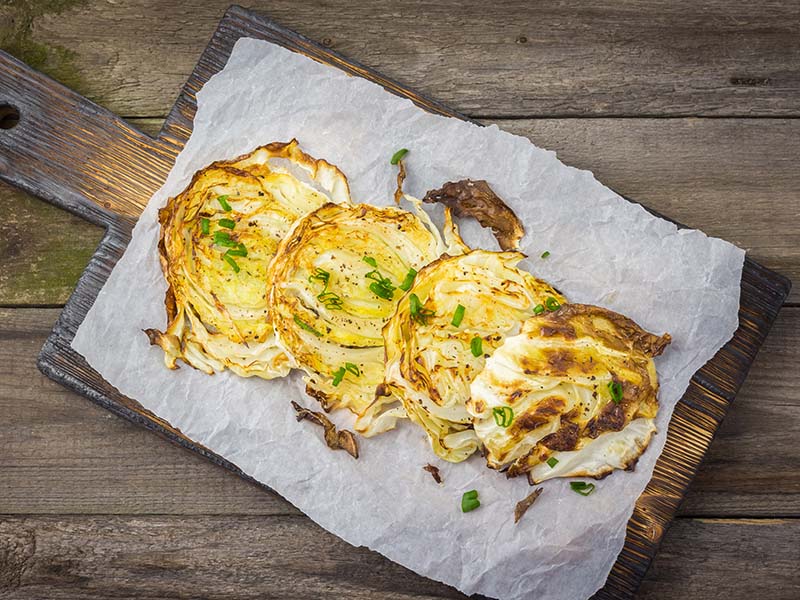 These Amazing Cabbage Side Dishes Will Capture Your Hearts
Most people may only remember cabbage as that one veggie in the coleslaw. But it is just so much more. You can serve this green in so many different ways that you can hardly believe it's the same veggie in those dishes.
Total time: 35 minutes
The first star on the list today is an Irish-inspired dish. It's the perfect pairing for lamb chops or a comfort food for St. Patrick's Day (or any day, for that matter). Irish cooking relies heavily on potatoes, so it's no surprise they've come up with a delicious cabbage and potato mashup.
Colcannon is a great combination of sweet cabbage, cooked onions, buttery milk, and creamy potatoes. It takes only 35 minutes for 4 servings of this amazing side dish. I'm sure your family will love it.
This recipe is also highly customizable. You can replace half of the potatoes with parsnips. Furthermore, you can also toss in chives, leeks, or bacon for extra flavors and fun.
Total time: About 5 minutes
If you don't know what to eat alongside Thai dishes, then how about trying this recipe? It's a Thai-style garlicky, umami cabbage meal with fish sauce. You should try eating this one with a rich curry as it complements the richness so much.
You just need 4 ingredients to whip up this unique recipe: green cabbage, fish sauce, garlic, and a neutral flavor cooking oil to bind them all together. The cooking steps are also easy and quick. Within less than 10 minutes, this dish is ready to be on your plates.
Simply heat a wok over medium heat with some oil. Then you cook the garlic first, then cook the cabbage at high heat. While doing so, drizzle the fish sauce over the cabbage (add the pepper, optional). Next, remove from heat when the cabbage is done and enjoy.
Learn the best way to cook this delicious cabbage and fish sauce.
Total time: 20 minutes
Sauteed cabbage may be one of the more plant-based meal served as a side, but it is easy to make. It's a no-fuss recipe of sauteed cabbage with a squeeze of lemon and garlic. What could you ask for more when in a pinch?
Sauteeing the cabbage in a little oil makes it all tender and sweet. Plus, you can avoid having a soggy mess. Lemon juice, pepper, and salt add more overall flavors. In case you don't have lemon, you can use apple cider vinegar instead.
Total time: 1 hour
This recipe calls for Irish cheddar, a white cheddar cheese made from cow's milk in Ireland. This is another food you eat on St. Patrick's Day. It takes inspiration from Colcannon with the addition of Irish cheddar and some other items.
It is a perfect blend of cheesy hash potatoes, mild green onions, and sweet cabbage. Everything is baked to crispy and creamy perfection. You can spice things up by adding chopped kale or spinach.
This dish is naturally gluten-free. You can even make it dairy-free by removing the Irish cheddar (you should add some salt to balance the taste) or replacing it with a non-dairy shredded cheese of your choice. Make sure to use plant-based butter, too.
Total time: 25 minutes
This is another simple recipe you can make within 30 minutes or less. In this dish, the cabbage turns into a mild, buttery, and caramelized flavor side food suitable for tuna steak because of the soft interior. What's more, it also comes with a delicious onion Dijon sauce.
First, you need to cut this green veggie into wedges. The chopping is simple, use your hands to remove the outer leaves on the head. Then cut the body in half and lay each of these halves on their cut side. Next, continue chopping these halves into 4-5 wedges.
The Dijon sauce consists of butter, minced fresh onion, Dijon mustard, etc. You toss and cook the sauce ingredients in a small saucepan at medium heat. Once the butter melts, remove from heat and keep the sauce warm.
Roasted cabbage wedges are one of the simpler recipes you must try ASAP.
Total time: 50 minutes
Creamy cabbage casserole is a great way to enjoy this plant with a creamy and cheesy touch. But this dish is not one-dimensional like that, it has a subtle spiciness thanks to the added pepper. Italian bread crumbs also make the casserole all nicer and crunchier.
It's a fun, easy-to-make side dish or comfort food. One important thing to note is that you should boil and drain the cabbage. The former makes the plant tender, while the latter helps you avoid a watery and sogging experience.
This recipe is also highly customizable. You can add Kielbasa (smoked sausage) to turn the whole thing into a sausage and cabbage casserole. The baking time remains unchanged for this alternative version.
Total time: 2 hours 10 minutes (Including 2 hours of pickling time)
If you want to eat cabbage as a vegetarian specialty with a Japanese vibe, then I have just what you need. The people from the land of the rising sun love to eat Tsukemono (pickled things) with rice and miso soup for a traditional breakfast.
Today, you look at Asazuke (quick pickling), a faster version of Tsukemono. It requires just a few hours to make. On the other hand, due to the low amount of salt, it's best to consume Asazuke within 2-3 days.
All you need is cabbage, cucumber, red chili pepper, Kombu (dried kelp), and kosher salt. First, chop all the ingredients and put them into an airtight plastic bag. After that, add kosher salt, rub the whole thing, and seal the airbag tightly.
You can let it pickle in a cool, dry place or in the refrigerator for 2-3 hours. Once done, squeeze the excess liquid out of the Asazuke. You may want to top it off with white sesame seeds and soy sauce for better enjoyment.
Learn how to pickle cabbage the Japanese way with this Tsukemono-making guide.
Total time: 30 minutes
These cabbage wedges are coated in honey and balsamic vinegar and roasted to brown and crispy perfection. If you want to add extra flavoring, consider putting in fresh thyme leaves at the final step.
The sweet-savory balsamic, humble cabbage, and honey glaze makes for a great combination to enjoy alongside grilled meat or poultry. You can use red or green cabbage in this recipe, just remember to cut it into 10-12 wedges for easier cooking and consumption.
Total time: 30 minutes
This is one of the easiest ways to prepare this veggie without losing most of its nutrients. With just a few items, anyone can make this budget-friendly and hearty dish within 30 minutes or less.
The only thing about boiled cabbage is you have to watch over it, so you don't overcook this plant. Most people would think this is a boring way to eat cabbage, but I can tell you it's not. If done correctly, it's as mouth-watering as any veggie side dish.
First, cook the cabbage to get that tenderness and beautiful green color. Then coat it with melted butter and serve with salt, pepper, red pepper flakes, and lemon juice. You won't believe something so simple can be oh so delicious.
Total time: 47 minutes
Sweet and sour German red cabbage, also known as Rotkohl or Blaukraut, is a great side dish to enjoy on any diet. It is ubiquitous in every restaurant and household throughout this nation. Red cabbage is low in calories and a good source of riboflavin, fiber, and vitamin C.
This classic offering is a simple and excellent German way to consume this red cabbage. It's a butter-sautéed cabbage with sprinkles of sugar and balsamic vinegar. You can take it to the next level by adding chopped apples, onions, and roasted chestnuts.
Eating this dish, you will realize a sharp and refreshing flavor. Sweet and sour German red cabbage makes for a great side dish to sausages, pork, roast chicken, and roast beef.
Go into your kitchen and fix this sweet, tangy German red cabbage now.
Total time: 30 minutes
This cabbage and noodles, also known as Haluski, is a Polish and Hungarian dish. Different from the traditional versions where meat is used, this take on Haluski skips the meat and adds sauteed mushrooms to retain the rich flavor.
This recipe calls for wide egg noodles, but any cooked noodles work great so opt for any variant of your choice. If you are a dedicated meat lover, you can add diced Pancetta, sliced Kielbasa, bacon, or ham.
Whatever items you put into it, the dish still offers bright and flavorful goodness with a powerful impression in every bite. The ingredients blend well into the paste, creating a fresh and tasty vegetarian side to beef, chicken, or pork meals.
Total time: 40 minutes
You've explored how to fix an Irish-inspired cabbage and potato meal. Now, let's learn how to do it the Hungarian way. This stew is one of the best ways to venture into Hungarian cuisine. It works best as a side dish when paired with a fried egg.
In this recipe, you will need savoy cabbage, one variety of the cabbage. They are similar to green ones but milder and sweeter. Another distinct feature of this variety is the loose and ruffly leaves.
Besides savory cabbage and potatoes, this delicious version of Főzelék (thick Hungarian veggies stew) consists of seasonings like sweet Hungarian red paprika powder, ground caraway seeds, and Spanish onion.
Total time: 40 minutes
Creamy caramelized cabbage is a side dish to enjoy all year round. With this recipe, the familiar veggie transforms into a creamy version of itself using only cream, onions, and garlic.
This guide does not specify what kind of cream to use. You can use half and half or heavy whipping cream. Any milk with fat content between those two should work fine.
Prepare the cabbage by chopping it into thin slices. You should also cut the onions as well as mice garlic and ginger.
Then cook all the ingredients over medium heat in a large skillet or saute pan. Remember to stir occasionally. This dish couldn't be easier!
Here's a low-carb Keto spicy caramelized cabbage side dish you want to get your hands on.
Total time: 30 minutes
I've covered sauteed, cooked, and boiled cabbage. Now let's get into one of the popular cooking methods: steaming. You know this is going to be a fun and cheerful dish since it is made in true Caribbean style.
There are 3 main steps of making this Jamaican steamed cabbage: Sauteing the other items, steaming the cabbage, and seasoning the finished product. Steam 15 minutes or longer if you prefer soft cabbage. Otherwise, 10 minutes is sufficient for a crunchy experience.
Feel free to toss in additional veggies like cauliflower, leeks, broccoli, or mushrooms if that's your jam. One small note is that cooked cabbage can become bitter in no time, so be sure to consume them no later than one day after cooking.
Total time: 15 minutes
This slaw is the best recipe for when you are feeling lazy. Making the red cabbage slaw is such a breeze and doesn't take longer than 15 minutes!
This is the recipe for those who prefer a tangy coleslaw, as you can easily adjust the dressing to suit your liking. For instance, replace the mayo with a combination of Greek yogurt, Dijon mustard, and orange or lemon juice for a tangy dressing.
And remember that you can store the final product for up to 3 days in an airtight container. However, don't freeze it, as mayo-based dressing can break down during thawing.
Let's see how to make one of the easiest cabbage side dishes you can make: red cabbage slaw.
Total time: 35 minutes
Here's another quick and easy cabbage side dish anyone can make. The required ingredients are widely available and may have already been in your pantry. The key items include green cabbage, turkey bacon, all-purpose flour, and milk.
True to its name, this is a creamy and rich-tasting recipe, but there's no cream involved. The flour and butter add a nice touch of richness and are a great substitute for cream. Other items you can toss in include canned white beans, remember to rinse and drain them first.
There are 2 possible variants of this creamed cabbage. To make them, remove the flour and milk, then add heavy whipping cream or canned light coconut milk for the Keto and Paleo variants, respectively.
Total time: 20 minutes
If you don't mind losing that green color of the cabbage in exchange for new flavors, how about trying this salad? The cabbage is at its best here: the outside gets all charred and brown while the inside has that crisp-tenderness.
The creamy garlic yogurt sauce elevates the whole thing even further by adding a bit of acidity and creaminess. Charred cabbage salad with garlic yogurt sauce is truly the healthy side dish for your BBQ meal.
You can use any variant of cabbage for this dish. But note that savoy and napa cabbage are less dense, so you should deduct the cooking time on each side by one minute.
Try making charred cabbage now, they are not as difficult as you think.
Total time: 15 minutes
Who doesn't love a healthy and quick salad you can make in a snap? This is a summer treat with crunchy vegetables and a ginger soy dressing. Every ingredient blends well with each other creating a nice and fresh experience.
This recipe uses Napa cabbage, a China-originated variant that is mild in taste and becomes softer and sweeter once cooked. True to its Chinese roots, this slaw also has Chow Mein noodles as one of its ingredients.
Total time: 45 minutes (Excluding 1 day of resting time)
I've covered a quick cabbage pickling method above. Now, let's come to see how the Taiwanese do it. This pickling technique takes longer with the presence of other ingredients: carrot, rice vinegar, sugar, salt, and water.
This Asian-style side treat works best with Taiwanese cabbage for its tender and sweeter leaves. However, if you can't find one, then pre-cook the cabbage of your choice in the salt and sugar for 15 more minutes.
When the meal prep is done, you can store this pickle in an airtight container for up to 3 weeks! Isn't that convenient how it can last that long? You can enjoy this nutritious and filling Taiwanese-style pickled cabbage with rice and salad.
Total time: 15 minutes
This is a steak of different sorts, a veggie steak, can you believe it? They are thick slices of cabbage seasoned and baked to perfection. Plus, they are also gluten-free, low-carb, and Keto-friendly.
All you need is no more than 15 minutes and 4 ingredients: cabbage, avocado oil, salt, and pepper. If you want a more flavorful experience, consider putting in any toppings like fresh herbs, ranch, or sauce.
The hardest work in this recipe is preparing the cabbage: trim off the small bottom part and chop it into thick pieces. Next, proceed to coat everything with oil, salt, and pepper. Then start grilling for about 10 minutes, and you can enjoy these "steaks".
Explore how to make a healthier version of steak with grilled cabbage.
Total time: 15 minutes
This recipe has a vibrant taste thanks to the combination of salty bacon, varied seasonings, and crunchy cabbage. Be careful because this dish may steal the spotlight of the main meals! It's just that good.
Ok, that's enough praise and let's get into the cooking. You just need to toss all the items into a pan, then cook and stir them for about 10 minutes. If you want your cabbage to be tender, you can look for a few minutes more.
Total time: 20 minutes
If you want something simple but not bland, how about trying this incredible side dish made with an instant pot, featuring cabbage? It's nothing fancy, just a pot of good ol' cabbage simmered in a delicious broth, yet it has the power to change the minds of not-so-keen-on-cabbage folks.
This is a fool-proof cooking process. First, sauté the onions in oil for about 2-3 minutes. Next, toss in garlic, thyme, bay leaf, and vinegar. After 1 minute, throw in cabbage and chicken broth and stir them well. Next, lock the lid and let cook for 2 minutes at high pressure.
Once done, quick-release pressure and remove the lid, bay leaf, and thyme sprigs. Give it a nice good mix, and enjoy this sweet and savory Southern-style cabbage.
Total time: 1 hour
If you have ever set foot inside a Japanese restaurant, you may have already seen this dish on the menu. Gyoza is a popular dumpling made with ground meat and veggie fillings. People are obsessed with its crispy, tender-chewy texture and its garlicky taste.
This dish has many variants based on how you cook it: Yaki Gyoza (pan-fried), Sui Gyoza (boiled), etc. This recipe uses a potsticker approach: frying the raw Gyoza, then steaming them under a cover, and frying them again.
The results are the best of both worlds: Gyoza with chewy steamed bottom and crispy fried top. The accompanying sauce to enjoy this sweet and savory dish is also made in Japanese style. It's a mixture of rice vinegar and soy sauce. You can also add chili oil for extra flavors.
Now, let's roll your sleeves and start making these crispy and small Gyoza!
Total time: 35 minutes
This is the recipe for when you are looking for an excellent one-pot accompaniment to your grilled meals. Being gluten-free, Whole30-friendly, and tasty, braised cabbage and potatoes with chili is too good to pass up.
The whole thing is a nice blend of colors: red from spicy chili, yellow from potatoes, and green from all kinds of herbs. With the addition of carrots and tinned tomatoes, this recipe is never a boring meal to eat from beginning to end.
Total time: 10 minutes
Salad and coleslaw are probably the first things you think of when talking about cabbage side dishes. Most people associate salad with mayo or some creamy-based dressing. But this recipe is anything but that.
The dressing includes many things: toasted sesame oil, creamy peanut butter, sriracha, etc. It adds much depth and flavors to the whole dish. You can reduce the thickness of the dressing by adding a little water or extra lime juice.
The salad part is another nice blend of various veggie goodies: red and green cabbage, red and yellow bell pepper, carrots, etc. If you want the salad to be Paleo-friendly, then opt for almond butter instead of peanut butter.
Explore the best way to whip up Thai crunch salad with peanut sauce.
Total time: 1 hour 20 minutes
Do you like German red cabbage? Then you should try this out. It's a nice spin on the German Rotkohl (sweet and sour red cabbage) with more flavors and depths to explore. The flavors of this whole dish are as bright and vibrant as its appearance.
Besides the goodness you typically get from rotkohl, this dish offers a great deal of juiciness and tanginess. This is all thanks to the presence of apple cider, grated fresh apples, and cider vinegar.
There's even more, the richness of butter and added complexity from juniper and caraway all come together nicely in this recipe. It's your favorite rotkohl but richer, more flavorful, and better in every way.
Total time: 1 hour
True to its name, this velvety cabbage recipe makes for a mouth-watering experience. Unlike braised ones, the slow-cooked cabbage simmered in a delicious broth brings forth the caraway, cumin, and garlic taste with every bite.
The ingredients list is pretty long, but you can easily find all of them at any local store or market. The key ones are green cabbage, extra-virgin olive oil, and low-sodium chicken or vegetable broth.
Take Your Main Meals To Next Level With The Best Cabbage Side Dishes
No one can deny the pros of eating cabbage as a side dish. This green plant is antioxidant-rich, provides vitamin C, and has anti-inflammatory benefits. And I've just given you the best cabbage side dishes recipes to add to your repertoire.
If reading this has helped you learn more about this often-overlooked veggie with amazing potential, then don't hesitate to share this post, so more people know about cabbage and how to use it.
Besides the cooking methods I've covered, are there any nice ways to enjoy cabbage as a side dish? Comment your suggestions below so that everyone and I can learn about it.