These best buttermilk recipes make the best use of its properties, including a tangy flavor and reasonable creaminess. Not just that, buttermilk moistens dishes like cakes and pancakes, giving them a fluffy, soft texture.
If you like to enrich the taste of your homemade food, you need to try these buttermilk recipes. You may even discover your new favorite ingredient. In other cases, if you have some buttermilk left on hand and don't know what to do with it, this post will help.
In the following list, you will learn what dishes to use buttermilk and how to bring out the best in it. Let's get started!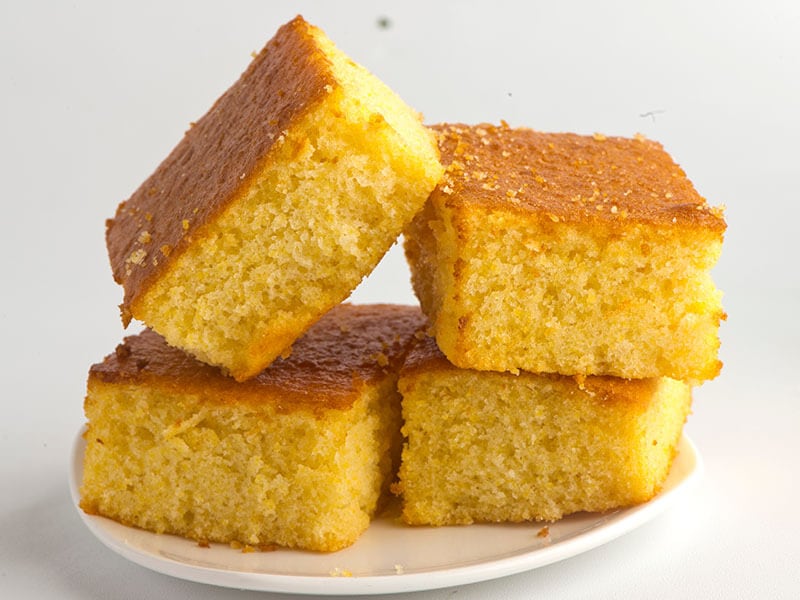 Check Out These Mouthwatering Buttermilk Recipes
From desserts to main-course dishes, I am introducing my go-to recipes to make with buttermilk. There are also several fail-proof tips you can rely on to ensure superb outcomes.
Total time: 1 hour and 15 minutes
The old-fashioned buttermilk pound cake features a beautiful brown skin covering a light yellow, dense sponge. Each slice is soft, velvety, buttery, and full of vanilla scent. It's a classic dessert that ranks far ahead of many other cakes.
You can bake this divine pound cake in a standard tube pan or a bundt pan for a more eye-catching appearance. It tastes incredible on its own, but you can also serve the stunning dessert with whipped cream and berries. Otherwise, grilled peaches pair well with it, too.
Remember not to remove the cake from the pan immediately after baking, as it needs some time to settle. Let it cool gradually in the pan for 10 to 15 minutes, then take it out.
This buttermilk pound cake guide provides step-by-step visual instructions for you to follow.
Total time: 27 minutes
Scones have much less sugar and more liquid than cookies. They are rather crumbly, crunchy on the outside, and moist on the inside. These layered basic buttermilk scones are fairly easy to make. If you want to try buttermilk recipes, don't forget this one.
There are several scone variations to make based on the basic version. For example, mix shredded cheese into the dough and sprinkle cheese on top to create cheddar scones. You can also add a cup of fresh berries to the dough to produce berry scones.
To make almond scones, mix the dough with almond extract and add sliced almonds on top. Whether you go for the basic version or variations, it's best to finish buttermilk scones within the day of making.
Total time: 45 minutes
The next recipe I want to introduce is this special scone. Besides fresh berries, this sweet treat features ginger, which completes the treat with extra zing.
In this recipe, you will also find a brief guide for DIY buttermilk. Basically, mix four teaspoons of lemon juice or white vinegar with ¾ cup of whole milk. Let the mixture sit for 10 to 15 minutes. Once the milk starts to curdle, you get buttermilk.
These lovely buttermilk blueberry ginger scones are suitable for breakfast, brunch, or snacks, anytime you like to eat them.
Total time: 2 hours and 43 minutes
This buttermilk fried chicken is best when served as a hearty staple alongside pasta salad for a fulfilling meal. You get a heavenly, golden-brown, crispy crust along with tender, juicy meat in one piece. It takes you nearly three hours to complete this dish, but the result is well worth it.
Buttermilk is one of the key ingredients to making perfect fried chicken by contributing a yogurt-like tang to the dish. It also doubles as a tenderizer as its enzymes break down the meat's protein.
After 2 hours of marinating, buttermilk will penetrate the chicken thoroughly, producing the best texture and flavor. If you have never used buttermilk in fried chicken before, you must not miss out on this chance.
Deep frying will give you the crunchiest buttermilk fried chicken. See how this chef does this.
Total time: 20 minutes
Summer is the best time to have a big bowl of salad, especially one containing a lot of crunchy greens and a delectable dressing.
This buttermilk ranch dressing takes inspiration from the traditional one with some tweaks, using mayonnaise, garlic, and minced shallot, among other ingredients. Follow the instructions but add salt to your liking.
An important note for this salad is ensuring the veggies are crunchy. You need to drop the peas and beans into an ice bath immediately after blanching them. It will ensure not only a crunch but also a vivid green hue.
Total time: 15 minutes
Besides eggs, buttermilk enhances the flavor and improves the moisture of your pancakes. Buttermilk is also thicker than regular milk, so the resulting pancakes will be even more heavenly. If you are looking for a quick, delectable breakfast, this recipe delivers it.
Keep in mind that the batter's consistency determines how fluffy your pancakes are. The runnier it is, the harder for them to rise tall when fried. Also, check the expiration date of your baking powder. Expired products will be of no use.
You can serve Cracker Barrel pancake copycat with different toppings, such as blueberry syrup, raspberry syrup, and strawberry syrup. Other great options include caramel sauce, chocolate sauce, and whipped cream. Follow your appetite on this one!
Total time: 55 minutes
Soda bread uses sodium bicarbonate as a leavening agent rather than traditional yeast. This quick bread is traditionally made with flour, salt, baking soda, and buttermilk. The recipe I'm presenting here maintains this list but adds an egg.
This Irish soda bread is signature by small bubbles in the dough. The final result consists of a wonderfully crispy crust and a moist, soft, chewy center. At the same time, it has additional raisins and sugar to enrich the flavor, but you can leave them out for a plain version.
Kneading the dough correctly is as important with Irish soda bread as with any other bread. Be careful and knead only a few times, or your bread will turn out too tough.
New to making Irish soda bread? Learn how to knead the dough in this recipe guide.
Total time: 40 minutes
I never knew veggies could become part of a sweet dessert, especially a chocolate-flavored one. This zucchini chocolate cake changed my mind, and it will change yours. To my surprise, the vegetable makes the cake even moister and intensifies the chocolate taste.
Now, I have got some fail-proof tips for you. First, only use fresh zucchini because old ones are simply not as good. Secondly, bake right after mixing, so the leaveners work their best.
Lastly, no matter how moist this tempting zucchini dessert appears to be, let it rest and cool completely before serving. After baking, your cake continues to cook on the inside, so give it at least 15 minutes in the pan, then take it out.
Total time: 20 minutes
Waffles and pancakes are equally easy to make. Yet, I always opt for the former when I want to involve my kids in preparing breakfast since using a waffle iron is safer than frying pancakes on the stovetop.
It's best to serve waffles warm. In case you make them ahead and wait for the entire family to join the table for breakfast, here are my go-to tricks to keep them perfect.
Put a few baking sheets in the oven, heat it to 200 degrees, and turn it off. Once the waffles are ready, place them in the oven. Most importantly, don't stack them, or the steam will transfer from one to another, which makes them soggy.
If you are unsure what a proper buttermilk waffle batter is like, refer to this cook's guide.
Total time: 1 hour and 15 minutes
For those unfamiliar with this dessert, a cobbler consists of a fruit filling in a large baking dish with a biscuit, dumpling, or batter on top. In this specific recipe, you will combine tomatoes with Pimento cheese biscuits.
Tomatoes' season is summer, but it's available all year round. You can bake a batch whenever you like. Just remember to pick ripe tomatoes because they become tender easily and generate the best flavor.
If you are not normally good at making biscuits, don't worry about failing this recipe. All you have to do is stir all the ingredients in a bowl and drop them on the tomato mixture. It's simple, isn't it?
Total time: 50 minutes
A vanilla buttermilk cake is my go-to choice whenever I have to prepare a birthday party at short notice. It's basic, old-fashioned, pleasing to everyone, and takes less than an hour to make but delivers the highest-quality treat.
This cake is super soft and tender, thanks to vegetable oil and buttermilk. Buttermilk provides acidity that works as a tenderizer, while its lovely tang gives the crumb moisture.
Meanwhile, oil ensures the cake remains soft as it stays in liquid form at room temperature. This is an advantage oil has over butter, as butter tends to harden unless it's heated. Oil also contains more water than butter, so it helps make sure your cake is moist.
Total time: 3 hours and 46 minutes (including 2 hours of chilling time)
In Japanese, Togarashi means chili peppers or a spice mixture containing a lot of ingredients such as ground sansho (Japanese pepper), nori (seaweed), hemp seed, and sesame seed. Togarashi offers a spicy and sweet taste with umami notes.
With other ingredients like buttermilk, cheese, lemon, and butter, Togarashi cheesecake carries an exotic, complex flavor. Once you try it, you can't stop. Though Togarashi is a key part of this recipe, you can use cayenne pepper if you can't find it where you live.
Total time: 45 minutes
The signature of red velvet cakes is the dark red layers and tangy, slightly sweet cream cheese frosting. Its deep maroon color results from the little food coloring, which gives you a festive hue.
This recipe can produce different cake sizes. You can make a conventional layer cake with two or three layers, turn it into a large sheet cake, or make many cupcakes from this amount of ingredients. Decide based on how you want to serve your guests.
A red velvet cake best fits a summer day, a Christmas party, or any time you crave a unique, wonderous dessert.
If you want a less dense frosting for your red velvet cake, follow this guide.
Total time: 6 hours and 15 minutes (including 6 hours of chilling time)
Pana cotta earns a place on my recipe list as one of the simplest desserts you can make in no time. Not just that, it's light, refreshing, and easy to serve. A cup of panna cotta is the perfect way to conclude a barbecue after you're fed up with meat and heavy dishes.
This delightful treat must be served chilled. Therefore, you must make it ahead and put it in the fridge for at least 6 hours. I always chill a batch overnight to make sure it is cool enough before inviting other people to try it.
You can top the silky panna cotta with your favorite berries. Remember to drizzle some honey on top, too. It works as a natural sweetener but doesn't make the dessert overly sweet.
Total time: 2 hours and 55 minutes (including 2 hours of chilling)
This Meyer lemon buttermilk pie is a no-brainer choice for dessert. It offers a sublime combination of mildly sweet citrus and tangy buttermilk. The blackberry lemon compote completes the treat's flavor with a strong fruity and vanilla hint.
In terms of texture, each slice has a thin, crumbly crust, on top of which is smooth lemon-flavored filling and runny sauce. You can make this pie right before serving or a few days ahead. But it has to cool completely first, so set aside some chilling time.
A good Meyer lemon buttermilk pie is incredible to munch on when you are relaxing on a summer night with your loved ones.
Total time: 1 hour and 5 minutes (including 1 hour of chilling)
While a refreshing lemon pie helps you ease the heat in the summer, it can't beat frozen sherbet in terms of chill. A few scoops of this strawberry buttermilk sherbet will instantly help you escape a hot day.
This dessert gets its pink hue from fresh strawberries, while buttermilk provides a nice tang and creaminess. Vanilla boosts the strawberry scent, makes the sherbet smell better, and lemon juice adds a bit of tartness to top off the remarkable treat.
After processing the ingredient mix in an ice cream maker, you can serve it immediately or freeze it for a few hours to get your desired consistency.
Total time: 1 hour
The next recipe I want to present on this list is a buttermilk cake baked in a large pan. Unlike layered cakes, a large, thin structure can be easily cut into bite-sized pieces, so you can offer smaller servings to your guests.
This riveting raspberry treat is basically the ordinary buttermilk cake stuffed with fresh raspberries. However, besides regular granulated sugar, it uses turbinado sugar, a refined light brown cane sugar that gives a subtle caramel flavor.
Another different thing about this recipe is Chantilly. It's similar to whipped cream but twice as sweet and features a vanilla flavor.
Total time: 40 minutes
I don't often make fudge because my family prefers cake treats. However, if you have gluten-free guests, this old-fashioned buttermilk fudge is perfect as it doesn't involve flour. It is creamy, smooth, and falls between hard caramels and fondant icing.
It may take some practice until you get your fudge right, as you have to work with heat and pay close attention throughout the process. You must get the correct temperature and stay focused when beating the mixture as it cools down, or you will ruin the texture.
However, once you have mastered this dessert, I won't blame you if you want to make it all the time. To be honest, making a successful batch of fudge makes me feel like a pro chef.
One last thing, fudge is good at room temperature for up to two weeks, so you can make a big batch to consume gradually. Remember to put it in an air-tight container, though.
Total time: 35 minutes
Originating in Native America, cornbread is a bread variety with a sweet flavor. It often uses cornmeal as the main ingredient. This homemade version in a cast iron skillet features extra moisture, thanks to buttermilk. Plus, a honey drizzle on top makes it irresistible.
You can create several variations corresponding to your appetite with some even working well as mac and cheese accompaniment for a heartier course. For example, you can make a chunky version by mixing whole kernel corn into the batter or a spicy version by adding jalapenos.
To have cheesy cornbread, simply stir shredded cheddar or pepper jack cheese in the batter. Finally, if you like a bit of savory taste, bacon will be a good addition to this recipe.
Without a cast iron skillet, you can still bake cornbread. Check out this guide for details.
Total time: 5 minutes (excluding chilling time)
When you have little time to prepare a meal, it's important to reduce the cooking time for each dish. Now, I will introduce a super quick side dish with buttermilk you can have for a summer lunch or dinner.
This recipe requires only six ingredients and five minutes, provided you use pre-cut coleslaw vegetables. Even if you cut the veggies yourself, completing this buttermilk coleslaw takes only a few more minutes.
All you have to do is mix buttermilk, sugar, and condiments in a bowl. Then, mix the vegetables, and complete the coleslaw with salt and pepper. Don't forget to let it chill in the fridge before serving.
Total time: 1 hour and 5 minutes
Some people mistake this quick bread for a chocolate cake. I don't blame them, though. The batter and the final texture are quite similar. Yet, quick bread is less sweet, and its crumb is rougher than a cake.
My favorite thing about this bread is the thick chocolate glaze that resembles a frosting but is much easier to make. If you want to make it even thicker, mix in extra confectioners' sugar. To make it thinner, add milk.
This recipe produces one loaf, enough for one person. If you can't finish it at once, store it in an air-tight container in the fridge, but don't leave it for more than a week. The texture and flavor will both degrade after that.
Total time: 38 minutes
The name whoopie is not related to the treat's flavor or texture. Instead, these cake-like pies were named after the sound Amish children make when they see them in the lunch boxes. Also, they were originally made with leftover batter.
As for the frosting, you can use a piping tip of your choice to obtain an eye-catching appearance for the pies. Otherwise, you can simply cut the tip off a piping bag to pipe the buttermilk filling.
Cute whoopie pies are suitable for serving children and adults at a party and any other day.
This guide will show you how to make chocolate whoopie pies from scratch and how to assemble them.
Total time: 3 hours (including 2 hours of chilling)
Carrot cakes are very different from regular cakes. They are not meant to be smooth but rather lumpy with shredded carrots and walnuts. Nevertheless, it's still soft and moist, a lovely spring dessert anyone can enjoy.
In this recipe, there are no pineapples involved. Not everyone likes to use this fruit in a carrot cake. You may also omit walnuts if you want, but they give the cake a nice earthy taste to balance the carrot flavor.
You should note down the amount of spice. If you are tempted to add extra cinnamon, nutmeg, or ginger, don't! Too much spice will make it hard to taste the carrot.
Total time: 1 hour and 45 minutes (including 45 minutes of chilling)
The story of the bumpy cake started at Sanders Confectionary Company, Detroit. Initially, it was the Sander devil's food cake. Thanks to the love of many people, it has gone a long way and is now known as "bumpy cake", which refers to its look.
There are three layers in a bumpy cake. At the bottom is a divine thick chocolate cake sponge, then comes the "bump" made of vanilla buttercream frosting. Lastly, covering everything is chocolate fudge icing.
I love chocolate so much that I always make a bumpy cake with this flavor. However, feel free to replace it with others, such as carrot, caramel, vanilla, peanut butter, or banana.
Total time: 1 hour 10 minutes
Since I tried buttermilk banana bread, I rarely made regular banana bread again. It's moist and delicious with a little creaminess and a lovely tang of buttermilk. You can freely add mix-ins to your liking, such as chocolate chips and nuts.
Banana bread is generally straightforward, but you can refer to the following tips for the best outcome. Firstly, always use very ripe bananas. Pick the ones with dark, spotted peel and soft, fragrant flesh.
Additionally, you should not try to increase the baking temperature even if you want to reduce the baking time. 300 degrees F is the best to ensure a moist, tender loaf. If you don't have much time, you can bake at 350 degrees F, but don't go higher.
Total time: 2 hours and 30 minutes (excluding resting time)
You cannot miss out on these cute buttermilk donuts. They are the most versatile treats. You can serve them for breakfast, dessert, or snacks. You can make them for yourself or your children, and the topping ideas are endless.
The recipe introduces vanilla bean glaze and strawberry sugar sprinkle, but you can dip them in chocolate sauce, sprinkle crushed oreo crust, etc.
More importantly, buttermilk donuts are tasty. They have a soft, pillowlike, thick texture and are not overly sweet.
Total time: 8 minutes
This is one of the best syrups you will ever come across. Buttermilk syrup is light, sweet, creamy, and overall superb. You can serve the syrup with different dishes, including pancakes, French toast, waffles, bread pudding, etc.
To make buttermilk syrup, the first step is to cook all the ingredients except baking soda over medium heat. Bring the mix to boil and ensure the ingredients blend well. Next, remove it from the heat, and add baking soda. Place it on the heat and continue to stir for 30 seconds.
Store buttermilk syrup in a jar in your fridge for two weeks top.
Total time: 30 minutes
These buttermilk blueberry muffins are easy and moist treats with a refreshing fruit to make a perfect breakfast. And here's a straightforward recipe you can use to whip up 12 muffins to serve your family at the beginning of the day.
As for the berries, you can use frozen or fresh products. If you opt for the former, let them thaw before removing excess liquid. Mix the berries with a little flour, then add them to the batter so they won't sink.
Follow this visual blueberry muffin guide to whip up the fluffiest breakfast treats.
Total time: 35 minutes
Buffalo chicken salad with buttermilk blue cheese dressing is a delicious dish to have for a light meal or as an appetizer. It's also a piece of cake to make and will be ready in half an hour.
Basically, you need to cook buffalo sauce-coated chicken over medium to high heat. In the meantime, mix blue cheese dressing in a bowl. Once the meat is done, the only thing left is to mix vegetables with sliced chicken and add the dressing.
Not many people can eat blue cheese. It comes with a sharp, funky, intense flavor. Are you one of those who hate this type of cheese? If so, replace it with buttermilk ranch dressing in this salad recipe.
Total time: 5 minutes
Cold soups comprise only raw fruits, vegetables, and herbs. So, they are often high in antioxidants, offering several health benefits like lowering blood pressure. A cold soup is also low in fat, making it light and reviving.
This cold cucumber soup with buttermilk and dill features many healthy ingredients, including cucumbers, green onions, lemon juice, etc. At the same time, a teaspoon of champagne adds acidity to the dish.
The best thing is that you can serve it immediately from the blender. No need for chilling in the fridge like other cold soups.
Total time: 2 hours and 35 minutes (including 2 hours of chilling)
This pudding is among the best pomegranate delicacies I have ever made. It's not only creamy and silky but also a tad tangy due to buttermilk. If you have some leftover buttermilk on hand, you must give this recipe a try.
Meanwhile, the pomegranate compote elevates the dessert's flavor to another level. It has a scarlet hue and sweetness that pairs perfectly with your homemade pudding.
The recipe produces eight small servings, so double the ingredients if you serve a bigger crowd. As for me, I always make at least two batches to save some for later.
Total time: 2 hours and 20 minutes (including 2 hours of chilling)
This buttermilk version will be a good change if conventional ice cream is too sweet for you. It's not overly sweet, slightly tangy, and overall refreshing. The dessert goes amazingly with fruit compote, especially blueberry and strawberry ones.
Making ice cream doesn't involve much effort but demands patience because you have to wait for the mix to chill before placing it in an ice cream machine. Then, once the machine is done, you must wait for your ice cream to be frozen in the freezer before you can taste it.
To ensure a smooth texture for the ice cream, you should only use store-bought buttermilk. Homemade buttermilk will likely curdle and result in a grainy texture.
Total time: 35 minutes
When adding buttermilk to French toast, you get a perfect balance between sweetness and tartness. It's a yummy replacement for regular toasted bread, featuring a crispy edge and soft center.
You can top this breakfast dish with syrup if you have a sweet tooth. Or, add berries if you prefer something fruity and energizing. It's also a good idea to serve buttermilk French toast alongside sausage, bacon, or hashbrowns.
Total time: 1 hour and 55 minutes (including 30 minutes of chilling)
Most brownie recipes don't use buttermilk, but this one makes good use of this ingredient. Buttermilk gives the treat moisture and wondrous creaminess. Ultimately, you will enjoy an airy, fudgy, cake-like, sweet dessert topped with chocolate icing.
The logic behind a perfect brownie is a high fat-to-flour ratio. It means you need a lot of butter. In this particular recipe, you will use only 2 cups of flour but over six butter sticks and no vegetable oil. Apart from the texture, butter makes your treat more flavorful.
By following instructions, you will make 36 brownies. You can increase or decrease the ingredients depending on how many people will enjoy them.
Total time: 6 hours and 15 minutes (including 6 hours of freezing)
Popsicles are conventionally made with 90% water and other ingredients like syrup. However, these peach popsicles replace water with buttermilk and whole milk, which contributes to the milkiness and creaminess of the treats.
Honey works as a natural sweetener, while peach is responsible for an exotic fruity mouthfeel. Peach is a nationwide favorite fruit that pairs great with milk-related ingredients. The fruit also creates a beautiful yellow hue for the popsicles.
You can ask your kids to help you make buttermilk peach popsicles; they will love to play with the pop molds and enjoy their products.
Will Buttermilk Earn A Place In Your Kitchen?
Now that you have discovered a bunch of treats to make with buttermilk, I hope you will try all of them and create the best meals for anyone you're cooking for.
If this is your first time using this ingredient, no worries. Most of these instructions are straightforward to follow as long as you read them carefully and keep the tips in mind.
Last but not least, it's my pleasure to know what you achieve from these recipes, so don't forget to come back and comment about your result here. Also, if you are happy with this article, share it with others to spread good food to many more kitchens.
Nutrition Facts
12 servings per container
---
Amount Per ServingCalories248
% Daily Value *
Total Fat 9.3g

15

%
Cholesterol 76mg

26

%
Sodium 135mg

6

%
Potassium 62mg

2

%
Total Carbohydrate 40g

14

%

Dietary Fiber 0.3g

2

%
Sugars 34.7g

Protein 3.4g

7

%
---
Calcium

34

%
Iron

1

%
Vitamin D

10

%
* The % Daily Value tells you how much a nutrient in a serving of food contributes to a daily diet. 2,000 calories a day is used for general nutrition advice.