Are you looking for the best burrito side dishes? If the answer is yes, scroll up, and you'll find everything you need. There is a list of the most noteworthy recipes you want to add to your cooking arsenal.
Plus, there are detailed cooking guides and tips for your convenience. Everything is available just a few clicks away. Taking the burrito to the next level is no daunting task with these great and accessible side dishes.
You can eat the burrito plain. Sure, but why do that when you can enjoy them more immensely with the following must-try accompaniments? If interested, don't hesitate to scroll down to read more.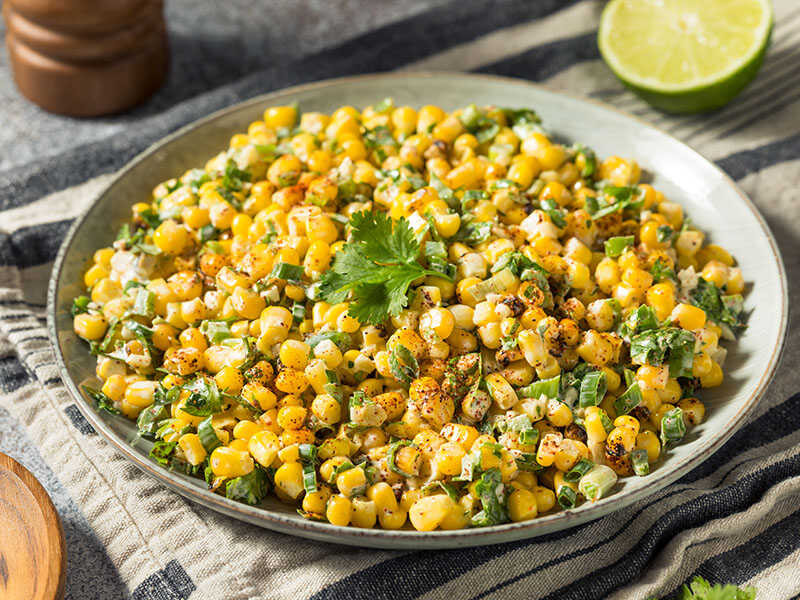 The Best Burrito Side Dishes Surprisingly Can Upstage Your Whole Meal
You won't believe how bewildering some of the best burrito side dishes are. They are simple and not much on their own. But they turn terrific once paired with everyone's favorite Mexican food. Still not convinced? Read and try them out yourself next time you eat burritos.
Total time: 16 minutes
Sautéed corn with scallions is as easy as it sounds. The dish is all about sauteing a few ingredients, including corn off the cob, in one pan until you have a crisp but tender result. It pairs very well with Mexican and grilled dishes.
Fresh, sweet, and summery are how you would describe this recipe. The whole thing is a nice blend of two colors: the yellow and green of corn and scallions, respectively. It's one of the best ways to enjoy the juicy sweetness of fresh corn alongside a burrito.
Having said that, you can make sautéed corn with scallions using frozen corn. Just remember to thaw them before use, and use about 3 cups (the same as the number of corn kernels used).
You can recreate the sautéed corn and scallions with beautiful and refreshing colors.
Total time: 10 minutes
Guacamole is an avocado-based dip that has to be in your list of Mexican sides for parties. The dish is a great dipping sauce that many Mexican food lovers can't say no to. It's a versatile meal like the burrito itself. Therefore, you can pair them exceptionally well with various recipes.
To make the best guacamole, you have to choose fresh and ripe avocado, the dish's main ingredient. Check if the avocado yields to firm, gentle pressure or not. If so, that one is ripe. You should also look for fruits with a dark green or brown color, an indication of ripeness in avocado.
You only need 6 ingredients to make guacamole, including avocado. Jalapeno or serrano pepper adds a spicy kick to the whole dip, but they are optional. When you are in a pinch, you can make a simpler version of guacamole by leaving out these peppers.
Make sure not to over-mash or puree the fruits as you want a chunky dip rather than a smooth one. The ideal guacamole should have a fresh and avocado-like flavor. You can adjust the taste by putting in more or less salt, peppers, or lime juice.
Total time: 30 minutes
The recipe can be eaten as a side dish or as a filling for burritos. Taco rice is a great vegetarian meal that can also make you feel full. Furthermore, you can also incorporate it into burrito bowls. The more you learn, the more you see how versatile this dish is!
If you can't handle tomato sauce, this meal perfectly fits you. Even without that item, anyone can still enjoy the spicy-sweet flavors of the whole dish. The white bed of rice sprinkled with yellow corn, red pepper, and green cilantro looks convincing already.
Total time: 5 minutes
Nothing is more simple than making corn tortillas for serving as an enjoyable vegan side dish for your next burrito creation. Burrito recipes usually call for flour tortillas, but this recipe is also a perfect choice to wrap your burrito stuffing with the corn tortilla in a Mexican way.
If you want to make the tortillas into a full dish on their own, you can stuff them with chicken, beef, or shrimp. All it takes is less than an hour and a combination of Masa Harina (finely ground corn dough), salt, and water to make these tortillas.
A large cast-iron skillet suitable for cooking corn or flour tortillas is required. This is because it is great at keeping heat between batches. The final products should be sweet and earthy with a pliable and moist texture.
Total time: 15 minutes
If you are seeking a fun and festive accompaniment, you should take a look at this Mexican salad. It's the best dish to explore how to make use of Mexican staples: beans, avocados, lettuce, tomatoes, fresh cilantro, corn, and spices.
There are 2 main components: the salad and the dressing. For each of them, combine the required ingredients. Then you toss these 2 parts into one place and mix to combine. Lastly, top the completed Mexican salad with cotija cheese. The making process couldn't be easier!
The dish is healthy and chock-full of fresh vegetables. It has a complex and authentic taste with more flavors from the dressing. Besides burritos, you can also eat the salad with numerous Mexican entrees like tacos, quesadillas, enchiladas, etc.
Let's learn the easy and simple method of making a Mexican-inspired salad.
Total time: 18 minutes
Beans are a classic and hearty side dish to pair with Mexican and Tex-Mex food. Whether it's enchiladas or burritos, the canned black beans recipe can enhance the texture and flavor of any crowd favorite. Moreover, they're also an excellent dish to serve alongside shrimp taco or rice.
The cooking process can be summed up as follows: saute onions, tomatoes, jalapenos, garlic, cumin, oregano, and smoked paprika. Then add a can of black beans, take note not to drain. Lastly, remove from heat and stir in lime juice, and season with salt.
Easy-peasy, right? The canned black beans are plain when consumed by themselves, but when you stir in a few simple ingredients, the dish transforms into a tasty and satisfying treat. To complement the rich flavor, you can garnish the serving with cilantro at the end.
Total time: 50 minutes
Doesn't this pairing remind you of the American burger and chips counterpart? Every full-of-flavor package needs a crispy and well-seasoned companion. If you are craving starchy foods to eat with the burrito, you have to check this out.
These sweet potato wedges are baked to produce the most palatable recipe to serve with grilled chicken or, in this case, burritos. Plus, these golden-brown wedges provide you with a good amount of potassium, sodium, fiber, vitamin A, etc.
A vegan ranch dip is the secret weapon of the recipe. You can eat the potato wedges as-is, but you can make them (dangerously) addictive by whipping up a simple mixture of coconut yogurt and dried dill. The dip's creaminess just goes so well with the crispness of the wedges.
Why don't you try making these delicious baked sweet potato wedges and pairing them with burritos?
Total time: 35 minutes
The dish is exactly as it sounds, a salad form of Mexican street corn. Esquites is a sibling of Elotes (grilled Mexican street corn). The difference between the two is that the former is corn off-the-cob while the latter is on-the-cob. Plus, there's no grilling involved at all.
The tangy, spicy, sweet, and savory flavor makes the Esquites irresistible. What's more, you could taste all of this at once within less than 45 minutes. The key here is to remove the corn off the cob before doing any cooking.
Total time: 30 minutes
Here's another great all-around salsa to satisfy your veggies needs. Being a combination of fresh veggies, spices, beans, and herbs, Texas Caviar is naturally gluten-free. If you can, make sure the chips you serve with them are gluten-free, too.
What's special about the dish is that it's highly customizable. For instance, you can swap out the honey with maple syrup or fruits to make the Caviar vegan-friendly while retaining the sweetness. Also, you can use either canned or cooked beans.
The tropical and citrusy flavor is to die for. From the alluring aroma, you can tell how the dressing blends so well with the Caviar dip and complement it. If you want to share this recipe with a larger crowd, feel free to multiply the dish to your will; make sure it is well-seasoned, though.
Total time: 15 minutes
If you need a quick and simple cabbage side to enjoy a burrito, I got you covered. Mexican coleslaw is a perfect Mexican-style offering of creaminess and veggie goodness. The vibrant and crunchy add so much flavor to almost anything: tacos, burrito bowls, rice, quesadillas, etc.
The recipe is so straightforward that it requires less than 20 minutes to make. There are 3 simple steps: cabbage prepping, lime dressing making, and combining the two aforementioned components.
If you want to shorten the making time, you can make the dressing ahead and store it in a fridge 1-2 days before. The same could be said for cabbage; take red or green cabbage, or a mix of the two, then slice and store them in an airtight container for up to 1-2 days ahead.
Total time: 10 minutes
Pico De Gallo may resemble salsa, but it is much chunkier with chopped ingredients and little liquid. Within just 10 minutes, anyone can make this simple sauce/salad and enjoy it with virtually anything, from tacos and enchiladas to grilled meat or fish.
The recipe itself is refreshing and slightly acidic with a bit of spiciness from Jalapeno pepper. Thus, Pico De Gallo is a dipping condiment for Mexican dishes. Whether it is a sauce or a salad is a hot debate, but it can be both, depending on your view and how you treat it.
The recipe allows you to be a little creative. With some added ingredients, it can turn into almost a completely different dish. For instance, you can toss in peach, mango, strawberries, fish, shrimp, corn, etc.
Try making Pico De Gallo now. It may become your next favorite food.
Total time: 1 hour 15 minutes (Excluding 6 hours of soaking time)
Both black beans and pinto beans are good choices for burrito sides. In comparison, black beans are more robust with rich flavor, while pinto ones are creamier with a nuttier and earthier taste. It all comes down to personal preferences regarding this matter.
Mexican-style cooked beans are famous for their smoky and flavorful nature. That is a fitting description for pinto beans. They are so creamy and delicious that you want to keep making and serving them for every occasion.
One important step in this dish is soaking the beans for at least 6-12 hours, preferably overnight. This is to ensure the beans can soak up all the deep flavors and goodness. Trust me, it's worth it.
There are many choices you can make while cooking the side dish. You can cook it using an instant pot or stovetop. If you want to retain the smoky flavor and remove the spiciness, consider using smoked paprika instead of Mexican Guajillo chile.
Total time: 25 minutes
The bright and fresh flavor makes this an ideal course to create using a rice cooker for a hand-free cooking experience. Most people are familiar with Chipotle's lime rice. However, you can make one yourself, and it's just as delicious as the real thing.
The key ingredients include long-grain rice, oil, coconut milk, cilantro, and fresh lime juice. Jasmine or Basmati rice works great here. Remember to purchase full-fat canned coconut milk, not the refrigerated variants.
There are 2 ways of storing cilantro lime rice. Simply transfer the finished product to an airtight or sealable container. Then you can store it in the fridge and freezer for up to 5 days and 3 months, respectively.
Total time: About 10 minutes
Keto Spanish cauliflower rice is a brightened and keto-friendly dish to eat with burritos or as a lovely complement to tacos to bring out more flavor in dishes. Spanish and Mexican rice are similar, but the former uses saffron, while the latter uses cumin.
To summarize, this lovely accompaniment from Spain is a collection of tomato, onion, garlic, and cumin sautéed in cauliflower rice. The tomato puree combined with broth and other times colors the rice dish into a nice-looking and yummy yellow color.
The dish is fresh and flavorsome like any Mexican rice, but it makes full use of the cauliflower as "rice". You can purchase pre-made cauliflower rice at the store, and even use frozen ones for this recipe. But homemade cauliflower rice is better and more budget-friendly.
Total time: 1 hour
The creamy, sweet soup adds the perfect stark contrast to the savory burritos. Plus, the recipe is vegan and paleo-friendly, so it doubles as a healthy treat. If a dish is delicious and keeps you in good shape at the same time, it's a win in my book. What about yours?
Pairing burritos with soup is a good idea since you can enjoy the accompaniment as warm and comforting food. The inviting bowl of yellow soup and green seeds combination will get anyone's attention.
The final product is fine to eat plain, but you can add many toppings for extra tastiness. For example, consider serving the soup with sour cream, roasted pepitas (pumpkin seeds), cheddar cheese, apples with pears, etc.
Total time: 25 minutes
The original Fajita in Tex-Mex cuisine is a flavorful side order of veggies with strip steaks. This recipe is a vegan version of that. Peppers, oregano, onions, and cumin draw each other rich flavor and take on the spices and oil you cooked them in.
You can serve the Fajita veggies alongside burritos or as their filling. If you want to save the dish for later consumption, put any leftovers in an airtight container and store them in a fridge for up to 2-3 days.
Elevate your burrito with these simple and healthy Fajita veggies.
Total time: 30 minutes
This is the vegan dish that can capture even the hearts of meat lovers. This dish has many variants across Mexico and the southwestern United States. This variant has a distinct light and creamy cheese sauce made from shredded cheese and milk.
The beloved Mexican side dish is very easy to make. First, cook the ingredients in olive oil in a large nonstick skillet over medium-high heat. Then add water, reduce heat to cover, and simmer until the zucchini are tender. In the meantime, prepare the shredded cheese and milk sauce.
Lastly, unlid the skillet, add the cheese-milk mixture, and simmer. Afterward, remove from heat and serve with chopped cilantro and cotija cheese. It takes about 30 minutes from beginning to end. Thus, Calabacitas is the perfect weeknight side dish.
Total time: 3 hours 20 minutes (Including 3 hours 13 minutes of slow-cooking time)
There are many ways you can cook this bean recipe: using a slow cooker, dutch oven, stovetop, or instant pot. Besides those, the only kitchen utensils you need are a colander and a skillet. There are clear instructions for various cooking methods included in the recipe.
The star in the dish is pinto beans. Unlike the plain pinto beans recipe, Frijoles Charros also consists of extra meat-based ingredients like ham or chorizo. This meal features smoky bacon, refreshing fire-roasted diced tomatoes, and spicy Jalapeno slices.
Enrich Your Mexican-Inspired Meal With The Best Burrito Side Dishes Now
The best burrito side dishes are a simple yet effective method to elevate the main dish itself. Not only do they add depth and taste, but they also introduce many new elements so the meal never gets boring.
Since you are here, it means you have read down to the last one of the recipes. So, would you mind sharing what you think about them? Is there any other good one you want to share here? If so, you should drop a comment telling me and others all about it.
On that note, I suggest sharing all of the information above to help people learn more about these tasty treats. You don't want them to miss out on such great and fulfilling recipes to eat alongside their favorite Mexican food, do you?
Nutrition Facts
6 servings per container
---
Amount Per ServingCalories185
% Daily Value *
Total Fat 15.7g

25

%
Cholesterol 5mg

2

%
Sodium 21mg

1

%
Potassium 215mg

7

%
Total Carbohydrate 10.7g

4

%

Dietary Fiber 1.5g

6

%
Sugars 0.5g

Protein 2.5g

5

%
---
* The % Daily Value tells you how much a nutrient in a serving of food contributes to a daily diet. 2,000 calories a day is used for general nutrition advice.