As a cheese lover, there is no reason for anyone to miss the best burrata recipes. Burrata is a fresh Italian cheese made from cow's milk. Its popularity is no less than other cheese varieties.
Burrata is not only a perfect balance of flavors but also possesses a marvelous contrasting texture. While enjoying it, you can feel a firm shell covering the soft, smooth cream inside with a milky, rich, buttery profile.
Moreover, this cheese pairs well with many ingredients in both savory and sweet dishes. If you've never tasted this cheese, try the recipes below. This collection of the best burrata recipes gives you all the best flavors when using this cheese.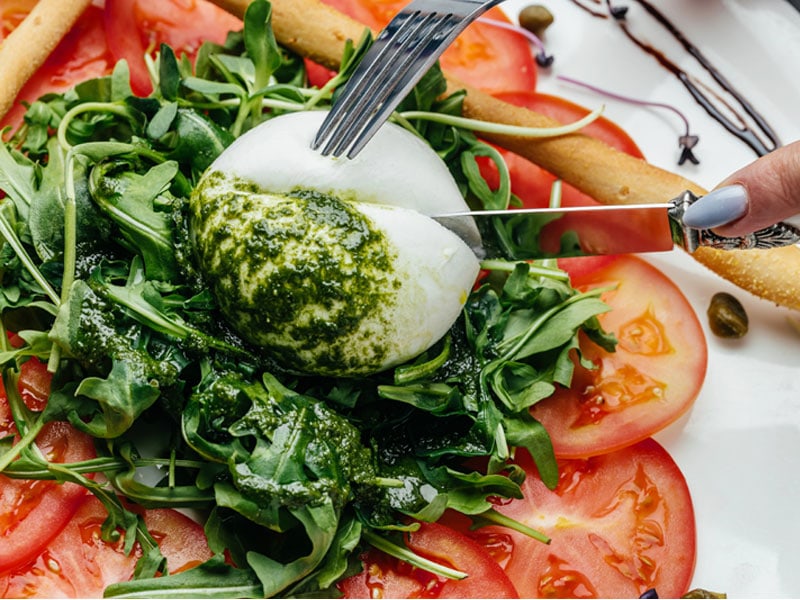 Upgrading Your Dish With Luscious Burrata Cheese
Burrata, with its creamy, mild sweetness and unique texture, makes it perfect for any recipe. The cream in the center oozes out and creates a tasty cheese layer that you can't wait to devour. Let's scroll down to check out the list below and try them at your next gathering.
Total time: 30 minutes
The first recipe is an updated version of the classic Italian carbonara pasta. This dish is enhanced with the sweet and garlic-herb flavors of roasted corn and burrata cheese. Garlic-herb corn carbonara with burrata is simple and quick for a busy dinner.
This pasta dish reminds you of summer when your fridge is full of these fresh ingredients. For an unbeatable herb recipe, you can try to upgrade it with a blend of basil, chives, and fresh thyme.
The best way to cook pasta carbonara is to whisk raw eggs with lemon juice and parmesan cheese. Then, directly mix that with the pasta. The heat from the pasta at this point conveniently cooks the eggs, resulting in a smooth, thick, creamy, and melt-in-your-mouth sauce.
The texture of the whole dish is perfect as well. The creaminess of the sauce and cheese pairs perfectly with the crunch of smoky bacon.
Total time: 20 minutes
If you have never tried burrata in sweet recipes, you are about to be in for a treat. The creamy cheese always pairs perfectly with the freshness of summer fruits and vegetables, such as toasted pistachios, tomatoes, and peaches.
Pistachios have an earthy, piney, mildly minty, and spicy nuance. After toasting, it makes this nut even more fragrant and full of flavor. Toasted pistachios improve in texture, making the dish crunchier and nuttier.
The highlight of this recipe is a unique lemon-thyme oil dressing, which you can make from scratch. It possesses a profile of minty-earth and citrus-laced thyme. Even so, the ingredients' flavors are harmonious and do not overwhelm the burrata.
A good salad depends on the brightness and variety of its ingredients. So, you just need to add a little seasoning, like oil and salt, to spice it up. Thanks to this salad's sweet and herbal flavors, it is a perfect colorful appetizer for any meal, especially in the summer.
Finally, to complete this dish, you can top it with basil, crunchy toasted pistachios, and mint. Toasted bread goes well with the burrata salad.
You can refer to this guide for making this colorful burrata and heirloom tomato salad.
Total time: 45 minutes
After going through this recipe, you will surely serve burrata pizza at your next dinner party. The potato and wild mushroom burrata pizza is for pizza lovers and those looking for an easy and veggie-filled Italian-inspired specialty.
It is a hearty dish with mushrooms and potatoes that also gives off a spring vibe. This pizza is beautiful because of the outstanding golden color of the wild mushrooms. In addition, its mildly woodsy, earthy, and meaty tastes are also something that can knock your taste buds.
The taste of burrata blends with the woody, mushroomy taste of fontina cheese, and the aromas of rosemary and thyme will explode on everyone's taste buds after one bite.
After taking the cake out of the oven, place the burrata on top and wait about 5 minutes for it to warm. You just need a little more garnish as basil to enjoy this great pizza.
Total time: 1 hour 40 minutes
Don't let the number of ingredients in this dish trick you into thinking it's hard and requires a lot of technique. This dish is straightforward and only takes 20 minutes to prepare.
The recipe includes eggplant, garlic, and zucchini stewed with a mixture of vinegar, raisins, capers, etc. Eggplants, when raw, are bland, bitter, and spongy. However, you will crave them when roasted because of their smoky profile.
Their texture becomes soft, succulent, and creamy. The same goes for zucchini, as its sweetness increases when cooked. Their flavors are upgraded to the next level with raisins, capers, and vinegar.
The smoky, sweet, slightly sour taste and umami create a heavenly version of caponata. This dish is best when you keep it in the fridge for 2 to 3 days to let all the flavors come together.
It also retains the flavor when stored for a couple of weeks. When you want to enjoy it for your next meal, simply add a little water and heat it.
Total time: 15 minutes
I like to call this ultimate burrata cheese board by another name, the great burrata buffet. This recipe includes all three sauces, which ideally pair with this wonderful cheese: truffle oil, pesto, and balsamic.
Truffle oil will surely surprise you with its earthy, mushroomy, and somewhat bitter taste. It smells pungent, mushroomy, and earthy. The white burrata on top of the bright yellow oil signals double the creamy flavor you're about to enjoy.
Next, pesto typically has the general flavor of garlic and basil mixed with creamy and savory cheeses. However, adding a bit of lime juice to the pesto is worth considering to boost the brightness of the burrata. This dish has a striking gray-green color and a refreshing taste.
The last of this trio-in-one recipe is served with a balsamic glaze. People often drizzle it as a flavorful accompaniment to enjoy seafood, vegetables, and salads. Of course, it also goes well with cheese.
It turns the ordinary creamy white color of the burrata into something extraordinary. The balsamic glaze gives the dish a deep brown color and accentuates the burrata's sweetness and tanginess.
This board should contain olives, figs, prosciutto, and a plate of crunchy crackers. This recipe is an indulgence for those who even have a sophisticated palate.
Total time: 1 hour
The sweetness of the honey paired with the nutty and smoky roasted squash and burrata is a magnificent blast like no other dish. In addition, the dish also utilizes dukkah, a traditional Egyptian condiment.
People enjoy it as an appetizer that goes well with bread, hummus, and olive oil in any meal. Dukkah consists of a seeds-nuts-spices trio. Therefore, it can give this dish a warm, bright, citrusy, and slightly spicy taste.
There's nothing more comforting than having this hearty dish on Thanksgiving night. The burrata pairs exceptionally well with crunchy, dukkah-coated pumpkin seeds.
They form the perfect overall taste that satisfies your palate. To spread the burrata more evenly, you should tear it up and place it all over the squash.
Total time: 30 minutes
This is an easy recipe, made with just fresh tomatoes, basil, gnocchi, and, of course, a fresh burrata ball. While it has few ingredients, it makes up with depth, featuring many flavor layers.
The 30-minute creamy tomato gnocchi is ideal for warming up your weeknight. Gnocchi is an Italian dumpling possessing a squidgy, plump, and soft texture. Therefore, these lumps can absorb the sauce well and create a flavorful meal.
The sauce is rich, creamy, and sweet, with a bright basil note. Burrata's cheese flavor is the final touch that completes the sweet-sour roasted cherry tomatoes. To make this dish vegetarian, you can use store-bought potato gnocchi or make your own homemade version.
Total time: 25 minutes
The complex sweetness of the balsamic vinegar paired with the creamy burrata and juicy roasted tomatoes is an incredible explosion of flavors. All these tastes blend together to create a sweet-tart balanced sauce.
I hope you will try this recipe with cherry tomatoes and burrata soon. It is versatile as an appetizer or turned into a main dish with pasta. Also, the size of cherry or grape tomatoes is ideal for this recipe, as you can char them quickly.
Charred cherry tomatoes quickly release juices when roasted. This sauce has a luscious hit thanks to the mixture of balsamic, honey, and lemon juice.
The delicate tart and fruity taste of this vinegar enhance the natural sweetness of the tomatoes. When served with burrata, its richness balances out all the flavors making a delicious dance in your mouth.
Let's fill your dinner table with this scrumptious burrata and roasted cherry tomato recipe.
Total time: 10 minutes
Try this recipe if you are unsure how figs taste when served with burrata cheese. This appetizer deserves a once-in-a-lifetime try. One of the fanciest dishes you'll ever encounter is this burrata with figs, honey, and salted walnuts.
It is a creative process based on the contrast in both sweet-savory taste and chewy-crisp texture. This recipe catches all eyes at parties and gatherings. Your guests will surely dig into this sweet, savory, and creamy flavor.
Figs at their peak of ripeness are fruity and intensely sweet. Meanwhile, the crispy toasted walnuts with a salty coating have a dark brown honey color.
They give burrata and this dish a luxurious look. Figs are cut in quarters to reveal the juicy pulp. Then, layer them evenly on the burrata, drizzle with honey, and top with some salted walnuts. This dish is perfect with crunchy crackers.
Total time: 10 minutes
This recipe is a variation of two cuisines you would expect to find, European and Asian. The burrata crostini with ikura and yuzu pepper precisely infuses Italian flavors with a Japanese-themed dish, a menu you can hardly find.
The creamy burrata blend with unique umami and hints of fishy and salty ikura (red caviar) is impeccable for shaking up anyone's taste buds. The ikura also has a distinct flavor-capsule texture. You will feel the audible pop while biting into it.
The caviar shell is firm, but when you bite it, all the flavors flow out and envelop your palate. You will be overwhelmed by the next layer of spicy and citrus flavors from yuzu paste.
The crostini reaches a new level of deliciousness in terms of flavor and color harmony. Serve this amazing dish with the best crunchies baguette slices for a fancy dinner.
Total time: 30 minutes
If you are a fan of regular pizza, this upgraded pizza recipe will blow your mind. This dish is cheesy and even better with the savory taste of bacon.
The perfect and runny eggs are made by partially baking the pizza crust before tossing them in. In a pizza recipe, cheese is always the shining star.
In addition to burrata, this dish is enriched with parmesan's creamy flavor. It has a fruity and nutty taste and is much firmer than burrata. Finally, bring a fresh color to this dish by garnishing it with chopped green onions.
Total time: 40 minutes
An artichoke is an edible flower with an earthy, herbaceous, sweet, and bitter aftertaste. It is outstanding because, on the outside, many layers of crispy petals cover the soft heart inside.
Whether stuffed, fried, or roasted, it is toothsome as the texture becomes tender and sweeter. The mix of white wine, capers, and garlic sauce brings out the artichokes profile. Flavored with white wine, it creates a fresh flavor of grass, citrus, and floral aromas.
All the concentrated taste blends into the creamy richness of the burrata, making you feel all the effort in preparing the artichoke is worth it. This recipe is convenient because you can keep leftovers in the fridge for about 3 days.
Total time: 25 minutes
The combination of peaches, burrata, and chicken results in a unique flavor you can never forget. This colorful burrata and pesto peach chicken recipe offer a note of summer and a tropical vibe.
The chicken usually turns to a beautiful golden brown with a crisp outside and an aromatic scent of butter. You may soak the chicken pieces in white wine and lime juice to create a stunning sauce color.
Thanks to the honey, the peaches are perfectly caramelized in the oven and gain gorgeous, slightly charred edges. No one can resist the burrata cheese melting all over the juicy chicken and warm peaches.
Total time: 20 minutes
Spring burrata with green pesto just takes a little time to put together. However, the finished result is the most delicate and heavenly creation you'll ever see. Not only its looks but even the taste of this recipe can also engulf your kitchen in the spring mood.
This pesto version is packed with a variety of fresh herbs. It has a refreshing, bright, and light profile from tarragon, chives, and parsley. However, all are overshadowed by the brilliant pink interior with green skin of watermelon radishes.
Watermelon radishes are mild-tasting vegetables with peppery goodness and a crunchy texture. Honestly, instead of letting the burrata melt all over the plate, the whole ball could give you a better result. The slightly thick milk content leaks out when cut, creating a wonderful creamy mess.
Total time: 10 minutes
Burrata Caprese toast is a recipe emphasizing the idea that a delicious dish can come with only a few ingredients and simple cooking methods. All the ingredients in this recipe are available around you.
The texture of the burrata cheese is solid and firm on the outside, while the inside is unusually pillowy and smooth. You can feel the greatness of its consistency when it melts slightly on the hot toast.
After placing the burrata on toasted sourdough with other ingredients, do not toast it again. With their sweet and sour taste, Grape tomatoes make a fine addition to the overall mixture. If you prefer more color, use mini heirloom tomatoes for a better result.
Lastly, top it with a concentrated balsamic vinaigrette that provides a tasty finishing touch. It has a much stronger taste than the regular variety, so it does better at leveling up the flavor.
Burrata Caprese toast is the ultimate appetizer for your fancy dinner.
Total time: 20 minutes
This recipe proves that the best ingredients should be paired with the finest recipes. You will have a great time enjoying perfect medium-rare flank steak, burst tomatoes, and decadent burrata this summer.
Flank steak is located at the back of the cow's abdominal muscles. It has a certain thickness and is relatively lean, so it is sometimes a little tough. Moreover, it is great for marinating.
Therefore, even with a little saltiness from Worcestershire sauce, olive oil, and Calabrian chilies, the steak turns out marvelously tender.
This chili variety enhances its taste with sweet, spicy, and slightly smoky hints. Finally, thanks to the burrata cheese, this recipe is balanced in terms of creaminess and meatiness.
Total time: 30 minutes
Whether or not this spicy lobster bucatini with burrata is luscious largely depends on how you cook this seafood delicacy. You should boil the lobster over low heat for about 8 minutes and cool it down quickly by running it through cold water.
This way, it helps preserve all the umami and briny flavors of the lobster. For a hearty and time-saving dinner, pair it with bucatini pasta. The prominent red color of the marinara sauce and its fresh-tomato-like taste with a hint of richness goes well with this dish.
It is a super thick spaghetti-like pasta with a hole through the center. The burrata gets added at the end to add a gooey taste and neutralize this red sauce's spiciness and tartness.
Total time: 30 minutes
This grilled vegetable burrata sandwich is one of the most magical picnic side recipes that can save you from the sun's heat. The defining point of this dish comes from its mesmerizing dressing.
Made with lemon juice, fresh thyme, and champagne, it is sweet, herbaceous, and floral. Plus, the spicy and tangy taste from grainy dijon mustard and cayenne easily co-exists with sweet, sugary honey.
First, cut the ciabatta into two halves. Then use them to grab the charred red peppers, zucchini, and a layer of burrata cheese. All of them are made complete only by the presence of this fancy dressing.
If you don't have a grill, an oven is a good alternative for infusing a smoky flavor to the ingredients. You can enjoy this dish immediately while warm or store it in the refrigerator within a day.
Total time: 40 minutes
Even if you love pizza, this one-of-a-kind dipping recipe is the way to go. The Margarita pizza dip can help reignite your love for pizza once again. This recipe will become your favorite go-to appetizer for any TV show or game night.
It is an easy-to-make dip with cream cheese, charred sliced ​​tomatoes, and fresh herbs. This dip is both an inspired and inversed version of the Margherita pizza.
Besides the mozzarella and parmesan added to the mixture at first, the burrata cheese is also topped after baking. The Margherita dip is ready when the surface melts, is gooey, hot, and turns golden brown.
It is also the perfect time to end this appetizer by serving it with the most crispy and fragrant slices of toast. This recipe is like a cheese heaven that completely satisfies you when blending four kinds of cheese.
Total Time: 15 minutes
This 15-minute dish is a must-try cheerful summer recipe. The watermelon burrata salad is not picky about ingredients and methods, but it tastes fancy.
You can totally welcome summer with this wonderful watermelon-based entree and the well-loved burrata cheese. Mint and basil combine with the main ingredients to create a fruit salad that is full of salty, aromatic, sweet, and creamy flavors.
Drizzle all the ingredients with a little olive oil and red pepper flakes on top. In addition, the juicy, bite-sized cubes of watermelon and the chilled burrata ball will satisfy your hunger no matter the weather.
For an extra tropical twist, you can add grilled peaches to your watermelon burrata salad, like in this recipe.
Total time: 1 hour 10 minutes
Nothing is more comforting than sitting down to a warm bowl of delectable soup on a chilly autumn evening. The look of this herby tomato soup is highlighted by its vibrant red color, with the striking milky white burrata cheese at the center.
The cheese ball has a silky and thick texture. The herb quartet of basil, rosemary, thyme, and oregano always brings out a unique fragrance to this soup. Yellow onions are suitable if you want to create a more balanced astringency-sweetness.
A bit of bright, sour, and fruity red wine vinegar added to this recipe increases your appetite for the soup. As for the texture, do not forget the addition of flour so you can enjoy the soup with the desired consistency.
Total time: 25 minutes
Baby bell peppers are small yet mighty. They are often sweeter than bigger-sized bell peppers and loaded with a bright taste. Their taste is great when eaten raw, but it gets even sweeter when grilled.
The charred baby bell peppers with the burrata create a combination of sweet and smoky taste. In addition, herbal notes from thyme, pistachios, and lemon are fantastic additions.
The inclusion of honey keeps the ingredient sweet, along with the creamy burrata. This combination is wonderfully balanced with the kick of chili flakes.
These adorable little bell peppers are quickly charred on the grill and release mouthwatering juices. The recipe is a worthy appetizer for appearing at any summer gathering, as it's delicious whether served hot or cold.
Bursting With Enjoyment Through All Dreamy Burrata Recipes
If you're looking for an Italian taste or simply want to elevate familiar dishes, recipes with burrata cheese are always the best choice. This cheese is not only delicious on its own, but it also makes for heavenly combinations with other ingredients.
You will experience a breakthrough in flavor and texture that is not found in any other dish. Therefore, do not waste your time; try these DIY burrata recipes above immediately.
Please comment on their tastes; it would be great if you shared this article widely. I'm grateful to be able to read more people's opinions.