The best buckwheat recipes are not only healthy and nutritious but also bring satisfying flavors that you cannot help but enjoy. They are full of beneficial nutrients like minerals and antioxidants that will make your diet much healthier.
Though many people mistake buckwheat for regular wheat, they actually have different origins. The buckwheat possesses a classic nutty and earthy flavor that makes it stand out from the other grains.
In addition, it comes at an affordable price and is also gluten-free. You cannot demand more of such a nutritious and tasty ingredient. Let's jump straight into the recipes!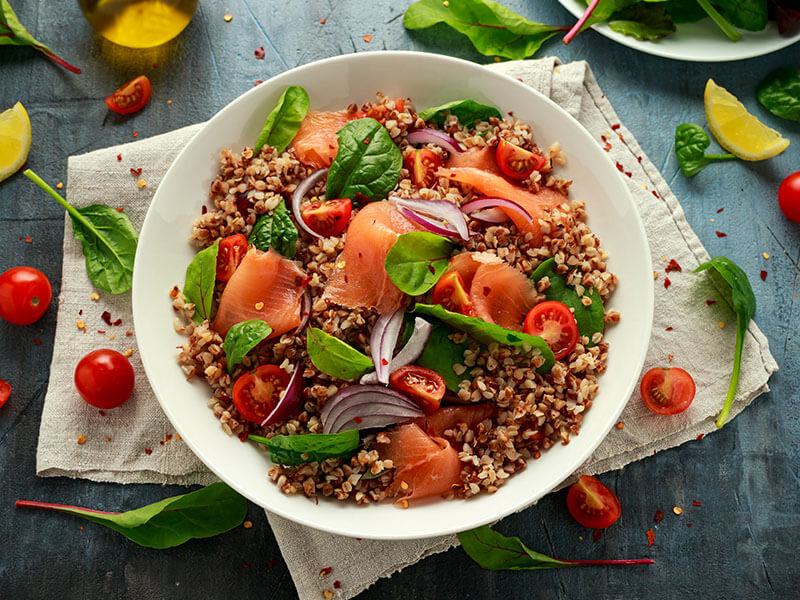 Adopt A Clean And Healthy Diet With These Delicious Buckwheat Recipes
Since buckwheat is a staple ingredient for many European and Asian dishes, these recipes will give you more insights into the beauty of these culinary cultures. Their tasty flavors and textures are suitable for people of all ages.
Try incorporating the buckwheat dishes into your diet, and you'll no longer crave the sugary treats and fast food again. Now let me walk you through these miraculous recipes!
Total time: 25 minutes
The quick buckwheat and vegetable stir fry is a nutritious dish packed with proteins and healthy vegetables. In less than 30 minutes, you can prepare a delicious and flavorful buckwheat stir following this recipe.
This dish features a mix of exotic green and red colors from baby spinach, cherry tomatoes, and broccoli. The garlic clove gives the vegetables an intense and aromatic scent that drives up your appetite.
Of course, a salad will taste dull without using the flavorings. This recipe combines apple cider vinegar, soy sauce, and maple syrup drizzling. It gives the dish a perfect blend of sweet and sour tastes without overtaking the veggies' natural flavors.
These flavorings also contain many beneficial nutrients that make this dish even healthier. For those with gluten allergies, ensure that the store-bought buckwheat is gluten-free certified.
Here's how to cook buckwheat and vegetable stir fry in the classic Russian way.
Total time: 1 hour and 40 Minutes
Buckwheat bread is a great way to enjoy this healthy and nutritious grain that maximizes its flavor. This crispy buckwheat bread brings a delicious savory and nutty flavor that tastes better than any type of bread you've tried.
However, the thing that makes this recipe stand out lies in its oil-free, gluten-free, and flourless components. All you need is buckwheat groats, a few types of grains, baking powder, and seasoning materials.
This recipe added a little tahini paste for seasoning. Its earthy and powerful flavor mixed with a mildly bitter undertone help you enjoy this buckwheat bread to the fullest. The bread can last for one week in the fridge, but remember to cover it using a storage bag before freezing.
Total time: 20 minutes
Roasted buckwheat mixed with veggies creates a hearty and mood-boosting salad. This buckwheat salad looks nice and crispy with a fabulous herby aroma. You can either serve it as a light morning breakfast or a delicious vegetable side dish for dinner.
How you cook the buckwheat decides the tastiness of this roasted buckwheat salad. The key is not to overcook or soak the buckwheat groats in too much liquid, or they will get watery and ruin the dish's texture.
This recipe soaks the buckwheat groats in vegetable broth, giving it a fabulous scent of freshness and grassiness. Since different buckwheat products may require their own ways of cooking, you should carefully follow the package's instructions to cook it properly.
Total time: 15 minutes
Are you craving a sweet pancake but worrying about gaining weight? You will fall in love with these yummy and fluffy vegan buckwheat pancakes at the first bite. They are super healthy and flavorful with no oil, eggs, or dairy products involved.
The pancakes possess a full texture topped with fresh berries. You can add any of your favorite fruits and toppings like banana, peach, or even chocolate chips. The nutty buckwheat cake batter is already delicious, but these components bring it to another level.
To make the dish healthier, this recipe substitutes refined sugar with unprocessed sweeteners like apple syrup or maple syrup. A little desiccated coconut drizzled on top of the pancake also makes it more appetizing and creamy.
What's so special about vegan buckwheat pancakes? Let this video show you!
Total time: 37 minutes
Pizzocheri is a famous Italian dish consisting of buckwheat pasta mixed with butter and cheese. Its classy yellow texture and hearty taste will impress all your guests and friends.
Obviously, the pasta noodle is a combination of buckwheat and all-purpose flour mixed with water. This recipe substitutes dairy products with potatoes, cabbage, vegan cheese, and parmesan.
Though the vegan cheese and parmesan are not as creamy as the original kinds when melted, they deliver just as excellent flavor. Their rich and buttery taste combines so well with the classic salt and pepper duo in this dish.
Total time: 50 minutes
Miso risotto has always been my favorite food with its delicious and umami flavors. This dish has a mouth-watering texture of tender buckwheat groats simmered with caramelized shallots, mushrooms, and garlic.
The soul of this dish is the white miso and wine, which gives the risotto its distinguished umami taste and a nutty sweetness. However, white miso is pretty savory, so you should dilute vegetable broth with water to reduce its saltiness.
Some people prefer the firm and chewy buckwheat groats, while others like them to be tender and moist. You can adjust the simmering time between 35 to 40 minutes to achieve your favorite texture.
Total time: 2 hours and 23 minutes (including 2 hours of chilling)
No regular flour can replace the distinct nutty flavor of buckwheat in this recipe. These salty and delicious buckwheat chocolate chunk cookies will fill your stomach for the whole day with their rich nutrients.
The cookies feature a vintage bright yellow appearance with a chewy texture. Each thin slice is generously seasoned with sea salt and chocolate chunks, giving it a satisfying blend of salty and sweet flavors.
You need to chill the cookie dough in the fridge for two hours so it can firm up and prevent the dough from spreading. Bake the cookies for 8 minutes or until they firm up. If you prefer a crispier batter, increase the baking time to 10 minutes.
It was this exciting instruction that drove me to try these salty buckwheat chocolate chunk cookies.
Total time: 32 minutes
Try out this berry buckwheat porridge if you have been bored with eating fast food and sugary snacks for breakfast. It's a super delicious, gluten-free, and comforting dish loaded with healthy nutrients.
The plain buckwheat porridge is topped with fresh ground cinnamon and fruit, giving it a colorful and appealing look. With a little maple syrup and vanilla extract added, this dish will satisfy everyone with its pleasant and comforting sweetness.
You should stir the buckwheat thoroughly to ensure that it's fully cooked and tender. Feel free to add any toppings you like, such as cherries, banana, or almond milk. Replacing maple syrup with a drizzle of honey is totally fine.
Total time: 30 minutes
People in Eastern Europe often make this buckwheat mushroom soup to warm up their stomachs on the cold winter days. It's a natural custom since this comforting soup brings a heart-warming and satisfying burst of flavors.
This recipe combines buckwheat, fresh mushrooms, veggies, ice cream, and a bunch of seasoning materials. Both fresh and dried veggies are applicable as long as they are convenient to prepare.
You can also add boiled chicken meat to make the dish more nutritious. Some other options are red wine, which gives the mushroom soup a subtle tangy undertone. This buckwheat mushroom soup can last for many days in the fridge, but remember to reheat before serving.
Total time: 30 minutes
You can hardly find a vegan, healthy, and delicious sweet treat like this buckwheat blueberry muffin. It possesses a brown and richly-flavor texture topped with sweet and refreshing blueberry.
Both fresh and frozen blueberries are applicable for this muffin. Other sources of sweetness for the muffin batter are unrefined cane sugar, unsweetened milk, and natural vanilla extract.
With no refined sugar used, this buckwheat blueberry muffin is a healthy source of energy and protein for people with high blood sugar levels. These muffins are packed with fiber and flour, which gives them a dense and thick texture.
The buckwheat flour is naturally too dense for muffins. That's why the almond flour is added. You should let the muffins rest for some hours after baking to serve.
This chill and relaxing instruction will help you make the best buckwheat blueberry muffins.
Total time: 1 hour 40 minutes (include 1 hour of rising time)
Have you ever heard of blini, a classic treat in Russian food culture? It's a small and savory pancake (around 2 to 4 inches in diameter) with a thin batter made of leavened buckwheat flour. They possess a lovely mild brown color with a nutty and toasty flavor.
When speaking of blini, people will instantly think about its versatility. You can serve these fluffy pancakes with any toppings such as ricotta, fresh fruits, or even savory treats. In the countries where it was born, blini is often served with a type of sour cream called Smetana.
These blini pancakes are a perfect appetizer and dessert to celebrate special occasions in the year. Top the pancakes with your favorite ingredients and serve when they're still fluffy and hot.
Total time: 15 minutes
No dish can match these pumpkin buckwheat pancakes for a weekend breakfast. Their fluffy and tender texture is filled with nutty buckwheat flour and pumpkin pie spice, giving a herbaceous and delicious flavor to each bite.
These little pancakes take less than 15 minutes to prepare, making them a perfect on-the-go snack. You only need a little vanilla extract and apples to enjoy with the pancakes. They bring a filling sweet taste and freshness but don't overshadow the nutty buckwheat flavor.
The pancakes are also loaded with superfoods like chia seeds and quick-cooked oats. These ingredients add a subtle and nutty flavor that complements the yummy taste of this pancake while giving it a denser and more crunchy texture.
Total time: 35 minutes
Slovenian buckwheat porridge is a famous Slovenian dish using healthy ingredients. It's super easy to prepare and suitable for vegetarians craving low-fat and cholesterol-free food.
Cooking buckwheat for porridge is the best way to express the hearty and nutty flavor of this ingredient. Unlike many other buckwheat recipes, the Slovenian buckwheat porridge keeps it simple with only three ingredients: buckwheat flour, plain water, and salt for the flavoring.
But don't its simplicity make you overlook this recipe. The salty flavor combined with the tender buckwheat porridge creates a filling and savory texture in this dish. You can always add the pork cracklings to give it more flavor and nutrients.
Making Slovenian buckwheat porridge is just child's play. This video will tell you why!
Total time: 6 hours and 15 minutes (including 6 hours of soaking time)
A search for the most delicious buckwheat recipes revealed to me this whole grain buckwheat blender waffles. It's gluten-free, healthy, and super delicious, making a perfect on-the-go snack to enjoy for busy people.
The buckwheat groats are softened and mixed with coconut milk, eggs, and baking soda, creating a super moist and filling waffle texture. The waffles are finished with creamy syrup drizzling and various toppings like nuts and fruits to enhance their taste.
For this recipe, you have to choose the right hulled buckwheat groats to get the proper waffle texture. You can make this dish truly vegan by replacing eggs with powdered egg substitute or flax eggs.
The cooked waffles can last for days refrigerated, but remember to reheat them before serving. The easiest ways are using a microwave or toasting them on the stovetop. You can also free the waffles for one hour for a cool and fresh snack on hot days.
Total time: 55 minutes
To be honest, I didn't think using buckwheat for the patties was a good idea at first. However, the flavor of these buckwheat patties turns out so tasty that I cannot help but get addicted to this simple dish.
The buckwheat gives the patties a crunchy and dense texture combined with the appealing nutty aroma. However, this dish won't appear on the best list if it weren't for the roasted bell pepper sauce. It has an orange and creamy texture like ketchup, but the flavor is much tastier.
The roasted bell pepper sauce is a mix of pepper, smoked paprika, onion, garlic, and a bunch of other exotic components. It's a bomb of flavor that brings these buckwheat patties onto another level.
Total time: 35 minutes (including 15 minutes of resting time)
Kuttu Ka Cheela, or buckwheat flour pancake, is among the easiest and quickest yummy snacks that you should include in your daily diet. It has many other local names and is a famous Indian dish served in fasting rituals and special occasions.
The staple ingredients for this pancake are Kuttu ka Atta, green chilies, and coriander leaves. Kuttu ka Atta is basically buckwheat flour in English, which gives a classic nutty flavor. Besides its simple preparation, this dish is a dense source of healthy proteins and fiber.
Don't hesitate to add a lot of water when making the pancake batter. It will prevent the lumps and give a more tender dough. The perfect pancake texture should neither be too runny nor too thick.
You should also cover the dough and allow it some resting time to rise properly. The best way to serve this type of pancake is to enjoy it with peanut chutney. It's a mix of green chilies, peanuts, and curry leaves, giving a super tasty peanut flavor.
Everyone can prepare the delicious Kuttu Ka Cheela following this simple instruction!
Total time: 50 minutes
It would be a big loss to make a list of the best buckwheat dishes without mentioning this buckwheat flax chia bread. It's a quick, simple, and nutritious dish made of only four ingredients.
To make this chia bread, you basically blend buckwheat groats with flax seeds, chia seeds, and baking powder to bake. Flax and chia seeds possess a mild nutty taste, making them an excellent complement for any buckwheat recipe.
Remember to soak the flaxseed meal and chia seed in cold water before mixing in the bread batter. Bake for around 50 minutes, and you'll get firm, delicious, and nutty bread.
Total time: 40 minutes
These homemade buckwheat granola bars are a healthy substitute for oily processed snacks. The light sweetness of honey, corn syrup, and rice syrup blended with the nutty buckwheat taste creates an irresistible flavor in these little treats.
Unlike the soft nut granola bars, the buckwheat gives a more crispy and chewy texture. It's also rich in protein, minerals, and a bunch of healthy minerals, so I don't see any excuses to avoid this buckwheat granola bar.
This recipe is also loaded with raw pepitas, sunflower seeds, and pitted dates, which adds more nuttiness to its hearty texture. These delicious granola bars are a perfect on-the-go snack that gives you an instant boost of energy during work or workouts.
Total time: 1 hour
The fluffy texture of melted chocolate buckwheat flour brownies looks so appealing and exotic. The chewy and creamy dough is packed with melted butter and coconut sugar, giving a satisfyingly sweet and rich taste.
You can add more seasoning materials like flaky salt and maple syrup to make the brownies more flavorful. Some additional toppings like fruits, chocolate icing, and crushed pretzels also work fabulously in this recipe.
For the milk chocolate fan, a glass of cold milk is the best companion for these brownies. Imagine each bite of the fudgy and chocolatey brownies followed by a sip of creamy milk. It's a real heaven for any sweet tooth.
Total time: 30 minutes
If you have some leftover jam or honey in the pantry, don't hesitate to serve it with this buckwheat chapati. It's a hearty and versatile buckwheat dish that can be eaten with anything, making a simple and nutritious breakfast idea to start your day.
This buckwheat chapati has a soft and elastic texture with a mild brown color from the buckwheat flour. It brings a surprisingly robust taste using only salt for the flavoring. You can either eat it plain with a drizzle of honey or serve the chapati with curry.
The uncooked chapati slices can be refrigerated in an airtight container for later use. Don't cook it too early before the meal, or the texture will get dry and soggy, ruining your enjoyment.
This is the only guide you need for making the buckwheat chapati!
Total time: 35 minutes
Can you get a hearty and delicious meal from merely mixing a bunch of uncooked veggies, herbs, and grains in a large bowl? I didn't think it was possible until this recipe showed up. The freshness of ripe veggies mixed with nutty buckwheat creates this tasty Tabbouleh.
With some added olive oil and lemon juice, this Levantine salad delivers a fresh and mind-lifting flavor. Besides its delicious taste, the herby aroma from garlic, fresh mint, and parsley also impressed me.
All you have to do is throw the ingredients into a large bowl and toss them with salt, olive oil, and pepper until the mixture is fully blended. It's a perfect side dish for any BBQ and party using only cheap and vegan ingredients.
Total time: 2 hours
The French Breton Gallete, or crêpes de blé noir, can be translated to "buckwheat flat cake" in English. Its crispy crepe batter filled with savory cooked ham, fried eggs, and grated cheese makes a classic French-style breakfast for buckwheat lovers.
Unlike the traditional sweet whole wheat flour crepes, the Breton Galette is a delicious savory and meaty crepe. Its filling nutty flavor from buckwheat mixed with ham and fried eggs' savory tastes create a mouth-watering culinary experience.
You can garnish the crepes with fresh chives and grated cheese to make them look more appetizing. It gives this dish a pure cheesy and fatty taste that will impress everyone at the table.
These Yummy Buckwheat Dishes Will Make Your Life Easier
In my opinion, simple and fresh ingredients always make the most delicious food, and these best buckwheat recipes demonstrate that point. I'm not a vegan food enthusiast, but these delicious buckwheat dishes changed my mind with their tasty flavors.
From the comforting food, and flavorful cakes, to the nutrient-rich bread, these buckwheat recipes are food for the soul. Whether it is for a light breakfast or a hearty dinner, they will always exceed your expectations.
So, what do you think is the best way to prepare and serve buckwheat? Which recipe will you try out in this list? What are your thoughts on the instructions provided? Please share with me your thoughts in the comment section.
Also, tell your friends about this post if you enjoy reading it. It's my motivation to keep bringing you the best food recipes in the world. Have a nice day!
Nutrition Facts
14 servings per container
---
Amount Per ServingCalories73
% Daily Value *
Total Fat 1.5g

3

%
Sodium 171mg

8

%
Potassium 187mg

6

%
Total Carbohydrate 13.7g

5

%

Dietary Fiber 2.2g

9

%
Sugars 0.7g

Protein 2.6g

6

%
---
* The % Daily Value tells you how much a nutrient in a serving of food contributes to a daily diet. 2,000 calories a day is used for general nutrition advice.