Are you searching for several brie cheese recipes since your family is a big fan of it? You have landed on the right place as after reading this super informative article, you can diversify your menu made with this cheese variety.
Indeed, the cooking ideas with brie cheese are abundant. In this post, you will also have a closer look at flavors, textures, ingredient lists, and how-to-make guides for these recipes. What's better, you can grasp some ideas of side or drink pairings for your brie-based dishes.
I am sure the helpful information in my article will be worth your minutes of reading. So stay here and keep scrolling down for more!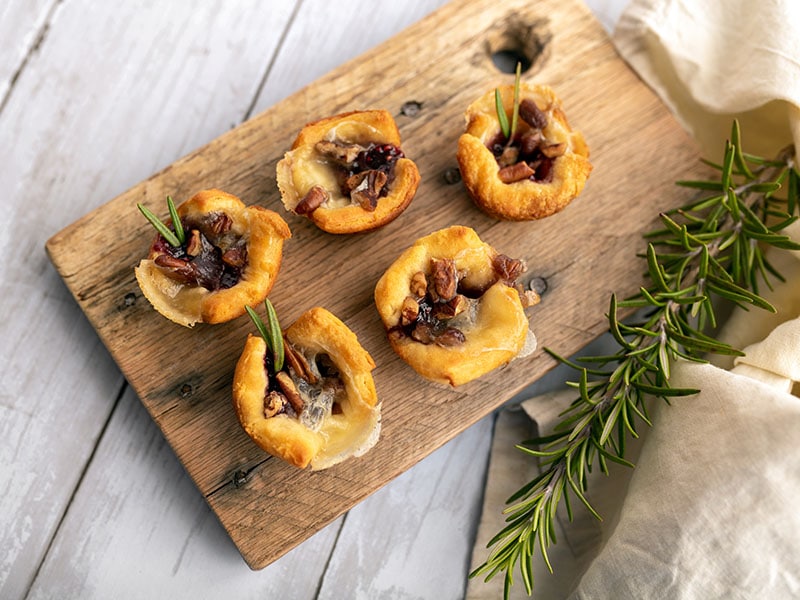 Explore Top 22 Dishes Using Brie Cheese In The Recipes
Does your friend visit you with a block of white brie cheese on hand, but you have no idea how to deal with it? After reading, there will be no worries since you have a long list of 22 awesome ideas.
Total Time: 55 minutes
Brie stuffed baby potatoes are a delicious snack for any game day. With a few herbs and brie, this baby potato recipe can be a perfect treat for your guests on Thanksgiving effortlessly.
Just toss baby potatoes and olive oil on the baking sheet, and season with salt and pepper. Then roast them in the oven until fork-tender. After that, gently smash them into ¼ thickness. Once done, drizzle the mixture of butter, thyme, and garlic onto potatoes and roast them again until golden.
For the last five minutes of cooking, put a thin brie slice on each potato and roast for melted cheese. After finishing, serve these warm stuffed baby potatoes with a bit of truffle oil and garnish of sage and peppercorns. They should be crispy and taste extra buttery.
Total Time: 20 minutes
Brie crostini is a simple yet addictive canape to set the tone for the meal. These delicious cheese crisps are perfect with a thin baguette slice and brie cheese on top flavored with herbs and honey.
Once baked, the warm brie crostini will emit a charming aroma all over your kitchen. And when you have a bite, it tastes prominently buttery with a minty and earthy yet honey-sweet hint. All taste so good that you may prepare another batch to feed the crowd.
Also, if you want to make another version of brie crostini, feel free to put anything you like on top. These toppings can be some toasted chopped walnuts or apple and pear slices. Prosciutto is a great choice as well if you seek an additional salty flavor.
Check out the toothsome variation of brie crostini with cheese, apple, and honey!
Total Time: 28 minutes
The classic mac and cheese have earned its reputation due to its pleasant flavor and texture. But the presence of brie cheese will take your traditional one up a notch, thanks to its rich, creamy, buttery flavors.
Although the rind is safe to eat, you should remove it before putting it into the mixture. That will help your sauce have a creamy and lump-free texture. To remove it properly, use a sharp knife to cut off the soft white mold layer of the cheese wheel.
You can pair this delicacy with your favorite salad to make a meal. Some ideal salad suggestions are beet goat cheese salad, buffalo chicken salad, and butter lettuce salad.
They will balance the cheesiness with the bright flavor of greens and add more fibers to your meal for better digestion.
Total Time: 8 minutes
Nothing is more satisfying than this baked brie treat for your pretty individual appetizers. This honey brûlée brie retains that same pleasant taste of baked cheese but with a top of honey and sugar that twists the mild and rich cheese into a sweeter and more aromatic appetizer.
All you need to do is place brie on the plate and spread honey over the top. Then continuously spread another even sugar layer on the top.
The next part is to cook it under a broiler until caramelized. After that, you can transfer the melted brie away from the heat and let the sugar harden and cool before serving.
For the best result, you can serve your food with crackers or bread. When indulging in a cracker topped with honey brûlée brie, you will feel the soft and creamy texture followed by buttery and sweet hints boasting all over your mouth that makes you ask for another bite.
Total Time: 28 minutes
Brie, apple, and cranberry grilled cheese is a perfect sweet and gooey combination. The way jam and cheese melt together in companion with an irresistible apple starter will give you an out-of-this-world experience.
Notably, a secret ingredient in this recipe is white wine. Just brush butter on one side and wine on the other side. This trick will provide intense flavor to your plain sandwich and keep it from being too dried.
To serve this grilled cheese correctly, you should never miss a glass of wine. Although you have brushed it onto the sandwich, it is entirely different when you have it as a side drink.
The appropriate wine will balance the creamy filling of your sandwich. That stimulates your taste and creates a brilliant mouthfeel when enjoying this delicacy.
Total Time: 30 minutes
If you are a huge fan of baked brie, you should try this one. Pumpkin pecan-baked brie is a perfect combination of rich buttery cheese with spiced and sweet pumpkin butter inside a beautifully puff pastry crust. Together, they create a nice pumpkin starter for the crowd.
And did I mention that the dish is trouble-free to make? Within 5 minutes to prepare, you will have fresh goods for baking in the oven. Simply roll out the dough and layer each of the pecans, pumpkin butter, and the cheese in it. Once done, wrap and seal the dough by pinching seams.
Don't forget to brush the egg wash on both sides of the baked brie and garnish it with some pecans. Then bake in the oven for 25 minutes until golden brown. For serving, cut into slices and the gooey cheese melting from the center will surely satisfy you and your guests.
Total Time: 1 hour 15 minutes
Brie pull-apart bread is a delectable finger food to serve as an appetizer at a potluck or get-together party. It features a crusty bread loaded with sweet roasted garlic, tasty brie, and butter – just like a dip and bread all in one.
Please note that you should choose sourdough or any rustic bread and remove the rind for the best result. These kinds of bread are easy to handle with a crispy crust and a soft inside. Meanwhile, the rind removal will encourage the brie to melt completely into the bread.
If there are leftovers after-party, do not throw the bread. Instead, wrap them in aluminum foil and refrigerate them. When you want to enjoy it again, just reheat the leftovers at 350 degrees F. Once it is warm, your bread is ready to go.
Total Time: 25 minutes
Baked brie bite is a classic festive food for holidays that you can try at any gathering. Indeed, this finger food should be a showstopper appetizer with puff pastry to please everybody at any time.
This delicacy highlights a bite-size buttery crust stuffed with cheese, apricot jam, and salami (cured sausage). While brie and salami add salty and creamy flavor, apricot jam enhances the overall taste with its sweetness. All create an incredibly flavorful appetizer.
However, the baked bites are a little bit greasy because of their ingredients. For instance, this cheese and puff pastry are buttery foods. Meanwhile, salami is usually pork sausage. Although these foods are delicious, they still produce some grease in essence.
So, the small tip here is to let your brie bites rest for a few minutes before serving. Your patience will help them have time to settle. Also, you can skip the salami to cut down the grease if you are not into it.
Let's wow your guests with these easy and flavorful baked brie bites!
Total Time: 45 minutes
What is more wonderful than a cozy creamy soup on chilly days? Mushroom and brie soup is ideal in that case. The delicacy is ultra-silky and rich, with many mushrooms and luxurious brie cheese taste in every bite.
That deliciously rustic soup starts with handling mushrooms. And a notable tip is using the dry roasting technique whenever a recipe calls for sauteed mushrooms. That will help decrease moisture and concentrate the flavor of mushrooms, which is what you need to do for the best outcome.
After roasting mushrooms in the oven (or dry skillet), saute shallots, garlic, flour, and wine in a large skillet with melted butter. Then add the rest of the ingredients to the soup, stir well, and puree the soup.
Finally, season if needed, garnish with mushrooms and fresh parsley, and serve warm. Your soup should be earthy and creamy with a beautiful ivory white color in the bowl.
Let's make mushroom and brie soup with a professional chef!
Total Time: 40 minutes
Portobello mushrooms stuffed with thyme and cheese are a hearty appetizer suitable for keto followers or an impressive dinner on Thanksgiving days. The decadent comes up with an earthiness of mushroom base, buttery richness of brie cheese, and a herby aromatic hint.
Also, this recipe is for gluten-free, low-carb, and ketogenic diets. And they are high in nutrients and vitamins such as vitamin B6, folate, and thiamin. So you can serve this dish as the healthy main course to any of your beloved vegetarians.
For best enjoyment, you should serve stuffed mushrooms with quality red wine. Among all wines, Cabernet Sauvignon is a bright candidate, whose dark fruit flavors and savory tastes will work well with the meaty mushrooms and cheesy brie.
Total Time: 50 minutes
Spinach, artichoke, and brie crepes are wholesome versions of the regular pancake. These scrumptious savory crepes have a thin wrap filled with brie cheese, spinach, and artichoke. That gooey and tasty combination will surely be your new favorite crepe filling.
But the delight is not complete yet if you miss the honey drizzle. A light sweet taste of honey on top of the cheesy crepe will intensify the robust, nutty, and creamy flavor and upgrade it to a higher level of tastiness.
Total Time: 20 minutes
Whipped brie with herbs and honeycomb is an out-of-this-world appetizer for your next potluck party. The silky, buttery flavor of whipped cheese topped with fresh herbs and a sweet honeycomb gives the most pleasant feeling to each baguette slice.
Since the whipped brie is the key in the recipe, you should choose the suitable one. And triple cream brie cheese is the best option to keep in mind. When whipped, it forms a luxurious, buttery cloud without any flop. That will contribute to the best visual and eating experience.
Where there is cheese, there is wine. Yes! You should enjoy this appetizer with wine or a cocktail, especially with a herbal or floral aroma. Rhubarb Lavender Gin Cocktail, Chamomile Honey Gin Sour, or white wine Riesling should be your ideal drink pairing in this case.
Total Time: 40 minutes
These roasted brussels sprouts are the ultimate dish among other recipes. Not only does the roasting method help highlight their natural sweetness and retain their color, but a cheesy brie and smoky pecans' presence also brings a kick of flavor to this side dish.
Another advantage of the decadent is its fuss-free making. All you have to do is to cut the brussels sprouts, season spices, and bake twice for 20-30 minutes. Remember to top with the brie and pecans before the second baking.
Once cheese turns slightly brown, they are good to serve. And, of course, you should serve immediately for the best experience.
Total Time: 13 minutes
This sandwich style is the top of all sandwiches born for breakfasts and brunch. The smoky grilled sourdough bread is creamy and crispy, followed by a sweet note, all thanks to brie, apple, ham, and blueberry jam. Each ingredient blends well into one savory bite.
For the perfect grilled sandwich, you should keep in mind the following tips. First, use fresh and flavorful bread to get the best taste and texture. Also, adjust the amount of mayonnaise and butter according to your slice size to fully utilize their buttery flavor.
Besides, ask your deli to cut your meat into thinly sliced or shaved ham since that texture will work lovely in this recipe. Plus, feel free to change to any available jam at your home if you do not have blueberry ones. Rest assured that other replacements will offer the same result.
If you prefer hot ham instead of grilled ones, here is how to make the best hot ham and brie sandwich.
Total Time: 15 minutes
These quesadillas are anan easy and convenient recipe if you need one to use up your leftover. With only five ingredients, these turkey quesadillas are a snap to make.
Just layer the apple slices, spinach, brie cheese, and several slices of turkey on one tortilla. Meanwhile, put more cheese on the other tortilla. Then cook the tortillas in the pan under medium heat until golden brown and melted cheese.
Once cooked, sandwich both tortillas and gently press to let cheese evenly spread over the quesadillas. Finally, slice into pieces and serve immediately. You will find the decadent crispy outside yet cheesy inside, filled with rich, sweet, and aromatic flavors.
Total Time: 30 minutes
This stuffed chicken is a simple skillet recipe, resulting in an impressively delightful and fancy dinner to invite friends or family. It has a gorgeous appearance with golden chicken breasts filled with tart green apples, gooey soft brie cheese, and mouth-watering pan sauce.
These stuffed chicken breasts are great to serve with steamed rice. It is more insanely tasty with a pan sauce spooned over everything. If you are a greens lover, you can plate out the green salad, steamed, or a roast mix of veggies next to this brie stuffed chicken.
Total Time: 20 minutes
Strawberry jalapeno-baked brie is comfort food to please both the crowd and the maker. While your guests are happy to share this inviting food, you are cheery for its effortless making. Just unroll the dough, place the brie, spread the jam, wrap it up and bake. That's it!
The final result is a golden crispy crust on the outside. Inside, the melty and soft cheese harmonize with the fruit spread, enhancing flavors of richness, sweetness, and spiciness.
If you enjoy more sweetness, you can optionally drizzle some honey on top. That will also advance a glossy and charming appearance to your delicacy.
Total Time: 55 minutes
These bites are one of the most well-loved finger foods to treat your party-goers. The smooth, rich brie cheese, crisp asparagus, and salty bacon provide an incredible snack full of lovely flavors. It is creamy, earthy, and fatty!
Plus, the cooking process is a breeze as well. Start with cooking bacon and asparagus and removing the cheese rind. After preparing, roll out the dough, cut it into squares, and place them in muffin cups. Then fill with cooked asparagus, bacon, and brie cheese and bake until golden.
Once done, serve these bites immediately out of the oven for the best visual and deliciousness. If you let them sit for a couple of hours, the cheese will be firm and lose its melting appearance. Though, they still taste delicious. So I am sure your dish will soon vanish no matter what.
Total Time: 32 minutes
Sweet and buttery, this blackberry scone is perfect for brunch or snacks. It is a divine berry-baked pastry to enjoy with a cup of coffee or tea with loads of sweet blackberries, creamy brie, and crunchy walnuts.
A big plus to this decadent blackberry sweet treat is its ease of making. Just combine all the ingredients (except the cheese) into a dough form. Then brush it with buttermilk and bake for 10 minutes. In the meantime, remove the rind from the chilled brie and cut it into small pieces.
Once baked, form a depression in the tops of scones and fill cheese squares into it. After that, bake scones for extra time until melted cheese and lightly golden. Finally, let your finished scones cool a few minutes before serving.
Total Time: 30 minutes
Honey roasted pear and brie flatbread is a quick and luscious flatbread recipe that utilizes your oven or grill. This delicacy showcases a crispy crust topped with numerous tasty ingredients: creamy brie, sweet fresh pears, salty prosciutto, and candied walnuts.
To master the pizza, here are some expert tips you should have known. First, remember to prebake the crust before assembling. This advance will bring you the desired crispy crust and melting cheese. Plus, letting brie sit at room temperature encourages the melting process.
If you want to slice pears in advance, keep these slices in cold honey water (2 tablespoons of honey to 1 cup of water) in the refrigerator. They will retain the color without being brown and can keep up to 24 hours.
Total Time: 25 minutes
Brie bread bowl is the ultimate holiday party appetizer. It is a baked brie cheese in a sourdough bread bowl infused with sugar, white wine, and fresh rosemary. Thus, the bowl tastes flavorful with a creaminess, sweetness, and woodsy aroma.
To make this appetizer, cut out a circle the same size as regular brie cheese to form a bowl. Then pull out the bread, tear it into chunks and drizzle them with olive oil. Meanwhile, spread sugar and sprinkle rosemary on the bowl top. Finally, bake bread chunks and bowl for 15 minutes to complete.
The final result will give you a swimming pool of gooey melted cheese that everyone loves to jump in. Just serve it with the baked bread chunks. Or you can give out some extra crackers or apple slices. They should fit well with a cheesy dip.
Let's learn how to make baked brie in a bread bowl from a dedicated chef!
Total Time: 1 hour
These skillet nachos are perfect to convince your kids to have brussels sprouts on their menu. With brie cheese and two other types of cheese, your kids would not realize the appearance of brussels sprouts. So feel free to treat this recipe as an after-school or late-night snack.
Plus, this recipe is trouble-free cooking. Simply begin with handling veggies in a skillet with spices and sliding them onto a plate when done. After that, layer chips, cheese, and veggies mixture onto the same skillet three times until you run out of ingredients. Then bake the dish.
Once the cheese starts to bubbly, take the skillet out of the oven, sprinkle more cheese, and drizzle with cranberry molasses (made of cranberry juice and brown sugar) to serve.
Just pull out a nacho with cheese and veggies for a bite. The creamy texture will melt in your mouth right at first taste, followed by herby, nutty, and citrusy flavors of veggies. These flavors work together to create a unique impression.
Brie Cheese Is An Awesome Ingredient For Your Cooking
Brie cheese is an insanely wholesome ingredient to use in cooking. As you see on the list, you can use this cheese to make appetizers, main dishes, desserts, or even after-school snacks for your kids. So which recipe will you try? Leave a comment to share your opinion!
Also, if you love my article, your like is my huge support. And feel free to share and tag friends to ask them to come for help. I promise there will be a lot of fun preparing these brie cheese recipes together. Thank you, and take care!
Nutrition Facts
4 servings per container
---
Amount Per ServingCalories361
% Daily Value *
Total Fat 25.8g

40

%
Cholesterol 106mg

36

%
Sodium 477mg

20

%
Potassium 132mg

4

%
Total Carbohydrate 18.4g

7

%

Dietary Fiber 1g

4

%
Sugars 10.9g

Protein 14.6g

30

%
---
* The % Daily Value tells you how much a nutrient in a serving of food contributes to a daily diet. 2,000 calories a day is used for general nutrition advice.