Delicious and easy breakfast sides will help you be motivated to make breakfast every day and feel more in love with life. Making your own breakfast is an inspiring way to start the day that everyone should do every day.
Breakfast gives you the energy to start the day, which is one of the most important meals of the day. When people skip breakfast, they tend to eat more at the end of the day, which may result in weight gain and digestive problems.
So in this article, I will give you the most delicious and easy-to-make breakfast sides that will encourage you to eat breakfast every day. After reading this article, I believe you will have a rich and nutritious breakfast list to start an effective and energetic working day.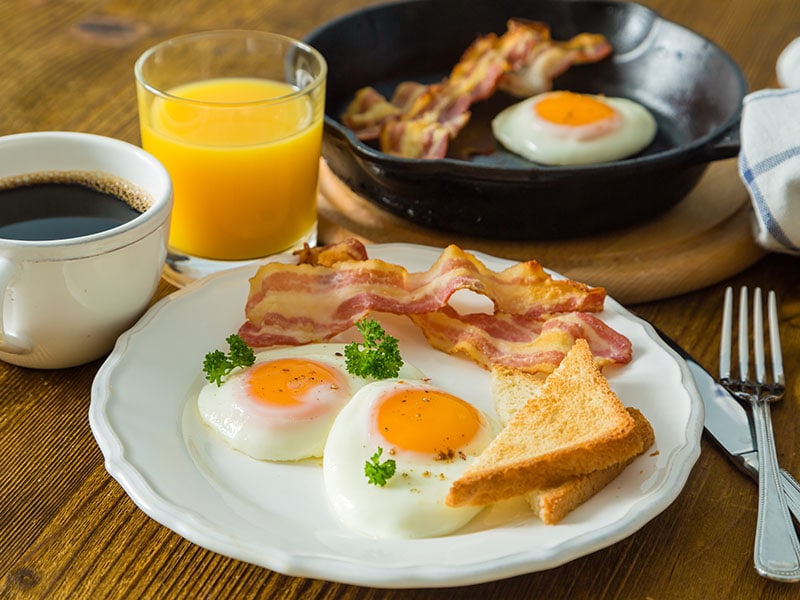 17 Nutritious Breakfast Side Recipes For Active Days
Do you often go through a rather boring morning, grabbing a sandwich and munching on it while making your coffee? The same breakfasts from day to day will stop now. Follow these breakfast side recipes to enrich your breakfast.
Total time: 40 minutes
This is a classic idea to accompany the most convenient sandwich recipes for breakfast. It requires simple ingredients like potatoes, olive oil, spices, and parsley. If you don't like the spices used in this recipe, feel free to choose other seasonings like salt and pepper.
If you want to enjoy crispy potatoes, you can cook the potatoes longer than what the recipe suggests. Keep an eye on your shredded potatoes, or they can burn very fast.
To store leftover potatoes for the maximum duration (4-5 days), keep them in an airtight bag or container in the refrigerator. When you want to serve it for the next meal, you can quickly use the microwave or oven to warm up the potato.
Your great morning should start with this yummy breakfast potato!
Total time: 15 minutes
Hash brown was first mentioned in a cookbook by Maria Parloa in the 1880s. She described this dish as a fried mixture of cold-boiled potatoes folded like an omelet. Let's bring this tried and true recipe to your breakfast table!
Many people feel that hash brown resembles Swiss rosti. The difference is that the hash brown is cooked with cooked potatoes and is like patties. Meanwhile, rosti uses raw potatoes and has a larger shape.
Hash brown can keep its good taste for up to 2 days in the refrigerator. However, if you want to keep it longer, store it at the back of the freezer for up to 2 months. When you need to reheat them, you can use the skillet to heat both sides of the patties.
Total time: 25 minutes
An interesting side dish for breakfast that you should not miss. You don't have to follow many complicated steps to have a delicious breakfast. What you need is bacon, some seasoning, and 25 minutes!
Start with caramelizing brown sugar and coat it with bacon, then add some hot peppers, and that's it! Now you've got some sweet, salty, and spicy candied bacon to serve for your breakfast.
You do not have to use pepper or hot sauce if you dislike spicy food. Pig candy can be stored in an airtight container at room temperature for up to three days.
Total time: 30 minutes
Here is a colorful and nutritious dish that will make your day more vibrant and full of energy. The best thing about this salad is that it can accompany a wide range of diverse breakfast ideas, be it gluten-free, keto, or vegetarian.
In this recipe are fresh fruits like oranges, pineapples, grapes, and berries, which always retain their fresh color and don't change their color. You can also choose any fruit that is available in your home or easily purchased.
However, for easy storage and serving later, you should not choose fruits that quickly turn brown, like apples or bananas. Fruit salad is best eaten right after making it. You can keep them in the fridge, but the juices will make the sauce more liquid.
Total time: 22 minutes
Breakfast is the most important meal of the day, so it stands to reason that you need a nutritious breakfast. I present a fantastic breakfast recipe you can easily follow in no time. Additionally, you can quickly adapt the recipe to make it even more wholesome.
The storage time of leftover cookies is two months in the freezer and two weeks in the refrigerator. When you want to eat those cookies, you can conveniently reheat them in the oven.
You can replace eggs with flaxseed eggs for a vegan-friendly dish. You can also use any nuts you like to make the cake without following the recipe. Good luck with this healthy breakfast.
These healthy breakfast cookies will give you enough energy for all day.
Total time: 35 minutes
A muffin with a combination of peanut butter, oatmeal, and banana will be a great energy source for your new day. For a vegan-friendly twist, you can substitute eggs with chia seeds, applesauce, or flaxseed.
With only 30 minutes of preparation, you have enough oatmeal cups for the whole week. Store it in the fridge and take it out whenever you feel too lazy to cook your breakfast.
With the ingredients in the recipe, you can change the recipe into different versions, like rolled oats, peanut butter, maple syrup, and chocolate chips. You will never get bored with this treat.
Total time: 45 minutes
A nice breakfast with crescent rolls, eggs, cheese, and sausage will give you a simple morning but still full of nutrition. This dish is golden crispy and eye-catching for any child; they will surely devour it when the dish has just been brought out of the oven.
To save time in the morning, you can prepare eggs and sausages and put them in the refrigerator. The following day you just put them together in the oven. This dish can also be reheated during the day to use as a brunch or lunch dish if you have leftovers.
Total time: 1 hour
Baked apples are a simple and quick dish you can easily make every morning to pair with sweet breakfast dishes. Deliciously sugary slices of apple slices coated in a thick layer of cinnamon sauce will be a savior for your busy mornings.
This baked cinnamon apple recipe is enough for days. After that, you can store it in an airtight container and keep it in the fridge for up to 5 days. You can eat this with pork chop for breakfast or serve it as a dessert.
Total time: 35 minutes
Round patties made from turkey sausage will bring a new flavor to your daily breakfast. You should try this new dish immediately instead of eating eggs and plain packaged sausages every morning. Everyone in your family won't be disappointed with this creative dish.
You can serve this turkey sausage dish by sandwiching it between buttered bread and scrambled eggs and cheese. The aromas of sage and fennel give the dish a fragrant and refreshing flavor. I'm sure you'll be completely absorbed in the wonderful flavors of breakfast.
Do you know the best way to make these turkey breakfast sausage patties?
Total time: 25 minutes
A breakfast dish with Greek and Mediterranean vibes will be a new improvement for your boring breakfasts. The dish combines spinach, feta, casserole, Parmesan, and bread crumbs. All those key ingredients come together perfectly to make this amazing dish.
Besides, spinach is a vegetable rich in iron, vitamins, and minerals. Your meal will be much nutritionally better with spinach. You can freely serve this dish at all meals of the day if you like.
You can also prepare the ingredients one night in advance and assemble them for baking the next day to save your morning time. I believe the aroma of spinach, melted cheese, and crispy bread crumbs on top will bring you a light and delectable breakfast.
Total time: 25 minutes
Bacon is quite familiar with your breakfast, but how about air fryer bacon? Enjoy this bacon as usual with fried eggs and sandwiches, and you will have a convenient breakfast. Also, there are many effortless air-fried dishes for breakfast that you can prepare to get the most out of the device.
For leftover bacon, you can wrap the meat in aluminum foil and store it in an airtight container. Under the right conditions, your reddish-orange bacon can last up to 4 days.
Total time: 2 hours 10 minutes (including 1 hour of resting time)
You need to prepare three parts to put together the perfect breakfast sticky buns: sticky buns, cinnamon sugar filling, and caramelized pecan topping. Try to imagine these three parts blending and melting in your mouth. What a flavorful morning!
If you don't like pecans, walnuts or raisins are also great alternative toppings. These dishes are best enjoyed while hot or within the day. If you intend to eat it the next day, store the buns in an airtight container in the refrigerator for up to 1- 2 days.
You can't resist these delicious and cute sticky buns!
Total time: 55 minutes
Take your simple morning meal to the next level with this new recipe. Stack potato slices and bake them with cheese, Cayenne pepper, and other seasonings. You'll have a refreshing potato dish to start your day creatively.
You can add thyme or rosemary to the seasoning mixture to give the dish to enhance the dish's flavor. To make the dish more interesting, sprinkle chopped ham or bacon bits between the potato layers.
Total time: 40 minutes
Bacon puff pastry is a side dish for breakfast and brunch or can be eaten as a snack. With just five simple ingredients: cheese, bacon, eggs, puff pastry, and dried basil, you can easily combine them to create a quality and unique breakfast.
This crispy dish is filled with a cheesy aroma from Parmesan cheese. But you can completely substitute it with another hard cheese to create a yummy side dish for ham, pancakes, toast, and other breakfast staples. Also, be generous with the sprinkled herbs for a different flavor experience.
Your breakfast is missing this amazing sweet and savory cheesy bacon! Try it today!
Total time: 45 minutes
Herbed biscuits with sausage gravy is a classic breakfast dish you should try on a special morning of the year, like Christmas or New Year. This recipe has two stages: baking the cookies and making the sauce.
You'll have hot cookies covered with a cheesy and creamy sausage sauce when you're done. If you don't want to consume too many calories from ice cream, use milk as a substitute for cream.
Total time: 20 minutes
Are you looking for a suitable side dish to pair with a tasty keto-friendly breakfast dish? This recipe is the answer to your prayer! It is quite simple, requiring only 20 minutes to make. You can prepare it in less time by using an Instant Pot.
Let's fill the hallowed avocados with fried eggs, cheese, radishes, and a slice of jalapeno. Remember to choose large avocados, or your filling may spill out of the hollow. If your avocado is small, choose small eggs so that they and other toppings can fit in it.
Avocado egg bake is not suitable for repeatedly reheating as it can affect the taste and texture of the dish. However, you can store leftovers in the refrigerator for the next day as long as you keep the topping in a separate container for the next reheating.
Total time: 35 minutes
These lemon raspberry scones can be served as a breakfast, brunch, or snack of the day. With this simple recipe that I believe anyone can make, you will have a dish that is absolutely wonderful.
This cake comes in two parts: scones and lemon glaze. After baking, the scones have a golden brown color with small pink dots of raspberry. Covering the entire cake is a layer of smooth, creamy lemon glaze that is easy to tempt your palate.
This adorable and sweet cake will be the highlight of any party, and everyone will swoon over the combination of raspberry and lemon flavors. You'll want to put them in your mouth at first sight.
Choose A Simple And Varied Breakfast For Yourself
How to have a simple quality breakfast? The breakfast sides in this article are the answer. The dishes mentioned in this article are effortless to make but still ensure the nutrition needed for your body.
If you have successfully applied these recipes or have any good ideas, do not forget to share them with everyone in the comments section below. Please share this article with your relatives and friends so everyone can have a delicious and quality breakfast!