Breakfast sandwich recipes may sound like an interesting concept for people who are used to eating cereal in the morning. Some people may be hesitant about having a sandwich for breakfast as it can be too filling. But these recipes are a far cry from that thought.
These recipes for breakfast sandwiches are some of the simplest and tastiest sandwich recipes for you to try at home. You will soon realize that these are some of the best kinds of bread you can have for breakfast.
These are the recipes that offer the most benefits for you, from healthy and vegetarian to quick and easy. Once you have a taste of these dishes, you will not want to go back to your ordinary cereal and milk. Let's take a look at what they are!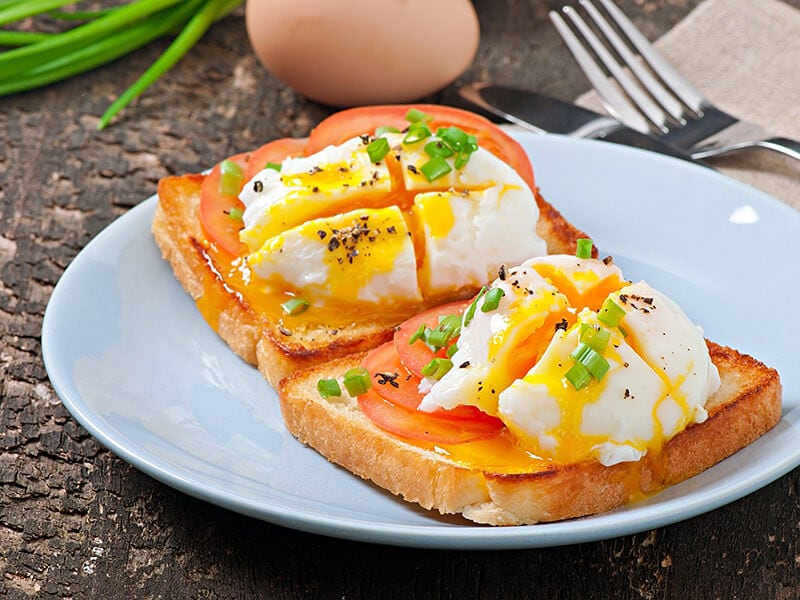 Start Your Morning A Pleasant Way With These Decadent Sandwiches
Some people may think it's quite a hassle to prepare sandwiches for breakfast, but I will show you that it's not true. I will give you straightforward recipes that will give you plenty of time to prepare a few interesting dishes to accompany your breakfast.
Total time: 30 minutes
Give your morning the perfect headstart with this luscious recipe for spicy sausage and eggs in a muffin sandwich. This is a recipe guaranteed to keep you energized throughout the whole day with loads of nutrition in the fresh ingredients.
You probably know about the classic sausage muffins and eggs that many have for breakfast. This recipe will bring that classic dish to a whole new level with the addition of feta cheese, cilantro, and pickled peppers.
As the feta cheese floods the sandwich with its smooth texture and creamy taste, the pickled pepper will make a bold cut to the combination. This all together creates the perfect balance you need in your breakfast muffin sandwich.
Pull out the BBQ and try this recipe for spicy sausage and egg sandwiches.
Total time: 17 minutes
Let's save a spot for my beloved vegan readers. Here is a tasty recipe made with tempeh you will love as it's light and healthy. It also consists of simple vegetarian-friendly ingredients that you can easily find at your local grocery store.
The pan-fried tofu in this recipe works as a replacer for the eggs. Its shade and texture are no different from the fried eggs you usually have in your sandwich. Tofu also provides the amount of protein you need for the day, making this recipe an excellent high protein morning dish.
The tempeh bacon will also offer crispiness and a smoky flavor, while the vegan cheese is just as stretchy as you want it. Thanks to the fresh herbs and vegetables like basil and tomatoes, the sandwich will taste more refreshing and aromatic.
Total time: 20 minutes.
This is another breakfast sandwich with the appearance of cheese. This recipe uses gouda instead of feta cheese. This bacon and gouda cheese sandwich is a famous breakfast item at Starbucks, which you can now recreate at home.
In this sandwich, you're going to use Ciabatta bread. This type of bread has a delicate and sweet taste compared to regular white bread. Ciabatta bread is chewy and quite thick, making it the perfect bread to withhold the filling gouda cheese.
A tip I have to work better with these Ciabatta bread is to butter them before the toasting process. By buttering these bread, you will end up with a crispy surface, which is perfect as they don't get soggy from the eggs sitting on top.
Total time: 10 minutes.
I love having some crispy bacon for breakfast with a side of eggs. However, it can be quite boring sometimes to just have them plain on the plate. So why not try putting them into some bread and make a sandwich?
What's so great about this recipe is how painfully easy and quick it is to make. It only takes no more than 10 minutes to put together such a hearty serving of breakfast sandwiches. This sandwich consists of everything you've been having for breakfast, only better.
Imagine how the suitably crispy bacon lies in between slices of fresh sourdough bread with the runny eggs. Top them with some slices of cheese for extra tastiness to your breakfast. I guarantee that this recipe is soon to be your new favorite dish to make every morning.
Total time: 35 minutes
A patty melt was originally a sandwich consisting of ground beef, cheese, and caramelized onions. However, I'm going to make a small change and offer this highly breakfast-friendly recipe idea.
In this version of patty melts, you will use sausage instead of ground beef. You're also going to add an egg or two for a more filling portion of a breakfast meal. Another thing I should mention is that this recipe will be extra delicious if you use a generous amount of butter.
The butter here is for toasting the bread. It is also nice to add some butter while frying the sausage. Regarding the cheese, I recommend using Swiss cheese for its nutty and sweet taste. It's also one of the healthiest types of cheese you can use for your food.
Total time: 30 minutes
Both you and I are very familiar with the famous combo of grilled cheese and tomato soup. They make the perfect breakfast for dinner treats. Besides, you can also enjoy them at lunch.
Grilled cheese for breakfast may sound like a strange idea. However, you will no longer think so if you try adding eggs and bacon to your grilled cheese. The familiar flavor of breakfast will flood through this grilled sandwich, and you will be pleased.
For grilled cheese, I usually opt for the sweet and slightly tangy. This spicy taste will help cut through the greasiness of the bacon and the cheese, making it more enjoyable.
Who would have known making grilled cheese for breakfast was this easy?
Total time: 35 minutes
This recipe for a bagel sandwich with pesto sauce is everything I live for. What I love about this sandwich is that it's so healthy yet still full of flavors and texture.
Normally you will see pesto sauce as an ingredient for pasta dishes. However, putting this sauce on a pair of bagels and loading them with some eggs and turkey bacon might just be the best decision ever.
When using turkey bacon for this recipe, forget about its calorie intake. The arugula and the avocado will create a sense of nuttiness with a creamy texture to the sandwich, making the sandwich decadent while still keeping the calories under control.
Total time: 15 minutes
Huevos Rancheros is a classic Mexican breakfast dish. It consists of fried eggs that go on top of charred tortillas with a mixture of tomatoes, chilies, peppers, and onions. Let's change it up a little bit and replace the tortillas with some English muffins.
You may be wondering what difference English muffins make compared to corn tortillas. The truth is, each version has its unique taste that I can't compare. This twist is only a change that adds a factor of excitement to the dish. Some people might even like it with the muffins.
This delightful recipe is extremely easy to make. In the sandwich, you will have classic Mexican foods like refried beans, guacamole, and salsa ranchera. And what's a breakfast dish without eggs and bacon?
This combination is going to create such a pleasant sandwich for you to enjoy first thing in the morning. It also works as a quick and healthy lunch menu item that you can easily pack with you to work.
Total time: 15 minutes
Lox bagels have always been a famous New York treat. Now imagine having that special treat for breakfast now and then. That would make me one happy person! Lox bagels on their own are already a mouth-watering dish, but there's no harm in adding some scrambled eggs to the bagel.
Lox with cream cheese is a decadent combination, but adding eggs and onions might take it to another level. While the cheese is creamy, the eggs are fragrant yet plain enough to support the flavor of the lox. Then you have some onions to add a slightly powerful taste to the dish.
Total time: 15 minutes
I know that BLT or Bacon – Lettuce – Tomato is a favorite for a lot of people when it comes to a sandwich for lunch. In my opinion, it's even better if the sandwich can be eaten during breakfast.
However, it's not truly a breakfast meal until you add some eggs to it. So let's do just that and elevate the sandwich to a new level.
Even though eggs are just a simple addition to the sandwich, it adds so much more creaminess and flavors to the sandwich. If you prefer runny eggs, this recipe is perfect for you as the runny egg serves as a binding agent to the other ingredients.
Total time: 25 minutes
This is another version of the classic eggs and bacon sandwich that you will surely love. This Guacamole breakfast sandwich is what I call a spin-off version of a breakfast burrito. To be more specific, this recipe is a simpler version of a breakfast burrito yet still very luscious and filling.
This sandwich consists of bacon, a couple of fried eggs, and some guacamole. While guacamole makes an excellent dip for your tortilla chips, it's also a great and healthy spread for your toast. A generous layer of guacamole will add a smooth texture to your sandwich.
The guacamole in this recipe is also great as it acts as a complementing ingredient for the bacon. The bacon can sometimes get a bit salty, and what better way to balance out the saltiness than by adding some creamy, yummy guacamole?
Total time: 2 hours 30 minutes
Although this takes a bit more time to make, I promise the final product is going to be worth it. Rou Jia Mo is a type of bun with a filling of slow-cooked pork. The name Rou Jia Mo directly translates into "meat in a bun".
The star of these Chinese pork buns or burgers has got to be the pork in the filling. To make the filling, you will need to marinate and cook the pork until it turns soft enough to shred with your hands or with a fork.
The pork will also amaze you with its depth of flavors as this recipe uses spices like star anise, cinnamon, cardamom, and galangal. This spice mix helps bring a sense of complexity to your palate, letting the meat unfold its flavors one layer at a time.
It is best to cook the pork beforehand. By doing this, you can allow the meat to absorb the juice and broth, packing it with flavor and moisture.
Now, you can make Rou Jia Mo at home with this simple instruction.
Total time: 13 minutes
To a few, putting strawberries in a savory sandwich menu item is something strange. However, I am sure that this tasty recipe of panini with turkey, strawberries, and cheese will satisfy your palate in the best way possible.
The smoked turkey is the base for this sandwich, while the strawberries and the Brie cheese are what bring the sandwich to a higher level. You will be able to taste the musky and fragrant flavor from the turkey as the fruitiness of strawberries cuts through.
And things don't stop there. You will also feel the buttery flavor from the Brie lingering on your tongue, making you want to go in for another bite.
Total time: 25 minutes
Let's put the pancakes aside and make some mustard with the maple syrup! This recipe will prove just how delicious maple syrup is as an ingredient. The combination of maple syrup mustard together with bacon, sausage, eggs, and cheese is going to get you hooked on it.
This yummy croissant sandwich recipe is perfect for those who prefer a little bit of both sweet and savory tastes in their food. This sandwich skillfully smoothes out your palate with mustard while filling you up with the rich bacon and sausage, the runny eggs, and the stretchy cheese.
The mix of mustard sauce and mayo is a perfect symphony of powerful taste and creaminess. When spreading this sauce onto your toasted bread, you will elevate the sandwich tenfold with the bursting flavor.
Total time: 9 minutes
Here's another convenient recipe with brie cheese you will need. And no, I'm not introducing to you the same recipe twice. This recipe for grilled cheese is slightly different as it includes a type of juicy fruit: blueberries.
Blueberries make a good breakfast ingredient, and this grilled cheese with blueberries is no exception. The grilled cheese sandwich in this recipe also calls for Brie, a buttery and creamy cheese that complements blueberries very well.
Since Brie is a little subtle and not as powerful-tasting compared to other types like blue cheese or Camembert, it goes very well with ingredients that pop out more like the blueberries. And vice versa, the fruitiness from the blueberries will help cut down the creamy texture a bit.
Total time: 50 minutes
I used to find it weird to eat fried chicken for breakfast. Then I came across this recipe and became hopelessly drawn to it. Now all I feel is joy when I make this recipe for a few mornings every week.
This recipe is the perfect dish for when you crave chicken but don't want a large serving of it. This sandwich is also a healthier option compared to chicken and waffles for breakfast. The ingredients are also more versatile, such as fried chicken, eggs, and some spinach.
These muffin sandwiches are perfect small bites of fried chicken that help ease your hunger for fried chicken. They provide you with nutritious values like protein and fiber from the eggs and the spinach while still giving you the joy of eating crispy chicken.
This instruction is for you if you're looking for a way to make a fried chicken sandwich for breakfast.
Total time: 40 minutes
Yet another perfect combination of sweetness and savoriness in a sandwich. This time, it's the cinnamon swirl that you're using as the sandwich bread.
The cinnamon swirl is a variation of cinnamon rolls, a famous sweet roll originating in Europe. You will find that its taste complements the filling of sausage, bacon, and hash browns very well.
Even though the filling may suggest a fatty and greasy breakfast, this dish is hearty just right. This means it doesn't leave any heaviness in your stomach after the meal, giving you a comfortable feeling.
Total time: 20 – 25 minutes
The name of this sandwich may not sound like the most inviting dish. However, its recipe begs to differ. You will notice how hearty and luscious this sandwich is as it includes smoked ham, Gruyere, fried eggs, and spicy mayo.
The brief description of the ingredients may have already impressed you with how majestic the sandwich is. Allow me to elaborate a little bit more: the buns in this sandwich have the perfect amount of butter before the toasting process, making them extra crusty.
Then, you will build these beautiful layers of sliced ham, a fried egg, and some melty Gruyere. These three ingredients are, in my opinion, the perfect trio as they only bring out the best flavor of the sandwich.
This sandwich is another dish that I think should be eaten moderately as it can overload you with calories if you try it regularly. So please keep that in mind.
Total time: 15 minutes
You may have heard of Croque-Monsieur, a hot ham and cheese sandwich from France. Now meet Croque-Madame, its counterpart with the addition of bechamel cheese sauce and a fried egg on top.
Allegedly, this heavenly-tasting hot sandwich goes by Croque-Madame because the fried egg on top resembles a wide-brimmed hat that the ladies usually wear. This sandwich recipe is perfect for a slow morning when you have extra time to savor your breakfast with a cup of coffee.
By slowly cutting into the egg, you will reveal layers of ham and cheese underneath the runny yolk. Usually, I would choose Gruyere cheese to make Croque-Madame as it's extra stretchy and buttery.
Total time: 20 minutes
This sandwich is a world-renowned delicacy from Cuba that countless people enjoy eating. Having this sandwich for breakfast is the best thing anyone could ever ask for, don't you agree?
This recipe is another recipe for egg lovers. In addition, you're going to use English muffins instead of long Hoagie rolls like in the authentic recipe since it's a breakfast meal. The eggs and muffins are just what you need for breakfast.
And it's a sin for me not to talk about the salty roast pork and the hot sauce that you will end up loving. They make the Cuban sandwich the amazing dish that it is. Without these two ingredients, the sandwich would be plain and lackluster.
You should try this recipe for a quick and simple breakfast Cubano sandwich.
Total time: 25 minutes
Let's close this list with a breakfast classic, French toasts! However, let's turn these pleasant toasts into a sandwich since this is the theme of this post, and it will taste much better that way.
The usual French toast, you only has some powdered sugar and syrup. This recipe will include a savory taste by adding some ham and cheese. The toast will also be a bit more indulgent since it includes some heavy cream.
Whisk the egg with the cream for the dipping solution to make your toasts more indulgent and filling. The texture of every component in this sweet French toast and Gruyere cheese makes it a dish worth trying every once in a while.
Sandwich For Breakfast Makes A More Fulfilling Meal
I know it can be tempting to opt for a quick meal of cereal and milk in the morning. But sometimes, having quality food in the morning is a great way to boost your mood and energy for the long day ahead.
These recipes are what I believe will elevate your breakfast experience to a new and better level. They not only provide you with healthy nutrients but also flatter your appetite for the meals to come.
If you like what you read about in this post, give this post a share so other people can reach these incredible recipes as well. I would also love to hear what you think about these recipes in the comment section below. Thank you, and have a good sandwich!