Do not miss out on these best breakfast ideas in this article because you might regret it later. Believe me; I am not exaggerating. These meals already sell themselves through their visuals. What's more, they are not challenging ones that might cost you a day in a kitchen.
Breakfast is one of the most important meals of the day. However, with busy modern life and overloaded work, many people have chosen to skip this meal. And it might result in some problems like increasing diabetes risk, impacting metabolism, or causing migraine.
Therefore, if you want a healthy lifestyle, let's give these breakfasts a shot! So are you ready to impress yourself and your family as well? I will walk you through amazing dishes with several insights.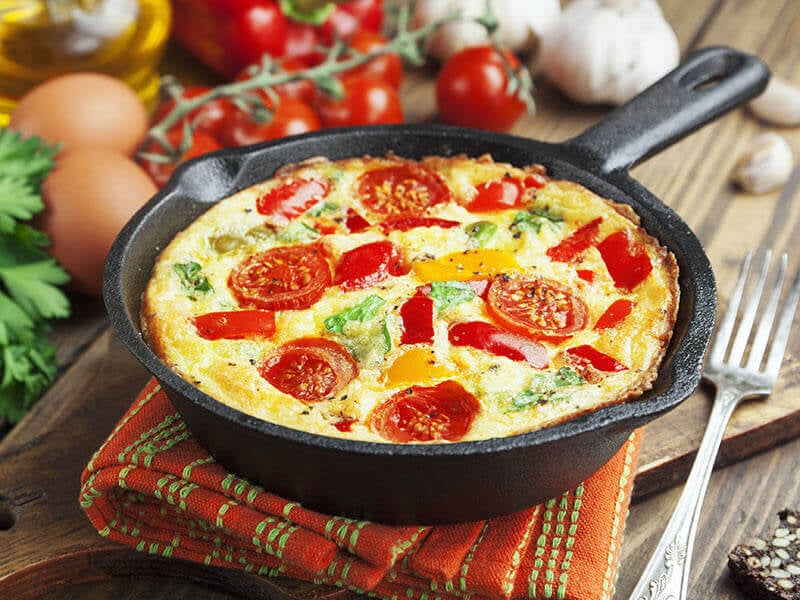 The List Of 52 Yummy Breakfast Recipes For You and Your Family
These ideas are either sweet-flavored morning meals or mouth-watering savory breakfasts to ensure you have more options. Let's begin with a sandwich recipe, but it is not a regular one!
Total time: Around 25 minutes
In less than 30 minutes, you will have a no-fuss croissant sandwich loaded with flavors. Eggs, milk, ham, cheese, and seasonings are what you need to prepare this sandwich.
However, unlike normal sandwiches with 2 slices of white bread, this recipe adds a little twist with croissants – a staple delight in French and Austrian bakeries. And a perfect croissant should be chewy, flaky, and buttery.
After cooking the egg mixture with milk and flavorings, you will stuff them inside the croissant with a bit of cheese. After that, bake them in the oven at 350 F degrees until the cheese melts. If you want to store the leftovers, use foil to wrap your food and keep it in a ziplock bag.
Total time: 25 minutes
Breakfast with cookies is the perfect on-the-go idea for busy people. The best thing about this treat is you can make a big batch and store it in the fridge (up to 4 days) for later use, reducing the cooking time for breakfast.
The main components here are banana, oatmeal, and chocolate chips. And the preparation cannot get any easier as you just have to mix ingredients, then scoop the dough with a spoon or a cookie scoop to place the cookies on a baking pan.
Please note that the ideal thickness of a cookie is from 1/2 to 1 inch. That's it! An oven will take care of the rest of the making process. The result is 12 soft, chewy, and healthy cookies that you might want to make again and again.
What tricks make banana oatmeal cookies excellent without using milk or egg? Here is an answer.
Total time: 35 minutes
Enchiladas are a famous Mexican-style specialty comprising corn tortillas with filling and served with sauce. There are unlimited variations with various types of fillings, but if you are a huge fan of scrambled eggs, potatoes, black beans, and cheese, you should save this recipe now!
Another big star to boost the overall flavor is the ranchero sauce. To make it, you will need an oven and a baking pan to place enchiladas. Do not forget to coat a light cooking spray on the pan surface to prevent stickiness.
Plus, you should place the seam side of these rolls down on the baking pan, then top them with the sauce and shredded cheese. And in around 15 minutes (or 10), your baking breakfast enchiladas are ready to enjoy when the cheese starts to melt.
Total time: 1 hour
Do not let the total time frustrate you. This cooking recipe is an awesome make-ahead breakfast that you can prepare on weekends and serve on weekday mornings.
Like enchiladas, burritos are another highlight in Mexican cuisine, including tortilla rolls with fillings. To differentiate them, please remember that enchiladas utilize corn tortillas, while burritos go with flour tortillas.
To create this filling breakfast, you will need breakfast sausage, tater tots, eggs, beans, and other components. And it is easier than you think. Do not skip cooking the sausage and crumble it so the excess fat can be drained.
You can make them a month ahead and freeze your food in a freezer, as long as you wrap them in foils and store them in a ziplock bag.
Total time: 45 minutes
One of the most well-known cuisines in the world is Mexican, and Mexican-style breakfast is a true work of art, like this fresh Huevos Rancheros. For more information, this name can translate to "ranch-style eggs".
Indeed, it is hard to refuse it since it looks like a fine-dining treat with many contrasting colors on a plate. Loaded with salsa, poached eggs, tortillas, and refried beans, Huevos Rancheros feature a lovely and scrumptious breakfast.
Typical Huevos Rancheros is topped with Pico de gallo. It is a fresh salsa made from chopped onion, tomatoes, cilantro, and seasonings. With these ingredients, you can imagine the diversity in the textures of this dish.
In a bite, you can feel the softness of tortillas, eggs, refried beans, and crunchy salsa. Overall, it is a wholesome and well-seasoned morning treat that you will love.
Total time: 5 minutes
If you are looking for a morning meal with sandwiches, this Polish delight is an ideal answer. Who imagined that with only 5 minutes, you would have various yummy slices of sandwich.
This Polish specialty is Kanapka. It is an open-faced sandwich with different fillings on the top. You will start with spreading the butter over the sandwich slices, then top it with various vegetables (like tomato, cucumber, radish), sausage (or ham), cheese, and eggs.
Do not miss adding sauce and a few chopped chives to make them look more attractive. This breakfast allows you to maximize creativity as you can use any of your favorite toppings. Kanapka is also ideal for serving as lunch.
Total time: 9 minutes
Scrambled eggs have always been a favorite breakfast idea around the world. So how does it look in Mediterranean style?
Speaking of this cuisine, the combination of feta cheese, tomatoes, and spinach seem to be familiar to many of you. And this dish is no exception. Of course, you will mix these components with eggs to make this meal.
In general, this egg-based treat will offer you a perfect balance of juicy tomatoes, mildly sweet spinach, and a little bit of tanginess of feta cheese. It is also a nutritious meal to start a new day as these components include various minerals and vitamins.
Total time: 20 minutes
Are you a health-conscious person? Here is a quick and wholesome breakfast with an extra protein level. It is also a high-in-fiber treat in the form of cookies, hence more convenient to bring along.
It is hard to be functional and productive if your breakfast lacks protein. I used to be so tired in the morning as I usually skip breakfast, but since I found this cookie recipe, my life has changed.
You do not need to buy any fancy ingredients to make a big batch of them. With rolled oats, cinnamon, banana, peanut butter, and some plant-based components, you are all set to have a healthy meal in the morning.
Making them is straightforward as well as you only need to combine all ingredients and shape them into 12 cookies, then bake them in around 15 minutes. That's all!
Total time: 20 minutes
The concept of breakfast that can be dinner is not new. So if you want to reduce your cooking task, the skillet breakfast potatoes is an excellent idea to enjoy in the morning and at night.
The softness and subtle sweetness of potatoes are the highlights here. However, by mixing it with seasonings and herbs, they become a burst-in-flavor treat to wake you up from the sleepiness in the morning.
The seasonings you need to prepare are garlic powder, paprika, onion powder, and a bit of cayenne. Regarding the potatoes, you should cut them into small pieces (around 1/2 inch).
During the cooking, ensure to toss them frequently with other ingredients so they can blend well and cook evenly.
Without a doubt, these small golden brown pieces in skillet breakfast potatoes totally deserve a try!
Total time: 1 hour 10 minutes
Though this one is not a quick meal, you only need to spend 10 minutes on the prep part. It means this breakfast is still an easy one for every home cook.
This is an Amish breakfast casserole made with eggs, bacon, cheese, potatoes, and seasonings. It is a baked treat that offers a hearty dish to begin your long day. And this casserole is also perfect for feeding a crowd, especially on Christmas morning.
Besides these main components, you can swap for your favorite ones, such as pepper jack and Colby cheese, ideally in place of the cheddar. However, cottage cheese should not be replaced by others as it is the key component to ensure the perfect richness of the dish.
For serving, please slice your casserole into smaller pieces (up to 12 pieces). If you have leftovers, keep them in the fridge for (up to 5 days) or freeze them (maximize in 2 months).
Total time: 5 minutes
Waking up with a cup of coffee is a basic breakfast idea in Italy. Speaking of well-loved coffee in the country, it is a big mistake if I do not mention cappuccino.
If you are a coffeeholic, you might already own an espresso maker at home, right? So let me show you how to utilize it and create a flawless cappuccino. First, it must be about the ratio of espresso to milk. So please stick to the instructions for the best result.
In order to add more flavor to your coffee, ground cinnamon or cocoa powder is preferable.
Total time: 1 hour (excluding resting time)
In case you crave a sweet casserole, a berry French toast casserole will meet your requirement. The berries you will use here are blueberries and strawberries, which are rich sources of antioxidants and other nutrients.
In this recipe, I prefer fresh fruits for a better outcome. That's why it is one of my favorite treats in the summer when I can easily buy these sweet-and-tangy berries.
If you have a few-day-old bread, it would be better in this case because it can soak the egg mixture more efficiently. And it requires a few hours to rest the bread in the egg mixture for better absorption before baking.
Total time: 1 hour 32 minutes
Quiche is a French-style tart with a pastry crust covering savory egg-based custard. In this recipe, you can taste a flavorful breakfast including bacon, spinach, eggs, and other creamy ingredients.
It is, basically, a breakfast, but you can enjoy it any time of the day and on any special occasion that you like. Indeed, this bacon spinach quiche has a look of a savory tart with a prominent yellow shade infused with a green touch of veggies.
Its texture is also delightful, custard-like, and creamy. Each forkful delivers a delicate mouthfeel. However, you might end up with a soggy one if you do not know this trick. For perfect quiche, you should pre-bake the crust before filling the tart with other components.
Total time: Around 35 minutes
What do people normally have for breakfast in the Hawaiian style? Let me give you a simple answer with these sliders.
It will only ask you 5 minutes to prepare by making scrambled eggs and assembling the ingredients on a baking sheet. To increase the golden hue on the top of these sliders, you should coat it with a layer of syrup and butter over the rolls.
However, this recipe is not ideal for making ahead as it might result in soggy sliders. But you can still prepare the ingredients and assemble them the next morning to save time. If you want to serve them for brunch or dinner, please do not hesitate as this delight is very flexible.
Total time: 35 minutes
Do not fret when you see the component list to make this lasagna, as the final result will totally blow your mind away. Salsa, hot sauce, or avocado are among my favorite partners for this lasagna to enhance its creamy and gooey texture.
Lasagna is inherently an Italian dish, but with a touch of Mexican-styled components like corn salsa, chorizo, and tortillas, this dish seems to be the finest twist to combine 2 well-loved cuisines.
On the other hand, the making process is not too hard since most of the tasks are to layer the ingredients into a baking dish. What's better, you can make it in advance and bake it later to ensure you will have a quick and comforting breakfast.
Total time: 1 hour
Simple banana bread has never failed me once. In this wonderful sweet bread recipe, I will show you how to make them healthier without using oil and sugar yet not compromising any goodness.
Instead, I opt for pure maple syrup and almond butter instead of regular sweeteners. It does not only add more moisture to your bread but also makes it more delectable. Furthermore, using oat flour and quinoa flour is better for those who are gluten intolerant.
It is also a vegan treat as I substitute the eggs with ground flax seeds. The texture of these seeds mixed with water assembles the egg's texture. And guess what, it is high in fiber and omega-3, increasing the quality and nutrition in every slice of this banana bread.
After baking it until golden, you will have a soft, fluffy, and so delicious bread loaf that is irresistible.
Banana bread is the ultimate breakfast to make at home!
Total time: 1 hour
Let's breathe new life into frozen tater tots, bacon, breakfast sausage, and other store-bought components with this idea! And it is even more awesome if you serve it on a winter morning.
Tater tot breakfast casserole is a delicate yet scrumptious food. Plus, the golden brown of melted cheese and tater tots with a bit of chopped parsley on the top is truly appealing.
If you do not have too much time in the morning, this one allows you to prepare ahead of time, but you must cover the casserole with foil and keep it in the fridge. When ready to enjoy it, take them out and bake them on the middle rack at 350 F degrees for around 35 minutes.
Total time: 35 minutes
Say goodbye to normal sweet muffins with these bright muffins made with cheese, bacon, and spinach. Every bite is full of flavor and texture to provide you with a nutritious dish in the morning.
They are also extremely ideal as a finger-food-style breakfast that you can conveniently grab and enjoy on the go. So how should you note to prepare them?
First, you should cook bacon and drain its excess fat. After that, it is time to make the muffin batter and combine the batter mixture with bacon, cheese, and veggies until they blend well. Using a muffin tin to bake it is a must.
If you are unsure how to know your food is cooked thoroughly, use a toothpick and insert it into a muffin. If a toothpick comes out clean, it means your cute, small treats are ready to serve.
Total time: 25 minutes
Honestly, I am not a morning person, but since I have tried this egg-based dish, I usually wake up early on the weekend to immerse myself in this goodness named Shakshuka.
This is a North African and Middle Eastern delicacy normally eaten in the morning (or for any meal of the day). Shakshuka combines tomato sauce, spices, poached eggs, and more. There are also various versions of Shakshuka made with cheese or meat.
But as a wellness-oriented eater, I keep it simple with different healthy components, such as bell pepper, spinach, basil, and herbs. In addition, you do not need an oven to make Shakshuka. A lidded pan and stovetop are more than enough to create a masterpiece on the dining table.
For the best experience, serve your Shakshuka with a couple of slices of sourdough bread!
Total time: 20 minutes
Pancakes are another basic idea for breakfast. But to make them more special, I prefer almond flour instead of a normal one as I expect soft and nutty pancakes. And these fluffy treats totally meet all of my demands.
Besides the flour, you will need eggs, almond milk, baking powder, and other flavorings to ensure your pancakes go out perfectly. Though they are tasty on their own, a couple of blueberries and maple syrup drizzle is an outstanding addition.
These almond flour pancakes are as tasty as the traditional version. They are also gluten-free.
Total time: Approximately 20 minutes
Utilizing an air fryer to make meals never go out of style, especially for those who always seek something healthier. Therefore, one thing to be sure about these breakfasts cooked in an air fryer is their benefit for human health.
For more specific, these egg bites contain nutritional components like eggs, goat cheese, almond milk, and vegetables, offering you a keto-friendly morning meal.
Making them is a breeze as well because you just need to mix them in a big bowl and fill the mixture in many small silicone cups before baking.
Total time: 40 minutes
After trying these cranberry orange scones, you might want to make them weekly as your kids will surely love them. What I love most is the divine smell spreading in my kitchen when I bake these scones. So heavenly good!
Its attractive appearance is also a big plus, making it suitable for any holiday breakfast. Apparently, the golden brown scones are a beautiful blend of fresh cranberries, orange flavor, and other aromatic seasonings.
These scones are ideally served warm. And it looks even more stunning with a glaze over the top. But keep in mind, if you want a flaky scone, the butter must be cold, not at-room-temperature. If possible, keep all components chill in the fridge before using.
Total time: 30 minutes
Are you searching for a nice morning dish for birthdays? If your answer is yes, I have a perfect delight that you can hardly say no to. These are funfetti pancakes, featuring colorful and fluffy treats.
There is nothing that can stress you out from making them. With easy-to-buy ingredients/tools and simple instructions, you can whip up these pancakes in around half an hour. Most of the time is baking time, so all you need here is a little patience.
For nice-formed pancakes, you should not press down on them after flipping so they can puff up. Plus, overmixing the batter is a big no-no. If there are lumps, it is still acceptable.
Total time: 30 minutes
What other comforting dish to enjoy in the morning? This delicate Greek-themed breakfast is another twist of your typical frittata with a friendly combo of spinach, tomatoes, feta cheese, onion, and fresh herbs, particularly oregano.
The beauty of this vegetable frittata is how fluffy, light, and springy it is. Do not overcook as it might end up crumbly and rubbery, which is not appetizing at all.
You will need the help of the oven to make this meal. But what will make you love it more as this is a one-pot meal, meaning you do not have to clean a lot of things after enjoying it.
If you prefer a Mediterranean vegetable frittata for breakfast, this tutorial will open your mind!
Total time: 10 minutes
This breakfast tortilla wrap is another Mexican delicacy that you have to try because it only requires a few ingredients. Plus, even if you are new to cooking, you can still nail it in no time.
Let's begin with slitting a big burrito-style tortilla into quarters. Then make scrambled eggs and transfer them to the tortilla right after cooking. Spread other components like mashed avocado, salsa, and cheese on the remaining three quarters.
The final step of the prep part is to fold these quarters over others until a triangle appears. After that, throw it on the skillet and cook it for 2 to 3 minutes on each side until the edges are crunchy
Total time: 15 minutes
There are abundant morning foods in the American style, but this 15-minute pizza bagel is a ten that I guarantee you and your family will devour in a blink. And making them at home is a cost-efficient solution as what's in these bagels is so affordable.
With only 5 main components, you will have yourself a batch of mouthwatering bagel sandwiches with melted cheese, bacon, and eggs as toppings.
These foods can freeze well, so if you want to enjoy them later, wrap them tightly and store your bagels in an airtight container in the freezer.
Total time: 17 minutes
Similar to pancakes, light and airy waffles is a classic idea for a speedy breakfast. But first, make sure that you have a waffle maker at home.
With some basic baking ingredients, all you need to do is mix them until well combined and pour the mixture into the maker.
I know many of you would like to make them in a big batch with many fluffy waffles. So if you wonder how to keep them warm, just place your foods in the oven and set a low setting (at 200 F degrees). And please note that you should not stack them on the plate as it will reduce the crispiness.
Total time: 25 minutes
Kimchi is a signature Korean food. So if you want to make your egg-based breakfast with the Korean vibe, the kimchi egg skillet is a must-try one.
The appearance of oyster mushrooms makes them more "Asian". Altogether, this meal delivers a full-of-flavor breakfast with spicy kimchi, creamy eggs, and earthy mushrooms.
Plus, the sauce mixture made from lemon juice, chili garlic sauce, tamari, and mayonnaise is a great drizzle to go with the treat.
Total time: 20 minutes
Stovetop, oven, crockpot, what other cookware can you use for cooking meals? Do not overlook the convenience that an instant pot can offer. Therefore, this breakfast dish cooked in an instant pot is one of the best solutions for busy people.
Breakfast tacos with the fillings cooked in this device are truly a life saver as all you have to do is prep the ingredients and mix them in an instant pot. Keep in mind to seal the vent and select an "egg" setting to cook the mixture on high pressure.
After 15 minutes, let the steam inside the cookware release for 5 minutes before opening the lid. This step will make sure you can prevent unexpected burns. And the final part is to assemble the egg mixture on the tacos with shredded cheese, green onion, and lime juice.
Total time: 50 minutes
Blueberry is a high-nutrient and low-calorie fruit that you can consume daily, in appropriate amounts, of course. So what is an ideal blueberry dish for mornings? My answer is these vegan bars.
You will never go wrong with this decadent as its balanced sweetness of blueberries, oat, and lemon juice will melt your heart. With other healthy components, these bars can boost your energy for a day perfectly.
Moreover, they are simpler than it looks, with 3 main steps of making. When making the dough for the base, if it is too dry, you can add a bit of water.
Try these nutritious blueberry snack/breakfast bars and taste their deliciousness.
Total time: Around 4 hours 40 minutes
What dish do you usually make in a slow cooker? My favorite is this super easy crockpot breakfast called bread pudding. It is not only an amazing breakfast but also a sweet dessert that everyone would ask for more.
Things you need to have to make this pudding might already stay in your cabinet. They are white bread loaf, eggs, milk, cinnamon, and some minor components to make them more flavorful.
The prep is straightforward, too, as you only need to cut your bread into small cubes, mix them with other ingredients and toss them in a crockpot. Extremely easy, isn't it?
Total time: 20 minutes
Morning meal with soup, why not? This is a special delicacy deriving from Bogota – the capital of Colombia. It typically comprises milk, eggs, scallions, and water. Therefore, its texture is very milky with a savory hint.
Although Changua is mostly served as a hearty breakfast, it is also a late-night dish as many people consume it as a good way to treat hangovers.
You can poach the eggs or cook them a bit longer for firmer yolk. It also depends on your preference as it does not affect the soup's deliciousness. Finally, enjoy it with some toasted bread slices for a fulfilling meal.
Total time: 30 minutes
When it comes to a simple breakfast in Vietnam, bánh mì (bread in English) and its pairings always make me salivate. If you love meatballs, this recipe will definitely become your go-to morning food.
Do not assume it might taste like Italian-style meatballs! This delicacy uses ground pork seasoned with simple flavorings (salt, pepper, minced garlic, and onion). The sauce paired with it is tomato-based, but it tastes nothing like Italian spaghetti sauce.
Why? Because it is seasoned with soy sauce and fish sauce – the 2 iconic Asian sauces that you might easily buy in Asian markets. You can add cornstarch mixture to make the sauce thickener.
Total time: 55 minutes
What should you do to prepare a healthy whole30 breakfast dish? Let me show you the hashbrown and sausage casserole, and I am pretty sure its richness and creaminess will enchant you for the first bite.
You can serve it for dinner as well. No need to use any dairy product. That's why this casserole is also healthier without reducing its quality. In this case, I choose cashew cream (or coconut milk/cream) to make them creamier.
It is acceptable to use frozen hash browns. But ensure you will thaw them before making this delight.
Total time: 30 minutes
They say an apple a day keeps the doctor away, so including this fruit in your morning delight is never a bad option.
Thanks to the addition of quinoa, this breakfast idea with apples is packed with protein and fiber and makes your stomach happy. With a touch of cinnamon and honey on the top, your food also tastes so addictive.
Overall, if you need an aromatic and good-for-health delicacy to energize you all morning long, save this recipe now!
Total time: Around 53 minutes
The delicious muffins with oatmeal, chocolate chips, and pumpkin is another great grab-and-go breakfast (or snack). So whenever the fall is coming, do not miss a chance to try this pumpkin morning treat.
These bite-sized meals are easy to throw together because the only prep is to stir all components to create the batter. Then pour the mixture into the muffin tin and bake them.
However, do not enjoy it right after you take them out of the oven. Let your muffin rest for 20 minutes, as removing the food from the tin would be much safer. Moreover, muffins are prone to breaking when they are still hot.
Total time: 1 hour 20 minutes
The list of breakfast recipes in China is very long. But in case you are looking for something that can help you recover from the sickness quicker, nothing is better than a hot bowl of white congee, also known as rice porridge.
It is not a fancy dish, but it contains various flavors from chopped veggies, pickled ginger, garlic, eggs, and peanuts. On the other hand, you can choose your favorite topping to add.
Similar to the above porridge, cooking the rice takes a certain time. You can make this dish in a rice cooker if your device has the "porridge" setting. If you have leftover white rice, you can also use it to make porridge to save more time.
Your stomach is not happy today? Well, this Chinese-style congee can fix it.
Total time: 35 minutes
You have too many leftover hams, but you do not know what to do with them? Let me help you with this yummy breakfast made with puff pastry. And no one can recognize that you use the leftovers.
These buttery and flaky pastries look like those you usually see in bakeries, which means they are delicious and beautiful. And there is nothing better than making them yourself.
Of course, it is not a difficult recipe, as long as you gather enough ingredients. But please kindly remember that your puff pastry must not be frozen when making this meal. And use a sharp knife to cut it into nice-looking pieces (around 5×5 inches).
A light layer of beaten egg on the top is highly recommended to increase the golden hue after baking.
Total time: 20 minutes
Here is an excellent idea for breakfast at the potluck as you can share it easier with everyone. Charcuterie board is a fun treat including various types of foods, such as fruits, veggies, cheese, cured meat, etc.
In this recipe, the appearance of mini pancakes, croissants, eggs, and granola makes the board look more wonderful. You do not have to make croissants and pancakes from scratch. Go for the frozen ones and reheat them in the oven for more convenience.
Total time: 10 minutes
Serving drinks for breakfast, like smoothies, is another quick way to fuel your body. Many people choose to wake up with the nice scent of coffee, but here is a twist that can upgrade your normal cup of coffee to a new level.
This is the banana coffee smoothie. You can already guess the main ingredients from its name, right? There is more than this. Cacao powder, vanilla extract, and milk are other things you need to add to this smoothie so they can come out creamy and refreshing.
Plus, please use frozen bananas to make it more enjoyable. If you forget to freeze it the night before, you can add some ice cubes to your blender. But the machine must be strong enough to puree ice.
Total time: 1 hour 10 minutes
Jok Moo is a no-fuss breakfast in Thailand, and it has spread its popularity worldwide, thanks to its delicate flavor with easy directions.
It is basically rice porridge with pork meatballs. When it comes to porridge, the first thing that pops up in your mind must be its comforting, right? As Jok Moo always tastes best when served hot, this porridge is an outstanding meal to enjoy on chilly days.
It might take more than 1 hour to complete making it. Particularly, cooking the rice tender enough to collapse is the most time-consuming part. In contrast, making the meatball is foolproof as you just need to combine ingredients and shape them into ball-sized forms.
Total time: 30 minutes
If you need a French meal for the morning that fits your tight budget, I do not think there is any better solution like this easy Pain Au Chocolat (aka French chocolate croissants). With only 3 components, such as puff pastry, chocolate chips, and milk/oil/aquafaba, to brush on the surface.
Another good thing about these croissants is their simplicity in prepping. Do not forget to thaw the frozen puff pastry first. Once the puff pastry is ready, spread it on the floured work surface to limit the stickiness. You should cut it into 4 (for big croissants) or 8 parts (for smaller ones).
After rolling them, you need to brush the tops with the liquid ingredient I mentioned above. Finally, bake your croissants for around 20 minutes until these rolls turn a golden brown. Flaky, sweet, and melt-in-your-mouth, please do not feel guilty about enjoying a lot of them.
A beautiful work to create Pain Au Chocolat is waiting for you to explore.
Total time: 40 minutes
Let's find out what a true Filipino breakfast looks like with this recipe called Tortang Giniling. For more information, the word "torta" refers to various dishes, but mostly flat cakes. And the term "giniling" is "ground meat" in Tagalog.
In this case, this is an easy and tasty omelette dish mixed with ground beef and vegetables that you can enjoy as breakfast, lunch, or even a snack. In the Philippines, many locals serve it with fried rice and banana ketchup for the most fulfilling meal.
In general, this omelette idea is soft and flavorful, with different textures in one bite. However, since they contain different ingredients, it might be hard for you to flip them if you use a large pan. So I recommend making them into pancake-sized ones (around 3-inch diameter) for easier flipping.
Total time: About 10 minutes
Indian cuisine is famous for its burst-in-flavor dishes, and so is its breakfast. Among many Indian breakfast options, I choose Rava Idli to introduce as it only takes around 10 minutes to make them.
They are steamed semolina cakes that are especially prominent in South India. They comprise chopped curry leaves, yogurt, baking soda, and obviously, semolina flour. In this country, people usually eat these savory cakes for breakfast with coconut chutney.
This one is also acceptable to make in advance, but you have to store the batter in the fridge. And you will need a mold to pour the mixture on it.
There are 2 ways to steam it: on a stovetop or in a microwave. Different kitchenware will have different cooking times, so please carefully check your cake's texture. Perfect Rava Idli should be soft and fluffy.
Total time: 30 minutes
Tamagoyaki is a Japanese dish for the morning made from eggs, sweet dashi (Japanese soup stock), and oil. So technically, it is a kind of omelette in rolled form. And it has a sophisticated look that might require some practice.
But trust me, once you nailed it, you would want to make it over and over again. However, the ideal pan to make Tamagoyaki is a square or rectangular one so they can be formed properly. Therefore, using your regular round pan might result in a not-good-looking rolled omelette.
Other tools to prepare are a sushi mat (for the final touch) and long chopsticks. Overall, Tamagoyaki is a recipe that can help you upgrade your cooking skill and have a closer look at the sophistication of Japanese cuisine.
Total time: 5 minutes
This 5-minute breakfast can offer various types of proteins, healthy fats, carbs, and nutrients with only 4 components such as Greek yogurt, berries, sliced almonds, and low-sugar granola. And I do not think that this delight can trouble you.
To make it healthier, please carefully check the sugar level in your yogurts. If possible, go for an unsweetened one. And please skip sweetened toppings like dried fruits, coconut, etc. Instead, you can choose chia seeds, flaxseeds, or hemp hearts to increase the benefit of your yogurt bowl.
Total time: 2 hours 20 minutes (including 1.5 hours proofing time)
Brioche is a well-loved French bread due to its buttery flavor in light and fluffy texture. You can find them in many supermarkets, but it would be more entertaining to make them at home.
It requires some basic baking components, but you need to spend more than 1 hour letting the dough rise. Thus, I highly recommend making them in your leisure time.
Brioche is also ideal for making ahead of time (2 days in advance is better). You can place the dough in the fridge. As it sits longer in the machine, its flavor is stronger.
And the final step is baking it until your bread puffs up. It is already good to enjoy on its own, but your breakfast will be better if you serve your brioche slices with butter, jam, or Nutella. You can pair it with other savory foods like cooked eggs.
Total time: 40 minutes
Here is an authentic Irish morning delight that you should try once in your life. Irish potato farl (aka potato cakes, potato fadge) is a classic breakfast that many locals love to enjoy on St Patrick's Day. But feel free to make it on any day of the year.
Plus, this recipe offers you the best way to use up leftover potatoes. It is also a humble recipe that everyone can make, even beginners. With only a few ingredients and simple directions, you can yield several golden brown, fluffy cakes in triangle shapes.
Keep in mind the ratio of flour to potatoes is very important as it decides the texture of your farls. For choosing the right potato varieties, the best ones for this recipe are Russets, Maris Piper, or Roosters.
Total time: 30 minutes
Sheepherder's breakfast is a simple one-skillet meal including eggs, onion, hash brown, and chopped bacon. You do not need to use too much effort to make it. With 3 easy steps, you will have a completely beautiful and yummy treat for a morning meal.
When it comes to bacon, it always starts with cooking it with onion to make the bacon crispier and drain the excess grease. Next, you will cook hash browns until golden brown (about 10 minutes), then add egg and cook for another 10-minute.
Once the white part of the egg starts to set, let's finish it with some cheese and let it melt before you turn off the heat. And voila, your hearty Sheepherder's breakfast is good to go.
Grab your skillet, and let's make a sheepherder's breakfast today!
Total time: 17 minutes
A cup of fresh smoothie to start a day is what you need for a busy day. What's better, it is packed with a lot of nutrients to boost your health excellently.
What you need are some green veggies, pineapple, dairy products, and protein powder. Regarding vegetables, I choose kale and celery. These two are an ideal combo in many nutrient-dense smoothies to prevent many health problems.
Moreover, ginger will enhance the overall flavor and warms your stomach. For a less-work recipe, I also opt for store-bought frozen pineapple chunks to make this drink. But if you have a fresh one, please freeze them overnight in advance.
Total time: 10 minutes
No matter how busy you are, you should always have a nutritious breakfast before going to work or study to keep you stay energized throughout the morning. Thanks to its simplicity, these avocado toasts with egg is a flawless idea in this circumstance.
Actually, it is a customizable recipe as you can serve your toast with different toppings, including scrambled, fried, poached, or boiled eggs. It is all up to you! But regardless of what type of cooked eggs you choose, do not miss spreading a thin layer of mashed avocado on the toast.
You do not need to use a bowl to mash this fruit. Instead, doing it right on the bread is preferable to reduce the cleaning task afterward.
Total time: 40 minutes
The last recipe is for those who love to have biscuits for breakfast. These small-bite foods are so tender that goes perfectly with the thick gravy.
Homemade biscuits are not as hard as you think because you simply throw all biscuit ingredients together to create a dough. You might knead it a little before cutting them into round, smaller biscuits. If the dough is too wet, you should sprinkle more flour for easier kneading.
While waiting for the biscuits to be baked, you can prepare creamy gravy with some simple steps. Make sure you simmer it over medium-low heat to prevent burnt bottom.
Pick Your Favorite Breakfast Recipes And Give Them A Shot!
Alright! Now you just have learned many cooking ideas to make your morning meals more delicious and healthy. All of the recipes here are in various styles with different ingredients and ways to serve, offering you more options to have for breakfast.
Whether they are sweet or savory, I bet you can choose at least 10 ideas to try. So tell me, which one is your favorite? And how did it come out on your first try? I would love to hear your feedback.
Plus, do not hesitate to share your ideas in the comment box. Lastly, it would be my pleasure to help you in your cooking journey, so if you like this list, your likes and shares are my big motivation for more insightful articles. Thank you, and see you in the next post!
Nutrition Facts
2 servings per container
---
Amount Per ServingCalories232
% Daily Value *
Total Fat 15.9g

25

%
Cholesterol 164mg

55

%
Sodium 236mg

10

%
Potassium 333mg

10

%
Total Carbohydrate 13.3g

5

%

Dietary Fiber 2.1g

9

%
Sugars 7.1g

Protein 9.7g

20

%
---
Calcium

138

%
Iron

1

%
Vitamin D

28

%
* The % Daily Value tells you how much a nutrient in a serving of food contributes to a daily diet. 2,000 calories a day is used for general nutrition advice.