There is more than 20 breakfast for dinner recipes for your ultimate cooking menu. With these ideas, you will have both hearty breakfast and fancy dinner for days. It is like your housework gets cut in half. There will be no more burying yourself in cooking and cleaning.
After reading this title, you will broaden your recipe list with 26 awesome dishes. They are not only American-based delights, but also from other cuisines.
And as they are super tasty, you can rest assured that your family will be pleased without criticizing or complaining about having them twice a day. So are you motivated to read this article? If so, please stay with me to learn new cooking ideas.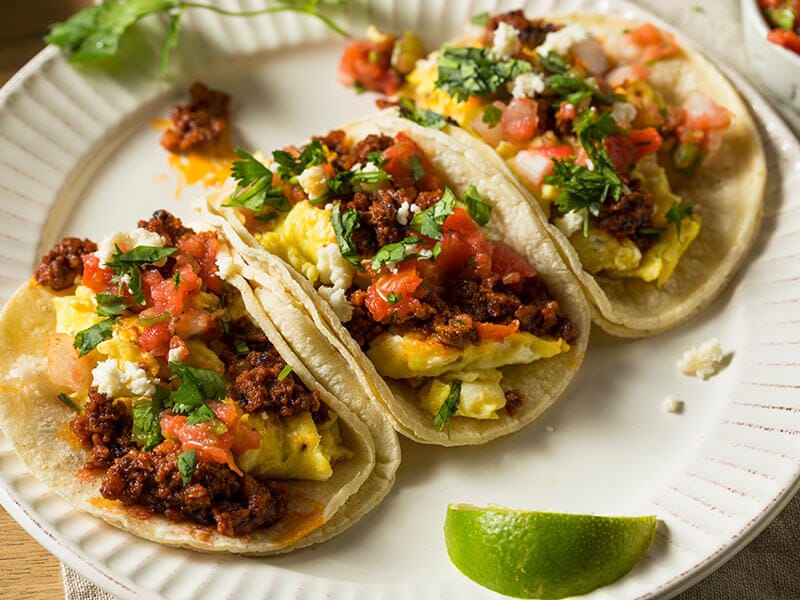 26 Easiest Breakfast Recipes For Your Hearty Dinner
What is more convenient than preparing one dish in the morning but you can still enjoy it as dinner? Here are 26 simple dishes but so delectable to please everyone. So just scroll down and read more!
Total Time: 20 minutes
Cheesy naan breakfast pizza is an ultimate choice for both breakfast and dinner. It features a crispy pastry crust filled with a lot of cheese, crumbly sausage, onion, and other components, with a top of the gooey egg. That is all proteins, carbs, and fibers you need for a night meal.
And did I mention this delicacy is quick and fuss-free? There is no need for any dough or to spend more time making any expensive sauce. All you need to do is assemble prepared ingredients on naan bread and bake. Once served, top your pizza with fried eggs and garnishes.
If you plan to make naan pizzas for many weeknights, you can try many different toppings. Some great ideas should be fresh spinach, feta cheese, green bell pepper, or Italian sausage. Just mix between these toppings, and you will never get bored with your dinner.
Total Time: 30 minutes
Sheepherders breakfast is insanely easy and delicious to make for dinner. With only five main ingredients and one skillet, you can handle this delight in no time.
Start with cooking bacon and onion until your bacon starts to crisp and remember to drain the excess fat. Then add hash browns and cook them for around 10 minutes until turning brown before cracking eggs into the skillet.
After that, season and cook the mixture for 8 minutes more over low heating. Once done, serve it in the skillet to minimize the cleaning part or you can place them on a plate with toast if desired.
Regarding its visual, you can see the crispy base full of bacon, hash browns, and onion topped with a runny egg and orange cheddar cheese. Then take a bite, and you will feel creamy and savory flavors all at once.
Check out this quick homemade sheepherders breakfast in the skillet!
Total Time: 32 minutes
Breakfast meets dinner is what you can describe when trying this pizza version. The crispy crust, sweet and creamy filling of cheese and spinach, and the addition of eggs – all together to create an out-of-this-world treat!
And to fit the easy and quick criteria, this recipe calls for store-bought pizza dough. So handling the filling is what is left to do. Just heat the skillet to melt the butter, then whisk it in flour and cream until thickened. After that, stir in spinach and season with salt, pepper, and nutmeg.
When finished, assemble spinach cream and mozzarella, and crack an egg on top of each pizza. Finally, bake until your final result has a brown crust, melted cheese, and runny eggs. Then your dish is ready to go.
Total Time: 50 minutes
Tex Mex sheet pan is a perfect breakfast for dinner, and its clean-up is a breeze as you only need 1 pan to cook. Notably, the most time-consuming part is the baking time. However, it is totally worth it because you and your family will have a fancy dish for dinner.
With a few jalapeno and Mexican chorizo, your decadent will bring a Mexican atmosphere into your kitchen. The food tastes shocking with cheesy, smokey, herby flavor and jalapeno heat at the tip of the tongue.
Therefore, if you plan to serve this delicacy to your kids, you may want to spend time handling the jalapeno. Remove the pepper seeds and dice jalapeno into small chunks can help reduce its hot flavor.
Total Time: 30 minutes
Migas is an egg scrambled dish in Mexican style with jalapeno, crunchy tortillas, and cheese. When the ingredients are combined, you have a hot and creamy dinner to serve on its own or with tacos. Whichever, it is still appealing and pleasant to enjoy.
For more flavors, you can place black beans, tomato salsa, or avocado next to Migas. Extra nutty beans, fatty avocado, or salsa freshness will enhance the creaminess and also add dietary nutrients to make your food easier to digest.
If you have a vegan friend, change some ingredients to twist your dinner. Swap butter for olive oil, replace eggs with tofu, and cut off the cheese in the recipe.
Total Time: 35 minutes
Huevos Rancheros were once a popular meal to Mexican farmers. It presents a layer of cheese, salsa, egg, and avocado served over a fried tortilla. As this decadent is full of nutrients, you can enjoy it like any main meal of the day.
Although this recipe requires a lot of ingredients, the preparation is simple. You just need to prepare salsa from sauteed veggies, chicken broth, and lemon juice, then cook tortillas until just brown. Finally, assemble salsa, fried egg, sliced ​​avocado, and cheese on a tortilla.
To serve, you can pair it with refried beans. And your breakfast for dinner will be super flavorful with plenty of texture: the crispy tortilla, savory juiciness of salsa, creamy avocado, buttery eggs, and a sweet and earthy afternote of refried beans.
How does a professional make the perfect Huevos Rancheros home? Here is the answer!
Total Time: 10 minutes
Nothing is better than a warm omelet to enjoy during a weeknight gathering. The fluffy and cheesy omelet stuffed with ham, onion, and green peppers turn into a simple yet delicate meal. When pairing this delicacy with bread, you have extra carbs to fulfill your stomach.
The making process is super simple, with only two steps. First, saute ham and veggies in a skillet until greens are tender, then set aside. After that, beat eggs with water and stir the mix into the skillet. Once firm, fill in cheese, veggies, and ham. The last step is to fold your omelet and serve.
Total Time: 40 minutes
As its name implies, the breakfast burrito is a Mexican takeaway food for breakfast. But since it is quick yet full of flavors, people love to serve this burrito at any time of day.
In particular, the flavor of your dinner comes from the creamy scrambled eggs, cheese, and herby tomato-avocado salsa with a companion of spicy sausage. Instead of overwhelming each other, these flavors blend perfectly to create a unique burrito.
A remarkable thing when making a burrito is its meaty and herby aroma of sausage followed by a creamy, eggy scent that will invite them to your kitchen right away.
Total Time: 30 minutes
With the presence of whipped feta and chile butter, the classic Turkish eggs are up to the next level. The poached eggs perfectly harmonize with a bit of spicy, salty, and creamy flavor accompanied by a hint of fresh herbs.
For the best presentation, scoop whipped feta onto the plate bottom and put in warm eggs and greens. Then drizzle chile butter over everything. Finally, add some avocado wedges coated with bagel spice to finish.
Serve your food alongside delicious bread or toasted bagels, and it will become a fancy dinner to wow everyone. With different components, each bite you take will kick off the flavors with a balance of creaminess and spiciness.
Total Time: 15 minutes
Cheap and simple are two words to describe this breakfast pizza. You only need four accessible ingredients and a couple of minutes to make. The result will surely be your new favorite meal with a gooey cheese egg and tasty bacon on a tender crust. So yummy!
To prepare this pizza, place pre-cooked pizza crust on a baking sheet and assemble toppings in order: scrambled eggs, bacon, and cheese. Then bake the whole pizza for 10 minutes at 400 degrees F. When you hear the "ding" coming from the oven, your dish is ready.
Furthermore, the real fun comes with the toppings. You can make this delicacy with different versions, such as a combination of sausage, cheese, and egg or veggie-only pizza. So let your creativity fly and try as many as you want.
Quick and easy breakfast pizza to fill your stomach at night!
Total Time: 1 hour 25 minutes (including 15 minutes of resting time)
These crepe squares are thinly soft pancakes stuffed with ham and egg. The crepe appearance is simple yet appealing to look at. All edges folded reveal the filling inside, including glossy eggs and reddish ham, stimulating your appetite with vision.
The thing to love about this delectable savory crepe recipe is that you do not need to be a professional chef to make this one. Just blend flour, eggs, milk, and melted butter to make the crepe batter. Then cook your crepes in the skillet with a butter coat until just brown.
After that, bake them with ham and eggs in the oven until set. To serve, sprinkle chopped parsley on baked crepes and immediately plate your dish.
Your final crepe should have a fatty egg yolk melting in the mouth along with underlying sweet ham and buttery pastry. These squares are soft and delightful to chew for a while and you can feel the harmonious taste.
Total Time: 45 minutes
The chorizo breakfast taco is one of the heartiest dishes loaded with chorizo sausage, radish, eggs, and Cotija cheese. Therefore, when talking about the taste, this delicacy is a flavorful treat with prominent smokiness, cheesiness, and zestiness.
For proper serving, you can enjoy these breakfast tacos as dinner with extra toppings. Some suggestions are avocado slices, salsa, sour cream, or a drizzle of hot sauce. But you can add any ingredients to suit your taste because you are the eater in the end.
Total Time: 40 minutes
This yummy potato casserole is a great sharing food on weekend nights. It comprises eggs, potatoes, sausage, and cheese. Your favorite ingredients are mixed in one pan, making a rich and gooey dinner.
If you want to enjoy the whole weekend with your family, you can make this casserole a day ahead, then store it covered in the fridge. When you are ready to enjoy your casserole, bake it in the oven as directed with extra minutes to cook thoroughly.
The best part of this dish is its customization. You can adjust the ingredients depending on your preference and purpose. For instance, you can use a cup of spinach in place of meat for a low-fat diet. Or add bell pepper and use Mexican cheese to make a Mexican-style casserole.
Total Time: 30 minutes
Frittata is a delicious egg-based dish similar to quiche but crustless. Unlike other frittata made from meat, this vegetarian version calls for vegetables, cheese, and the aid of herbs. All blended well to supply a lavish breakfast or a quick dinner if you need it.
There are some tips to conquer this morning food from Italy. First, assemble your vegetables evenly on the pan before pouring eggs to ensure you get veggies in every bite. A cast-iron skillet is the best tool since it retains heat well and evenly, making your dish cooked thoroughly.
Even more, you can always play with ingredients to renew your frittata. For instance, you can combine spinach with feta cheese or mushroom with tarragon. Feel free to change it in whatever way you want, as long as a quarter cup of veggies should be equivalent to an egg.
Let's discover Mediterranean-style vegetable frittata and a secret to make it fluffier!
Total Time: 1 hour 25 minutes (including 15 minutes of sitting time)
Breakfast enchiladas are the perfect breakfast idea with loads of sausage, cheese, eggs, and tomatoes. But if your family loves a simple dinner, it could be ideal. The delicacy is full of savory and cheesy flavor with a strong scent of sausage, creating a delectable breakfast for dinner.
And the big plus of this recipe is that you can prepare it in advance. Just make filling and egg custard one night before, and only when serving will you assemble them and bake. In that way, the tortillas in your dish will not be soggy. Instead, they will be pleasantly soft and tasty.
Total Time: 20 minutes
Greek scrambled eggs are a traditional food made from eggs, cheese, and fries. Although these ingredients are simple, they match well with each other and produce a heaven-sent dish of Greece.
To make it, you first fry the potato and whisk the eggs. After that, heat the feta cheese in a non-stick pan with a splash of olive oil. Once melted, stir in fries, whisked eggs, and cook. After 3-4 minutes, remove it from heat and serve with fresh ground pepper on top.
With the absorption of starchy potato, your egg cheese should coat evenly on your fries and leave them a gorgeous look. Also, your dinner should taste salty and pleasantly savory, with a peppery hint.
Total Time: 40 minutes
Egg-in-a-hole, also known as one-eyed jack, is a fancier version of a regular sandwich. Instead of sandwiching eggs and spinach between two pieces of bread, this dish turns them into one sandwich with a hole in the center.
For that reason, your bread will hold full flavors of eggs, sauteed spinach, and bacon. It is salty, umami, fatty, and has a garlicky sweetness of spinach. When splitting the bread in half, the egg yolks will flow on the plate and seep their buttery taste into every piece you eat.
Total Time: 15 minutes
Though it is breakfast fried rice, this food fits any time of day. With four handy ingredients, you will whip up a delicious dinner in no time. Also, it is the best way to utilize all your leftover rice and breakfast staples.
Begin with cooking bacon and drain excess fat. Then mix cooked bacon with eggs, rice, and green onion to cook.
Once heated, season the mixture with salt and pepper and finish it with optional hot sauce. Your final product should be umami, salty and sweet dried rice with a grassy hint of green onion.
If you are a veggie-lover, feel free to add some greens. Peas, bell peppers, or cauliflower rice could be a perfect choice.
Let's wow your kids with this effortless bacon and egg-fried rice at the upcoming dinner!
Total Time: 40 minutes
Baked eggs with ham and spinach are a Mexican-style dish to serve in the morning or evening. The food consists of ham, spinach, and eggs soaked in spicy tomato sauce. Together they imbue vibrant red with green spinach interleaved, providing a charming appearance.
You will start with sauteing all the ingredients in the oven to a thickened mixture. Then add eggs and cayenne and bake until egg whites set. Finally, serve your ham and spinach pan with crusty bread to complete a whole meal. An olive oil or potato tortilla are outstanding options.
Total Time: 40 minutes
A hearty breakfast sandwich is not strange to anybody, including me. It has salty bacon, eggs, and creamy cheese between the soft pastry and is super delicious. But sometimes, the unmelted cheese makes everything seem separated in a sandwich. That's why I put this recipe on the list.
Notably, it has a little twist with the cheese layer. Instead of the usual cheddar slice, it calls for homemade cheese sauce. You can easily make that sauce from melted butter, milk, and Velveeta. If you do not have Velveeta, use any old American cheese. All is for melting purposes.
And another innovation of the food is the English muffin. Unlike a regular sandwich, this muffin retains enough softness after being toasted. Thus, you can enjoy the sandwich fully without fear of it cracking and dropping filling out.
Total Time: 40 minutes
A breakfast grilled cheese bagel is nothing more than mouth-watering food. It has everything you want: sweet goodness from crispy bacon and caramelized onion, a buttery egg, and a touch of spicy serranos.
Plus, you will explore this wholesome food more simply than expected. Just prepare bacon, onion, serrano peppers, and eggs. Then assemble these things into your favorite bagels. Notably, drizzling maple syrup can make your food better. So do not skip this part!
If you cannot find bagels, you can just grab any thickly sliced bread to substitute. So does the cheddar cheese. You can buy another firm cheese to replace cheddar. These changes will deliver the same results.
Total Time: 55 minutes
French onion strata have the taste of onion soup, but the texture is not liquid. Instead, it is slightly firm with numerous bread pieces inside, which absorb and keep the flavor of the whole dish. Thus, each bread chew boasts sweetness, sourness, and spiciness.
Since the caramelized onions are the spotlight of this bread pudding, you should put your heart and soul into handling it. A trick here is to keep your onion as well caramelized as possible. It may cost time, but in the end, it awards you with a rich sweetness.
Besides, you should dry your bread cubes in the oven. That will help dehydrate your bread and encourage it to absorb the egg mixture without over-sogginess. By remembering these two tips, you can create the best French onion strata.
Total Time: 25 minutes
Though being called breakfast pasta, this pasta has a somewhat authentic appearance for lunch or dinner. At a glance, it is a dish full of pasta with a glossy cover of butter and egg. But the secret of this unique dish is an additional everything bagel spice on the top.
When all the flavors and spices come together, your delicacy will be buttery and salty, with the savory taste of drizzle added to it. Also, no matter what time you serve it, this simple dish will curb your hunger, thanks to the carbs content of the pasta. So it is a fine choice to pick, guys!
Total Time: 45 minutes
Not only yummy, but soya keema wrap is also a great breakfast to supply protein to daily meals. It highlights crispy rolls enriched with soya chunks, yogurt, tomato, and spices. So when you bite through the crust, you will feel a variety of savory and spicy tastes.
During the cooking process, preparation takes up the most time. Specifically, you prepare the dough and the filling ingredients. Then process filling on a skillet until blended. After that, spread green chutney on cooked roti, place in filling and wrap it up before toasting with butter.
Your cooked soya keema wrap is good for up to 3-4 hours. So you can plan to do it before dinner time. If you want to bring these wraps to your friend's house, wrap them in aluminum foil to keep them warm and soft until serving.
Make this soya keema roll and impress everyone with its deliciousness!
Total Time: 21 minutes
Breakfast egg and salmon bagels are mouth-watering food with tons of flavors. If you have never tried this one, cook it for the upcoming dinner. It never goes wrong with tangy cream cheese, buttery eggs, and smoky, salty salmon.
Plus, you do not need to do anything fancy to make this dish. Just cook the scrambled eggs with eggs, chives, and milk. Meanwhile, toast your bagels. Once finished, spread cream cheese, place in smoked salmon and scrambled eggs on bagels, then end with seasoning to taste.
For proper serving, place your dinner on a plate with lemon wedges for squeezing over the top. That way, the sour taste of lemon juice will touch your tongue first and stimulate your taste buds before you enjoy the flavorful taste of these bagels.
Total Time: 30 minutes
Tapsilog is a classic Filipino food. Its name begins with the initials of the ingredients on the food: tapa (cured meat), sinangag (garlic fried rice), and itlog (fried egg). Traditionally, tapa used in Tapsilog is beef, but this recipe asks for pork instead to simplify the dish.
However, you have to plan to prepare this dish one night ahead to marinate the meat. Just combine the pork with garlic, soy sauce, and sugar and leave it overnight in the fridge. Once soaked enough, fry your marinated pork to brown on both sides.
Finally, arrange a slice of pork, garlic rice, and a fried egg on your serving plate to complete a divine dinner. Your meal should be diverse in taste and texture with the buttery richness of eggs, garlicky aroma of fried rice, and meaty sweetness of tender pork.
Not Only A Breakfast, But These Recipes Are Also A Toothsome Dinner
Now you no longer have to worry about what to cook for the evening. Just grab a few ingredients, and you can cook two full breakfasts and dinners for the whole family. Trust me! They are fast yet toothsome dishes.
In fact, this recipe list should be more than 26 foods if you include their variations. So try all ideas and their versions to see which one is your favorite. Then leave a review to tell me what works the best. I always love to hear your experiences and enrich this sharing for the community.
Also, if you appreciate my work here, hit the like button to support me. By the way, do not forget to share it on your social media with friends. Maybe you will get some more suggestions or tips from them. Thank you, and enjoy your dinner!