The best blueberry desserts block the tension away, at the same time adding the pleasant appetizing. Are you expecting anything better than a blueberry-studded goat cheesecake or berries coated in hibiscus gelatin? That's why you MUST read my post!
Blueberries grow in different regions; the berries can vary in size, clustered on shrubby bushes. Cultivated blueberries are sweeter than wild blueberries, but they have the same tiny seeds, thin translucent skins with deep blue-purple tones.
You can classify the blueberry (Vaccinium myrtillus) as a 'superfood.' This collection is for you, blueberry fans! The best sweet dishes with blueberries range from simple pies to cobblers, from ice creams to muffins. And, still counting…
When blueberries are in season, there are many ways to add them to your snacks and meals. But first, you should take into account the advantages of this tasty, nutritious fruit.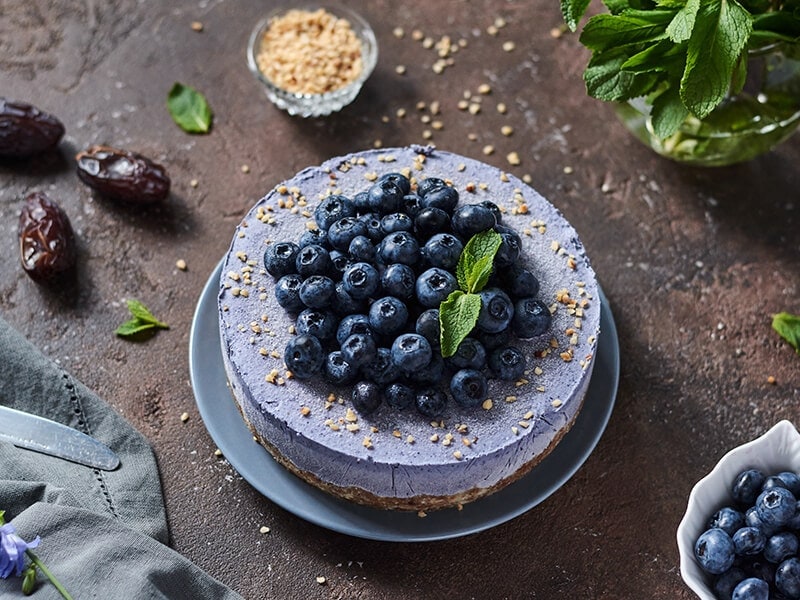 Don't Miss These Incredible Blueberry Health Benefits
Blueberries, known as the "King of Antioxidants," are rich fruits with tremendous wellness benefits currently in season.
Here are 10 ways blueberries can help you STAY HEALTHY, simple ways to use them for the top blueberry sweets, and why you should eat them all year.
Low in calories, high in nutrients (fiber, vitamin K and vitamin C)
Highest antioxidant capacity in vegetables and foods
Reduce DNA damage, protect against cancer and aging
Protect cholesterol in blood from damaging
Lower blood pressure
Reduce heart disease's factors
Maintain brain function, improve memory
Have anti-diabetes effects, lower blood sugar levels, improved insulin sensitivity
Help to fight Urinary Tract Infections (UTIs)
Reduce muscle damage after strenuous exercise
Blueberries are incredibly HEALTHY and TASTY. They improve heart health, brain ability, and a variety of other physiological functions. Furthermore, they are sweet, colorful. You are free to have fresh or frozen fruit for your blueberry goodies. Head it up!
Best Blueberry Cakes Of All Time
Blueberry cakes, from pound cake to vanilla layer cake, are moist and delicate. Here are the top tricks for this berry baking journey. The velvety cream cheese frosting is the perfect finishing touch, it honestly tastes like runny cheesecake.
I use gravity to spread the berries on the batter's top in blueberry cake, which will sink while baking. Half of the berries float on top while the other half swim downhill.
Next, store blueberry cakes at room temperature, covered.
The cake can dry out if stored inside the refrigerator. Blueberry cakes stay fresh for around 3-4 days. No more hassle; it's time to find your favorite blueberry cake of all time!
This stunning dessert is muffin batter baked in a cake pan. It makes a great summer dessert, notably when served straight from the oven. Don't change a single thing, baked up moist and fluffy like a cake.
The crumb topping is the distinctive ingredient in these blueberry muffins. Blueberry muffin cake is the only cake you'll need in springtime.
You can bake with just all-purpose flour; however, adding a bit of ground cinnamon gives a nuttier, heartier taste. It's a small change, but the result will surprise you.
Utilize your almond flour to bake muffins. Don't you adore how simple ingredients could make the most amazing desserts? Watch this video:
This blueberry upside-down cake is moist and soft, and it's loaded with caramelized blueberries. You'll have a great time whether you have it for breakfast or dessert.
What's the best part? It's a breeze to make for all-level bakers. In a springform pan, you can serve this upside-down treat warm with ice cream or whipped cream.
You can imagine the cake with fresh blueberries as the beauty of baking. Altruism is shown when baking for your loved ones. That's my sort of dessert: delectable but straightforward!
This velvety cheesecake has a refreshing aroma due to lime zest and a deep purple blueberry layer, making it ideal for a party. You can top it with glazed blueberries. Fantastic!
This Blueberry Lime Cheesecake does not require any baking. You won't have to prepare the water bath or keep an eye out for cheesecake cracks.
What an airy delight on a warm afternoon! It contains no eggs, is lighter, incredibly creamy, and tasty with cream cheese and a bit of heavy cream.
You'll be able to enjoy a ridiculously creamy and exquisite cheesecake topped with blueberry filling. No need to become a pro baker, give it a try soon.
Wanna another version without eggs? You can find here the most stunning eggless cheesecake of all time.
Why should berries get all of the attention? Juicy lemons and warm blueberries are a clever change in this delectable take on a classic.
The secret to these shortcakes is to simmer half a portion to prepare the sauce, then whisk in the remaining blueberries before piling on top of the delicate biscuit bottom.
A note to remember, the egg is optional. While adding eggs, you will have the shortcake less crumbly, but either option is delicious with or without egg.
One of the tempting combos is blueberries and lemon!
A crumb cake with blueberries is an excellent sweet morning dish to begin your day. Crumb cakes or coffee cakes give me an excuse to devour dessert as early as I get up.
They're very juicy and jam-packed with blueberries. The crumble atop lends a rich, buttery bite to the dish. They make a fantastic dessert when paired.
These crumb cakes have everything a blueberry dessert should have. As a result, I have to warn you that these bars are truly addicting.
You can create your caster sugar. Simply process regular granulated sugar until the sugar granules are smaller in the food processor.
These pancakes are also fantastic a la mode! Like a summer song, you can make highly fluffy, soft, and buttery pancakes.
Don't overmix the batter! This step is quite crucial. Don't worry about lumps when you barely combine the wet and dry components. Mixing the batter too heavily will result in tough pancakes.
Making one large pancake instead of several smaller ones allows everyone in your family to enjoy a slice of blueberry pancake.
Get to know more about the tips and tricks for blueberry pancakes! Are you ready?
From fresh blueberries and the sour cream inside the cake to the hidden cinnamon-sugar layer just beneath the frosting, this cake is full of delectable discoveries.
Breakfast for dessert with these blueberry cupcakes. Instead of muffin batter, fresh blueberries are combined into the vanilla cake. Later, you top with a cinnamon streusel and blueberry-cream cheese frosting swirls.
Cake flour is very finely ground flour that converts the cupcakes with an extra soft texture. Before adding the blueberries to the batter, mix them in flour. This flour coating keeps the berries aloft while baking and saves you from biting into a sunken cupcake.
Have you heard of a blueberry buckle? No? You're in for a feast, my friend! The lemon sauce topping adds a unique twist to this traditional dish, boosting the aroma of the blueberries.
Blueberry buckle is a luscious and rich cake stuffed with blueberries and topped with a cinnamon streusel. In a nutshell, it's a work of art.
You might wonder why it's called a "buckle." The batter rises as the cake bakes, but the streusel weighs it down, making the entire thing buckle!
Simply substitute zest from half an orange for the fresh ginger and cardamom or ground cinnamon for the ground ginger. You can replace walnuts or pecans for peanuts or cut down the nuts altogether.
Give your weekdays a delicious start with crispy waffles stuffed with luscious blueberries. Crunchy, decadent whole-grain waffles served with jammy maple.
I had visitors coming and wanted a new breakfast casserole, so I came up with this strange idea using waffles. My neighbors were enthusiastic tasters.
These waffles are light, fluffy, and golden brown, yet they just take a few minutes to make. In around 15 minutes of digging in, you could have 4 Belgian-sized waffles!
Let's review a quick process for making waffles. They are fully packed with juicy blueberries! Watch this video to know:
This blueberry coffee cake is moist, buttery, and loaded with blueberries. It's completed with a beautiful crumbly topping that makes every bite crunchy.
When I heard "coffee cake," I had assumed it meant a cake with coffee flavor. It wasn't until much later I realized this blueberry coffee cake didn't include any coffee. Just born to serve with coffees!
This soft blueberry coffee cake is updated with a crisp cinnamon streusel topping and lemon zest. I get a lot of streusel on top of this streusel coffee cake because it's so good!
Let's just call it a coffee cake and eat it for breakfast if it's the cake with little to no filling. You should fold in the blueberries gently. Otherwise, they will break and leave a stain in the batter.
Serve vanilla ice cream over a slice of this moist lemon-blueberry pound cake. It's a must-have lemon dessert for your family barbecues.
This pound cake is bursting with blueberries and scented with lemon. In other words, it's exceptional. There's no way you'll stop yourself with just one bite!
The cake is exceptionally moist and delicate. As always, the mix of blueberries and lemon is fantastic. The lemon glaze brings it to the next level.
In this soft, delicate pound cake, the tangy lime glaze and lime zest enhance the sweet flavor of fresh fruit. The cream cheese adds richness and tenderness to the classic springy crumb.
Give the blueberry bundt cake in this video a try. Quick to prepare but successfully give you a soft touch till the end!
This cake is as soft as the world's softest pillow, my dear. The layers are filled up with creamy blueberry whipped cream with lemon zest, mascarpone cheese, and coated with blueberry sauce.
It has three layers of moist cake! In between, there are hundreds of fresh blueberries in a sweet and sour cream cheese filling.
You can garnish with candied lemon peel and fresh blueberries. I advise keeping the sides unfrosted to highlight the gorgeous layers.
Three tablespoons of squeezed lemon juice added to the wet components will be enough if you don't have a lemon emulsion.
This recipe is a lot simpler than pie. A premium dessert using only three components? You may feel relatively minor, but it is true.
Blueberry dump cake combines fresh luscious berries and thickened berry pie filling in one pan, with yellow cake mix to hold them all together.
Each mouthful of this dump cake is bursting with fresh blueberry flavor, scrumptious cake mix, and buttery sweetness. You won't find any more tasty blueberry pie than this one.
Have you started drooling yet? Yes, me as well.
What about the flavor? OMG, it's rich, fluffy, and utterly delectable. It's soft and moist on the inside, with a crisp golden exterior.
Blueberry Pastries And Pies That Taste Like Summer
Have you ever used puff pastry? It's brilliant. It's made up of several layers of dough divided by butter. The butter bubbles up and elevates the layers of dough above it when baked. That's how puff pastry gets its flaky texture.
If you don't feel like preparing a complete pie, try these individual pies. It's normal for the filling to pop up a little while baking. There will be plenty of filling in the center.
It's a lot more! Let's dive into the pie recipes with blueberries!
The soul of this classic pie is big, delicious summer berries. The filling is made with just enough flour to prevent the filling from running out when the pie is cut.
The pie is mildly sweetened and spiced with cinnamon and allspice. The buttery and flaky crust does an excellent job of wrapping all of the blueberry sweetness. It's amazing!
You'll be in blueberry bliss after the very first bite. Blueberry pie is a timeless classic that everybody enjoys. If your blueberries aren't extra sweet, free to add a few more teaspoons of sugar. 2/3 cup of fresh summer blueberries is the correct quantity for me.
These blueberry lemon whoopie pies are gorgeous. Soft, cakey cookies studded with tart, vibrant blueberries, and topped with tangy cream cheese frosting.
Whoopie pies are small cakes with a custard fill in the middle. Whoopie pies frequently have marshmallow filling, which I find pretty sugary.
Tangy cream cheese spread between two soft and fluffy blueberry-filled cookies? A delightful dessert recipe to satisfy both youngsters and adults. Cool!
The recipe takes this delicacy to a whole new level by converting it into a sandwich. Flavors burst out a sweet, tangy, and refreshing bite!
Is there anything hotter than a delicious berry pie? These hand pies are like tiny blueberry cheesecakes covered in different crusts. It's fun, tasty, and convenient!
You will be happy with a no-bake dessert since no one wants to turn on the oven when it's hot and sunny outside. Because the pie needs to chill for many hours before serving, it's an excellent treat to make ahead.
If you've ever gone for blueberry delight, you'll enjoy a layered blueberry no-bake cheesecake dessert with pecan crust and graham crackers. I usually have blueberry goat cheese pies for special events. Prepare them, share them, and begin a treasured memory.
Blueberries are my favorite fruit since they are high in vitamins and antioxidants while also tasting delicious. What's your favorite pastry to eat? Just comment down there, I'd love to find out!
Easy blueberry hand pies are one the best delights, and they can be stored in the freezer as long as you crave and wake them up. You don't need to share, and it's portable.
This pie idea calls for sprinkling flour on the bottom of the crust, using cornstarch in the filling, and pushing ripe but still firm berries. Because of their portability, these sweet and fruit inside pastries are ready anytime and anyplace.
The bright glaze brightens your day. This ultra-soft and supple bread is flavored with lemon and blueberries.
If you like blueberry muffins, this berry bread should be the next item you make. It has a butter, custard flavor, a soft, moist, super fluffy crumb, and it's loaded with berries.
Another advantage of this blueberry bread is that it can be stored and kept fresh for several days. Ideal for hectic school mornings!
This bread is brimming with superfood in every mouthful. You need about ten minutes to prepare the oven. Who believes that preparing bread could be so simple?
Imagine this sweet treat as the milder cousin of a blueberry muffin. These berry scones are incredibly soft, buttery, and delicious. It's pretty lucky if I wake up to the aroma of delicious scones.
Every bite of pie pastry will make you smile. Crumbly biscuits brimming with blueberries and topped with a sweet vanilla sauce are simply perfect.
Delightful berry scones are ideal for a quick snack. Serve with fresh sliced banana and strawberries, then drizzle with hot coffee or tea for added flavor!
I enjoy making this blueberry scone recipe for friends passing by. I usually keep some available in the freezer. Simply microwave a frozen scone for about 20 seconds and serve right away.
This rustic fruit tart is ideal for using up abundant summer peaches and blueberries. The crust form is free, just simply folded over the filling and baked.
It's the ideal way to begin the day. It couldn't be simpler to prepare. Serve warm with a dollop of crème fraîche or a scoop of vanilla ice cream.
I adore the idea of a galette. It's simple to make and can be tossed together quickly. You could change the fruit to suit the season, skip the sugar entirely, infuse it with herbs, top with ice cream, and so on.
I crave biscuits weekly. I don't care what type of biscuit it is, I enjoy it! These are fantastic, and I believe you will enjoy them.
Blueberry biscuits are ideal for brunch. These blueberry biscuits with a sweet lemon glaze are a quick alternative for grab-and-go weekday breakfasts or an exquisite treat.
No more hassle, head it up, and you will see!
A thick, nutty pastry is sandwiched between two sweet blueberry fillings. Warm the bars and serve with vanilla ice cream for a delicious dessert. One of my beloved combo all the time!
It's difficult to resist these bars. They have a buttery shortbread crust that also serves as the crumble and a moist cake with blueberry filling.
Refrigerate blueberry crumb bars about an hour before slicing for optimal results. It's preferable to wait until the gooey filling has set in these bars.
Additionally, you still enjoy them for a few days after they've been baked, but there's nothing like fresh-baked bliss!
Give yourself a treat of creamy, fruity goodness. This wonderful vegan dessert is as elegant as it is nutritious. You can satisfy your sweet appetite without constantly worrying.
With lemon notes, these cheesecake bars are creamy, smooth, and rich. They're among the most indulgent desserts, laying on a base of buttery graham crust and finished with a brown sugar crumble.
The melted butter and graham cracker crust come together quickly in a food processor. Give the processor another whirl, press the crust into a baking sheet, and the cheesecake layer topping.
Even if you have incredible self-control for baked goods, these blueberry muffin cookies are too delectable to pass up. Blueberry crispy chunks that you can enjoy by hand!
These sour cookies have two versions for cream cheese fans: the puckery lime glaze and the cookie batter. If your berries are pretty dry, soak them in hot water for about five minutes before adding them to the dough.
Blueberries are mixed into a simple butter cookie dough before adding lemon glaze. Fold them carefully; the berries will burst and turn the dough green if you combine the batter too quickly.
It is a simple, not-too-sweet version of dessert choice. The biscuit topping is out of this world. It's soft in the middle and incredibly crisp on top.
This Southern classic is famous as a sweet, warm, delightfully soft cake. Let's heat the pan first, then add the butter to capture the golden shade.
You can melt some tablespoons of butter at the pan's bottom to prevent the cobbler from sticking and blow up some comforting scents.
I served it to my foodie's buddies with classic vanilla ice cream, and they all enjoyed it. I have many cobbler recipes, but this one has taken the top spot.
Satisfy Your Taste Buds With Blueberry Gelatins, Puddings, And Trifle
Fresh berry pudding cake with cream on top is delicious. Blueberry pudding cake is a tasty treat that your family and friends will enjoy.
Blueberries are one of my top fruits, and they are healthy. The combination of blueberries and gelatins makes this decadent delicacy incredibly scrumptious.
Everyone loves this gelatin because you can't go far wrong with berries. It's a summery gaze dish, whether you name it jello cake, gelatin dessert, or stained glass jello.
Dissolve gelatin in a large mixing bowl in grape juice or boiling wine, set aside for 10 minutes until cool. Stir in the club soda and chill for 45 minutes, or until set but not stiff.
I take the basic tastes of sangria and turn them into a jello recipe for supper. To make this delectable jello, you can also look for a sweet red wine for multiple choice.
Look no farther than these refreshing, festive lemon blueberry parfaits! They're easy to make and inherently gluten-free.
The cornmeal shortbread, the blueberry compote, and the cheesecake custard – work well together, but you can enjoy them one by one. Three components at the same time is also a big hit!
The tart, tangy, and slightly sweet creamy parfait create a delightful gluten-free sweet course. Serve the shortbread with sorbet, the custard with fresh fruit, or the compote over ice cream. Are you ready?
The tartness of lemons combined with the sweet taste of the blueberries is tempting. This simple yet tasty chia seed recipe is ideal for a quick breakfast on the run or a relaxing morning at home.
While honey matches the lime juice and zest well, agave nectar or pure maple syrup can simply be swapped if vegan. You can also adjust the amount to reach the best level of sweetness.
After around an hour in the refrigerator, it is ideal to alter the texture. If the base is thin, add another spoonful of chia seeds.
This sunny dessert treat is brightly colored, thanks to a delicious lemon filling and juicy blueberries. Don't worry about preheating the oven because this trifle doesn't require baking.
The addition of blueberries makes this dessert feel a little less wicked. The lemon curd adds delightful acidity to the dish.
Angel food cake, blueberries, cream, and lemon pudding are layered together. This blueberry lemon trifle is simply stunning.
The rich whipped cream neutralizes the sweetness of the other elements. You can cut your cake into nice tiny cubes. However, I think just crumbling your cake is enough. It's a lot easier!
Blueberry Ice Creams To Beat The Summer Heat
To avoid discoloring the batter, use frozen blueberries without thawing. It's the ideal treat for a warm summer day, and it's highly suitable for an ice cream lover's celebration!
Sugar, whole milk, heavy cream, and a pinch of salt to help the ice cream firm isn't 'old school,' it's REAL ice cream. These classic dishes are the best recipes you can find!
Why don't you have a try?
In this velvety, vibrantly tinted, and flavorful delicacy, summer's signature dish meets summer's iconic fruit. Step aside, chocolate and vanilla. Easy homemade ice cream!
The mix of yogurt and blueberries creates the perfect balance of sweet and creamy in this yummy delight. And those berry swirls are so lovely!
Midsummer is the ideal time to enjoy a blackberry-laden dessert. There's no need for various steps when blueberry jam enhances both the aroma and aesthetic.
Ice cream, regardless of age, never fails to bring joy to people's faces. This delicious blueberry cheesecake ice cream is a spotlight. It's like devouring a berry cheesecake in ice cream form!
This ice cream is loaded with berries, buttermilk, and cream cheese will be at the top of your recipe list. I considered mixing in some graham crackers, but I chose just to sandwich the cream between two sheets of graham cracker. Even from the very first try, you'll be dying.
Remember that the ice cream churn adds a little more volume to the ice cream than the no-churn method. However, I appreciate that an ice cream churn is not essential to make delicious ice cream.
When the temperature goes up, treat yourself to a tasty frozen treat. These blueberry pops are ideal since they are loaded with juicy blueberries.
Popsicles are constantly enjoyable to prepare, and they're also quite simple. For a refreshing snack, go no further than blueberry yogurt swirl popsicles.
Honey or agave? I've tried them with both agave and honey, and they both work great. You don't need much– just a little bit to balance out the sour berries and yogurt.
You can cut less on the liquid sweetener when you pick a sweeter fruit, such as dark sweet cherries. Just go with your gut instinct!
Enjoy These Healthy Sweet Treats With Blueberry
If you adore blueberry desserts, as I'm sure you do after reading my post, this is a terrific way to show your affection.
Are you willing to go beyond a typical blueberry pie? These insanely delicious blueberry desserts will rock your world, with everything from cookies to cobblers to cakes and a lot more.
Besides, berries render these treats wholesome, don't they? You'll also enjoy my no-bake sweets if you're in the mood for something light and refreshing. It's a lot more to say. I hope that you can share excellent ideas with your networks. They're looking forward to knowing more about sweet treats with blueberries, too. Hurry up; this precious blue fruit is coming to the season.
Nutrition Facts
4 servings per container
---
Amount Per ServingCalories94
% Daily Value *
Total Fat 2.2g

4

%
Sodium 55mg

3

%
Potassium 54mg

2

%
Total Carbohydrate 18.6g

7

%

Dietary Fiber 2.2g

9

%
Sugars 14.6g

Protein 1.3g

3

%
---
Calcium

24

%
Iron

1

%
Vitamin D

38

%
* The % Daily Value tells you how much a nutrient in a serving of food contributes to a daily diet. 2,000 calories a day is used for general nutrition advice.