Easy blackberry desserts are an attesting to how versatile blackberries are. With just one simple berry, you can make an array of heavenly foods without the need to put in much effort and time.
If you want to enjoy the sweet and sour summer, then there's no way you can go wrong with buying a fresh batch of blackberry and making some nice treats out of it. To help you with that, in this article, you can find the best recipes and some tips.
Keep reading, and you will be surprised (like I was) how these little purple and black fruits can be a key ingredient in so many recipes. There are millions of ways to make delicious blackberry desserts.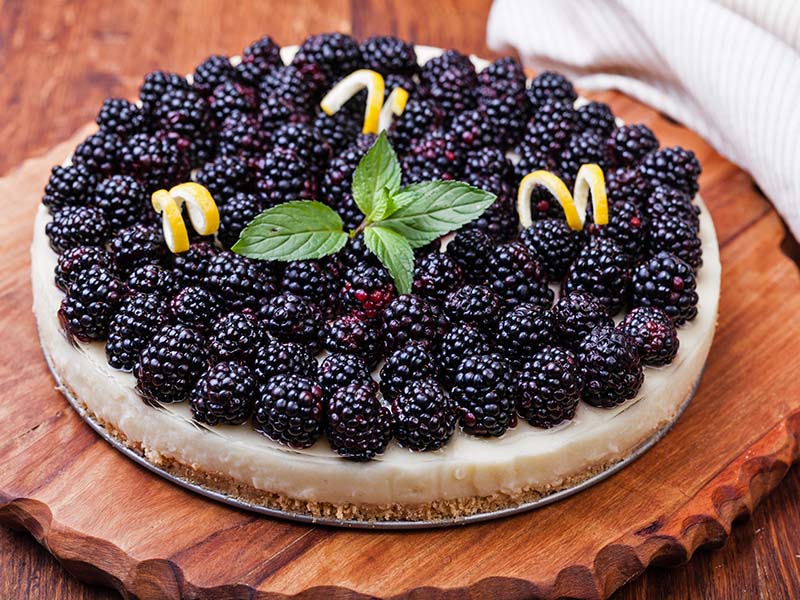 Quick And Easy Blackberry Desserts That Will Blow Your Mind Away
Anyhow, here you'll find a short list of the easy blackberry desserts that everyone can do. They are great for many situations and are best to enjoy with friends and family.
Total time: 20 minutes (excluding 4 hours of chilling)
This is the recipe for when you want a juicy blackberry dessert with a creamy, silky smooth, delicious flavor. Moreover, you can store the final products for up to a week in the refrigerator and even months in the freezer.
The great thing about this cheesecake is that the pie crust is easier to make. You just need to mix the butter and graham cracker baking crumbs, then press them into the pan.
It works best when you use fresh berries instead of frozen ones. This is because the frozen berries have a high content of water. If you must use them, remember to thaw and rinse the berries before cooking.
Learn how to make no-bake blackberry cheesecake with the addition of Oreo!
Total time: 1 hour 15 minutes
This recipe is a great way to make a plain cake become something special. Once you flip it, the blackberry bottom becomes a pudding-like top, making this dish ideal for consumption as a dessert.
Blackberry upside-down cake is a perfect recipe for a summer treat when the blackberries are in season. The flipping movement is what makes this dish special. Remember to let the cake cool down for at least 10-20 minutes before attempting to flip it.
Tips: Run a butter knife to feel around the edge of the cake to see if it's stuck to the sides or not. If it does when you remove the pan, run the knife again.
The fun thing about upside-down cake is that you can put any fruit into it. Why limit yourself to just blackberries? You can experiment with all sorts of berries, too. For instance, how about putting in some raspberries or blueberries?
Total time: 55 minutes
Blackberry cobbler is easy to make, it requires almost no baking skills. Anyone who's not a baker with much patience and talent can effortlessly whip up a serving of this. All it takes is 5 minutes of prep time and about 50 minutes baking.
So what is a cobbler? Simply put, it's a baking dessert consisting of a fruit filling (in this case, blackberry) topped with golden brown biscuits. Households throughout the USA and Britain enjoy this dish.
The making process is so simple that even kids can learn to do it, save for the baking, which may require adult help. When the dish emerges from the oven, sprinkle some more sugar over it and enjoy!
Would you look at that, a 100-year-old blackberry cobbler recipe? See it now.
Total time: 2 hours 55 minutes
You can say that slab pie is a sibling of the traditional round pie. The difference is that it's bigger (and better) than your regular pie. The large size is so that you can fit it better inside a rectangular pan. As a side result, a slab pie can feed more people at the same time.
There's no summer treat more fitting for this hot season than a serving of blackberry slab pie. You can try adding more fruits to the recipe if you want something more. Apples, peach, lime, etc. are some of the noteworthy choices.
Total time: 1 hour 20 minutes
This recipe is the perfect balance between sweetness and sourness. Some people get confused about crumble and cobbler. I've covered the latter in a previous recipe. As for crumble, it typically has a crumb topping that doesn't come with oats.
For this meal, you can use either fresh or frozen blackberries. But it'll be more fun to go outside and pick the blackberries along the hedgerows.
When you want to take this meal with you everywhere, consider making the crumble bars. Just like any fruit crumble, crumble bars are also easy and simple.
There are two main parts: the blackberry filling and the crumble. First, you make a crumble mixture and divide it in half. Then press the first half into a pan to make the base.
For the next step, you want to spread the blueberry filling over the newly-baked base. Then just top it all with the renaming crumble. After the baking is done, let it cool. Lastly, chop the whole thing into smaller squares.
Total time: 15 minutes
Here I introduce you to another super quick-to-make blackberry recipe within 15 minutes! Yes, with that little time, you can make yourself a fast meal that is bursting with juiciness. Read more to find out how to whip it up!
Fruit compote has its roots in medieval Europe. It consists of whole or pieces of fruit soaked in sugar syrup. Blackberry compote is similar, just blackberries cooked in sugar and lemon juice. You can eat it fresh or use it in place of a jam or preserves.
A simpler blackberry compote recipe calls for only 4 ingredients: the blackberries themselves, lemon juice, sugar, and lemon zest.
There are 3 steps in cooking them: rinse and dry the berries, put all ingredients into a pan and bring to a boil (remember to simmer), and remove heat to let the whole thing cool down before serving.
You can recreate a blackberry compote without much effort, try it now.
Total time: 40 minutes
Did you know that blackberry and jalapeno make a heavenly duo? A fresh jar of jam or pickle is a must in the hot summer month, especially a jar of blackberry jalapeno jelly. This is a combination of pepper jelly and traditional blackberry jam.
The result is a beautiful color, warm buttered biscuit jelly. Here's a quick tip to adjust the spiciness: just put in more or leave out jalapenos with seeds to increase or decrease the spiciness.
The recipe calls for blackberry juice, powdered pectin, green and red jalapeno pepper, etc. Simply mix blackberry juice, pectin mixture, and jalapeno in a saucepan and bring it to a boil.
After 5 minutes, add a combination of sugar and pectin crystals. Keep stirring for another minute. Then remove the heat and constantly stir. Lastly, pour everything into jars and seal them in a hot water bath. To store, simply put the jars into the refrigerator.
Total time: 1 hour 15 minutes
This dish doesn't take long to whip up. The actual meal prep time is about 30 minutes at most, and the remaining time is for baking. It's best to let the dish cool for another 30 minutes before serving.
One feature of the blackberry galette is that it has a rusty shape. Therefore, it makes for a perfect practice target when you are new to baking. You could even say it looks uniquely pretty with the rustic look and all.
In case you're wondering, Galette is a type of French pastry that consists of a free-form pastry tart with a single crust and sweet or savory fillings. The fillings could be a combination of fruits, sugar, butter, and the like. Blackberry Galette has blackberry fillings with a sweet flavor.
Total time: 50 minutes
Blackberry Sweet Rolls are another perfect dessert for brunch or the weekends. The best thing about these rolls is that they require no yeast, so you don't have to wait for them to rise!
These soft and fluffy sweet rolls filled with blackberries can brighten your day with one spoon. What's better than waking up on a Saturday morning and eating these treats in the sunlight?
The rolls themselves are not overly sweet, but the flavor is elevated with the glaze. You will soon see why it is a key part of every sweet roll. The sour taste of berries and extra sweetness from the ingredients are so good that hardly anything else comes close.
Total time: 55 minutes
Clafoutis is a soft-baked dessert with whole cherries, but you can also use other fruits. It originated from South Central France. There is an array of variants with different fillings. Plums, nectarines, apricots, etc. are some of the few examples.
This French-originated dish is famous throughout the world. I can see why. Blackberry Clafoutis is not only amazingly delicious but also one of the easiest desserts to make. It's a win-win in my books.
Traditionally, people make Clafoutis with cherries, not blackberries. But if you are up for it, blackberry and cherry Clafoutis recipes are available. You can enjoy the best of both worlds in one dish!
Let's try making blackberry Clafoutis and surprise your guests with them.
Total time: 10 minutes
This basic mousse calls for only very few ingredients: frozen blackberries, egg white, honey, and fresh mint. With a food processor, making a blackberry Mousse is even easier. Just toss all the ingredients into the said machine and let it handle the rest.
If you fancy something more, how about making rosemary crumble to top the final product? Just sprinkle the crumble over the mousse right before serving, and you are good to go. Alternatively, you can put in fresh berries, mint leaves, or whipped cream.
The color and the slight tang of the berries will surely excite anyone. If there is whipped cream, your serving would be richer and airy.
Total time: 1 hour 25 minutes (Including 20 minutes of cooling time)
In case you aren't familiar with scones, they are basically a kind of rich and slightly savory pastry. You can trace its origin to Britain where people often serve it with tea or at breakfast.
There are two variants of scones: British and American-style. You would often see the former as a plain bake, with little to no sugar. As for the latter, you eat it alone without sugar.
What's cool about this recipe is that you can substitute many ingredients. You can replace sour cream with Greek yogurt and heavy cream with whipped cream.
It's possible to use any berries in this recipe, not just blackberries. One tip is that if you use strawberry substitution, consider swapping out white chocolates and lime glaze with dark chocolates and melted dark chocolate, respectively.
Blackberry scones are ideal for enjoying alongside a cup of tea on a late summer's day. Feel free to eat them alongside jam or butter.
Explore how easy and incredible it is to cook these blackberry scones.
Total time: 20 minutes
Fruit fool is a classic English dessert. People make this sweet treat by folding any boiled, strained, or chilled fruit into a sweet custard. Nowadays, the thickening agents could be whipped cream.
No one knows why this kind of dessert goes by that name or its origin. The traditional version uses gooseberries. But today, let's take a look at the modern take on this dish, blackberry fool.
You can make a fool with just about any kind of fruit. Preferably, the fruit you choose should be sweet and sour with a vibrant flavor so that it doesn't get overwhelmed by the rich whipped cream. Thus, blackberries are a good choice here.
Total time: 35 minutes
Do you want something that is a snap to make but with a pastry-shop quality? Look no more, for this easy blackberry cream cheese Danish recipe is what you've been looking for.
Here are the main ingredients: crescent rolls, fresh blackberries, cream cheese, etc. Then make a mixture of cream cheese, sugar, vanilla, and flour. Then spread it onto the dough. Top with blackberries pie filling or fresh ones (you can put in both) and start baking.
The highlight here is surely the icing that you pour over the Danish. When you have leftover Danish, you can store them in an airtight container and put them into a refrigerator. This way, the dish is good for consumption for up to 7 days.
Total time: 25 minutes
Whenever you have a surplus of blackberries or a craving for a dish that contains them, you should consider cooking this recipe. Blackberry curd is silky-smooth and incredibly delicious, you won't be satisfied with just one serving of it.
What is a fruit curd? Simply put, it is similar to jam but uses fruit juice instead of the whole fruit. To make a fruit curd, you need to mix butter, eggs, sugar, and fruit juice and heat the mixture until thickening, then let it cool down.
This recipe relies on the blackberry juice and eggs to thicken the mixture into a creamy substance. If the berries of your choice are either too sweet or too sour, adjust the amount of added sugar accordingly.
Total time: 5 minutes
If you are a lazy cook who doesn't want to spend too much time and effort but still wants a heavenly dessert, you are not alone. Homemade milkshakes are one of the best things you can get within 5 minutes.
Fruit, green, and berries are the most popular choice as ingredients in a milkshake. Like any berries, blackberries are a rich source of fiber, vitamin A, vitamin C, potassium, and magnesium. So it's no wonder you should put them into your summer drink.
The making process is plain and simple. All you need to do is to throw all the ingredients into a food processor and proceed to crush until achieving the desired smoothness or consistency.
Total time: 35 minutes
There's hardly anything more of a grab-and-go dessert than these blackberry turnovers. They are light and easy to hold on with one hand to have a bite. The combination of puff pastry outside and blackberries fillings make for a heavenly duo.
The dish is buttery, flaky, sweet, and sour at the same time. There's no fuss about it, you just make the fillings and put them into the pastry sheets, then bake it all. The assembly and making of blackberry turnovers couldn't be easier! To top it off, this recipe makes use of icing.
Total time: 30 minutes
There's no better way to perverse summer than a jar of jam. The homemade blackberry jam will surely remind you of the hot and sunny days with its tart and sweet taste.
Most recipes like this include blackberries, lemon juice, sugar, and pectin. Pectin is a prevalent ingredient in jam and jellies because it helps create a nice gelatinous texture.
However, in the case of blackberry jam, you don't necessarily have to put it in. This is because the blackberries can thicken up on their own and create a jam-like texture.
This recipe is quite hard because of the addition of pectin. You can reduce the amount of pectin for a solid version. If you prefer a soft set, then consider making a pectin-free jam by replacing it with lemon peels and pips.
You can recreate blackberry jam without pectin by following this guideline.
Total time: 10 minutes
If you want to opt for a healthier option, then you may want to take a look at this recipe. The fiber-rich blackberries and oats are good for your gut. They are also a rich source of minerals, antioxidants, and anti-inflammatory phytochemicals. Such a good dessert for breakfast!
Although it won't take more than 10 minutes to make, blackberry pie overnight oats have "overnight" in their name. This part refers to soaking oats with almond milk overnight, which softens the oats. Thus, by the morning, you don't have to cook the oats.
Total time: 1 hour (Excluding chilling time)
I guarantee you this recipe will be a hit with your friends and family. How can anyone say no to the tart, fresh blackberries with a sweet custard? The pie filling is a beautiful purple harmony between the custard and the blackberries.
As I've always said, you should prioritize using fresh rather than frozen blackberries. If they are not in season, then frozen ones work fine, too. Just remember to thaw them before cooking.
One of the key steps is pouring the filling on top of the blackberries and the bottom of the crust. Pour slowly and steady so that there's no spilling. Another important thing is to chill the pie crust in the refrigerator for at least 45 minutes to allow the butter to set.
Total time: 10 minutes
I present to you another quick-to-make and fast-to-consume recipe. This low-carb and high-protein meal is great to kickstart your day. Plus, you get a good amount of vitamin C from drinking this, isn't that neat?
As you can tell, the product of this recipe just has the nicest shade of purple! This color sets it apart from other commonly seen green smoothies. The flavor is a nice blend of almond milk, cauliflower rice, and blackberries.
Total time: 55 minutes
Meringue roulades' appearance is not uniform, they turn into different shapes every time you make one. They are somewhat similar to the Galettes in that department. Nonetheless, the crunchy outside and light and soft fillings make for a fulfilling treat anyways.
I've mentioned that this meal's look is not very neat, but you can't deny how pretty the pattern is. This results from spreading the whipped cream, fresh blackberries, and blackberry puree over the meringue.
Another neat thing about the meringue roulades is that you can make them ahead of time. Thus, you can easily impress anyone with minimal effort.
Total time: 50 minutes
I always love to give myself a cup of Earl Grey. But now I know a better way of consuming this tea: moist blackberry Earl Grey cupcakes! The combination of lightly sweet berries and subtle Earl Grey is next level.
But that's not all. Swirls of cream cheese frosting add a pop to the already perfected dessert. The subtle, fragrant citrus touch of Earl Grey works great here. This is totally a more-ish dessert!
Besides cupcakes, you can make a lot of recipes with this duo. There's blackberry glazed Earl Grey yogurt cake, Earl Grey blackberry cake, Earl Grey & roasted blackberry petit fours, etc. The list goes on and on!
Total time: 6 hours 20 minutes (Excluding 2 hours of cooling)
Now, this is something I believe ticks a lot of people's boxes. It's an ice cream recipe! The recipe is simple, but the result is beyond your simple ice cream. A deep and jammy blackberry flavor will surely get to you.
The main ingredients include fresh blackberries, sweetened condensed milk, vanilla extract, etc. The next thing is to turn the blackberries into a smooth, juicy puree with a blender.
Then heat it on medium heat with lemon juice and sugar and cool the new reduced mixture in a refrigerator for 2 hours. After that, mix and stir heavy cream, condensed milk, and the vanilla extract into a new combination.
Combine the cooled puree and newly-made combination until they come together. You need to chill the whole thing for at least 6 hours for the desired results. For ease of cooking, I recommend you use a portable mixer, a food processor, and a fine-mesh sieve.
See how people make ice cream with freshly-picked blackberries here.
Total time: 1 hour 10 minutes (Including 1 hour of oven cooking)
This food is a simple, quick bread that you can eat as a late-night dessert or a snack with a cup of coffee or tea. This moist bread recipe is bursting with blackberry flavor and begging you to take a bite.
This recipe is also adaptable since you can swap out the blackberries for any kind of berries, from blueberries and raspberries to strawberries. Or better yet, make a mixed berries bread with all of them.
You can also freeze this quick bread. Just put the cooled bread in food plastic wrap, then wrap another layer of aluminum foil. Then place the two-layer wrapped blackberry bread into a container, and you can freeze them for up to 6 months.
Total time: 1 hour 50 minutes
Blackberry buckle is a charming dessert where a buttery batter surrounds the blackberries in the middle. When baking the dish, the berries "buckle" the top part, hence the name. Plus, consuming this dish with ice cream or whipped cream is the true way to enjoy it.
To be able to appreciate what the blackberry buckle has to offer, you just need one bowl and one skillet. That's all the kitchen utensils this recipe requires. As for the cooking techniques, as long as you can mix, bake, and have a little patience, you can make this dish.
Whipping Up A Blackberry Dessert Is No Hard Work At All
I've said it billions of times before, but I love easy blackberry desserts. When you incorporate the blackberries into these sweet treats, there is a tangy, sour yet sweet flavor that just adds so much more to your experience.
Reading thus far, I believe now you've known how anyone can make most of the blackberry desserts with minimal effort. Furthermore, it only takes about 50 minutes on average to cook these dishes, so there's no reason not to try making them at all!
If you find this article helpful, then please share it so that more people can learn about the wonderful world of easy blackberry desserts. Plus, you should comment below to tell me and everybody what you think about blackberries, one of the most beloved berries of all.