These delicious, creative, and super easy beef crockpot recipes will turn your slow cooker into a staple in your kitchen. From meatballs, stew, pasta, and tacos to Au Gratin, and more, all you need to do is dump the ingredients in the pot, plug it in, and walk away.
Today's compilation is all about beef! With these recipes, you can transform an inexpensive chuck roast, sirloin, or any cut of beef into a restaurant-worthy dish. Or, you can try cooking with some cut of beef that might rarely cross your mind, such as short ribs.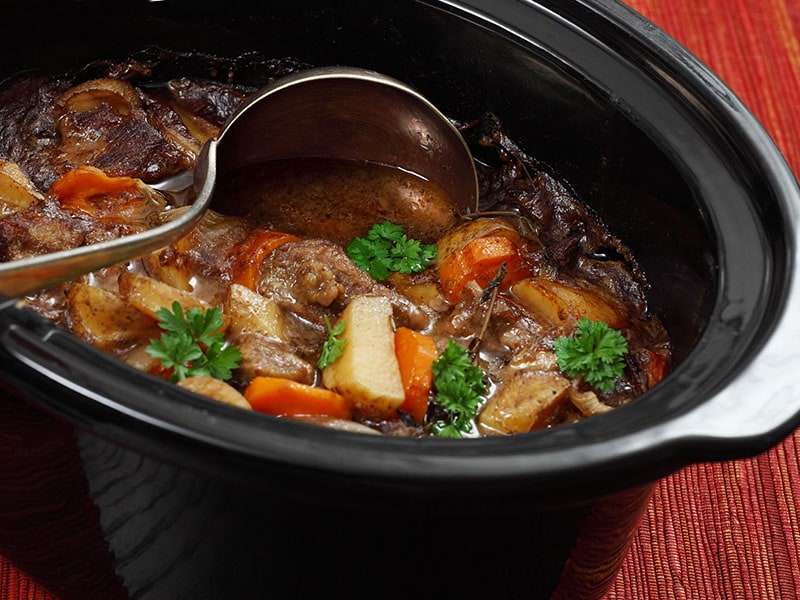 30 Easy Beef Crockpot Recipes For Your Next Dinner
The beauty of the crockpot is that it can convert a mediocre cut of meat into something perfectly juicy and flavor-packed to savor. Scroll down, and you'll never run out of what to do with your beef and crockpot again!
Total time: 6 hours and 18 minutes
The Greek Gyro sandwich basically contains beef, veggies, and a special sauce called Tzatziki served over pita bread! While the classic Gyro normally uses the more expensive lamb, this recipe, which uses Sirloin steak, is by no means less tasty.
The savory steak and the soft and plush pita bread are a match made in heaven, in my book! The meat definitely steals the spotlight here! You'll need to heavily season it with salt, olive oil, spices, etc, to give the meat an explosion of flavors when slow-cooked.
Finally, the fresh veggies such as tomatoes, cucumbers, and lettuce add more crunch and the Tzatziki sauce just takes the whole thing over the top. Yet, make sure to allow the sauce to sit in the fridge for 30 minutes before serving.
Everything you fancy about Greek Gyro meat comes together in your crockpot with this easy recipe!
Total time: 8 hours and 50 minutes
Let the slow cooker do all the work for this chili mac recipe! This true comfort in a bowl simply has it all: gooey and melted cheese, savory and tender ground beef, and pasta.
Can anyone say no to such an indulgence? Plus, it's a true dump-and-go dish; you cook everything in the slow cooker, including the pasta!
In this recipe, you'll cook the well-seasoned ground beef alongside tomatoes, tomato paste, chili powder, and kidney beans on the low all day long. Then, the pasta and cheese go into the pot and cook for another 15 minutes.
Total time: 7 hours and 30 minutes
Savory homemade pasta sauce is just a crockpot away! Yes, you can make this restaurant-worthy dish at home by simmering beef mince, Pancetta (salt-cured pork belly salume), tomatoes, and red wine in the slow cooker.
The key to nailing the best Bolognese sauce (or Ragù alla Bolognese) is to cook it long and slow. For this reason, your crockpot is an ideal device for the sauce.
It gives time for the beef to become tender and fall apart all over your pasta, the tomatoes to sweeten and mingle with other wine and veggies for a rich and luscious sauce. There might be more work for you to whip up this dish (than other recipes on this list).
You'll need to saute the tomatoes, brown the beef, and reduce the red wine before you can toss everything in the crockpot and walk away. But all of this work makes for a Bolognese that can rival your favorite restaurant.
Rich and delicious slow cooker spaghetti Bolognese will satisfy your craving for Italian dishes!
Total time: 5 hours and 10 minutes
Broccoli and beef is a popular pairing in Asia cuisine for a good reason! Save this hearty dish for a weeknight dinner when your craving for Asian cuisine hits!
Dump the flank steak in your crockpot and allow time for the device to slowly and perfectly tenderize the meat (5 hours, to be exact). Throw in the broccoli florets to add a pop of flavor and complement the meat flavor.
The secret to this recipe, however, is the homemade sauce. It's a flavorful blend of brown sugar, sesame oil, beef broth, garlic, red chili flakes, and, of course, soy sauce – the staple of Chinese cuisine.
Plus, if you want extra juicy and moist meat, choose flank steak and slice it against the grain. Serve this warming and hearty dish hot over a bed of fluffy rice, and your dinner is complete! It's also amazing on noodles!
Total time: 8 hours and 25 minutes
Ropa Vieja is Cuba's popular braised flank steak with vegetables and aromatics. The shredded meat has a tattered look, which earns it the name "Ropa Vieja", meaning "old clothes".
Despite the somewhat fancy look, this dish is incredibly easy to put together with your crockpot. It only takes 10 minutes of your hands-on time.
Like many crockpot recipes here, you need to pan-sear the meat before slow cooking it. This is an essential step for the most flavorful and tenderized beef. Piping hot Ropa Vieja is perfect to serve over rice or cooked black beans for a complete dinner meal.
If you want something exciting for tonight's dinner, this slow cooker Ropa Vieja is worth trying!
Total time: 8 hours and 10 minutes
Savory tacos are among these ideal crockpot choices for a cool summer night, especially these crockpot-inspired tacos with shredded beef strips rather than the typical ground beef.
The meats offer such an amazingly beefy flavor. Yet, the slightly spicy tomato-chipotle sauce here only further enhances their flavors. Let it bubble away in your crockpot for 8 hours to allow the sauce's flavor to march its way into the meat.
The beef, in the end, is not only flavor-packed but also so tender that it effortlessly falls apart as you shred it with two forks.
Serve these beef tacos with tortillas, the popular Mexican salsa – Pico de Gallo, and sour cream to boost the flavor. Make a double batch if you want, as these flavorsome shredded strips also go awesomely with quesadillas or enchiladas for an easy weeknight dinner later.
Total time: 6 hours and 15 minutes
These scrumptious, hearty, and filling peppers take only 15 minutes to prep, and you don't have to heat up the oven or the stove to put them together!
I always prefer peppers as they are great vessels for plenty of fillings. Here you'll stuff them with savory beef-rice filling topped with melty Jack cheese.
The bell peppers can retain their shape from the crockpot, but the beef filling inside is almost melt-in-your-mouth and, of course, addictingly tasty. They're sure to be your new family's favorite weeknight meal!
Introduce some veggies to your dinner with these easy-to-make slow cooker stuffed peppers!
Total time: 8 hours and 20 minutes
Barbacoa, originating from Mexico, is basically meat cooked over a fire pit or open fire. The word "barbacoa" simply translates to barbecue in English.
The tastiest beef barbacoa should be slowly cooked in a smokey, savory, and quite spicy mix of spices, chipotles, garlic, apple cider vinegar, and more until it's fall-apart tender.
Your crockpot here almost handles all the work, and you only need to blend the ingredients into the sauce, throw them in the slow cooker, place the chuck roast on top, set it, and forget it.
Chipotles are what makes this Mexican dish stand out. They add the savory heat that can perfectly warm your taste buds on chilly nights.
Because it's a Mexican-inspired dish, you can serve it with many Mexican dishes. Yet, you can't go wrong with the classics such as tortillas, burrito bowls, salsa, or Mexican salads.
Total time: 8 hours and 30 minutes
With the perfect balance of spiciness and sweetness, this beef crockpot recipe will graciously make its way to your dinner staples with just one bite!
This comforting dish starts with browning and crumbling your ground beef on the skillet before throwing in the remaining ingredients and switching on the slow cooker! Don't forget to garnish the bowl with corn chips, sour cream, or green onions to complete the dish.
The slow cooker chili here mixes and matches two kinds of beans for various flavors, textures, and colors. It calls for pre-cooked, canned beans. Yet, you can use dried beans but soak them overnight before sending them to the crockpot.
Cook this savory slow cooker chili, and everyone in the house can't wait for dinner!
Total time: 10 hours and 20 minutes
You can easily pull off a delicious and kid-friendly meal with just 5 ingredients. These crockpot sandwiches are super tender, juicy, and brimming with flavors in every bite.
Season the chuck roast well with Italian salad dressing before slowly cooking it in the mix of beef broth, pepperoncini peppers, and Giardiniera (Italian pickled vegetables in vinegar or oil) until fall-apart succulent.
Once the cooking is complete, you only need to pile the shredded cheese on the buns crowned with provolone cheese slices and your toppings of choice. And voila, you'll get an exciting dish for your weeknight dinner, game day, or the crowd.
Total time: 6 hours and 10 minutes
Whip up this juicy meatloaf to satisfy the meat-and-potatoes lovers in the house! All it takes to bring this flavorful main to the table is simple pantry items and 10 minutes of hands-on time before you can let the rest for the crockpot to handle.
Parsley, garlic, onions, and Italian seasoning help spice up the ground beef. The delicious glaze (made of brown sugar, Worcestershire sauce, and ketchup) makes the meat all the more finger-licking good.
You can add your other favorite proteins, such as pork, Italian sausage, or turkey, into the mix, as the slow cooker will graciously handle them all!
With this recipe, your slow cooker meatloaf will surely turn out juicy and tender every time.
Total time: 4 hours and 25 minutes
Potatoes, cheese, and beef all come together to create the ultimate cowboy food in one crockpot.
The best slow cooker of wholesome Au Gratin starts with the browning of ground beef on the stovetop (don't skip this step if you want a depth of flavor for your dish). Then, add all the ingredients into the pot, drizzle them with the broth, and cook.
Like any potato-based dish, this slow-cook Au Gratin asks for plenty of seasoning. So, you may want to add a generous amount of pepper and salt, alongside paprika, garlic powder, and parsley.
The best tactic is to let the seasoning sandwiched between two layers of potatoes, ground beef, and cheese. This guarantees that the meat and potato can soak up the seasoning thoroughly.
Total time: 8 hours and 30 minutes.
If you've neither heard of beef short ribs nor tried them ever before, you're missing out on such a great life's indulgence! Treat these ribs right, and you'll enjoy a delectable dish at the end.
This recipe cooks the slightly-seared short ribs low and slow in a beef broth, alongside mushrooms, garlic, and onions. The ribs, in the end, should be soft and fall off the bone.
The best ribs for this recipe are the English-style cut ribs (and they are more visually impressive on the plate, too). However, flanken-cut ribs can yield an equally tasty dish. Whatever you choose, make sure your ribs only have a little fat in them.
These crockpot braised short ribs are not only eye-catching but are also incredibly tasty to die for.
Total time: 9 hours and 10 minutes
Italian rustic beef Ragu is true comfort food! It's a perfect choice for a cozy weeknight meal after a long day at work. This recipe (and your trusty crockpot) manage to turn the typically tough and sinewy cut of beef into a lip-smacking dinner meal.
The meat is cooked low and slow until it melts in your mouth. This Ragu is a perfect accompaniment for pasta, mashed potatoes, or any hearty side.
This classy Ragu combines beef cheeks, canned tomatoes, and red wine as the main ingredients cooked well in one pot.
Total time: 10 hours and 15 minutes
Juicy and flavor-packed beef brisket is already awesome on its own. Yet, a knock-out BBQ sauce, like the one in this recipe, only makes it even better!
The long list of spices here is the secret: you'll need them to wholeheartedly rub the meat and make the savory sauce. Finally, roast the slow-cooked brisket for a few minutes in a hot oven to get a nice caramelized crust.
Speaking of brisket, you'll never run out of ideas on how to enjoy it. Whether you serve the meat with coleslaw, mashed potatoes, green beans, or salads, rest assured that it's always crowd-pleasing. It's also a savory topping for sliders (if you're in the mood for some bites)!
Learn how to make your own slow cooker beef brisket with this detailed guide!
Total time: 4 hours and 30 minutes
Filling, satisfying lasagna is extra-easy to whip up with a slow cooker. Layered with a rich meat sauce, 2 types of cheese, cooked ground beef, and tomato sauce, this lasagna will delight any palate.
The best thing is that it's fuss-free to make. Simply put all the ingredients in your crockpot before heading to work, and you will come home to a hearty meal ready to serve.
It's important to make sure that you add a layer of the meat sauce instead of lasagna noodles to the bottom of the crockpot. Otherwise, the heat will scorch your lasagna.
Total time: 5 hours and 15 minutes
Loaded with cheesy and meaty Mexican flavors, this luscious slow-cooked casserole is sure to be a hit in your family.
This casserole only requires 8 ingredients and 15 minutes of hands-on time. The prepping mainly involves browning and crumbling the ground beef before adding green chilies, salsa, and taco seasoning and transferring them to the crockpot.
The first layer in the crockpot is enchilada sauce, followed by tortillas, meat mixture, and shredded cheese.
Repeat these layers twice before slowly cooking them until the meat is juicy and easy to shred. Finally, serve it with optional garnishes, from sour cream, chopped cilantro, Pico de Gallo, etc.
Bring up this slow cooker beef enchiladas for your supper with this simple recipe.
Total time: 9 hours and 15 minutes
You'll get all the savoriness of Fajitas minus the hassle by using your crockpot. Just dump the ingredients in the pot, and you're all set! For the best flavors, rub the beef well with the spices before adding it to the pot, alongside soy sauce and other ingredients.
This dish is a great way whenever I want to sneak in some fresh veggies. The bell peppers, in particular, are more than ideal for slow-cooking. They turn out tender and complement the flank steak without getting too mushy.
The classic way to serve these crockpot beef Fajitas is flour tortillas. Feel free to top them with savory toppings such as sour cream, guacamole, salsa, and shredded cheese. If you want more veggies, the dish is also awesome when going over lettuce wraps.
Total time: 8 hours and 10 minutes
The chuck roast and bacon in this Bourguignon will fall apart after 8 hours in the slow cooker.
Yet, what really makes this dish incredibly awesome is the red wine gravy that smoothers the beef. It helps the sauce become deeper and richer and makes every bite so addicting.
There is no need to go for a fancy wine, but make sure you use a bottle that you don't mind drinking. This Bourguignonne also involves a skillet for browning the beef, but your trusty crockpot almost performs all the heavy lifting.
It is important to slightly brown the chuck roast and bacon on the skillet before sending them into the crockpot. The step allows the natural sugar to melt and create an irresistible roasted flavor and aroma.
But make sure the meat is completely dry before browning. The moisture will make the beef stick to the pan and prevent them from browning.
Spruce up your tonight's dinner with this scrumptious slow cooker beef Bourguignon.
Total time: 8 hours and 10 minutes
Made with beef stew meat, nutritious whole grain barley, nutrient-dense broth, and veggies, this soup is exactly what you'll want to warm your soul on chilly nights.
There's no need for expensive, fancy beef, as even the inexpensive cut of meat can become fork-tender when slowly cooked for several hours.
This soup uses small pieces of meat, so it takes less time. When properly stored, it can keep up to 5 days in the fridge and 3 months in the freezer.
Total time: 8 hours and 30 minutes
Bring this pure comfort food to the table, and it'll become a new family favorite in no time! This crockpot beef Stroganoff is tenderized beef, mushrooms, and pasta/ egg noodles, all coated in a savory and creamy sauce.
When it comes to the meat, there is no need to go fancy; this recipe will turn an inexpensive cut of meat into something tasty and decadent in no time.
While Stroganoff goes well with almost any type of noodles, egg noodles are always classic. It is also nice when served with cauliflower rice or mashed potatoes.
Like all stews, this beef Stroganoff holds up pretty well in the fridge. It can last 4-5 days in the fridge and up to 3 months in the freezer. Perfect for making ahead for serving a large crowd!
Learn how to cook the classic beef Stroganoff with a handful of ingredients and your crockpot.
Total time: 5 hours and 15 minutes
The crockpot slowly cooks the tasty strips of sirloin with bell peppers, onions, and garlic in a quick-to-make sauce. The sauce calls for Worcestershire sauce, soy sauce, brown sugar, other seasonings, and some cornstarch to bind everything together.
Serve this hot pepper steak over a bed of white or brown rice, and you have a complete dinner meal. The tasty, rich sauce also makes this crockpot pepper steak awesome over spaghetti noodles or steamed veggies.
This pepper steak uses both green and red peppers, making it so darn pleasing to look at. You can even throw some red pepper flakes into the steak if you like spicy things.
Total time: 8 hours and 10 minutes
Mississippi pot roast is all the rage over Pinterest. Any secrets? Have a taste, and you'll know why! Mississippi pot roast has a great combination of bold flavors.
This Mississippi pot roast only calls for a handful of ingredients and is super easy to make with the slow cooker.
The ranch dressing, onion soup mix, butter, and pepperoncini all come together and seep into the moist chuck roast. The pepperoncini give an extra kick of flavor, whereas the ranch dressing adds tang to the pot roast.
If you don't want to miss out on the popular Mississippi pot roast, here's the recipe you'll need!
Total time: 3 hours and 27 minutes
Picadillo is the classic Cuban comfort food, commonly made from ground beef and a flavorful mixture of olives, bell peppers, and spices.
Traditionally, people cook Picadillo on the stovetop in one single pot. Yet, the slow cooker works just as well (if not better). What this lean ground beef really asks for is a little bit of time to simmer to reach that savory tenderness.
As usual, it's best to not skip browning the ground beef on the skillet before letting it go into the crockpot. This helps develop the flavor to a greater depth. While raisins are absent in this recipe, feel free to add them if you want for the extra sweetness.
Total time: 5 hours and 30 minutes
It's hard for me to finish this list without mentioning the all-time crowd-pleaser – meatballs. The ground beef in this recipe teams up with plenty of cheese, garlic, eggs, and other seasonings and gets browned nicely before heading to the crockpot.
Serve these mini meatballs with spaghetti and a generous amount of Parmesan cheese for a hassle-free dinner meal! Or you can serve them as a party appetizer for the crowd, but make sure your sauce is a bit thicker so it can better wrap around these meatballs.
Serve these slow cooker meatballs as an appetizer or main dish over mashed potatoes, and you're all set!
Total time: 8 hours and 10 minutes
Few things can beat a satisfying soup with perfectly soft ground beef on a chilly night, and this recipe flavored with enchilada sauce will soon become your new go-to.
The enchilada sauce gives this soup a load of Mexican flavors. Adding lime juice will lend this soup the right amount of tartness.
Although this soup can be amazing on its own, it is tastier if you add some toppings such as sour cream or shredded cheddar cheese.
Total time: 7 hours and 20 minutes
This crockpot beef stew is an explosion of flavors you'll keep returning for more. This stew gathers its rich flavors from a handful of pantry ingredients and fresh veggies.
The beef broth, together with potatoes, carrots, onions, celery, and other herbs, infuses plenty of flavors into the meat.
But this recipe also puts a spin on the classic stew. The combination of Worcestershire sauce and dry red wine indeed lends an extra dimension of flavor to the finished stew. This soul-warming stew can keep 3-4 days if refrigerated and up to 3 months if frozen.
This scrumptious slow cooker beef stew only calls for simple ingredients, a slow cooker, and minimal effort.
Total time: 8 hours and 10 minutes
Chile Colorado, also spelled Chili Colorado, is a popular Mexican stew with succulent pieces of beef simmered in a red chili sauce.
It's among those hearty, soul-warming food that you'll be so excited about the leftovers. 8 hours of simmering in the crockpot allow the beef to soak up all the complex chile flavors and make it even better the next day.
Your crockpot will make the cooking of these beef burritos extra easy. You'll only need to toss in all the ingredients into the pot and let it cook for 8 hours on end.
The rest is about assembling the burritos with this beefy filling, beans, and cheese. The savory, beefy filling can be also awesome to pair with tacos, quesadillas, or rice.
Total time: 8 hours and 25 minutes
If you can't choose between pot roast and French onion soup, you can have the best of both worlds with this crockpot French onion pot roast recipe.
You'll get a beef chuck roast slow cooked to perfection, layered with sweet, finely thin onions. The onions also help the show star stand out in the dish by tenderizing them.
Whip up the savory sauce using apple cider vinegar, Worcestershire sauce, onion powder, beef broth, and other spices. This combination only further takes the flavors of the chuck roast to a new level of savoriness.
The gravy from this pot roast is ideal to serve over a bed of mashed potatoes. Otherwise, you can enjoy this pot roast alongside steamed veggies, fresh salads, egg noodles, and beyond.
Delicious, addicting, and hearty, this french onion pot roast deserves a spot on your dinner table.
Total time: 10 hours, 20 minutes, and 8 seconds
You'll thank your crockpot for these finger-licking good sandwiches that are perfect for dinner, weekend lunch, or any meal.
In this recipe, you're going to make Au Jus from scratch. Yet, the good news is that your crockpot will handle most of the work.
Simply thoroughly rub your beef chuck with olive oils and seasonings before slow cooking it with a sliced onion base, Worcestershire sauce, and beef broth.
There's even no browning of the beef required here. You can do all of this work in the morning and come home to a hearty dinner ready to serve.
The only cooking tip here is to add some unsalted butter while reducing the drippings to create a more decadent Au Jus. The Au Jus is so insanely good that you will not want to toss it. So, why not serve a small of it for dipping!
Minimize Your Kitchen Time With These Beef Crockpot Recipes!
What kind of meals are you looking to make tonight using your slow cooker? If you have no clue, these easy beef crockpot recipes will have your back.
Most of them only ask for easy-to-find ingredients, no more than 30 minutes of prepping time, and not many culinary skills.
If you've tried any of these recipes for your dinner, feel free to comment and share your experiences with me. For more cooking inspiration, you can check out other posts on this site and click the button to like and share these beefy recipes if you love this content.