A list of the best BBQ desserts will save some time for those worrying about what to make or bring to a BBQ. Desserts are a brilliant way to end or tailgate a barbecue feast. With a refreshingly sweet and breezy touch, they offer a satisfying flavor experience to every guest.
When summer comes, it brings the most awaited season of the year – the grilling season. Nothing is more relaxing than relaxing than enjoying a barbecue feast with your family and friends on a hot summer day and ending with a bite of tasty and delightful sweets.
So, what are the best desserts that go nicely with a BBQ party? This article will introduce you to the most popular and easy BBQ treats that no one ever feels like skipping. Without further ado, let's jump right in.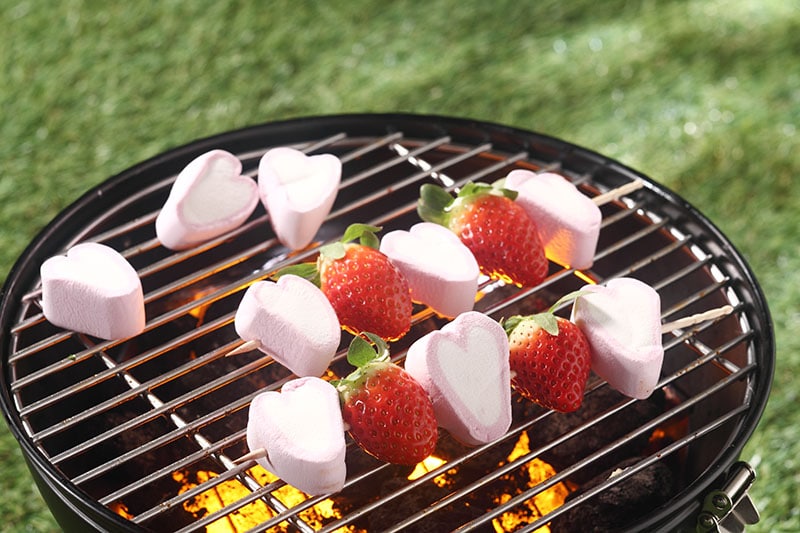 Best BBQ Desserts That Make A Perfect Grand Finale To A BBQ Party
Have you figured out what dessert to make for the next BBQ yet? Don't restrict your options to those regular ones that you always prepare. There are many better choices in front of you. From lovely cakes to fruity treats, it's high time to pick one and impress the guests.
Total time: 30 minutes
Strawberry shortcake ice cream bars are my favorite summer treat of all time. Made of fresh strawberry and shortbread cookies, the classic part about this creamy dessert is that it pays homage to those sweet childhood memories.
The recipe for this dessert cannot be more simple. The main ingredients are strawberries (both fresh and dried), heavy whipping cream, sweetened condensed milk, and butter. With some freezing and coating techniques, the dessert is at your service.
Interestingly, these creamy bars can be stored in the freezer for up to 2 weeks without losing their dreamy taste. So, you can get some extra bars and keep them in an airtight container if there are some leftovers.
This is an ultimate strawberry shortcake ice cream bar recipe with detailed instructions.
Total time: 20 minutes
This cookie dough dip is perfect if you need an easy no-bake dessert to bring to your next BBQ. It is trouble-free to make, very refreshing, and irresistible.
To make this creamy, eggless dessert, dissolve butter and brown sugar in a saucepan over medium-high heat and give them a whip. When the sugar melts, remove the pan and pour in one teaspoon of vanilla extract.
In the meantime, combine the cream cheese and confectioners' sugar and let them mix well. Then, throw in the butter and sugar mixture and heat them over medium-high. Once they combine, add the chocolate chips, and the lovely dessert is ready.
Total time: 15 minutes
If you have not heard of this summer dessert before, the Eton mess is a marvelous harmony of strawberries, whipped cream, and meringue. It is the best BBQ dessert because it is not heavily sweet but comes with a light and refreshing flavor and crunchy notes.
The ingredients for the Eton mess are super simple: strawberries, cold heavy cream, meringue cookies, granulated sugar, and lemon. To prepare the strawberries, dice them and mix them with sugar and lemon juice. Set aside.
In a stand mixer bowl, blend cold heavy cream with sugar until it comes with marshmallowy soft peaks. Meanwhile, take 2-4 crunchy meringue cookies and smash them. Finally, combine the three components, but only use 2/3 of the strawberries.
To serve, divide the mixture into several coupes, short glasses, or small bowls, and layer the remaining strawberries on top. If you desire a more refreshing and balanced flavor, add some lemon zest to the dessert.
Total time: 20 minutes
Grilled split bananas are a perfect BBQ dessert to conclude a grill session. The simple yet marvelous banana sweet is foolproof, festive, and does not take up much time.
In this recipe, you need to make a deep slit down the center of the banana. Open the slit and fill it with sufficient chocolate chips and marshmallows. Then, cover the banana with tin foil and cook in the oven.
The dessert is ready when the sweet fillings melt and blend beautifully, while the banana is perfectly soft. Combined, it brings in a satisfying summer treat. You can make the dessert to your liking. I like to top my grilled split bananas with ice cream and sprinkles.
Total time: 4 hours 45 minutes
A lemon meringue pie is a stimulating after-meal creamy idea to conclude a BBQ party. Foolproof and uncomplicated, it will undoubtedly satisfy everyone's taste.
This BBQ dessert features lemon juice, zest, and pantry staples such as flour, sugar, and eggs. You can find these simple ingredients in your kitchen.
Lemon meringue pie comprises three elements: the pie crust, the lemon filling, and the Italian meringue topping. Interestingly, they can be prepared in advance. When assembled, the dessert comes with divinely fluffy and cream notes, bringing a vibrant flavor punch.
Famous chef Jamie Oliver explains how to make the best lemon meringue pie.
Total time: 15 minutes
In this entry, I will introduce my ultimate treat for summer: the sweet strawberry shortcake skewers. I love to bring these to summer BBQs because they are fun, refreshing, and yummy. Just a perfect dish to conclude the feast.
To make these strawberry skewers, you need chunks of pound cake, strawberries, heavy cream, and confectioners' sugar. Start coating the cakes and berries in a bowl of sugar. Then, layer them onto the skewers and grill. Once they are marked, you are ready to eat.
It's best to serve these beautiful strawberry shortcake skewers with whipped cream. You can also have fun and customize these skewers with white chocolate or change them with fresh fruits.
Total time: 37 minutes
Chocolate chip cookies are always good, but have you ever tried them with Nutella? It is just a life-changing experience. Beautifully baked cookies combine perfectly with rich and creamy Nutella, bringing a melt-in-the-mouth texture.
The recipe for these cookies is pretty easy to follow. First, prepare all necessary ingredients such as flour, sugar, eggs, Nutella, and chocolate chips. Make the flour mixture using flour, cocoa powder, baking soda, cornstarch, and salt.
Then slowly add this flour mixture to a combination of butter, sugar, eggs, vanilla, and Nutella. Throw in the chips and mix well. Scoop the brownie dough into 2-inches balls and bake them for 10-12 minutes. Once nice and dry, the cookies should offer a nutty smell.
Total time: 5 minutes
Banana split kabobs breathe a new life to your summer barbeque. Not only is it fun to taste, but it is also super easy to make. If you desire a delightful flavor experience for your BBQ dessert, you should definitely make these no-bake banana split kabobs.
Like the strawberry shortcake skewers recipe, banana split kabobs also feature fresh fruits and cake. But in this particular recipe, I choose bananas, strawberries, and pineapples. And they combine well with soft brownies.
To assemble, put one strawberry in a wooden skewer, then add one piece of banana, pineapple, and brownie in order. Repeat until it gets to your desired amount. These kabobs go nicely with whipped cream. For extra flavors, chopped nuts would be delicious.
Total time: 55 minutes
If you are a big fan of fudgy sweets, these ultimate fudge brownies are a phenomenon. They are rich, chocolatey, and super easy to make.
This recipe requires nothing but the basics. You'll have chopped dark chocolate, cocoa powder, espresso powder, butter for the chocolate mixture, and pantry staples such as flour, sugar, vanilla, and eggs.
Using the needed ingredients, make the chocolate mixture. Once it cools down, mix it with a pale yellow batter of sugar, vanilla extract, salt, and eggs in a stand mixer bowl.
When the mixture beautifully blends, add in the flour and the rest of the cocoa powder. Stir until they all combine. Finally, bake the batter and cut it into lovely, moist bars to enjoy!
How to make the best ultimate fudge brownie for BBQ with and without eggs.
Total time: 5 hours 5 minutes
In this entry, I want to introduce a classic sweet treat made of cherry to feature in your next BBQ session. With a comforting blend of buttery crust and the heavenly creamy and soft cherry filling, it just lives up to every expectation of a perfect BBQ dessert.
This popular dessert features a pie crust and cherry filling. And it only takes six ingredients to make these components: tart cherries, sugar, cornstarch, salt, butter, and egg. You can use red food coloring for a more pleasing look, but it is not required.
While the cooking process seems lengthy, it is, in fact, a purely beginner-friendly recipe. Just follow the instructions, and you will end up with the yummiest cherry pie ever.
Total time: 55 minutes
Sweet, simple, and delectable strawberry-dependent desserts never fail to please the crowd. And these fluffy double strawberry cupcakes will undoubtedly make everyone over the moon.
The primary ingredients for these beautiful desserts are simple. To make the batter, you need to blend coconut oil, yogurt, eggs, honey, strawberry jam, and vanilla. Throw in flour, baking powder, salt, and strawberry powder and mix until they combine.
Add the milk and mix well. Then, divide the batter into the prepared cupcakes and bake them for 30 minutes.
In the meantime, prepare the frosting. Whip the cream cheese together, then throw in the butter, powdered sugar, strawberry powder, and vanilla, respectively. When the frosting looks light and fluffy, pour the milk in until it reaches the desired consistency.
Total time: 30 minutes
If you are itching for some easy dessert ideas for a great outdoor BBQ, you should definitely try this cherry cheesecake in a mason jar recipe. These jars just have everything you need: an appealing look, sweet taste, and no oven required!
This delectable dessert comprises three elements: the cracker mixture, cream cheese mixture, and canned cherry pie filling. To make the cracker mixture, combine graham cracker crumbs and melted butter.
In the cream cheese mixture, blend cream cheese, then add sugar, vanilla extract, and whipped cream. To assemble, lightly press the cracker mixture into the mason jar, then layer with the cream cheese mixture and the canned cherry pie filling on top.
Total time: 32 minutes
Strawberry panna cotta is among the ultimate summer desserts for concluding a BBQ party. Not only is it an easy no-bake, but it also offers a perfect melt-in-the-mouth custard-like texture to satisfy everyone.
This beginner-friendly BBQ dessert features easy-to-find ingredients such as strawberries, dairy, gelatin, sugar, vanilla, and salt. Prepare the strawberry puree and warm the gelatin and milk mixture. Then, heat them with salt and sugar for about 3-4 minutes.
Then, remove it from the heat and add vanilla. Once it cools down, throw in heavy cream and stir well. Serve these awesome treats in ramekins after refrigerating them for at least 4 hours. When fully formed, strawberry panna cotta will have a perfectly soft texture.
No one wants to skip this easy, no-bake strawberry panna cotta for a BBQ.
Total time: 45 minutes
Are you digging for a perfect dessert to bring to the next BBQ party? Then, I would like to introduce one of the most-anticipated summer treats: the fudgy, flavor-loaded s'more brownies. Out of the most popular brownie mix desserts, this recipe is easily the most sought-after one.
Primary ingredients for these brownies include one package of brownie mix, graham crackers, miniature marshmallows, and milk chocolate bars. To make the brownie mix, follow the directions on the package. Then, throw it into a greased pan and bake for 15 minutes.
Meanwhile, sprinkle the mixture of crackers, marshmallows, and milk chocolate over the top of the baked brownie mix and continue baking for 15-20 minutes. Wait for the brownies to cool before cutting them into pieces, and your lovely s'more brownies are ready to eat.
Total time: 1 hour 5 minutes
Grilling a chocolate cake inside an orange might sound weird, but trust me, this is one of the most effortless yet tasty desserts ever. With a light and citrusy flavor, this makes the fantastic summer dessert to conclude the party.
To cook this creative orange dessert recipe, cut off the top and hollow out the oranges. Then, make the brownie batter and pour it into the orange about 3/4 of the way. Put on the orange lid, cover with tin foil, and grill directly on medium heat for 35-45 minutes.
As they are perfectly grilled, the orange and the brownie will get divinely soft and come with lovely moisture. Altogether, the dessert provides a heavenly taste that satisfies every guest.
Total time: 2 hours 20 minutes
Mixed berry tiramisu is always my go-to for summer BBQ dessert. It's deliciously creamy and refreshing. It's foolproof and customizable. And, you can easily make it without an oven.
This authentic Italian sweet offering primarily makes use of berries, softened mascarpone cheese, heavy cream, and ladyfingers. For the berries, you can use whatever berries you desire. But I prefer seasonal fruits such as strawberries, raspberries, and blueberries.
Once you have all the ingredients, prepare soaked ladyfingers, whipped mascarpone cream, and macerated berries. Assemble them in order and let the dessert sit in the fridge for at least 2 hours to set.
I tried this 10-minute guide to making the perfect mixed berry tiramisu, and the result is amazing.
Total time: 1 hour 50 minutes (not including cooling time)
Another dessert that I love to make for a BBQ feast is the pineapple RumChata shortcakes. Not only does it sound delicious, but it also offers a charming look with a sweet smell. Moreover, you can easily cook it with a slow cooker instead of an oven.
This top-notch slow cooker sweet course is really just shortcakes, RumChata, pineapple, and whipped cream. For the shortcakes, I combine all-purpose flour, baking powder, salt, baking soda, and butter.
Then add in egg, sour cream, and RumChata before dividing into half-pint jars and cooking them.
Meanwhile, I prepare the topping using pineapple, sugar, RumChata, and lime zest. Once the shortcakes are ready, I can just layer them with the pineapple and whipped cream to enjoy.
Total time: 6 hours 55 minutes
In this entry, I will introduce one of the most expected seasonal desserts: rhubarb crumble ice cream. With a touch of crunchiness and richness, this rhubarb-flavored BBQ dessert is a hit.
Its recipe requires rhubarb jam, crumble parts, and an ice cream base. You can make crumble pieces by forming a mixture of butter, flour, and brown sugar into pea-sized crumbs. Bake and smash them into small pieces.
For the rhubarb jam, combine sliced rhubarb, sugar, and lemon juice and bake until it turns soft and syrupy. Allow it to cool and blend well. Meanwhile, you can make the ice cream using milk, cornstarch, corn syrup, cream cheese, and salt.
When all components are ready, assemble them and allow the mixture to set in the freezer for 4-6 hours. Once done, the ice cream will have a pretty pink shade and a fruity taste that sounds like heaven.
Total time: 6 hours 30 minutes
It is a shame not to include peach vanilla bean panna cotta in this list. This no-bake dessert wins everyone's heart with a rich and creamy texture. Requiring no hard work and really fun to make, it is just a perfect way to conclude a BBQ feast.
My version of peach panna cotta takes on seven ingredients: peaches, gelatin, milk, heavy cream, granulated sugar, vanilla bean, and rum. As peach is the main attraction of the dessert, it is best to use ripe peaches for their softness and aromatic notes.
When you have all the ingredients, prepare the peach layer, vanilla bean layer, and whipped cream, and assemble them. While it is optional, I love to add rum to the whipped cream. It blends perfectly with other components and delivers a better flavor experience.
Total time: 4 hours 27 minutes
Cherry delight is one of the classic desserts you should bring to a BBQ party at least once. It is fun, easy to whip up, and will definitely make your guests ask for more.
Cherry delight features two components: the crust and the filling. And they all are super simple to create. I use graham crackers, melted butter, and white sugar to make the crust. And cream cheese and heavy whipping cream are for the cheesecake filling.
The last step is to top the crust with the cheesecake layer and cherry pie filling and place it in the fridge overnight before serving. The graham crackers help balance out the sweetness of the cherries and the whipped cream, creating a delicious and refreshing cherry flavor.
Total time: 2 hours
Honestly, coconut cream pie is just the best BBQ dessert I have ever tasted so far. The creamy coconut custard blends beautifully with crispy pie crust and rich, decadent whipped cream on top, providing a perfect blend of comfort and flavor.
This coconut-based sweet treat features pie crust and coconut custard. About the pie crust, you can make your own version or use a frozen deep dish pie crust for a quick alternative. Either way, you need to bake it.
As for the coconut custard, I use flaked coconut, butter, vanilla, half and half, and eggs. To assemble, pour the custard mixture over the pie crust. Let it sit in the fridge for 1-2 hours. Before serving, you can place whipped cream and toasted coconut on top for a richer flavor.
Beginner-friendly tutorial to make the most amazing coconut cream pie.
Total time: 2 hours 20 minutes (excluding 8 hours of refrigerating)
Of course, the list of best BBQ desserts cannot be perfect without banana pudding cheesecake. The combination of vanilla wafer crust and rich banana filling makes a dazzling creation with a delightful flavor and heaven smell.
To make this yummy cheesecake, you need ingredients like vanilla wafers, bananas, pecans, lemon juices, whipped cream, and other essential pantry staples.
Start with the crust, then pour in the filling and bake. Allow the cheesecake to cool in the fridge for 8 hours before serving. It's noteworthy that of all ingredients, ripe bananas are the secret to making the best banana filling.
Total time: 45 minutes
Out of all baked goods, blackberry praline crumble is an exceptional dessert for a BBQ. The combination of blackberries and toffee harmonizes beautifully, giving everyone a burst of flavor in every bite.
To realize this pinnacle of blackberry desserts, you need the basics like sugar, butter, and cornstarch. For the blackberries, either fresh or frozen ones are fine. Also, toffee bits are a must for that sweet and buttery taste.
For starters, coat blackberries with a mixture of sugar and cornstarch. Meanwhile, you can make the butter into crumbs, then loosely mix in sugar and toffee.
In a greased 8-inch baking dish, layer the coated blackberries with the crumble and bake until the crumble turns beautifully brown.
If you prefer a blackberry praline pie, you can just use a deep pie dish instead. Blackberry praline crumble is best enjoyed when warm. It also pairs nicely with vanilla ice cream.
Total time: 2 hours 53 minutes
Flavor-rich and pleasingly fulfilling are the two words immediately coming out of my mouth whenever I hear of layered peach cobbler cake. With extra layers of peach, this BBQ dessert is definitely a treat to the tastebuds.
Layered peach cobbler cake features four components: peach cake, peach filling, peach cream cheese frosting, and cinnamon crumb topping.
Each is at a beginner-friendly level and almost impossible to mess up. Assembling can require some work; however, it's fun, and the result is overly satisfying.
Compared with other peach cakes, this dessert attracts people with its fillings, three layers of juicy peaches, and crunchy cinnamon topping. Altogether, layered peach cobbler cake gives a richer and more pleasing experience.
Total time: 4 hours 30 minutes
Mini fruit tarts are the best crowd-pleasing dessert in multiple ways. I have made them several times for BBQs. And trust me, everyone ends up devouring them every time.
Mini fruit tarts feature mini-tart crust, vanilla pastry cream, and fruits. I like this yummy dessert because of its convenience. You can use a microwave or microwave oven instead of a baking oven. Also, you can make the crust ahead without losing its texture.
Mini fruit tarts are a beginner-friendly dessert. The hardest part may be making the crusts, but you can easily buy them at stores. With a balanced touch of yummy fruits, buttery crust, and dreamy pastry cream, mini tart fruits just blow a new breath into the BBQ party.
This is the most straightforward tutorial on making the ultimate mini fruit tarts.
Total time: 1 hour
Very berry dessert lasagna combines two of my favorite desserts – strawberry jello lasagna and white chocolate blueberry lasagna – into one fancy dessert. With a touch of richness and crunchiness, it offers a perfectly melt-in-the-mouth texture that lives up to every expectation.
I have become a die-hard fan of very berry dessert lasagna because this 3-layer dessert is yummy yet super effortless to make and fast to assemble. Also, you can easily make it with no oven required.
You just have to prepare the strawberry layer, cheesecake layer, and blueberry layer. Then place them over the oreo crust base. Top with whipped cream and extra berries to serve. Light and refreshing, the very berry dessert lasagna is definitely a grand finale to a BBQ.
Total time: 15 minutes
Let's top off the list with Golden Grahams s'mores bars. Flavorful, straightforward, and hard to mess up, it makes a fantastic last-minute dessert for a BBQ.
This no-bake summer treat could not be more simple. First, melt the butter and mini marshmallows to make a rich and creamy mixture. Then, gradually stir in Golden Grahams cereal, chocolate chips, and marshmallows.
Arrange the combination on the baking sheet and layer with chocolate chips and marshmallows for more flavor. Now, wait a few hours for the dessert to cool off and cut into lovely small bars to enjoy!
Best BBQ Desserts Take The Grill Season Up A Notch
Desserts are the last piece of the puzzle when it comes to good grilling. After a fancy BBQ feast with all the greasy and smoky food, the existence of good desserts helps keep things balanced and maintain a pleasant atmosphere.
My list above has all the best BBQ desserts you need. From bake to no-bake, cakes to pies, with or without fruits, every dessert included is a perfect summer treat for closing off a BBQ.
Knowing the most popular desserts for a BBQ ensures everyone invited is happy and satisfied. If you need BBQ dessert ideas, definitely try some on my list! They are all so easy that everyone can make them. And, I guarantee that your guests will love them!
If you like my list here, don't hesitate to hit that like and share button. Also, feel free to leave some comments to share your experience with these desserts. Thanks for reading, and have a fun BBQ time!
Nutrition Facts
6 servings per container
---
Amount Per ServingCalories472
% Daily Value *
Total Fat 35.9g

56

%
Cholesterol 72mg

24

%
Sodium 388mg

17

%
Potassium 199mg

6

%
Total Carbohydrate 39.7g

14

%

Dietary Fiber 2.7g

11

%
Sugars 21.5g

Protein 2.3g

5

%
---
Calcium

27

%
Iron

4

%
Vitamin D

11

%
* The % Daily Value tells you how much a nutrient in a serving of food contributes to a daily diet. 2,000 calories a day is used for general nutrition advice.