BBQ appetizers are perfect for picnics or many outdoor activities. However, many are stuck finding suitable recipes because they don't know what ingredients to use. Therefore, this article should give you fascinating hints to treat everyone with unique flavors.
These starters take little time to whip up with only a handful of ingredients. Sometimes, you may even encounter some iconic specialties of cuisines worldwide. You only need to figure out your favorite recipes to decide how to start your next meal course.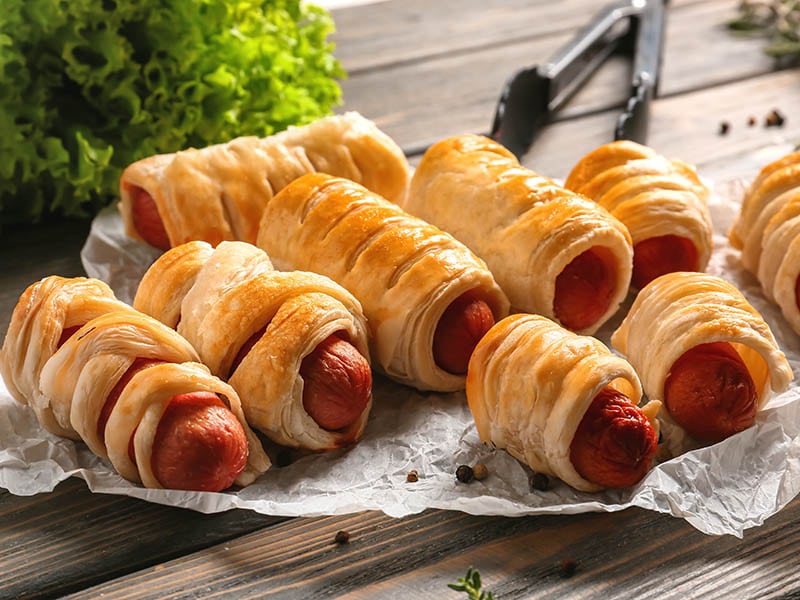 Start Your BBQ Party With A Bang With These Incredible Appetizers
Before any BBQ theme meals, it's always amazing to go through some of the appetizers to warm up your palates. For that, these recipes are excellent to bust out no matter the occasion. Some of the delicacies are even a match alongside BBQ main dishes.
Total time: 35 minutes.
Beach bread is a perfect starter to kick-start your taste buds before any BBQ party. With only a handful of elements, this beach bread is a favorite of Florida residents. You will soon love the garlicky taste infused into every piece of bread.
First, I suggest using an Italian loaf of bread and cutting it into two halves. The bread may need a little time in the oven to add a crunch factor to the dish. In addition, spread both halves of the bread with garlic and butter.
As for the toppings, I like combining mayonnaise with shredded mozzarella for a melting and creamy mixture. The bread is not complete without including smoky and crunchy bacon. Give the bread one more bake to incorporate all the flavors and melt the cheese.
Total time: 5 minutes.
Tapenade is an entree in French cuisine, referring to a viscous pureed mixture for spreading over crackers or various dishes. Typically, French southerners often feature Tapenade in any part of their meals. Traditionally, people often use olive as the cornerstone of many Tapenade recipes.
To stick with the authentic French recipe, I suggest using olive. However, it's best to combine the smokiness of Manzanilla olive with the succulent meat of the Kalamata variety. Furthermore, people also add herbs, white vinegar, and mustard.
Blend all the ingredients until the Tapenade becomes well mixed. Typically, Tapenade flavor is mainly affected by the type of olive you use. Commonly, olive Tapenade goes amazing with Crostini (bread slices with toppings) and French baguette.
Tapenade is perfect for opening any meal with tasty olive flavors.
Total time: 45 minutes.
Before starting any BBQ party, you may want to treat everyone to a taste of what is coming. These BBQ meatballs with brown honey sauce are an ideal introduction before any main course. Better yet, these meatballs are highly adaptable to any type of meat you have.
In this recipe, I like to keep it simple by using ground pork as it's more accessible for everyone. The meatball should have eggs, cheese, and ground pork to ensure the decadent flavor. Mix the mentioned elements with a milk concoction and roast the meatballs for around 15 minutes.
The remaining piece is the sauce which consists of sweet honey with grape jelly and savory BBQ sauce. Whisk the condiments together and pour the mixture over the meatballs. Bake the dish to incorporate all those wonderful tastes into the meatballs.
Total time: 20 minutes.
If you want a light and refreshing starter with a little Mexican spirit, then the pineapple Salsa is what you need. In some ways, this is a Mexican version of salad as it incorporates fresh vegetables and herbs into one bowl.
Aside from the pineapple, locals often add red bell peppers and Jalapenos (Mexican green chili) to the Salsa for a slight kick of heat. Mix everything with freshly squeezed lime juice, and you have a refreshing combination of vegetables.
Because of the pineapple and lime juice, the sour dictates the dish's flavor profile. Each bite of the pineapple pieces is a juicy experience that tingles your taste buds.
Total time: 1 hour 30 minutes (including 1 hour of marinating).
Starting a BBQ course with kebabs is a great way to warm up everyone's palates for the upcoming main course. Therefore, I suggest a Hawaiian version of the famous chicken kebabs to bring a new twist to the table.
Most often, I highly recommend soaking the wooden skewers in water before grilling to prevent any burns. As for the chicken, people marinate the meat chunks in a condiment blend of brown sugar, chili powder, and ginger.
When you're skewering the meat, switch between chicken, bacon, onion, and pineapple. Remember to pay attention to the fire, as you only aim for a slight char surface to get that smoky flavor for the kebabs.
Enjoy your BBQ parties with these incredible Hawaiian chicken kebabs.
Total time: 15 minutes.
Let's return to Mexican cuisine to whip up a creamy and flavorful corn dip to serve before any BBQ meal. In Mexico, locals even serve this dish as street food as the sweet corn flavor goes exceptionally well with cheese.
Typically, you want to char the corn kernels with butter, so they are shiny and have a pleasant smoky taste. At this stage, throwing in some Jalapeno slices is not a bad idea to bring out more authentic Mexican flavors.
While the corn dip is still hot, combine Cotija cheese and mayonnaise for a milky, salty taste. I prefer enjoying corn dip with a splash of lemon juice to balance out the overall flavor.
Total time: 1 hour 47 minutes.
Did you know that potato skin makes for an incredible treat on game day? With a little baking, these hollowed-out potato skins are super crunchy to enjoy as a light appetizer. In addition, you may stuff the inside with whatever fillings you have at home.
Since you will be eating potato skins, I want you to scrub the skin carefully to remove any kind of dirt or tiny debris. After baking the potatoes, carve out their inner and leave only the shells behind.
Each potato shell should receive decent bacon and cheddar cheese filling. The potato shells should have a nice crunchy texture, while the milky cheese complements the smoky bacon flavor. I prefer adding a dollop of sour cream to each shell to enhance the creaminess.
Total time: 25 minutes.
Crunchy and tasty are what parmesan zucchini fries offer to everyone at the dinner table. Instead of frying potatoes, zucchini delivers a slightly crunchy texture on the outside while the inner is soft. Better yet, the parmesan sprinkle adds a milky note to the fries.
If you have an air fryer, now is the perfect time to whip it out for this recipe. All you need is to prepare the batter of breadcrumbs and parmesan to dip in the zucchini slices. Don't forget to bathe the zucchini slices in the egg mixture, so it's easier for the breadcrumb to stick on.
Flip the slices once every 15 minutes in the air fryer to cook evenly. This way, these parmesan zucchini fries have a delicious golden brown color.
Give these zucchini fries a try if you're fed up with conventional fried potatoes.
Total time: 10 minutes.
A starter watermelon delight sounds improbable. However, I want you to surprise everyone with these straightforward watermelon skewers. Plus, the interchange color of red, white, and green creates an appealing look for the skewers.
Simply cut the watermelon into cubes and skewer the fruit with feta cheese. The sweet and juicy watermelon is perfect to pair with tangy, rich feta cheese. In addition, the inclusion of mint leaves helps the taste become light and refreshing simultaneously.
Total time: 40 minutes.
A quality shrimp cocktail is a show-stopper to start whatever meal you have in store. Instead of using the store-bought version, I suggest making your shrimp cocktail to enjoy the freshness of the seafood. Furthermore, people also make a savory sauce to elevate the experience.
After rubbing the shrimp with your choice of spice mix, skewer them onto bamboo sticks and grill for approximately 4 minutes on each side. While at it, throw in some lime halves until they get char marks. It helps infuse the lime juice with a nice smoky aroma afterward.
As for the beautiful sauce, I like to bring together Sriracha with ketchup, horseradish, and lime juice from the grilled lime. You should get a thick sauce to spread over the grilled shrimps. Ideally, the shrimps have a firm texture with juicy meat, perfect for pairing with the sauce.
Total time: 30 minutes.
Pigs In A Blanket are one of the tasty starters using puff pastry for a crispy crust. Interestingly, many believe the dish originated in England when people started to stuff meat between a layer of dough. Nowadays, Pigs In A Blanket often appear alongside turkey during Christmas dinner.
The secret to success in Pigs In A Blanket lies in how you create the dough. People employ a mixture of flour, baking powder, and salt to combine with milk. Typically, you want to tuck the sausage between the two flattened dough layers.
Each Pig In A Blanket should have a light yellow color on the dough after baking. The dish is a fan favorite for both adults and children. People love making Pigs In A Blanket because they are easy and take little effort in preparation.
Pigs In A Blanket are a fail-proof dish for any occasion.
Total time: 25 minutes.
Buffalo chicken dip is something I can never overlook when people are opening a BBQ party. The rich and flavorful dip is mesmerizing to combine with anything you have in store. People often use crackers, tortilla chips, and toasted baguettes to accompany the dip.
Commonly, the dip is a simple combination of cream cheese, sour cream, and cheddar. People usually use a straightforward mix of shredded chicken with hot sauce for protein. Top it off with cheese, the buffalo chicken dip is ready for the oven.
Remember to look out for the temperature as you may burn the cheese. Since most ingredients are cooked, you only need to melt the cheese to wrap up the dish. For a final touch, sprinkle some green onion for decoration.
Total time: 30 minutes.
The deviled eggs are not only a holiday favorite dish for many people but also a solid option to whip out during special occasions. Since deviled eggs appear in many country cuisines, it's no wonder the dish receives a lot of adoration worldwide.
The main star of any deviled eggs must be the creamy and tasty filling. Traditionally, people often combine the yolk with umami bacon and fragrance spices. In addition, I enjoy the filling with mayonnaise to bring more creaminess to the deviled eggs.
Once you finish mixing the filling, pipe it back to each half of the egg white. At this stage, the egg yolk filling should be a rich and shiny mixture that delivers a heavy punch in terms of flavors.
Total time: 25 minutes.
Bruschetta is an Italian bread dish that dates back to the 15th century. In the past, residents of Rome used to sample fresh olives using bread slices with a drizzle of oil. Later, the dish developed into the modern-day Bruschetta with diverse variations.
Instead of using olives, this Bruschetta utilizes diced tomatoes, olive oil, and basil for a refreshing taste. For the bread slices, people roast both sides with generous spreads of garlic butter to bring out more fragrance.
Finally, transfer the Bruschetta over the toasted garlic butter bread and top it off with shredded cheese. Broil the bread slices to help melt the cheese to achieve a milky and crunchy Bruschetta. This Italian appetizer is perfect for summer barbeque or picnics.
Bruschetta is perfect for bringing an Italian twist to your BBQ menu.
Total time: 33 minutes
Almost at any BBQ party, you will see potato chips as part of the starter course. Therefore, you may want to recreate these crunchy chips right at home. In addition, you should take it to another level by giving the chips some grilling to improve the overall taste.
I suggest using large potatoes to get the best out of your chips. Simply toss the potato slices in oil and coat them with a generous amount of seasonings. Place the seasoned potato slices over the grill for around 20 minutes.
Typically, grilled potato chips produce a beautiful smoky aroma. Aside from the crispy texture, these chips also possess a salty flavor. Next time, you don't have to buy potato chips from stores anymore because you can make them at home.
Total time: 45 minutes (excluding 4 hours of resting time).
I'm always down to have pizza at any time of the day, including on a starter menu. However, you may also want to reverse your belly for the main event dishes. Therefore, these little mini pizza bites are perfect for easing your craving for pizza.
The main focus of any pizza is to nail the dough first. I recommend adding dry yeast to a concoction of all-purpose flour and warm water. Knead the dough until the texture becomes smooth and soft.
For the tomato sauce, you can keep it simple by incorporating tomato puree, basil leaves, and salt. The best thing about this recipe is that you can use the topping of tomato sauce and cheese to combine with oregano, salami, or anchovy filet.
Each pizza bite is a mouthful of incredible flavors overtaking your taste buds. Plus, you can even come up with your creation of toppings to customize unique pizza bites.
Total time: 10 minutes.
Crostini is another Italian bread specialty that has a history dating back to the middle ages. Many believe Italian peasants served various toppings on the toasted bread slices. Gradually, the dish has become a standard option to start a meal in Italy.
The topping for this Crostini is a classic combination of fig, cream cheese, and Prosciutto (cured ham). While the raw Prosciutto delivers a salty profile, the figs possess a subtle hint of berry with a sweetness similar to honey.
All those flavors go superbly with the cream cheese and crunchy bread slices. Finish the Crostini with a drizzle of balsamic glaze for a tangy and sweet taste similar to syrup.
Crostini is a fascinating Italian take on your appetizer menu.
Total time: 42 minutes.
Jalapeno popper is another Mexican specialty you can have to mesmerize everyone at the beginning of a meal. These crunchy balls of deliciousness take Jalapenos (Mexican green chilies) as the primary focus to deliver a slight spiciness.
The peppers go great with a creamy concoction of cream cheese, cheddar, and bacon bits. People coat all the elements with breadcrumbs to create a crispy outer shell. Jalapeno poppers usually ooze out their creamy filling right on the first bite.
Instead of frying, I suggest using an air fryer to handle the Jalapeno poppers. The air fryer reduces the amount of grease afterward, making the dish healthier with less oil. Typically, each side of the poppers takes around 4 minutes to cook to a golden brown.
Total time: 40 minutes (including 30 minutes of cooling the brine).
Beginning a BBQ feast with some asparagus-based recipes is not a bad idea to tingle your taste buds. Better yet, I want you to turn your attention to asparagus to experience a crunchy and delicious sensation. You may even have this pickled asparagus as a side dish if the needs arise.
The key to succeeding in pickling anything relies heavily upon the type of brine you use. Specifically, you want to bring to a boil a blend of vinegar with water, salt, and sugar. Stir until all the sugar and salt dissolve.
Ideally, you should trim the asparagus, so they fit your container. For the best result, I recommend submerging every last bit of the asparagus in the brine solution. Let the brine work its magic for at least a day before serving.
After pickling for some time, the asparagus may turn to a pink or purple color at the tip. Don't worry because it's perfectly normal and safe to consume.
Total time: 10 minutes.
Guacamole is simply a game-changer to outdoor meals or activities. People often pair the dipping sauce with tortilla chips, salad, or toast to enjoy the rich flavors coming from the avocado. This Mexican dip is an unskippable option for a hearty course.
You must give this dip a shot if you're new to Guacamole. The mesmerizing creamy avocado with refreshing herbs and tomatoes makes for a dreamy creation. Sometimes, you may even find people incorporating bacon bits to enhance the experience, but it depends on your liking.
I enjoy Guacamole with a touch of sourness from lemon juice to balance the flavor profile. If you prefer a spicy note, I suggest dicing in some Jalapeno for an authentic Mexican flavor.
Any fan of creamy dip must give Guacamole a shot at home.
Total time: 18 minutes.
These hot dog nuggets may look like pigs in a blanket, but they are not the same because the sausages are shorter. The nuggets are relatively small, but they always get the best reaction from your kids and family members.
To cut you some slacks, I suggest using a store-bought crescent roll to be the shell. Next, cut the hot dogs into small pieces. As for the crescent dough, you may also want to divide the dough into small portions to wrap around the hot dog pieces.
Bake the nuggets to wrap up your cooking process. You want to serve these lightly yellow nuggets with ketchup or mustard for dipping sauce.
Total time: 30 minutes.
If Hawaiian kebabs take too long to prepare, let me introduce you to these Hawaiian roll sliders that come together in around half an hour. The best thing is that this slider only requires a handful of ingredients to assemble.
You only need three elements for the sliders: Hawaiian rolls, Havarti cheese, and ham. As for the sauce, I prioritize a concoction of Worcestershire sauce with butter, poppy seeds, and mustard. Commonly, the addition of Worcestershire sauce brings a sour and sweet flavor.
Typically, you should bake the rolls first with butter to bring out more fragrance. The Havarti cheese usually possesses a mild taste, while the ham has a light smoky flavor. After assembling the ingredients, bake the sliders to infuse the flavors.
Total time: 15 minutes.
Here's another asparagus creation to impress everyone at the BBQ party. People wrap umami bacon around asparagus to make a delightful sloppy joes side dish or pair it with other delicious options. The grilling process is also enjoyable because it takes little time to complete.
Simply grab the asparagus and trim off the unwanted ends. Wrap a bacon slice around two or three asparagus stalks. Then, use a toothpick to lock the bacon into position. Grill the bacon with asparagus for around 5 minutes on each side.
Elevate your asparagus by wrapping them with delicious bacon strips.
Total time: 10 minutes.
Straightforward and delicious are what you will find in these little BBQ smokies. If you don't know, they are essentially small sausages soaked in decadent savory BBQ sauce. In addition, the smoky flavor of these sausages is lovely for serving as an appetizer.
In a saucepan, you want to stir-fry the sausages with barbeque sauce and orange marmalade (a type of fruit preserve). Let the mixture simmer until the consistency becomes smooth and hot. Furthermore, I enjoy the refreshing taste of orange zest to enhance the overall taste profile.
An alternative way to cook these smokies is to use a slow cooker. The ingredients are the same, but it takes longer to complete the cooking process.
Total time: 1 hour.
Refreshing and umami with flavors are what you can find in bacon-wrapped pineapple. They come in small bites making these little pineapple pieces ideal for starting a meal. The dish is also a great way to impress people at a party.
Typically, people secure the bacon around the pineapple chunks by using toothpicks. Next, bake each side for around 3 minutes to brown the bacon layer. Ideally, the pineapple juice should infuse with the baked bacon strips.
To improve the overall flavor, I suggest simmering the bacon-wrapped pineapple in a glaze concoction consisting of Worcestershire sauce with Sriracha, soy sauce, and honey. Let the shiny mixture coat the pieces evenly, and you're good to serve the dish.
Total time: 50 minutes.
For the final suggestion, I'd like to give you a simple baked sweet potato wedge to treat everyone. The sweet nature of the potatoes is great for pairing with savory flavors.
I often prefer marinating the long sweet potato strips in chili flakes, onion, and garlic powder. You should bake these potato strips until they become crispy and golden brown. Don't forget to flip each side occasionally to cook the wedges evenly.
As for the ranch dip, you simply bring together yogurt with cider vinegar, paprika, and dill. The result you get is a creamy and tangy dip. Furthermore, the crispy sweet potato wedges make for an addicting combo with creamy white ranch.
Which BBQ Appetizers Tingle Your Curiosity The Most?
Appetizers are a significant part of any meal. Therefore, I always recommend experimenting with many recipes to decide which dish fits your family's palates the most. From simple to complicated starter specialties, I believe no dish is too hard for you to handle.
Give this article a share if you find these recipes super helpful and delicious. You can also drop your opinion about these dishes in the comment section; I'm sure everyone loves to hear more about your experience.