When it comes to banana pepper recipes, people only think of banana pepper pickles or raw ingredients in foods. However, you can do more things with banana peppers, which I will introduce through the list of 12 easy delightsome banana pepper recipes.
Banana pepper is also known as banana chili or yellow wax pepper. It usually comes in medium size and has a slightly spicy, sweet, and tangy flavor. Because of these traits, banana peppers are an ideal ingredient for cooking. Read on to find out more.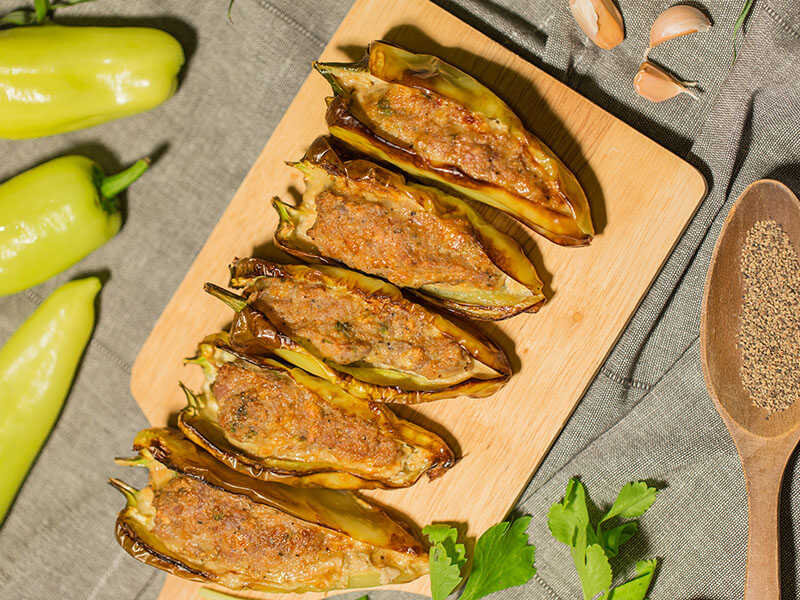 Check Out These Simple And Astonishing Dishes From Banana Pepper
You can select numerous delectable banana pepper recipes from the following list to utilize those banana peppers in your backyard.
Total time: 45 minutes
Cheesy stuffed banana pepper is a delicacy that combines various types of cheese and mildly-spicy fresh banana peppers. This recipe can be a suitable starter for vegetarians because it does not involve any meat-based product.
What makes this delight special is the rich mixture of cheese. Cream cheese, Greek yogurt, mozzarella, and parmesan are mixed together in a bowl along with some herbs to create the incredibly rich cheese combo.
After that, this cheese mixture is stuffed into fresh banana peppers and ready to be baked. The fresh banana peppers really come in handy to reduce the creaminess and cheesiness of the mixture with its mild and spicy quality.
You can recreate the cheesy stuffed banana peppers with ease by watching this tutorial.
Total time: 45 minutes
One of the variations on the stuffed banana pepper is this buffalo chicken version. If you are a big fan of buffalo sauce, you are definitely going to love this dish. From tasty spicy chicken to a refreshing, tangy banana pepper, they are the perfect match for a savory yet simple dish.
In this particular dish, freshly half-cut and seeded banana peppers are stuffed with parmesan cheese, diced chicken, spicy wing sauce, and cream cheese. After that, you need to bake the banana peppers until they are softened.
This dish is a perfect appetizer for any game-day meal, as all the ingredients blend well with various flavors. For an extra spicy kick, you can glaze more hot wing sauce on top of the peppers.
Total time: 20 minutes
There is no better way to make use of the banana peppers in your backyard than tossing them in a hearty pasta dish for summer. The citrus dressing and the crunchy vegetables, especially the banana pepper, go together beautifully in this salad.
The secret to this recipe is the crunchiness of the vegetables. Banana pepper and cucumber are already crispy and can be eaten raw. However, you need to give asparagus a blanch before tossing it with the dressing.
This salad has a light flavor with a sour kick from the lemon and vinegar dressing. The pasta will absorb all that yummy dressing. To balance out the sourness, you have a bit of sweetness from the fresh banana peppers and cucumber.
Total time: 15 minutes
The most common way to prepare banana peppers is to pickle them. Always keep a jar of these pickled in your fridge because these peppers work so well with not just sandwiches but other dishes as well.
People still think that pickling is a time-consuming process, but actually, with this recipe, it only takes 15 minutes. First, you need to boil a mixture of vinegar with minced garlic and salt. Then, pour the liquid into the sliced peppers jar. Let it rest in the fridge for a few hours.
These pickles are tangy and crunchy with a touch of the inherent sweetness of the banana peppers. And if the banana peppers themself are not spicy enough, you can throw some slices of jalapeños into the jar for that extra kick.
Check out this quick and easy tutorial on how to pickle the tastiest banana peppers.
Total time: 35 minutes
Banana pepper and bacon hot dip is a creamy appetizer that will disappear in no time if you serve it at your party. Made of banana pepper and bacon that are slowly baked in cream cheese, this dip is a perfect side dish for nibbling.
To recreate this dip, slowly cook the chopped banana pepper rings and crumbled bacon with cream cheese and pepper jack cheese. To enhance the tanginess of the dip, add some reserved banana pepper juice.
This dip is extremely rich and cheesy with a hint of tanginess of banana pepper. The savory bacon also contributes another layer of flavor to this dip. Dipping anything from bread, nachos, or crackers with this warm cheese delight, you will only crave more.
Total time: 35 minutes
Chicken breast will be your favorite cut of meat if you try this banana pepper and tomato-baked chicken recipe. This dish is intensely tasty, with chicken breasts baked in aromatic tomato and banana pepper sauce.
Talking of chicken breasts, they are lean and packed with protein. It is a perfect cut of meat that can go flawlessly with your banana pepper jar.
This stewed dish has a moderate spiciness and sweetness from the mild banana pepper rings and paprika. A hint of tangy flavor is also present with the inclusion of diced, fire-roasted tomato. But this dish cannot be complete without some herbs for much more delicate aromas.
Total time: 40 minutes
This stuffed banana pepper dish is a bit different because it is served together with some pasta to make it a meal. Follow this recipe to bring out the best flavor of banana peppers with Italian sausage and baked tomatoes.
In order to reduce the amount of heat in the banana peppers for this recipe, the seeds and ribs should be removed. Then, stuff the chopped sausage in the banana peppers. After that, add grape tomatoes to the mixture with some seasoning, and it is ready to bake.
Italian sausages' sweetness pairs beautifully with the tangy flavors of tomatoes and banana peppers. And those tastes complement the simple cheese pasta perfectly. Not only delicious, but this dish also adds a huge amount of carbs to your diet.
Total time: 45 minutes
You already have vegan and cheese-stuffed banana peppers, so now it is time for a meaty version of stuffing. In this spicy stuffed banana pepper recipe, the peppers are filled with beef and sausages before being soaked in tomato sauce.
This specialty has a spicy kick to it because this recipe uses various spicy ingredients like chili sauce and chili powder to make the filling, not to mention the heat of banana peppers. Apart from those ingredients, the recipe includes the superfood – quinoa seed.
Quinoa seeds, along with beef and sausage, are amazing sources of nutrients. Not only nutritious, but this spicy stuffed dish is also savory with complex but comforting flavors that come from the diversity of ingredients.
Here is a simple and savory tutorial on how to make spicy stuffed banana peppers.
Total time: 5 minutes
This buffalo blue salad is packed with tons of flavors and full of nutrients. This refreshing salad only takes a few minutes to prepare. Serve it to your family, and they will empty the plate right off.
The chopped cooked chicken needs to have a quick marinating in buffalo sauce. Once it is done marinating, toss together with shredded blue cheese, spinach, banana peppers, and grape tomatoes. Feel free to add more dressing of your choice.
While the spicy buffalo chicken is the main star of this dish, it features other ingredients like fresh spinach, juicy grape tomatoes, crunchy banana peppers, and a touch of sourness from blue cheese. They all come together to complete this refreshing salad.
Total time: 15 minutes
This banana pepper salsa is a fresh and delightful side dish. It only takes a few minutes to prepare and is ideal for serving with chips. Turning banana peppers into salsa sauce is a creative way to add a fun twist to the traditional salsa recipe.
The banana peppers in this salsa are what set it apart because they are considerably milder and sweeter than jalapenos and can improve the flavor overall. The tanginess is an indispensable flavor of the salsa also present in this recipe, thanks to other acidic ingredients.
In addition to being mild on the spice, this salsa dip is also refreshing with hints of both sweet and sour flavors. However, you can increase the heat by adding more jalapenos to the mixture.
Total time: 40 minutes
Banana pepper and chicken seem to be a perfect duo. For that reason, I would like to introduce another mouthwatering dish – banana pepper chicken dish. This recipe is straightforward, with banana pepper and lean chicken soaked in cheese.
For this recipe, you need banana peppers, chicken thighs or breasts, butter, and ranch seasoning. Cover your chicken with the seasoning, banana pepper rings, butter, and shredded cheese. This will allow it to absorb all the flavors to the fullest extent.
Because the chicken is soaked in the melted mixture of cheese and butter, it is super juicy and has all the flavor of ranch seasoning. The melted butter helps the banana pepper rings maintain their crunch and taste. Mild, creamy, and cheesy is how I describe this specialty.
This recipe will bring out the best flavors of chicken and banana peppers.
Total time: 40 minutes
If you want to prepare some meatballs that have to be both juicy and savory, do not hesitate to try this spicy three-meat banana pepper meatballs recipe. It will become an appealing meatball delicacy to start your meal.
Some water might help if you're having difficulties shaping and rolling the meatballs as they prevent the mixture from sticking to your hands. These meatballs are packed with a whole bunch of flavor that comes from the rich meats, the fresh herbs, and the spicy peppers.
The pork, beef, sausage, and banana peppers are held together by the milk bread. Not only does milk bread harmonize their flavors, but it also gives these balls moisture, juiciness, and tender texture. Some extra topping cheese will finish this dish beautifully.
Banana Peppers Are Not Just Toppings
Banana peppers do not have the same sweetness as bell peppers or as much spice as their chili relatives. But they have a uniquely sweet and tangy flavor that distinguishes them from other ingredients.
Banana peppers are too versatile to be ignored. There are just so many things that you can do with them. Remember to go back to this list and use your fresh banana peppers when they overgrow in your garden.
Hope you like these dishes. If you enjoy the recipes listed above, click the "like" button. Share this list on social media to give folks more banana pepper options. Many thanks!
Nutrition Facts
24 servings per container
---
Amount Per ServingCalories80
% Daily Value *
Total Fat 5.2g

8

%
Cholesterol 19mg

7

%
Sodium 144mg

6

%
Potassium 144mg

5

%
Total Carbohydrate 5g

2

%

Dietary Fiber 0.8g

4

%
Sugars 3g

Protein 4.1g

9

%
---
* The % Daily Value tells you how much a nutrient in a serving of food contributes to a daily diet. 2,000 calories a day is used for general nutrition advice.