Bagel sandwich recipes are one of the best choices for a fuss-free and tasty meal. Bagel sandwiches are always my go-to on either busy or lazy days. They're filling, soul-satisfying, and highly customizable.
A bagel is a round yeast roll with a hole in the middle, and it's boiled before baking. The bread features a fine crumb, chewy texture, and a shiny and tough crust, which makes it the perfect option for making sandwiches.
This means you can throw in virtually anything you want inside the bagels. With savory meat, fresh veggies, melty cheese, and an amazing sauce, these bagel sandwiches are just inviting you to take a bite!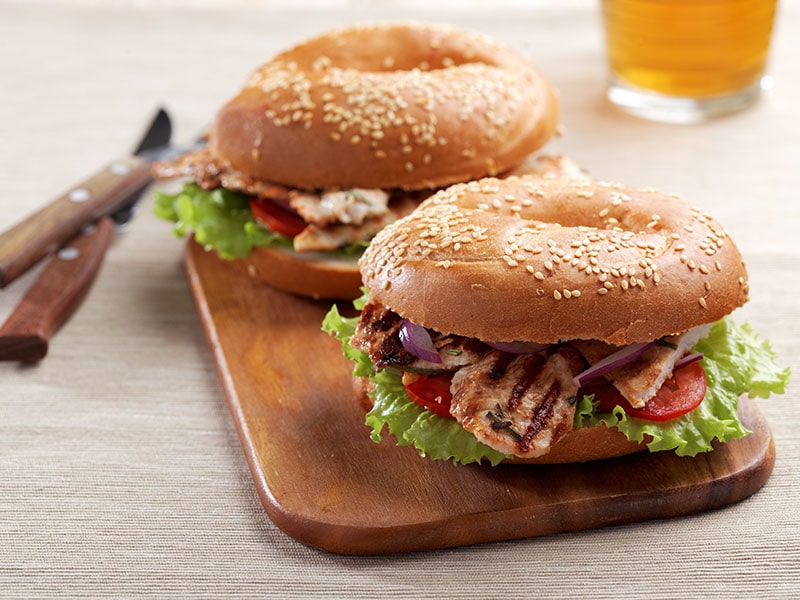 26 Bagel Sandwich Recipes To Get You Excited About The Next Meal!
Pick your favorite bagel sandwiches from classic BLT, chicken salad, and avocado turkey sandwiches for any meal. Plus, everything in between! Are you looking for a lighter meal? There are also Caprese bagels or chickpea salad for you to try!
Total time: 15 minutes
This wonderful breakfast sandwich will help you start off your new day on the right foot! You'll love the wonderful combination of flavor and texture.
Thick peppered bacon, Cheddar cheese, and gooey fried eggs come together for a total bliss in one bite. There are also onion slices for a sweet and tangy flavor. Everything in this bagel will outcompete the McDonald's sandwich you normally get.
This sandwich is perfect when the yolky eggs and cooking them for 4 minutes (season with pepper and salt halfway through) will do.
Any kind of bagel will do the trick here. Nevertheless, make sure you choose a good one as the bagel greatly contributes to the quality of this breakfast sandwich.
This classic bagel breakfast sandwich is filled to the brim with a simple but delicious element: eggs, bacon, and cheese!
Total time: 25 minutes
Traditionally, chicken salad only calls for mayo, chicken, and some seasoning. This classic salad is amazing in its own right, but you'll love it to go between two slices of bagels.
Plus, throwing some add-ins to spruce the bagels won't hurt. Applewood smoked bacon, for example, is a lovely addition to this sandwich (bacon always makes things better).
It means you need an extra step for your bagel sandwich, too. Spend the first 20 minutes baking the bacon before making the salad and building the sandwich.
You may want to whip up the salad portion beforehand to save time. It can last a few days as long as you cover it in an airtight container.
Total time: 15 minutes
You might think combining cream cheese with avocado is redundant as the two elements are already creamy on their own. Not until you get a taste of this sandwich. They are just perfect when paired together. Plus, you're getting an extra dose of healthy fats (thanks, avocado).
Of course, the scallion black pepper cream cheese gets all the attention in this sandwich. You can whip it up in no time by combining whipped cream cheese with sliced scallion, black pepper, and salt.
To create a more "grown-up" cheese sandwich, throw in some arugula leaves. While at it, don't forget the olive oil, as the greens are so much better with it.
Total time: 20 minutes
Tuna lovers, meet your new favorite sandwich! When it comes to tuna salad, your head goes to lunch. However, when you stuff it on an everything bagel, along with salty Parmesan cheese, and bake for at least 8 minutes, you're having a savory dinner.
The key to this tuna bagel sandwich is you won't settle for your ordinary, bland tuna salad. This recipe also uses celery, yellow onions, dill weed, and black pepper to pump up the flavors.
Of course, there's also a cheesy element in the sandwich. Parmesan cheese is an ideal option, which melts nicely on the salad as it bakes.
With only 20 minutes of prepping time needed, this sandwich is a quick way to keep your belly and palate happy on a busy weeknight. It can convert some tuna haters of your family, too.
Total time: 25 minutes
Ham and cheese sandwiches are such classics that you won't think you need one more recipe in your life. However, this baked bagel sandwich is worthy of your attention!
Making your own sauce spread will help enhance the flavors and texture of the humdrum bagels. The mayo gives the creaminess, while the Dijon mustard adds zing, and the Worcestershire sauce amps up the umami level of the spread.
The sliced deli ham and Swiss cheese are a classic and satisfying duo. Yet, I love this sandwich because it sneaks in spinach – my perennial favorite veggie. It's a sensible choice, too, as the leaves soften nicely when baked.
This ham and cheese bagel sandwich, which can be made with your leftover ham, is a winning lunch.
Total time: 15 minutes
These chicken bagel sandwiches give your leftover chicken and pesto a new life! If you have never thought of combining the 2 ingredients into one sandwich, this delicious leftover chicken treat is a great place to start!
Start slathering pesto on your toasted bagels before topping them with sliced chicken breast, roasted peppers, and spinach. Don't forget to throw in half a cup of salty Parmesan cheese for an extra dose of creaminess.
A quick run under the broiler (roughly 2-3 minutes) will melt the cheese until bubbly. That's all it takes for flavor-packed sandwiches that you can serve as lunch or dinner.
Total time: 10 minutes
Looking for a filling lunch to keep you full throttle at work all day? Then, this ultra meaty sandwich is what you need!
There are up to 4 types of meat packed in these bagels, and olive oil drizzles to tie them together. This will keep all the carnivores more than satisfied. Plus, Provolone cheese spread also adds to the sandwich's heartiness.
The olive oil mixture is fuss-free to make. Simply combine mustard, lemon juice, sugar, olive oil, and pepper. Also, add a pinch of salt to taste.
This Italian-styled sandwich is already hearty, so it asks for no more than a light side salad to make a perfect lunch. All you need to do is prepare your appetite to take on these meat-packed bagels.
Total time: 10 minutes
You'll frequently turn to this ultra-satisfying egg sandwich on busy mornings. It takes only 10 minutes to assemble. Plus, eggs and avocado are meant for breakfast, don't they?
The romesco is the star in this sandwich (and thus the sandwich's name). Four tablespoons of the sauce add tons of flavors to the plain bread. It's sweet, zippy, and tomato-y with a touch of smokiness, which sets this egg-and-cheese sandwich above the rest.
A schmear of cream cheese acts as a spread; then there are arugula, fried eggs, avocado, and microgreens for the toppings. Yum!
Total time: 10 minutes
This refreshing and flavorful tea time sandwich is assembled with smoked salmon, cucumbers, and red onions. Some capers give extra salty and acidic notes to the fish.
The spread is rich and tangy, thanks to cream cheese, lemon juice, and a fresh bite of dill. Since the smoked salmon and creamy spread make the filling dominantly soft, the crunchy cucumbers and onions are welcomed additions.
Switch it up with your favorite toppings, preferably anything crunchy. That said, don't be afraid to throw in some avocado slices, as avocado and salmon is always a no-fail combination.
Smoked salmon, cucumbers, avocado, and dill come together for this irresistible smoked salmon bagel.
Total time: 10 minutes
This salad sandwich is not only for vegan folks. It's also for people who are a bit wary of tuna flavors. The smashed chickpea will not taste like the fish; however, you'll get a flaky and tuna-like consistency.
Creamy avocado, canned chickpea, onions, and cilantro come together for the salad. The olive oil dressing binds everything together, whereas lemon juice adds a bright touch.
Because 2 key ingredients of this salad, smashed chickpea and avocado, are both creamy, they create a textural contrast with the crunchy roasted bagels. Put some twists to this sandwich, if you wish. For example, add eggs, mayo, or feta cheese to create your favorite version.
Total time: 35-40 minutes
When your cravings for Italian food strike, this Caprese bagel sandwich is the way to go! This sandwich starts with layers of cherry tomatoes and Mozzarella cheese on top of basil pesto.
Plenty of basil leaves are also in the spotlight, tucked between these tomato and cheese slices. The pesto sauce not only gives a big flavor punch. It also helps the toppings stick to the bagels better.
Fresh cherry tomatoes work just fine on these open-faced sandwiches. After all, it keeps this Caprese bagel as authentic as possible. However, you can switch things up by roasting tomatoes, which takes around half an extra hour. But it's worth the long wait!
Total time: 15 minutes
These tomato-centric bagel sandwiches are the best way to celebrate the summer vegetable. Yet, it needs a supporting cast of goat cheese, baby spinach leaves, and pesto to elevate the overall flavors.
This recipe uses plain bagels, but you can swap in your favorite. Split the bagel in half, spread your cheese, then add the veggies and drizzle of presto.
For a nice presentation (and also extra flavor), top the tomatoes with chopped fresh basil. There's no fast and hard rule for the cheese to use. Any goat cheese with great spreadability will do for these sandwiches.
Total time: 40 minutes
The sweet and savory combination of this breakfast sandwich is on point! Try this one if you're searching for something that strays from the norm a bit!
This bagel sandwich consists of fried eggs, crispy bacon, tomato slices, and sweet apple chutney. It also gets a peppery kick from some arugula.
Yet, bourbon bacon jam captures most of the attention here. The salt-cured pork with caramelized onions packs sweet, savory, and salty in one punch.
Apple chutney, to me, is an unexpected guest, which slightly prods these sandwiches towards a sweeter side. It is basically cinnamon-spiced apples that are slow-cooked until tender. This means it takes extra time (and effort).
Fig jam or apple butter also offer almost the same effects as apple chutney whenever you don't want the hassle.
Total time: 20 minutes
With this hearty, creamy sandwich, your lunch can be anything but boring! It's assembled with creamy avocado, turkey slices, juicy tomatoes, and mixed greens.
This lunch sandwich has a protein-packed filling but is not too heavy and won't slow you down for the rest of the day. My favorite part is the chipotle cream cheese spread, which gives a creamy spice that levels up the sandwich.
Pile the meat, veggies, avocado, and cheese spread up high, and you'll get a wonderful mix of textures and flavors in every bite. For a heartier lunch or dinner, serve this sandwich alongside a side of chips.
Total time: 30 minutes
There are occasions when I crave a delicious sandwich but don't want to put any ham, beef, or egg into the bread. This savory vegan-friendly bagel sandwich hits the right spot!
What makes this sandwich special is the generous amount of hummus you throw into it ( hummus is a Middle East dip/spread made of mashed chickpeas flavored with lemon juice, tahini, and garlic). Plus, perfectly-charred, garlicky veggies fill this sandwich to the brim.
Zucchini, mushrooms, eggplants, and carrots are in use here, and there is also some avocado for extra creaminess.
Because you'll need to cook the veggies, this sandwich might take longer to prepare. However, it's a great way to help you (and your loved ones) eat more veggies.
Total time: 30 minutes
Everything you love about breakfast is packed in this bagel sandwich: avocado, egg, bacon, and cheese. What not to love? With this recipe, eggs are cracked in the hole of the bagels and cooked until set. That's why it earns the name egg-in-a-hole sandwich.
Not only does this sandwich have layers of eggs, but it's also packed with cheesy goodness. Up to 2 types of cheese are used here (Cheddar and cream cheese)!
Be warned, though: this breakfast sandwich will get a little messy, but you and everyone in the house will love messing with it. Alternatively, use a fork and a knife to tackle the sandwich.
This is another egg-in-a-hole bagel version worth trying.
Total time: 10 minutes
An impressive cheesy sandwich makes for an exciting lunch. This bagel sandwich is far from a mediocre cheese sandwich, thanks to Halloumi cheese.
It's pan-fried until crispy and has a nice smoky flavor from the paprika. Trust me; if you've tried these bagels, you will never return to the regular cheese sandwich again.
As with most bagel recipes on this list, this Halloumi starts with a spread of cream cheese (along with some dollops of pesto).
A nice schmear of cream cheese is always a lovely addition to the dry bagels. The mild cheese is not considered a flavor booster, but it moisturizes the bagel.
Total time: 7 minutes
The unexpected combination of raisins, sunflower seeds, and cucumbers won't disappoint your palate! The flavors hit the right notes here!
Freshly toasted bagels are first topped with cream cheese before dry ingredients, including sunflower seeds, raisins, and bacon bits, are added.
Then, flavor enhancers, such as cinnamon, celery salt, and onion powder join forces. And then, you'll get a bagel that tastes like no others.
For a crunchy bite, cucumbers and apple slices are also tossed in. Another duo might take some people aback, but I promise the textures are incredibly on point.
Total time: 14 minutes + 5 minutes of marinating time
This recipe is the homemade version of the classic McDonald's steak, egg, and cheese bagel. It's utterly delicious and won't take longer than driving to the store for the take-out.
Plus, making the sandwich at home means that you can toss your favorite add-ins for a perfect lunch. This bagel sandwich contains a tender-and-juicy streak, perfectly fried eggs, and melty cheese. It's the best way to use up any leftover steak in your fridge.
Garlic powder, Worcestershire sauce, and some ground black pepper add simple yet savory flavors to the shredded steak. Scrambled eggs also work with these sandwiches, especially when you're serving a hungry crowd and want to save time.
This steak, egg, and cheese bagel has all it takes to rival your favorite McDonald's.
Total time: 20 minutes
Avocado, eggs, and fresh herbs team up to bring out this healthy and energizing salad sandwich. It's perfect for a busy morning, lazy brunch, or sluggish weeknight dinner.
Inside these bagels, the savory dressing, made with fresh dill, parsley, Dijon mustard, and lemon juice, infuses so many flavors into the avocado salad.
The hardest part is obviously waiting for the eggs to boil (for around 10 minutes) before you can pile the salad high up on the bagels. For an action-packed morning, you can boil the eggs the night before to cut down on the prepping time.
For extra crunch, feel free to throw in your favorite veggies. Cucumbers, red onions, and greens are prime candidates here!
This simpler version of herby avocado egg salad bagel sandwiches uses many herbs and lemon juice for flavors.
Total time: 15 minutes
Pull this downright delectable hot sandwich if you want to go a bit fancy. While the ingredient list might be slightly longer than other recipes here, your dinner gets ready within only 15 minutes.
You'll get all the flavors of the classic Reuben-style sandwich: roast beef, melty Swiss cheese, and sauerkraut (finely sliced, fermented raw cabbage).
The dressing makes for great leftovers. It can last several days when chilled in the fridge. You will also want to use it for your smoked salmon or boiled potatoes!
Total time: 25 minutes
There are times when you want to keep things simple. However, when the craving for a sandwich hits, or you're looking for something a bit more hearty and flavor-packed, give this one a try.
I would say this recipe is slightly greedy as it offers a little everything in every bit. Think about the savory bacon slices, guacamole, tomatoes, eggs, etc. Make sure to reserve some bacon grease for frying your eggs later.
Be prepared, as it's among the best and messiest bagel sandwiches you've ever made and enjoyed. Your fingers might have some drippings of creamy goodness from the guacamole.
Total time: 10 minutes
BLT bagel sandwiches are classic, and for a good reason! The phrase "BLT" indicates three ingredients: bacon, lettuce, and tomatoes.
However, this recipe puts a few twists on the well-loved sandwich for a more savory and satisfying lunch option! Welcome avocado and eggs to the BLT's club! So each bite is creamy, crunchy, and smokey all at the same time.
The eggs are fried for 3 minutes, so the yolk is slightly runny. However, if you prefer poached or scrambled eggs, feel free to swap them in.
In addition, to make the most of this flavorful filling, don't use all the bagels. Instead, remove some inner breading so that every bite will perfectly balance the filling and bread.
Total time: 15 minutes
Sausage patties are the favorite in my house, and this is why this gluten-free sausage breakfast sandwich effortlessly becomes a hit, too!
This sandwich starts with a layer of melty Cheddar cheese, fluffy fried eggs, and last but not least, the well-loved sausage. The choice of gluten-free bagels also makes this a healthier breakfast for the whole family!
This recipe is kept simple, using only simple ingredients and skipping the veggies. However, feel free to slip in some greens for a more balanced meal.
This version of the sausage and egg breakfast sandwich is just as delicious (if not better) as McDonald's.
Total time: 20 minutes
This cheese and egg bagel sandwich tastes as good as it looks! The outside of the seeded bagels is topped with fried sunny side eggs, whereas the inside is filled with crispy Parmesan cheese. The textural contrast hits the right note here.
If you think the sandwich is lacking something, you're right. All that's missing is a refreshing salad to boot. So, spend some time whipping up the homemade herby avocado salad.
Avocado, eggs, and cheese go hand in hand in most breakfast bagels. But here, instead of sandwiching avocado slices into the bagels, let the fruits be the center of attention in the salad on the side.
Total time: 20 minutes
This bagel with ricotta and strawberries is a sweet way to end this list. The sandwich is bursting with fresh flavors of strawberries, mint leaves, and grated coconut, all of which sits on top of a creamy Ricotta layer.
But before spreading the cheese to the bagels, add some lemon juice for a bright, fresh flavor and honey to sweeten it. This creates a cheese mixture that can perfectly complement the summer fruits.
You can serve this light bagel sandwich for breakfast or brunch. Yet, I think it's better enjoyed as an afternoon or late-night snack.
Add These Bagel Sandwich Recipes To Your Rotation!
With the endless options for filling, there are many ways to transform your bagels into an exciting meal. The classic approach is loading them with cheese, eggs, avocado, fresh veggies like tomatoes, and common meats like ham or chicken.
If you've tried making these bagel sandwich recipes, don't forget to rate them by leaving your comment. I would love to hear about your experience making these scrumptious bagel sandwiches.
Nutrition Facts
2 servings per container
---
Amount Per ServingCalories727
% Daily Value *
Total Fat 38.9g

60

%
Cholesterol 255mg

85

%
Sodium 1639mg

69

%
Potassium 438mg

13

%
Total Carbohydrate 56.2g

19

%

Dietary Fiber 2.8g

12

%
Sugars 6.8g

Protein 37.5g

75

%
---
Calcium

330

%
Iron

8

%
Vitamin D

24

%
* The % Daily Value tells you how much a nutrient in a serving of food contributes to a daily diet. 2,000 calories a day is used for general nutrition advice.