These suggested best bacon recipes are nothing but fantastic. For this reason, adding bacon into some dishes will make them more and more delicious, of course, with the necessary care so that you can keep the spirit of traditional dishes.
These bacon recipes are diverse, which helps you serve them in various ways without getting bored. Now, just read my suggestions and find more ways to use your bacon and make your meals more hearty and comforting.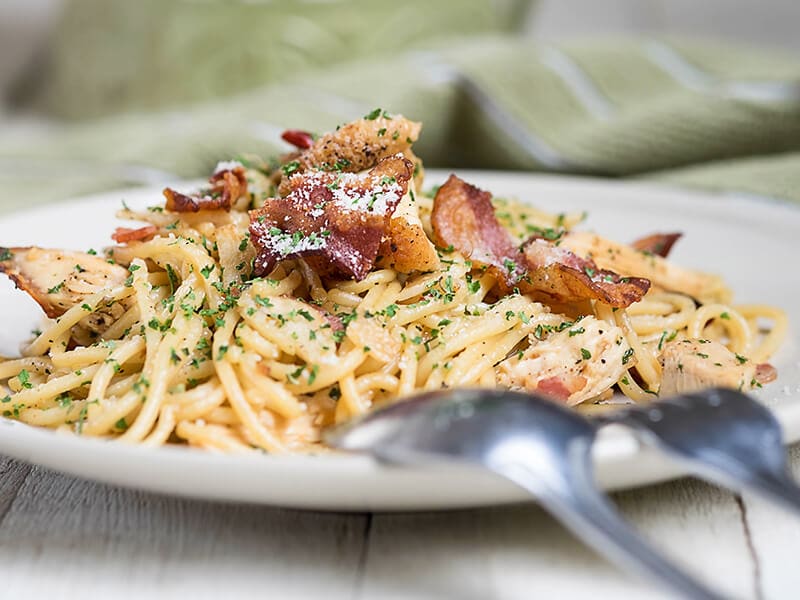 31 Best Bacon Recipes That You Can't Resist
Go through this list to know what you can make with your available bacon and choose the suitable one for your next meals. All detailed ideas are right here for you.
Bacon Recipes For Breakfast
Bacon Sandwiches
Bacon Breakfast Pizza
Pancakes With Bacon
Bacon Potato Waffles
Asparagus, Bacon, And Shallot Tart
Bacon-broccoli Quiche Cups
Bacon Recipes For Dinner
Bacon Recipes For Appetizers
Bacon Cheeseburger Dip
Cheesy Bacon Bread
Candied Maple Bacon
Bacon-Horseradish Deviled Eggs
Bacon-Wrapped Asparagus
Bacon Roll-Ups
Baked Brie With Cranberry Pecan Bacon Crumble
Bacon Recipes As Side Dishes
Roasted Sweet Potato Salad With Warm Bacon
Balsamic Brown Sugar Brussels Sprouts
Maple Bacon Pecan Roasted Butter Squash
Creamy Confetti Corn With Bacon
Scalloped Sweet Potato Casserole
Bacon Baked Beans
Loaded Sweet Potato Skins
Bacon Cheeseburger Tacos
Bacon Recipes For Main Courses
Bacon-Wrapped Pesto Pork Tenderloin
Spaghetti With Bacon
Smothered Chicken
Spinach Steak Pinwheels
Bacon-Wrapped Scallops With Pineapple Quinoa
Pork Chops With Tomato-Bacon Topping
BLT Quinoa Bowls
Bacon-Wrapped Venison Tenderloin With Garlic Cream Sauce
Cheddar Bacon Chicken Tenders
Bacon BBQ Meatloaf
Let's Head To Best Bacon Recipes You'd Love To Save
These 31 delicious bacon recipes will add wonderful flavor and texture that can make you remember and consider making whenever you get to parties or any special occasions.
Best Bacon Recipes To Light Up Your New Day
These breakfast recipes will provide you with tons of energy for making a lot of things until you have lunch. However, they're also often used to serve lunch meals if you like.
Sandwiches are easy and quick morning recipes with bacon. Crispy bacon slices, fresh lettuce leaves, and sauce will create a perfect mix for sandwich filling, making it a nutritious and heavenly recipe.
This recipe is suitable to feed a crowd with no time as preparing and assembling the sandwiches don't require much time.
These bacon sandwiches will be the best choice for busy mornings
A breakfast meal with bacon pizza that is very tangy and heavenly to enjoy in the morning will make your family members happy all day.
Homemade pizza can be much healthier than any store-bought pizza but what makes the pizza distinct is the toppings of bacon and eggs. If you like, you can top this pizza with your favorite veggies, too.
Pancakes with bacon are also a great recipe for your morning since they can provide you with the necessary nutrients for your body. Moreover, this dish can surprise your family whether they like savory or sweet taste.
Besides, preparing pancakes with bacon is easy and quick, making it a wonderful dish for your busy mornings.
Waffles with bacon are delightful and hearty to start your busy day with a lot of activities. This recipe used to be an ambassador for the Real Challenge Foodies program, making it famous across the world.
With a waffle iron, making waffles with potato and bacon mix becomes easier and quicker. Besides, you don't need to take a lot of time to complete your breakfast.
Another recipe for breakfast is shallot tarts with asparagus and bacon. These tarts will please your family, especially your kids, as they are quite beautiful and aromatic.
You will finish this breakfast recipe with no time and simple cooking steps, but it also gives you heaven and comfort when enjoying.
These bacon-broccoli quiche cups are excellent and fresh to be your breakfast with protein and various vitamins loaded in each cup.
Moreover, you can adapt this recipe by changing the added vegetable like spinach or baking the flour mix in a pie pan for a frittata. If you think this recipe is complicated to make, you're wrong, as the quiche cups are easy and quick to cook.
Bacon Recipes Can Get Your Heart's Desire
How about using bacon to create wonderful dishes for lunch or dinner? Bacon is used in many special recipes for main meals. Go with me to discover what you can do with bacon for your next meal?
Look No Further For The Best Appetizers With Bacon
This section will give you a lot of ideas for appetizers with bacon. They will bring you a sense of delight and freshness at the beginning of your meals.
This versatile bacon cheeseburger dip is heavenly and comforting to eat and is always the first dish to be used up at your meals and parties.
The combination of cheese, bacon and ground beef will create a dense and full-flavored texture that can trigger your taste before eating your main dishes.
Watch this video to know more:
Cheesy bacon bread will be a light point in your meals to attract your children to eat the meals as it is very beautiful in appearance and flavorful in taste.
The catchy and amazing bacon bread with cheeses and fresh herbs will make your bread more and more appealing. Try making it when you get free time!
Your bacon flavored with candied maple syrup will be a magical recipe to serve as the first dish at your meals.
The maple bacon is crispy, salty, and smoky, making it a great dish by the side of pancakes and maple syrup to form a wonderful appetizer.
You might know the recipe of deviled eggs without bacon, but you know the addition of bacon will make this appetizer more delicious and appealing.
These deviled eggs are very creamy and tangy with filling of york, horseradish, and species. You had better serve these stuffed eggs with fresh salad to raise the deliciousness level.
Bacon-wrapped asparagus is a comforting recipe for a BBQ entree with incredible flavor. The crispy bacon on the outside harmonizes with the tender and healthy asparagus on the core to form a wonderful crispy-tender recipe.
If you like this bacon-wrapped asparagus, just make it for your next meal as it is really easy and quick to get ready on your meal table.
Making bacon-wrapped asparagus isn't difficult with you anymore!
This recipe is for those who love both hot dogs and bacon. Bacon roll-ups must be a favorite starter for children and adults, as they are very versatile and remind you of wonderful childhood memories.
This combination also offers you a healthy and nutritious recipe that contains both proteins from bacon and vitamins from asparagus.
If you are looking for a quick recipe to please a crowd, this baked brie must be on your list of must-try appetizers, as you can finish the recipe within only 25 minutes.
Although this recipe is loaded with many ingredients, you just need to finish three steps to get everything done and serve it with crackers or baguettes to elevate tastiness.
Bacon Recipes As Side Dishes You Haven't Seen Before
You might wait for this section, as bacon often appears in almost all side dishes to make them more flavorful and appealing than ever.
If you're a sucker for sweet potatoes, make a salad with them and add some bacon to add the flavors to your side dish. Moreover, balsamic vinaigrette will raise the flavor of this whole dish, too.
This recipe is one of the wonderful options for your BBQ parties or normal meals with fried chicken or baked fish.
I cannot express how much I love this recipe simply because I'm super into brussels sprouts and always research information about making them more and more appealing. And I have found this recipe!
With the marinade of brown sugar, balsamic vinaigrette, and especially bacon, the salad with brussels sprouts is very versatile and hearty to eat.
Butter squash seems to be one of the most incredible and healthiest ingredients for brain development. Thus, when I was young, my mother often used butter squash to create many dishes for me! And I also love eating butter squash.
However, the appearance of bacon must make the dish more nutritious and become a good choice for your children's meals.
This creamy confetti corn with bacon is another easy and quick recipe for pairing with fried chicken and grilled meat. It's colorful, naturally sweet, and nutritious as it is loaded with corn, fresh bell pepper, and salty bacon.
Moreover, the cream cheese sauce will make this recipe special to be by the side of grilled salmon or chicken.
Sweet potato casserole is also a good side dish for fried chicken, grilled meat, and salad, as it is hearty and comforting to eat.
The creaminess and natural sweetness from the casserole will add flavors to your main dishes and offer you very heavenly meals.
Honey bacon with baked beans is a good side dish for your white or brown rice as a whole meal. And if you're a sucker for BBQ parties and picnics, save this recipe for later making.
Don't think that you'll take a lot of time to get this dish done; just take this chance to enjoy time with your family members when you get free time.
Watch this video to know more:
Another good side dish with sweet potatoes is using the sweet potato skins and filling them with a mixture of mashed sweet potatoes, bacon, and cheese.
If you have available sweet potatoes in your kitchen, make this recipe for your family, and you'll be required to cook it a second time.
Tacos are always good to accompany Mexican coleslaw or salad to bring you a good side dish for any main dishes that you like to add flavors.
Besides, making bacon cheeseburger tacos is as very easy as making salads and salsa. And with bacon and cheese, the tacos become much more delectable.
Bacon Recipes For Main Courses That Will Impress Your Friends
This might be the part you love most with many ideas for using bacon to create very incredibly wonderful main courses for your meals.
This recipe will make your weekend meals more special, and your family members will love it because of its heaven and comfort.
The crispy bacon on the outer together with tender, juicy, and delightful fillings of spinach, cheese, and pesto in the core will show the elegance of the dish.
Spaghetti with bacon must be on your list if you like to make easy and quick recipes. However, you can add your favorite veggies to get a healthy and comforting dish for your lunch or dinner.
Moreover, if you are interested in eating cheese, add it to the pasta and bacon mixture to raise the aroma and make the dish more flavorful.
Your bacon will be the best topping of this smothered chicken, and add it with the crispiness. Creamy sauce harmonizing with crispy bacon slices will raise the deliciousness to the next level.
Moreover, the recipe includes crispy and golden brown fried chicken breasts that are smothered until tender in sauce to serve with creamy mashed potatoes, butter biscuits, roasted green beans, carrots, or asparagus as healthy and comforting meals.
Watch this video to know more:
If you love eating steak, this recipe will offer you one more way to make your steak lighter. The filling of bacon, cheese, and spinach will make your recipe healthier and more nutritious.
The highly recommended side dishes are Italian mushrooms, carrot salad, or roasted peppers. You can rotate to make it and serve with spinach steak pinwheels as a hearty meal.
This recipe is suitable for you if you want to fill up your stomach, as quinoa is a great substitute for rice to provide you with fiber, especially for those who like to lose weight.
Bacon-wrapped scallops will be a highlight and attractive point of your meals; thus, consider making this recipe if you want to catch the attention of your kids.
Bacon will be a good ingredient to make this recipe more impressive and attractive. Start the dish with roasting pork chops in an oven or a skillet until they become golden brown, and then ending the recipe by making tomato gravy with bacon.
The best side dish for pork chops with tomato bacon topping is roasted green beans, but if you like, you can roast green beans together with pork chops to save a lot of time.
This recipe will be another version of wonderful and healthy quinoa salad with crispy cooked bacon, fresh lettuce, and tomatoes as toppings with creamy homemade dressing if you know about quinoa salad.
As it is similar to salad, you can get it finished with ease and convenience. Importantly, you can serve it as a whole meal as it can offer you enough essential nutrients for your body.
Another way to use bacon and pork loin is by making this recipe with venison. You'll wrap venison tenderloin with cooked bacon, roast them, and serve them with a garlic cream sauce to raise the deliciousness.
Unlike bacon-wrapped tenderloins with many veggies and cheeses in the core, these cooked bacon-wrapped tenderloins are good to go with garlic cream sauce.
The cheddar bacon chicken tenders will be your children's favorite meals. Prepare some suitable sides for these hearty chicken tenders, such as roasted veggies and creamy ranch dip, for a whole meal.
The recipe is worthy of being a gift for your children after days of studying hard or a wonderful dish for holiday parties.
The appearance of bacon will make your meatloaf more delicious and impressive. Just combining all normal ingredients for making meatloaf with bacon and top with some BBQ sauce and baking for about an hour, you can get another wonderful version of meatloaf.
This recipe is wonderful to go with grilled or roasted root veggies like carrots, potatoes, or sweet potatoes to get the best taste.
Watch this video to know more:
Are There Any Extraordinary But Unrevealed Bacon Recipes?
These best bacon recipes offer you numerous ways to consume your bacon to create lovely and exceptionally luscious breakfast or dinner meals.
Not only suitable for everyday meals, but some bacon recipes will also be useful in helping you plan a menu for fun-filled gatherings.
However, it is a fact that my post cannot cover all the wonderful bacon recipes. For this reason, if you can find any good bacon recipes, let me know by leaving your comment, and I'll help you spread your ideas to others.
I hope that you get useful ideas from my recommendations!