If you are looking for bacon breakfast recipes, then this article is for you. Breakfast is the most important meal because it provides energy for your whole day, so putting your heart into its preparation is a good thing to do.
In most American breakfast styles, bacon is an integral part of the plate. There is nothing better than the aroma of bacon to wake you up after a good sleep. Moreover, bacon is incredibly versatile as it can go with numerous tasty side dishes for breakfast.
Mouth-watering, hearty, and flavorful bacon breakfast recipes are waiting for you to make the next morning. So let's check out this article now, choose your favorite dish, and go to the convenience store to prepare its ingredients!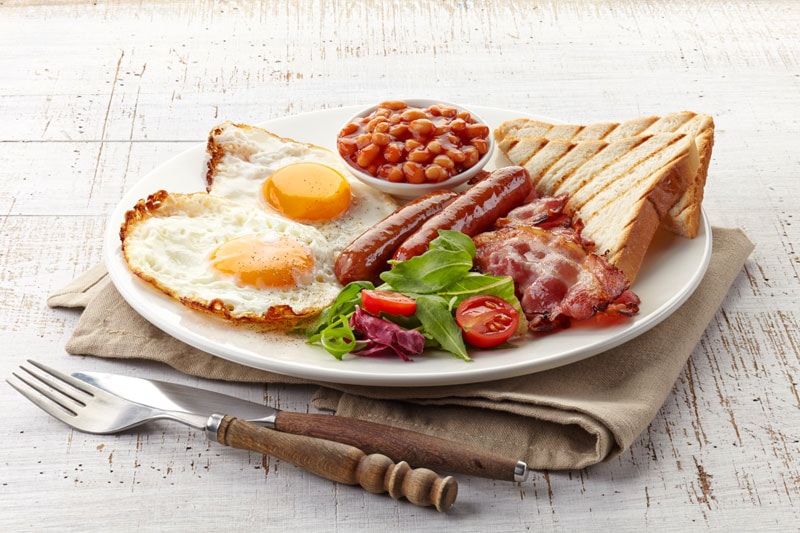 Starting An Energetic Day With Bacon Breakfast
An inviting and wholesome breakfast is what everyone is looking for to start the day. So, you can refer to these ideal bacon breakfast recipes below. They are certain to wake up your appetite after a long night with an empty stomach.
Total time: 50 minutes
Loaded with eggs, bacon, spinach, and mozzarella cheese, this breakfast recipe is a tasty way to kick off your day. It stands out with its savory and rich flavor.
A type of tart that originated in French cuisine, quiche has a sweet crust and a salty filling. Therefore, in this version, savory ingredients, like bacon, cheese, and eggs, are baked together in the pie crust until flaky and beautifully browned.
The best part is when the mozzarella melts, it enhances a creamy flavor and a springy and soft consistency. This cheesy mouth feel makes every eater go wild from their first bite.
You can prepare this dish for the incoming party by making it ahead of time before freezing it. However, make sure the bacon spinach quiche is totally cool and covered in a few layers of plastic food wrap. This recipe will stay as perfect as it can be for up to 2 months.
This spinach and bacon quiche recipe is super easy to follow and also helps you use up all that's in the fridge.
Total time: 40 minutes
Burrito is a widely loved Mexican dish consisting of two parts: a flour tortilla wrap and a filling. The wholesome avocado bacon breakfast burrito recipe with cheese pesto can be made in advance to enjoy the entire week.
This colorful combo can help you clear away leftovers in the fridge. Its texture is a harmonious mix of crispy and tender ingredients. Fontina cheese has a tangy, nutty, and fairly sweet taste. When combined with cheddar cheese, this recipe's creaminess is doubled.
This dish is suitable to be quick breakfast or dinner on a chill autumn day. You can either put it in the fridge for about 2 days.
Alternatively, you can omit the avocado and put it in the freezer for longer preservation. When you need it in your next meal, just defrost and microwave it for about 60 to 90 seconds to get a hearty meal.
Total time: 20 minutes
The upcoming recipe is a mix of Asian and American cuisines: California-inspired rolls and sushi. Yet, some of the ingredients may remind you of flavorful Mexican fare, too.
To easily cover many things inside, the soft tortilla is an option for my recipe. The milky and cheesy egg layer is another thick base for the veggies and bacon slices. On the other hand, avocado slices elevate the creamy but not overly greasy taste.
A spicy and sour dip should not be missing when you enjoy the sushi rolls. Usually, sushi is served with wasabi and soy sauce. But if you want to savor a familiar American flavor, sour cream and sriracha sauce can be great options.
Total time: 35 minutes
The crescent breakfast ring recipe is not only delicious, but it is also simple and flexible. Flaky and fluffy crescent rolls are the main star of this breakfast meal. But for extra crunch and freshness, this delicacy also includes green and red bell peppers.
The former has a bit of a bitter and grassy taste, while the latter is fruity and sweeter. This makes it interesting to combine the two in the filling of this crescent breakfast.
If you don't like the nutty and sharp taste of cheddar, you can substitute it with a Mexican cheese blend. You should garnish this tangy and creamy dish with fresh parsley on top and enjoy it warm.
Forming the crescent dough into a ring is not too difficult after you refer to this bacon, egg, and cheese brunch ring guide.
Total time: 30 minutes
This recipe also uses crescent dough, but you can shape it into an adorable-looking savory souffle. Besides the salty flavor, you can taste the fluffy egg mixture surrounded by a tender and slightly burnt golden crust.
What sets this lovely baking delicacy apart from other breakfasts is that it combines all four kinds of cheese. They all have a mild and sweet taste, but asiago cheese is more distinctive, adding fruity, buttery, and almond-like notes.
After baking for about 20 minutes, the souffle's surface turns golden, indicating it's done. If you are not sure, you can stick a small knife in the center of the souffle. When there is nothing stuck on the knife, it means this dish is ready to serve you.
Total time: 45 minutes
This recipe is essentially a casserole but in the form of a cake. It will make you feel like eating a gooey and savory quiche with egg, milk, cheese, and bacon filling.
In addition, its texture is also quite special: the golden outside is crispy as opposed to the smooth, pudding-like, and fluffy consistency inside. You should use a cake pan to create the golden and crispier sides of the dish.
This recipe is convenient in that you make use of any leftover bread type in the pantry. Alternatively, if it's Christmas time, leftover ham is another substitute for bacon to refresh the flavor of this recipe.
Total time: 25 minutes
This copycat recipe looks complicated, but in reality, it's super quick and easy to make. Based on the idea of ​​McDonald's favorite dish – the Mcgriddle, you can absolutely make it at home for a hearty and appetizing breakfast.
This dish consists of two buttery and maple syrup-sweet pancakes covering the abundant filling inside. It gives you a combination of flavors when the juicy and smoky grilled sausage meets the fluffy and creamy omelet.
When cooked, the American cheese in the middle melts on the savory slices of bacon, infusing the dish with an irresistible flavor. The flavorful homemade McGriddle only takes 25 minutes to make, so you don't have any excuse not to do it right the next morning.
Total time: 1 hour
A pie can be a sweet or savory meal. This mouth-watering maple bacon pie recipe takes advantage of all the pantry staples, such as bacon, cheese, and hash browns.
At first glance, this recipe looks like a sweet apple pie. You can use strips of bacon to form a grid on top of the dish to make it more appealing. Gouda and cheddar cheese are some other ingredients that you can add to the pie for a richer and more savory taste.
Maple syrup has a sweet, warm, and floral taste that really blends in with the salty taste of bacon on top. In addition, it also helps the bacon pieces achieve a beautiful golden brown color after baking.
Hash browns are a grated fried potato dish. It is a common part of American breakfasts. If you have the frozen one available, defrost and drain it before adding it to your pie filling mix. Moreover, you can also substitute it with diced potatoes for this recipe instead.
This easy pie is sure to draw a crowd at any party. You can comfortably enjoy maple bacon pie at any time of the day or on special occasions.
Check out this video to make a maple syrup-free version of bacon and egg pie for your next morning.
Total time: 25 minutes
This hearty breakfast of bacon, eggs, cheese, and sausage will be ready from the oven to your table in only 25 minutes. Maple mustard croissant breakfast sandwiches are a full-protein, savory breakfast that will give you enough energy for a lively morning.
The sandwiches used are light, buttery, and flaky two-halved croissants. But the sauce is the soul of this recipe. Plus, mustard has a pungent, peppery, strong, and mildly bitter taste.
Therefore, it combines ideally with the intense sweetness of maple syrup and the sour taste of mayonnaise, balancing out all the rest of the ingredients.
Total time: 25 minutes
If you are a pizzaholic and want to enjoy this food for all meals of the day, don't skip this recipe. The bacon cheddar breakfast pizza is an extremely tasty breakfast that does not require too much time and effort.
All you need to do is place the pizza dough on the pan. Spread each layer in turn with mozzarella, egg and milk mixture, cheddar cheese, and finally, bacon. Then you put the pizza in the oven and bake at 425°F.
When the surface turns golden brown, you have got breakfast that could not be more hearty. One tip is to make the edge of the pizza crust higher so that the egg mixture does not leak out when baking.
In addition, this dish is best when the egg layer is just enough. If it is too thick, you will find this dish overly rich when you eat the next slice.
Total time: 1 hour 15 minutes
Breakfast casserole is one of the most famous American morning choices. With classic ingredients like bacon and bread, making this overnight bacon casserole for your early meals is a piece of cake.
All you need to do is toss things and keep them in the refrigerator overnight. The rest is to bake your prepared casserole. Now, let's sink your teeth into the salty bacon and aromatic green onions, which complement the cheesy texture and give a divine taste on every bite.
The thing you should adore about this one-dish recipe is the ease of cleanup. You just need one casserole dish to make this breakfast from start to finish.
Total time: 30 minutes
Another quick option for your upcoming morning is this breakfast skillet. Besides the easy cleanup, the combination of savory bacon and sweet honey is the highlight of this recipe.
To create that flavor, cooking bacon until it oozes grease is the first step. Then you let the butternut squash cubes absorb the salty bacon oil. The red pepper flakes and honey drizzle will lend some heat and sweetness to your breakfast.
Your breakfast is hearty enough to serve alone. While bacon provides protein and sodium, butternut squash fills in the role of a reliable source of fiber and carbs.
Total time: 40 minutes
This 3-ingredient recipe is insanely luscious and surprisingly simple. It all comes with just bacon, eggs, and chopped green onion. This recipe is gluten-free, dairy-free, and has no refined sugar.
This dish is undemanding in terms of both preparation and ingredients. In spite of that, these muffins meet all the criteria of a good grab-and-go meal: convenience, long shelf life, and suitability to be enjoyed cold.
Properly whisked eggs produce a fluffy and soft texture. You may not need to add salt to this dish because the bacon itself has a salty taste that balances out the rest of the ingredients.
These bacon and egg muffins can be stored in an airtight container in the fridge and enjoyed as a dessert. In addition, this recipe is also suitable for parties, where each diner can enjoy his or her serving easily.
Instead of chopping the bacon, you can follow this tutorial to use the whole slice and roll it around the side to form the muffin shape.
Total time: 1 hour 39 minutes
With a freshly cooked egg yolk in the center, a crispy bacon layer, and a chewy potato base, this dish will make anyone crave it at first glance. This twice-baked breakfast potato recipe looks like the golden sun that greets you at dawn.
Cheddar is the best choice to emphasize the cheesiness of this dish. For the starchy ingredients, Russet potatoes have a mild and pleasantly sweet taste.
They are fluffy, floury, and smooth, making them perfect for mashed or baked recipes. Alternatively, you can also substitute sweet potatoes for this recipe.
When making this dish, you should also make sure that the potatoes do not have any holes. Otherwise, raw eggs can leak through the bottom of the potato's skin and the finished product will not look good at all. You can simply plug the holes with mashed potatoes to prevent this trouble.
Total time: 50 minutes
These tasty canned corn treats, piled high on top of each other with warm maple syrup flowing from the top, look like a culinary masterpiece. They will help you kick off the day on the right foot.
The inside of these thick yet fluffy pancakes is fully filled with corn, onions, cheese, and bacon crumbles. Both corn and onions have a natural sweetness that is just right to work well with the saltiness.
Enriching their flavors are earthy and smoky cayenne peppers. Still, you can substitute them with jalapenos or remove them from this recipe if your tolerance is not high.
Total time: 15 minutes
Next up should be your children's favorite. The bacon lends a fatty and savory layer inside the crunchy French toast creating a light breakfast or brunch.
The secret lies in the fresh sandwich bread that is dipped in the egg mixture before being rolled up and roasted to beautifully golden. I do not recommend using fancy artisan bread like ciabatta or sourdough since it is not flexible enough to prepare this dish.
If you use old bread, ensure you have more egg mixture to moisten the dough. For a more American breakfast classic, you can serve your roll-ups alongside cheese dip as well. Otherwise, they alone are enough for a quick snack on the way to work.
Total time: 10 minutes
Cheesy breakfast quesadillas look fancy, but it is such a snap to be done. From a culinary perspective, quesadillas are one of the most well-known sandwich wrap delicacies originating from Mexico. It has a tortilla crust that wraps beans, meat, or spices.
You can try adding cheese, bacon, and eggs to create this delicious breakfast. After being baked in a non-stick pan or griddle, the cheese melts and makes this dish creamy. While this recipe uses cheddar, the best quesadilla version should use a Mexican blend.
If that's not available, you can use a type of mild and easy-to-melt cheese so that it does not overwhelm other flavors like Colby or mozzarella.
To deal with leftover quesadillas, store them in the fridge (for 2 – 3 days at most) and reheat them for your next breakfast. For the best crunch, use the oven and pan, or simply bake in the microwave or skillet.
This tasty breakfast quesadilla with bacon takes you less than three minutes and is incredibly easy to prepare.
Total time: 22 minutes
Inspired by the recipes from Arizona, these bacon egg cups bring Southwestern cuisine to your kitchen in just minutes. It should be your family pleaser, especially your kids, thanks to its fabulous appearance and divine flavors.
Needless to say, eggs and cheese are a common complement to bacon in this very American breakfast. Still, the star of the show belongs to stirred corn, beans, and fresh tomatoes. Together, they impart a refreshing twist to your greasy meals.
Make sure you make a big patch enough for everyone since I am pretty sure your bacon cups will soon disappear. Utilizing canned veggies is my tip to make this Southwestern way easier and quicker.
Total time: 25 minutes
If you are sick of normal pancakes for breakfast, give them a small twist with bacon and blueberries. The buttery crust will have an extra salty flavor followed by a fruity note.
Like other bacon recipes, you can cook bacon to your preferred texture. However, I like to turn the grill to high heat and flip the bacon strips regularly until they are crispy.
In case you want a drink to wash down the pancakes, a glass of coffee is my beverage suggestion. For kids or caffeine anti, you can treat them with fresh orange juice.
Total time: 20 minutes
If you think breakfast with bacon is not good for your health, then refer to this recipe. The dish itself has onions, brussels sprouts, eggs, and garlic, all of which come with high nutritional value.
This paleo, keto, and low-carb breakfast hash with bacon takes only 20 minutes to prepare. Brussels sprouts are soft and creamy on the inside but crispy on the outside.
Cook them properly, and you will receive an outstandingly smoky, sweet, and a bit of nutty taste. You can serve this hash with sautéed mushrooms, butternut squash, or sweet potatoes for a fuller meal. Add parsley and red pepper flakes for some colorful garnishes.
You can make use of the bacon fat to cook this brussels sprouts hash without adding any extra oil.
Total time: 25 minutes
For paleo and keto dieters, these Korean-inspired muffins should be your next favorite—the spiciness and sourness of kimchi light up the whole fatty and eggy bacon bites.
There are some tips to master your muffin. The first thing to do is to cook your bacon so it won't lose its shape during baking time. You can even make use of its fat to level up the kimchi flavor.
Also, remember to grease the pan generously so the bacon won't stick tight, consequently ruining the muffin shape.
If there are some leftovers, place them in the fridge. You can reheat these muffins for a warm serving or just eat them cold. These savory muffins are tasty, both as a light breakfast and a snack.
Total time: 30 minutes
This 4-ingredient recipe is a breakfast dish. Yet, do not hesitate to serve it for lunch or a snack. Also, feel free to have it at dinner with beans and chips. In this recipe, my suggestion is to use rasher bacon.
Instead of the usual fatty American bacon that comes from the belly, rashers are strips of meat that sit in the middle of the pig's back. They are leaner and can be served in a variety of cooking ways.
Next, you might consider using mild-medium or mature cheddar cheese to get a richer flavor. Brushing over a thin layer of whisked egg on each pastry to make the perfect golden surface is indispensable. I usually enjoy these turnovers as soon as they come out of the oven.
The melted and stringy cheese combines with a crispy, flaky crust and warm fillings to create the best morning treat. If you want to try eating the turnovers cold, feel free to refrigerate them (for no longer than 2 days).
Total time: 1 hour 10 minutes
If you're obsessed with casseroles, this bacon & eggs tater tot casserole is a must-try. To best enjoy its pleasant richness, I recommend you pair it with palatable pancakes from Korea, though recipes from other countries would do as well.
This recipe packs all the crunch, bacony, and cheesy flavors of a true breakfast or brunch. Bacon always gives the perfect smoky taste to the dish. But you also need tater tots, bite-sized cylinders made from potatoes, to achieve the best flavor and texture.
They combine with scrambled eggs and cheese for a filling meal. Serve this dish with a plate of salsa or sour cream, and you will love the balanced flavor of this pairing.
Total time: 45 minutes
Here is what you need to make these breakfast bombs: milk, shredded cheese, eggs, and bacon – all the breakfast essentials! They are like a small version of buns on the outside, but those bombs are more golden and crispy.
However, when you bite into them, their fillings explode in your mouth with the fusion of all the ingredients. They are a combination of scrambled eggs, crispy bacon, and melted-in-your-mouth cheddar cheese. You can make them in the oven or in an air fryer.
Chives taste like onions and leeks, but they have a lighter flavor and don't overwhelm the overall taste. Moreover, poppy seeds are coated on top of the bomb's crust for a nutty flavor and added crunch. They have high nutritional value since they contain a variety of minerals.
Total time: 40 minutes
The next recipe is a two-in-one dish that looks like a taco with a pancake crust. Its filling includes familiar ingredients like bacon, cheese, and eggs.
Cojita cheese in this recipe is made from cow's milk and comes from Mexico. It has a firm and crumbly texture with a predominant salty taste, making the tacos more flavorful.
Moreover, these novel breakfast tacos are covered with an outer layer of pancakes. They are made from all-purpose flour, buttermilk, and milk. Compared to the ordinary taco shells, the texture of the pancakes in this dish is softer as well as more spongy and milky.
To top it all, layers of crispy and brown bacon mixed with fluffy scrambled eggs, and a coating of white cheese make everyone want to grab and enjoy these tacos right away.
You can freshen up your breakfast with this simple bacon pancake breakfast taco treat.
Total time: 20 minutes
This is the best grab-and-go breakfast ever that can help you save time. Each bacon cheddar scone contains only 3 grams of net carbs and is also gluten-free.
This recipe has been adjusted many times to give you the perfect texture for the scones. It's light and not crumbly if you apply the right amount of ingredients according to this recipe.
After baking in the oven for about 15 minutes, you will get golden and crispy breakfast treats. Melted cheddar cheese mixed with the salty taste of bacon and a subtle coconut aroma is enough to warm an empty stomach.
Total time: 2 hours 10 minutes
This breakfast sweet potato is good news for those who need a tasty recipe to make with leftover sweet potatoes. Boiled or baked sweet potatoes have a starchy, mellow, and of course, sweet taste. Moreover, they are good for your health as they are loaded with many nutrients.
The garnet sweet potato is the best variety for this recipe because it is less dry and has gorgeous orange flesh. In addition, this dish uses white cheddar cheese instead of the yellow one you usually see.
However, don't worry about replacing these two with each other. Except for the color, their taste is no different.
Nothing Is Better Than Breakfast With Bacon
Adding bacon to your breakfast means enhancing the flavor and deliciousness of your new day. Among the many ingredients for luscious breakfast recipes, bacon is always a top choice.
This ingredient is not only quick to prepare and easy to combine with a variety of ingredients, but it also boasts a mouth-watering savory taste. When you toss bacon into casseroles, pizza, pie, or quesadillas, this versatile food always shines with its own taste and texture.
All of the bacon breakfast recipes above are worthy of being spread to more people, so feel free to share them. You can let everyone know what's your next breakfast recipe with bacon by writing down a comment below.