Easy bacon appetizers are one of the best choices for a party. They are quick to make and easy to satisfy everyone's appetite. In addition, bacon is a good source of protein and dietary fat, providing energy. It also helps the body to absorb vitamin D.
If you are a fan of bacon like me, you definitely should not miss the bacon recipes list below. It is a collection of easy-to-make bacon appetizers you can cook at home or prepare for friends or family gatherings.
I won't let you wait any longer, let's check out easy bacon appetizers.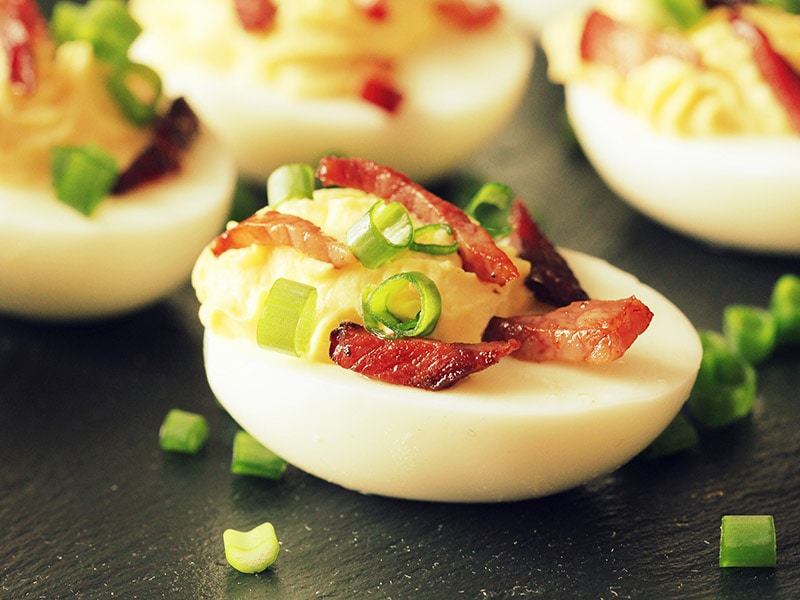 Treat Your Tastebuds With These Bacon Appetizers
There are a number of great starters with bacon. Most are easy and quick recipes, so you won't have to spend too much time and effort. And they also taste fantastic. Let's begin now!
Total time: 35 minutes
The first appetizer on this list is yummy bacon cream cheese bites. I love this simple but incredible idea with bacon. You should add it to your cooking recipes right away for a fun and tasty cream cheese appetizer.
I am sure that this is an effortless recipe to try since the steps are easy to follow. You only need to spread the cream cheese nicely on the slices of bread, wrap the bacon around them (use toothpicks to attach the components firmly), and bake them in the oven.
To boost the flavor, sprinkle some chives on the cream. The crispy bacon outside and the soft bread with cream in the middle make each bite taste so good.
Here is how to make bacon cream cheese bites step by step.
Total time: 20 minutes
Bacon Pimento cheese cups are my next suggestion for you. I have to say that this is an addictive one because you just cannot stop at 1 or 2 pieces. Thus, make sure you double the amount if you don't want them to disappear in a minute.
This dish is a great combination of bacon, Cheddar cheese, and Pimentos. The harmony of the flavor and texture makes it one of the best bacon appetizers. You can serve it as a snack too. As it won't take long in the oven, pay attention to the time if you don't want to burn them.
For more information, each adorable bacon cheese cup offers 53kcal calories, 4g fat, and 29mg of calcium.
Total time: 40 minutes
Grilled bacon-wrapped asparagus is a perfect asparagus appetizer or side dish, especially when you have an outdoor party. You will need fresh asparagus, bacon, parmesan cheese, and a non-stick coating. You can make it either on the grill or in the oven.
When you cook on the grill, the fatty thick-cut bacon may catch fire easily, so you'd better go for smokey bacon. Wrap bacon around the asparagus bundle and grill all sides nicely until the bacon gets its crispiness.
For the oven option, do not forget to check the time and heat level carefully to guarantee the best outcome. The savory salty bacon and the tender asparagus won't fail to satisfy you.
This is a simple guide to grilling the bacon-wrapped asparagus you should not miss.
Total time: 8 minutes
If you are seeking a bacon appetizer for low-carb, paleo, or keto diets, check out this bacon Guacamole. It takes you less than 10 minutes to complete this addictive dish, so I am sure you will not struggle at any point.
This recipe calls for sugar-free bacon. After cooking, drain the grease on a paper towel. Mix the mashed avocado, red onions, and cilantro well together. And add the bacon to the mixture. It is a super easy and quick dish to make.
You can serve it with different types of chips depending on your taste. You can go for grain-free tortilla, keto tortilla, or plantain chips.
Total time: 60 minutes
How about trying a yummy recipe with cherry tomatoes? You can't say no to this refreshing bacon-tomato combination. They also look so eye-pleasing for a party or gathering.
There are only 4 ingredients to make this easy bacon appetizer: bacon, mayonnaise, cherry tomatoes, and green onion. So the idea is you make the fillings with crumbled cooked bacon, mayo, and green onion, then fill them into hollowed-out tomatoes.
This dish is easy to prepare beforehand. Get the fillings and the tomatoes ready in the fridge. You can begin stuffing them a while before the party starts. Keep refrigerating them until ready to serve.
Here is the easiest way to make bacon stuffed cherry tomatoes.
Total time: 20 minutes
You will thrill yourself or your friends and family with bacon bombs. They are bite-sized biscuits stuffed with Mozzarella cheese and bacon. These little golden brown bombs are an easy and delicious appetizer you cannot miss.
The main process is wrapping refrigerated biscuits around the Mozzarella cheese and crumbled cooked bacon. After baking, brush them with a mixture of garlic powder, butter, and Italian seasoning. It tastes best when served warm.
Have a bite, feel the cheese melt in your mouth, and taste the harmony of bacon, garlic, and butter flavor. Who doesn't love these delicious bacon bombs?
Total time: 60 minutes
Here comes another easy bacon appetizer you can be looking forward to. It is bacon-wrapped jalapeno poppers. The dish is packed with flavor from bacon, jalapeno, and cheese.
In this recipe, you need to discard the seeds and ribs of the jalapeno peppers, but you can leave some seeds in if you want to increase the heat. You'd better wear gloves when deseeding peppers to avoid burning your hands.
Stuff cheese mixture inside half the scooped-out jalapeno and wrap the bacon around. Center-cut bacon is more favorable for this recipe rather than a thick-cut one.
Do not miss these yummy and spicy bacon-wrapped jalapeno poppers.
Total time: 40 minutes
You will love this fantastic chicken appetizer. It is a great match of chicken breast, bacon, and blue cheese sauce. And it doesn't require any special skills to make. I know it tastes delicious, but don't devour it all by yourself at the party. Just kidding!
The recipe calls for wrapping bacon around seasoned chicken breast and baking them. After that, serve them with a blue cheese mixture made from Greek yogurt, mayonnaise, blue cheese, and some other components.
Total time: 15 minutes
This is a yummy appetizer with only 6 ingredients and 15 minutes of total cooking time. It is a perfect snack for kids, but it also can be a treat after work for yourself.
When combined with bacon and Cheddar cheese, you will adore the sweet-salty taste of apple, honey, and cinnamon. This recipe calls for Athens mini fillo shells, which you use to pack the apple mixture. Gently sprinkle crumbled cooked bacon on top of the mixture.
It takes a few minutes for the snack to cook in the oven. It is good when the shells begin to brown and the cheese melts.
Total time: 65 minutes
The next is a wonderful idea of wrapping bacon around the bite-sized Lil' Smokies – a kind of smoked sausage. Some even call this delicious sausage-based appetizer "meat covered in meat".
The essence of this recipe is the barbecue sauce. It gives each piece a beautiful glazing coat and boosts its flavor. You can choose any sweet, tangy, or spicy sauce that suits your taste. Some recommended ones are tomato, mustard, or vinegar-based sauce.
Carefully wrap the bacon around the sausage and bake until the bacon is perfectly brown and crispy. After baking the bacon-wrapped Little Smokies, brush them with the barbecue sauce. Then broil them for about 1 more minute.
These small bacon-wrapped Little Smokies will make your mouth water.
Total time: 40 minutes
Bacon-wrapped shrimp is one of the most delicious appetizers ever. Does a skewer full of bacon, shrimp, cheese, and jalapeno peppers sound yummy to you? It does to me.
It is a simple, must-try recipe if you want something creative and tasty with bacon. The cooked bacon will wrap each shrimp stuffed with pepper jack cheese and jalapeno. So you need to buy large shrimps because they are easier to stuff and wrap.
Skewer these shrimps, give them a nice layer of Blackened Seasonings, and broil them for about 10 minutes. Though you can serve them alone, a dipping sauce with cilantro, ranch, and lime juice boosts the flavors so well.
Total time: 30 minutes
How can the cream cheese bacon and ranch pinwheels be absent from this list? You will warm up the party with this pretty and tasty appetizer. But remember that people may not stop devouring only one or two pinwheels, so make as generously as possible.
You will need large flour tortillas, cream cheese, shredded Cheddar cheese, dry ranch seasoning, and of course, bacon. The ranch seasoning and bacon create a yummy flavor for this dish.
After rolling the tortillas with fillings, let them chill in the fridge until ready to serve. These pinwheels taste good cold.
Total time: 30 minutes
If you are keen on deviled eggs, why don't you try this amazing bacon version to spice up your party? And of course, it is not difficult to make this dish at all.
The first key ingredient, as you may know, is hard-boiled eggs. Wait for the water to boil before submerging the eggs into it. Gently put the eggs into the water to avoid cracking. You need to boil the eggs for 9 to 10 minutes until the yolk is firm.
Bake the bacon and mix with smashed egg yolk and other ingredients to make the fillings. Scoop them back in the egg white, and you have your delicious appetizer. You can make this dish ahead of time and refrigerate it before serving.
Bacon deviled eggs are an easy and tasty appetizer you should look for.
Total time: 10 minutes
This bacon Cheddar cheese dip is a perfect appetizer for a party, especially the crowded one, since it takes only a short time to prepare. Also, the combination of cream cheese, sour cream, mayonnaise, and cooked bacon offer incredible flavor.
As the dip is excellent, you can serve it with many different crackers or chips. In case you want a lighter version, go for veggies like cucumber, carrots, and asparagus stalks.
It is fine to make it ahead of time as long as you refrigerate it properly. For an outdoor summer party, I suggest you keep it on ice to expand its shelf life.
Total time: 35 minutes
Zucchini is a low-carb type of vegetable rich in vitamin A and antioxidants. So if you are looking for a healthy and keto-friendly appetizer, you should not miss these crispy zucchini fritters.
This dish is a mixture of zucchini, onion, and sugar-free bacon. But you also need cheese, eggs, and coconut flour to bind them together. A crucial tip to make these fritters crispy is to squeeze the water out of the zucchini. You don't want soggy fritters, do you?
Another tip is not to overcrowd the pan. You should fry them in several batches to ensure they have enough room to get their crispiness. It is best to serve them right after cooking so that they can remain crispy.
Total time: 18 minutes (+ 1 hour of cooling time)
Bacon ranch cheese ball bites are a must-try appetizer. Who can resist these salty, creamy cheese balls? As you can guess from the name, the main flavors would be bacon, ranch, and cheese.
After mixing up Cheddar cheese, cream cheese, and ranch seasonings, form them into bite-sized balls. You should wear gloves to roll out the cheese balls if you do not want cream and cheese all over your hands. Chill the balls for 1 hour in the fridge.
Prepare a mixture of bacon, chive, and pecan to give these balls nice tasty coats. Make sure you crumble cooked bacon into small pieces to fit on the balls.
You can substitute ranch seasonings with garlic powder, paprika, salt, and pepper.
Total time: 50 minutes
This is another bacon-wrapping appetizer you should look for, but this is the show of pineapple. Pineapple's sweet and sour taste makes the bacon taste much better.
The recipe requires 4 ingredients: bacon, pineapple (fresh or canned), brown sugar, and smoked paprika. After wrapping the bacon around the pineapple, coat them with brown sugar and cook in the oven. You should expect the crispy and brown bacon when done.
Smoked paprika is optional, so you can just omit it if you do not like the smoky flavor. Another notice is that you'd better use the baking rack to prevent the brown sugar from burning and blackening the bottom of the bites when placed directly on the foil.
Total time: 15 minutes
Bacon Ricotta Bruschetta with fig jam is an awesome sweet-and-salty combination. If you have never tried bacon with fig jam, you should now and regret not trying it early.
This dish is an elegant and delicious bacon appetizer. For this recipe, you need cooked and not-too-crispy bacon, toasted baguette slices, and fig jam. Whole milk Ricotta and basil chiffonade (long thin strips) are also essential components.
It only takes you 15 minutes to thrill everyone with this incredible Bruschetta idea. It can be a perfect appetizer, quick lunch, or dinner.
Total time: 35 minutes
This one is perfect for a gathering like the Super Bowl. I can say most people will devour it in a minute. The gooey and colorful mixture makes every scoop addictive. You can go with tortilla chips, pita chips, or crackers.
The bacon adds a perfect crunchy texture and smokey flavor to spinach artichoke dip. I highly recommend you serve it hot because the cheese can firm up when it cools down. Heat it in the microwave when you want to melt the cheese again.
You cannot resist this appetizing spinach artichoke dip with bacon.
Total time: 22 minutes
Sweet and spicy bacon-wrapped tater tots are a must-try appetizer for any party. They are super addicting that they're gone in the blink of an eye. So if you have not made them before, try this recipe.
Generally, after seasoning, wrap the bacon around tater tots and secure with toothpicks. To prevent burning toothpicks in the oven, you should first submerge them in the water. Don't forget to take notice of the heating and baking time.
If you want to make them ahead of time, cool them down after baking and refrigerate them in an airtight container. Bake them again when you want to reheat.
Total time: 30 minutes
This is another way to make cheese dip with bacon. If you are a fan of blue cheese, this recipe is a must. It is rich, savory, and tangy. Spend 15 minutes preparing and 15 minutes baking, it will be all good.
Mix the cream cheese with mayonnaise, blue cheese, and garlic powder, then add bacon and chives. For the bacon, make sure it is cooked and crumbled.
Remember to give the baking dish a non-stick spray before putting the mixture in. After 15 to 18 minutes, you will have a beautiful golden brown baked bacon blue cheese dip. Serve warm with crackers or chips.
It would be a pity if you did not give this baked bacon blue cheese dip a try.
Total time: 30 minutes
Lastly, cheesy hot bacon dip is an easy bacon appetizer for party time, movie, or sports game time. Dipping crackers into hot gooey cheesy bacon never fails to satisfy the crowd.
There are only 7 common ingredients for this recipe, but you can easily customize it by adding ranch seasonings or red pepper flakes. The recipe calls for mayo, yet you can substitute it with plain Greek yogurt.
After baking nicely, cool it down for a while and serve with toasted slices of bread or crackers. For nutrition facts, this dish offers 428kcal calories, 886IU vitamin A, and 218mg calcium.
Easy Bacon Appetizers For Lovely Parties
It is the right choice to serve a bacon-based appetizer at your party. It is delicious, addicting, and, more importantly, easy to make. I hope these suggestions above can level up your meals and bring more fun to your gatherings.
I am looking forward to reading your opinions and how tasty your bacon appetizer is, so do not hesitate to leave a comment. Should you find this article useful, give it a thumb up by sharing it with friends and family. Thank you, and enjoy!