When it comes to avocado desserts, the possibilities are endless. Ripe, mashed avocados are a healthy swap for butter in many baked goodies (typically with a 1:1 ratio).
The strength of the fruit lies in its rich and creamy texture, which is perfect to go into cakes, brownies, cookies, muffins, etc. Plus, the distinct taste of avocado is quite mild and can be easily obscured by more intense flavors such as fruits, cocoa powder, and chocolate chips.
It means avocado helps build the texture while leaving a blank canvas for other ingredients to shine. If you fancy avocado taste, however, there are also some options on this list that focus on showcasing the fruit's own deliciousness (avocado ice cream, for example).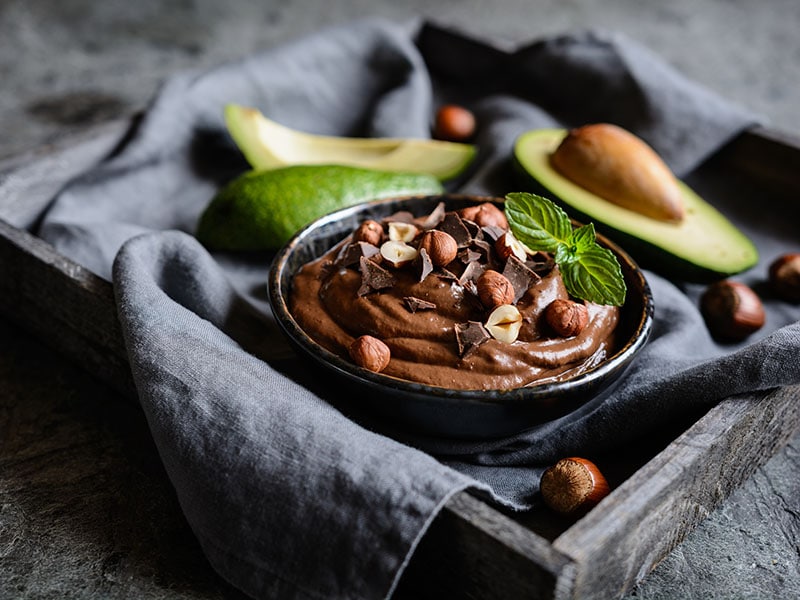 22 Avocado Desserts That Are Perfect For Any Occasion
Looking for something sweet to tame your sugar craving, make sweet treats for dinner, or entertain the crowd? There are plenty of options (no-bake included) on this list.
Incorporating avocados into desserts makes them healthier (without compromising the taste and texture), and these avocado-based desserts are good examples.
Total time: 35 minutes
Black beans contain fiber and plant-based protein, whereas avocados provide iron and potassium content. This combination brings out a healthier version of brownies. Plus, they're also dairy-free and gluten-free.
The beans have taken the place of flour to bring out the rich brownies you always crave. Meanwhile, avocadoes replace the butter and make these treats decadently smooth and creamy.
Coconut sugar adds sweetness to the desert, yet you can always substitute it with brown sugar or maple syrup. Add one extra egg to the recipe if you prefer your brownies a bit more cakey.
Total time: 10 minutes + 4-5 hours of freezing time
There's no need to have an ice cream maker for this avocado ice cream. Plus, you'll need only 6 ingredients to whip up this refreshing, delicious treat.
The best part about this frozen treat is the mild flavors of the nutty fruit, which are easily masked by the flavors or toppings you throw in. Here, peppermint extract and chocolate chips make for a perfect flavor combination.
Yet, feel free to swap in your favorites, such as berries or nuts. This avocado dessert is also vegan-friendly, so you can enjoy it with your vegan friends.
The beautiful creamy texture in this avocado ice cream is credited to the green fruit!
Total time: 10 minutes + 2-3 hours of chilling time
Ripe avocados, coffee, coconut coating, and chocolate team up in this ultra-decadent dessert. Thanks to the heart-healthy fruit, the texture is heavenly creamy, dreamy, and velvety smooth. Meanwhile, the sunflower seed butter makes the truffles ultra lush.
You can think about it as a chocolate avocado pudding, but in bite-sized balls (which allows you to better control how much to eat). The crunchy coating of coconut and nuts give a nice textural contrast to the pudding.
These chocolate truffles contain no sugar or processed food, which means they're a nice choice if you're sticking to a paleo diet. It's vegan-friendly, too.
Total time: 33 minutes
This healthier version still offers all the qualities of chocolate muffins: the incredibly moist texture and a great dose of chocolatey goodness.
By swapping out the butter with ripe avocados, you'll get healthier fats and reduce cholesterol intake (plant-based fat is naturally cholesterol-free).
You don't even need a stand mixer to whip up these muffins. Start by whisking the dry ingredients and then add melted chocolate chips, mashed avocado, and other ingredients. That's all it takes to make the batter.
These muffins get a double dose of chocolate from the cocoa powder and chocolate chips. The chips are semi-sweet, so you shouldn't go overboard with the sugar or sweetener here.
Total time: 2 minutes + 1-4 hours of chilling time
Avocado and chocolate blended into a heavenly rich and creamy mousse will be your new go-to dessert. The good news is this mousse takes little time and minimal effort to prep.
There are just a few things to do here: take out your food processor, add all the ingredients, and pulse until you get a smooth and creamy texture. Allow the mousse to chill for at least 1 hour, and you'll get a decadent dessert ready for dinner.
Fresh fruits (blueberries and raspberries are highly recommended) and pistachios would make for lovely garnishes for this dessert.
This avocado chocolate mousse is what you need when you don't want to add cream to your dessert.
Total time: 1 hour
If you're obsessed with desserts full of fruity goodness like me, you're in for a real treat. This avocado cake is rich and fluffy and topped with a luscious blueberry glaze. It's packed with health benefits, too, thanks to the olive oil and avocado.
The blueberry glaze somehow manages to steal the spotlight here. You can whip it up in no time while waiting for the cake to cool off.
There's no heat required; combine powdered sugar and blueberry sauce and whisk until you get a thick and smooth consistency. It's best to add the sauce bit by bit, so you can easily adjust the texture the way you want.
Total time: 25 minutes + 1 hour of chilling time
These avocado fudge bars taste just as amazing as they look. Mashed avocado and melted chocolate are always a winning combination, a truth that you will rediscover in this recipe.
The semi-sweetened chocolate gives these treats a chocolate-y flavor with just the right level of sweetness. You can substitute with dark chocolate, but make sure to add a sweetener to balance the bitterness.
Like with many recipes on this list, avocado helps build the texture of the fudge. It makes these bars fudgy but does so in such a clandestine way that no one will guess the secret ingredient behind these bars.
Total time: 20 minutes + 4 hours of resting time
This take on cheesecake gets the vibrant hue from avocados. There's so much to love about this treat: sweet-and-chocolatey crust and an avocado filling. The cheesecake is a solid sweet recipe without gluten that vegan folks and those with gluten intolerance can happily share it.
Avocados contribute to the divinely rich and creamy texture of the filling. Meanwhile, date syrup adds sweetness, and coconut cream gives extra richness.
It's important to plan ahead with this cheesecake, however, since the coconut cream needs to be chilled overnight. Plus, the finished cake also needs 4 hours to chill before you can slice it.
Everyone will love to have a luscious, creamy slice of this avocado lime cheesecake.
Total time: 5 minutes + 9 hours of freezing time.
Behold how all the flavors of the chocolate avocado pudding are put into popsicle molds and frozen for the ultimate summertime treat.
You'll have almost the same ingredients as you would with chocolate avocado pudding. However, the almond butter joins the avocado to build a creamy, rich base for these pops.
The tropical fruit gives these pops a perfectly fudgy texture. The subtle flavor gives way for the chocolatey flavors (cocoa powder and chocolate chips) to shine. So, even if you're not an avocado fan, you'll love these pops, too.
A drizzle of melted chocolate and crushed pistachios or almonds on top will make these pops way better than what you'll get from stores.
Total time: 30 minutes + 2 hours of freezing time
There's no baking needed to pull together these sweet and tart treats. Both the avocado lime filling and crust are super easy to make and only take half an hour in total. Just throw the ingredients in the food processor and let the machine take care of the rest.
Avocados not only give these tarts a bright green color but also contribute to the creaminess of the pie filling. The fruit's flavor also pairs perfectly with the tart key lime and maple syrup. You may want to garnish these mini tarts with coconut and lime zest for a finishing touch.
Total time: 20 minutes
These no-fuss truffle sweets are the perfect treat for any occasion. They can also be a lovely way to end a romantic dinner at home. Raspberry and chocolate are a wonderful combination when blended in these decadent truffles.
The tartness of fruit helps complement the richness of chocolate's flavor. You can find dried raspberries in the dried fruit section of most well-stocked grocery stores. Raspberry liquor is optional yet highly recommended for extra depth of flavor.
Unlike regular truffles, fresh avocados are used instead of cream for the luxurious and creamy texture. If you're skeptical about avocado flavors, rest assured that these balls won't taste like avocado. No one can tell there's avocado in it unless they ask.
Total time: 10 minutes + chilling time
Sweet, creamy, and smooth chocolate pudding is an all-time favorite. Yet, you can always make it better by adding peanut butter, avocado, and bananas for the ultimate indulgence.
Refined sugar is unnecessary here, as the naturally sweet dates and bananas add just the right amount of sweetness.
This pudding is not only about the chocolatey flavors. It also showcases the creamy texture of whipped avocado. These two elements create true comfort in a bowl. Peanut butter is also a huge part of the pudding's flavors and gives the dessert a decadent touch.
This recipe also lets you adjust the taste to your liking. Use less sweetener so that the intense chocolate-y flavor can shine through. On the other hand, if you fancy a sweeter dessert, increase the amount of sugar.
Ripe avocados are key to this chocolate avocado pudding!
Total time: 1 hour and 10 minutes
Baking with avocado means cutting out butter and oil and getting more nutritional content from the fruit. This moist and rich chocolate avocado cake is a perfect example.
It virtually melts in your mouth, and less butter used is a good excuse for you to reach for 1 or 2 more pieces. For the chocolate buttercream, you only need to mix everything in the food processor.
Coffee (ideally, the brew variety) is highly recommended for this avocado chocolate cake to amplify the chocolate's flavors. Yet, if you want to save time, simply substitute it with water.
Total time: 30 minutes
Avocado might be an unexpected ingredient for donuts. But try these treats out, and you won't regret it!
In my book, baked donuts are better than deep-fried ones. They're more cake-like in texture (and thus, the name "cake donuts"). The outer edges are also slightly softer than fried donuts, whereas the inside is incredibly moist and gooey.
Avocado has a double duty here. It joins the whole wheat flour, cashew flour, and other batter ingredients and also goes into the frosting.
On the note side, avocado frosting turns into a dark green or even brown shade when left out for a while. So, you'd better make the frosting when ready to serve.
Total time: 1 hour
If you don't want to include black beans in your brownies (as in the recipe above), try this classic. As always, avocados discreetly add moisture and fudginess to the brownies.
Packed with rich dark chocolate flavors, these fudgy brownies are irresistibly delicious on their own. However, the ganache-like frosting, made of almond milk and melted chocolate, turns these brownies into the most indulgent dessert you've ever made.
Use a food processor or blender to make these treats for the best result. The flax egg mixture and avocado should be blended well to form a smooth texture.
Mashing avocados with only a fork won't cut it; you're likely to end up with some large avocado chunks in your brownies.
These avocado brownies are fudgy and delicious yet lighter, thanks to the avocados.
Total time: 45 minutes
These grasshopper bars prove that you won't need to compromise the flavors for healthy treats. They're low-carb and full of nutritious ingredients, including avocado, coconut, and cocoa.
These streamlined grasshoppers bars consist of a mint-and-avocado layer and a chocolate layer. Mint and chocolate are among the most satisfying pairings if you ask me. This combination is decadent and refreshing at the same time in these bars.
Big bonus: These grasshopper bars get ready in 45 minutes, and there's no baking required. It's a perfect choice when you need something a little sweet but don't want to heat up the whole kitchen.
Total time: 55 minutes
These healthy mochi blondies are easy to make with a handful of ingredients and can be enjoyed any time of the year. If you're a fan of unique Japanese sweet creations, then this recipe combines the best of both worlds in one dessert.
Sweet rice flour, almond flour, and mashed avocados come together for these mochi blondies. Almond flour provides a nutrient boost for the mochi, but feel free to swap in whole wheat flour, oat flour, or increase the amount of Mochiko flour when necessary.
These mochi blondies have subtle flavors from avocados. They provide a great way for you to customize the flavors. Try these add-ins: chocolate chips, cocoa powder, vanilla extract, or lemon extract.
Total time: 29 minutes + 30 minutes of cooling time
Avocados perform excellently when baked into a cake, but their creaminess also makes them an amazing ingredient for frosting. This one is the ultimate proof!
This yummy coconut dessert has all that decadent, restaurant-quality look, which tricks anyone into thinking it takes a long time to make. Yet, it takes a push of the button and 10 minutes to mix all the ingredients in the blender, and you'll get a cake ready to bake.
For the frosting, use a big helping of ripe avocados, coconut, cocoa powder, vanilla, etc. Process everything in the food processor until smooth and fluffy.
The frosting is so addictively good that just spreading it on top of the cake won't do them justice. Instead, spread it between cake layers and then add a generous amount on top for the ultimate treat.
Total time: 30 minutes
If you're a big fan of brownies, these lovely muffins in mini size are worth trying. Traditional brownies are packed with chocolatey goodness and also energy. A single serving of a regular brownie bite contains no less than 100 calories. Yes, they're huge calorie bombs.
This light version of brownie bites is a game-changer! There are only 70 calories in each mini muffin, which means it's way easier on your waistline.
The secret ingredients are creamy avocado and starchy sweet potatoes. Blend them with honey, coconut flour, and chocolate chips; you'll get the brownies' texture and taste you often crave for.
Every bite is so good that you might feel guilty eating them (until you remember they are made of healthy ingredients).
Total time: 20 minutes
Chocolate lovers, rejoice: there is a triple dose of chocolate flavors hidden in these cookies. Dark, white chocolate chips and unsweetened cocoa powder combine for an intense chocolatey taste.
There's no oil or butter used here, as the ripe avocado adds enough healthy fats to make soft, pillowy, and luxurious cookies. Besides, since this green fruit has quite a subtle flavor, you might not even know it's involved in this recipe.
Super healthy and easy to make, these chocolate avocado cookies will be your new go-to dessert.
Total time: 15 minutes + 15 minutes of freezing time + 30 minutes of refrigerating time
Looking for sweet treats that won't ruin your keto diet? These bars, which are high in healthy fats but low in carbs, will fit the bill. The matcha-flavored treat also provides a zing of caffeine to the dessert. They are refreshing thanks to the peppermint extract in both filling and topping.
Mint and chocolate meet up again in these bars, and they're an awesome duo, as always. You'll sweeten the filling and topping with stevia, which is a low-calorie sugar alternative. These bars are best to enjoy within the day, as they will lose the bright green color over time.
Total time: 40 minutes
When overripe bananas and avocado are lining up in your fridge, bake them into these delightful cookies. They are healthy with high fiber content and healthy fats. Refined sugar is unnecessary here as the dough balls are naturally sweetened with dates and ripe bananas.
These avocado banana cookies are so versatile. They can be your breakfast, afternoon pick-me-up snack, or dessert. If you want to make them more vegan-friendly, leave out the yogurt and eggs, add applesauce and increase the amount of pumpkin puree.
Now It's Your Turn To Make These Luscious Avocado Desserts!
Avocado is a fantastic ingredient both for no-bake treats and baked goodies. The possibilities are endless, from brownies, pudding, doughnuts, and cheesecake to popsicles!
This green fruit is often used to build the texture of cakes, brownies, cookies, muffins, and more. Their subtle taste easily goes undetected, leaving the stage for other flavors to shine through!
Try these avocado-based desserts and see them for yourself. I'm more than ready to hear about your result, so feel free to leave a comment. Got avocado-obsessed friends? Please share this list with them, as they'll appreciate it!