You're dead wrong if you think Australian foods just consist of crocodile and kangaroo meat! This Sunburnt Country owns a variety of dishes ranging from Mediterranean and Asia-Australia themes to other appetizing staples all over the globe.
If you can't travel to Australia to enjoy their gastronomy, these recipes below are the greatest way to create your foods at your sweet home. From main dishes to side dishes, the post will convey everything you need to achieve Aussie flavors.
No more tittle-tattle! Let's join the show with me to find out which Australian foods will be your favorite!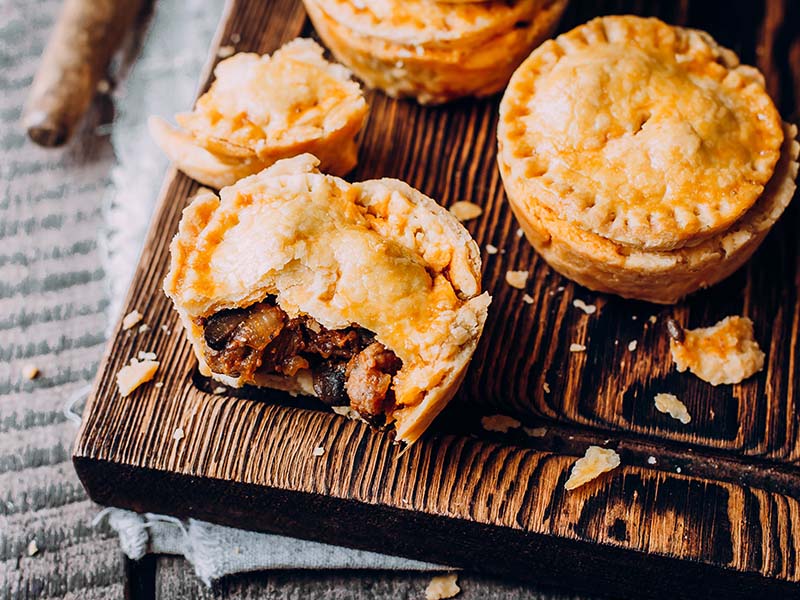 5 Delectable Australian Appetizers To Level Up Your Main Dish
Here I introduce some classic starters from Australia to accompany your main dishes. Or, you can enjoy it with amazing Australian drinks. Stay tuned, or else you will miss all these mouth-watering staples!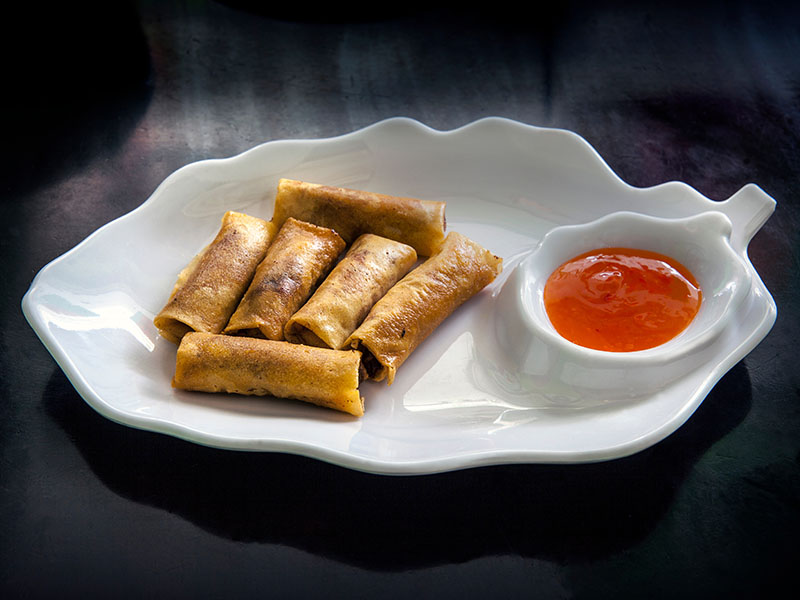 Roll, roll, roll! Chiko rolls are one of the most classic appetizers in Australia. They were created by a food manufacturer named Frank McEncroe in 1951. Those rolls are inspired by the famous spring roll from China for their convenience.
Chiko rolls have a chewy and crunchy pastry covering all the fillings, including cabbage, carrot, green beans, beef, celery, and onion. Depending on your appetite, you can substitute the beef with chicken or cooked lamb.
You can either go straight to the store or make them yourself. But I highly recommend the latter choice because you can moderate the ingredients that match your dietary needs.
Chiko rolls are so easy to process. If you want them to become a snack, you can make them bigger. Also, you can enjoy them on their own or with tomato dipping for a more exciting flavor.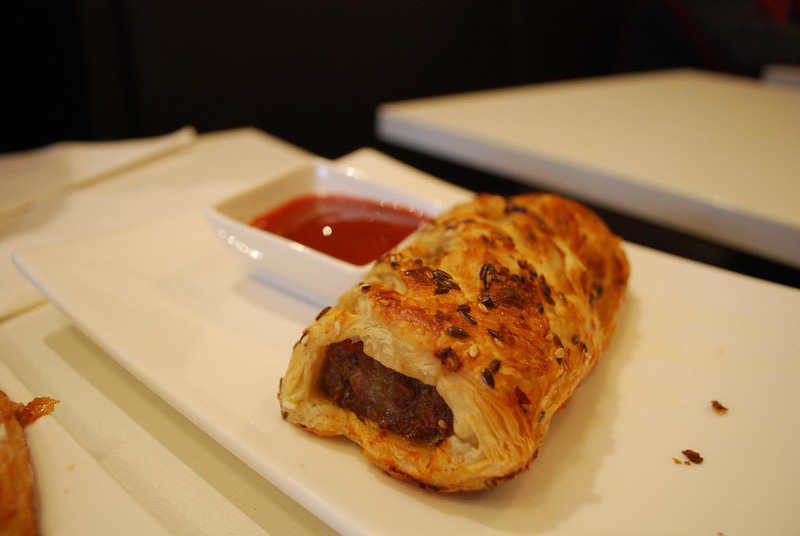 Sausage rolls contain two main ingredients: a flaky, buttery pastry and savory sausage. And as you already know, the latter is a crucial ingredient for this recipe.
According to some historical records, the Classical Greek or Roman eras might be the time that the earliest version of sausage rolls appeared. But modern people use rolled pastry instead of dough to cover the meat.
Sausage rolls are a well-known snack in Australia, the United Kingdom, and many former British territories.
They often go along with ketchup, but you can diversify the flavor with barbecue sauce, marinara sauce, alfredo sauce, or cheese sauce. You can also create the vegan one by replacing the sausage with a meat substitute.
Fun fact: you can enjoy these rolls during breakfast, lunch, snack time, or even dinner. They're all tasty either way!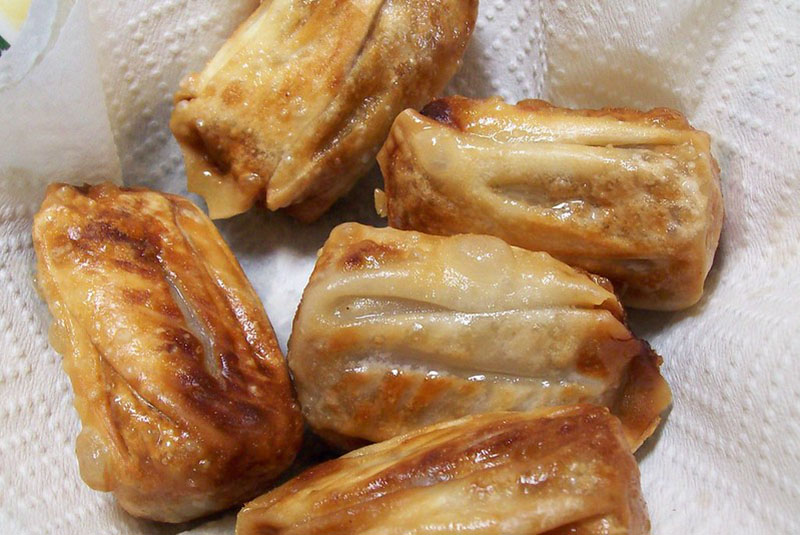 A dim sim is an Australian Chinese-inspired appetizer or a snack many people love. It was created in 1945 by William Chen Wing Young, who immigrated to Melbourne.
Dim sim is considered a variant of the Chinese dumpling, but it has a thicker and doughier wrapping accompanied by heartier and juicier fillings.
These contain minced meat, cabbage, and seasonings. If you are a vegetarian, you can replace the animal-derived ingredients in the fillings with vegan ingredients such as cabbage, carrot, vermicelli, and mushroom.
Usually, they are rectangular, but you can form these dim sims into a larger round shape. You not only deep fry dim sims but also steam and barbecue them.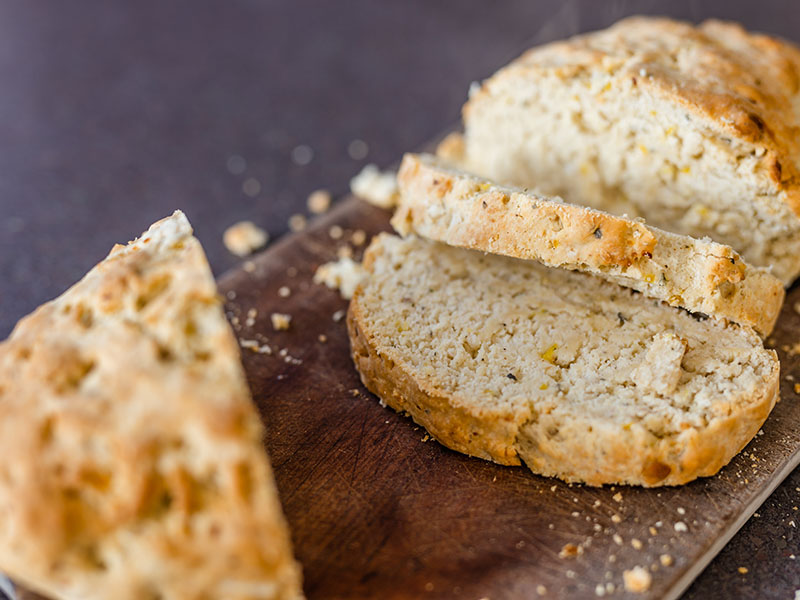 The last appetizer on today's list is damper. It is a bread using basic ingredients such as flour, salt, water, and butter if desired. You can also add baking soda and beer to make it more leavening.
Indigenous Australians were the inventor of this homemade soda bread. Thousands of years ago, they started using several crushed seeds, nuts, and roots to create a dough, which they cooked in the coals of fire.
Traditionally, people cook the dough through the damped coals of fire, which is seemingly how the name "damper" came about.
However, you can also put a stick into the dough and hold it over the fire while camping. You can serve this iconic bread with golden syrup, cooked meat, butter, jam, or even sugar.
What is a Damper? Let's learn more about it here!
How About Some Wonderful Australian Flavors For Breakfast?
I know you want to try some Australian cuisines for breakfast. These famous Aussie foods will lighten up your morning with only one bite.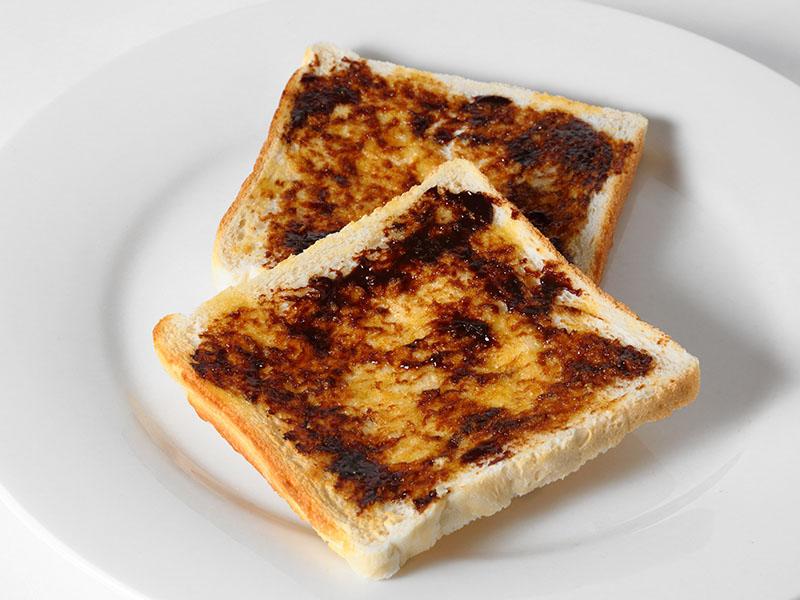 In 1922, Vegemite was first launched in the Land Down Under. This Australian food spread was the brainchild of Dr. Cyril Callister, a chemist working for the Fred Walker & Co company.
Then, the company started to put the spread on sales and bring it into the marketplace in the following years. Apparently, the name Vegemite was selected by Sheilah, Fred Walker's daughter.
Vegemite has a thick texture with a dark brown appearance. The manufacturer makes it from the leftover yeast extract from the beer with other components like vegetables and spice blends.
Its unique combination of savory, malty, slightly bitter, and rich flavors is well-known. Vegemite usually delivers a strong flavor, so a thin layer on your toast is enough. It is also a versatile spread and 100% suitable for a vegan diet.
I think that's why this wonderful spread reaches more than tens of millions of jars in sales. Aussie people seem to adore this source of vitamin B so much!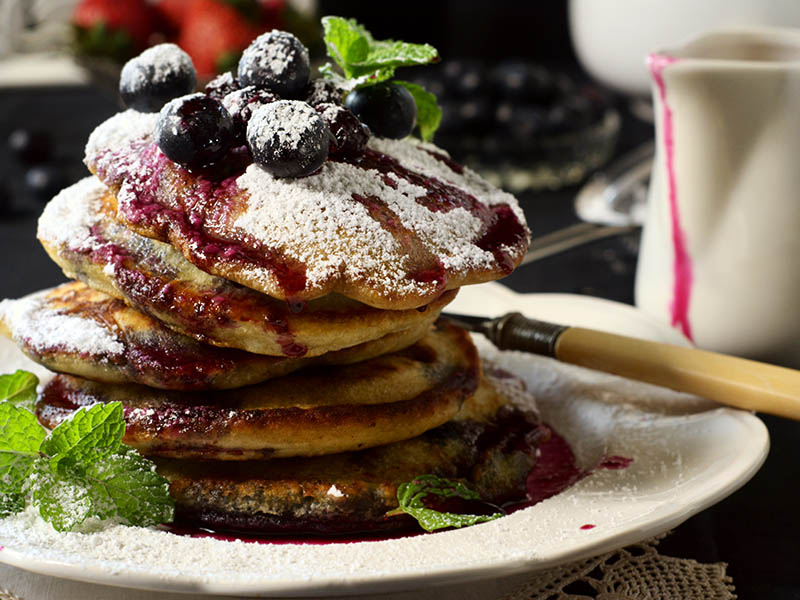 Now, let's forget all the typical pancakes you've tried. These smaller yet heavier pancakes from Australia, locally known as Pikelets, will be the following privilege on your breakfast menu.
These Australia-style Pikelets will stir up your morning with their retro and nostalgic theme. You can enjoy these mini pancakes with jam, whipped cream, fresh fruits, or just butter alone.
To make the dish, besides some ingredients like typical pancakes, you will need baking soda and cream of tartar. Those two components are a trick to make your Pikelets even denser.
In case you have leftovers, you can store these Pikelets in an airtight container, and they can last for two days. However, if the weather is not very hot, you can place them outside at room temperature.
Check this out to understand how Pikelets are made.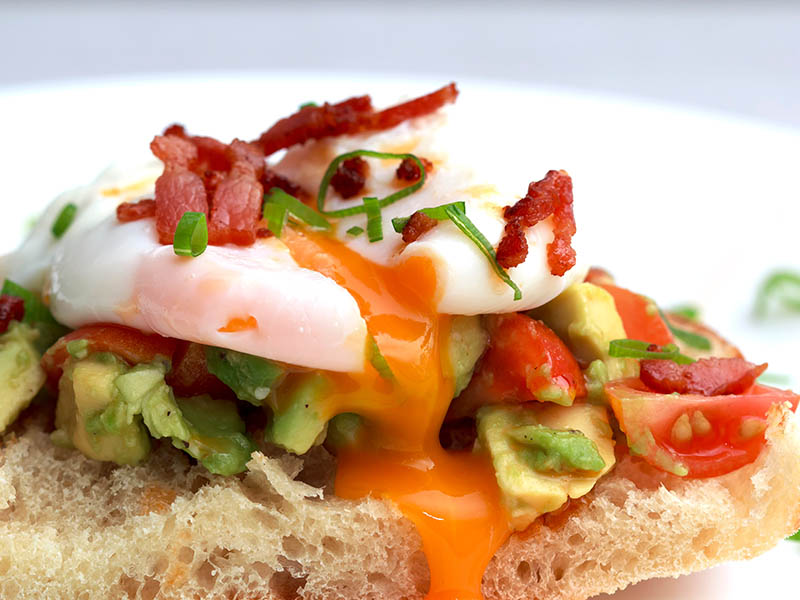 Although this dish sounds a bit like a British and American breakfast (well, y'all might not be surprised about this fact!), avocado toast, usually with eggs and bacon, is still one of the most typical dishes for breakfast in Australia.
Although the dish is famous and familiar in every corner of the world, there is evidence that it originated in Australia in the 20th century. Since then, the recipe has become an ideal breakfast for Australian citizens.
This one is a go-to choice for any time of the year because it's quick, healthy, yummy, and easy to make. You spread the smashed avocado on toast, then come crispy salty bacon and fatty poached egg.
By the way, if you prefer boiled and scrambled eggs to the poached egg, they still taste lovely so go ahead! Serve with tomato chutney and a glass of hot milk is a great way to finish breakfast.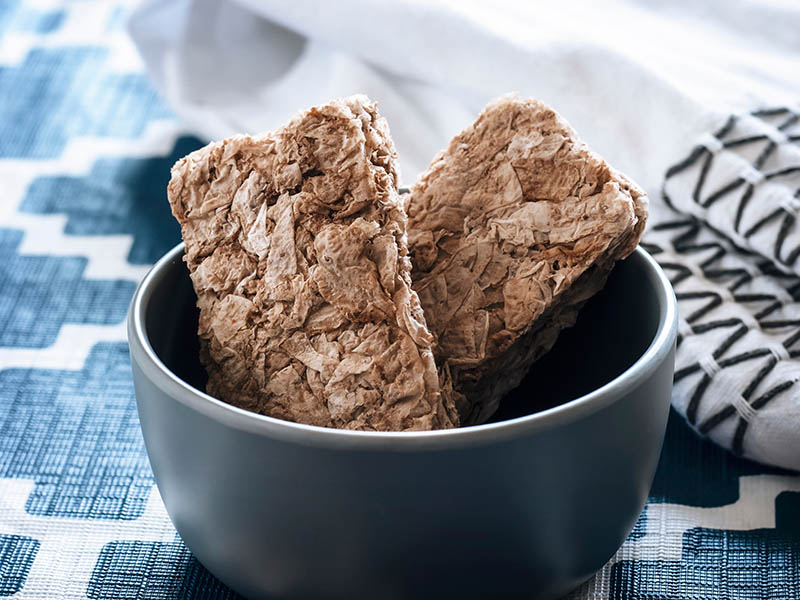 Do you know the name of the No.1 breakfast cereal in Australia? That reward belongs to Weet-Bix cereal. From adults to children, who doesn't love those nutritious bars?
Weet-Bix is loaded with whole-grain wheat that can help increase your energy function and dodge the call of hunger until brunch. These cereal bars are also low in fat and sugar, making them a perfect choice for healthy eaters.
In the middle of the 1920s, a man named Bennison Osborne successfully created this cereal that could compete with a local biscuit brand. The cereal breakfast also has the non-gluten version, so no worries for those following a strict diet.
The most common recipe will take you no more than 5 minutes. You put the Weet-bix in a bowl, pour milk (nuts milk if you're vegetarian), and add banana slices and a drizzle of honey.
These Australian Lunch And Dinner Will Kick Other Dishes Out Of The Way
Come to 9 main courses with quick Australian dishes for lunch and fancy Australian recipes for dinner. Keep scrolling down for more surprises!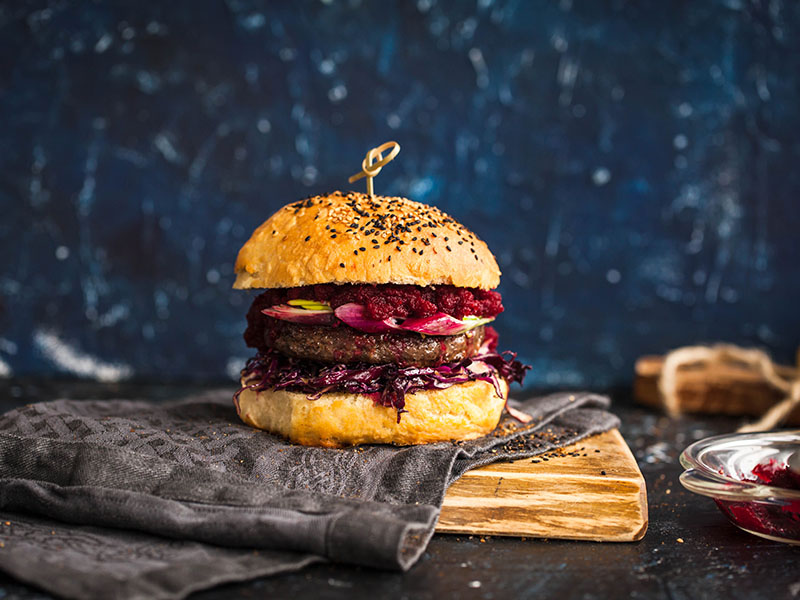 Beetroot beef burgers are one of the must-try cuisines if you have a chance to travel to Australia. But beetroot in burgers sounds strange, doesn't it?
The earthy, sweet, and rich beetroot flavor will offer a hamburger an extra level of deliciousness. Also, it contains dietary fiber, vitamin C, and nitrate for enhancing exercise performance.
Several researchers suggest that nitrates in beetroot can boost physical performance, primarily when you conduct some exercise that requires high-intensity endurance.
Although Americans and Europeans have some of the same foods as Australians, beetroot is not prevalent in those countries. On the other hand, Aussie people usually consume nearly three kilograms of beets per month.
If you are on track with a dairy-free and gluten-free diet, this burger will meet your demand perfectly. You just need to switch all the gluten ingredients with other veggies like baby spinach, grilled capsicum, or pan-fried mushrooms.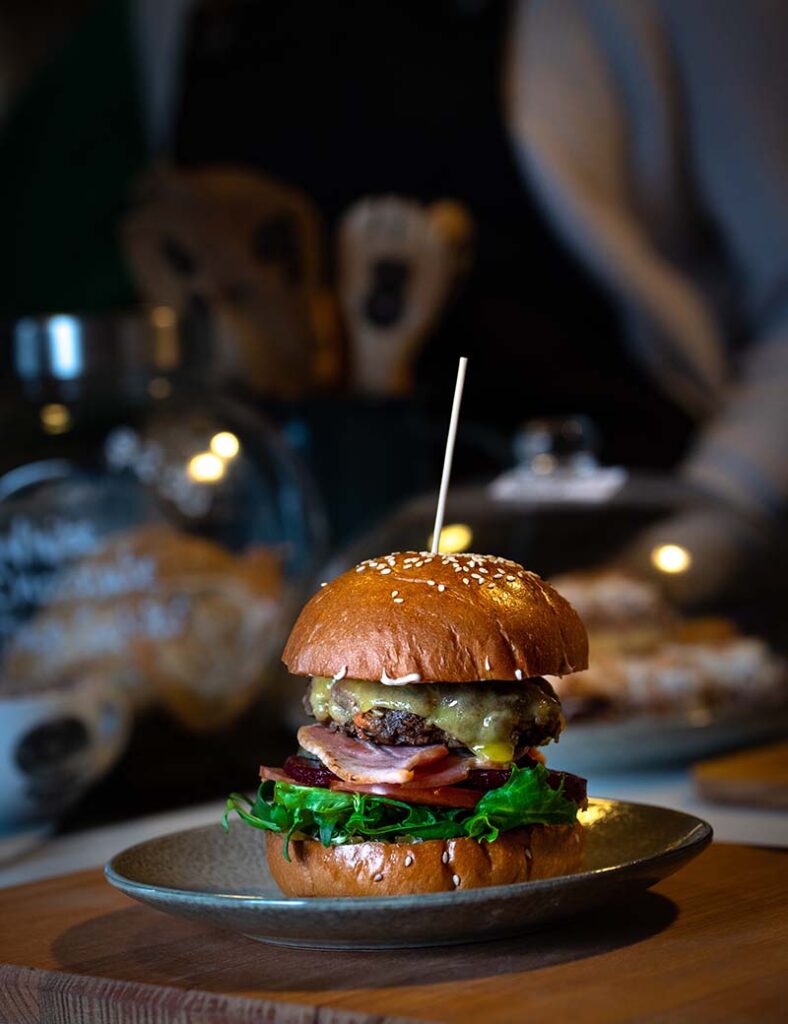 If you like sinking your teeth into a burger filled with a bunch of savory fillings, an Australian burger with the lot is more than enough.
Well, "burger with the lot" is just another nickname for a high-end sandwich. This burger commonly contains tomato, lettuce, fried or grilled onion, cheese (I prefer cheddar), pineapple, a fried egg, bacon, and meat.
If you have more time, you can caramelize those onion slices for a more fancy flavor. The bacon needs perfect crispiness, and the cheese will add more Aussie touch to the burger.
Once again, the key ingredient here is beetroot. Burger with the lot can't be itself if it lacks beetroot. Putting some slices between the meat patty and bacon will balance the whole with the rich and hearty flavor.
You will know everything about Burger With The Lot right here!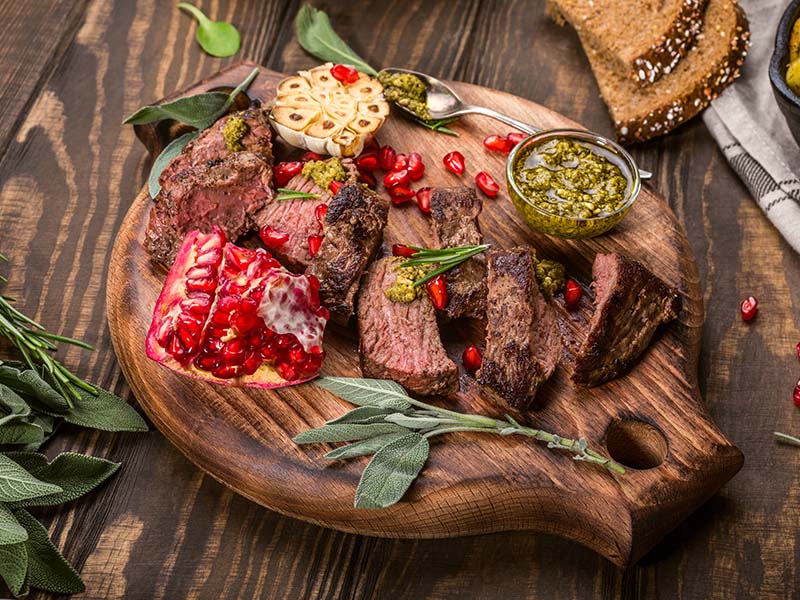 If you ask me what is the best way to enjoy kangaroo meat, my answer will surely be kangaroo steak! Also, Australia is the best place where you can get fresh and unique kangaroo meat.
Before the economic depression in the 1890s, countless Australians enjoyed kangaroo meat in restaurants (even the fancy ones).
But when the recession hit, most underprivileged people had to live on wild-caught food, kangaroo meat, so the meat became known as a food for the poor and gradually lost its value.
Consequently, for most of the 20th century, kangaroo meat wasn't allowed to trade as a food for humans in Victoria, New South Wales or Queensland. But nowadays, people can enjoy kangaroo without restrictions, and the meat has regained its popularity.
Kangaroo meat is carefully selected and sourced from many wild kangaroos. Compared with typical meat, kangaroo is uniquely lean, low in fat (2%), and high in protein.
Because of its low fat, I highly recommend using a slow cooker. Well, you still can use a frying pan but remember to stir quickly in 6-10 minutes depending on your doneness's favorite. This staple will offer you a juicy, rich, and robust flavor.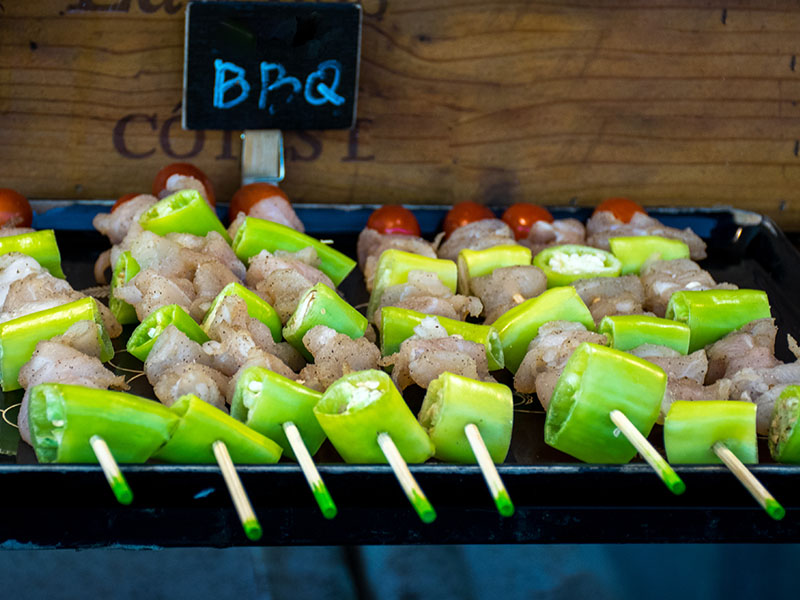 Don't be too surprised when knowing that crocodiles can be consumed! And of course, this is not the end of the story; the Australian crocodile skewers recipe can make your BBQ party more exciting.
This recipe has a long list of ingredients that aren't expensive and worth your effort. You will need red chili, soy sauce, cayenne, lime, mushrooms, and other items.
One crocodile bite will have a slightly soft yet firm and tender texture. Also, some say crocodile meat tastes a bit like chicken breast with its mild and succulent white meat.
Not only skewers but crocodiles also match perfectly with other ways of cooking. You not only apply it to slow cooker recipes such as curries and casseroles but also smoked, pan-fried, or braised dishes.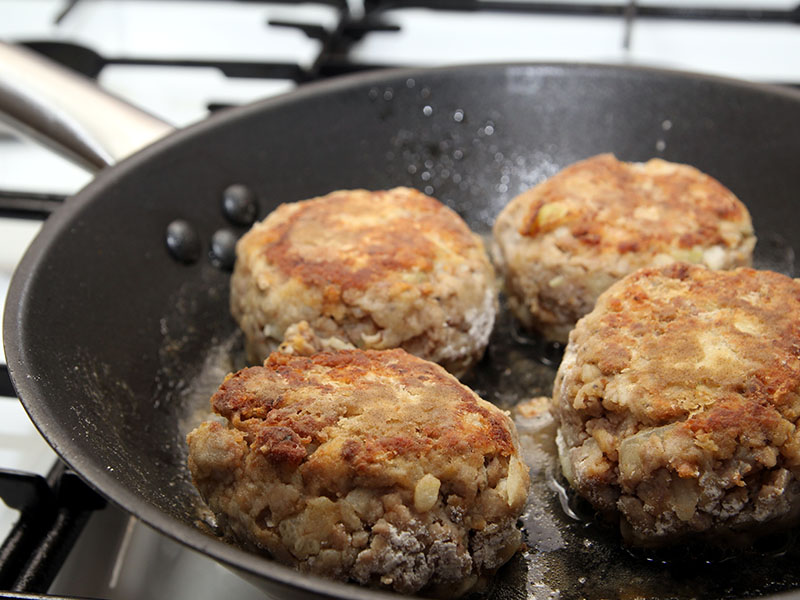 In Europe, the traditional rissoles are a small patty made of pastry with minced meat, fish, or cheese inside. But come to the Australian version, rissoles are just minced meat without the dough outside.
This Aussie variation will be extra juicy, robust, and tasty, unlike the original ones with the golden brown and crispy texture. To be honest, one batch of these can never satisfy my desire!
Dried herbs, ground beef, fresh parsley, and beaten eggs are all the main ingredients you need for this recipe. You can make them smaller if you want to serve them as a side dish with pasta or salad.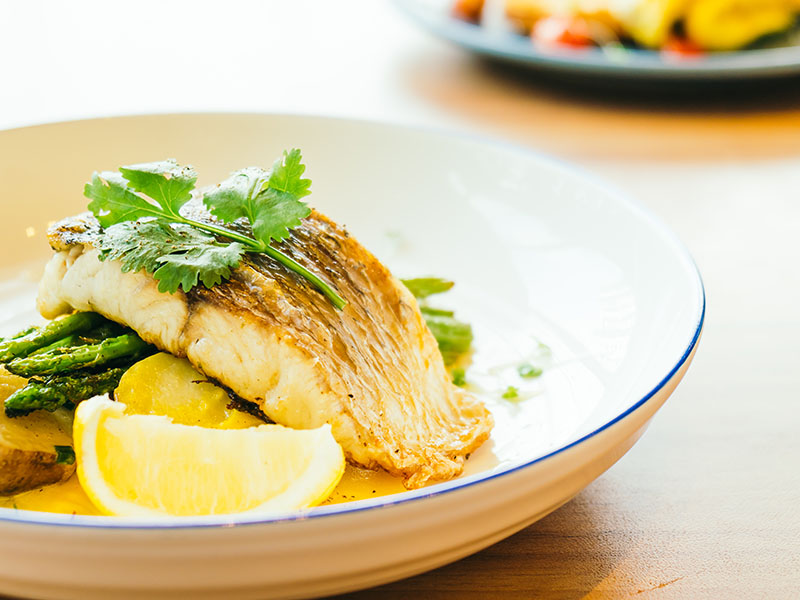 Welcome to the first seafood dish on the list: barramundi! The name of this fish may sound a bit bizarre, but trust me, once you taste it, you will want to eat it on end.
You can find this fish in South Asia, Papua New Guinea, and Northern Australia. The name barramundi means "large-scaled river fish" in the Australian Aboriginal language. It's often served whole, but you can also enjoy the filet one.
With its medium fat content, you can apply many cooking methods such as roasting, broiling, baking, frying, or grilling. And the recipe today will use the frying technique. It delivers a mild and gentle flavor with crispy skin and white, flaky flesh inside.
Serve the staple with other veggies like warm, lemony olive, boiled potatoes, salted capers, and basil leaves.
Let's find the reason for the ridiculously divine flavor of Warm Barramundi!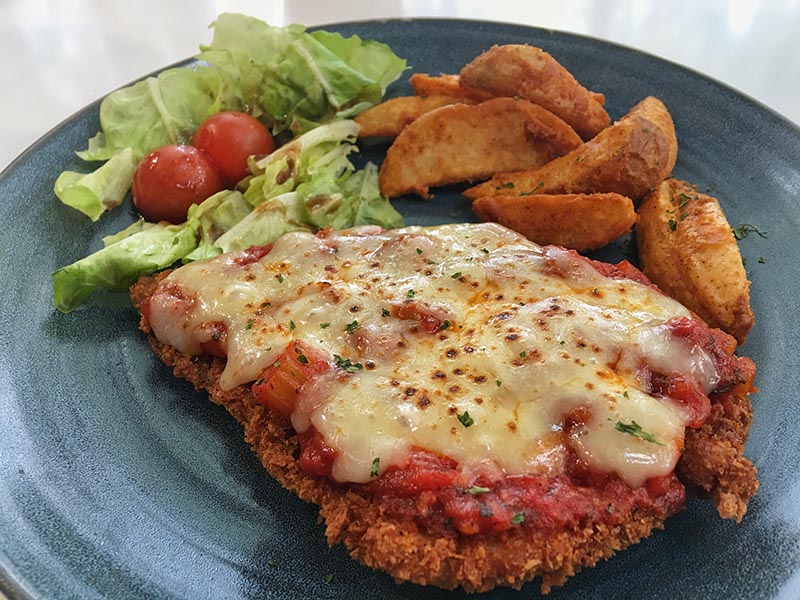 Another outstanding Australian cuisine that appears on the list is chicken parmigiana. This one is often considered the main meal in Australia and is usually served with chips and salad (but you still can freely choose optional side dishes!).
In Australia, restaurants in Adelaide (South Australia) officially started selling the dish in 1953. But it also has similar recipes in other countries, like chicken pizzaiola from Italy, parmo from the UK, or milanesa a la napolitana from Argentina.
Colloquially, Australians usually call the dish "parmy". It is a culinary delight of boneless, skinless chicken breasts filled with tomato sauce, grated parmesan, and fresh mozzarella.
The food tastes heavenly divine with juicy and tender chicken combined with the bright and slightly sweet flavor of tomato sauce. And importantly, how can I forget mozzarella's stinky texture and fatty, savory flavor.
Hey sandwich lovers, how can you miss this tasty fritz and sauce sandwich from Oz? This is one of the most classic sandwiches in South Australia that kids seem to can't get enough of.
Fritz (also known as polony, bung fritz, devon, etc.) is a type of sausage meat that consists of beef, lamb or veal, pork trimmings, flour, and seasonings. In the 1880s, it was named after its creator, a German butcher whose full name was, unfortunately, lost.
The sandwich has two slices of bread, one squirt of ketchup (or tomato sauce), and a fritz. Its effortless process will perfectly fit when you don't have much time or need to prepare something quick for your kids' lunch box, camping, or hiking.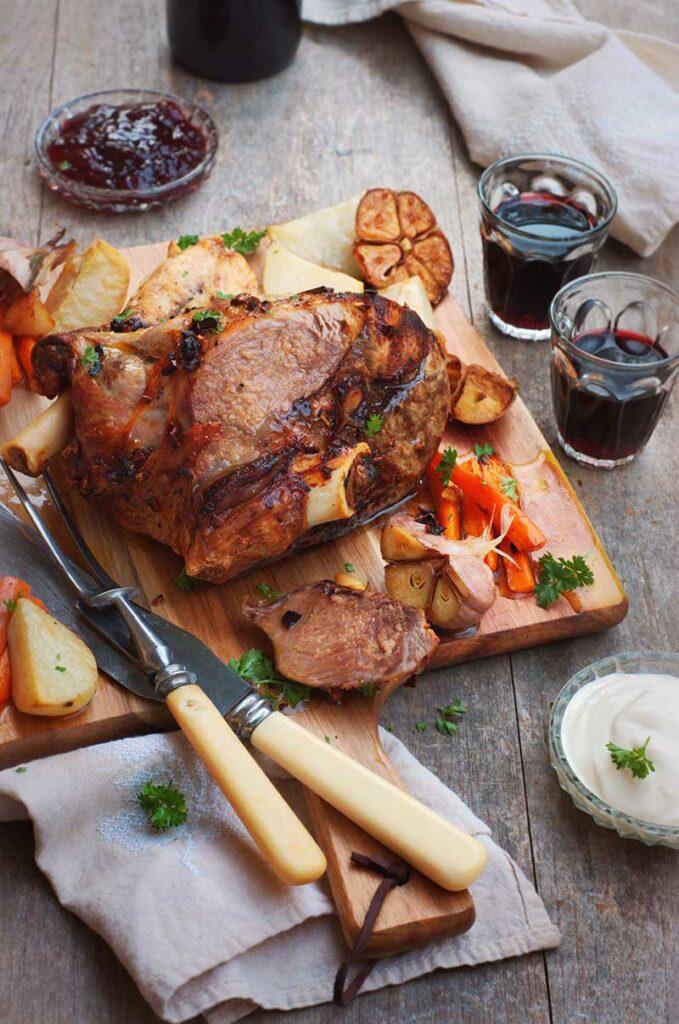 If you're planning to feast your family with a fancy meal from Australia, I think the iconic leg of lamb will be a wind of change to the dining table.
Lamb meat is a lump of red meat dense in high-quality protein, vitamins, and minerals. Also, it can be an excellent item in your healthy diet. In Australia, prime lamb is usually meant to indicate lamb raised for food.
Lamb meat can adapt to many recipes thanks to its subtle flavor. From a light salad with some medium-rare slices to curry using a slow cooker, it works amazingly for everyone!
A leg of lamb has more meat than other parts, making them more delicious when enjoyed. You can serve it with potatoes, butternut squash, and peas to fulfill the meal with utmost fancy.
10 Perfect Aussie Desserts That Will Definitely Hit The Spots
How can I forget to provide you with the list of Australian sweet delicacies to munch on after meals? Let's see how these recipes can melt your heart within a minute!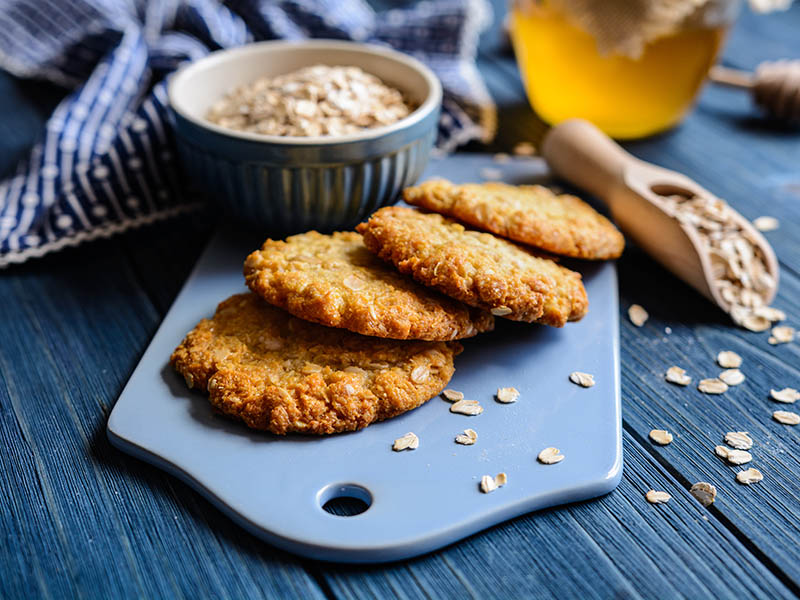 Are you craving some biscuits today? Well, I announce that you've hit the jackpot with Anzac biscuits. When World War I broke out, the Australian and New Zealand Army Corps (ANZAC) was established, giving the inspiration for the name of this delicious biscuit.
Interestingly, the army's biscuits or soldier's biscuits are the other names for it because the original purpose of the biscuit was to raise funds for the war effort.
Australian and New Zealand wives sent Anzac biscuits to soldiers abroad during World War I. Instead of eggs, they used the golden syrup to bind all ingredients so that the biscuits could last through the trip to troops in Europe and the Middle East.
The biscuits include some main ingredients like rolled oats, baking soda, and golden syrup. By the way, golden syrup (light treacle) is an Australian type of inverted sugar syrup with a similar look and texture to honey.
Depending on your appetite, you can add desiccated coconut for more fresh sweetness and nutty flavor to this type of long-lasting biscuit.
Following this recipe, you will achieve a crispy Anzac biscuit batch. They also provide a good energy source, so you can switch them for a quick breakfast.
Anzac Biscuits will reset your mind with their fabulous flavor.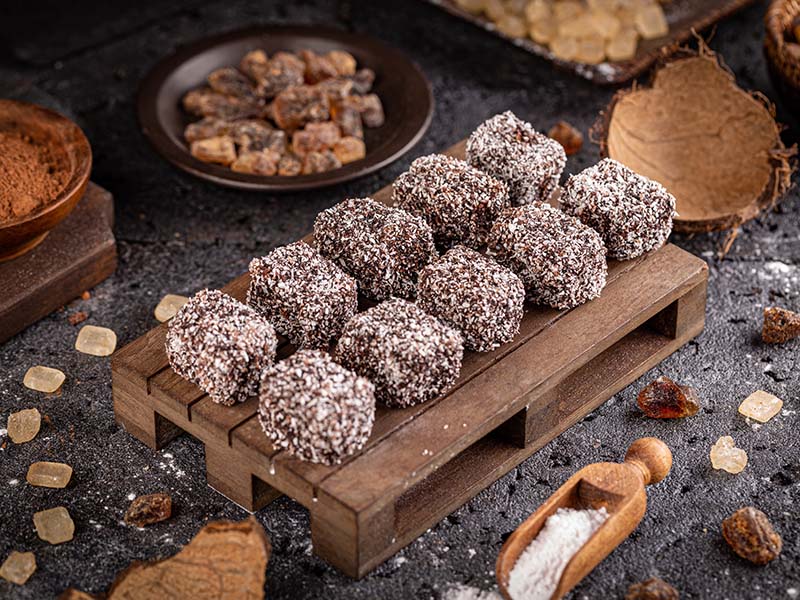 Regarding desserts in Australia, you can't miss this special one: Lamington. This sponge cake is often considered a national cake of Australia. You can call it Lammo (singular) or Lammos (plural) in short.
According to some sources, the treat was named after Lord Lamington, who served as Governor of Queensland from 1896 to 1901, or his wife, Lady Lamington.
Besides, the origin of Lamingtons is also a hot potato. Most sources claimed this dessert belonged to Lord Lamington's chef, Armand Galland.
On the other hand, people said that lamington first appeared in Toowoomba, but some said Galland made it at Queensland's Government House in Brisbane in 1901.
Nowadays, sponge cakes are still prevalent throughout Australia and New Zealand. Some organizations frequently use this cake for fundraising for schools or charity groups.
And there is a fact that can't be denied that lamington is so delicious and appealing. The sponge cake is buttery and rich, covered with a thick chocolate sauce, and desiccated coconut will melt your heart in a minute.
The traditional one doesn't have a layer of cream or strawberry jam in the middle, but you can creatively make a variation using those ingredients.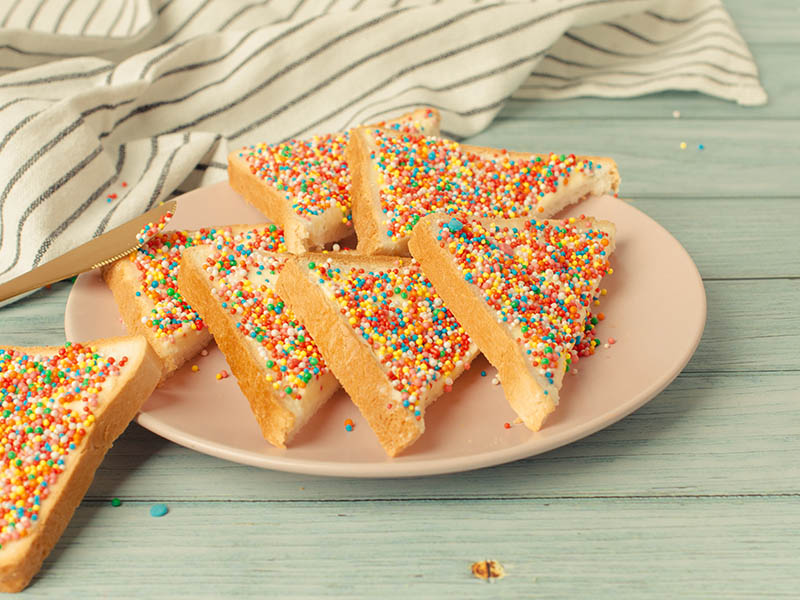 Are your kids demanding a fabulous dessert for the party to impress their friends? So I suggest that you show them this fairy bread recipe. This rainbow dessert is a bread topped with "hundreds and thousands", which are nonpareils sprinkles.
Fairy bread was first stated in The Hobart Mercury newspaper in the 1920s. It came from Australia and New Zealand and gradually spread worldwide with its label as kid-friendly food.
The treat is super effortless to make and inexpensive. Although the name might make you associate it with something magic, it contains only three main ingredients: bread (obviously!), butter, and those colorful sprinkles.
You just need to spread the butter evenly on the bread, add those little rainbow bad boys on the top, and then cut it into triangles. I'm sure no kids can play around without gazing at these beautiful treats.
You can not go wrong with this easy Fairy Bread.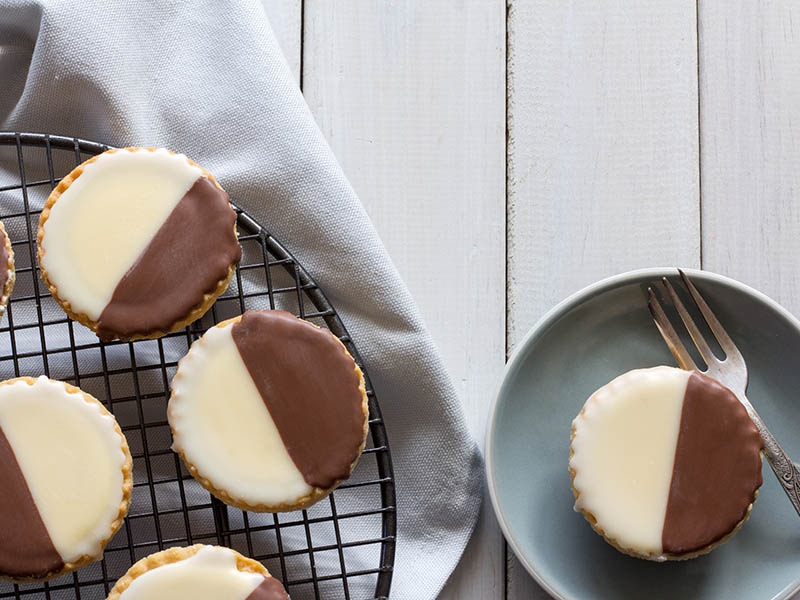 If you are a big fan of tarts, how about some Neenish tarts from Australia? Although you can find them in most bakeries, making them yourself at home still sounds fabulous, right?
Although neenish cakes turned up in Sydney newspaper advertisements in 1895, the first published record was a recipe in the Sydney Mail in November 1901.
A neenish tart is a dessert made of a crispy pastry base and contains sweet gelatine-set cream and mock cream inside. On top of it are two beautiful tones of dried icing. The colors are up to you, but they're usually a combination of brown, pink, and white.
Besides, you can put a layer of raspberry in the middle of the cream or add the lemon flavor into your tart as delicious tart variations. A bite of this treat will provide a buttery, flaky texture on the outside and full of fatty fresh cream on the inside.
Pro tip: Letting the dough relax in the fridge will prevent the shrinking process while baking.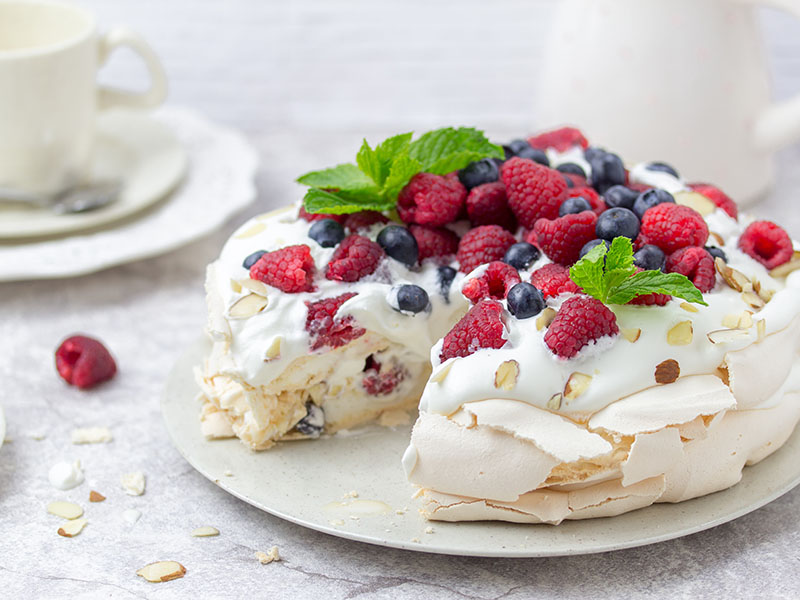 Today is your birthday, but you're getting tired of the regular cream cake? Then this is the right place! Pavlova will upgrade your birthday to the highest fancy level.
Since the early 20th century, Australians and New Zealanders have regarded Pavlova as their great delicacy. Although the people there usually enjoy Pavlova on Christmas Day or during summer, you still feast on it throughout the year (birthday is a great example!).
Despite its fame, the origin of this dessert is fairly difficult to trace back to. In 1926, a recipe labeled "pavlova" appeared, but it was a multi-layered jelly totally different from the modern version.
By the way, Pavlova was allegedly named after the renowned Russian ballerina Anna Pavlova.
You can either order at the bakery or make it at home. With the homemade Pavlova, you will need egg whites, caster sugar, heavy cream, more importantly, a handful of optional fresh fruits.
A light and soft touch in the middle offers you a rich and subtly sweet taste. The sensation is enhanced by the crunchy crusts topped with different kinds of fruit dressings and whipped cream.
Well, Pavlova will be at the top of your dessert list right away!
I know one thing for sure: your children will fall in love with those cute little "frogs". This unique kind of cake will make them beg for more!
The Balfours bakery invented this interesting-looking cake in 1922, hence its name Balfours. Then, it started to become a widespread desert in South Australia.
In 2001, the National Trust of South Australia registered the frog cake as a South Australian Heritage Icon in honor of how much the cake mattered to the state culturally.
I believe the ingredients are simple and easy to find in your store cupboard. And I know the most challenging part here is to form the cake into each frog. Try your best as much as possible, and your award will be your kids' grinning.
Balfours frog cake includes sponge cake and cream inside. Like neenish tarts, each frog cake will wear a dried icing as a cover. Normally, you can use pink, brown, or green (the most common), but you can create any color such as red and yellow for special events.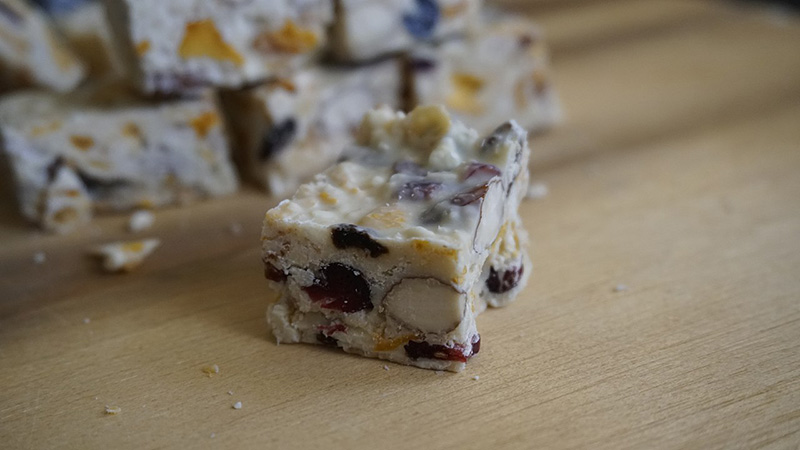 Are you looking for a dessert that can go along well with the Yule Log Cake on Christmas night? Hold on because right now, this White Christmas might steal a spotlight on your dining table.
This one is an old-fashioned Australian dessert, including a combination of candied cherries, Rice Krispies cereal, desiccated coconut, and raisins.
You will combine everything together, place them on top of the organic coconut, and let it sit in the fridge for a few hours. When it reaches the perfect wavy texture, you can enjoy its nutty flavor with the crunchiness in your mouth.
In case you are hesitant about red or green cherries for toppings, the answer is both of them are great. But the green ones will make the whole thing a more celebratory theme. This one is so easy that eight-year-old kids can make it by themselves.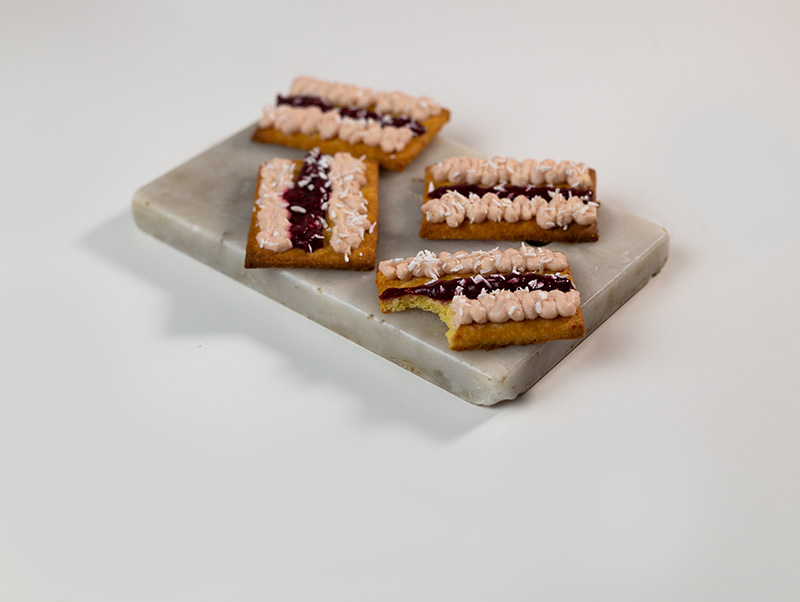 Instead of giving flowers on Mother's day, why don't you bake a batch of iced vovo to surprise your mom with your cooking talent!
Since 1906, iced vovo, which is an item of the Australia-based Arnott's biscuit producer, has started to become one of the iconic desserts. The reason that makes these lovely biscuits so unique is the great combination of marshmallow icing, raspberry jam, and crispy base.
Besides, you can choose chocolate fondant as a replacement for the marshmallow if you want your biscuits to have a slight sweetness.
In case you're wondering whether homemade iced vovo has the same heavenly taste as the Arnott's version, then the answer will be a big yes.
No need to go to the store; you can make Iced Vovo at home with this recipe.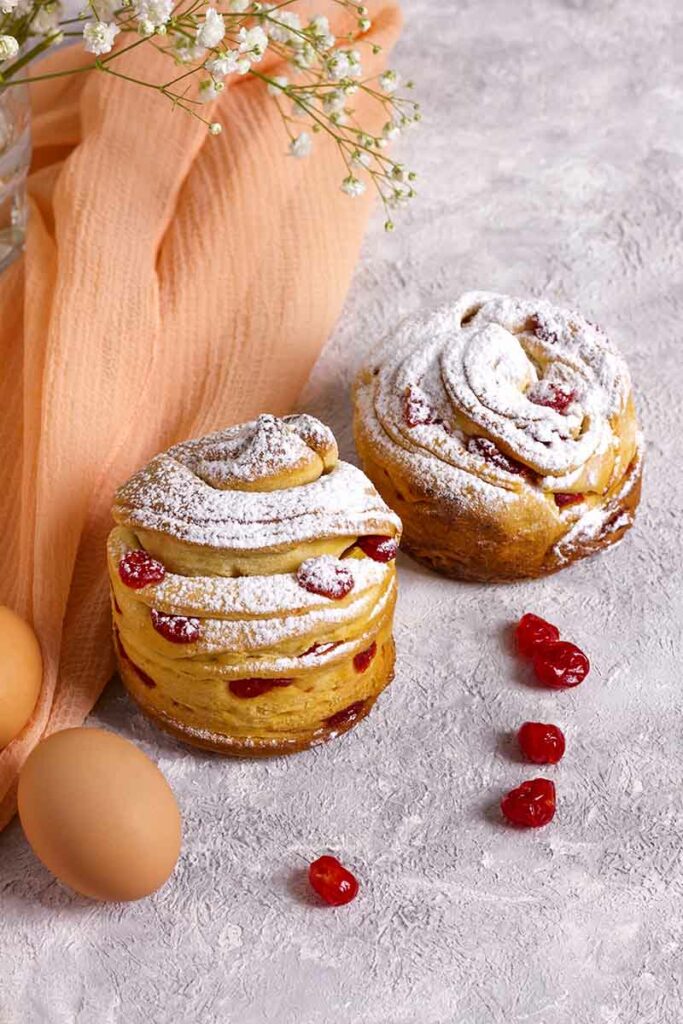 In July 2013, Luke Croissanterie, a Melbourne-based bakery, created these cruffins for the coffee shop Everyday Coffee in the southern city of Australia. Available in different variations, those cruffins are not only famous in Melbourn but also have achieved international fame.
Cruffin is an incredible mixture of a croissant and a muffin. This treat includes laminated dough and other fillings on top like creams, jams, or various fresh fruits. Because the cruffin is baked in a muffin mold, it looks a bit like a muffin.
Take a bite, and these flaky croissant layers will bring you to the world of sweetness, butteriness, and fattiness. Also, serving them with other side dressings will balance those flavors perfectly.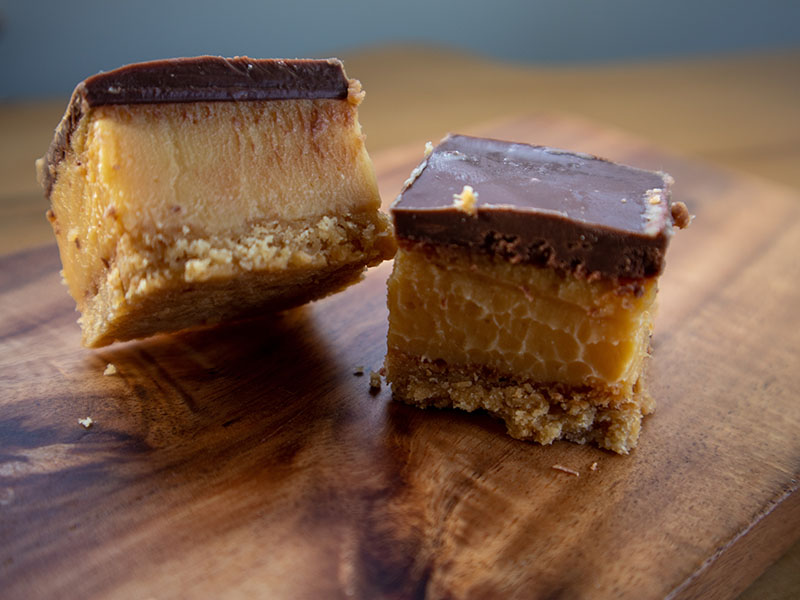 A caramel slice is a biscuit that looks like a sandwich with a layer of caramel in the middle and topped with milk chocolate. This dessert has many exciting names, such as millionaire's slice, Wellington squares, or caramel squares.
In 1970, the first version of the treat appeared with the name "caramel shortbread" in The Australian Women's Weekly, but this one has no unique chocolate topping.
Until 1981, the Women's Weekly recipe contained a new element: chocolate, giving the dessert several names, and "chocolate caramel shortbread" was one of them. On the other hand, millionaire's shortbread may have originated from a similar Scottish snack.
This one has several variations, including using white chocolate or peanut butter instead of milk chocolate or replacing the shortbread for Anzac biscuits. Also, in case you are following a gluten-free and vegan diet, some recipes exist too!
If you have a sweet tooth, try it as soon as possible! These squares will offer you sticky and thick caramel along with crumbly shortbread. Dark chocolate is a significant element to balance them all!
You can make Caramel Slice at home with this guide.
Time To Keep The Spirit Of Australian Cooking Alive!
When you finish reading this article, you can't help drooling at these delightful dishes. I enclosed all the recipes with detailed information so that you can enjoy Australian cuisine at your home.
So I hope you find this post can help you broaden your knowledge of Australian foods. If you have any memorable experiences with these staples or find out about some new Australian foods, don't hesitate to show yours in the comment section below.
Last but not least, don't forget to spread this post to your friends if you find the information is quality and helpful! Thank you!