No matter if you've been to Asia or not, the best Asian soup recipes are definitely worth trying. Soup recipes are always versatile because you can have them anytime, especially on cold days.
These dishes have bold regional characteristics. They overwhelm you with countless cuisines such as Chinese, Korean, Vietnamese, etc. Head to this collection below to try all these signature treats in your own kitchen.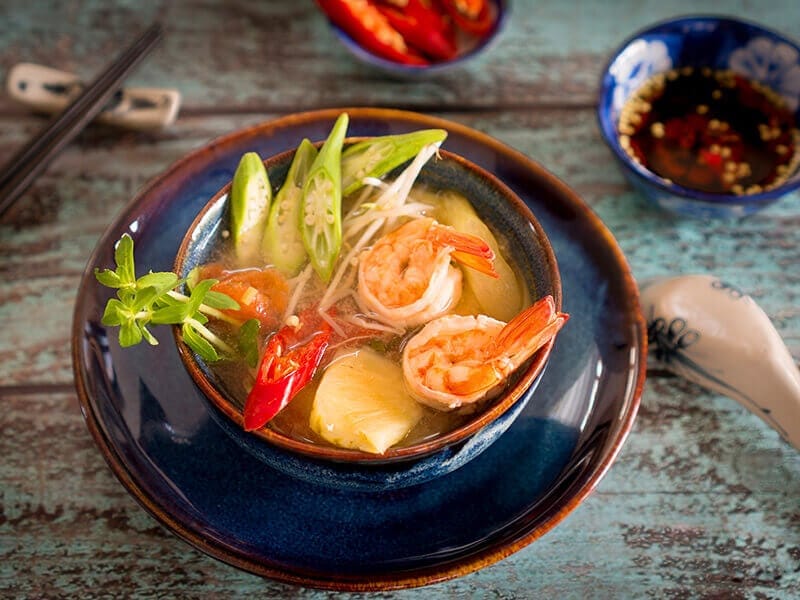 Bring The Whole Asian Soup Cuisine To Your Kitchen
Asia is a region consisting of many countries. So, it has a vast and rich culinary scene. Scroll down to make these traditional soups from this area to treat your friends and family!
Total Time: 45 minutes
Since ancient times, the Chinese have applied a lot of Eastern medicine knowledge to daily dishes to help people stay healthy. There is no scientific evidence that green papaya helps increase milk production, yet this dish is extremely delicious and rich in fiber.
Although almost tasteless, green papaya is tender and has a fresh flavor when cooked in soup. Regarding fish, cod, pomfret, or threadfin are all decent choices. However, I think the sea bass head is the most considered option.
Ginger will help remove the fishy odor from your soup. And to prevent the fish from smashing when boiling, fry it until both surfaces turn brown.
You may see many red pill-like things in this green papaya soup. They are wolfberry seeds, a superfood that supports an immune system and provides eye protection. Therefore, this recipe contains many wholesome elements and is more like a cure than a mere dish.
The green papaya fish soup is a gift for your health, and you can make it in no time through this tutorial.
Total Time: 20 minutes
At the beginning of this list, I would love to introduce you to the basic rustic soup from my childhood. You only need some handy ingredients from local farms and a few minutes of sautéing. The most remarkable thing is that it is vegan and gluten-free.
The earthy mushrooms shine through the nutty sesame oil. To give them more umami, season these mushrooms with a little tamari. The rest is to assemble all ingredients in a bowl and serve them with veggie broth.
For an authentic Asian presentation, you can prepare some familiar toppings such as mung bean sprouts and sesame seeds. Garlic or ginger are my favorite spices for extra flavors.
Total Time: 1 hour
People know about Phở, but not many have the chance to savor another great soup in Vietnam called bún riêu. Here is the easiest way to make it. Trust me! A sip of this soup will bring a wonderful balance of sweet and tangy flavors.
To earn that taste, you must have tomato and pork riblet broth. While the bones give this treat an umami taste, the tomato has a tart undertone. If you don't have time, store-bought broth and water still offer the same results.
However, this soup soul is a homemade crab mixture. It combines crab meat, ground pork, chopped shrimp, and eggs. You will see them float once the soup's done.
Despite a long list of ingredients, this Vietnamese crab noodle soup is effortless to make with this recipe.
Total Time: 15 minutes
If you do not know which dish to serve with Kung Pao chicken, make this Chinese soup. The sour vinegar complements the Szechuan pepper flakes' spiciness, reducing this main course's greasiness.
The highlight of this delicacy is its multiple textures. When you sip a spoonful of soup, you will feel the meaty mushrooms, soft tofu, and crispy bamboo shoots. Also, beaten eggs create a satisfying mouthfeel.
My recipe calls for vegetable stock, but you can always switch it with chicken ones for non-vegetarian soup. Regarding the tofu, I advise using a firm or extra-firm type to retain some bites.
Total Time: 2 hours 15 minutes
Are you looking for a fancy Asian soup to serve on special occasions? If yes, this lotus root soup, a special treat on Chinese New Year, is worth trying. Believe it or not, it only takes 15 minutes of preparation; the remaining time is in the soup pot.
Like fish and chips, lotus roots and peanuts are the perfect match. These ingredients bring the earthy side and tender bites brightening this soup's delightful flavor. Furthermore, carrots and dried dates are two natural ingredients that lift this soup's sweetness.
For a balanced taste, salt is always the finishing touch on soup. However, I suggest adding scallops and cuttlefish to enhance the authentic Chinese flavor. As a result, each spoonful will be as rich as ocean flavor and pork umami.
Total Time: 15 minutes
If you want a quick yet tasty Asian soup, this Chinese noodle soup with ready-made soup broth should be your next favorite. You'll have chewy cooked noodles, crunchy bok choy, sweet shredded chicken, and hot soup, all in one bowl.
The soup base is more than just soy sauce and chicken broth. In Asian soups, ginger and garlic are essential ingredients. Moreover, the secret ingredient, Chinese cooking wine, adds a complex flavor profile: umami, sweetness, and sourness.
If you cannot find this wine, dry sherry or cooking sake are other substitutes. A non-alcohol replacement is to switch some soy sauce for oyster sauce. Plus, make sure you cook the noodles separately to prevent them from being mushy.
Total Time: 1 hour 50 minutes
It looks fancy, but wonton soup is super easy to make. With minced shrimp and ground pork, you can recreate the authentic Chinese wontons: a little briny and chewy; a little soft and meaty.
The soup base uses umami chicken broth infused with rice wine's savory and sweet combinations, sesame oil, and soy sauce. For the best result, you should buy pork with a little fat, for example, pork butt. That is because pork fat will keep your wonton filling from being dry.
The wonton wrappers are available in any Asian market. A thin or medium thickness is perfect for boiling. Moreover, if you want to save some for later, freeze these wontons in a zipped bag to retain their tastiness for three months.
Total Time: 20 minutes
Although soups are sometimes time-consuming, this Korean seaweed soup only needs 20 minutes. Referring to this Miyeok Guk dish, you will surely think of a birthday dish. It always appears in the middle of the typical Korean birthday table.
Miyeok guk is light and extremely healthy. Seaweed has a sea-like, briny flavor with a slightly rubbery and crunchy texture. In addition, it also provides many vitamins and minerals for your health.
If you buy dried seaweed, soak it in cold water for about 10 minutes. It will expand a lot, so you need to pay attention to this ingredient's amount. Moreover, you can add beef to make this dish richer in protein.
With a bit of sesame oil, this soup's vibrant aroma will spread everywhere and capture hungry stomachs. Steamed rice and banchan (Korean side dishes) are excellent accompaniments to this recipe.
Guided by the Korean chef, you can definitely make this seaweed soup at your next meal.
Total Time: 30 minutes
If you want a cozy soup bowl to watch some Korean movies, this kimchi soup is quick yet flavorful enough to wow you. The famous Korean radish's peppery hint and hot sauce will instantly warm your body and soul.
This dish also surprises you with its three textures: crispiness from daikon radish, softness from tofu, and meatiness from sliced mushrooms.
If you are looking for filling meals, you can add some bonus ingredients: boiled eggs and noodles. For a tastier mouthfeel, I highly recommend using miso. Its perfect savory flavor will complete your soup.
Total Time: 2 hours 10 minutes
Now, let's return to Chinese cuisine to discover one of the most comforting dishes: spicy beef noodle soup. Like other Chinese recipes, Shaoshing wine, soy sauce, and dried chiles are must-have items to build up authentic savor and spiciness.
Aside from that, Szechuan bean paste also contributes extra heat and umami notes. When the spice bag has been wholly infused into the beef broth, your soup will take on a new, complex flavor profile that will delight your family from aroma to taste.
Though my recipe calls for the instant pot for cooking beef, you can also make it on the stovetop with a longer cooking time. Simply cover your meat in a generous amount of liquid to infuse flavors and soften beef.
Total Time: 1 hour 45 minutes
This soup recipe features the freshest ingredients, providing a gentle flavor. After savoring this winter melon and barley soup, you will feel revitalized and relaxed.
Winter melons have an almost bland flavor that resembles cucumbers with a grassy undertone. As a result, they pair well with most meats, seafood, and condiments.
The indispensable starch source in this soup is barley. You can taste its tender texture and delicate nutty note after simmering for about 1 hour and 30 minutes.
Honey dates, dried oysters, and scallops derive this dish's sweetness. Don't worry; you can find these dried varieties at any Chinese stall.
Total Time: 15 minutes
You must have heard about or even eaten this soup in an Asian restaurant before. While the vegetables have a light sweetness, the egg fibers' richness is actually the star.
For a vegetarian version, use vegetable broth instead of umami chicken ones. Then, you can add grated ginger to give it a special aromatic touch. Otherwise, sesame oil and soy sauce are ideal.
My favorite part is mixing cornstarch and water into the soup. That way, your soup thickens and creates a slurry, interesting mouthfeel. But if you love the brothy texture, feel free to let it be.
Total Time: 20 minutes
Miso soup is a treat for the soul when you feel tired after a long day. Due to its simple ingredients, such as dashi, miso, and seaweed, you can make this dish in no time. The beany flavor and natural sweetness provide a blessing at any time of day, whether breakfast or lunch.
Though the making process requires less effort, there are two important notes: add the miso paste right before serving, and never boil the soup. Doing so guarantees that your soup will be tasty and keep its nutrients at their best.
Most importantly, this recipe is customizable with any available kitchen items. You can add seafood for extra brine or meat for double protein. Alternatively, adding mushrooms or vegetables will also make your soup more flavorful and healthier.
You can compete with any Japanese restaurant with this miso soup recipe.
Total Time: 20 minutes
When the weather gets chilly, everyone needs a comfortable soup to keep them warm. This Sriracha ramen noodle soup will meet all your needs.
Sriracha has a consistency and appearance similar to ketchup. However, it has a potently spicy, tangy, and sweet flavor with a garlicky kick. Besides that, sesame oil contributes an unmistakable Asian flavor.
You won't want to return to instant ramen after trying this meal. The finest side dishes for this soup are chopped cilantro, scallions, and a soft-boiled egg.
Total Time: 55 minutes
Thai cuisine is famous for balancing sweet, savory, tart, and spicy hints. Starting with a broth base made from an ingredient trio: lemongrass, kaffir lime leaves, and galangal, this soup immediately fills your kitchen with its delightful aroma.
Chicken stock and palm sugar's natural sweetness perfectly counterbalance the other components' intense flavors. Additionally, including Thai red curry paste gives this dish a vibrant red color.
This paste makes this delectable treat stand out more. Shrimp do not usually appear in the traditional Tom Kha Gai recipe, but the decision is up to you.
Total Time: 2 hours 10 minutes
Certainly, the greatest way to improve health is to consume well-balanced foods. Loaded with numerous nutritious ingredients, this Chinese black bean soup is a healthy gift for your family or yourself.
Black beans have a mellow sweetness and easily absorb the other ingredients' characteristic flavors. Above all, they are also a superfood. High in fiber and plant-based protein, black beans are ideal for both vegetarians and vegans.
You can use red and honey dates for a pleasant sweetness and light flavor. Aside from these ingredients, dried cuttlefish infuses a subtle salty and sweet hint to the overall depth.
Total Time: 40 minutes
Inspired by the famous Japanese hibachi (charcoal-grill) method, this clear onion soup recipe is a light and healthy appetizer. As the name suggests, this dish will astound you with its pure broth and rich oniony note.
Raw onions have an intense flavor, but when cooked, they release a subtle sweetness. As a result, they are a suitable addition to any soup.
Simmer this clear soup for about 30 minutes over low heat, then strain to remove all the remaining solids. Finally, add scallions and mushrooms to enjoy. To give it extra flavor, you can drizzle some soy sauce or Sriracha on top.
Total Time: 55 minutes
Samgyetang is a nutritious dish that harmoniously combines chicken and ginseng. It sounds strange as this dish frequently appears on the Korean summer table instead of winter. Koreans believe eating it helps detoxify and cool the body.
Chicken is the main ingredient for this soup's broth. Also, the jujube and ginkgo nuts contribute to the samgyetang's sweetness.
Ginseng is not as bland as you may believe. If simmered for a long time, its bittersweet note becomes more pronounced. If you don't have any Korean ginseng, feel free to substitute the American variety.
Total Time: 40 minutes
Manchow soup has a thick consistency and a deep color. Typically, this dish appears at a lot of Chinese vegetarian restaurants. But you can add chicken for more proteins.
This soup is hot and spicy, making it suitable for chilly evenings. You need to remember a few things when preparing the most standard Manchow-style soup. Firstly, its main ingredients are vegetables, such as carrots, green beans, and cabbage.
Next, vinegar and soy sauce lend a distinctive flavor between brightness and depth to this soup. Thanks to corn flour, the broth is thick and tastes good, as there are no lumps in its texture.
Green chile and coriander are two minor adjustments. Yet, they bring a genuine Chinese touch to your dish. Additionally, when creating this dish, you must use crunchy fried noodles. You cannot call this recipe Manchow soup without this component.
Total Time: 60 minutes
Welcome to Malaysia, where laksa noodle soup is omnipresent. This soup's blazing, sunset-like hue is an obvious indicator of how spicy it is. It is explainable since the laksa paste, a condiment made from chili, dried shrimp, and coconut milk, determines this dish's flavor profile.
Malaysian people often enjoy this soup with vermicelli noodles or Hokkien noodles. Although their textures are different, as the vermicelli is thin and the Hokkien noodles are quite thick, they are both delicious and easily absorb the broth.
This dish has various flavor layers thanks to classic ingredients such as ginger, sautéed chilies, garlic, and lemongrass. The broth, sauce, and toppings blend together and bring you a slurp of heaven!
Total Time: 1 hour 30 minutes
Laos is a landlocked country, meaning seafood dishes are definitely not its forte. So the locals mostly use meat in their daily dishes. Try this Laos Khao Soi recipe; you won't be able to stop yourself from devouring it.
Packed with a garlicky flavor, the tomato meat sauce provides a striking appearance and a peculiar flavor. This meal's centerpiece is the sauce, which has an earthy, somewhat salty taste.
Laos Khao Soi, also referred to as spaghetti phở, is a rice noodle dish with pork crackling on top. Plus, adding vegetables can lessen the strong spice flavors. You can use anything, and watercress is the preferred ingredient for a counterbalance.
For me, dried noodles are less tasty and chewy than fresh varieties. Therefore, if you have fresh rice noodles (bánh phở) in the fridge, you might try softening them for a few minutes in the microwave before putting them in boiling water.
There are many different versions of khao soi throughout Southeast Asia, but give this Lao-style recipe a try.
Total Time: 25 minutes
What could stimulate your taste buds on a hot day more than a bowl of sweet and sour shrimp soup? Canh chua is a popular meal among Vietnamese families.
Canh Chua is a wonderful spicy, tart, salty, and sweet balance. However, it is gentler than the Thai rich and creamy counterpart. Serve this soup with steamed rice and savory braised dishes for a hearty and cozy Vietnamese household meal.
This recipe has a variety of vegetables and herbs. They seem to be contrasting yet complement each other perfectly. The sweet shrimp, the sour tamarind, the tropical pineapple hint, and the salty fish sauce create this rustic yet scrumptious recipe.
Total Time: 20 minutes
This Thai chicken rice soup takes only 20 minutes to complete and is perfect for brunch or a last-minute breakfast. It looks like porridge but in a thinner form. That's why this soup feels like a warm drink but still has enough nutrients to prepare you for the whole day.
Lemongrass, fish sauce, and thin Thai soy sauce round out the Thai flavors in the chicken rice soup. This soy sauce variety is less salty and slightly sweeter than Japanese or Chinese ones.
For the toppings, I recommend making fried garlic at home. It's simple, quick, and much tastier than store-bought. A sprinkle of fried garlic on top can enhance the flavor and aroma of your soup.
Total Time: 3 hours 20 minutes
I've never heard anyone refuse phở in my life, and I'm pretty sure you do as well. The soup liquid is transparent and light in taste, but every sip is undeniably delicious.
The rich beef bones and meat is evident from the first slurp. And the second spoon will bring various complex flavors such as woody cinnamon, herby cardamom, and citrusy coriander. Yet, the secret lies in the charred ginger and onions that give the dish its smoky hint.
To enjoy phở properly, assemble rice noodles, raw beef, and brisket in a bowl. Then pour the piping hot soup over it. Serve it with bean sprouts, Sriracha sauce, and lime wedges.
Take A Deep Dive Into Asian Soup World
As a vast region with many different cultures, Asia has a respectable culinary history. From China to Thailand, Korea, and Japan, every country has its own unique soup recipes.
Soup is an indispensable dish on the Asian table. It is a delicious dish and medicine or nutritious food. So there's no reason not to make the best Asian soup recipe right away.
Share this article with your relatives and friends to help them add numerous healthy dishes to their daily meals. If you have ever traveled and enjoyed other specialties in Asia, please leave a comment so that many people can refer to it.