Not many people refer to Asian cuisine with side dishes. And I think that's a huge mistake! Just like other main courses, their side dishes reflect each country's cooking style characteristics.
That's why I have divided my list based on every dish's origin. You have those from China with different spices, Japan with their simplicity, Korea with all the spiciness, and other dishes from different countries.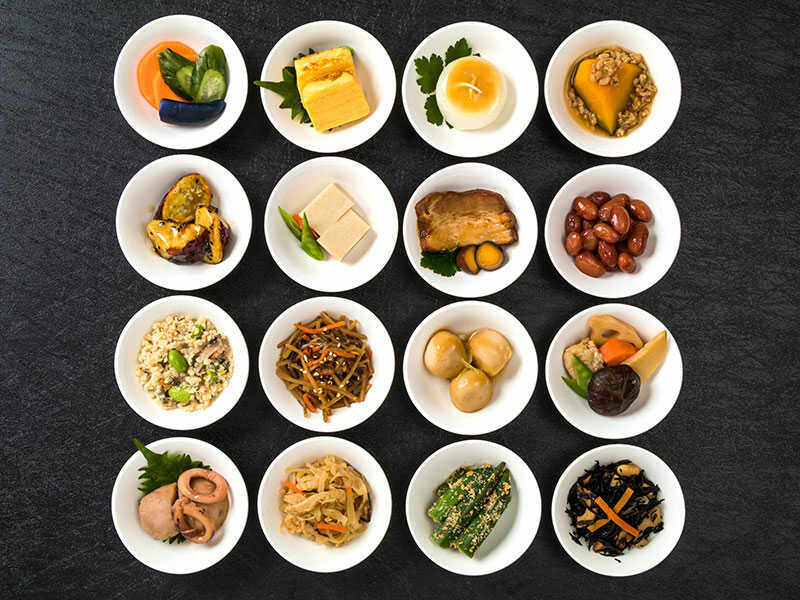 Take A Trip Around Asia With These Side Dishes
I don't take any responsibility if you look at these Asian side dishes when you are hungry. Compared to Western ones, these recipes are more nutritious with more vegetables. Yet, they are still no less satisfying.
Chinese Side Dishes
Stir-Fried Bok Choy
Stir-Fried Choy Sum
Stir-Fried Eggplants
Lo Mein (Chinese Stir-Fried Egg Noodles)
Cong You Bing (Chinese Scallion Pancakes)
Wood Ear Mushroom Salad
Egg Drop Soup
Egg Foo Young (Chinese Egg Omelets)
Japanese Side Dishes
Japanese Potato Salad
Hiyayakko (Cold Tofu)
Agedashi Tofu (Fried Tofu In Broth)
Spinach Ohitashi
Miso Glazed Eggplants
Tamagoyaki (Japanese Rolled Omelet)
Gyoza (Japanese Dumplings)
Hibachi Fried Rice
Japanese Milk Bread
Korean Side Dishes
Geotjeori (Fresh Kimchi)
Kimchi Pancake
Haemul Pajeon (Korean Seafood Pancakes)
Ojingeo Bokkeum (Korean Stir-Fried Squid)
Mayak Eggs (Korean Marinated Eggs)
Gyeran Jjim (Korean Steamed Eggs)
Tteokbokki (Spicy Korean Rice Cakes)
Gim Gui (Korean Roasted Seaweed)
Other Asian Side Dishes
Thai Coconut Rice
Tom Kha Gai Soup (Thai Coconut Chicken Soup)
Lumpia (Filipino Spring Rolls)
Gado Gado (Indonesian Vegetable Salad)
Let's start your journey right now!
8 Marvelous Side Dishes That Come From China
When talking about Asian cuisine, of course, Chinese is the first one to get mentioned. With its massive territory, China owns different cooking styles, from Szechuan with its signature spiciness to Hangzhou full of fresh ingredients.
Let's find out what side dishes China has in store for you!
A simple green plate, that's all Asian people need for their side dish. And this bok choy is one of them. Usually, they'll use baby bok choy, but you can replace it with regular ones, which are longer and slightly more bitter.
I know you can find multiple recipes about it online. But listen to me, don't complicate it! Just saute some garlic, then toss bok choy in. And season it with salt and soy sauce. That's enough for this perfect side dish!
Stir-fried bok choy is easy, but how to elevate it to restaurant quality? Here is the answer:
Welcome to another 101 Chinese cooking lesson: Stir-fried choy sum. Compared to bok choy, choy sum is a bit more complicated, but just a bit. You'll need to blanch this vegetable in water before stir-frying it.
This recipe is often served with other dim sum foods as its salty, oily flavor is perfect with the simple, frugal dumplings.
I love eggplant dishes for summer because they are both delicious and nutritious. However, cooking them is pretty tricky.
Not season eggplants properly, and they will turn bland and bitter. Too little oil, and here are your mushy eggplants. But if you use too much oil, they will be soggy and greasy.
But not with this stir-fry. Chinese people indeed know how to handle eggplants. Follow their foot, and your dish will always remain delicious.
Making this easy yet tasty dish using a wok yourself is one hundred times better than ordering a take-out. And why waste your money on something so simple like this?
Basically, lo mein is egg noodles stirred with tons of ingredients like chicken, beef, seafood, and vegetables. It's like a buffet in the form of a noodle dish. You can put whatever you like in it. For an authentic experience, you can serve it with a wonton soup.
You will never have to order a take-out lo mein with this recipe. Check out this video:
You don't need fancy food for a side dish. It should be a sidekick so your main course can shine the brightest. That's why I recommend these scallion pancakes, or cong you bing in Chinese. Just like its name indicates, this dish includes nothing but scallions.
Simply put, these pancakes are unleavened flatbread with sliced scallions mixed in the dough. Then, they are pan-fried to gain a crispy exterior and a chewy interior. They are often seen with dumplings, so you can eat them with the dumpling sauce.
I agree that this salad is not one of the best-looking dishes. But people say, don't judge a book by its cover. And wood ear mushroom salad is an ideal example for that quote.
Wood ear mushrooms have a crunchy texture just like lotus roots, but they are springier and more jelly-like. These mushrooms don't have much flavor on their own. That's why you need to season them with strong spices like raw red chili peppers, garlic, and soy sauce for this recipe.
In Asia, especially in China, people will laugh at you if you don't know how to make this soup because it's so simple. Everything you have to do is whisk some beaten eggs in broth. That's it! I can't even imagine anyone who can mess this up.
While some Chinese restaurants in America use cornstarch to thicken the soup, the original doesn't require that step. You can even make a Vietnamese version with just water, additional sauteed tomatoes, and some seasonings.
This lady will show you how to make egg drop soup exactly as Chinese people do:
Literally meaning "hibiscus egg," this dish is a beautiful egg omelet created by the Chinese. It's often topped with a thick brown gravy and served with rice.
Although you can consider it an egg omelet, this egg foo young is much thicker with its filling full of vegetables (bean sprouts, bamboo shoots, cabbage, mushrooms, etc.) and meat like pork and chicken, even crab or lobster.
Here Are 9 Side Dishes Representing Japanese Cuisine
Unlike Chinese cuisine, the Japanese cooking style focuses on keeping the dish as simple as possible. Thus, eaters can taste each ingredient's flavor. That also applies to these side dishes below.
This potato salad belongs to one Japanese cuisine branch called "yoshoku," which means Western-inspired recipes. If you compare the two versions, there are not many differences in ingredients and appearance.
However, since the Japanese style uses a particular mayonnaise brand called Kewpie, it's much creamier and sweeter. Also, this potato salad has a broader range of vegetables, including cucumber, carrots, corn, and onions.
There's no greater way to clean your fridge than making this Japanese potato salad:
Cold tofu or chilled tofu, how you call it doesn't change its nature: A block of silken tofu with various toppings. This is one of the simplest and well-liked dishes in Japan. Especially when summer comes, you can see many people ordering this with beer to refresh themselves.
There are tons of ways to garnish cold tofu. The traditional choice often goes with soy sauce, bonito flakes, and chopped scallions. Sliced shiso leaf, ume (salted sour plums) paste, or grated daikon are also exciting choices.
If you find cold tofu a bit too plain, then this agedashi tofu will surely satisfy your stomach. In Japanese, "age" means "fried," and "dashi" is the name of a broth. From its name, you'll immediately understand this dish: A fried tofu block served in a dashi-based sauce.
Just one bite, and you'll understand why so many people love this tofu. By drenching tofu in the sauce with the right amount of time, chefs allow it to absorb all the best flavors from the sauce without ruining the crunchy exterior.
This is my recommended way of making this agedashi tofu. Check out this video:
First, let's find out what ohitashi means! Right at first glance, you must know it comes from Japan. Ohitashi refers to soaking vegetables in a soup stock called dashi, draining them, and seasoning them with soy sauce.
However, these days, people often take a shortcut by simply boiling veggies in water. But, even with this simplified method, you must pay attention to the timing. Or your vegetables will lose their texture and flavor.
Japan also has its own eggplant recipe. And it's differentiated from other eggplant dishes by the appearance of miso glaze.
Miso is an irreplaceable seasoning in Japanese kitchens. And to make this glaze, you need to mix miso with mirin (a Japanese cooking wine). If you don't have mirin, sake and sugar are decent replacements.
Traditional Japanese restaurants will grill these glazed eggplants on fire. But for cooks like you and me, the best way is pan-frying or baking in the oven.
In Japan, no matter where you go, you'll see this tamagoyaki. Even the cheap lunch box you buy at some convenient stores will have one or two slices of this rolled omelet.
But, well, tamagoyaki is indeed delicious, and I can't blame Japanese people for wanting to eat them at every chance they have.
Homemade tamagoyaki often has only sugar or soy sauce as flavor enhancers. However, if you come to higher-class diners, you'll see chefs making these egg rolls with an additional stock called dashi for a deeper, more complex flavor.
With this recipe, your tamagoyaki will taste like it's made by a Japanese chef. Let's see this video:
You can think of gyoza as a Japanese equivalent of Chinese dumplings or potstickers. However, gyoza has thinner wrapping and a more delicate filling. It's also smaller, only taking one or two bites to finish one gyoza.
Gyoza is a typical side dish in almost every Japanese eatery, such as ramen shops, izakayas, family restaurants, etc. But while gyoza can be made from scratch, most people prefer using frozen ones since they are less time-consuming.
There are thousands of fried rice recipes out there, and this one is of the highest rank. It has so much flavor that people hardly believe there are only a few ingredients in this dish: Rice, butter, soy sauce, eggs, and maybe some veggies.
By using only soy sauce, this dish is not over-balanced by the sauce's heavy smell. You can taste the rich butter, crunchy veggies, and eggs' light sweetness. All are in harmony with each other.
Asian people tend to have their meals with rice. But that doesn't mean they don't have fabulous bread recipes. This milk bread is an exemplary case of "there is always an Asian better than you."
Originating from Hokkaido, now this bread has become well-known all over Japan and even in other countries. All because of its springy, soft texture and its milky flavor.
This Japanese milk bread is so easy that even a beginner baker can make it. Let's see this video:
How About These Korea Side Dishes With Their Striking Colors?
Korean food has long been known for its striking red color and heat. So to accompany these main courses, what do you think their side dishes taste? The answer is right below!
You may feel strange with geotjeori's other name – "fresh kimchi." What does fresh mean? Are other kimchi dishes all rotten? No, they aren't. The word "fresh" here refers to non-fermented kimchi.
Traditional kimchi requires a long time for the vegetables to ferment completely. But geotjeori doesn't. You can serve and eat it right after flavoring it with all the seasonings. Therefore, with this dish, you can enjoy all the crunchiness and freshness of veggies.
Everyone knows kimchi is a famous Korean side dish. But not many people have tried this pancake. Sometimes, when I want to make some changes with the usual kimchi, kimchi pancakes are my favorite choice.
Making this dish is easy. You can choose either Korean flour or all-purpose, though the latter is less chewy and stretchy. And don't forget to pour a bit of kimchi liquid into the batter so your pancakes will have a striking red color.
These pancakes are a variant of pajeon (scallion pancakes) with multiple kinds of seafood like oysters, shrimps, squids, and many more are used in both batter and toppings. Fresh is always more preferred, but you can use the frozen ones if you want.
Besides a side dish, this outstanding Korean pancake is also a favorite street food among foodies in the country. They say, nothing is better than a haemul pajeon with makgeolli (Korean milky rice wine) for rainy days.
Make these seafood pancakes to enjoy on rainy days by this video below:
If you want to enjoy seafood flavor to the fullest, this one is for you. Take the freshest squids and stir-fry them with a seasoning mixture, that's how Korean cooks make this dish. They often serve it with roasted sesame seeds as a side dish for soups and stews.
The most vital part of this dish is what spices to use. The standard choices are gochugaru (Korean chili flakes), gochujang (Korean chili paste), garlic, and ginger. If you want a more bite-like feeling, consider changing squid to octopus.
The literal meaning of this dish's name can make you run away! In Korean, mayak eggs mean "drug eggs." But of course, they don't contain any addictive substances!
Korean people give these eggs this name because they are so delicious that people may get a bit addicted to them.
Compared to soy sauce eggs from Japan, this one is one level higher as besides soy sauce, the marinating sauce even includes onions, garlic, scallion, and Korean chili peppers. All of them make your eggs taste even better.
Korean foods are famous for being spicy. And I think that's why they have various egg recipes for side dishes, like a way to balance back the flavor. Unlike the previous mayak eggs, which are full of flavor, this one is a bit simple and bland.
It's best if you have a ttukbaegi (a stone bowl) at home to keep the eggs warm until the end. But you can replace it with regular pots and bowls. Just make sure not to put a lid on so the egg mixture can rise to the fullest.
Learn how to make this gyeran jjim with chef Jia Choi, a Korean cook:
In terms of popularity, maybe the only tteokbokki can fight kimchi at the same level. There's no place in Korea where you can't find these rice cakes. Even when you just take a walk, you can find numerous students or youngsters eating them.
There are uncountable tteokbokki versions. But the most well-known ones are with spicy gochujang sauce. You can eat them alone, but people usually eat these rice cakes with fish cakes, boiled eggs, and scallions.
Its look may not be compelling, but its taste is 100% worth trying. And once you start, it's almost impossible to stop. That's why in any Korean meal, you can find a small plate with gim gui piling on each other.
My favorite part about gim gui is that you can freely combine it with other dishes. People wrap them around their kimbap (rice rolls) or use this shredded roasted seaweed in salads or with rice.
Have You Tried These Humble Yet Tasty Side Dishes
Compared to those big three above, these cuisines may not be as outstanding. However, in terms of flavor, their side dishes are no less flavorful.
You may look at its picture and wonder why so many people love this bland-looking dish? Well, wait until you smell it. I believe you'll take those words right back.
Simply put, coconut rice is jasmine rice cooked in coconut milk with a touch of salt or sugar. If you don't know how to cook rice with pots, don't worry as it is also an easy recipe to make with a rice cooker.
Then, just wait until you get to smell the signature sweet fragrance of coconut milk filling your kitchen.
You don't need to be an Asian to perfect this coconut rice. Let's see this video:
This tom kha gai soup is everything I ask for: creamy and full of flavor. And when I say "full of flavor," I mean it. You'll get a bit of tangy acid, slight sweetness, and lots of savory taste in just one bowl of this soup.
Compared to the other cousin – tom yum soup, this one is milder yet much creamier. All thanks to the additional coconut milk in the recipe. And here is one secret for a perfect tom kha gai: Always add a little red curry paste.
While raw spring rolls are Asians' well-loved midday snack, they use fried ones as a side dish for every celebration meal. And lumpia is the Filipino spring roll version.
To differentiate this tasty Filipino side treat from other variants, look at the wrappings! Lumpia wrappers are thinner than different kinds. Also, as they are made of rice flour, lumpia rolls are chewier.
You can enjoy these spring rolls with different sauces, from sweet chili sauce to vinegar-based one or the sweet and sour agrodolce sauce.
While Asian people hardly make a salad into their side dish category, this gado gado becomes one of the most preferred dishes in Indonesia. It's even recognized as their national dish. That's how much Indonesian people love gado gado.
Despite its fame, this dish is not complex at all. You just need to slightly boil, blanch, or steam the veggies. And combine them with hard-boiled eggs, fried tofu, and lontong (banana leaves-wrapped rice). Then, make a peanut sauce to serve with this salad.
Let's see how this gado gado is different from other vegetable salads:
Are You Satisfied With This List?
Every Asian country has its own cuisine with distinct characteristics. I hope this article has broadened your knowledge regarding this field. Also, one word of advice: If you want to make these dishes, it's best to head to any Asian grocery store for authentic seasonings.
Asian side dishes never bore me out, thanks to their abundant numbers. So, feel free to write down any recipes you know in the comment section below. And don't forget to share this article with your family and friends.