Cooking with Asian chicken recipes is a fun experience for you and your whole family. With my recipes at your fingertips, you can make all the authentic chicken dishes from Asia at home that tastes just like the real deal.
So what are you waiting for? Let's check out this complete list of super-savory and easy-to-make Asian recipes! Cooking will be a manageable task, even if you have little experience in the kitchen. Without further ado, let's see what I have!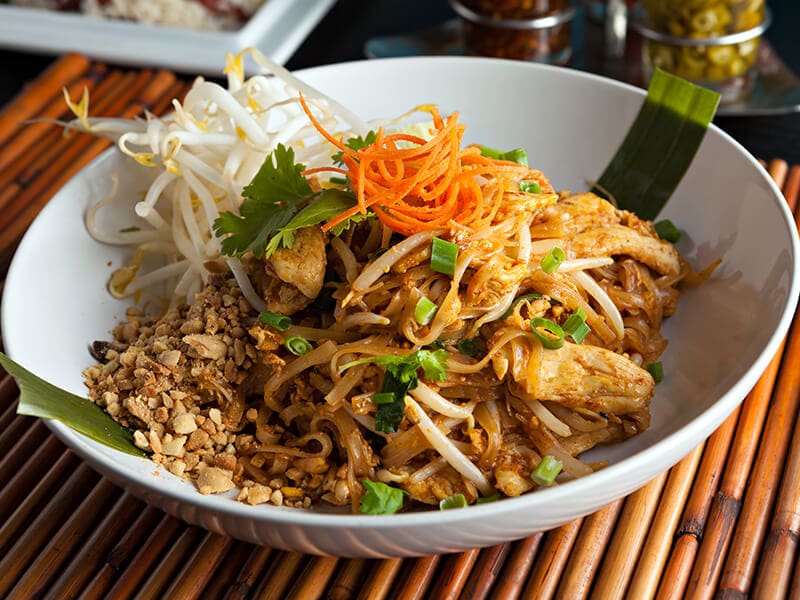 Delectable Asian Chicken Recipes For Asian Food Lovers
Are you ready to indulge your taste buds? This collection of the best Asian chicken recipes ranging from Vietnam, Thailand, China, Japan, etc., can easily elevate your daily meals. Alright, it's time to get straight into the first Asian chicken recipe.
Total time: 15 minutes.
Chow Mein is a traditional Chinese dish that has appeared for a long time. Chow is the action of stir-frying, while Mein refers to noodles. In particular, Chicken Chow Mein is a dish in which people stir-fry noodles with chicken, vegetables, and other ingredients.
The most suitable noodle to use is Chinese egg noodles. However, if you don't have any at home or want to modify your dish, you can opt for other noodles, such as ramen or spaghetti.
Although different noodles have distinctive textures and tastes, your dish will retain its perfect balance between the impressive flavor profile and the addictive chewiness of the noodles.
To make your dish healthier and tastier, add your favorite vegetables, like cabbages, carrots, baby corn, and so on. Tough veggies, such as broccoli, need branching first before stir-frying to ensure they are cooked evenly.
You can make Chicken Chow Mein at home with restaurant-grade quality in 15 minutes.
Total time: 20 minutes.
Let's continue with Chinese cuisine. Mo Shu chicken is also one of the most popular specialties in China. Coming from Shandong Province, it ranks as a well-known dish for Chinese food lovers.
The chicken marinade consists of soy sauce, beaten eggs, and cornstarch, so you can expect your chicken to be tender. Mixing well-marinated chicken with other veggies, including carrots, wood ear mushrooms, and cabbage, will create an explosion of flavors for the dish.
This juicy chicken delight goes well with pancakes. Since pancakes are sweet and buttery, you need to spread a thin layer of flavorful hoisin sauce over the top to enhance the savoriness of the whole dish.
Total time: 40 minutes.
Delight your guests with crunchy pieces of chicken coated with a crust of nutty, sweet sauce made with honey, soy sauce, and ketchup! Within 40 minutes, you can have your crispy and tasty sesame chicken like the one in the restaurant.
Dipping each piece of chicken into a blend of eggs, flour, and cornstarch will create a crispiness and golden brown color to the dish. You can add salt and pepper to the mixture to make the result more flavorful.
The taste of sesame in this satisfying dish is unmistakable and cannot be replaced. Don't forget to add nutty sesame oil to the finished dish and garnish it with green onions and sesame seeds. Doing so can level up the attractiveness and deliciousness of the dish.
Total time: 50 minutes.
General Tso's chicken was created by a Taiwanese chef who named his creation after a Chinese military leader, General Tso Tsung-tang (or Zuo Zongtang). You can say that this Chinese-American takeout classic brings double-fried chicken breasts to the next level.
The secret of this tasty dish is based on its unique and flavorful sauce, which has a sweet, slightly spicy taste and a thick, sticky consistency. You can easily whip it up from sweet Hosin sauce, spicy red pepper flakes, and cornstarch.
The desired result is chicken pieces crispy outside yet moist and tender inside. So coating them with all-purpose flour and cornstarch is a necessary step. When frying, you need to keep an eye on the temperature to avoid overcooking the chicken.
Since fried chicken's coating tends to absorb the sauce and become soggy rapidly, I highly recommend you enjoy this chicken immediately when it's still hot. Don't forget to savor the chicken with a side of rice and some greens.
Cooking General Tso's chicken is not a challenging job; this thorough guide will show you why.
Total time: 30 minutes.
David Leong, a skilled Chinese chef, invented Cashew Chicken when he immigrated to the USA in 1940. Over time, his creation has gained fame in many places worldwide.
Cashew chicken is an outstanding example of mixing roasted cashews' nuttiness with stir-fried chicken's savoriness. Moreover, adding red bell peppers and chopped water chestnuts brings a delightfully refreshing taste to the whole dish.
The carefully marinated chicken should have an eye-catching golden brown color. Take a whiff of the exotic aroma coming from a diverse mixture of Chinese condiments before digging into this full-flavored chicken dish!
Total time: 14 minutes.
Chop Suey is another Chinese American staple that I want to show you. The origin of this healthy dish is still a mystery, but many people believe Chinese immigrants in the USA invented it.
This comforting treat is suitable for those pursuing a healthy meal. It is a quick stir-fry dish with succulent chicken and lots of nutritious veggies.
Therefore, the dish is quite wholesome and aromatic. Feel free to add your go-to vegetables in Chop Suey.
Besides the well-marinated chicken, the thick and luscious sauce is another essential ingredient. To make your chicken taste like the one in Chinese restaurants, don't forget the ace in the hole: Chinese cooking wine (or Shaoxing wine).
Total time: 25 minutes.
Big fans of Japanese food cannot ignore this gloriously glossy specialty. Teriyaki is a cooking method where foods are grilled or broiled with a coating of sugar, mirin, and soy sauce. It's the key to the eye-catching appeal of this dish.
Do it right, and you will enjoy a great symphony of flavors, including sweetness, saltiness, and a bit of tanginess. Teriyaki chicken can be a main dish in your everyday meals, and you can serve it with steamed vegetables, rice, quinoa, and salad.
Total time: 30 minutes.
Are you looking for a fast and tasty meal? This Asian lettuce wrap recipe checks out all the boxes. Loaded with fresh veggies and savory ground chicken (or turkey), it's a perfect appetizer idea!
This dish has two main parts: delicious stuffing and fresh lettuce leaves. The former is prepared by combining ground chicken, hoisin sauce, and water chestnuts.
Iceberg lettuce is the best choice for the second part due to its resilience. However, you can replace it with other softer lettuces, such as Bibb, Boston, or Romaine lettuce.
Anyway, remember to choose lettuce leaves that are large and flexible enough to utilize as a wrap. That will give you a great light meal for the summer months.
In terms of storage, refrigerate leftover wrap filling and lettuce leaves separately since keeping them together will make the lettuce soggy.
Total time: 40 minutes.
This is a tasty yet straightforward chicken dish from Asia. Although you just need to spend a little time and effort to make this dish, the brilliant blend of sweet, tangy, sour, and savory goodness it bestows won't disappoint you.
But the main character in this yummy dish is, of course, chicken. You can choose pre-cut chicken tenders or thin strips of chicken breasts. After marinating the chicken, let it go through a flour-buttermilk-flour breading before frying.
In return for your hard work, deliciously golden and finger-licking chicken pieces will be yours to enjoy. Glaze them in the sticky lemon sauce, and then you can serve them alongside fried rice, noodles, or plain rice.
If you want to get more instructions on making Asian lemon chicken tenders, this tutorial will help you.
Total time: 20 minutes
Green Thai chicken coconut curry is a fragrant delicacy with sweet and spicy flavors. You can mix the versatile dish with various ingredients and veggies that suit your palate. It is a perfect recipe to cook a feast for your senses!
Don't forget to add coconut milk for a touch of floral richness to the dish.
This specialty has a nice green color coming from large green chilies in Thai curry paste. However, they aren't spicy, so don't worry if you can't tolerate popular Thai foods. You can easily find this green paste in any grocery store or prepare your own homemade paste.
Slightly nutty white rice is the perfect blank canvas to bring out the complex flavor of the curries.
Total time: 1 hour.
Nothing is better than enjoying cozy Laksa noodle soup in your home on cold days. This noodle soup stands out due to its list of excellent ingredients, such as the profoundly flavorful chicken broth and spicy laksa paste.
The addition of chili and coconut milk will complete the spicy soup. Another great thing is that you can serve it with various toppings, such as noodles, sprouts, or tofu puffs.
Each laksa paste brand has distinctive flavors, so it is crucial to have a taste test before cooking.
Total time: 45 minutes.
This delectable dish includes the most impressive flavors you can expect from Asian foods. Specifically, the sauce's balance between sweet and sour taste combined with fresh veggies and crunchy chicken will be a perfect daily meal for you and your whole family.
The making of these toothsome bites consists of four primary steps: cook the veggies batter, deep fry chicken balls, and then make the incredible sauce. Lastly, you need to put everything together.
Those who want a healthy meal can use an air fryer instead of deep-frying the balls in a wok. Though you use little or no oil, the result is still super crunchy and contains fewer calories.
Total time: 30 minutes.
Are you suffering from Asian food cravings? Let's try Chicken Yakisoba! It's a 30-minute stir fry Japanese dish made with boneless chicken and fresh vegetables tossed with a luscious sauce.
This delicacy combines diverse flavors: super tangy ketchup, sweet-umami Worcestershire sauce, and the richness of the oyster sauce. If you want to make your meal more colorful, you can add carrots, cabbages, or other tasty veggies.
Yakisoba noodles are the best option for this dish. However, you can use ramen noodles or udon noodles as substitutions if you cannot find any yakisoba noodles.
Total time: 50 minutes.
Making these chicken egg rolls of Chinese origin at home with your family is an exciting experience. That will be a wonderful occasion for all the members to gather and spend quality time with each other.
Not only do these egg rolls taste good, but they are also easy to make with popular ingredients. As for egg roll wrappers and Chinese five-spice powder, any Asian food store is a good place to find them.
Golden brown egg rolls tend to be crispy on the exterior yet succulent and moist on the interior. They will make a wonderful meal with sweet chili sauce.
Total time: 45 minutes.
Dragon chicken has been a well-known Asian chicken recipe over time. It is a dish in which long thin strips of chicken breast are well-seasoned, deep-fried, and tossed in a nutty sauce.
The last one is always the soul of the whole dish. Mix cashews, red chilies, black pepper powder, and other savory condiments to create your desired sauce. You can omit chilies and capsicum from the recipe if you can't stand spicy foods.
The longer the chicken trips are marinated, the tastier it will be. Therefore, you need to refrigerate the spice-soaked chicken for some time to ensure the meat absorbs all the flavors.
Follow this recipe, and making dragon chicken will not be a daunting job, even for newbies.
Total time: 30 minutes.
Within only 30 minutes and a few unchallenging steps, you can make the awesome Mongolian chicken that tastes like the one in Chinese restaurants. Crunchy slices of chicken breasts stir-fried in umami-packed Mongolian sauce will give you a pleasant mouth feel.
The most important task is choosing the right chicken meat. I highly recommend you opt for chicken thigh since it is tender and moist. Even if you overcook this chicken, it will not be easily dried like chicken breast.
In case you find its lack of fiber disturbing, feel free to add more vegetables, such as zucchini, sliced carrots, or mushrooms. They can make the whole dish more attractive and healthier.
Total time: 40 minutes.
Kung Pao Chicken was invented in the mid-to-late 19th century in the Sichuan province of southwestern China. Many claim this dish is named after Ding Baozhen, a late Qing Dynasty governor of Sichuan province, or rather his job title.
This tasty chicken has so many flavors: tanginess, saltiness, and sweetness. They come mainly from the easy-to-make sauce, a simple yet flavorful combination of light and dark soy sauce, rice wine vinegar, and cornstarch.
Still, that doesn't mean that the chicken is to be neglected. You have to tenderize it first by drenching it in a mixture of Shaoxing wine, oil, and cornstarch for at least 20 minutes. Marination also adds moisture and helps the meat absorb flavors evenly.
The final step is to garnish the dish with roasted peanuts for some crispy crunch and an added touch of nuttiness.
Total time: 15 minutes.
This Vietnamese recipe is bursting with multiple flavors, including sweetness, saltiness, and slight tartness. It will make an outstanding addition to your meal.
The key to this salad is the fish sauce, a primary sauce widely used in Vietnam cuisine. Combining fish sauce with sugar, garlic, and lemon will create a special dressing for the dish.
Of course, this refreshing salad can't be complete without lots of vegetables, such as garbage, fresh mint, cucumbers, and carrots. Although it takes some time to prepare, this is still an easy process.
First, put all the cut vegetables and sliced chicken into a large bowl and then pour the dressing into the mixture. Remember to toss until all the ingredients are drenched with the sauce. When serving, garnish some peanuts over the top to make the salad more attractive.
This easy walkthrough will assist you in making the best Vietnamese chicken salad ever.
Total time: 30 minutes.
I will provide you with one more classic Vietnamese dish for those who adore Vietnamese food: Vietnamese ginger chicken stir fry. This amazingly attractive delicacy greatly increases the value of poultry.
Locals create this simple dish by caramelizing the chicken before braising it in a clay pot with ginger, garlic, fish sauce, and shallots. Need a quick dinner after a long day at work? This chicken delight will fit the bill nicely.
But be careful with the caramelization. Though it seems simple, the sugar is easy to burn. Overcooked chicken is very bitter and smoky. In case you want to skip this step, you can replace the sugar and water mixture with honey. The flavor of the dish will remain largely the same.
Total time: 20 minutes.
White miso is no stranger to Japanese food fans. How about using this type of fermented soybean paste with fresh skinless chicken? Since you don't need to marinate chicken in advance, it only takes about 20 minutes to get the delicious dish.
There are three main steps involved in the cooking: stir fry the chicken in a saucepan until it turns golden brown, then add the mixture of honey, miso, and butter before continuing to cook it. After everything is done, you can garnish the chicken with some sesame seeds.
You can eat this main course with a bowl of rice or chili sauce on the side. Alternatively, opt for a healthier side, such as salads.
Total time: 30 minutes.
Traditionally, Pad Thai is a stir-fried rice noodle dish made with vegetables, bean sprouts, scrambled eggs, and shrimp or chicken. If you have a chance to travel to Thailand, you can see and enjoy this specialty on the Thai streets.
But with this recipe, you don't need to go to Thailand to experience it. All you need is to boil the noodles, make a special sauce, and cook everything in a pan. You can top the dish with cilantro, green onions, and peanuts in the end.
If you want your dish to have extra spiciness, feel free to add sriracha sauce or some more pepper flakes. After all, this is an amazing Thai delicacy!
Total time: 25 minutes.
Let's go on with one more Thai chicken recipe. Thai basil chicken is one of the world's most beloved Thai street foods. With this recipe, you can bring the exotic flavor and herbal aromas from Thailand to your own kitchen.
The savory, spicy, and anise-like taste of Thai basil highlights this stir-fried chicken. Don't ignore this vital ingredient in your chicken dish. Combine these leaves with chilies, oyster sauce, and juicy chicken strips, and you will have an excellent meal for any weeknight.
If you don't find Thai basil, feel free to substitute it with holy basil. Whatever variety goes into this mouthwatering dish, you can serve rice and fried eggs alongside it.
Follow this tutorial for Thai basil chicken and become a home master chef!
Total time: 1 hour 20 minutes.
Forget Buffalo chicken wings! Let's refresh your palate with this divinely appetizing specialty from Asia. From its shiny golden brown hue to the crunchy flesh full of flavors, it will steal your heart right at the first bite.
For the best result, I highly recommend using separate parts of chicken wings, such as drumettes and wingettes. This is because these parts have the most flesh of the whole wings. You can buy them in most grocery stores or markets or make them at home in a few minutes.
This mouthwatering dish can go well with various side dishes and drinks. Above all, fried chicken and beer are a match made in heaven since the latter's malty and bitter taste blends so well with the latter's juicy sweetness and spiciness. Otherwise, fried rice and slaw are also perfect choices.
Total time: 30 minutes.
Bang bang chicken (bon bon chicken or bam bam chicken) is a famous chicken specialty in China. It is named after how people use a hammer or stick to tenderize the meat.
The interesting name belies a mouthwatering recipe with chunks of crunchy fried chicken glazed with a sweet, spicy, and creamy sauce.
After cooking pieces of chicken in the sauce evenly, you can drizzle some sweet chili sauce to add more spiciness. Feel free to adjust the amount of chili sauce to suit your heat preference.
The best thing is that you can prepare this dish in advance and store it in the fridge or freezer to use later. Cooked chicken is good for three to four days in a refrigerator. Using the freezer, you can only freeze uncooked chicken for up to a month.
Total time: 37 minutes.
Adobo is a cooking method derived from the Philippines in which people marinate meat in a delicious blend of spices. The dish tends to have an eye-catching color, usually deep red-brown. Using this method to cook chicken is a great idea.
The chicken is crispy outside and perfectly soaked in a delectable sauce, making the meat utterly delicious. Make sure you include lime zest and bay leaves in the mix: they are vital to the overall success of the dish.
After being cooked to perfection, this adobo sauce will be an excellent coating for your crunchy chicken. I ensure that there will be no leftovers if you serve this savory dish with a bowl of warm rice.
Total time: 1 hour 10 minutes.
I will show you another Filipino chicken recipe that is straightforward and super delicious. Asadong Manok, or chicken Asado, is one of the most popular dishes in Pampanga province. The combination of luscious and flavorful ingredients makes this a must-try!
Marinated in soy sauce, paprika, bay leaves, and tomato sauce and then simmered with fried potatoes and bell peppers. This Filipino dish contains all kinds of sweet, tangy, and savory goodness that are more than perfect for a bowl of steamed rice.
Like other chicken dishes, thorough marination for at least two hours is necessary to ensure the meat absorbs all the tastes of other ingredients. Similarly, if you cannot finish this dish in one go, you can preserve it in the fridge for three to four days.
Total time: 1 hour 20 minutes.
The literal meaning of Gago Gago is "mix-mix" and comes from the Indonesian name for the primary cooking method used in this dish – mixing all the ingredients in a big bowl. You can add any combination of your go-to veggies to prepare this tempting combo.
Though there's a little bit of prep time, this salad is 100% worth it. Most of the effort goes into cutting the veggies. After that, it's a matter of frying chicken skewers, boiling eggs, and whipping up a peanut sauce.
The key to this Indonesian salad is the awesome sauce. Blitz peanut butter, fish sauce, coconut milk, and red chili flakes until the mixture turns smooth. The sauce will upgrade your salad to the next level.
This salad can stay good for one or two days in the fridge. Meanwhile, peanut sauce can stay up to a week in the refrigerator, so don't hesitate to make a big jar if you feel like it.
Without A Doubt, Asian Chicken Recipes Are Must-Try
With these Asian recipes above, you will not have any problem choosing the right menu for every important feast or everyday meal. Those recipes are as easy as pie, and the ingredients involved are easy to prepare. So are you ready to amaze your family?
Thanks a bunch for scrolling down this article, and what about sharing and leaving a like for this post? It would be nice to see your feelings about these mentioned recipes in the comments below. Feel free to ask me questions about the post. See you!