You may not know that there are numerous easy Anaheim pepper recipes that are incredibly delicious. Anaheim peppers are versatile ingredients used in many different cooking methods.
They are named after a city in California – Anaheim. This is also where Anaheim pepper became so popular.
This pepper has a mild flavor and heat, so you can comfortably mix it with your foods without worrying about overpowering their tastes. Usually, when used for cooking, people prefer to use the green Anaheim.
They are one of the most widely used and well-loved chili peppers in the United States. Why don't you try the list of dishes made from them below? I'm sure these recipes won't let you down.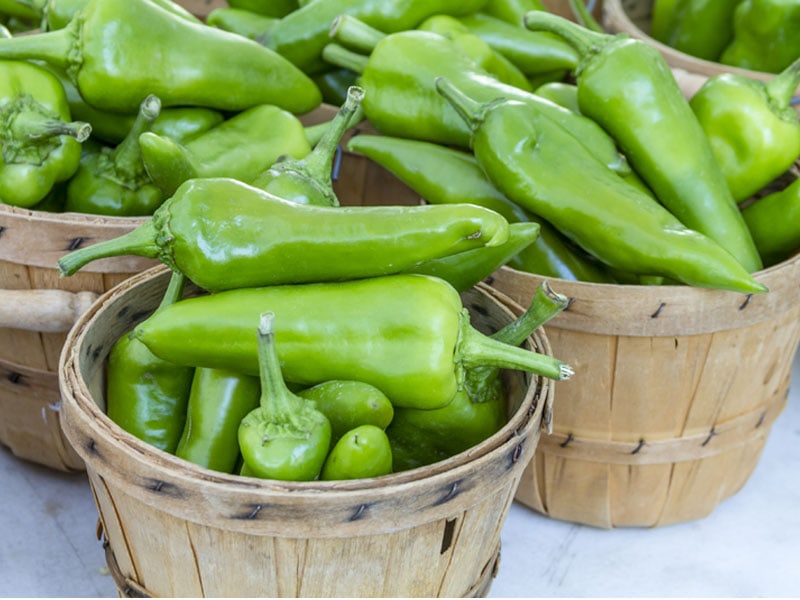 17 Mouth-Watering Dishes With Anaheim Pepper
The dishes that include Anaheim pepper always bring you many surprises. From delicious recipes suitable for daily meals to square meals for family and friends, you can find them all here.
With only easy-to-find ingredients, I'm sure you can combine them with Anaheim peppers to create unique dishes.
Total time: 30 minutes
The first recipe gives you a bold Southwest flavor. Southwest Anaheim stuffed peppers are like a breath of fresh air for your daily meals.
The combination of chicken, black beans, salsa, and corn with Anaheim peppers is a hit to your palate. This dish is suitable for family meals because it is very simple and does not take too much time.
Although it has a taste similar to bell pepper, if you like a bit of spiciness, Anaheim pepper may satisfy you more.
There is nothing simpler than cooking all the ingredients and stuffing them in shiny green peppers. You can absolutely prepare this dish in advance and put it in the fridge or freezer. Before serving, simply reheat the stuffed peppers at 350°F in the oven until they're warm.
Total time: 20 minutes
If it's Anaheim pepper season and you have too many of them, try this sauce recipe. Roasted green chile sauce is the perfect recipe for you to preserve your peppers most deliciously and conveniently.
This is a versatile sauce because you can pair it with Mexican-inspired dishes like tamales, burritos, or enchiladas. Anaheim pepper is only mildly hot, sometimes sweet, and is a good ingredient to pair with everything.
You can freeze this sauce and use it slowly for up to 9 months without worrying about the quality going down. However, you should note that the peel of Anaheim peppers is quite tough.
Therefore, it is necessary to roast them before cooking. Not only does it make it easier to remove their rind, but it also adds flavor.
Total time: 15 minutes
This simple sweet corn with Anaheim peppers recipe is a must-try for anyone who loves sweet and somewhat spicy food. This is an extremely colorful dish with vivid yellow and green.
Its flavor also goes hand in hand with color as the sweet and spicy tastes blend in your mouth. You can use sweet corn with Anaheim peppers as a side dish. It definitely goes well with chicken or pork.
This recipe is clearly simple, healthy, low in calories, and easily made. You can enjoy the natural sweetness of frozen corn or add a bright twist from fresh corn.
The first step is to melt the butter along with the corn and chopped peppers. At this time, the taste of butter makes you want to devour the dish immediately.
Your dish is done after you cook over low heat for a few more minutes until the corn is soft, chewy, and golden.
Total time: 50 minutes
Try creating a bacon-rolled version of Anaheim peppers with this recipe. You can enjoy it as a side dish or make it for your main meal.
Bacon-wrapped stuffed Anaheim peppers ask you to consider pepper size. The smallest ones are ideal for this recipe. When covering each pepper, you are better off using thin bacon. They make it easier for you to wrap and cook.
The ingredients in the filling need to be finely chopped to avoid being squishy when eating. Also, after rolling the Anaheim pepper with two pieces of bacon, you should use toothpicks to secure it. During the cooking process, the ingredients shrink and, of course, change their shapes.
Check out the tutorial here to be able to make savory bacon-wrapped peppers.
Total time: 1 hour 10 minutes
The key to this recipe is precisely the Anaheim peppers. With their unique flavor and sweetly spicy, they make this smokey sweet Anaheim chili more appealing.
You can create this recipe with different types of beans, such as black, garbanzo, pinto, white, and kidney. Or, to be more minimalist, any one of them is enough to make this dish full of flavor.
Depending on how thick you like it, the chili becomes a filling meal when served with noodles, toast, rice, or cornbread. To adjust the consistency of the smoky sweet Anaheim chili, just remember to add more water and cover if you prefer a thinner sauce.
You should remove the pith containing the seeds inside the Anaheim pepper if you are not a fan of spicy food.
Total time: 1 hour
This Green Chile Stew dish attracts people with the particular flavor of Anaheim pepper. You can use fresh Anaheim from about 8 to 10 ones, roast, and then peel them. Or simply use the canned type, but remember to drain them first.
This is an ideal dish to make in a Dutch oven or a large stock pot, as the browned beef and pork are tender but still succulent. In just about 45 minutes, the broth thickens, and the ingredients soak up the seasoning.
This is a hearty, warm, and filling dish for winter meals. Green Chile stew makes you dream of hurrying to chilly days to make this pork, potato, and Anaheim pepper recipe right away.
Moreover, it provides up to 20 grams of protein for a 1-1/2 cup serving to help fuel you through the day.
Total time: 20 minutes
Chickpeas with peppers and eggs is a vegetarian dish packed full of healthy ingredients. It is a dairy-free, gluten-free recipe that is good for diabetes and heart health.
Chickpeas and eggs are two nutrient-dense foods with significant amounts of protein. With this dish, even if you are a vegetarian, you still don't have to worry about protein deficiency.
Incorporating a variety of spices and lively Anaheim peppers adds depth of flavor and texture to the dish. In addition, cumin seeds, smoked paprika, and turmeric make up the signature taste.
You can substitute jalapeño peppers if you don't have Anaheim peppers available. However, adjust the amount to suit your spice tolerance.
Total time: 1 hour
If you want to turn your leftover spaghetti into a flavorful dish, then this Green chili chicken spaghetti recipe is definitely what you are looking for. The roasted Anaheim chilies in this dish are a hit, so never forget them.
A dish combining the cuisine of two countries, Italy and Mexico, does not disappoint anyone. Note that if you want a milder flavor, you can reduce the spiciness by replacing Pepper Jack cheese with all Monterey Jack cheese.
How can anyone resist a plate of pasta with melted cheese on top of Anaheim peppers? Furthermore, fresh pico de gallo – a typical Mexican salsa is perfect for serving with this dish.
Total time: 1 hour
What could be better than a simple dinner with Chile Relleno casserole with the family? Best of all, you can cook a large pot and enjoy the rest the next morning.
The warmth of this dish helps you start your day more radiant. The Chile Relleno casserole recipe is also an enjoyable recipe for the standard egg-based brunch that offers a Tex-Mex twist.
Anaheim peppers play an important role in this dish. Trust me, and try roasting it on the stovetop or in the oven.
Chile Relleno casserole is a recipe that will please all your family members and friends. Recommend them to serve with hot roasted sweet potatoes and refried black beans. If you love the creamy texture, you should add a little more cheese or milk according to your taste.
Roasting Anaheim peppers before preparing Chile Relleno is always the right thing to do.
Total time: 2 hours and 5 minutes
Santa Maria salsa is native to Santa Maria city, and you can find it all over Southern California. The celery is the ingredient that makes this dish different from the usual Tex-Mex-style salsa.
The mix of Anaheim pepper, celery, green onions, Tabasco, and the sourness of white vinegar and lemon is a must-try combination for this steak.
A barbecue meal with loved ones becomes perfect with the presence of grilled Tri-Tip and Santa Maria salsa. Slow-cooked sweet corn and potato salad are going to complete this menu.
Total time: 45 minutes
The pressure cooker is definitely a good helper for stewing meat dishes. After a long tiring week, if you want to spend a lot of time with yourself but still enjoy delicious food, then come to this Chile Verde Pork recipe.
Thanks to the pressure cooking mode, this is a hearty, quick meal and perfect for the weekend. The authentic Mexican flavor in this recipe is created by the cooked pork belly and the mildly spicy blend of Anaheim and Poblano peppers.
A hint of sourness of the lime and sour cream balances out the flavors of Chile Verde pork, so it's not too oily.
A great stew – Chile Verde pork is delectable to enjoy with tacos, burritos, or even characteristic Mexican rice.
Total time: 30 minutes
Chili mac and cheese – a combination of creamy and mildly spicy flavors is a hearty recipe for the main meal. This dish encapsulates the full flavor and is ready to serve in just 30 minutes.
The Chili mac and cheese recipe is so versatile and easy to serve that you can make it and treat a crowd. Key ingredients like Anaheim peppers, Cheddar cheese, dried elbow macaroni, and minced beef are easy to find because they are readily available at the store.
To save the most time, people often make it in advance and then just reheat it to have a flavorsome broth. You can gobble it up with a slice of buttery cornbread for the main meal or even a snack.
Total time: 50 minutes
The recipe that you can go back and do every day is none other than a rice bowl with green pepper sauce, roasted carrots & eggs. Today's trend is to optimize time for busy people. They often prepare a bowl of rice with full ingredients and just mix it up when eating.
With this delicious rice bowl recipe, I guarantee it's nutritionally complete and energizing. Not only that, but the special sauce made from Anaheim pepper and fresh herbs gives depth to the dish. Add roasted carrots and eggs for extra taste.
A secret to making this bowl of rice more delicious is to let the sauce stay overnight before using it. At this time, the spicy, sour, and sweet flavors blend together much more intensely. Don't worry; this rich sauce stays good for four days in the fridge.
Total time: 15 minutes
Green sauce or Salsa Verde is considered a representative dish of Mexican cuisine. It has a long history since it first appeared during the time of the Aztec empire.
You can create this signature tomatillo dish with just seven basic ingredients and simple roasting and mixing techniques. It is extremely versatile, and you can combine it with countless other dishes. Anaheim peppers are the less spicy option for this recipe.
Ideally, I recommend using tomatillos, a type of nightshade known as Mexican groundcherry. They bring out a perfect flavor that represents Mexican cuisine.
However, if you don't have ones on hand, you can also substitute them with green tomatoes. Obviously, the flavor is not as outstanding.
Salsa Verde, made with fresh ingredients, gives you the most original and earthy taste.
Total time: 40 minutes
As both a spicy food lover and a cheese fan, how could you pass up this Anaheim peppers stuffed with beef and cheese recipe? This dish is suitable for small group gatherings on weekends.
You can make them and treat everyone as an inviting appetizer in your backyard. The size of Anaheim pepper could not be more suitable to stuff the filling inside.
Imagine what it would be like to have the first bite of this stuffed pepper. A mildly sweet, spicy, and tangy salsa mixed with the richness of Cheddar cheese makes this recipe unforgettable.
The most attractive feature of beef and cheese stuffed Anaheim peppers is when you enjoy it, the melted Cheddar can satisfy all your senses.
Total time: 1 hour
The delicious grilled Anaheim peppers combined with the richness of the Great Northern beans and the rotisserie chicken make for a chili that you can't refuse. In addition, the sweetness from corn elevates this dish to a new level.
One exciting thing about Anaheim peppers is how hot they are, depending on where they are grown. The ones grown in New Mexico can be just as spicy (and sometimes even pack more heat) as the jalapenos, so be careful.
If Great Northern beans are not available, you may consider white kidney beans, cannellini beans, or white navy beans.
Don't worry if you can not use all the white chicken chili in one go. You can use the leftover chili for various dishes. Just store it in the refrigerator for up to four days and freeze it for about three months.
White chicken chili can warm your hungry stomach on cold winter days.
Total time: 45 minutes
Last but not least, why not try pairing Anaheim peppers with salmon? Achiote Chipotle salmon with Anaheim pepper and avocado crema is a taste punch when it contains the full kinds of flavor.
The sourness of lemon juice and pickled chives, the rich cream sauce, and the spicy and smoky taste of Anaheim create this recipe. Achiote is suitable for creating an attractive orange-red color for dishes.
It is a healthy dish because Anaheim peppers are rich in vitamins like C, A, B6, and E. When combined with superfoods such as salmon, the dish gives you a full meal of nutrients.
When serving this tasty dish to everyone, divide the cauliflower rice and broccolini toast into appropriate servings. You then top it off with smoky grilled salmon, pickled onions, and Anaheim pepper, and finish with a slice of fresh lemon.
All Anaheim Pepper Recipes At Hand
You and your family deserve a warm weekend get-together with Anaheim pepper dishes. These recipes do not need strange ingredients. They are effortless to make and inviting.
Therefore, after looking at all the recipe suggestions, it will be a waste if you are still hesitant to try them right away. In addition to the dishes from Anaheim pepper mentioned above, you can completely create new dishes.
I hope you'll leave some great tips for using Anaheim peppers in the comments section and share this article with others so more people can become experts in cooking. Have a delicious meal!