If you are having trouble finding nutritious treats, let these top almond flour recipes help you. You will not have to wonder what to do with almond flour any longer. Almond flour is advantageous for swapping out other types, particularly in baking recipes.
You can bake a variety of foods with the help of this amazing ingredient, including tortillas, bread, and even muffins. Let's quickly go over the best almond flour recipes listed below and bring them to your kitchen!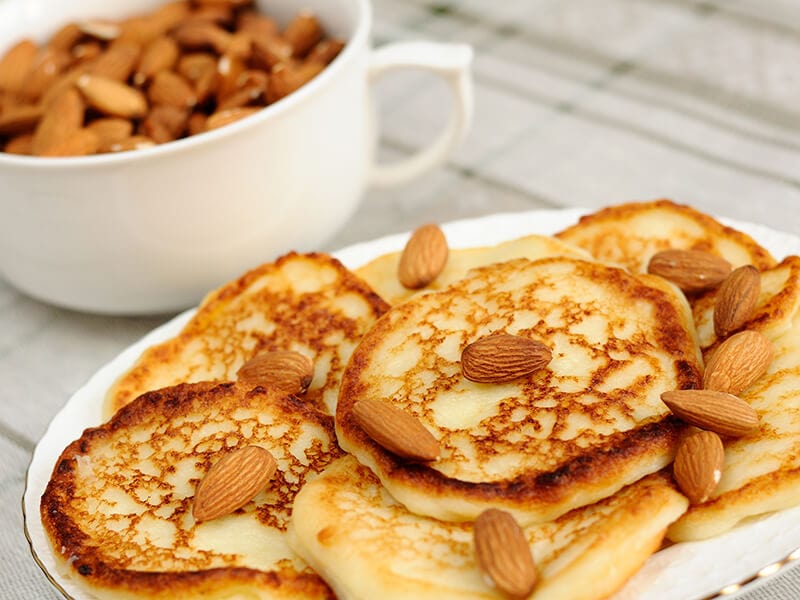 Almond Flour Treats – A Wonderful Gift For A Healthy Life
With just a few straightforward steps and readily available ingredients besides almond flour, you can treat yourself and your friends to nutritious dishes. Let's get started with these delectable almond flour dishes that will not disappoint you!
Total Time: 20 minutes
Who could say no to these airy, puffy, and light pancakes? They taste just as luscious as the traditional all-purpose flour recipe. Thanks to the baking powder, this breakfast or brunch dish is tender and can puff up well during cooking.
In addition, when incorporated into the dough and drizzled on the finished pancakes, the sweet caramel flavor from the maple syrup will make it even more memorable. These creative pancakes taste fantastic when paired with savory foods like omelets, frittatas, or casseroles.
There are many ways to make pancakes with almond flour, but this detailed guide is the best one.
Total Time: 20 minutes
The peanut butter almond meal cookie recipe is a beneficial gift for you and your loved ones. This plant-based snack is packed with fiber and healthy fats.
When these golden brown cookies come out of the oven after 15 minutes of baking, your kitchen will be filled with the charming aroma of almonds and peanut butter.
These tiny treats melt in your mouth and flood your taste buds with the perfect balance of nutty, salty, and sweet flavors. Since they don't contain dairy ingredients or eggs, you can store the cookies at room temperature for a week.
Total Time: 50 minutes
This almond flour banana bread is light, fluffy, and filled with a natural sweetness. It is a satisfying and healthy treat that you can enjoy every day!
In contrast to the classic recipe that needs eggs, sugar, and butter, you simply need to add bananas and honey. They give the entire bread its ideal floral sweetness.
In addition, flax seeds can boost texture quality and replace fat in baking. The woody and somewhat citrusy aromas of cinnamon are great if you want to give this recipe a unique touch.
Total Time: 40 minutes
Naan is a leavened, gluten-packed flatbread originating from India. This recipe will show you how to turn it into a gluten-free snack. When making such a dish, the biggest challenge is to keep it from drying out and retaining its moisture despite the lack of gluten.
However, the richness of almond flour deals with the problem quite beautifully. These fluffy naans can serve as a side dish with soups, salads, or any well-known Indian dishes as perfectly as the ordinary type.
There's no need to waste time kneading and rolling when all you need is a skillet and a few minutes to cook. With cilantro and garlic butter evenly spread on top, these hot, golden-brown flatbreads are ready to upgrade your meal.
Total Time: 35 minutes
Sweetened with maple syrup, these vegan treats contain no refined sugar at all! Shortbread differs from other cookies in that it does not contain any leavening agents.
But this recipe still produces delectable treats that are soft on the inside and crunchy on the outside. When you put them in your mouth, this texture will be more noticeable.
Remember that for a smoother texture and brighter hue, ultra-fine almond flour and coconut oil are the best options. You can also top these shortbread cookies with some chocolate chips or sprinkles to make them more pretty.
Total Time: 35 minutes
Chew on these bite-sized chocolate chip cookies and feel them exuding a buttery, sweet-bitter goodness. They feature a classic cookie texture with a crisp, slightly firm exterior and a gooey, moist interior.
But to achieve such perfection, you have to prevent the cookies from deflating by allowing the dough to refrigerate for 20 minutes. You can vary the baking time to achieve your desired texture, but 15 minutes works great for me.
The freshly baked cookies feel very soft at first, but they will begin to harden soon. Since light brown sugar has a mildly sweet taste, you should use semi-sweet chocolate.
It creates a more balanced flavor. Although tapioca and arrowroot can be used to thicken the cookies, corn starch is better at this task.
Almond flour chocolate chip cookies are delicate and melt in your mouth, making them wonderful kitchen gifts.
Total Time: 19 minutes
This recipe takes less than 20 minutes to bring a delectable and healthy pastry to your table. With just four ingredients, you can make pleasant, sweet blondies with almond flour.
They are absolutely no oils or grains. If you want your finished dish to have a perfectly spongy texture and not be too heavy or wet in the middle, blanched almond flour is ideal.
Even though it has a rustic flavor, you can choose to make it more flavorful with other ingredients. Whether you choose melted chocolate, vanilla, cinnamon, pumpkin pie spice, or citrus zest, they all match the overall flavor of the blondies.
Total Time: 30 minutes
If you are looking for a healthy breakfast, this recipe is the answer. Share these wonderful muffins with your friends or family members! They will have a hard time distinguishing them from wheat flour-based ones because those muffins are equally delicious.
Blueberries are essential to this recipe's flavor. They add sweetness and tartness to this dish, making it more tasty and nutritious. You can pre-make the muffins and store them on the counter for up to 5 days. Don't forget to use a kitchen towel to wrap them so that they won't become tough.
Total Time: 35 minutes
Almond crescent cookies are shortbread cookies commonly given as gifts for Christmas. They are also a common sight at tea or coffee parties. You can completely satisfy your sweet craving with these rich and nutty treats.
Your heart will melt when their crispy pecan crumbles merge with the confectioners' sugar coating, creating a smooth exterior like lovely snowflakes.
If there are any leftovers (though that is unlikely), refrigerate them. The low temperature prevents the powdered sugar from melting and keeps the cookies crisp.
Total Time: 30 minutes
Italian cuisine is well-known for various flavorsome recipes, such as focaccia. It is a flat-leavened, oven-baked bread that has a texture similar to pizza.
To bring Italian flavors to your dinner table, olive oil and fresh rosemary are spectacular additions. The latter imparts a bold, characteristic aroma to the dish, like a combination of mint and sage.
However, creating the perfect texture for gluten-free focaccia requires some care in beating the egg white mixture until very stiff and folding it into the dough. In return, you will have a great side dish to enjoy with tomato bisque, Caprese salad, or simply dip it in Italian hummus.
Total Time: 30 minutes
This recipe is great for pizza lovers who are on a keto or vegan diet. Its golden brown, crispy, and thin shape may remind you of New York-style pizza. Despite being made entirely from almond flour, the pizza crust offers the same taste and texture as the classic version.
With just seven ingredients, you'll have an appetizing pizza for your main meals and even quick dinners afterward. Since this recipe doesn't contain gluten, you should place a piece of parchment paper underneath the dough to prevent it from sticking to the tray.
Total Time: 25 minutes
While already nutritious, these almond flour oatmeal cookies are now even more nutrient-dense thanks to the inclusion of oats and dark chocolate. The best part of this recipe is that it is quick and simple without wasting time chilling the cookie dough.
First, you thoroughly whisk the butter, eggs, sugar, and vanilla. Add the oats, almond flour, and chocolate chips for an extra chocolatey flavor. These cookies just need 13 minutes in the oven before the edges begin to brown and the interior becomes soft and delicate enough to eat.
Let's dive into this chocolatey almond flour oatmeal cookie recipe that can provide you with all-day energy.
Total Time: 25 minutes
With a bright citrus kick and sweet lemon glaze, this scone recipe also contains many speckled, deep purple blueberries. It's no surprise that you will find all sorts of fruity goodness inside these creamy and nutty treats.
Use frozen butter because the solid fat gives baked goods a good texture. Also, Greek yogurt should be added to improve the milky taste and add moisture. Almond flour scones can cook quickly; therefore, baking them at a low heat (about 350°F) is a recommended decision.
Total Time: 55 minutes
Let this Spanish almond cake take you to this Iberian cuisine without having to leave your kitchen. It is a naturally gluten-free pastry that is also known as tarta de Santiago. This cake is appropriate for celebrations, family dinners, and other occasions that call for a festive dessert.
This delicacy is light and fluffy in a delightful way, with the citrusy brightness of lemon and clementine. Don't forget to add cinnamon powder to maximize this treat's fragrance. Imprinting the Santiago cross on the icing sugar is the final step to complete this beautiful cake.
Total Time: 50 minutes
While there are many types of gluten-free bread out there, this low-carb almond flour bread recipe is here to convince you that it is the one and only bread you need for breakfast! Rather than having yeast like typical products, this one uses apple cider vinegar to leaven.
Additionally, the eggs guarantee in this recipe that the batter does not dry up but retains a great deal of moisture. While they make the bread non-vegan-friendly, you will get a protein-rich breakfast and stay fuller for longer.
Add a little shredded coconut for a delightfully chewy and creamy mouthfeel. The almond flour bread freezes well for up to three months. You just need to defrost it overnight in the refrigerator and gently reheat it in the oven to enjoy a delectable meal the following morning.
If you have been trying to reduce the carb content in your diet, you will like this almond flour tutorial.
Total Time: 50 minutes
If you happen to love both almonds and blueberries, this recipe will make you feel like you are in seventh heaven. Besides the namesake ingredients, it comes with many other great ingredients that improve its flavor profile.
The sweetness from the honey is combined with the somewhat tart flavors of blueberries and lemons, striking the perfect balance. While many people prefer maple syrup, honey adds a floral aroma and helps the cake brown more quickly.
If you're not too picky about the gluten amount, add some all-purpose flour to improve the texture of the baked goods. Due to its high moisture content, the bread should only be kept in an airtight container for around 3 days at room temperature or 4 days in the refrigerator.
Total Time: 45 minutes
This almond flour orange cake is tender and punctuated with a refreshing creaminess from the orange cream cheese frosting. The melting coating with the dazzling orange zest on top will be too irresistible for people to pass up.
Each slice of this cake contains only 4.6 grams of carbs, which is suitable for your keto diet. Even if the almond flour orange cake were overflowing with carbs, its intensely moist texture and alluring citrus aroma would still draw every diner's attention to the dish.
To save time, you can make the icing while baking the cake. Whip yogurt, butter, orange juice, and erythritol until velvety and lump-free. Then chill the mixture before spreading it gently on your orange cake.
Total Time: 1 hour
Biscotti is a type of renowned Italian biscuit. People form the biscottis into an oblong shape and bake them twice, giving them a dry and crunchy texture.
These snacks are made from whole almonds and wheat flour, but let's replace the latter with almond flour to make them lighter and nuttier. However, the addition of orange zest and Amaretto liqueur is equally important, turning this recipe into a scrumptious snack.
Amaretto means "bitter", but this Italian liqueur has a sweet and almondy flavor profile that no biscotti can do without. Meanwhile, brown sugar is preferable for this recipe because it gives baked goods incredible crispness and a tan tint.
Total Time: 50 minutes
If you want to celebrate an amazing pastry-filled holiday, let this recipe lend you a hand. Not only is it spongy, but this cake also contains amazing twists from gorgeously toasted almonds, a honey glaze, and baked apples.
Almond flour works fantastically to create such a moist and thick cake. In each bite, an explosion born from the flavors of juicy apples, sweet honey, and the spiciness of cinnamon and nutmeg will keep delighting your taste buds.
Total Time: 30 minutes
Crackers are nutritious and convenient to consume, and this recipe displays these traits quite obviously. You'll be pleasantly surprised by the rich, salty, and buttery goodness these almond flour crackers possess.
They are high in fiber and healthy fats yet low in carbs. This recipe is just a basic snack seasoned with salt, but you'll keep making it over and over again to experience its deliciousness.
You might spice them up by adding garlic powder or Italian seasonings for an extra herby flavor profile. These crackers can complement any dip, including hummus, peanut butter, and a salty salmon dip.
Another creative way you can enjoy almond flour crackers is to top them with your favorite salad.
Total Time: 1 hour
Loaded with a tropical vibe, this easy cobbler recipe makes you want to save it for any summertime meal. It truly is the definition of heaven, whether you are eating a warm dish of peach cobbler or sipping it cold.
The slices of delicate, floral, and sweet peaches are the soul of this dessert but don't underestimate the nutty batter of almond flour and eggs.
There is nothing compared to the taste of fresh peaches. Yet, frozen ones are still an alternative if you want to eat this delicious dish all year round. In that case, defrost them and drain the liquid to prevent the filling from tasting overly mushy.
Total Time: 30 minutes
These decadent, incredibly moist zucchini-studded muffins are outstanding on-the-go treats. You will want to dig into these soft and lightly spiced treats whenever you can.
The flavor of zucchini is mild with a dash of sweetness. It pairs well with any other ingredient since it absorbs flavors well. But this veggie has a lot of water, so you need to squeeze it first to keep the moisture from ruining the almond flour.
After combining the dry components with the wet mixture, add the grated zucchini. After around 20 minutes in the oven, these adorable muffins will turn golden brown and be ready for your next breakfast.
Total Time: 27 minutes
With a snail-like shape, this snickerdoodle recipe takes deliciousness to the next level with its chewy-crunchy texture. These sweet and savory cinnamon-sugar cookies are sure to win over a crowd wherever they are served.
But do you know how to make them even more appealing? Use coconut palm sugar instead of white or brown sugar. When baked with cinnamon, it leaves a more appealing dark brown color than traditional snickerdoodles.
Additionally, snickerdoodles made with butter and organic palm shortening are richer and more pillowy. You can fully swap out the almond meal for blanched almond flour and still get the greatest results.
Total Time: 33 minutes
The cheese-filled sausage balls made with almond flour are another dish on my list that you must try. You will think about this delicious appetizer on every game day or gathering.
Although it does not contain any gluten, almond flour still does a good job of binding together the sausage, cheese, and egg mixture into a moist dough. Cheddar's stunning golden hue and sharply nutty flavor enhance both the look and taste of every ball.
But pay attention to the sausage: its quality can make or break the dish. These crispy sausage balls can be prepared in advance. They thaw in the oven for just 5 minutes. Unless you want your sausages to turn rubbery, never put them in the microwave.
Total Time: 15 minutes
You must agree with me that these Mexican flatbreads are very versatile in a variety of dishes. Let's increase their flexibility even more! While they are often made from corn or wheat flour, almond flour will give a nuttier flavor and a sweet aftertaste that everybody loves.
And don't worry about its pliability: you can still fold or roll these tortillas without breaking them. Still, you can add another ingredient to keep them thick and moist: whole psyllium husk.
While you can prepare the tortillas on parchment paper, I think wax paper is a better choice since it doesn't cling to the dough very much.
Anyway, prepare the tortillas ahead of time and serve everyone gluten-free Mexican food throughout the holiday season with this recipe. No one can complain because these tortillas are perfect with any filling.
Level Up Traditional Recipe With Almond Flour
Almond flour is a nutrient-dense, gluten-free ingredient that is suitable for people on a low-carb diet. It can impart a delicious taste and an attractively fluffy texture to many dishes. There are many ways to utilize almond flour, but the ones in this article are the tastiest.
What do you think about them? Kindly leave a comment about your experience with almond flour after making any of the dishes listed above.
Please spread the word about this article to your friends and family members, too. I'm sure they will enjoy using this incredible ingredient in their cooking every day.