Are you still looking for the best air fryer vegetarian recipes? Hang around because this list will provide you with wholesome vegetarian dishes you can prepare using your air fryer.
Vegetarian dishes are undoubtedly healthy. However, they can take a lot of time, and some may require tons of oil. That is when an air fryer comes in handy. It requires minimum oil and functions and cooks food quickly, like a convection oven.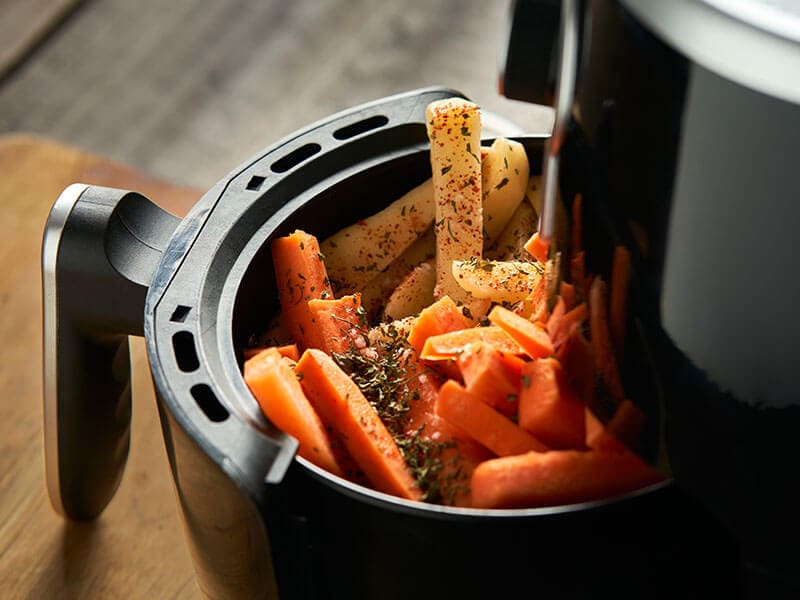 Nothing Is Better Than A Healthy Vegetarian Dish For Your Family
Let's prepare some healthful, savory vegetarian treats with an air fryer. You can whip up these dishes in no time, and they will please your family's taste buds.
Total time: 30 minutes
Many vegetarians are familiar with tofu. It is a great side dish for many cuisines and is high in protein. This crispy air fryer tofu recipe will take your bean curd to the next level. It is super crispy outside and bursting with soy flavor inside.
When preparing this dish, pressing the tofu is the first step. Doing so will squeeze out the liquid in the tofu. Then, you will cut it into bite-sized cubes and season them with avocado oil, sesame oil, and other flavorings. Little tofu blocks are ready for a trip in the air fryer.
Thanks to the air fryer, you can feel soybeans' crispiness, fragrance, and fatty taste. If you are lucky enough to have leftovers, you can store them in the refrigerator for 3 to 4 days.
This crispy air fryer tofu recipe will teach you how to make the perfect tofu for your family.
Total time: 45 minutes
This dish is so appealing even those who are not into eating cauliflower will like it. In this recipe, the cauliflower wings are covered in breading and fried till crisp, then rounded off with a delicious sweet and sour sauce.
Without a doubt, the star of this recipe is the sauce. It is a complex combination of soy sauce, honey, sesame oil, and other condiments. This sauce gives cauliflower wings a tasty sweet and sour flavor profile with a hint of sesame taste.
This delicacy is a perfect gluten-free appetizer to begin your meal. The dish has a crunchy mouthfeel from cauliflower and breading. Both of them will stimulate your taste sense. Along with that, the sauce gives it a sleek, appealing appearance.
Total time: 20 minutes
If you are on an air fryer craze lately, try this ultra crispy and delicious air-fried dessert recipe. Chickpeas are going to be your new favorite snack. You can nibble these peas all day without getting tired of them.
The air fryer is a game changer as it cuts down the roasting time, and you don't have to dry the chickpeas beforehand. The seasonings are also simple, with only olive oil and other spices. The air fryer will take good care of the remaining work.
To ensure consistent cooking, don't forget to shake the chickpeas occasionally. The end product is a dish of richly spiced crispy fried chickpeas with a spicy kick from paprika and cayenne.
Total time: 30 minutes (exclude 1 hour of chilling time)
Falafel is a specialty of Middle Eastern cuisine. The main ingredient of this dish is canned chickpeas, fresh herbs, and spices. They come together in the shape of balls or patties. You can upgrade these balls into a healthier version with an air fryer.
To recreate this dish, blend all the ingredients, let the mixture rest, and form it into small balls. The key to successful Falafel balls is to let them settle in the fridge. Doing so allows them to hold up well when frying.
These balls are super crispy and have golden outside; they are airy and are full of fresh herbs' flavors from fresh parsley, fresh cilantro, and fresh dill on the inside. These bad boys will be just as delicious on day 5 in the fridge.
Anyone can make delicious air fryer Falafel with this simple tutorial.
Total time: 45 minutes
Take your vegetarian cooking up a notch with this buttermilk fried mushrooms recipe. Oyster mushrooms will transform into savory, crispy "fried chicken" with just a few simple steps. Serve this specialty to your family, and they will be amazed at how delicious mushrooms are.
This recipe requires oyster mushrooms, buttermilk, flour, and spices. First, you must marinate the mushrooms in buttermilk for them to absorb the rich, tangy flavor. You will dip these mushrooms in the breading mixture several times for a crunchy layer.
These mushrooms are the perfect treats. You don't have to feel guilty while savoring them. They only need a few oil sprays to avoid sticking to the air fryer and create an appealing brown coating.
Total time: 31 minutes
These vegan air fryer corn ribs are about to be your new favorite snack and side dish. This dish is a fantastic substitute if you are a vegetarian but still yearn for some BBQ flavor. Even meat eaters can't resist the appeal of this dish.
For the ingredients, you'll need corn ears, oil, seasonings, and BBQ sauce. The BBQ sauce makes these corn ribs stand out. Before dipping your corns in this glorious liquid, you need to quarter them to make them look like regular ribs.
While they are on their frying trip in the air fryer, you should give them some shakes for even color. There is always room for extra BBQ sauce; brush some on the corn before putting them back in the air fryer. Be ready for savory corn ribs with sweet, smoky BBQ coatings.
Total time: 22 minutes
Instead of greasy roasting, you can try these air fryer veggies stuffed zucchini boats. These lovely boats consist of various fresh veggies stuffed into zucchini halves. It is straightforward to make and full of nutrients.
There are two steps involved in the making process of this recipe. Your first step will be washing and cutting the zucchinis in halves, then removing their seeds. The second one is to make the filling with tomato, jalapeno, red bell pepper, and cheese.
The natural sweetness of zucchini, tomato, and bell pepper blends beautifully with a spicy kick from the jalapeno. Additionally, the melted cheese offers a creamy texture and adds a rich, mịkly taste to the veggies.
Total time: 10 minutes
In search of a wholesome air fryer snack? You have found it with these easy and crispy kale chips. With the help of an air fryer, you can avoid using too much oil. Additionally, they are super easy to make with simple seasonings.
The first thing to do is to remove the kale stems as they take longer to cook and are tasteless. You can customize the seasoning to your liking, but some suggestions are salt, ranch seasoning, or Italian flavoring.
Unlike the oven, you don't have to spread your kale on a single layer. With an air fryer, you only need to shake it occasionally to ensure everything cooks evenly. The resulting kale chips are so crispy and delicious.
The air fryer kale chips are tasty and easy to make with this guideline.
Total time: 15 minutes
These air fryer green beans are the crunchiest and tastiest veggie side dish you have ever tried. There is nothing better than savoring these crispy treats as a side at family gatherings or parties.
You must cover the beans with olive oil first, then add some garlic cloves and seasonings. Roasted garlic cloves have a special aroma that makes the dish more attractive.
This recipe is a perfect fusion of fresh green beans and aromatic garlic. To fry these veggies to perfection, you have to dry them beforehand, or they can turn soggy later.
Total time: 23 minutes
Polenta is a famous Italian specialty made of coarsely ground corn. It has a creamy texture with a light corn taste. People usually enjoy polenta as a hot porridge. However, this recipe uses thin tubed polenta slices to form the fries. They are perfect for starting a meal.
It is straightforward to make this dish. Cut the polenta log into small slices and then season them with salt and pepper. The air fryer will take good care of the remaining work. After some time in the air fryer, the polenta bars will have a crispy texture while the inside is creamy.
These fries will pair beautifully with some dipping sauce. Many types of sauce can go hand in hand with them. I highly recommend ketchup, sriracha mayo, ranch dressing, and buffalo sauce to highlight the subtle corn flavor of these fries.
Total time: 55 minutes (including 30 minutes of marinating time)
The next delicacy I want to introduce has an Asian cuisine twist. It is a famous Indonesian food made from fermented soybeans. In this recipe, buffalo sauce is the marinade for the tempeh.
The tempeh has a nutty, mushroom-like flavor. This flavor comes together excellently with the spicy buffalo sauce. In addition to the buffalo sauce, the marinade also has garlic and chili powder. The panko breadcrumb is also a must to create a crunchy mouthfeel for the tempeh.
The tempeh strips need to rest in the marinade for 30 minutes to absorb the essence of buffalo sauce. You should reserve some marinades to toss with those strips. I suggest enjoying them immediately as these strips can turn soggy if they sit in the sauce for too long.
Air fryer buffalo tempeh is so savory that it will make your mouth water.
Total time: 20 minutes
Leave some space in your air fryer for these crispy potato pancakes. Follow this recipe to utilize the leftover mashed potatoes you have. It is easy to make these pancakes, and you can serve them alone or with other dishes.
These pancakes' patties combine mashed potato, flour, egg, and green onions. The spring onions add a mild flavor and unexpected crunchy sensation to every bite. The egg keeps the pancake moist and helps enhance the color.
You can top mashed potato pancakes with shredded cheese or sour cream. Additionally, bacon and ham are good choices if you are not vegetarian. Besides mashed potato, you can put your leftover hash brown or grated potato to good use with this recipe.
Total time: 40 minutes
The king of snacks, according to many, is French fries. However, today kohlrabi fries come to challenge that title. They are gluten-free and full of nutrients with no greasy aftertaste. These kohlrabi fries will be your newest snack staple.
Kohlrabi is often called German turnips. It is the same species as cabbage, broccoli, and cauliflower. Its flavor is similar to broccoli stems but sweeter. It usually comes in purple or green color. After frying, kohlrabi fires are crunchy and still hold their textures well.
Frying kohlrabi is simple. After slicing kohlrabi into pieces, you need to season them with a mixture of onion and garlic powder, smoked paprika, and cumin. You must toss the pieces midway through frying to ensure they cook evenly.
Total time: 15 minutes (excluding 8 hours of marinating time)
This Italian herb tofu is a potential upgraded version in case regular air fryer tofu cannot satisfy your taste sense. In this recipe, the organic tofu meets Italian herb seasoning to create a healthy yet extraordinary snack.
For the extra firm tofu, you don't have to press as draining the water from the packaging is enough. Perfect marinade ingredients include liquid aminos, Italian herb seasoning, garlic powder, and onion powder. You can marinate it for 15 minutes and up to 8 hours.
With or without oil, the tofu is still crispy. However, a few sprays of olive oil will help the seasoning to attach better and create a crunchy layer. I advise flipping each tofu over for even crispiness on both sides at the halfway point of cooking.
Total time: 15 minutes
You can switch up your frying game with this crispy air fryer-fried okra. Deep-fried okra is often greasy, but with this air fryer recipe, you can say goodbye to oil splatters. You can pull off this specialty effortlessly.
Fresh okra tastes like eggplant with a crispy outside, but it is soft when cooked. For this recipe, okra will need a cornmeal mixture layer for the extra crunchiness. The mixture contributes tons of flavor to the profile of okra.
I highly recommend spraying these okras with cooking spray oil twice for extra crunchiness. In addition, you can remove cayenne pepper if you are not into spicy food. Some smoked paprika is a great alternative for cayenne pepper, or you can use both for more heat.
Total time: 5 minutes
If you have never liked broccoli, try using an air fryer to materialize an undemanding broccoli treat the next time you're in the kitchen. This broccoli specialty is ultra crispy and delicious. A touch of paprika and ground cumin completes it magically.
You will need broccoli as the main ingredient and other simple condiments for seasoning. Try to use broccoli florets in the same size for even cooking. A quick toss in the seasoning mixture will offer the florets significant garlic flavor.
You can make them tender and extra crispy by shaking the air fryer compartment when halfway through. Frozen broccoli florets also work, but the frying time will be longer. Take the broccoli out and serve them with black pepper or Parmesan cheese.
You can recreate air fryer broccoli with this simple video.
Total time: 13 minutes
These air fryer jalapeno poppers will revolutionize your vegetarian cooking. You can whip them up and enjoy them without breaking a sweat literally. I said 'literally' because they are super easy to make and don't have that sweating spicy kick.
To reduce the spiciness, you must cut the jalapenos in halves. After that, remove the seeds and the membranes. The filling for the peppers will be a mixture of cream cheese, breadcrumbs, and parsley.
If you want a spicy taste to awaken your taste sense, you can leave the seeds and membranes of the chili whole. Apart from that, you can spray the breadcrumbs with olive oil for browning and adding crispiness to the texture.
Total time: 20 minutes
This air fryer onion pakoda is a healthy twist on the traditional deep-fried pakoda. Pakoda is a popular Indian dish. It consists of deep-fried onion with gram flour and herbs. It is ultimately crunchy and savory, perfect for snacking or serving as a delectable vegetarian-friendly appetizer.
The secret of this delicacy lies in the batter. It includes cilantro, green chili, rice flour, and chickpea flour. I recommend using red onions for a sharper flavor, but other types of onions are acceptable.
This onion combination shouldn't be watery like deep-frying batter but slightly solid. Additionally, you should put too many onion pieces in the air fryer as they will stick together. Onion pakoda is crunchy, and its flavor can blow you out of the water.
The air fryer onion pakoda is just so good and effortless to prepare with this tutorial.
Total time: 20 minutes
This air fryer carrots recipe is a palatable creation for enjoying short ribs at your next party. Carrot and fresh herbs flavors explode on your tongue with every bite. Not only do they taste delectable, but they are super simple to prepare.
All you need to recreate this dish is carrots, parsley flakes, dried oregano, ground thyme, and other condiments. Once you finish slicing the carrots into equal pieces, toss every ingredient until they coat the carrots. Then, your carrots are ready for the air fryer.
After some minutes, check whether they are ready by poking them with a fork. You can eat these carrots alone, but I recommend eating them with protein to complete a meal.
Total time: 25 minutes
Following this air fryer blooming onion recipe instead of the more common deep-frying method, you may significantly reduce the amount of oil used. This delicacy deserves a spot in your air frying rotation.
For this recipe, you will need a Vidalia onion. It is large and has a sweet flavor. The most challenging task when making this dish is preparing the onion. To transform the onion into a blossoming petal, you must chop it carefully.
Before frying the petal, you have to coat it with a flour mixture and an egg mixture. An aluminum foil sling will come in handy in assisting in frying pental onion. You can serve this stunning blooming onion with your favorite dipping sauce.
You don't need too much oil to make an air fryer blooming onion.
Total time: 13 minutes
This bell pepper recipe does an excellent job of bringing out the best flavor of this vibrant fruit. Sweet peppers, onions, and olive oil create a simple yet delectable side dish using the air fryer. It goes hand in hand with many Mexican delicacies, salad, and chicken breasts.
Each type of pepper has a distinctive flavor, but they share a mild sweet taste. The sweetness from bell peppers resonates with the onion's sweetness for comforting, soothing flavors in your mouth.
You can store the leftovers in the refrigerator for 4 or 5 days, but they must be tightly covered. They can stay good in the freezer for 4 to 6 months.
Total time: 13 minutes
This air fryer popcorn will be better than any popcorn in a movie theater. Besides being simpler to make, popcorn now has a fluffier texture and better flavor. Or even better, turn it into various flavored popcorn recipes by adding other ingredients.
Making popcorn with an air fryer is straightforward. Place the foil liner in the air fryer first, followed by the oil-tossed corn kernels. Once all the kernels pop, you can remove them and add melted butter and salt.
If the popcorn kernels are not popping, you can try shaking the tray a few times and continue frying them. You should start a new batch of corn if it doesn't work. The best part about this recipe is you can customize the popcorn with your favorite flavor.
Total time: 18 minutes
You can notice an Italian twist in this air fryer recipe. Gnocchi is a famous Italian dumpling. People usually eat it as an appetizer or pasta. You pull off this crispy air fryer gnocchi in no time.
The remarkable thing about this vegetarian-friendly pasta dish is you don't have to boil the Gnocchi beforehand. You just need to toss them with salt, pepper, and olive oil before frying them in your air fryer. Make sure to shake them once in a while.
The recipe is simple with salt, pepper, and olive oil, but you can be creative with the flavoring and the sauce. This crispy gnocchi treat will become your family's favorite snack. It can stay good in the refrigerator for up to 2 days.
Total time: 25 minutes
These air fryer cabbage steaks have a perfect scorched outer layer, while the internal is tender and juicy. Garlic salt, onion powder, olive oil, and fresh Italian parsley are the main ingredients to season these cabbage slices.
The dish is worth featuring in your tasty list of cabbage side courses to whip at any time. To prepare this dish, you will need green cabbage because it has a mild taste that highlights the seasoning's best flavors. You can choose between olive oil and butter to toss on these steaks.
When slicing the cabbage, remove the stem but keep the core intact as it will help hold the steak as a whole when you fry. You can store these steaks in the fridge for up to 5 days. For extra crispiness, you can broil them in the oven.
Total time:15 minutes
You don't need to go to the supermarket to get a bag of tortilla chips. With this recipe, you can make tortilla chips in your air fryer at home. They will taste better than store-bought tortilla chips.
A few slices of tortilla, salt, and olive oil are all you need to pull off this tasty snack. The first step is cutting tortillas into equal pieces, then sprinkling them with olive oil and salt. When placing them in the air fryer, you must spread them evenly.
You can munch these snacks without feeling guilty because they are healthier than deep-fried ones. Tortilla chips pair beautifully with salsa, cheese sauce, or your favorite sauce.
Air fryer tortilla chips will be your new favorite snack if you follow this tutorial.
Total time: 30 minutes
Are you looking for a delicious recipe that's suitable for Daniel Fast? Look no more because this air fryer black bean burger will satisfy your craving. Healthy black beans combine with other veggies to form a creamy, tasty burger patty.
The most challenging step when preparing these burgers is processing the black beans. They require various stages of drying and seasoning. However, savory, delicious patties will be worth your efforts.
I suggest serving these black bean burgers with sliced cheese and fresh vegetables. You can enjoy them with your favorite sauce too. The storing time for patties varies from 4 to 6 days in the refrigerator.
Total time: 15 minutes
This air fryer squash should be on the top list of vegetarian side dishes to impress your family members since it only takes a snap to make. You can serve this dish alone or pair it with pasta sauce or other veggies.
When you have a handful of summer squash, cut them into thick rounds because thick ones maintain their shape better. Next, add olive oil and flavorings and give them a good mix. After that, place these slices in the air fryer for frying but try to spread them evenly.
Once these squash slices are ready, they will have a vibrant, attractive yellow color. However, you can't make this squash dish ahead because it will turn mushy when reheating.
These Different Air Fryer Vegetarian Specialties Would Make Life Easier!
The air fryer is an outstanding kitchen appliance. It offers so much convenience for home cooks. The reduction in cooking time and the oil decrease when cooking are the two extraordinary advantages of the air fryer.
You can prepare so many vegetarian dishes with an air fryer. That also causes a problem because deciding what to make can be hectic. However, with this list of 25+ vegetarian dishes, you can now choose what to prepare for your family.
Remember to click the "like" button and leave a comment below if you enjoyed the recipes above. Please share this article on your social media. Your support motivates me to create more quality content.