If you are looking for the best air fryer side dishes to serve with the main course among thousands of recipes, feel free to grab your favorite recipes in this list below. I am sure you will love it!
But first, let me give you an applause for such a wise choice to make an air fryer side dish. Many recipes, such as oven-baked dishes, one-pan dishes, or sauteed beefsteak, often require a complicated process and strong seasoning.
On the other hand, with easy-to-find ingredients and easy-to-cook recipes, finishing a delicious air fryer side dish is just a piece of cake. You can also use the device to cook finger-licking air-fried desserts, main dishes, or appetizers that no one can refuse.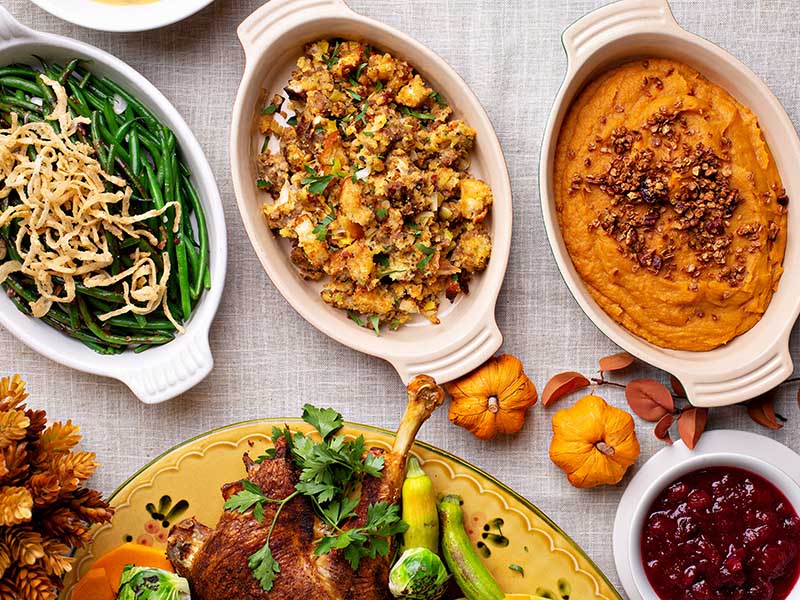 Air Fryer Side Dishes Are Fast And Healthy To Make
If you want a recipe to round out your perfect feast meal or family dinner, look no further than the list of best air fryer side dishes that I will list below for you. These quick and easy air-frying foods will come to save your appetite.
Total time: 20 minutes
If you're worried that you crave too many unhealthy junk foods, these sweet potato fries are here to rescue you. Air-fried sweet potato fries are tasty, crispy, and sweet. They are rich in vitamin A and have lower carbs and calories than deep-fried ones.
Sweet potato fries have a moderate nutritional content with no link to obesity or high blood pressure, so they are healthy to eat. However, it still has some health risks if you consume them in large portions, so make sure to control your serving size.
Common main dishes that you can serve along with air fryer sweet potato fries include BBQ staples, beefsteak, fried tofu, etc. And instead of French fries, why not try this healthier side dish with chicken wings? Your family will surely like it a lot.
Total time: 8 minutes
If you want to find a new style to cook broccoli, try this broccoli Parmesan version in an air fryer's recipe. Broccoli is known to have benefits for anti-cancer and abundant vitamins. Plus, parmesan is also highly nutritious with a load of protein, minerals, and calcium.
Many cooking techniques can take away some of broccoli's nutrients. However, the interior of roasted broccoli is largely untouched during heating pressure. You still absorb a lot of retained nutrients while enjoying the dish's crispy and smoky flavor.
Air-frying broccoli parmesan matches well with seafood and pasta, so you can choose to serve it with baked salmon, garlic butter shrimp, white sauce pasta, or pesto pasta.
A broccoli lover cannot skip this recipe with a super easy recipe in an air fryer.
Total time: 25 minutes
Another tasty veggie you need to try with an air fryer is okra. If you dislike the slimy texture of okra, the air-frying method will help you love this dish immediately. They are low-calorie snacks and offer various potential health-boosting effects.
The dish is super easy to make: cut okra into pieces, season with salt (or any spice you like), coat with cornmeal, and fry. Try this gluten-free crispy okra in creamy chipotle sauce or lemon garlic mayo sauce. They taste incredibly delicious!
You can serve this fried okra with main dishes such as beef barbecue, grilled burgers, or baked chicken parmesan. This dish can also be a great healthy snack during your tea time or at a lovely brunch with your loved ones.
Total time: 20 minutes
If you love asparagus, this side dish is perfect for you. Air fryer bacon-wrapped asparagus tastes extremely scrumptious and eye-catching. They deserve a 5-star highlight on your festival dining table beside the main courses.
This recipe requires no oil as the fat from bacon will cook and add flavor to the asparagus. Try to choose the thin bacon to wrap fresh asparagus stems so they can be cooked evenly. Sprinkle grated parmesan cheese on top and let them cook for a few minutes.
Set aside this side dish with its accordingly main course such as spaghetti carbonara, shrimp alfredo pasta, ham and cheese, risotto, tuna, etc. You can also add cheese to elevate the dish's flavor.
You can use this delicious air fryer bacon-wrapped asparagus as an appetizer or side dish.
Total time: 15 minutes
If you are in the mood to look for a healthy fries side dish, give this simple, easy and quick recipe a shot. Carrots may be less famous than zucchini or asparagus when it comes to common picks, but their taste is a lot more delicious than you think.
Carrots have a firm texture, so you need to cut them into even chunks to cook. Air-frying carrots turn out so well with a crispy caramelized outer and sweet interior. For this veggie, I suggest you use extra virgin olive oil or avocado oil for more flavors.
This mouth-watering gluten-free side dish goes well with everything. Shepherd's pies, turkey breasts, steak bites, roast chicken, or Schnitzel are some popular suggestions, but feel free to prepare your favorite dishes alongside these carrot fries.
Total time: 20 minutes
As a cabbage family member, brussels sprouts are full of Omega 3 fatty acids, fiber, and other nutrients. Furthermore, the veggie is an undeniably delicious pick to accommodate cod for a healthy homemade course. Make sure to make these must-try fried brussels sprouts for your loved ones.
To make this low-carb dish, add seasoning to these fresh brussels sprouts in a bowl and mix them well. Toss them in the preheated air fryer, fry for 8 minutes, then drizzle shredded Parmesan cheese on top at the last few minutes. Very quick and simple for a tasty side dish.
This is a remarkable side dish to serve with pork chops, roasted chicken, beef stroganoff, etc. When cooked properly, they are no different from a restaurant-quality dish.
If you're still in doubt about brussels sprouts, this tasty recipe will change your mind.
Total time: 37 minutes
Another signature veggie fries for those looking for a ready-to-go accompaniment with burgers is fried zucchini. The dish is an impeccable replacement for potato fries to refresh your dinner. These crunchy zucchini fries are tasty and low in carbs.
You can fry zucchini plainly and eat them as they are, or coat zucchini sticks with flour mixture and breadcrumbs so they can be crunchy when frying. Either way is healthy for you as long as you cook zucchini in an air fryer. It's quite easy, isn't it?
So, what dishes should you eat these garlic zucchini fries with? Let's try this side dish if you have main dishes such as egg curry, chicken and sausage gumbo, air fryer steak, zoodles, and shrimp.
Total time: 20 minutes
If you are sitting on the fence about what side dish to serve for dinner, why don't you try this delicious air-fried recipe for a vegetarian diet? The dish contains cauliflower, a too-good-to-skip vegetable in terms of tastiness and health benefits.
An air fryer is the best way to have this cauliflower crispy and still healthy to enjoy. The crunchy fried cauliflower and the lovely aroma of herb and lemon make a perfect combination for your taste. Drizzle some olive oil to add more flavor to this yummy veggie.
This healthy side dish will balance your diet with meaty and protein-rich main courses such as pan-fried chicken breast, pan-seared salmon, or stuffed pork tenderloin.
Try this fried veggie in a keto-friendly way for your healthy consumption.
Total time: 30 minutes
Fried eggplant is one of the most common dishes around the world. This simple ingredient is also the top accompaniment for a keto diet, cutting down your daily carb consumption. Furthermore, the dish is easy to follow and recreate at home.
Despite the good taste of eggplant, some people don't like its limp flesh. However, once you air fry eggplant, its texture becomes firm and crispy for you. Particularly, you will need to choose the eggplants with smooth and firm outer when squeezed for the best result.
You have various options to pair this side dish with, such as lemon pepper chicken breast, pan-seared pork loin steak, air fryer pork belly, or olive salad.
Total time: 20 minutes
If you are a fan of acorn squash, then this recipe is exactly for you. The acorn alone is rich in fiber and vitamin C. An air fryer is the most convenient tool to elevate the flavor of your acorn.
This recipe only takes less than half an hour to complete. You don't need to peel the acorn's skin, but make sure to clean them well and scoop out the seeds before cooking.
Rub the flesh with your favorite spice mixture and toss a slice of butter in the center of the acorn for a more buttery flavor. Fry them for 15 – 20 minutes at 400°F, and here you are done with the simple air fryer acorn squash recipe.
You can eat acorn squash plain or stuffed with your favorite filling, such as ground meat, chopped vegetable, or cheese. You can also place this side dish along with meat or poultry dishes like air fryer chicken legs, roasted turkey, or steak bites.
Total time: 17 minutes
Many of you may prefer roasting or grilling the corn, but an air fryer is also a great option for a healthy meal. Air-frying corn will turn crispy outside and tender inside, which I believe will match your taste.
It's not necessary to add more oil to fry the corn cobs. You can season them with butter. Toss about 3 – 4 ear corns in the basket in a single layer in a preheated air fryer and start the frying.
You can serve air fryer corn as they are, which is already so good. Crispy corn can also match many dishes like hamburgers and patties, fried bacon, salads, baked chicken goujon, etc.
Try this easy and fast recipe for frying a corn cob in the air fryer.
Total time: 22 minutes
Deep-fried onion rings are indeed delicious. However, they're also high in calories. With an air fryer, your onion rings can be incredibly crispy and crave-worthy with no extra fat or calories.
This recipe is a tasty option for cherishing your catfish menu with its incredible crunchiness. The secret to the crunchy exterior is a well-whisked flour mixture and breadcrumbs. You may struggle to stack all of them in an air fryer basket, so you should fry the rings in batches.
You can serve this guilt-free snack with ketchup, hot chili sauce, or mayonnaise. Fried onion rings will be perfect for enjoying with dishes such as burgers, air fryer chicken wings, fried chicken legs, and French fries.
Total time: 20 minutes
Another member of the "healthy fries family" is Yukon gold potatoes. This golden-hued potato tends to have a smaller size with a creamy flavor and less starchy texture compared to other regular potatoes.
It doesn't take much time to prepare these mouth-watering potato sides to accompany your favorite dish. You can let the skin be or peel them. As long as you season them well, Yukon gold potatoes will taste perfect.
Your favorite Yukon gold potatoes will taste better with grilled salmon steak with asparagus, sauteed seafood, and chicken dishes.
Total time: 7 minutes
Don't forget this masterpiece if you're looking for some fried vegetables for your meal. It may sound odd to you to fry this mushy veggie, but the air fryer will tell a different story.
Let me share with you the fact that cooked spinach is better in some ways. Heated spinach helps you absorb high levels of vitamins and reduce the oxalate amount from its raw form. Therefore, feel free to eat cooked spinach.
It's quite simple to cook this recipe. You only toss the seasoned spinach into the air fryer basket, then fry for 5 minutes. They turn out perfectly crispy for you to enjoy.
Air fryer spinach will be perfect for serving with many tasty dishes like chicken nuggets, sliced potatoes, air-fried quiche, or mashed cauliflower.
Total time: 5 minutes
Nachos have been one of the top favorite foods for people around the world. The main ingredient of this Mexican snack is Tortilla chips cut into bite-sized triangles. As easy as it is to find this ingredient, try to make homemade nachos with your air fryer.
Choose your favorite nachos chips (avoid the heavily flavored chips) and cover them with salsa and shredded cheese on your preference. A very simple and super delicious dish to enjoy.
Make sure not to overcook them for your best serving in a meal. There are various dipping sauces to use with it: Tabasco sauce, guacamole, queso, and tomatillo salsa.
Total time: 11 minutes
Dumplings are so delicious, right? An air fryer is the best solution if you want to enjoy crispy dumplings without dealing with oil spatter. Air-frying dumplings will be so much healthier and more delicious for you to enjoy.
If you purchase a bag of frozen products, just toss them in the air fryer and wait for a few minutes to enjoy. Thawed or unthawed frozen dumplings are still fine to fry straight away. There you go. It's super easy.
For the dipping sauce, which one will go well with fried dumplings? There are many options for you. It could be regular soybean sauce, sweet hot chili sauce, or BBQ sauce. As long as you love it, any sauce will taste perfect with these dumplings.
Don't miss this easy guide to air frying frozen dumplings.
Total time: 38 minutes
If you are planning to make biscuits this weekend, how about trying to cook them in an air fryer instead of the regular way in the oven? They taste delicious, crispy, and buttery enough to be available in your chilling tea time.
Prepare the biscuit dough with flour, sugar, and buttermilk. Transfer the cut dough pieces to the basket, and brush with melted butter. Air fry them until they turn into golden brown color.
Air fryer biscuits are very easy to mix and match with various dishes. You can serve them with chicken noodle soup, gravies, instant pot beef stew, and so on.
Total time: 15 minutes
I believe this recipe will soon be your next favorite dish. Garlic bread is super fast and easy to make, and you can customize them flexibly to fit your taste. If you have an air fryer, the result will be perfectly crispy outside with a soft texture in the middle.
Whisk butter, garlic, dried parsley, and parmesan together as a smooth mixture to brush over the sliced bread. Lay them in the air fryer at 350°F for 5 minutes. To enjoy its best taste, you should serve this side dish immediately right after.
Garlic bread is a perfect pair for any kind of hot soup or stew to dip in. You can also serve this with simple pasta dishes, chicken, beef, or vegetables.
Total time: 40 minutes
Latke is a type of fritter made with 3 main ingredients: grated potatoes, onions, and a binder. It is a must-have for any list of the best Hanukkah foods for desserts, appetizers, or sides. One of the advantages of an air fryer is that it can create perfect latkes with a crispy outer and a tender interior.
Air-fried latkes can be new to you, but trust me, they're worth trying. Mix the grated potato with seasoning, flour, eggs, and matzo meal together. Form the mixture into small patties, then place and start frying them in the air fryer.
These simple-to-make latkes will come out crunchy and delicious. Serve this crowd-favorite side dish and snack with sour cream or applesauce.
Total time: 1 hour and 50 minutes
If you're thinking of inviting Indian side dishes, here is a perfect chance for you to show off your cooking skills. These samosas are fried pockets stuffed with a savory filling. Nobody can refuse these tasty and lovely pyramid-like flaky pastries.
Making samosas from scratch takes about 20 minutes to prep the dough and stuff the filling. Once you have these pocket-shaped samosas, coat them with oil before air frying. The completed dish will surely satisfy your taste buds a lot.
Serve this versatile samosa alongside these main courses: spicy curried whole roasted cauliflower, papaya quinoa salad, or lentils and brown rice.
Make yourself a light dinner with this simple and healthy samosa recipe.
Total time: 25 minutes
Hash brown is similar to Latkes, but it's from American cuisine. If sometimes you crave a hash brown but feel lazy to go to McDonald's, you can easily make a homemade one with this oil-free and super-easy recipe.
It's better to use starchy potatoes to make this recipe. Grate the potatoes first, then squeeze all the water out for a better base. Mix these shredded potatoes with season, egg, and flour. Scoop the mixture and make them into nugget-like shapes before frying.
It costs you less than half an hour to have the dish cooked. Enjoy this healthy hash brown together with bacon, corned beef, ham, or cheese to upgrade your meal's quality.
Total minutes: 20 minutes
If you often eat oven-baked chicken wings, today, let's try a healthier version by using an air fryer. They still turn out greatly crispy for you without extra fat, calories, and cooking oil.
This recipe doesn't cost you a lot of effort to prepare. Coat the chicken wings with your favorite seasonings before placing them in an air fryer. Make sure to place the pieces without touching each other so they can be cooked evenly.
You can have these chicken wings along with other side dishes such as cheese sticks, carrot sticks, fried veggies, or corn on the cob. And don't forget to make your favorite sauce. They can be Jalapeno ranch, buffalo sauce, or cilantro lime dip.
You won't regret trying this flavorsome chicken wings recipe.
Total time: 22 minutes
Don't skip this dish in your daily meal. They are easy to make and also so good to enjoy in a fancy family dinner meal. This crowd-pleasing dinner dish cooked in an air fryer will turn perfectly tender-crispy and deliciously pleasant to enjoy.
For this recipe, chop the bacon into small pieces and have them first cooked in an air fryer. Later, add the green beans with some salt and pepper. Make sure to have ingredients cooked thoroughly before pouring them onto a plate.
Serve these crispy green beans and bacon with crockpot meatloaf, chicken parmesan meatballs, and smashed potatoes.
Total time: 33 minutes
This is too good for a side dish! Having this fried stuffed mushroom with crab for dinner is over the moon. I am sure both you and your family will like it a lot. It may look complicated, but very easy to make for you.
Try this recipe with immature Portobello or Baby Bella mushroom. Wash them clean and remove all the stems. For the filling, mix the season well with crab meat before adding it to oil-sprayed mushroom caps.
This gluten-free and low-carb dish can be hard to resist. Your party will be even better if you serve this with baked chicken wings, stuffed chicken breast, or bacon-wrapped Jalapeno poppers.
These delicious and quick-to-make stuffed mushrooms can win everyone's heart!
Total time: 15 minutes
Seafood lovers certainly can't miss out on this fun party staple. If you have an air fryer, making this classic dish will be a breeze. You can use the device to prepare a few great dishes to accompany shrimp as well.
Spray oil around the basket and place cleaned and fresh shrimps in even layers. Sprinkle some salt and pepper on them to be more savory to enjoy. Air fry the shrimps at 400°F for 8 – 12 minutes.
While waiting for the done shrimp, prepare the sauce with these ingredients: ketchup, lemon juice, horseradish, and Worcestershire sauce. Mix them well in a small bowl. Finally, garnish the cooked shrimp cocktail with fresh herbs around the edge.
Have You Decided Which Side Dish Is Best For Tonight?
An air fryer is an easier and healthier version of roasted and baked food but healthier. Moreover, these air fryer side dishes recipes will save more time and effort for you to focus more on other main dishes.
No matter if you have a simple or a crowded party dinner meal, these air fryer side dishes all work well. I hope the list above can help you figure out the favorite dishes for you to make and enjoy.
If you find this list helpful, let me know in the comment section below. Also, don't forget to share this article with the people around you!