Getting accustomed to your air fryer with these easy air fryer dinner recipes is an excellent idea. Figuring out how the air fryer works or adjusting the temperature can be confusing at first. Thus, these recipes will help you have a better time breaking into your next favorite cooking tool.
An air fryer has countless advantages you just can't deny. It makes healthier food in less time. Did I mention how there are also fewer pots and pans you have to clean? After these recipes, you will wonder why you didn't get an air fryer and start cooking with it sooner.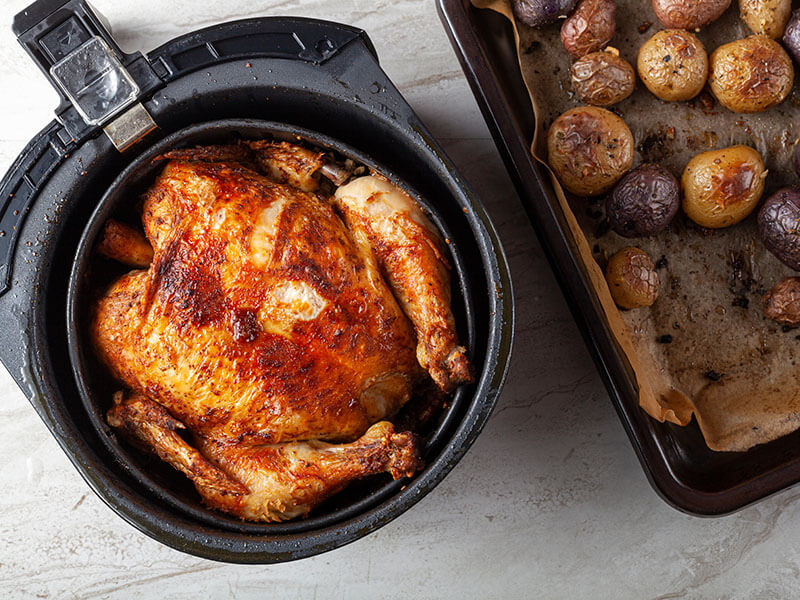 Simple And Delicious Recipes To Make With An Air Fryer
These recipes will show you that an air fryer can do much more than reheating your french fries. You can find a variety of dishes from steak and meatballs to tacos. All is done with a compact air fryer in your kitchen. Does that sound tempting enough for you?
Total time: 20 minutes
When talking about steak, most people would think of the roasted or seared type. However, chicken steak is a fried variation of steak you shouldn't miss out on. But it can be quite unhealthy to deep fry the steak in oil. Thus, this recipe for chicken fried steak might be better for you.
For those who are unfamiliar, you might think this is a crispy chicken cutlet. However, the term "chicken" in this dish is different. It's a term people use for a cooking technique, specifically breading and frying food.
This recipe will offer a healthier version of your normal chicken steak. Since you don't need a pot of oil but only an air fryer, your steak will come out less greasy. Having said that, the flavors are still the same or even better.
For the best texture, make sure to pound your beef to tenderize it. And for the best flavor, season your flour generously with spices like paprika and cayenne. These spices will give the steak extra kicks, and you will be able to taste it from the first bite.
This recipe for some quick and easy chicken fried steak is exactly what you need.
Total time: 40 minutes
Meatloaf is one of my go-to comfort foods that are hearty and flavorful. This dish can easily cheer you up after a long day of work, especially when you enjoy it with some ideal side treats for meatloaf. Now the process of making meatloaf is even simpler when you have an air fryer.
This recipe is perfect for you if you're looking for a simple classic meatloaf. With familiar ingredients like bread crumbs, onions, and mustard, you will have a juicy and tender serving of meatloaf in no time.
The sauce that goes on top of the meatloaf is also simple as it mainly consists of ketchup and Worcestershire sauce. Better yet, its tangy and sweet flavor fits right in with the meaty and juicy meatloaf.
Total time: 27 minutes
Meatballs make a great appetizer. On some occasions, you can also turn them into a main dish by switching them up a bit. Today, let's switch these meatballs up by covering them in teriyaki sauce instead of marinara sauce or gravy.
Besides ground beef, you can add ground pork to make the best dish. This prevents the meatballs from drying and turning chewy. Adding mayonnaise is another tip to keep your meatballs moist and juicy.
Since the teriyaki sauce is what makes this dish special, make sure to pick a quality brand of teriyaki sauce at the store. In this recipe, a delicious teriyaki sauce will ensure that the meatballs will come out packed with flavors.
These air-fried teriyaki meatballs are a great accompaniment to an Asian staple, and that is white rice. You can also pair them with salads and pasta.
Total time: 14 minutes
Let's put a pause on the chicken and cook some seafood. Starting the seafood list, I have a sea bass dish for you. This recipe will show you how to make some fragrant honey and soy sauce for Chilean sea bass.
Sea bass is famous for its subtle sweet and mild taste. Since it's a white fish, the meat is quite firm and won't break down easily in the air fryer. This texture is perfect for preserving the soy sauce flavors and the honey's delicate sweetness.
One important tip while cooking with sea bass is that you should let it rest properly. If the sea bass hasn't reached room temperature, you will get unevenly-cooked portions of fish that are not so enjoyable.
Total time: 35 minutes
This chicken dish is a famous recipe originating in China. In Western countries, it's a popular take-out menu that's widely preferred. Cooking this orange chicken with an air fryer will guarantee a simple yet tasty dinner in no time.
It might be uncommon to see orange juice as a cooking ingredient. However, this component has many significant impacts on the food, in this case, the chicken. It helps tenderize the chicken while flavoring the dish with its fruitiness.
On top of that, the addition of the citrusy orange coating brings a harmonious balance of sweet and sour to the chicken. Thus, you will taste less of the grease and more of the fruit sauce.
Orange chicken is a great dish to pair with some white rice or stir-fried noodles. If you want to cut down on your carbs intake, feel free to pair the chicken with some roasted vegetables instead.
Making orange chicken with an air fryer has never been so simple.
Total time: 44 minutes
Next on the seafood list is shrimps. I love this type of seafood because you can get so much texture and flavor from it. And this recipe will surprise you by enhancing the shrimp's flavor with simple ingredients like cilantro and lime.
There are many reasons you should try this recipe. One, it's extremely quick to make. Within 50 minutes, you will have a serving of spicy shrimps ready to serve. On top of that, these shrimps are painfully simple to prepare.
Despite the effortless preparation, the shrimps taste amazing. With spices like cayenne, paprika, smoked chili powder, and cumin, the shrimps will offer a complex taste note. They will also kick your taste bud with a subtle heat. The lime and cilantro will act as a bold cut to this heat.
These shrimps go well with most side dishes. You can make a refreshing slaw or salad, cook up some rice or pasta and pair them with these spicy shrimps. And you will have a nice and lightweight seafood dinner ready in under 1 hour.
Total time: 28 minutes
Let's stray a bit away from the seafood and talk about chicken. When talking about one dish that has the hearts of both kids and grown-ups, it has got to be chicken drumsticks. This type of meat is fragrant and tender, and you can cook it in many ways.
This recipe provides you with 3 ways to cook the drumsticks. After reading this recipe through, you can switch up your meals with some BBQ drumsticks, buffalo, and teriyaki drumsticks. My mouth is already watering thinking about them.
These ways of cooking drumsticks are very simple as they require around 23 minutes of cooking. On top of that, the chicken drumsticks will come out moist and tender as every inch of the meat packs with juice and flavor.
One way for a nice chicken color is not to cook them on high heat, as the heat will burn the marinade and turn the skin dark. To attain a moderate golden brown color for the outer skin, cook the drumsticks at around 356ºF so that they come out nice and brown.
Total time: 35 minutes
Next on the list, I'm going to talk a bit about cooking chicken breast. This type of meat is one of the leanest and healthiest cuts of chicken. However, it can be a bit plain by itself. That's why this recipe calls for some bacon so that your chicken can be more flavorful.
There's no great secret to this recipe of bacon-wrapped chicken breasts. The magic lies in the bacon itself as it exudes its fragrance and flavor into the chicken throughout the cooking process. You also have some spices to lace the chicken.
If you happen to have some leftovers, transfer them into air-tight containers. They can last in the fridge for up to 3 days. When reheating them, you can also use the air fryer. Just remember to pre-heat the air fryer before putting the chicken in.
Total time: 20 minutes
Smoked sausage and vegetables are healthy and quick dinner recipes that I enjoy whenever I'm tight on time. It contains an abundance of nutrients like protein, fiber, and vitamins. You also get to enjoy the smoky scent of the sausage as well as the succulent vegetables.
Unlike fried dishes made with an air fryer, this recipe is much healthier as it contains little oil and plenty of nutrition. The dish tastes excellent no matter what vegetables you pair with the sausage.
For an easy and tasty version, let's pair the sausage with some broccoli and sweet potatoes. As the potatoes take longer to cook, you need to cook them with some Cajun seasoning first before tossing in the sausage and broccoli.
Other vegetables that go well with this dish are butternut squash, asparagus, zucchini, and bell peppers. These vegetables are all great to cook in an air fryer as you don't need to spend too much time preparing them.
Total time: 35 minutes
Fish tacos are an easy Mexican menu item I enjoy making with my air fryer. This recipe takes much less time than when you're deep frying the fish in an oil pot. Moreover, air-fried fish tacos are much healthier and less greasy.
After making this recipe in the air fryer, you can taste the crispy fish that oozes with flavor. To produce the crispiest texture, you should use panko crumbs to coat the fish. On top of that, make sure to mix some seasoning into the panko to give the fish more flavor.
This recipe also provides you with a pineapple slaw, which helps to freshen up your palate after every bite of the pleasant and indulgent fish tacos. This version of fish tacos and pineapple slaw is perfect for summer as the taste is refreshing and light yet decadent and sumptuous.
One thing you should notice when making the slaw is not to make it too early. If you make it too early, the cabbage will turn soggy from sitting in the dressing too long. So get your timing right, and your slaw will be fresh and crunchy.
This is a recipe for some succulent fish tacos that you must try.
Total time: 50 minutes
Here comes another must-try taco recipe for you. This time, let's learn how to make some chicken tacos. These tacos are also healthy and easy to prepare, which are perfect for a busy dinner night where you need a quick meal.
When making these chipotle chicken tacos, you don't need to fry the corn tortillas before assembling the tacos. All you need to do is cook the chicken for a bit, assemble the tacos and let the air fryer turn the tortillas gold and crispy.
There's one more highlight of this dish that you should not miss out on. And that's the jalapeño crema that goes on top of the tacos. Mainly made from tangy yogurt, creamy mayonnaise, and jalapeño, the crema is an exciting addition to the tacos that will get you hooked.
Total time: 50 minutes
If you happen to love sweet and juicy chicken, this recipe is perfect for you. Let's dive into an Asian take on some chicken. This recipe is going to show you how you can have some moist and tender chicken in a Taiwanese soy sauce marinade.
I must say this way of making chicken is insanely addicting. What you have on the outside is the golden brown skin that is crispy and charred to the perfect degree. On the inside is the flavorful meat that you marinate in some soy sauce, sugar, five-spice powder, and garlic.
This dish uses chicken thighs, so you don't have to worry about rubbery and dry chicken pieces in the end. Having said that, pay attention to the temperature in the air fryer as the sugar in the marinade tends to burn the skin very quickly.
Total time: 25 minutes
One more chicken dish for my chicken fanatics reading this article. This one is for those who prefer their chicken meals with extra spice. In particular, this recipe includes some chicken with paprika seasoning.
Although the seasonings like paprika, salt and pepper, and garlic might seem plain, the final product won't disappoint you. Make sure to get quality chicken with firm meat. It's even better if you can find the chicken still with the bone and skin because those are what give this dish flavors.
You can pair this chicken with almost any side dish. If you are health-conscious, try pairing paprika chicken with roasted broccoli, carrots, or asparagus. On the other hand, paprika chicken goes well with pasta if you prefer something more indulgent.
Total time: 32 minutes
This is another recipe for shrimps you can make with an air fryer. The difference lies in the sauce that you coat the shrimps with. This sauce goes by the name "Bang Bang", and its creaminess will leave you addicted.
Bang Bang shrimp is a dish that took inspiration from the Chinese Bang Bang chicken. You can have this as an appetizer or as a main dish for dinner. Just like the recipe above, pair these shrimps with your preferred type of carbs, like rice or noodles.
Another way of eating this dish that I find quite common these days is Bang Bang shrimp tacos. It's a way of mixing Mexican and Chinese cuisine. I personally quite enjoy this as it combines the creamy shrimps with the crispy tortillas and gives an interesting texture.
Fry up some delicious Bang Bang shrimps for dinner with this simple tutorial.
Total time: 28 minutes
A treat for my beloved veggies enthusiasts! I'm sure you will fall head over heels once you try this amazing air fryer vegetarian-friendly recipe for some tofu in honey garlic sauce. It's crispy, it's full of flavors, and it's perfect alongside some hot white rice.
There are many ways to make your tofu tasty, and deep-frying them is one of the best ways, in my opinion. But drenching them in oil until they turn crispy and crunchy can be time-consuming and unhealthy. Thus, air-frying your tofu might be a better option.
While fried tofu on its own is already enjoyable, I feel like it needs more flavors sometimes. And this coating of honey garlic sauce is the perfect accompaniment. With some chicken broth, honey, and soy sauce, you can whip up a tasty sauce for your tofu.
Total time: 15 minutes
This recipe is to prove that you can prepare a fancy dinner meal with just an air fryer. Specifically, enjoy a nice steak on any weeknight in no time by putting it in an air fryer.
You may think that there's no way to compare an air-fried piece of steak with a pan-seared one. However, by adjusting the air fryer to the right temperature and selecting a good cut of steak, there's no reason why your steak should taste any less significant than seared steak.
The ingredients you use for air-fried steak are not much different as they include some salt, pepper, thyme, garlic, and parley. You also need some fat like olive oil and butter for a golden brown and fragrant outer layer.
Steak makes a great main dish to pair with some roasted vegetables or mashed potatoes. Sometimes if I'm feeling extra, I also add some mushrooms and shrimp for a surf and turf meal at home.
Total time: 18 minutes
A seafood recipe that I think you should not miss out on when you're having a dinner party is this version of lobster tails. With an inviting blend of butter, garlic, and herbs on top, these lobster tails are just the seafood factor that you need to complete your meal.
As opposed to what you may think, preparing lobster tails in an air fryer requires little effort. You only need to properly butterfly the lobsters, rub the garlic and herb butter sauce on top and throw them into the air fryer. Dinner will be ready in less than 20 minutes.
To ensure that your lobster tails turn out beautifully, opt for the larger tails as they have more meat. Though it's always better to buy fresh lobster tails, you can use frozen ones to save money. Just make sure the frozen tails have an even-toned color.
Total time: 20 minutes
If you're a big fan of Mongolian cuisine, you already know how delicious Mongolian beef is. I've tried making it the conventional way before. But it was time-consuming. That was until I discovered that air-fried Mongolian beef tastes just as good. My life has never been better since then.
With this recipe, you don't have to cook the beef strip by strip and wait for them to turn crispy. Thanks to the air fryer, you can cook the beef strips simultaneously in under 10 minutes. Then all there's left to do is coat the crispy beef in the sweet and fragrant Mongolian sauce.
Mongolian beef is an easy-to-make dish that's delicious with almost any side dish. My favorite food to pair with Mongolian beef is some hot and steamy white rice. The bold flavor of the sauce and the crispy beef and some hot rice is a perfect combo on a rainy day.
While cooking the beef in the air fryer, make sure you take the basket out and give it a few thorough shakes so that every single strip of beef is equally crispy. That way, you will get a good bite out of every piece of Mongolian beef.
​​Try this recipe of Mongolian beef for a tasty dinner dish.
Total time: 15 minutes
Lamb chops are one of my favorite ways to spice up a boring mid-week dinner. Here is a recipe that helps you make some juicy and tender lamb chops in no time.
Taking little time and effort to cook, lamb chops are a great alternative to the regular pork, chicken, and beef meals you normally have at home. By using bone-in lamb chops, it is guaranteed that the meat will pack with flavors.
Lamb is a type of meat with a unique flavor and richness, making it suitable with spices and herbs like rosemary and garlic. Along with that are some salt and pepper, which help bring out the essence of the lamb chops.
When cooking these lamb chops, make sure you're not overcooking them since overcooked lamb can be rubbery. On top of that, try to serve them fresh and warm for the best flavor.
Total time: 17 minutes
For some who don't prefer the taste of lamb chops, I have prepared this recipe for you. This is a recipe that showcases some wonderful pork chops.
This recipe also provides you with a recipe for a marinating rub. This rub is what gives your pork chops the tasty flavors and the beautiful color on the outside. It is a beautiful combination of paprika, mustard, onion, garlic powder, and salt and pepper.
By the brief description of the rub, I bet you can already imagine how flavorful the pork chops are going to be. With a tangy note from the mustard and the fragrance of paprika, onions, and garlic, you will find this dish irresistible.
One important part of making tasty air-fried pork chops is reheating the air fryer properly. By reheating the air-fryer, you can cook the pork chops more evenly, which results in beautiful and juicy pork for dinner.
Total time: 65 minutes
Yakitori is a famous dish originating in Japan. Now, you can enjoy these juicy chicken skewers at home with this recipe without needing to travel to Japan. The best part is they're easy to prepare, and you can store them in the freezer for future use.
Traditionally, people make yakitori skewers by grilling them over hot charcoal. However, not everyone has enough time and the equipment to set up a coal stove. Thus, making them with an air fryer is the second best option.
Reading through this recipe, you're going to see that the skewers only consist of some chicken thigh pieces and some spring onion that you briefly drench in a Mirin (Japanese cooking wine) and soy sauce marinade.
To make the most out of these chicken skewers, roast some sesame seeds and scatter them on top of the skewers when you take them out of the air fryer. Then pair the chicken with some rice and salad for a nice and wholesome meal.
Total time: 60 minutes
Now that I have talked about Japanese chicken, let's travel to India for a bit and make some Masala chicken. These chicken drumsticks are the juiciest drumsticks you will ever find. In addition, you will be amazed by the crusty and golden brown skin of the drumsticks.
Masala is an Indian spice mix that combines fennel, bay leaves, cinnamon, cumin, and a few other spices. This ground spice mix offers a great depth to whatever dish you're making. In this recipe, the mix will provide your chicken drumsticks with an exotic taste and flavor.
When biting into these drumsticks, you can sense a warm and complex taste note on your palate, making it a satisfying bite.
Total time: 17 minutes
Let's go back to making some seafood dishes. It would be a big mistake for me not to show you how to make some tender and moist salmon with an air fryer. In particular, I'm going to show you how to make an easy yet tasty rice bowl filled with teriyaki salmon.
Since teriyaki is a sauce with a sweet taste, you will find that it's a great pair with some delicate-tasting salmon. Unlike other types of fish, salmon isn't too pungent in terms of smell and taste, making it very easy to work with.
This recipe especially shows you how you can assemble some teriyaki salmon cubes and some other ingredients into a nice and hearty rice bowl. You have some nicely seared salmon bites, some avocado, soybeans, and brown rice. How healthy and delicious is that?
Total time: 52 minutes
Mushroom is a great vegetable to include in your meal. This ingredient always tastes wonderful and pleasant, whether you're pairing it with some meat or cooking it alone. This recipe for soy sauce mushroom is my favorite whenever I'm in the mood for some light meals with no meat.
Mushrooms already have a subtle sweetness. Now when you combine them with some soy sauce and sesame oil, this dish packs umami to the very last bite. The key to attaining such umami taste is not to overseason them and let them exude the natural flavor in the air dryer.
However, you don't need to worry too much about watery mushrooms in the end, as the air dryer will reduce the juice. Moreover, since the sauce simply consists of sesame seeds, soy sauce, and sesame oil, the mushroom will have a beautiful charred color.
This dish is one of the easiest dinner menu items you can make at home with only 4 ingredients. You can eat it on its own or pair it with some rice or air-fried steak.
Total time: 25 minutes
If you love buffalo wings but don't want all the extra calories, this recipe is for you. Still full of the flavors from the buffalo sauce, this version is much healthier as you're using shredded chicken to fill in zucchini skins.
Chicken wings can sometimes be unhealthy since they're packed with cholesterol. That's why I'm substituting it with shredded chicken and some zucchini skins. Not only is this more filling, but it's also healthier and tastier for you.
This dish is low in carbs yet full of flavors. What you get on top of the chicken in the zucchini is some melty cheese and cream cheese. These additions help create a smooth mouthfeel with a decadent taste.
Total time: 34 minutes
Egg rolls are a classic Chinese takeout menu item that I'm sure almost everyone loves. However, regularly ordering takeouts can cost quite a sum. Therefore, it's more economical if you could learn how to make these at home with this recipe.
Unlike in Chinese restaurants, this recipe gives you less greasy and super crunchy egg rolls. By frying them in the air fryer, you can preserve the golden brown crust of the rolls while cutting down on the oil.
These egg rolls include many diverse ingredients like pork, cabbage, onions, and celery. You can feel different textures of these ingredients when biting into these rolls. On top of that, these rolls also use sesame oil and ginger to bring out the best aroma.
Making delicious air-fried egg rolls at home is no longer challenging with this tutorial.
Total time: 30 minutes
I enjoy cooking with white fish as the flesh is firm and full of flavors. Whitefish is also versatile as you can pair it with different sauces and side dishes. One of the best sauces to pair some white fish with, in my opinion, is tartar sauce.
Some common types of white fish you would see are cod, tilapia, haddock, and catfish. This recipe calls for some cod fish. In this recipe, your cod has a coating of some panko, coconut, and spices like chili powder, garlic, parsley, etc.
Cod filets that are tender on the inside and crispy on the outside are exactly what I want for dinner in the summertime. And what's even better is there is a healthy tartar sauce to elevate the fish, adding a slightly creamy texture to your meal.
Total time: 30 minutes
Pork tenderloin is a lean pork cut that is believed not to have much fat. However, if you follow through with this recipe, you can have some of the tastiest and most flavorful pork tenderloins with a simple marinade.
To make this luscious marinade for the pork tenderloin, you will need a combination of some wet and dry ingredients. In particular, you need some vinegar, soy sauce, and lemon juice. For an extra kick of herbs and color, you also need some rosemary, sugar, garlic, salt, and pepper.
Even though the marinade sounds complicated with many ingredients, it ensures a serving of tenderloin with many aspects like a sweet taste, herby notes, and beautiful color. However, you still need to pay attention to the temperature and timing while cooking pork tenderloins.
As I have mentioned, pork tenderloins are quite lean, which tends to dry out and turn rubbery. To avoid this, you need to have a thorough timing and cooking technique, which is not a challenge if you follow this recipe.
Total time: 35 minutes
Gochujang is a chili paste from Korea that is present in many dishes. You can use it as a dipping sauce or a mixing sauce. You can even use it as a coating sauce like in this recipe, where you're coating some chicken wings with a Gochujang mixture.
This recipe is a nice twist on your classic buffalo wings as they offer a new and exciting flavor while still keeping that heat in the wings. The Gochujang sauce, unlike the buffalo sauce, offers a sense of depth to your palate where it's delicate yet powerful.
After getting the crispy chicken wings ready, don't turn off your air fryer yet. There are a large number of decadent air-fried desserts that you can make to serve with them. Something just as crisp, like churros or cheese danishes, sounds about right.
Total time: 45 minutes
One more "wings" recipe that I'm extra excited to share with you is this sesame cauliflower wings. That's right; it's vegan wings that you make from cauliflower.
I always encourage my loved ones to eat more veggies. But eating them plain can be boring. This mouth-watering recipe has helped my family grow to enjoy eating vegetables, especially cauliflower, as it's a mock version of chicken wings.
Without actually using chicken wings, you can still recreate the charred flavor in the healthy cauliflower. Your "wings" are even more fragrant as they also include some sesame seeds and green onions.
If you're wondering whether the cauliflower wings will have the same texture, I have your back. By throwing them in the air fryer, the cauliflower comes out with a crispy crunch and a slightly smoky flavor.
The sauce that completes the cauliflower is a spicy sesame sauce consisting of soy sauce, Gochujang, vinegar, and a few other tasty ingredients. The flavors will intensify tenfold when tossing the crispy cauliflower in this sauce.
Total time: 22 minutes
This last dish is a delicious summertime chicken dish that's perfect for a small family. Making chicken kabobs with an air fryer can save you a great amount of time and effort while giving the same delicious taste from the fresh vegetables and the chicken.
Chicken kabobs are already a famous BBQ dish that many families love. I think it's a common opinion that preparing these skewers on a grill can be a hassle. That's why I'm happy to help you make this the easy way in an air fryer with this recipe.
This recipe gathers all the best bites on one skewer, making your dining experience much more of a breeze and more enjoyable. By combining vegetables like onions, bell peppers, and zucchini with the chicken breast, you get a healthy and light meal that you can enjoy for lunch and dinner.
The chicken you're using in this recipe is chicken breast. But of course, there's a marinade that comes with it. This marinade includes various spices like paprika, oregano, parsley, garlic, salt, and pepper. This combination helps add color to the plain chicken breasts, making them tastier.
These chicken kabobs go well with almost anything. But my personal preference has to be pairing these chicken kabobs with some rice and coleslaw. If you don't like rice, you can also opt for some potato wedges or pasta.
Did you know you could make tasty chicken kabobs with an air fryer? Follow this instruction to find out.
An Effortless And Tasty Dinner Is Ready In No Time
After trying these recipes, I think you can agree with me that cooking with an air fryer is such an enjoyable process. It doesn't require much attention compared to conventional methods of cooking on a stovetop.
For those who are still skeptical about whether using an air fryer provides the same flavors, you will change your mind after trying these dishes. I'm sure somewhere along the way, you've also discovered some useful cooking tricks and techniques.
If you did happen to find out about other wonderful uses of an air fryer that I did not mention in this post, please share them with us in the comment section. I always appreciate your contribution to our cooking community.
I hope this has been a helpful article for you. If you know anyone who's still wondering what to cook with an air fryer, share this post with them so that they can have an easier time making the food they love to eat. Thank you, and see you next time!