These easy air fryer desserts are not just incredibly tasty, yet they're packed with less oil (and thus calories) than all the deep-fried treats.
The air fryer is a real dark horse in the kitchen. This trendy countertop appliance didn't earn so much popularity at first. Yet, when people enjoy the crispy, juicy fried chicken in a healthier version, they start to fall head over heels with it.
The air fryer's capabilities go beyond savory mains and sides, however. You can use it to bake addictingly delicious sweets. Bonus: Less mess, less time, and less effort are involved! Here are many examples that prove the versatility of this countertop appliance!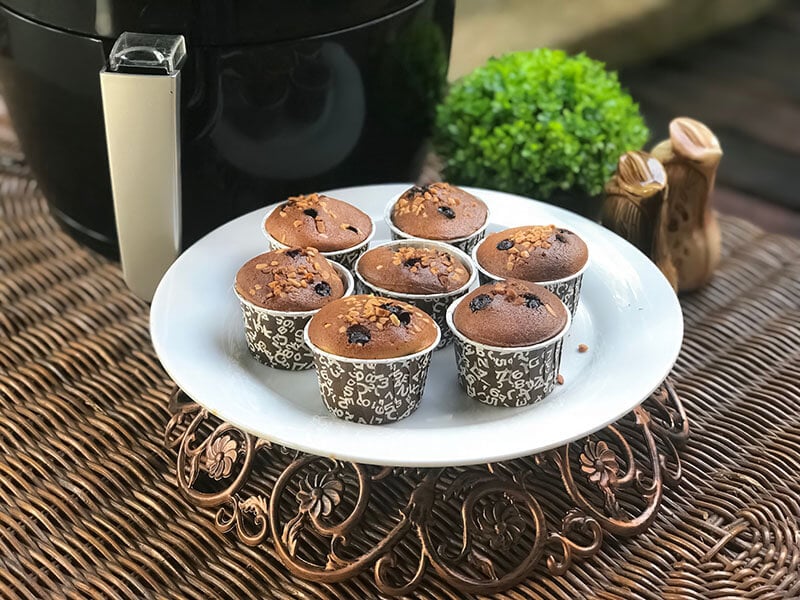 27 Easy Air Fryer Desserts That You'll Keep On Making!
Ever thought of using your air fryer to make desserts? If not, then you're missing out! Below are sweet treats you probably didn't know that the air fryer can handle just as well as your baking oven.
Total time: 10 minutes + 1 hour of chilling time
These air fried chocolate chip cookies are just as crispy and chewy as the original. Yet, they are baked in only 7 minutes in the air fryer.
While store-bought dough can help you save even more time, the homemade dough in this recipe is by no means a challenge to make from scratch. Simply mix all the ingredients, including chocolate chips, in a bowl and mix well.
Bonus: You can prepare a large batch of dough ahead of time and bake some when the craving hits. The cookie dough can last up to 1 week in the fridge and 3 months in the freezer.
Looking for the easiest and quickest air fryer dessert recipe? Try these chocolate chip cookies!
Total time: 10 minutes.
These homemade air fryer vegetarian treats will save you trips to the local donut shop for good. They come together in just 10 minutes, perhaps faster than driving to the store.
This streamlined version is quick to make, thanks to the air fryer and the refrigerated canned biscuits as the base.
Simply use a small round donut cutter to cut a hole in the center of your refrigerated biscuit dough to get the donut shape. The rest is for the pies to bake in the air fryer until lightly crisp and golden brown.
Toppings add flavor and/or texture to these homemade donuts. You can use cinnamon sugar or vanilla glaze to give them a layer of sweetness and color. Don't have a donut cutter on hand? Use a jar lid instead; I bet no one will be any the wiser!
Total time: 20 minutes
Lava cakes are a crowd favorite for a good reason! Cakey on the outside with warm chocolate oozing out, this lava cake will melt everyone's heart right from the first bite.
Making the cake batter is surprisingly simple and so satisfying. Melt the chocolate first, then mix egg, sugar, and vanilla in a separate bowl. Combine these ingredients along with salt and flour and give a good stir so they can mix well together.
Next, transfer the filling into the ramekins and let the air fryer do the work. As simple as that! This larva cake is also prep ahead friendly. You can make the cake batter, store it in the fridge for 1 day, and bake it just before dinnertime.
Total time: 35 minutes
The air fryer is perfect for making this popular cake without heating the kitchen like an oven!
This lemon cake is basically a simple vanilla cake with an extra layer of brightness and zing from the lemon juice. The vanilla, butter, and sugar give the cake an attractive richness and a hint of sweetness.
Depending on the storage, it can last 3-4 days at room temperature, 4-5 days in the fridge, and 2 months in the freezer.
What you'll love about this treat is it only gets better the next day as the moisture and flavors disperse more evenly. Just make sure to cover the cake thoroughly to prevent it from drying out.
Total time: 10 minutes
Hot, gooey, chocolatey goodness of fried Oreos at the state fair is hard to beat! Yet, you can make this sweet treat using Oreo from the comfort of your home using your air fryer.
You can make these homemade fried Oreos at home just in a flash using 3 pantry ingredients. Dust some powdered sugar on top to add more sweetness and a finishing touch to the dessert.
These fried Oreos are best served warm with a glass of milk. Leftovers can keep for up to 3 days in an airtight container. They are just as amazing reheated in the air fryer or oven the next day.
You won't believe how easy it is to whip up these yummy air fryer fried Oreos!
Total time: 19 minutes
There is nothing complicated about these fruity treats. Ready-made pie crust, blueberry filling, and decorating sugar are all that you need to assemble the pies. Once ready, just pop them in the air fryer for 7-9 minutes.
Remember to make 3 small cuts on the pies so the excess moisture can escape during baking. These hand pies are highly customizable, so feel free to swap out the blueberry filling for your favorite preserves or jam.
Total time: 38 minutes
The sweet stone fruits are an ideal filling for these delicious handheld pastries. For these hand pies, yellow peaches are the best candidate. Their natural sweetness and intense flavors mean you will use less sugar to amp up the flavors.
These hand pies have a flaky, buttery crust, a filling rich with peach flavors, and a hint of vanilla. They are perfect with a drizzle of vanilla on top.
These sweet treats are so good that you shouldn't expect to have leftovers. However, if there are any, as long as they are stored in an airtight container, they can last up to 2 days.
Total time: 25 minutes
Baked apples offer almost all the savoriness of an amazing fall dessert that doesn't take much care and effort. Using the air fryer to whip it up can save you more time. Busy people will find this recipe worth saving to their devices!
These baked apples combine roll oats, cinnamon, walnut, and maple syrup for an easy and comforting dessert. These ingredients' earthy taste complements the fresh and sweet apples pretty well.
You can use different types of apples to have a variety of flavors and textures if you like. Yet, make sure you choose the apples with a round shape that can hold up like a charm for 15 minutes of baking.
Gala apple is among the best choices here, as it has great crispiness and mellow sweetness that is ideal for baking!
Total time: 20 minutes
The trusty air fryer can also turn old-fashioned fritters into a healthier, guilt-free treat! Bonus: there's no compromise in terms of flavor and texture here!
These delightful bites contain 2 main parts: an easy batter and fresh apples. For the batter, mix dry components such as flour, baking powder, cinnamon, etc., before stirring in vanilla, eggs, lemon juice, and milk.
All it takes is 5 minutes in the air fryer to bake these fritters to perfectly crisp and golden. Coat them with brown butter glaze to bring out the ultimate fall treat.
Skip the mess of deep oil frying and go for these air fryer apple fritters!
Total time: 14 minutes + 30 minutes of chilling time
These cookies are crispy outside, soft on the center, and bursting with peanut butter flavors. They are easy to make and fun to eat, especially when dunked in milk. This air fryer version is just as amazing as those sold in your favorite bakery.
Here is the air fryer cooking tip: Chill the dough for around 30 minutes before baking. If you skip this step, the cookies will spread too much and leave a crumbly mess out of the air fryer.
Plus, let your freshly-baked cookies cool for at least 4 minutes to fully set. Remove them any sooner, and they will fall apart on you!
Total time: 50 minutes
These tasty empanadas are a sweet take on the classic Spanish dish. They make for a wonderful snack, dessert, or breakfast pastries. This sweet treat can rival your favorite apple pie with a cinnamon apple filling, crispy and flaky crust, and a sweet caramelized glaze.
These pies will hang out in the air fryer for around 10 minutes to bake thoroughly. For this reason, go for Honeycrisps, Pink Lady, or any variety that can retain flavors and shapes after a long cooking time.
Total time: 25 minutes + 2 hours of dough rising time
Beignet is a staple in New Orlean cuisine. They are typically made of pâte à choux (sometimes yeast dough) and deep-fried until golden perfection. However, with an air fryer, you can still enjoy all the flavors of this New Orlean classic without all the excess oil.
Start with letting the dough rise until it doubles in size before shaping it the way you like. Then, generously coat the Beignets with melted butter and send them into the air fryer.
These treats only take 5 minutes to become fluffy and pillowy in the air fryer. The melted butter gives them a golden brown exterior, so make sure you don't skip it.
While Beignets are amazing on their own, powder sugar dusting or raspberry coulis (a thin sauce made from pureed or cooked raspberries) will make a lovely addition. A cup of café au lait (coffee with hot milk) is also a great idea to accompany these pies.
Total time: 11 minutes
No need to fire up the campfire to make your favorite S'mores. This simple yet incredibly eye-catching dessert will come out just as scrumptious from the air fryer!
Plus, you can customize the flavors by adding different ingredients to the treat. With this recipe, you can jazz up the classic using strawberries, apples, and peanut butter cups for 3 different versions.
Simply roast a marshmallow, chocolate, and graham crackers in the air fryer, and then assemble the S'mores. And voila, you'll get a dessert that can hark back to sweet campfire memories.
Total time: 30 minutes
No one will turn down the fudgy and chocolatey goodness of good brownies. The melted butter, chocolate, and eggs give these sweets an incredibly rich texture.
You can adjust the baking time to get the desired texture, however. If you prefer gooey, fudgy brownies, simply cut down on the baking time. On the other hand, let the brownies hang out in the air fryer for a bit longer to get a cakey texture.
The best thing is that you can make these brownies in small batches using an air fryer. This is ideal when you want to tame your chocolate cravings but don't want any leftovers.
These gooey and fudgy air fryer brownies will surely be your new go-to recipe.
Total time: 8 minutes
Are you looking for a quick treat to instantly satisfy your sugar craving? This air fryer S'mores dip, which requires only 3 ingredients and 8 minutes, will definitely fit the bill!
The prepping couldn't be simpler, as you will only have to layer chocolate chips on the nonstick pan and then marshmallows before tossing the whole thing into the oven.
This gooey dip is loaded with marshmallows and melted milk chocolate and baked in the air fryer to perfection. All that's missing is a bunch of graham crackers for dipping. You can also top this dip with fruits, crushed Oreos, or peanut butter cups if you wish.
Total time: 26 minutes
Banana muffins are also possible to bake in the air fryer. The appliance only takes 11 minutes to turn the batter into a flavorful, moist, and fluffy treat.
There is so much to love about these portable muffins: the sweetness from the overripe fruit, cinnamon notes, and chocolate chips. They taste so much like banana bread, yet with a lighter, softer, and more buttery texture that you'll love.
When the baking is over, make sure to cool these muffins for a few minutes. They're best served with a cup of coffee when they're still warm.
Total time: 30 minute
Ever thought of baking a cheesecake in your air fryer? It's 100 percent possible, and the cake will turn out amazing every time!
Cherry pie filling lends a tart and sweetness to the creamy cake underneath. Yet, feel free to swap in your favorites or enjoy the cheesecake plain (either way is equally tasty!).
This air fryer version calls for simple ingredients such as cream cheese, graham crackers, butter, cherry filling, etc. The best part is that it takes half the time to bake compared to the traditional recipe.
Total time: 24 minutes
Rich, creamy, and comforting, this hassle-free breading pudding will soon become your family's new go-to dessert.
With these beloved ramekin treats, everyone will love to have their own treat to end the dinner. Better still, if there's any leftover, simply keep it in the fridge and reheat it the next morning for your breakfast.
Using the air fryer results in the best bread pudding ever! The whole pudding is incredibly soft and moist, whereas the top is wonderfully crisp. This version also throws in nuts and chocolate chips on top for extra texture and flavor.
Bread pudding is one of the best ways to use up dry and old bread. You may want to use firm bread like Texas so the cubes can hold up to the baking for a chewier bite.
Total time: 23 minutes
There's no need to soak the dough in a large skillet of hot oil to get perfectly crispy churros. Instead, simply bake these churros in your air fryer for 6-8 minutes at 375 degrees (Fahrenheit).
You'll end up with an equally delicious, if not better, state fair treat that is crunchy on the outside and soft on the inside. Once these churros are fried, toss them in cinnamon sugar coating to give them the ultimate state fair look.
In addition, ensure to serve these warm churros with a nice caramel or chocolate sauce for dipping.
Air fryer churros are every bit as amazing as the deep-fried version, yet healthier and quicker to make!
Total time: 29 minutes
These pie bombs are essentially apple filling rolled into Pillsbury grand biscuits and baked until golden brown.
The filling is the spotlight here. This canned biscuit-based dish uses store-bought filling to save the prepping time and adds 1 teaspoon of cinnamon to highlight the fruit's flavor. For the best flavor, coat these delightful balls with apple pie spice and sugar after they're baked.
You can enjoy these tasty bite-sized desserts plain as they're already lip-smacking on their own. Or, try serving them warm with a scoop of vanilla ice cream. Either way, this dessert will surely be a big hit in your family.
Total time: 16 minutes
What to do if you have some fresh peaches on hand and crave a little something sweet? The ultimate answer is a peach cobbler.
While it typically takes more than 30 minutes to bake peach cobbler in an oven, the air fryer provides the ultimate shortcut! Just pop the cobbler inside the appliance, set it up at 390 degrees, and count down for 6 minutes for an amazing summer treat.
The cobbler comes out just as amazing as the oven version. The brown, crispy oatmeal toppings perfectly match the tender and juicy peach filling. It can last 3 days when refrigerated. For reheating the leftovers, the microwave or air fryer will do the trick!
Total time: 15 minutes
With a few pantry ingredients you might already have and 15 minutes, you can whip up these cheese Danishes that rival Starbucks. These freshly-baked treats are perfect for breakfast, snacks, and dessert.
The streamlined recipe uses crescent dough to minimize the prepping work. However, rest assured that the dough still creates a buttery and flakey crust for the filling.
This recipe tops the dough with creamy sugar, cream cheese, and vanilla filling. Yet, you can always spruce things up by using your favorite jam or cherry pie filling.
Total time: 17 minutes + 3 hours of chilling time
Crunchy on the outside and creamy on the outside, this air fryer fried ice cream tastes just like what you get in your favorite restaurant! This sweet consists of only 2 ingredients: cinnamon toast crunch cereal for the coating and vanilla ice cream on the inside.
Rolling these ice cream balls shouldn't be tricky. However, you'd better process quickly as the ice cream will melt in no time.
This treat is best served straight out of the air fryer. Add your favorite toppings, like maraschino cherries, whipped cream, and chocolate syrup, for a refreshing dessert that no one can't turn down.
Total time: 15 minutes
The smell of freshly baked cinnamon rolls is heavenly! Thanks to the ready-made puff pastry, these rolls take only 7 minutes to bake in the air fryer! The puff pastry sheet works just fine, but you can even save more time with the ready-rolled version.
The from-scratch icing will transform these cinnamon rolls into a show-stopping treat. Just mix milk, lemon juice, and powdered sugar well, top the mix onto the rolls, and every bite will be absolutely irresistible.
Leftovers can last up to a day if covered in an airtight container, especially for serving as a convenient air fryer breakfast recipe for the next day. You'll only need to give them a quick run in the microwave before serving.
3 ingredients and 15 minutes are what it takes to make these air fryer cinnamon rolls from scratch!
Total time: 30 minutes
These fabulous blueberry treats are amazing for breakfast or after a lavish meal. They are soft, busting with blueberry flavors, and amazing with a dollop of whipped cream on top. Baking scones in an air fryer guarantees they're always crisp on the outside and soft in the center.
The sugary orange topping adds extra flavors to these scones. Fresh blueberries are highly recommended for the best flavors of the desert. However, if the fruits are out of season, frozen berries can do the trick, too.
Total time: 25 minutes
The name Pizookie derives from two words: pizza and cookies. This dessert is basically a cookie baked in a large circle like pizza. Like all the cookies, Pizzokie is best served with a generous scoop of vanilla ice cream when warm.
This giant cookie might look a bit fancy and harder to make than it actually is. So, don't let the look scare you off!
You'll only have to whisk all the ingredients together before pouring the chocolate chips and press the dough into the cake pan. Let the countertop appliance handle the rest, and you're all set!
Total time: 31 minutes
Cannoli is a well-loved Italian pastry made of creamy filling and fried pastry dough. This is an addictively tasty treat, yet because it's typically deep-fried, it's packed with many calories and unhealthy fat.
That's where the air fryer comes in! Air frying cannoli make this pistachio-based dessert healthier and guilt-free to enjoy.
The cannoli shell crisps up perfectly inside the air fryer. Then, it joins with the creamy ricotta filling, chocolate chips, and crushed pistachios for the ultimate treat. Don't have cannoli form in your hands? Simply substitute it with aluminum foil, and you're good to go!
Crispy on the outside and with a creamy center makes these air fryer cannolis hard to resist!
Don't Settle On Main And Side Dishes With Your Air Fryer!
Your air fryer can tackle familiar desserts, from cookies, cheesecake, brownies, scones, ice cream, and everything in between.
So, the next time your sweet craving hits, but you don't want to either heat up the oven or drive to your favorite bakeries, try these air fryer recipes!
If you have made any of these air fryer desserts, let me know by leaving a comment. Feel free to introduce these recipes to your loved ones so they can use their air fryer better!