Do you think that air fryer breakfast recipes can't be as delicious as traditional cooking methods? Try it once, and you will be completely conquered! Some good examples are 25 healthy breakfast recipes in this post.
The air fryer has become a practical assistant for every family's daily housework. It helps you save maximum time and effort in cooking, especially when preparing breakfast.
Your breakfast recipes will be cooked without cooking oil or using only a minimal amount. The good news is that recipes with an air fryer will reduce calories by up to 80%. This is extremely good for your health as well as your weight loss journey!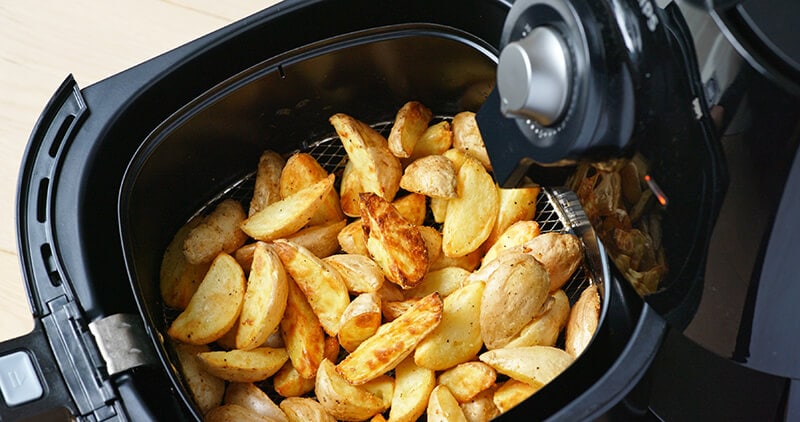 What are the scrumptious air fryer breakfast dishes that I will bring you this time? Let's take a quick look! You will love them all!
Air Fryer Breakfast Recipes with Flour Ingredients:
Air Fryer Breakfast Cookies
Air Fryer Buttermilk Biscuit
Air Fryer Chocolate Donuts
Air Fryer Cherry Turnovers
Air Fryer Bagels
Air Fryer Pop-Tarts
Air Fryer Apple Fritters
Air Fryer Cinnamon Rolls
Air Fryer French Toast
Air Fryer Banana Bread
Air-Fryer Toad-in-the-Hole
Air Fryer Breakfast Burritos
Air Fryer Granola
Air Fryer Blueberry Bread Pudding
Air Fryer Breakfast Recipes with Egg:
Air Fryer Breakfast Frittata
Air Fryer Scotch Eggs
Air Fryer Omelette
Air Fryer Boil Eggs
Air Fryer Egg Rolls
Air Fryer Breakfast Recipes with Potato:
Air Fryer Breakfast Potatoes
Air Fryer Hash Browns
Air Fryer Baked Potatoes
Air Fryer Breakfast Recipes with Meat:
Air Fryer Bacon
Air Fryer Candied Bacon
Air Fryer Ham & Cheese Hot Pockets
Let These 25 Convenient and Splendid Air Fryer Breakfast Recipes Warm Up Your Whole Day!
The kitchen is the family's happiness, nothing more than a day that begins with a warm breakfast together. Take a look at some super delicious breakfast dishes that are simple to operate with the air fryer right now!
Up To 14 Wonderful Air Fryer Breakfast with Flour Ingredients for Your Whole Week!
Many people always need some particular flour recipes to accompany their hearty breakfast. Are they complicated to do? No more with an air fryer! You can make whatever you want, and I will introduce you to the 14 recipes below.
Breakfast cookies have an eye-catching appearance, moderate sweetness, buttery aroma, and crunchy bites. This cookie is quite suitable for weekend mornings with family and friends.
Breakfast cookies have recently been seen as a quick and effortless option. You can choose healthier ingredients to put in your cookies. This is a healthy breakfast with fiber, a bit of protein, and good fats.
All the extra nutrients added to a breakfast make it an easy option to eat on the go. Carry out some simple steps to produce a batch of delicious breakfast cookies that are hard to resist.
Watch this video to know more:
Buttermilk biscuits are the favorite breakfast choices for everyone, especially children. Today, I'm going to tell you a super simple buttermilk cookie recipe with only familiar ingredients and an air fryer.
When finished, the biscuits are fragrant, crispy, and blended with the fatty aroma of buttermilk. There is nothing better than sipping biscuits with a bit of tea.
How to make buttermilk biscuits looks quite complicated. However, when you start doing it, you only need to go through a few basic steps. Learn how to do it with me to show off your talent for your family!
Chocolate donuts are a very famous and popular pastry in many Western countries. Today, the donut has traveled in many countries with many different versions and variations, including the air fryer version.
The donuts are as round as sweet rings, covered in chocolate that is sure to fascinate anyone. You can use it as a light breakfast with a cup of milk.
You can make the simplest chocolate donuts with your air fryer. With easy-to-find ingredients and a little time, the best donuts will be ready to serve!
Are these beautiful turnovers a fancy air fryer dessert? A breakfast recipe? Or a midday snack? The answer is all of them and more! Surely this combination of buttery crust and full-flavored cherry jam will be your kids' favorite dish!
Cherry turnover after coming out of the air fryer has a crispy crust, slightly spongy. The filling has a mildly sour, sweet, and very juicy taste.
This dish can be eaten warm or cold, served with fresh cream if you want a richer taste. You can keep it for up to 5 days in the refrigerator.
These crispy air fryer cherry turnovers are a quick breakfast recipe to make every morning!
Give your family a nutritious and energizing morning with this delicious 2-ingredient bagel! Bagel is both soft and chewy and extremely tasty, but the way to make it with an air fryer is effortless, suitable for convenient, fast, neat, and delicious breakfasts.
With the undefeated formula, you will indeed have a beautiful batch of bagels right away. After completion, the air fryer bagel will have a beautiful golden color, soft and chewy, and extremely attractive. You can cut the bagel in half and spread a thin layer of cream on it to eat.
Pop tart is a simple breakfast that is easy to make with just a few ingredients and an air fryer but is equally delicious. Therefore, this type of pastry is especially loved by housewives.
This air fryer tart is characterized by a crispy base, a sweet topping that is optional to your taste, easy to eat, and highly suitable for children. There are tons of interesting combinations you can try for this dish.
You can choose from a cherry sauce filling and toppings as well as a sprinkle of multicolored nuggets to make the tart look more beautiful and satisfy your taste buds. Then simply bake it in the air fryer without even watching.
You don't need to deep-fry the fritter with unhealthy oil as usual. With this recipe, just use an air fryer instead! Because the fritters have a very characteristic sweet taste, plus the pieces of sour apples make the feeling of eating it less bland.
Apple fritters taste best right out of the air fryer. When completely cooled, the fritters will not be as crispy as when it is hot, but it is still delicious to eat.
You can sprinkle some icing sugar on top of the patties, even more, enjoyable with the cooling sensation on the tip of your tongue.
The gentle aroma of cinnamon in the kitchen is great for cold days. Every time I make cinnamon rolls, it gives me a warm feeling. You just need to roll cinnamon with dough and put it in the air fryer.
Cinnamon rolls are used for breakfast and are often best served with cheese sauce. The crust is crispy, but the core is soft and spongy. You cannot resist the taste of butter and the smell of cinnamon mixed in every fiber of the rolls.
Making cinnamon rolls this way is also extremely easy because there is no dough to knead at all. According to taste, the amount of butter, sugar, and cinnamon powder can be increased or decreased in the roll mixture. You can add a layer of icing sugar on top if you don't think it's sweet enough.
You Should Not Ignore 6 Ultimate Savory Air Fryer Breakfast Recipes With Starch!
Do you think the air fryer cannot make that many breakfast dishes? No! It can do more than you think, even countless! Believe it or not, continue to check out 6 savory recipes that are not to be missed below.
French toast is a popular breakfast dish of French cuisine, helping to provide enough energy for the new day and will be highly suitable for those who like sweets. This is an effortless dish to make and easy to modify.
These two sides of the toast will be slightly crispy. Thanks to the egg and milk, the inside will be very soft and fatty, absorbing the flavor evenly without any trace of dry toast. French toast, when finished, will have a strong aroma of vanilla and milk.
This dish will taste better when served hot with a little unsalted butter on top and honey drizzled around. Hopefully, you and your family will have a delicious breakfast with the recipe for an attractive French toast that is extremely easy to make with an air fryer.
By combining bananas and some ingredients available in the kitchen, you can make extremely amazing banana bread in the air fryer without requiring many new techniques. Banana bread contains many nutrients and is very easy to eat.
The soft banana bread makes a healthy breakfast for everyone to enjoy. These two ways of making banana bread will give you an enjoyable experience with this dish. You can also store it in a ziplock bag in the fridge to eat later.
Not only is this bread filling, but it's also packed with vitamins from bananas and ingredients like milk, sugar, butter, and nuts. The delicious taste of this air fryer will definitely not disappoint you.
Burritos are a traditional Mexican breakfast dish with a combination of cornmeal crust and diversely processed inner fillings. All that blend together to create a dish that makes you feel very comfortable.
This is a simple air fryer burrito recipe that anyone can make at home. This way, you can enrich your family's meal menu. This recipe gives you a rich taste and a delightful feeling. You can also change the filling with other meats to make the dish richer.
Granola is often eaten at breakfast or as a snack. This is a food rich in energy, healthy nutrition, perfect for people with brain activity or who need a quick energy supplement but does not make you gain weight.
Do you know how to make granola healthier than ever with an air fryer? The finished granola will have a nice crispness and golden brown color, which looks very attractive. You can enjoy the granola right after it's done or store it in an airtight container to use slowly.
The shelf life of granola can be up to 1 month, but it is best to make air fryer granola in moderate quantities to use within a few days to prevent the seeds and oats from softening in case you do not close the lid tightly after use.
Watch this video to know more:
By chance, once I enjoyed bread pudding, I was fascinated by the taste of bread, milk, and the ultimate taste of blueberry. I thought it would be difficult to make bread pudding, but it turned out to be very simple with an air fryer, and ingredients are always available.
In this bread pudding recipe, you can use any type of bread. If you are a sweet tooth, you can also use cake bread for the softness. You can also replace the blueberry with whatever topping you want.
This bread is also very suitable for breakfast or a snack. Today, with the new blueberry bread pudding egg recipe, join me in the kitchen and try to make this dish with the air fryer!
The British are known for delicious food with weird names, one of which is called Toad-in-the-Hole. By combining sausages with delicious fillings and sauces, you can cook a delicious and economical breakfast with the air fryer.
All you need is your favorite veggie on the side. This dish can be served as a breakfast to provide a full range of nutrients for the whole day.
You Will Addict to 5 Air Fryer Breakfast Recipes with Egg Once You Try Them:
Eggs are associated with breakfast culture in many countries because they add abundant nutrients. Eating eggs in the morning helps to improve health, maintain a fresh and active day. Eggs are even more nutritious when processed in an air fryer. Try now!
Air fryer frittata is an Italian variation of fried eggs. It is a famous dish for breakfast in Italy because it is easy to make, provides quite the necessary energy, and minimizes the amount of fat.
The finished frittata will have a brilliant golden brown color with the aroma of eggs and bacon. When cut, the egg part will not be dry. Fatty and slightly salty cheese will help balance the dish.
The ingredients in this dish can be changed according to your preference. You can try different cheeses to create new flavors. Frittata can be eaten with bread, rice, or eaten as a main breakfast dish.
I will show you how to make a perfect keto breakfast dish. This is a popular picnic food in the United Kingdom. This dish consists of ground meat wrapped in a soft-boiled egg, rolled in flour, and fried in an air fryer.
This will help you show off your cooking talents on your free days. Once done, the scotch egg will have a nice crispy golden crust. It is often eaten hot with dipping sauces such as ketchup, chili sauce, and spicy mustard.
When eating, you will feel the fantastic taste of the dough and the attractive sweetness of the meat. The inside of the poached egg is fatty, delicious, and rich in nutrition.
Whenever seeing the image of an omelet dish, surely no one can resist because the layer of eggs mixed with melted cheese is irresistible. This cheese-scented omelet will make you want to eat more and more!
This dish is simple but not monotonous. With the following instructions, you've got two super delicious omelet variations for a healthy breakfast. Enjoy this quick breakfast recipe!
Air fryers are great for simple cooking tasks, such as boiling eggs. You can complete the hard-boiled eggs in minutes for a protein-rich breakfast.
The advantage of using an air fryer to boil eggs is that the results are very consistent, and especially the eggs are not fishy. You just need to adjust the right time and temperature, and you will have boiled eggs with different levels of yolk according to your preference.
Egg rolls are the ideal dish to relieve your morning cravings. You just need to prepare a few basic ingredients to have crispy, fragrant, and fatty air fryer rolls.
When eating, you will feel the skin being fried with the butter taste. It is smooth and highly fascinating! Egg rolls are sure to be a great dish for everyone to enjoy on a weekend morning.
You can keep the egg roll in the refrigerator for a few days. When eating, just put it in the air fryer and reheat it for about 3-5 minutes to make it crispy!
Try Now 3 Stunning Air Fryer Breakfast Recipes for Potato Lovers
Potatoes not only contain many nutrients but are also easily processed into many attractive breakfast dishes. And now, you can do it in the fastest and healthiest way with the air fryer – maximum oil reduction. Let's take a look at three attractive potato dishes below!
Breakfast fries are definitely a favorite dish of many people. However, not everyone prepares this dish regularly for fear of too much fat, which is not good for health.
For this yummy air fryer vegetarian dish, you don't need to use a lot of oil. You can also save time to have a stunning and crispy breakfast dish!
Thanks to that, you can take advantage of potatoes as a starchy food and provide a high energy source for the body. It only takes a few minutes; you can make healthy French fries for breakfast with an air fryer.
This used to be a really greasy breakfast dish because it was oily. However, with the air fryer, you no longer need to worry about this! And surprisingly, this dish only needs two main ingredients and two elementary things.
Hash browns are typical British "potato cakes" that are usually eaten for breakfast. This dish goes well with bacon, sausage, eggs, or any other savory dish.
If you want to make this healthy hash brown, you only need potatoes and eggs. You already have it in the kitchen, right? Follow this recipe to prepare the dish and enjoy them without guilt.
Why not make a whole baked potato with a crispy crust and soft filling in a simple-to-use air fryer to enrich your home menu?
It only takes you a few minutes to prepare, the rest of the time just waiting for the potatoes to be baked. Using an air fryer is also a way to help you make the most of the nutritional content of potatoes.
Baked potatoes with cheese are sure to be addictive for cheese lovers. These potatoes are attractive with the golden outer skin, accompanied by the fatty flavor of cheese and the aroma of attractive spices. Let's invite the family to enjoy it!
Add Some Protein to Your Breakfast with 3 Delicious Air Fryer Recipes Containing Meat
Protein is essential, and you should not skip it in your breakfasts. An air fryer will help you remove fat and bring the most attractive and nutritious meat dishes:
Bacon can be a great main course for a hearty breakfast. It is attractive to many people. But it is such a headache for many people to make low-fat bacon to protect the health of the family.
So, for the most healthy breakfast, let's learn how to cook bacon in the air fryer. It will help you retain the moisture and the wonderful smoky flavor of the bacon without being as greasy as usual.
Candied bacon is a great breakfast accompaniment that combines savory, sweet, and crunchy flavors. If done right with the air fryer, this bacon has crispy edges and a crust thanks to the caramelized sugar candy on top.
You only need two main ingredients for this candied bacon: simply bacon and sugar. But there are so many fun versions that you can easily challenge yourself once you've mastered the basic technique! Why not try?
Ham & cheese hot pockets in an air fryer are a suitable breakfast dish. These pockets are full of nutrients, ensuring you have a long productive day.
When finished, these hot pockets will have a fragrant golden brown outer crust, a rich cheese filling that is extremely attractive. This dish is great with lettuce and tomatoes!
Just through a few steps of processing ingredients, you will find that making Ham & Cheese is not only not difficult but also simple beyond your imagination. What are you waiting for?
Pick Out You Most Loved Air Fryer Breakfast Recipes and Try Now!
Fried or fried breakfast dishes are always a favorite of everyone, regardless of adults or children. With many outstanding advantages over traditional frying methods that consume a lot of fat harmful to health, air fryer breakfast recipes revolutionize the kitchen. They are essential for today's busy life.
Therefore, try the recipes I gave you today for a splash-free kitchen! It's all healthier and quicker with an air fryer. Don't forget to share the article if you find it useful!